The following message is intended for those 21+ and products have been provided by 4R Ranch Vineyards and Winery. All opinions expressed are my own. Please enjoy responsibly!
Hot dogs and caramelized fried onion wontons are a unique take on a summer appetizer!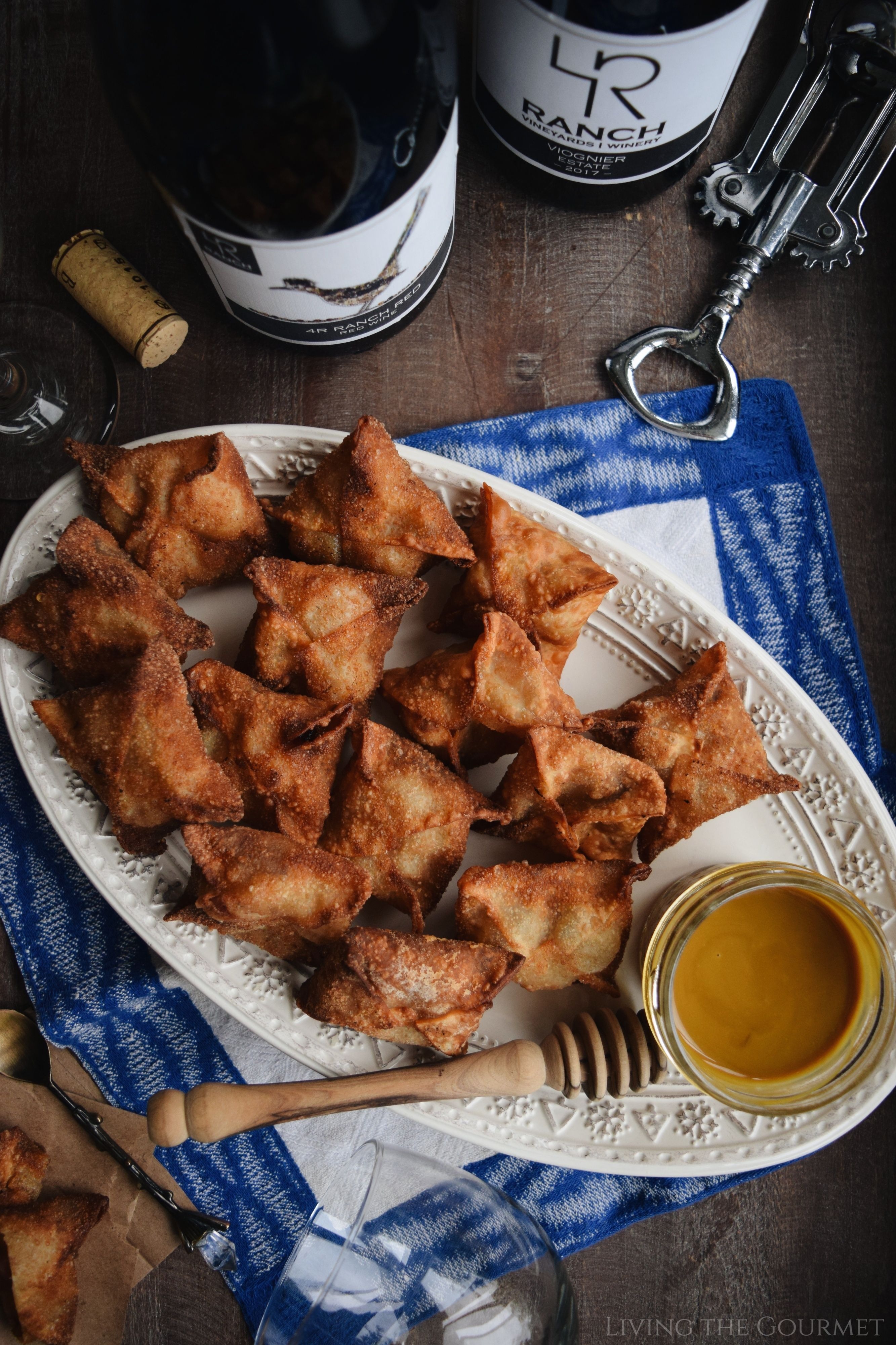 Warning: The traditionally minded, the classically inclined, the 'rule abiders,' and all other varieties of "Old Fuddy Duds" are strongly advised to divert their eyes.
"Old ideas, especially those that are passed down from generation to generation, are called 'Tradition' and 'Wisdom.' New ideas are derided as 'Dissidence,' and 'Heresy.' The problem with this is the self-evident hypocrisy – as there was once a time when Old Ideas were New."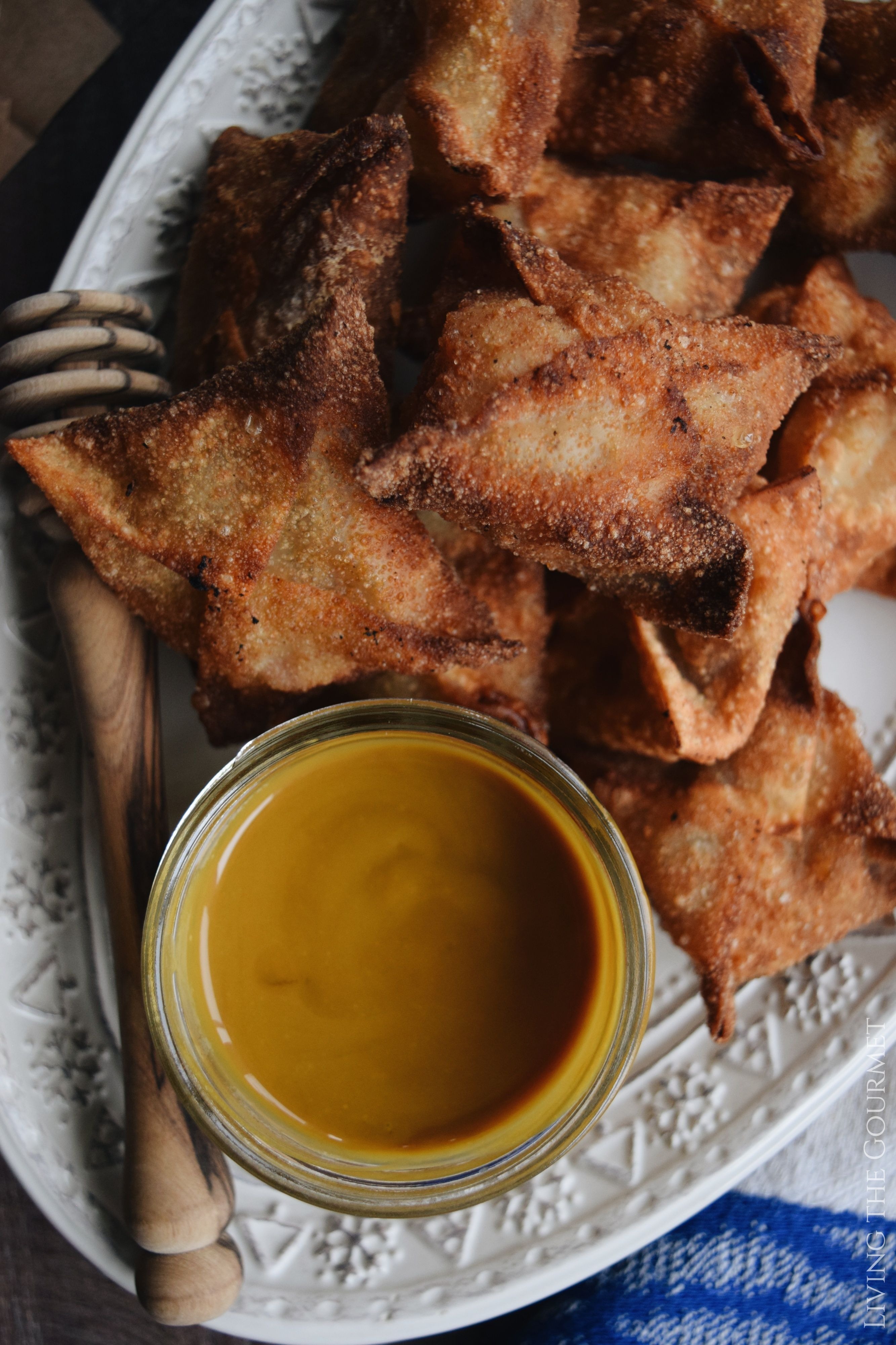 By force of habit, when I'm researching a specific recipe or a type food that I'm unfamiliar with, one of the first things I do – if not 'the' first – is to see what's considered 'traditional.' I want to know not only what's authentic 'today,' but what was authentic once upon time. I want to know where the item came from and why, to really see the story behind it. After all, you can't truly make something your own without first having a grasp of the original.
Wontons, however, are hardly unfamiliar. On the contrary, they're ubiquitous, with an instantly familiar set of fillings, flavors, and preparation styles. The wonton is one of those items that needs no introduction.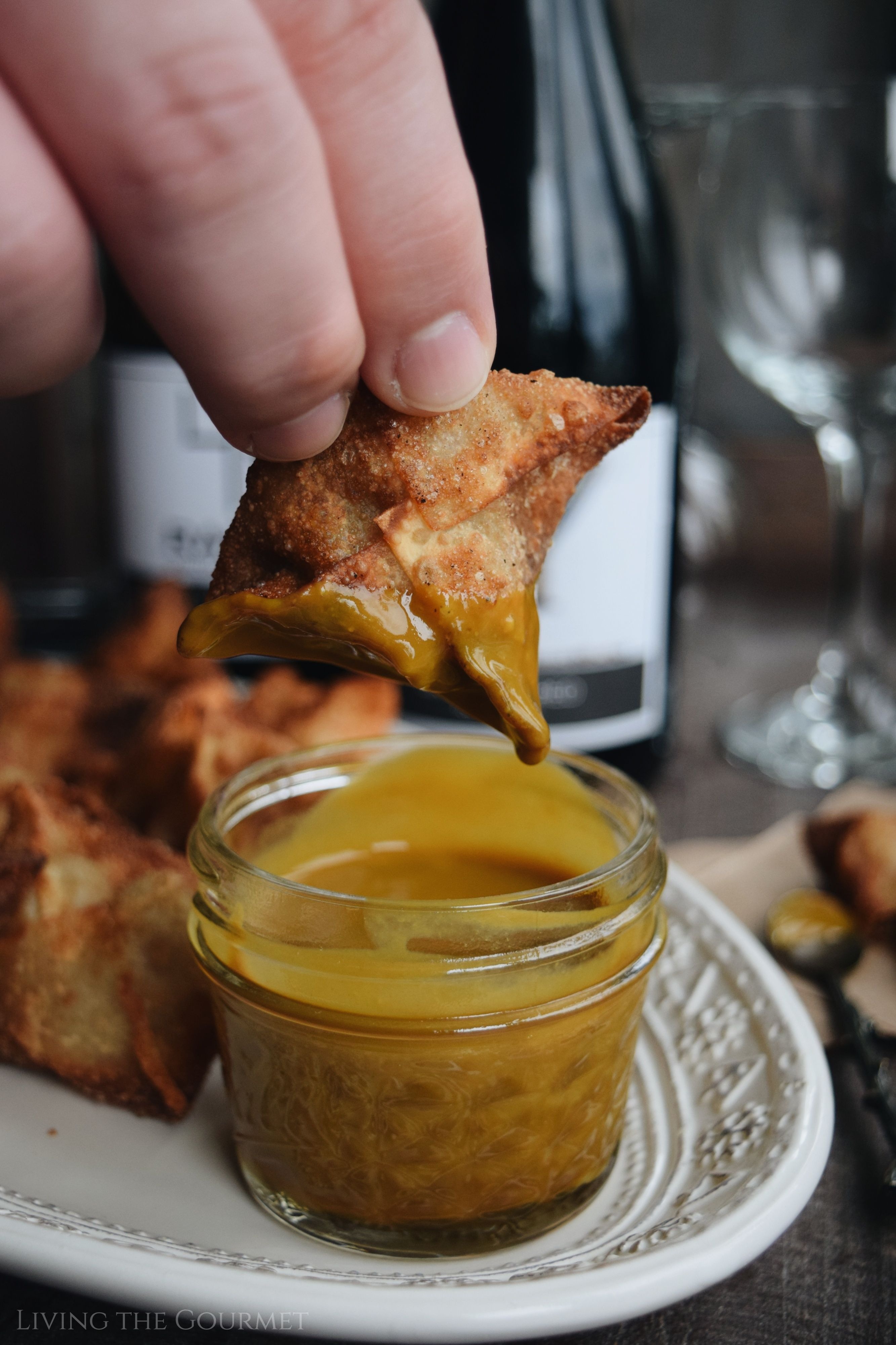 Today, however, we're turning that on its head. In fact, about the only thing from a 'traditional' wonton that we're keeping is the wonton wrapper itself, and the folding method. Instead, we'll be replacing the more familiar fillings with balsamic grilled onions and chopped hotdogs, and serving them with a honey mustard dip. These are quirky appetizers that will invariably take your guests by surprise, and are great for lighthearted get-togethers, or as the starters for a relaxed weekend dinner.
I decided to make these after receiving a pair of bottles from 4R Ranch Vineyards and Winery for review. Specifically, I thought these would go great with the 4R Ranch Red, which is a Grenache led blend of Syrah and Barbera, with a touch each of Mourvedre, Carignan, Petite Sirah, and Sangiovese.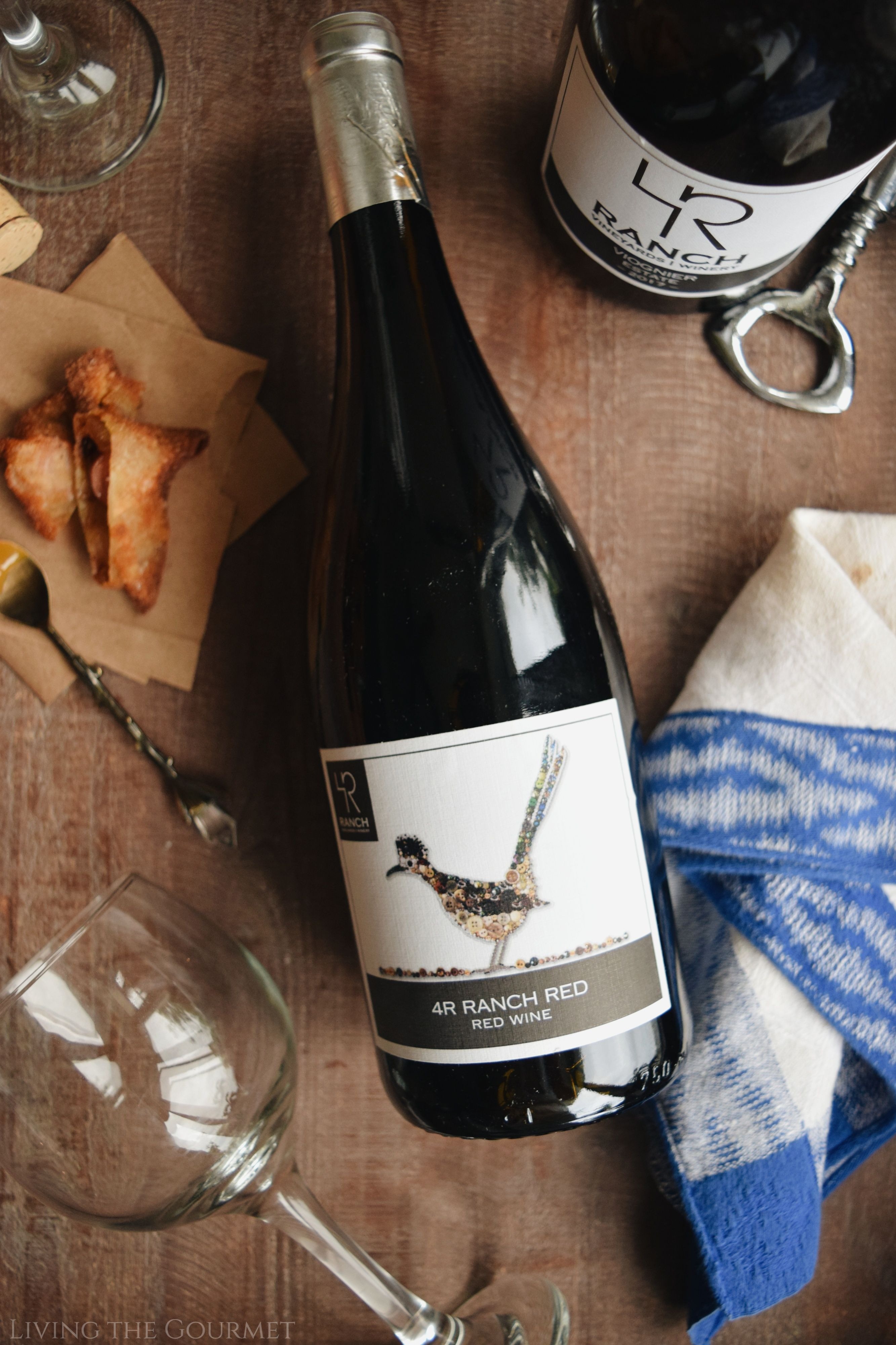 The wine introduces itself with fruit-forward aromatics, primarily slice red berries, perhaps a bit of ripe plum essence, and what I'll describe as blackberries or mulberries scattered throughout the bouquet. Deeper into the glass, the foundation of the aromatics matures quite substantially, and begins to manifest earthy qualities, such as dried herbal and light spice notes. This creates a surprisingly complex and very pleasant aromatic profile. On the palate, the wine is a largely dark fruit experience, and perhaps a tad sweeter than the aromatics might suggest.
For pairing, today's recipe largely sums up my thoughts. Think savory, and somewhat on the heavier side. For more 'by the book' suggestions, I might consider prosciutto wrapped shrimp skewers or herbed rib roast prepared with a cabernet glaze. You might also consider heavier bodied fish, such as salmon steaks. I would shy away from shark with this particular bottle, however.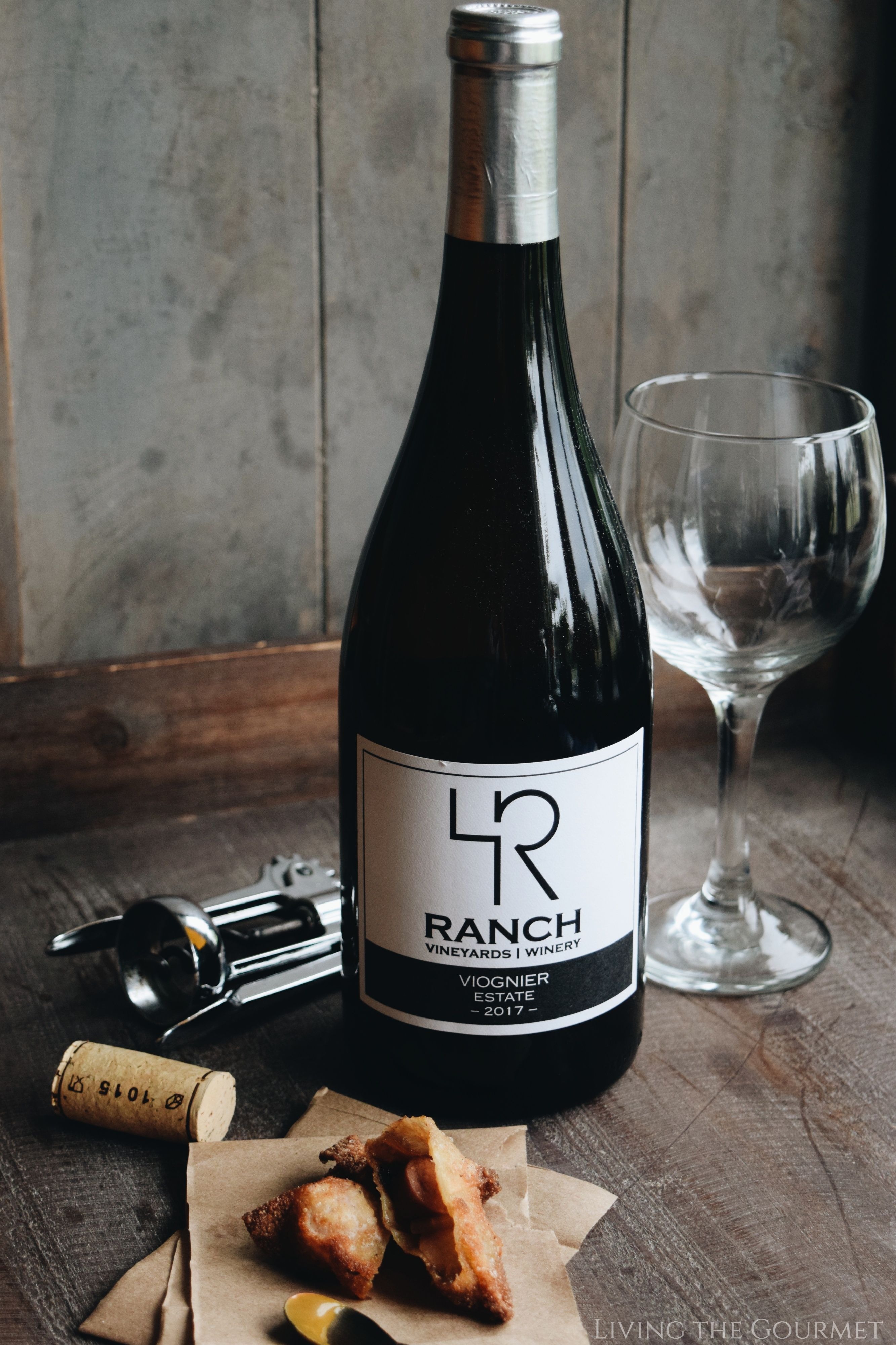 Up next, we have a 2017 Viognier. Off the top of the glass, the wine features muted floral notes, and just a hint of summer fruit, perhaps a touch of sliced apricot mixed with white and yellow flowers. On sampling, the wine is quite a bit more fruit-forward than its muted aromatics would suggest, laced in a sharp but pleasant acidity.
For pairing, think spicy, think light to medium entrees, and shellfish. Prawns served with a spicy dipping sauce, or grilled Cajun-style shrimp would serve excellently. Soft cheeses, as well as sheep's milk cheese would pair excellently. Baked brie, such as the recipe we posted recently would also pair excellently. Pan seared white bodied fish, roast pork, and curried chicken all come to mind as foods I could see this complementing nicely.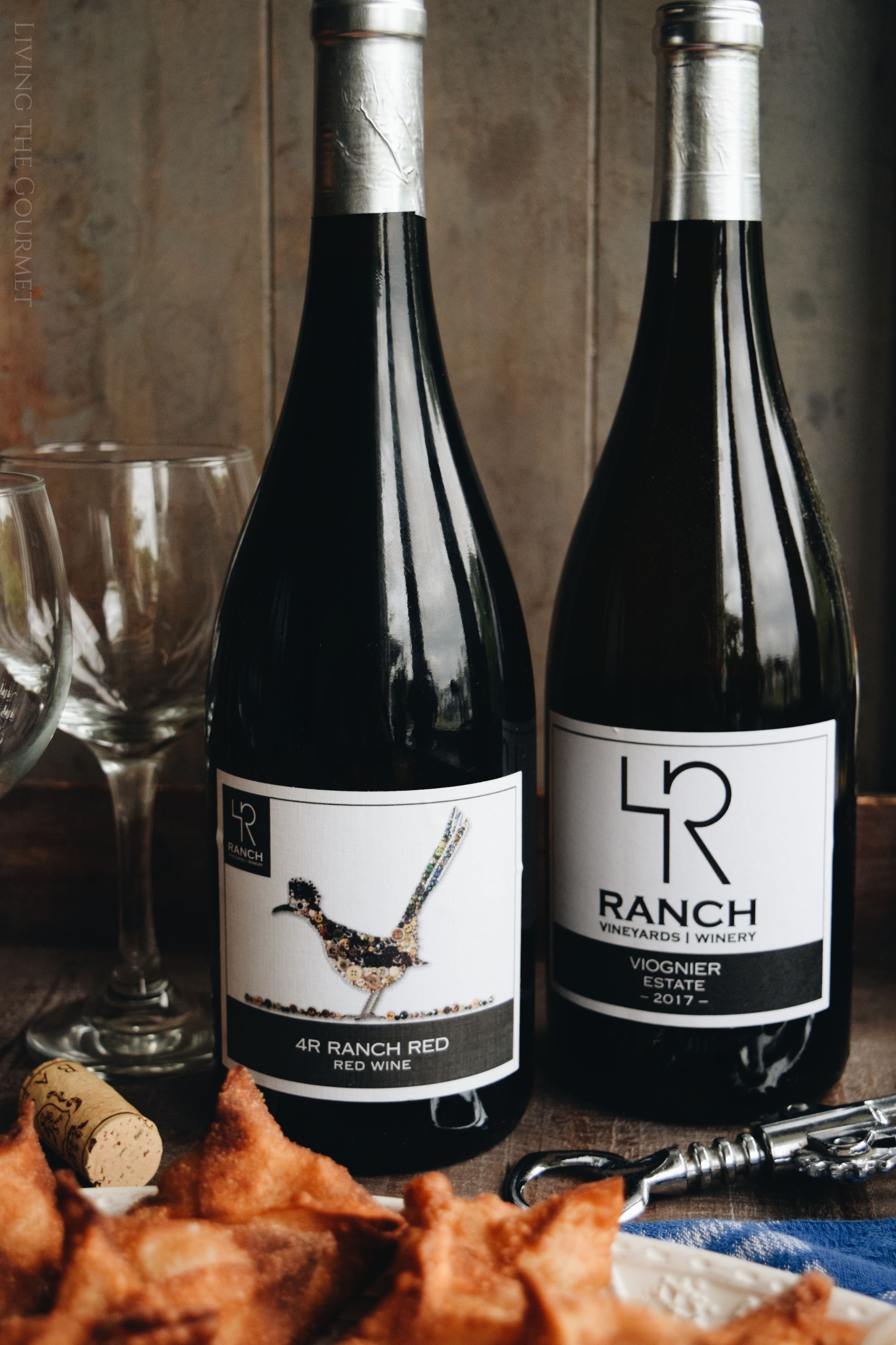 Now, let's move onto today's recipe- Hot Dog & Onion Wontons a delicious surprise and unique way to serve up summer's favorite as an appetizer that is sure to impress.
Print
Exploring Texas Wines PRT III: Hot Dog & Onion Wontons and 4R Ranch Vineyards and Winery
Author:
Prep Time:

15 minutes

Cook Time:

15 minutes

Total Time:

30 minutes

Yield:

2

dozen wontons

1

x
1

package hotdogs

1

package wonton wrappers
egg wash (1 egg beaten with 1 teaspoon water)
Oil for frying
For the onions:
2

large Vidalia onions, chopped

1 tablespoon

butter

1 tablespoon

olive oil

2 tablespoons

brown sugar
Salt and pepper to taste

1 teaspoon

red pepper flakes

2 teaspoons

sweet paprika

2 tablespoons

balsamic vinegar
For the honey mustard dip:
1/4

cup

yellow mustard

2 tablespoons

organic honey

2 teaspoons

balsamic vinegar
Instructions
To begin, chop the hot dogs. Each hot dog should give you about 5-6 pieces.
In a medium pan, melt down butter and olive oil. Add the onions and sweat them out until almost clear. Add the brown sugar, salt, pepper, paprika, and vinegar. Continue cooking until caramelized. Remove from heat and set aside.
To prepare the wontons, add about 1/2 teaspoon worth of the onion mixture to the center of the wonton wrappers with 2 pieces of the hotdog. Brush the edges of the wrapper with the egg wash. To fold, bring each corner of the wrapper to the center, then pinch the edges to seal. Continue this process for the rest of the wontons. You will get about 24 wontons for this batch.
In a large pan, heat the oil to about 325 degrees F. If you do not have a cooking thermometer, another way to test if the oil is hot enough for frying is to stick the handle of a wooden spoon into the oil. If it bubbles, your oil is ready.
Fry the wontons in batches of five, you don't want to overcrowd the pan so I don't fry more than that. It should only take about 2 minutes on one side and 1 minute on the other, depending on how hot your oil is. When the wontons are golden, you'll know they are done.
Drain on a baking sheet with paper towels and allow to cool. Meanwhile, prepare the honey mustard dip by simply whisking the mustard, honey, balsamic vinegar in a small bowl.
Serve alongside your wontons and enjoy!
Recipe Card powered by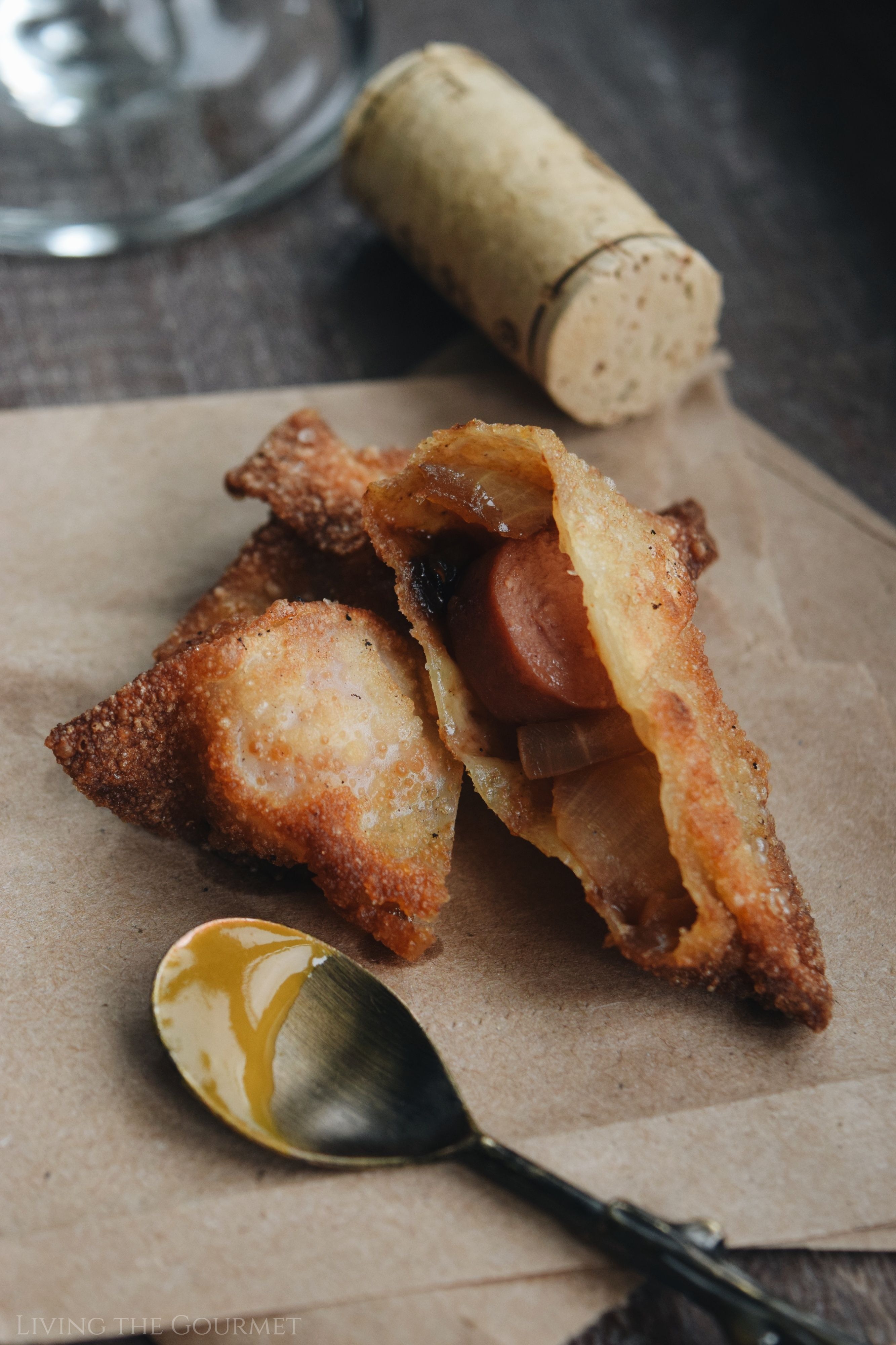 And that's a wrap. I was very pleased with what I received from 4R Ranch Vineyards and Winery, and can easily recommend them to any of my readers looking to explore Texas wines.
Cheers!
0