The following message is intended for those 21+ and has been sponsored by Sparkling Pointe Winery. All opinions expressed are my own. Please enjoy responsibly!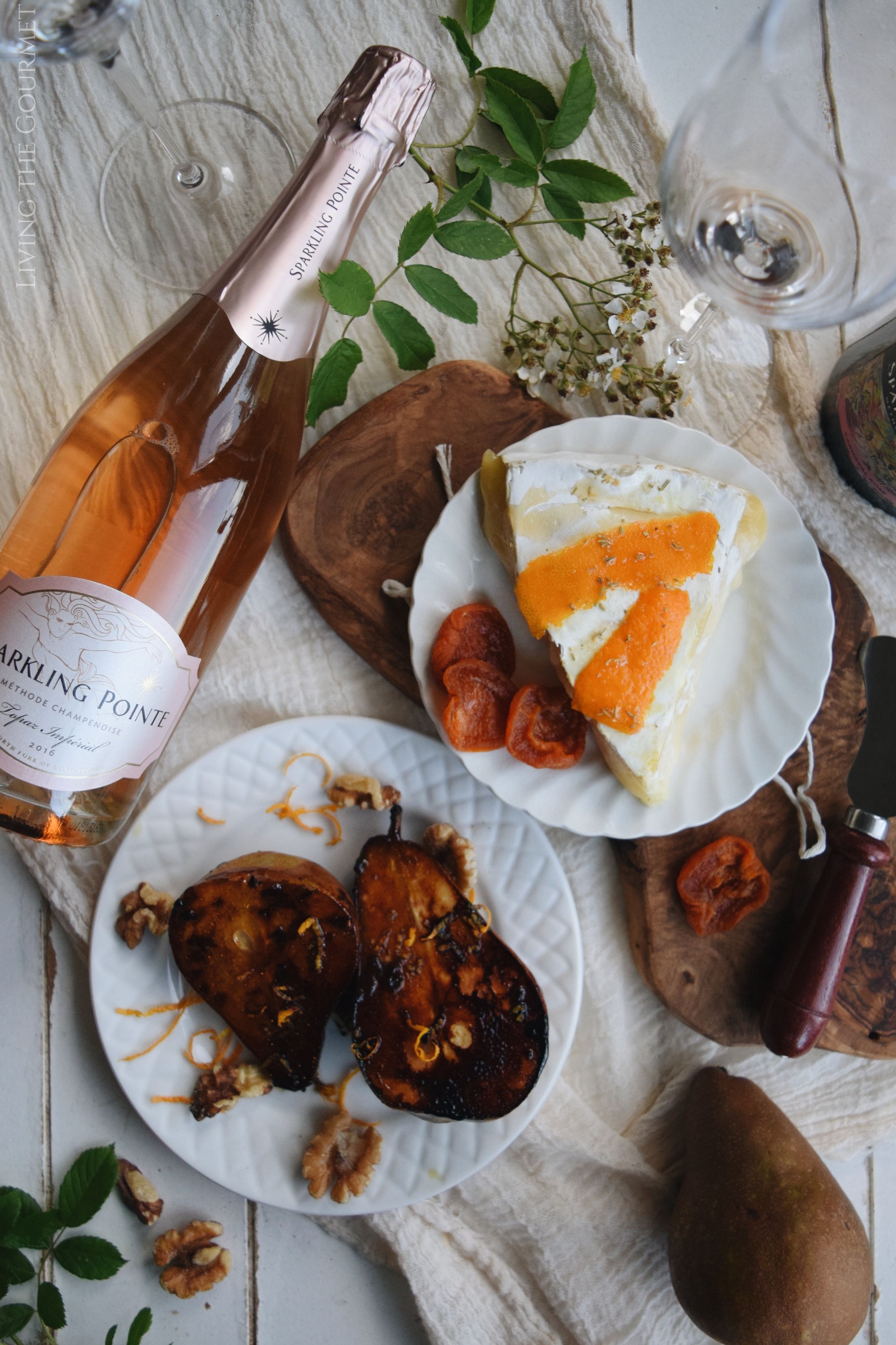 Champagne authority David White opens his book "But First Champagne," by detailing how "Millions of bottles are drunk throughout the world each week at parties, at restaurants, at clubs, at social events. Weddings are toasted with champagne, birthdays are celebrated. It is inarguably the wine that brings the most pure delight, thanks to its bright effervescence, celebratory pop, and – might as well say it – an extraordinary, centuries-long marketing campaign."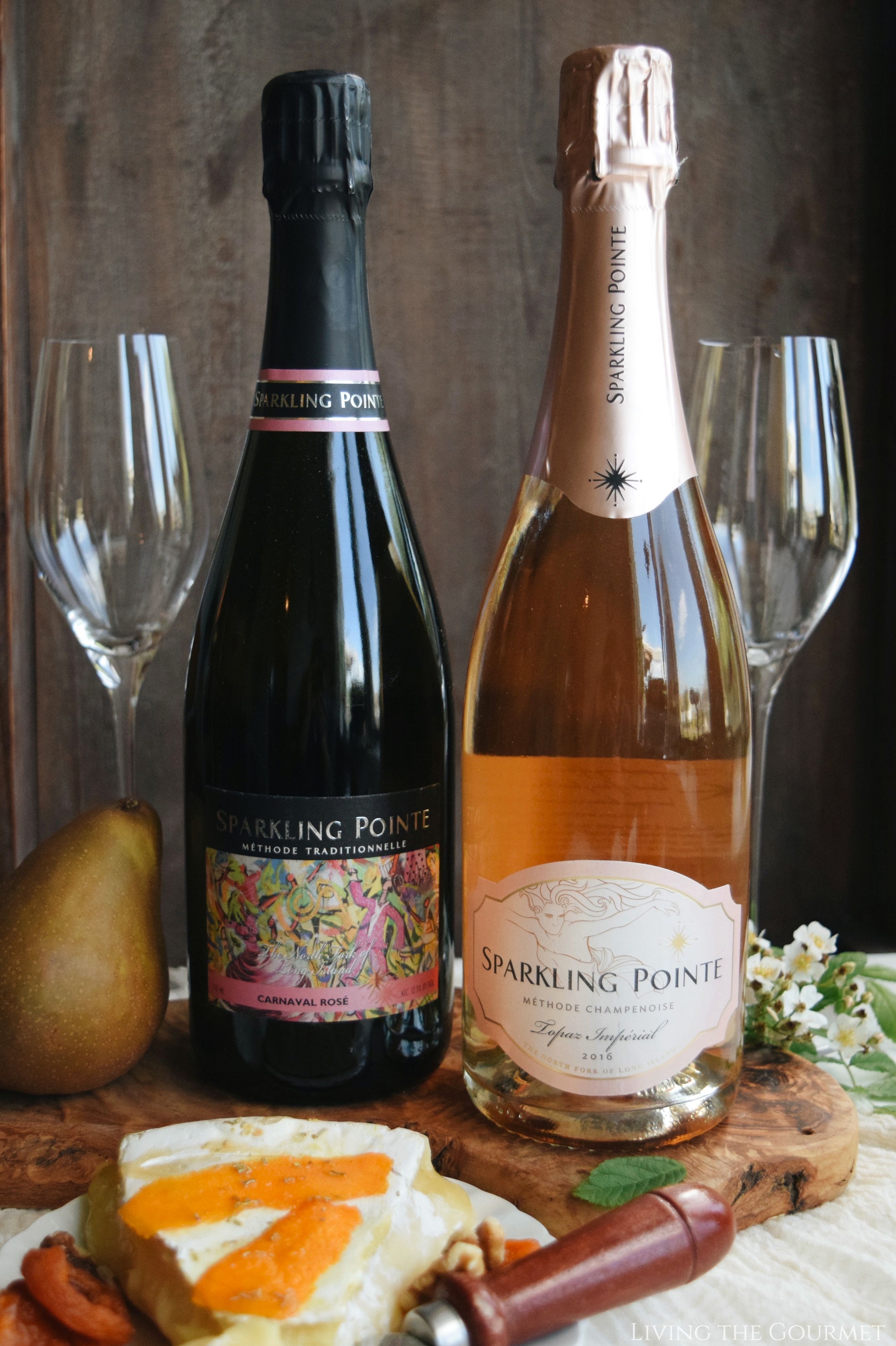 In other words, if there's champagne – or really any variety of sparkling wine – there's almost certainly a reason or occasion to be celebrating. You can see this even in how and when sparkling wine is served, most commonly either at the start of a gathering or at the very end – or both! Since kicking off my summer wine reviews here at Living the Gourmet a couple of weeks ago, I had been meaning to include a few more sparklers, and I thought of Sparkling Pointe, a 40-acre winery right on here Long Island, whose bottles I had the distinct pleasure of reviewing just last year.
Now, in case you couldn't guess from their name, Sparkling Pointe specialize in sparkling wines produced exclusively in the traditional Méthode Champenoise, and today we'll be popping open two of their bottles.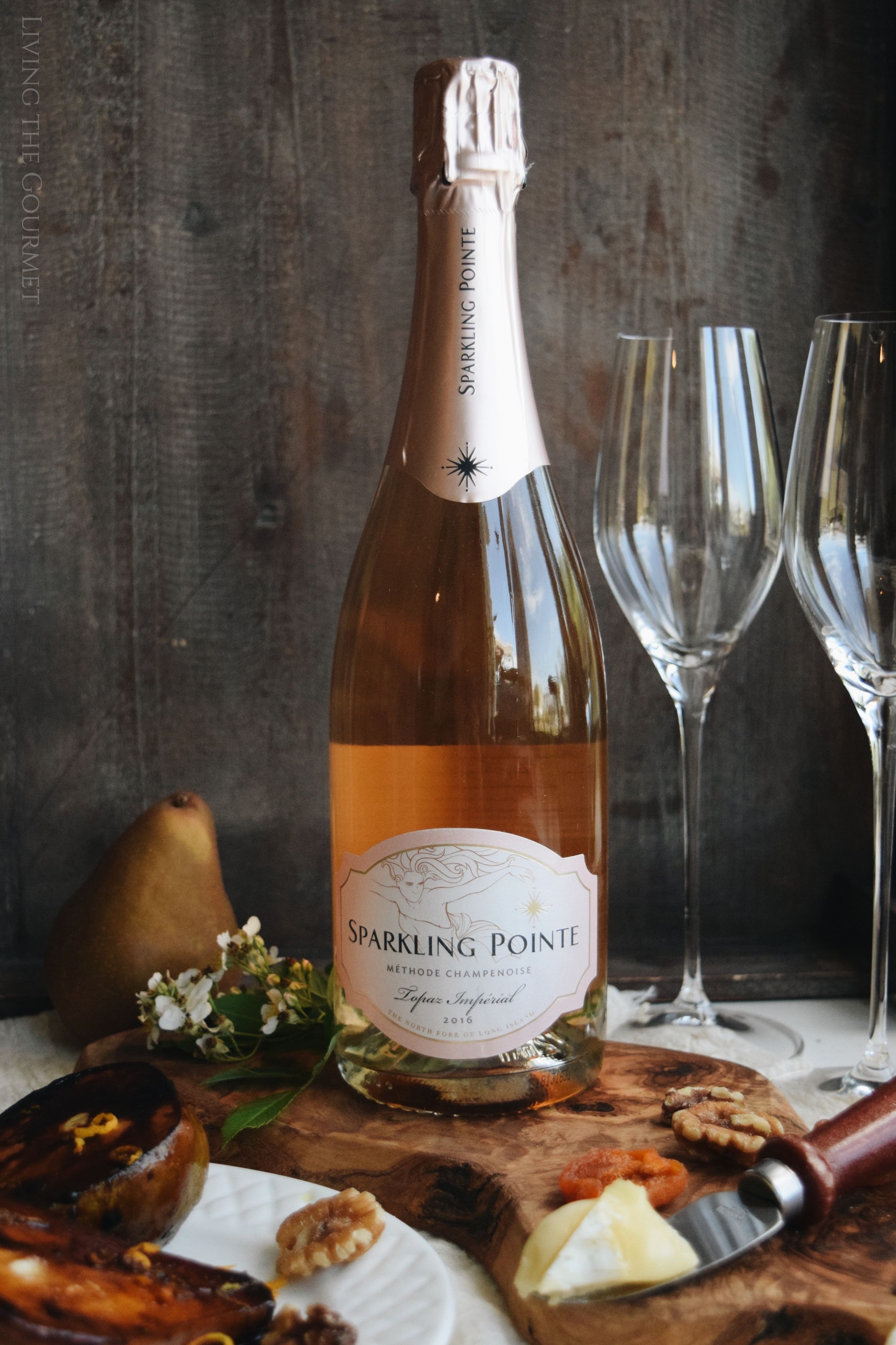 First, we have a 2016 Topaz Imperial, which is a Pinot Noir-Charddonay blend. Off the top of the glass, the wine starts off with bright fruit and light floral aromatics, think sliced ripe red berries mixed with assorted wildflowers. On tasting, the wine is substantially textured, being creamy with a lingering mouthfeel. The palate is quite yeasty and at times earthy, with hints of roasted nut peppered through.
For pairing, I think this is a classic aperitif sparkler. Think of light appetizers such as mushrooms stuffed with goat cheese and breadcrumbs, or shellfish starters prepped in an herbed butter cream sauce. Today, I decided to prepare a warmed brie prepared with orange peel, honey, and fresh rosemary, along with pears caramelized in butter, brown sugar, and cinnamon, the recipe for both of which is below.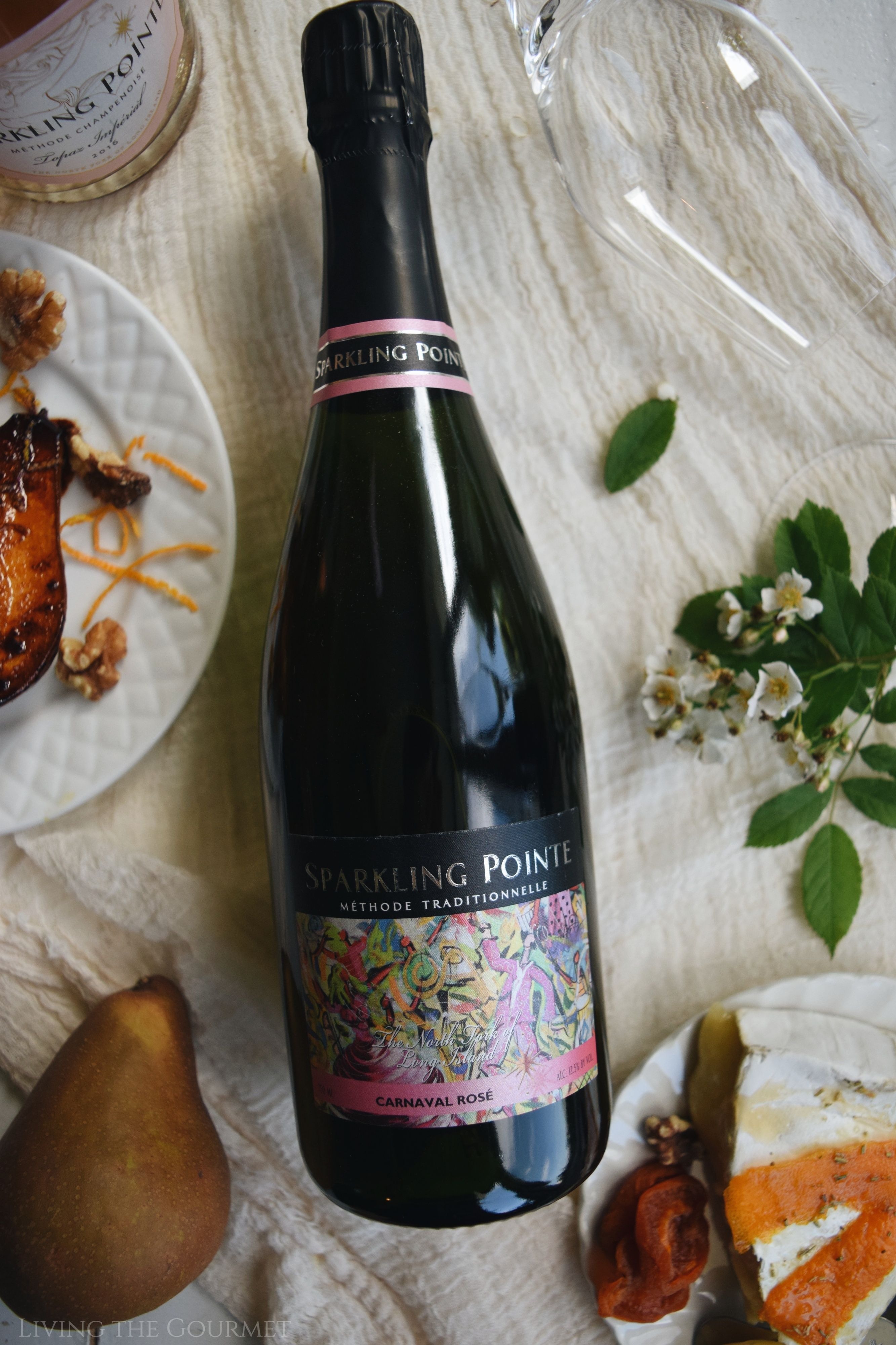 Next up, we have the Carnaval Rosé, which is a Chardonnay led blend of Merlot and Pinot Noir. In the glass, the wine is a gold-tinged salmon pink. On sampling, the wine introduces itself with sliced peach or light strawberry essence mixed with honey, framed in bright summer floral notes. On sampling, a striking acidity carries sweet berry notes, creating a very balanced and refreshing wine.
For pairing, this is an aperitif through and through, since the best pairing possible is simply company and a good time. Think colorful salads, soft cheeses, sliced fruit, and light appetizers.
Today, we are doing just that by serving our sparkling selection alongside Baked Brie and Caramelized Pears for a light, sweet summer fare!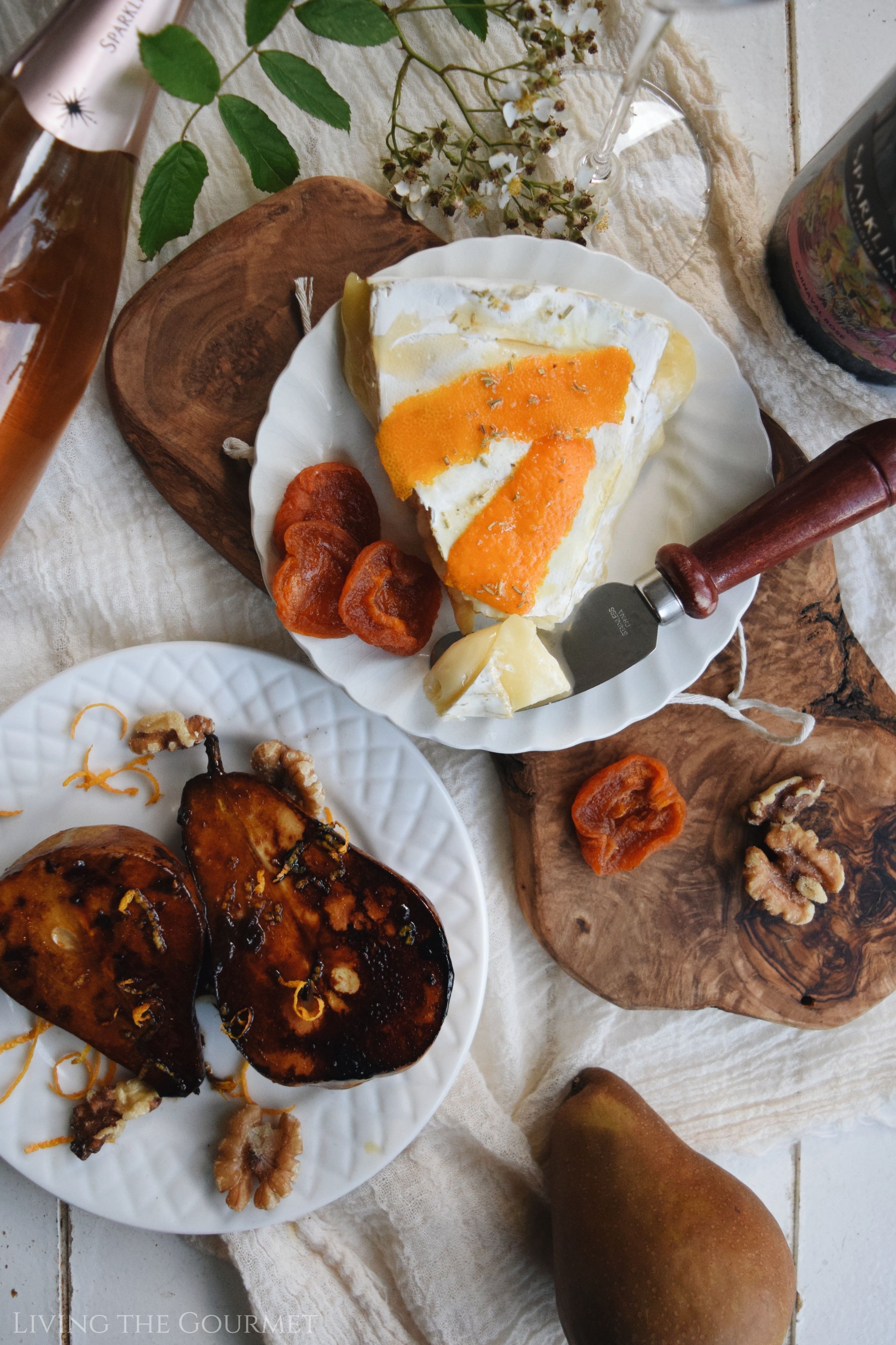 Living the Gourmet
Baked Brie & Caramelized Pears featuring Sparkling Pointe Winery
20 minPrep Time
15 minCook Time
35 minTotal Time
5 based on 7 review(s)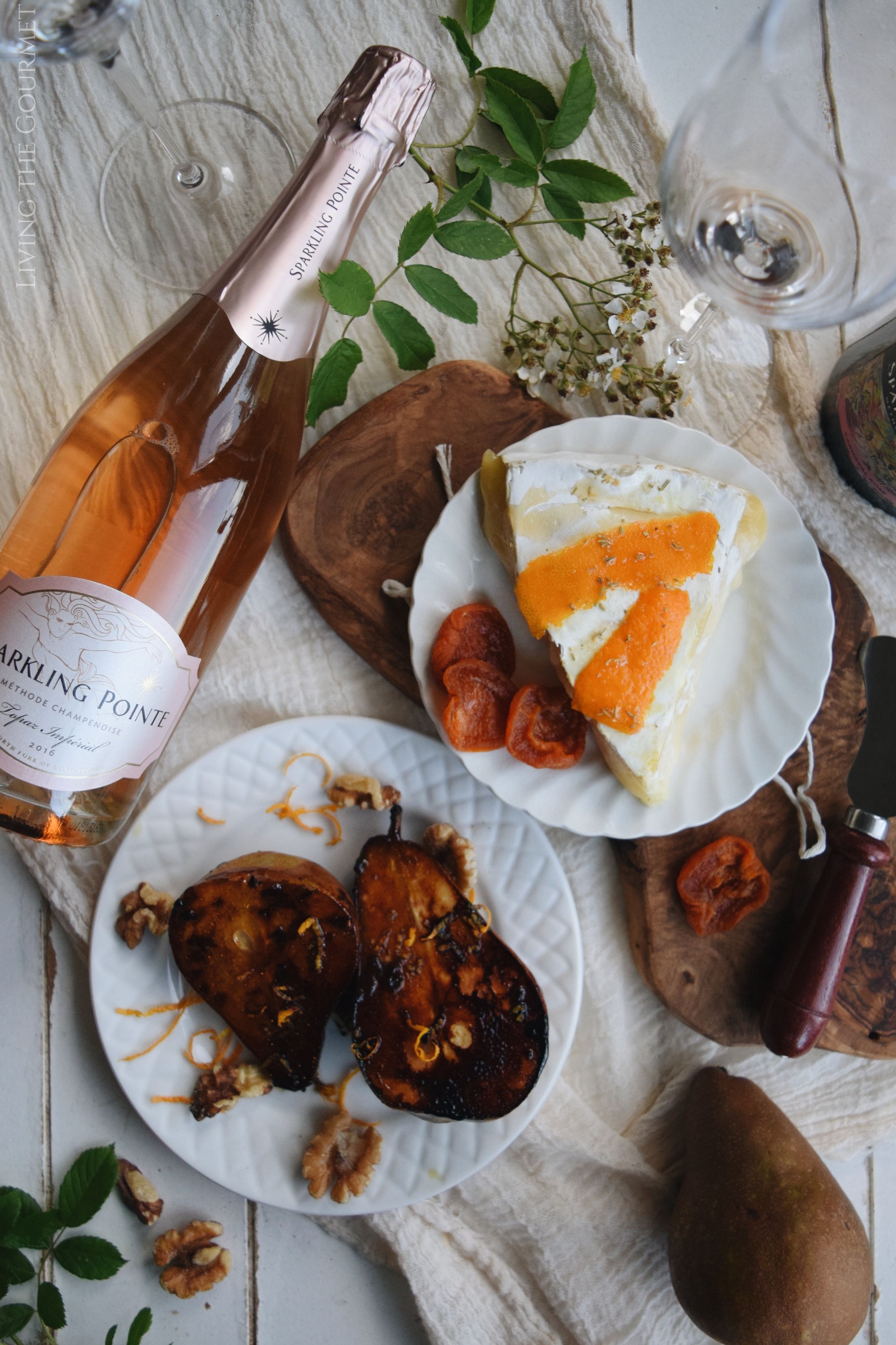 Ingredients
For the Bake Brie:

1 wheel of Brie
1 tablespoon organic honey
3 orange peels
Salt to taste
Pepper to taste
Dried Rosemary to taste

For the Caramelized Pears:

2 pears, halved (I used Bosc)
1 tablespoon butter
1 tablespoon brown sugar
1/2 teaspoon cinnamon
Instructions
For the Bake Brie:

Preheat oven to 350 degrees F. Place brie on a sheet of parchment paper. Drizzle with honey then top with orange peel and seasonsings. Wrap and heat in the oven for 5-8 minutes, until softened and slightly melted. Serve alongside your favorite fruit slices and crackers.

For the Caramelized Pears:

In a medium pan, melt down butter with brown sugar and cinnamon. Add the pears to the pan and cook until golden and softened, about 10-15 minutes. Serve alongside your cheeseboard.
7.8.1.2
1309
https://livingthegourmet.com/2019/06/baked-brie-caramelized-pears-featuring-sparkling-pointe-winery.html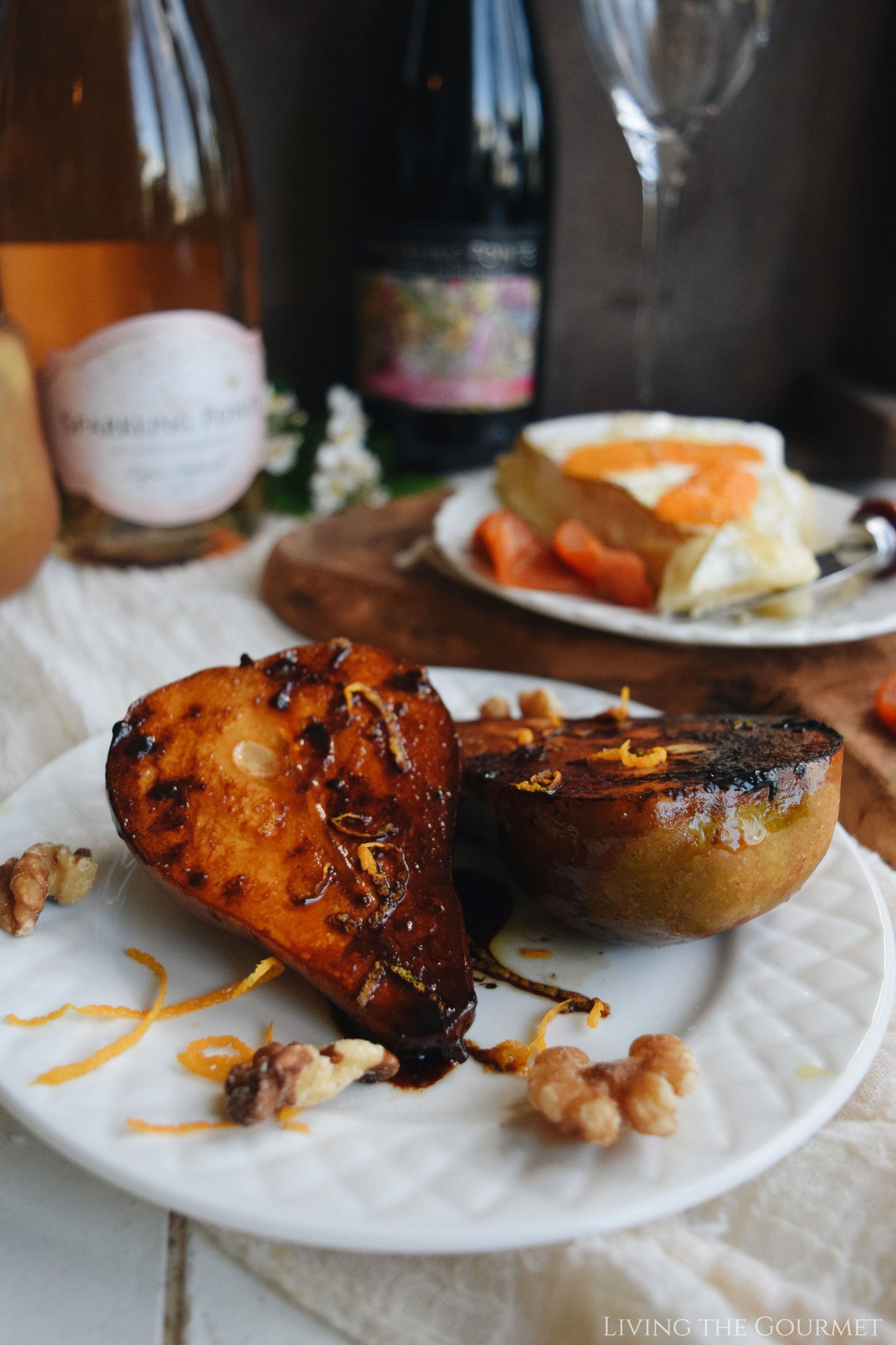 With all of that said, once again I was very pleased with what I received from Sparkling Pointe, and can wholeheartedly recommend them to any of my readers looking for quality, accessible sparklers for their next summer get together.
Cheers!
1