This shop has been compensated by Collective Bias, Inc. and its advertiser. All opinions are mine alone. #EasterWithHatfiedHam #SimplyHatfield #CollectiveBias
Brighten up your Easter table this season with our Honey & Rosemary Ham served alongside roasted vegetables for an easy, classic holiday spread!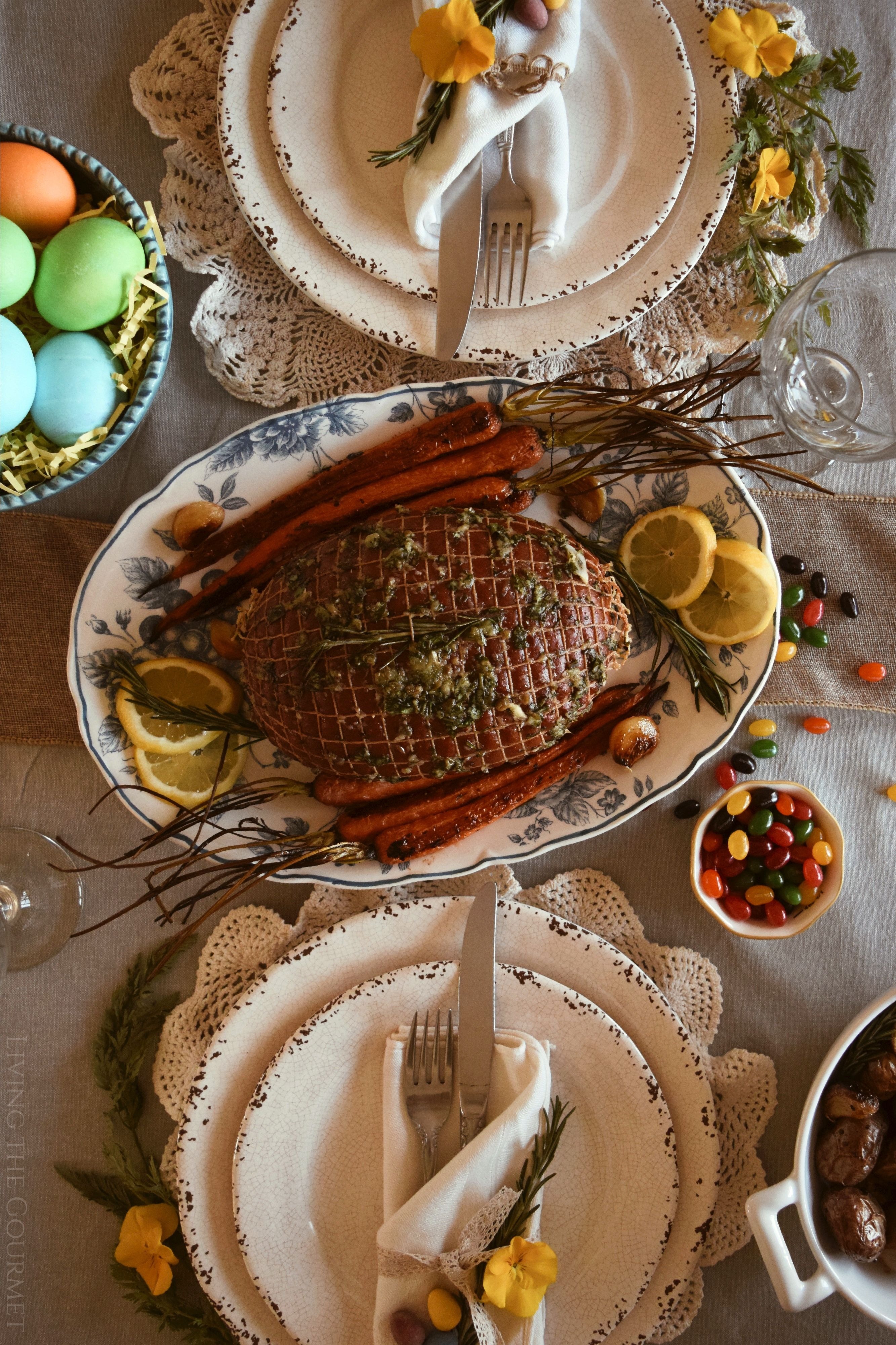 I remember back when the late great Joan Rivers was the host of Fashion Police, one quip that I found particularly amusing was, and I paraphrase from memory, "You don't want to be all matchy matchy, you'll look like you just pulled a heist on a first grader's closet. You're an adult now, learn the appeal of a touch of contrast and clash."
Words of wisdom, to be sure, but there's no denying that certain things just 'go together.' In some cases it's because they simply make sense together, such as summer weather and outdoor barbeques. Other times it's because they bring out the best in each other, such as a good wine meeting its match-made-in-heaven pairing. Other times you just can't imagine the one without the other – such as eggs and coffee. Other times the pairings or 'matches' might not make sense, but you do it anyway because that just 'how things are supposed to be' – I'm looking at you Christmas trees and electrical lights.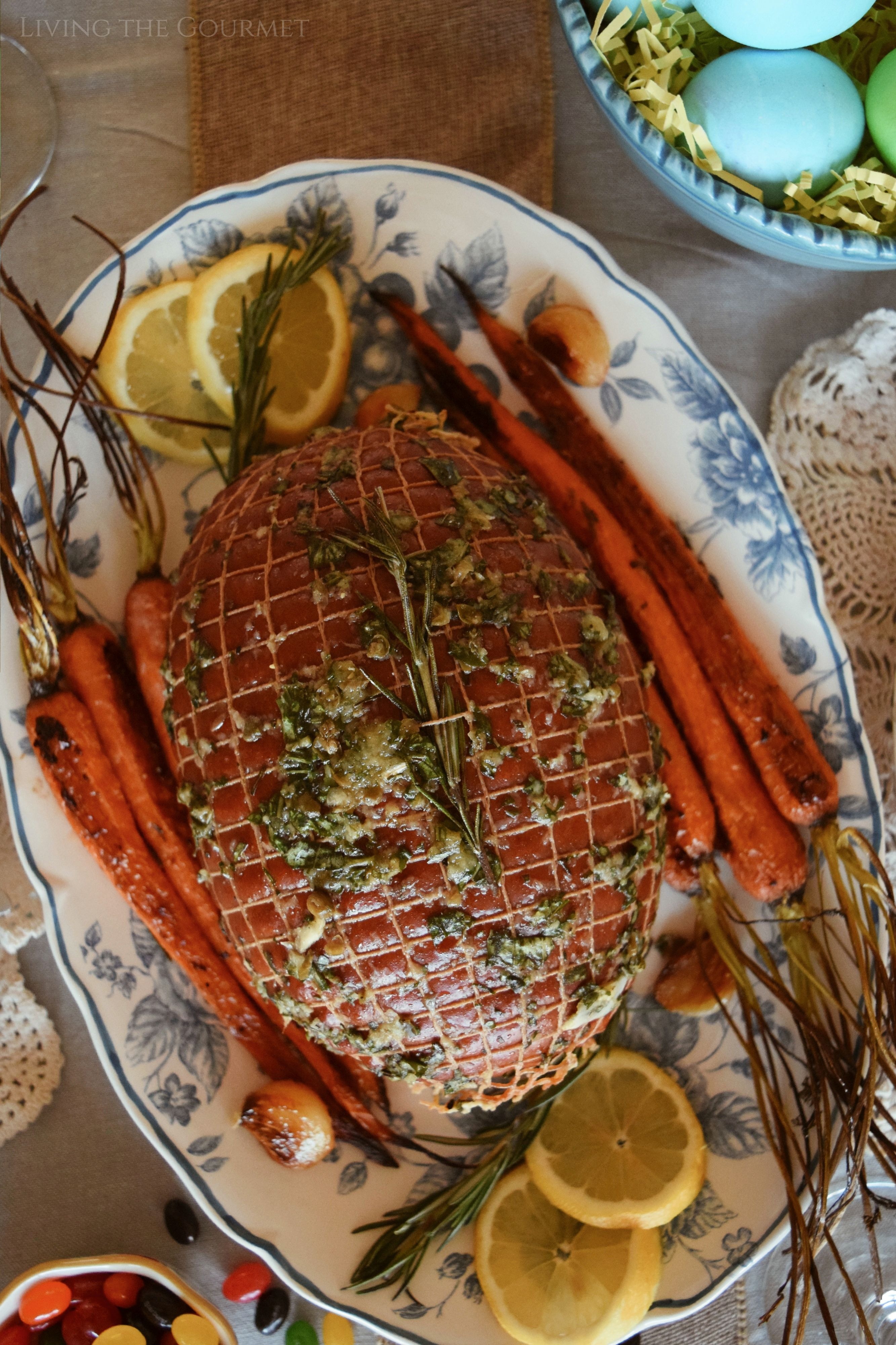 For myself, the Easter season and brunches are one of those types of pairings that just 'go together.' An Easter season full of afternoon brunches in the blossoming outdoors, lashed by the still pleasantly chilled air is, for me, one of the season's most welcomed indulgences, one that I look forward to all winter long.
My key ingredients for the perfect Easter season brunch typically revolve around something light but satisfying, an elegant-yet-relaxed setting, and, of course, nice weather.
To do this, I decided on setting up a brunch setting beside my bay window, and to serve a pair of classic hams prepared with a honey and herb glaze, alongside mixed roasted vegetables with fresh lemon and garlic. Simple, delicious, no-fuss elegance.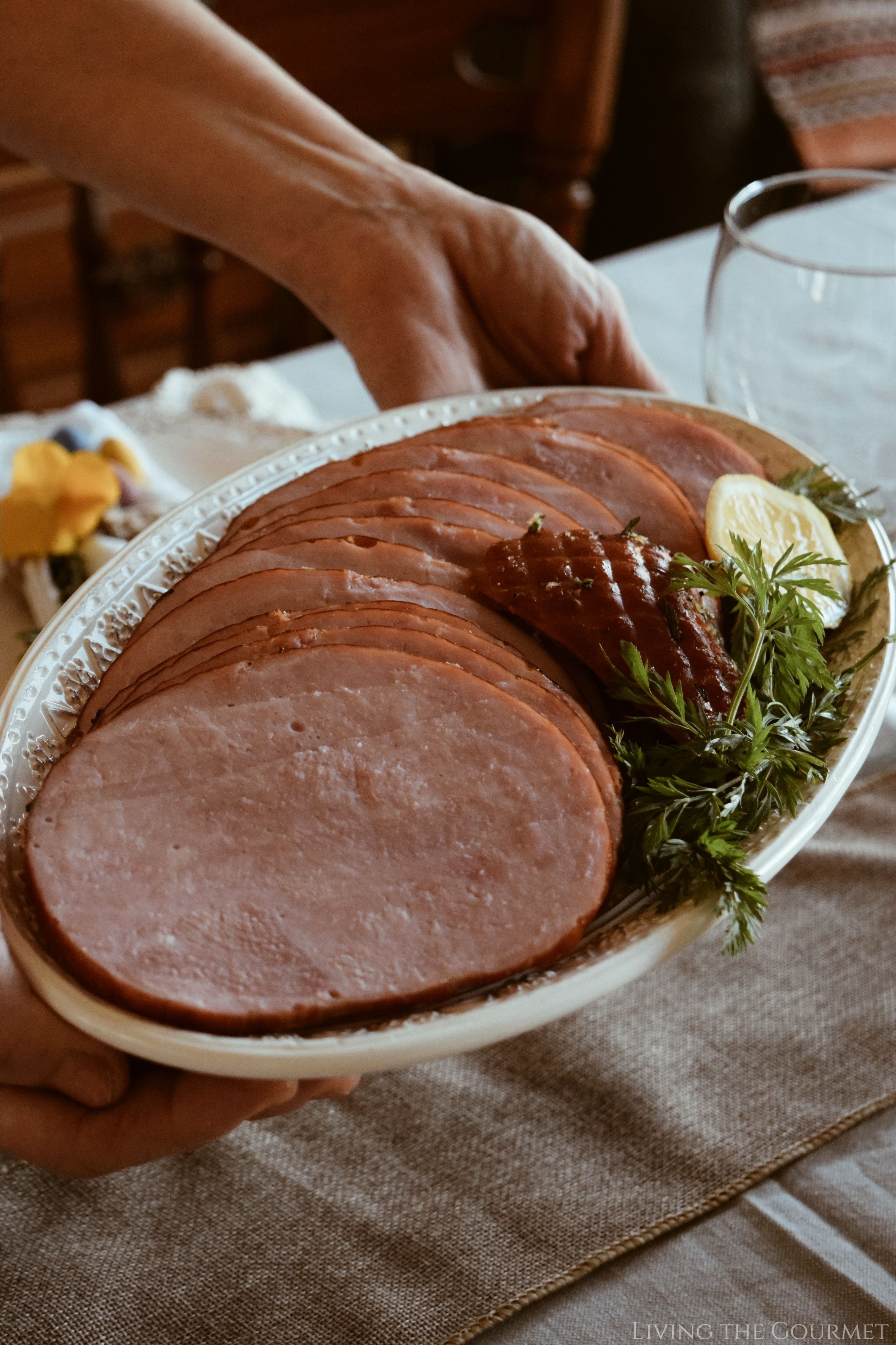 And naturally, that brings us to today's recipe- Honey and Rosemary Ham.
To start things off, we begin with a pair of three pound Hatfield Classic Hams, which I picked up right at my local Shop Rite. For this recipe, I really prefer the Hatfield Classic Hams for a variety of reasons. Aside from simply being delicious, and of reliable quality, they're also ethically raised, and family-owned American made.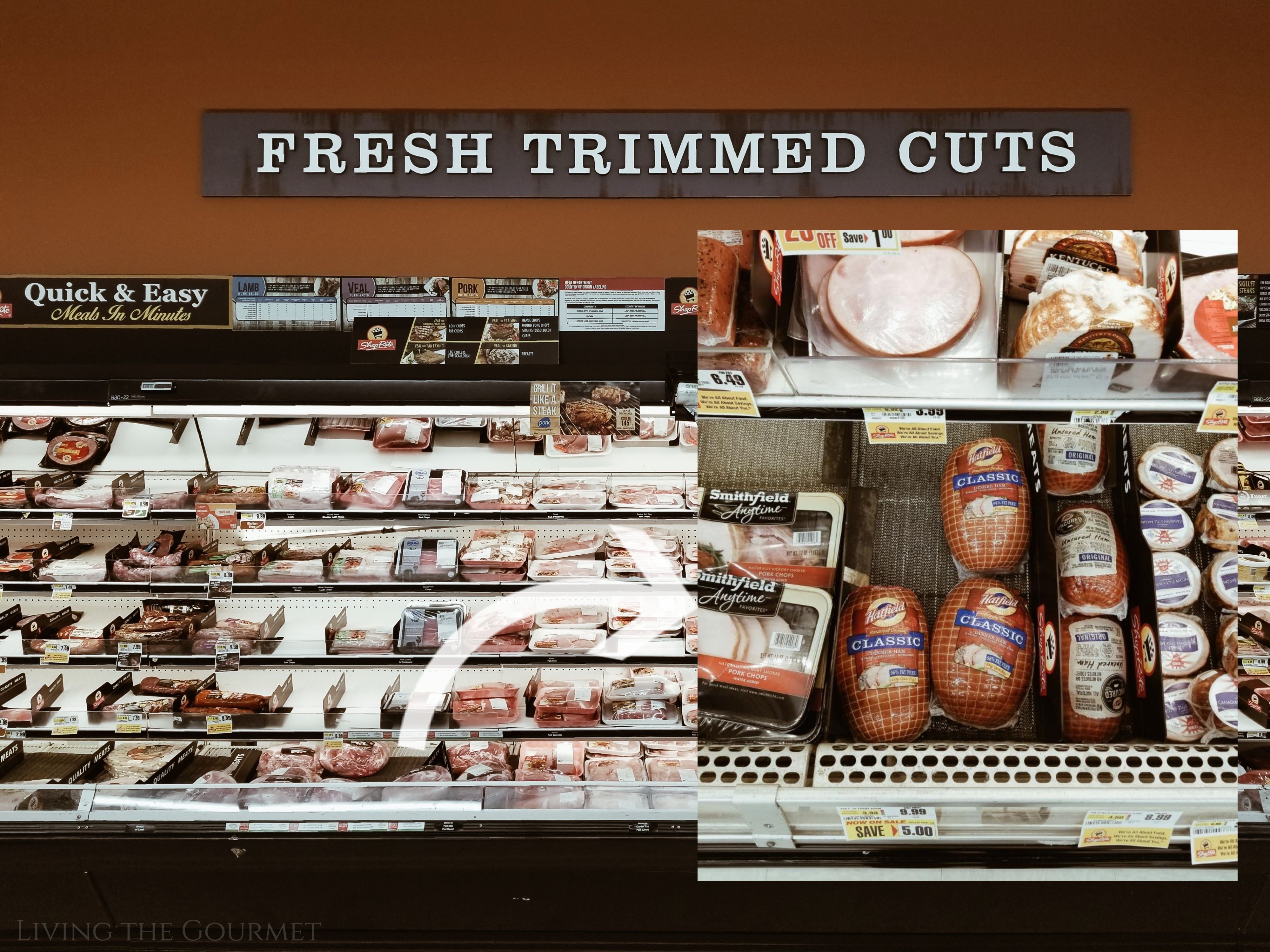 On a side note, I'm sure to have to ham left over, and leftover classic ham makes for great ham with eggs in the morning, or chopped up into scrambled eggs or an omelet, or even as a delicious, thick ham sandwich. In other words, they're not 'just' for sit down brunches or light dinners. On the contrary, these little hams are super versatile, convenient for any time of day.
We begin with the honey herb glaze. In a medium bowl, we combine grating cheese, fresh basil, finely chopped rosemary, some chopped capers with their juice, olive oil, honey, and salt and pepper. Mix that until its thoroughly combined, and then rub it thoroughly over the hams.
Place the hams in a skillet, fill with about a half an inch of water, and then cover the skillet with tin foil, and bake for about thirty to thirty-five minutes at 325 degrees Fahrenheit.
Once done cooking, remove the hams from the oven and let them rest. Leave them covered while resting, and prepare the vegetables.
For this, you're going to want to turn the oven up to 425 degrees. While the oven heats, you're going to toss the vegetables together with the fresh zest and juice of half a lemon, chopped rosemary, a drizzle of olive oil, and salt and pepper.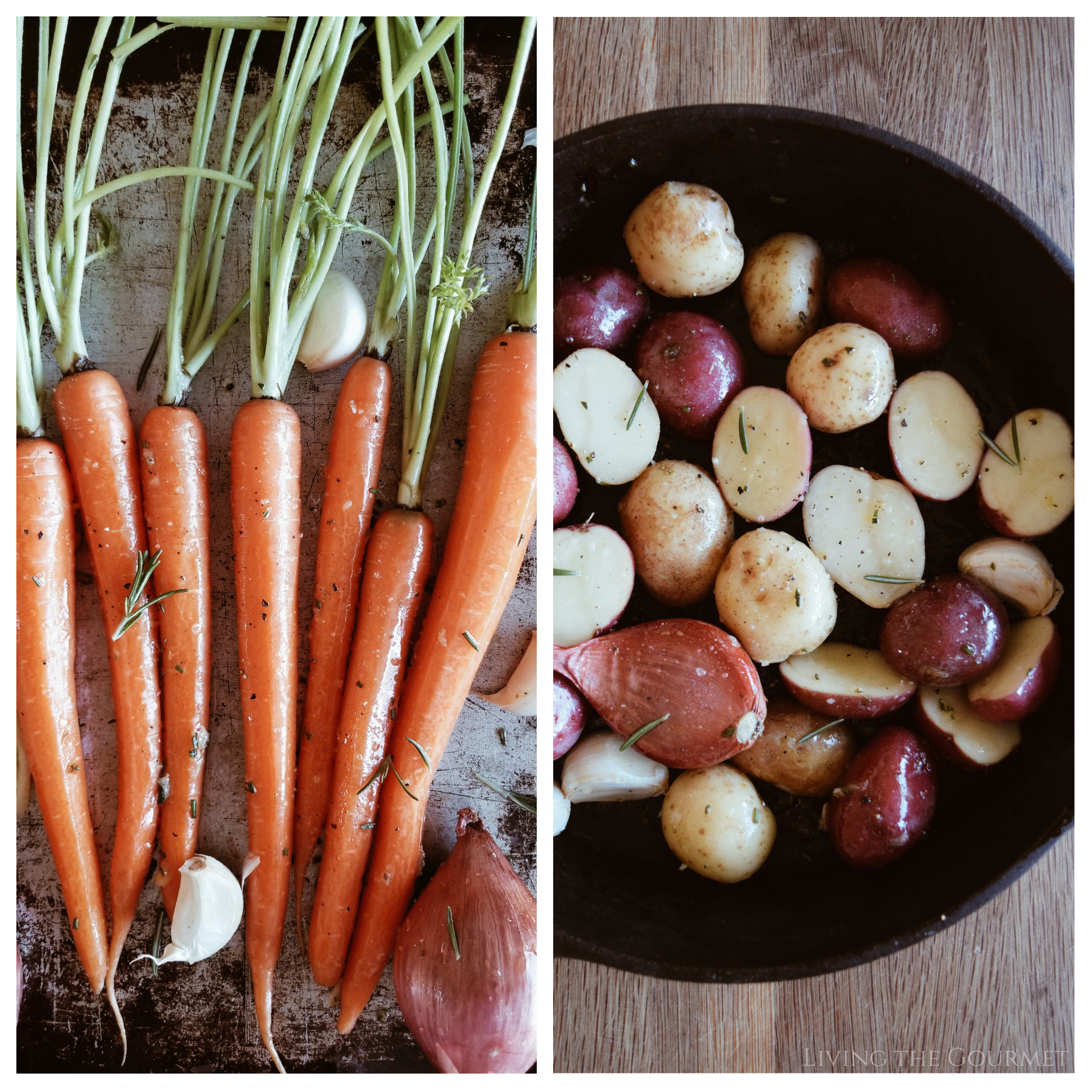 Spread this mixture evenly over a baking sheet, and bake for twenty minutes, or until the vegetables are ever so slightly charred as pictured below. After the vegetables have cooled just a tad bit, the skin from the garlic and shallots will peel right off. While you 'can' peel them beforehand, the skin imparts a nice rustic flavor that you won't otherwise be able to achieve – but if you prefer you certainly 'can' do it beforehand.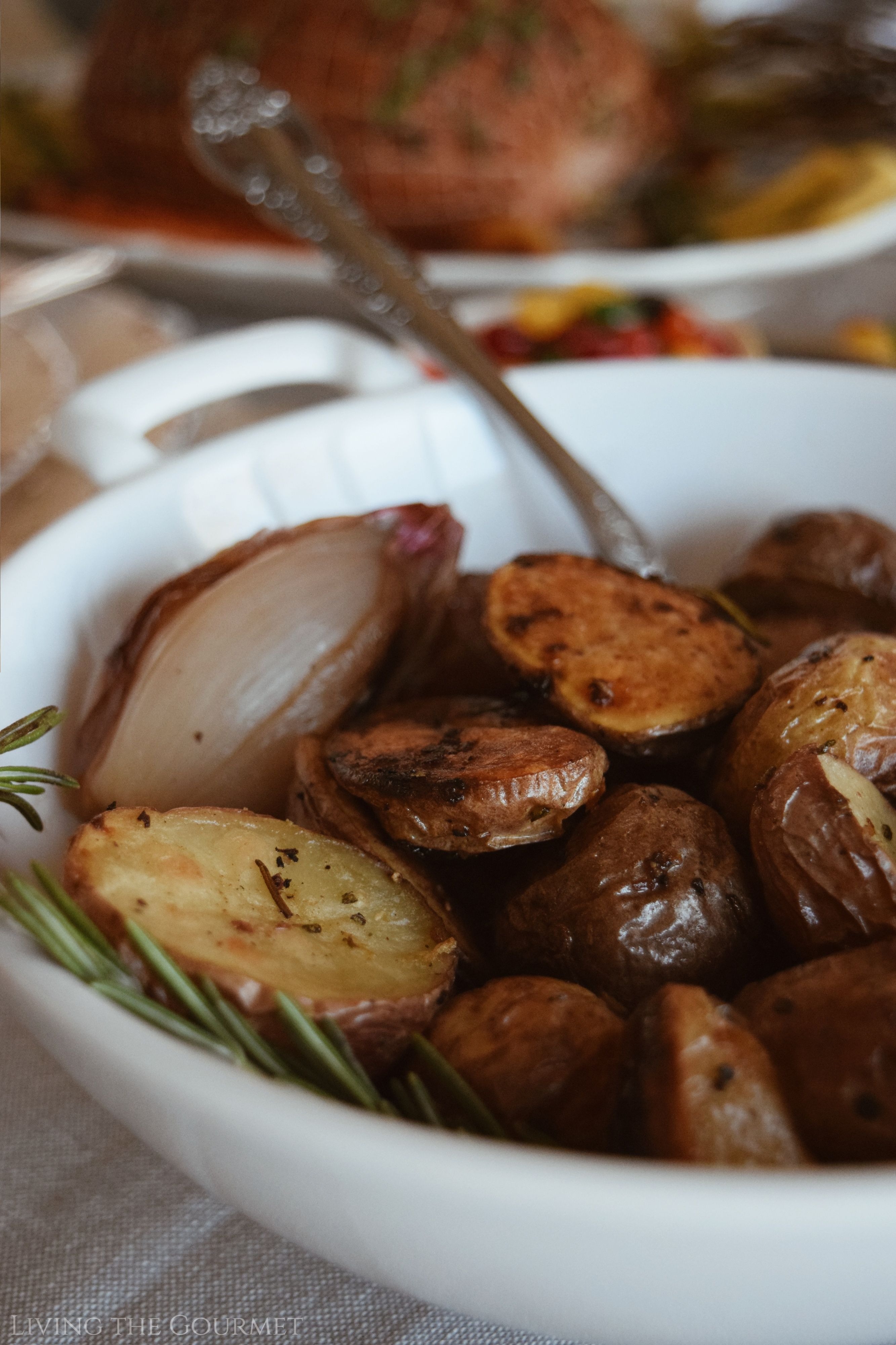 By this time your hams should be done resting. Slice the hams to about one quarter to one-half inch in thickness. Arrange the ham with the roasted vegetables, and serve for a delicious yet blissfully simple Easter season brunch.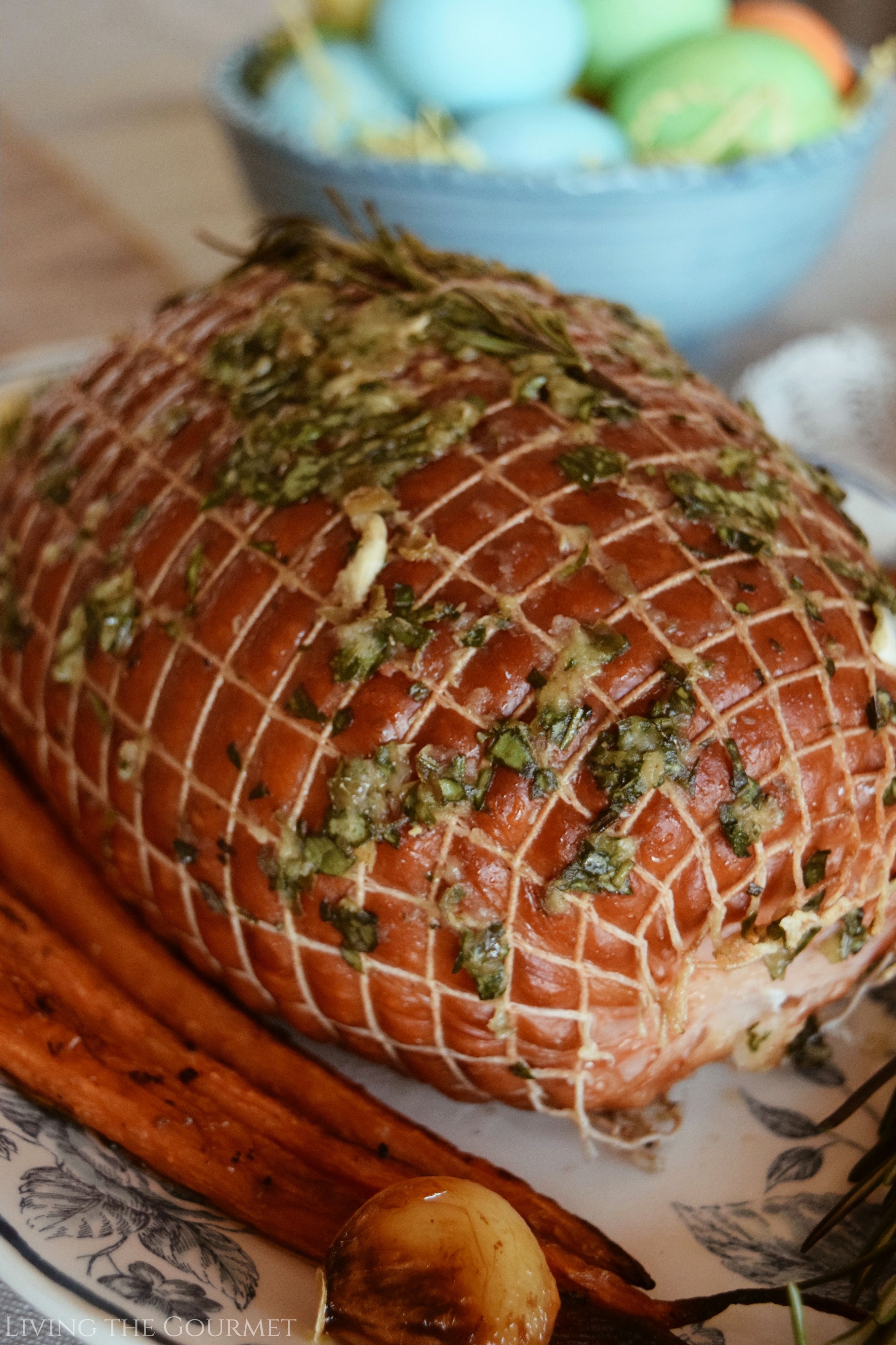 Print
Honey and Rosemary Ham
Author:
Prep Time:

15 minutes

Cook Time:

40 minutes

Total Time:

55 minutes

Yield:

1

ham

1

x
1

Hatfield 3 lb. Classic Hams
Honey Herb Glaze:
1/4

cup

grated cheese

2 tablespoons

fresh basil, chopped

1

sprig Rosemary, finely chopped

1 tablespoon

capers, chopped

2 teaspoons

caper juice

2 tablespoons

olive oil

1/4

cup

honey
Salt and Pepper to taste
For Roasted Vegetables:
8

carrots

10

new potatoes

4

shallots

6

cloves garlic
Salt and Pepper to taste

1

spring Rosemary, chopped
Zest of 1/2 lemon
Juice of 1/2 lemon
Olive oil, for drizzling
Instructions
For the ham:
Preheat oven to 325 degrees F.
In a medium bowl, combine all ingredients for Honey Herb Glaze. Rub over the ham and then place the ham in a skillet. Fill the skillet with ½-inch of water and cover the ham with foil. Bake the ham for about 30-35 minutes. Remove the ham from the oven, and let rest (leave covered with the foil) while preparing the roasted vegetables.
For the roasted vegetables:
Raise the oven temp to 425 degrees F.
Peel the carrots and arrange them on a baking sheet with lemon slices, a few whole cloves of garlic and a couple of whole shallots. NOTE: In total, between the carrots and potatoes, I used 4 shallots and 6 cloves of garlic.
Rinse the potatoes and if desired slice all in half or leave some whole. Transfer the potatoes to a separate baking sheet or pan since they will need to cook a little longer than the carrots. To the potatoes add 3 whole cloves of garlic and a couple of whole shallots as well.
In a large bowl, toss together rosemary, lemon zest, lemon juice, olive oil, salt and pepper. Spread mixture evenly over all the vegetables until well coated. Bake the carrots for about 20 minutes or until the vegetables are roasted and slightly charred. The potatoes will need to cook a little longer, until they are golden and tender.
Serve the ham alongside the roasted vegetables.
Recipe Card powered by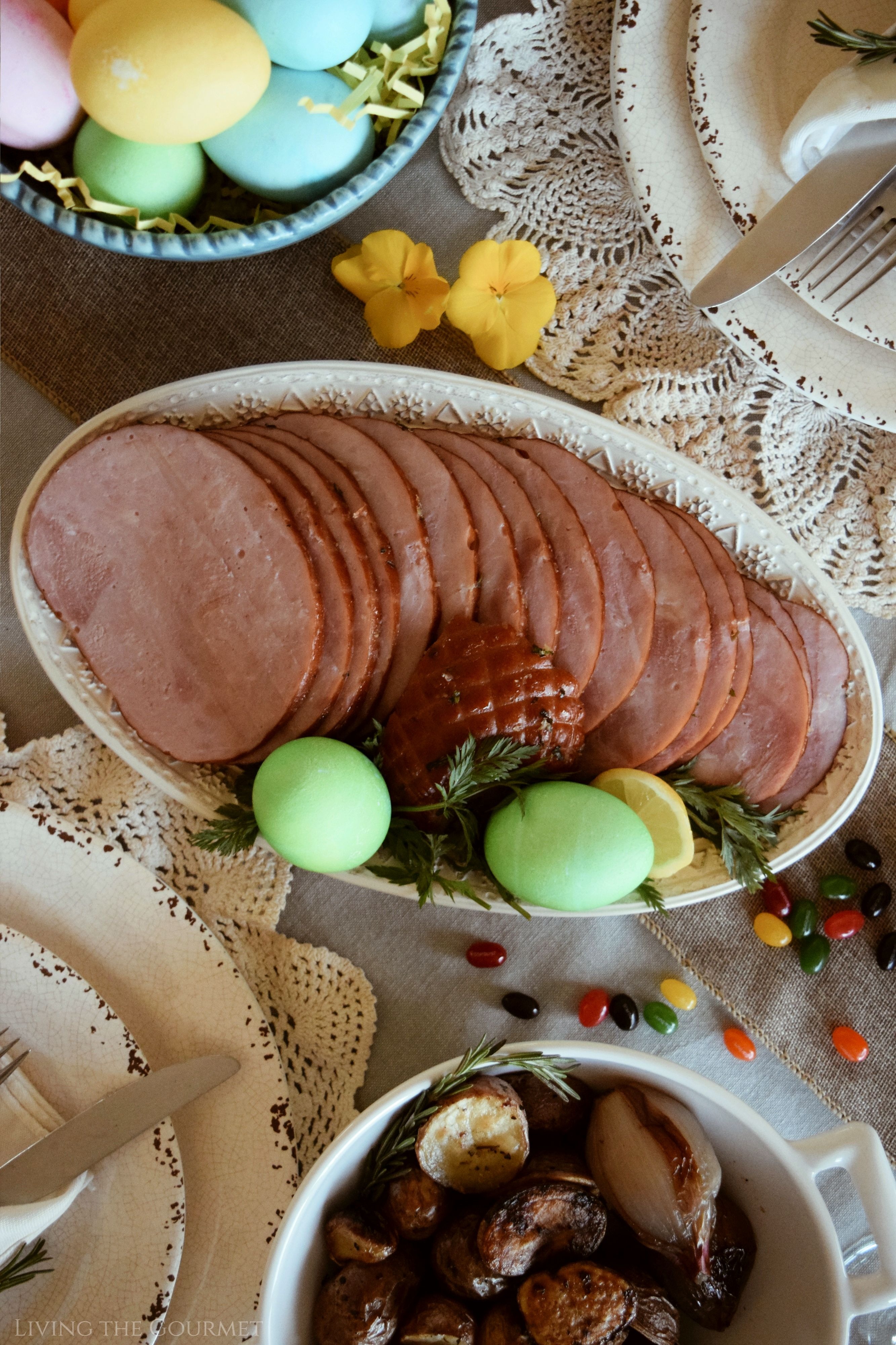 What are some of your favorite ways to enjoy Easter brunches? Also, what are some of your favorite ways to eat left over ham? We would absolutely love to hear from you.
For a limited time only, receive a $2 Rebate with purchase of any Hatfield® Uncured Ham.
Be sure to follow Hatfield for more delicious inspirations this Easter season on:
Facebook
Pinterest
Twitter
Instagram
Enjoy with Love!
1