Sweet apricots and figs bring subtle sweetness to this dish giving your chicken dinner an effortless gourmet makeover.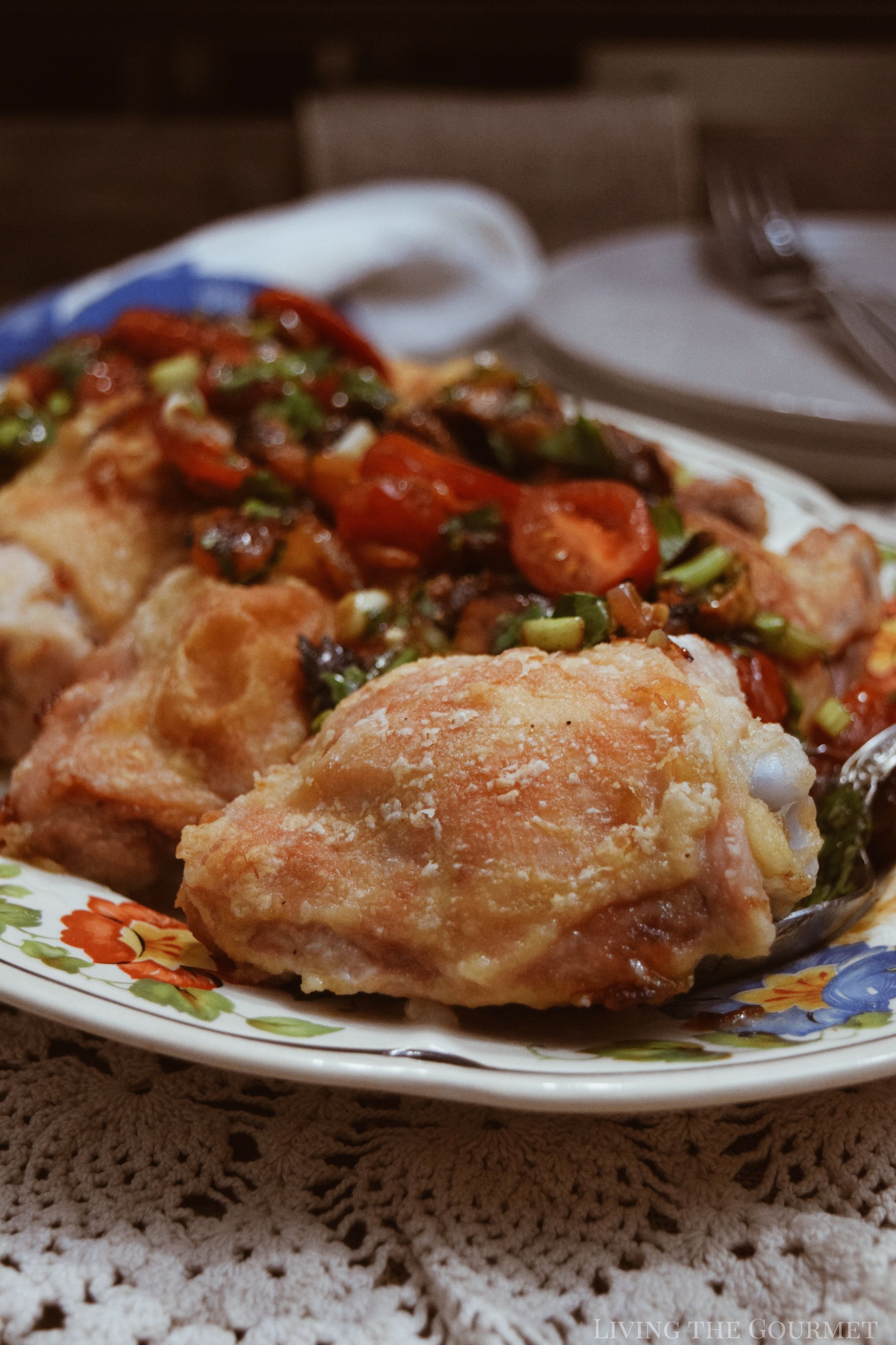 Figs, grapes, and wreaths of laurel took their turns being associated with Roman nobility, with each at one time being seen as a symbol of wealth, royalty, or victory. While grapes and laurel wreaths date back on the Italian peninsula to the dawn of recorded history – the origin of the fig's presence on the peninsula is somewhat more obscure.
The fig was likely first introduced into Italy via Greek merchants and colonists, who themselves were introduced to the tiny fruit via their colonial presence in Anatolia, and through trade networks connecting the Greek mainland to the coasts of Syria and North Africa. However, there is evidence that the fig's popularity in Italy exploded only after the Roman conquest of each of the aforementioned areas. Perhaps the fig was seen as more valuable or representative of victory following the conquests, or perhaps it was only then that it became available in large enough quantities to enter the Empire's cultural mainstream.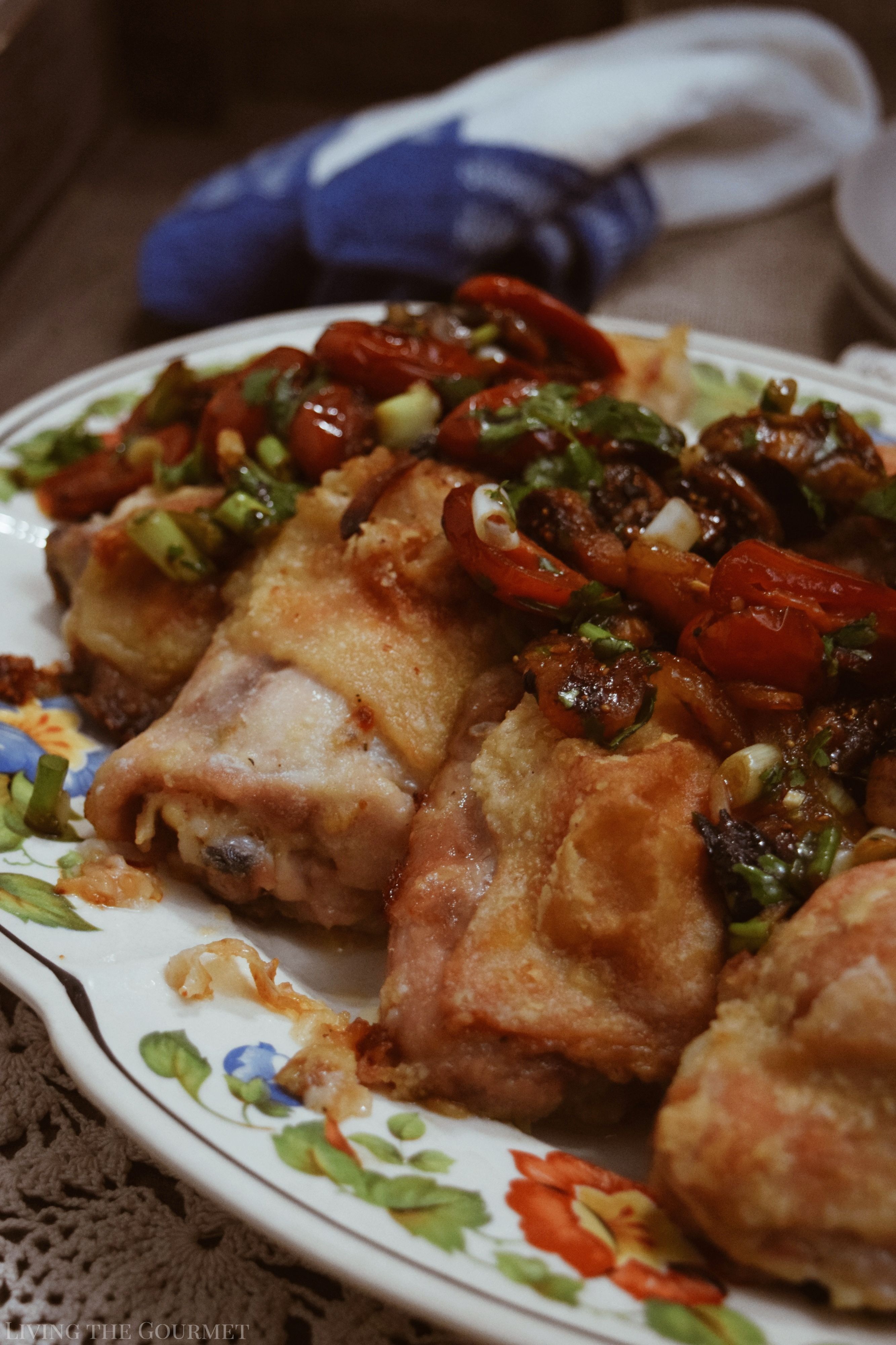 Whatever the case maybe, figs are now ubiquitous in Italian cuisine, although they are somewhat more popular in the Southern half of the peninsula, and in Sicily especially.
Here in the states, today they're widely available at almost any supermarket, however when I was growing up they one of the many reasons to visit your 'corner fruit market,' since they were something of a novelty that most people simply weren't familiar with at the time.
Hard to imagine, I know.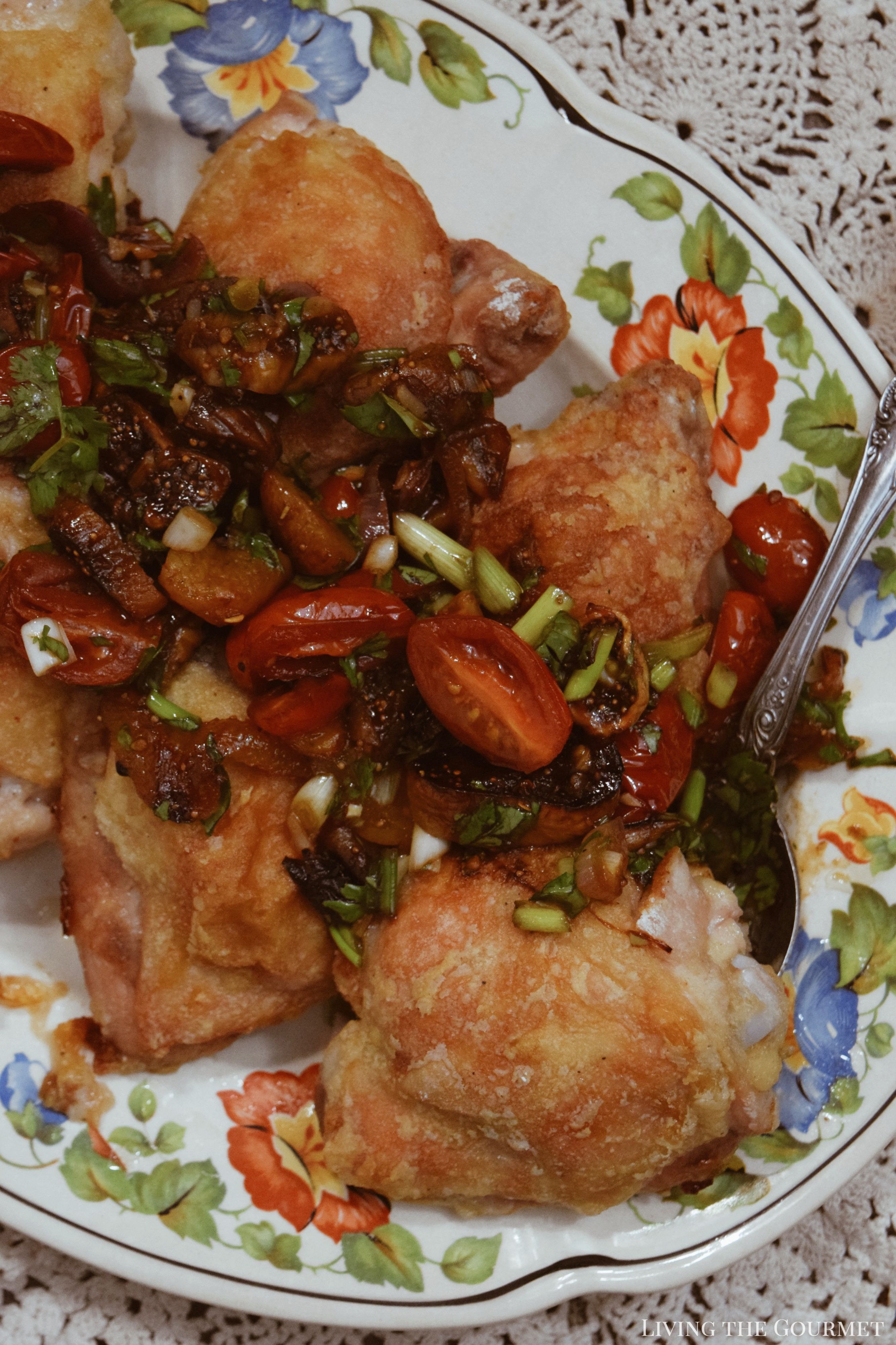 While I can still remember my grandfather eating these in copious quantities on their own, today I decided to use them as part of the base for a sweet and savory sauce to put over breaded chicken. While I'll be using dried figs for today's recipe, you can easily use fresh figs if you prefer – although fresh figs will turn up the sweetness level of the sauce just a tad, as well as make it a bit 'thinner.' Again, however, this is a matter of pure preference.
To start things off, I began by slicing up about a cup and half of dried apricots and figs – evenly divided between both. I then heated up a large cast iron frying pan with olive oil, and threw in some halved tomatoes, a sliced onion, crushed and sliced garlic, and then the figs and apricots.
Let that sauté for about twenty minutes, tossing a few times as it simmers.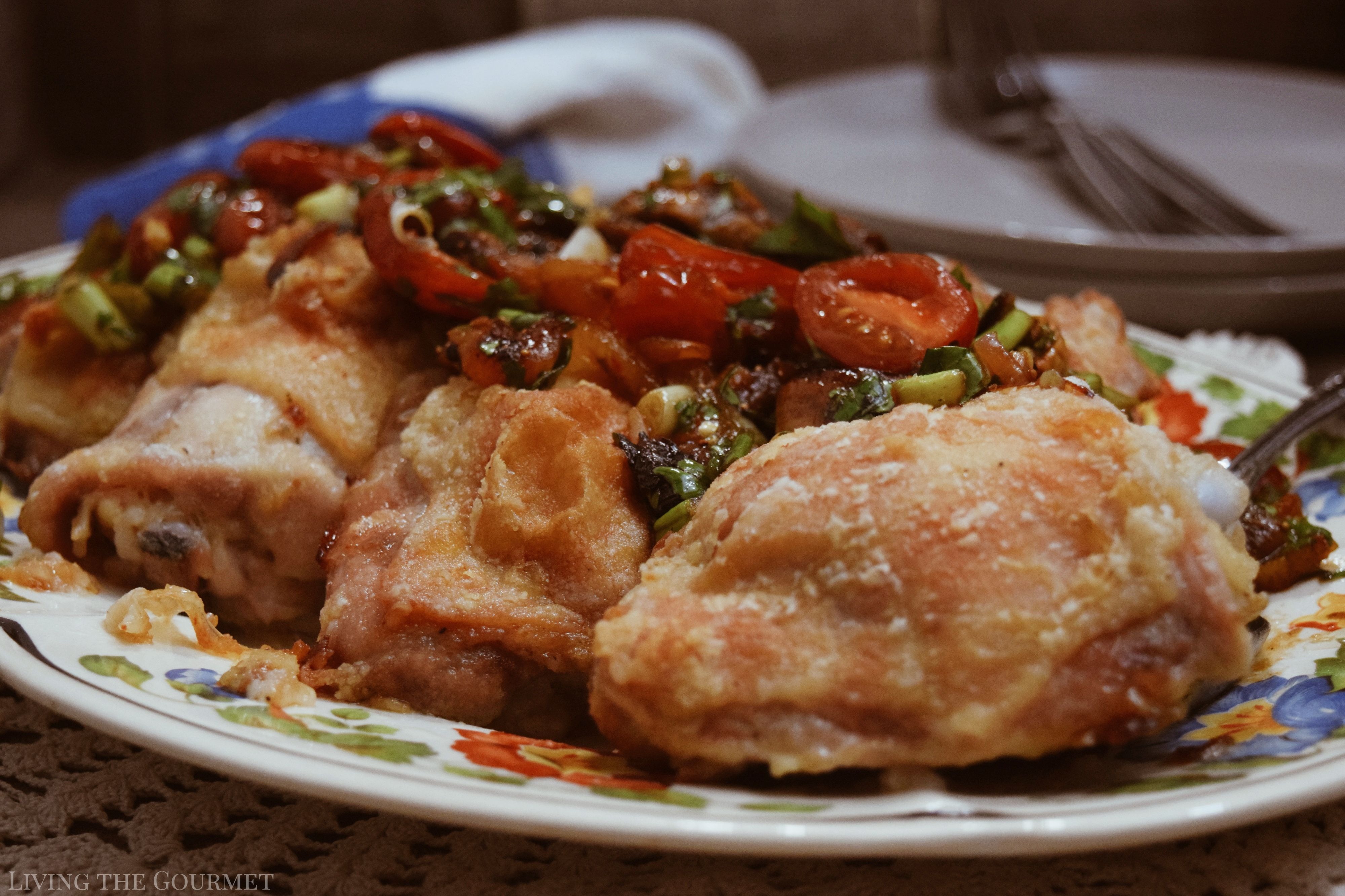 Then turn off the heat, add in chopped cilantro, scallions, and toss again. In a separate cup, combine about two ounces of honey with two ounces of balsamic vinegar, stir thoroughly, and then add that into the sauc and set it aside.
For the chicken, you're going to want to begin with about fourteen bone-in chicken thighs – skin on or off as preferred. To start, we season about 10 ounces of all-purpose flour with salt and freshly ground black pepper, and then dredge the chicken thighs in this mixture. No egg wash required for this particular recipe. Magic.
Set them in a baking pan, drizzle with a bit of olive oil, and then bake them for about thirty-five minutes at 375 degrees Fahrenheit. Then lower the temperature to 300, remove them from the oven, and spoon the sauce evenly over the thighs, and then set them back in the oven to bake for another fifteen minutes, and they're ready to serve.
Living the Gourmet
Yields 1 dozen chicken thighs
Fig and Apricot Chicken Thighs
5 minPrep Time
25 minCook Time
30 minTotal Time
5 based on 27 review(s)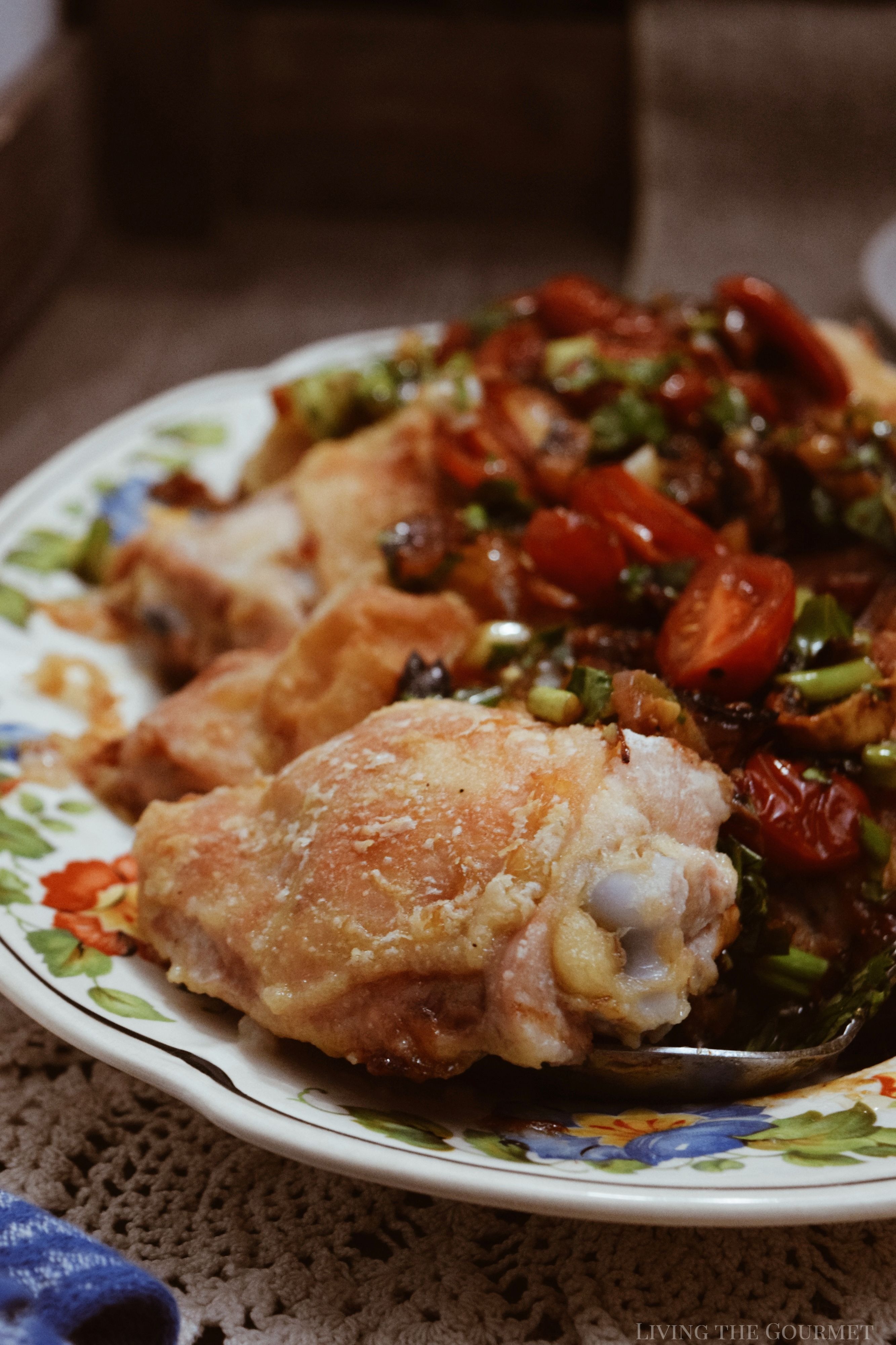 Ingredients
For the Chicken:

12 – 14 bone in chicken thighs
1 ½ cups flour – seasoned with salt and fresh ground black pepper
Olive oil for drizzling
Dredge the chicken thighs in the seasoned flour and place in a baking pan.
Drizzle each thigh with olive oil

For the Fig and Apricot Sauce:

1 ½ cups of mixed dried figs and dried apricots – sliced
5 cloves of garlic – chopped
1 medium sized red onion – sliced
2 pints of grape tomatoes – halved
1 fresh bunch of cilantro – stems removed and chopped
3 bunches of fresh scallions – chopped
1 tsp. of salt
½ tsp. fresh ground black pepper
1 tsp. dried oregano
¼ cup of honey
¼ cup of balsamic vinegar
3 tbs. olive oil
Instructions
For the Chicken:

Preheat Oven 375 degrees F.
Bake 30 – 35 minutes.
Lower Oven temperature to 300 degrees F.
Remove from oven and spoon the sauce over each thigh.
Place back in the oven for 12 – 15 minutes.
Remove from oven and serve along with the Fig and Apricot Sauce. (See recipe below)

For the Fig and Apricot Sauce:

Heat a large cast iron frying pan with the olive oil. Place the halved tomatoes, sliced onion, sliced figs and apricots, and garlic in the pan.
Sauté 20 – 25 minutes tossing as it simmers gently.
Turn heat off. Add the chopped cilantro and scallions and toss.
Combine the honey and balsamic vinegar and stir into the sauce.
Serve over the baked chicken thighs.
7.8.1.2
813
https://livingthegourmet.com/2019/01/fig-and-apricot-chicken-thighs.html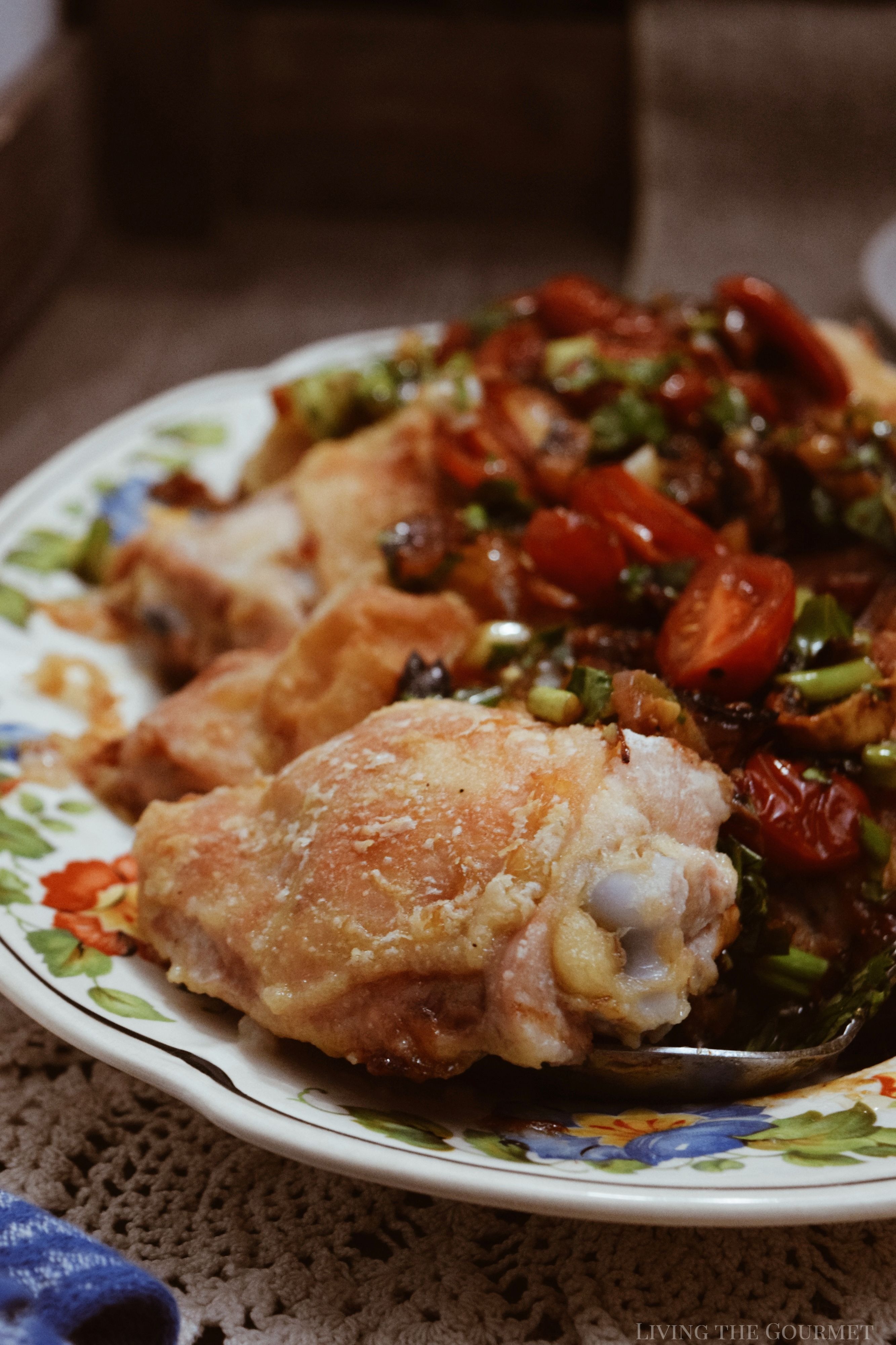 Enjoy with Love!
2