This shop has been compensated by Collective Bias, Inc. and its advertiser. All opinions are mine alone. #RealFlavorRealFast #SmithfieldRealFresh #CollectiveBias
Meal-prep and easy assembly come together in this hearty family-style meal. Simply pop the Smithfield Marinated Fresh Pork in your crockpot and let it simmer away until dinnertime, then simply toss together this easy pasta salad that takes only a few minutes to make.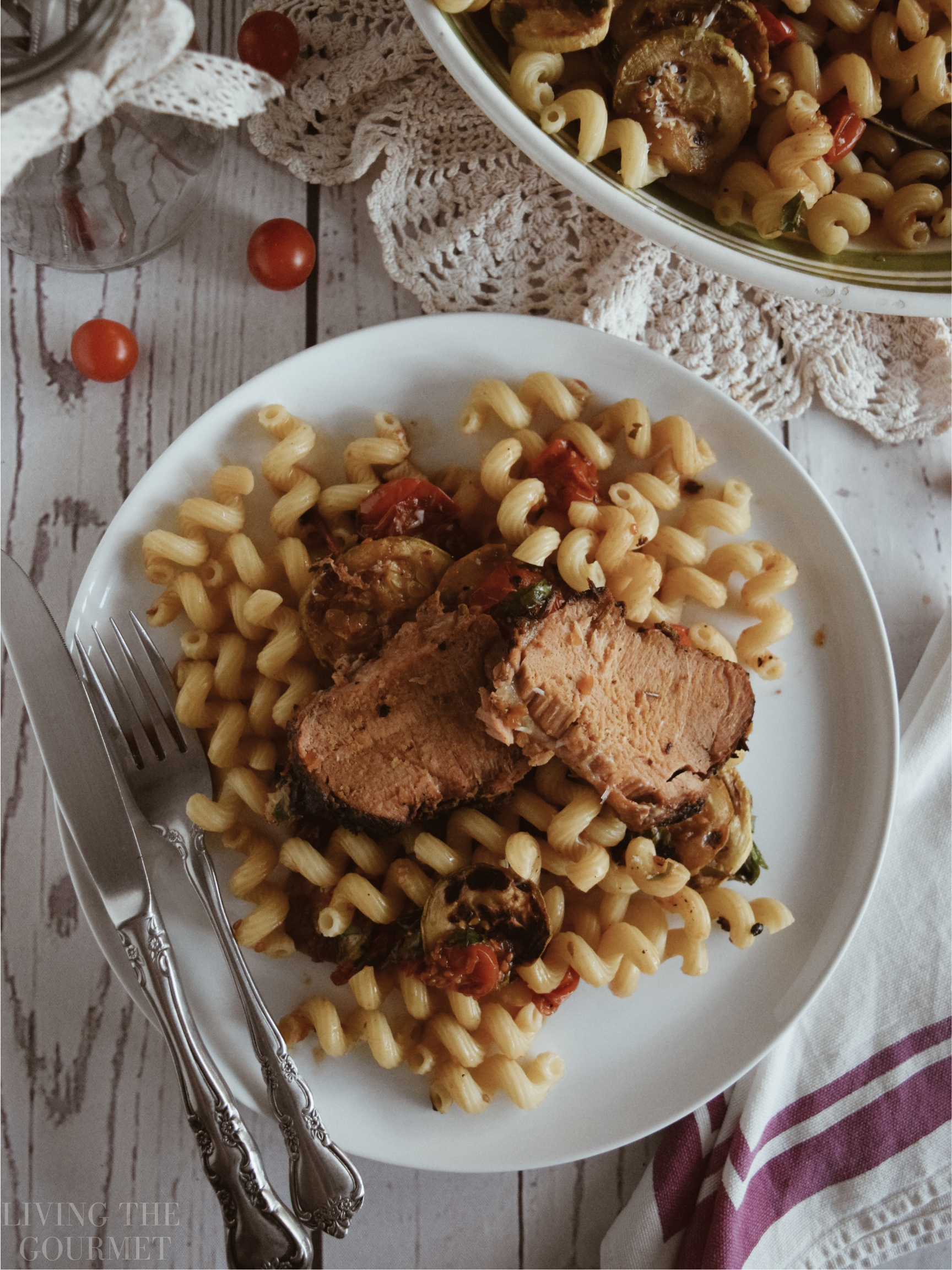 "Gourmet eating is the luxury of those with time to kill," alright maybe that's not quite how it goes, but that's certainly how it 'feels' most of the time. Marinated roasts set over a bed of warmed salad, perfectly seasoned marinades, dinner parties that make you feel like an expert entertainer, these are all well and good but how many of us really have the time for any of that on a regular basis? Indeed, the 'diet of the busy' is often quite bland. There's a reason 'on the go' food and drink is only really consumed 'on the go,' because it's the stuff we eat by necessity rather than by choice.
However, how long, 'really,' does it take to make something 'on the go' or at the end of a busy day? Twenty minutes? Thirty minutes? After all, there's no escaping eating – we have to do it, so why not enjoy it?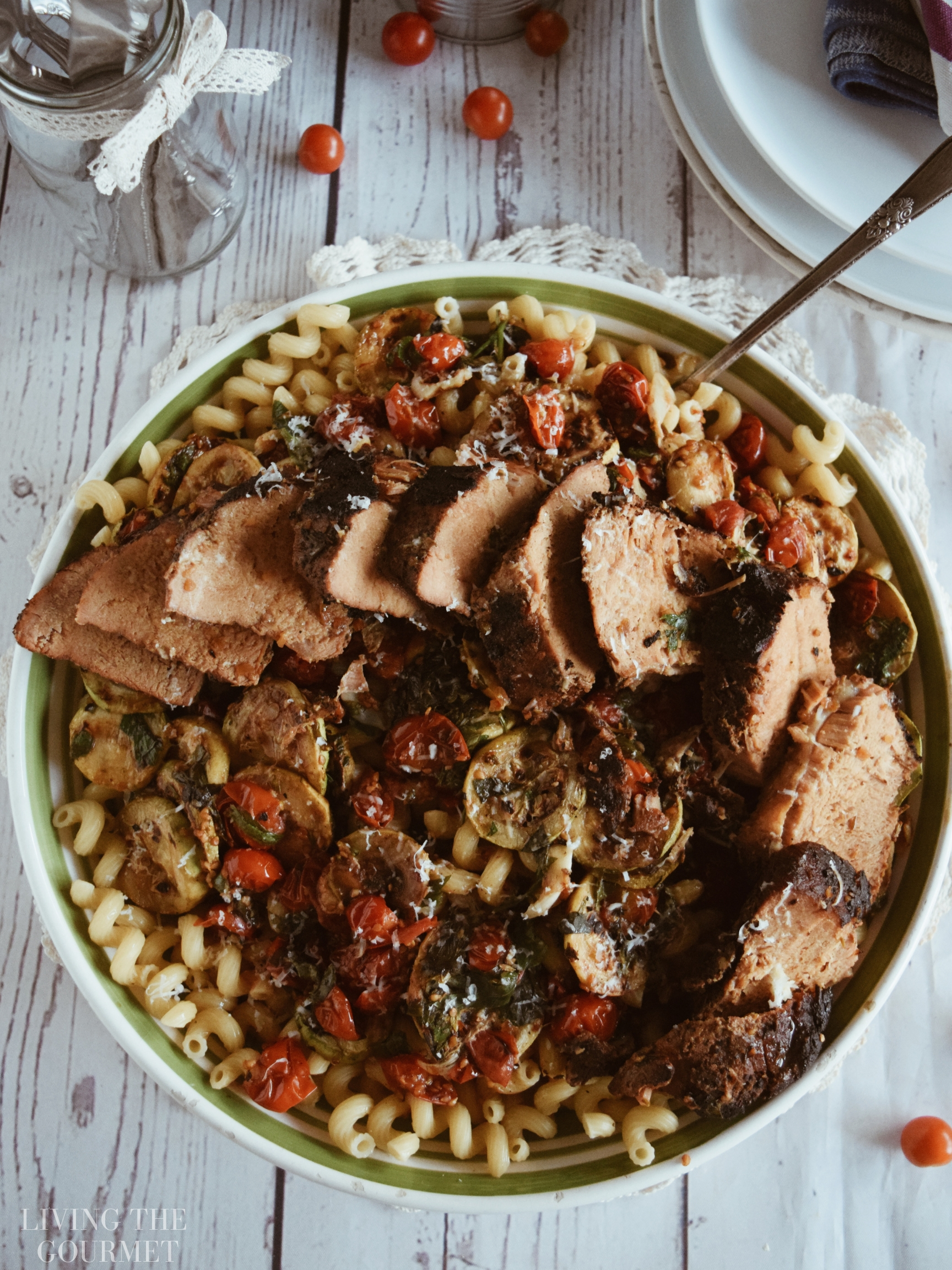 Now, we've all been there. We've all found ourselves at the end of a busy day, and the absolute last thing anyone feels like doing is finding more 'busy work' to hassle themselves with – and sadly that often includes dinner. Standing over a hot stove and maneuvering cutlery hardly sounds like something fun or engaging. Yet, you've got to spend those twenty to thirty minutes prepping 'something,' so why not prep something that's both easy and delicious, rather than simply easy?
Naturally, that's where today's recipe comes in – Herbed Pork Loin with Warm Pasta Salad.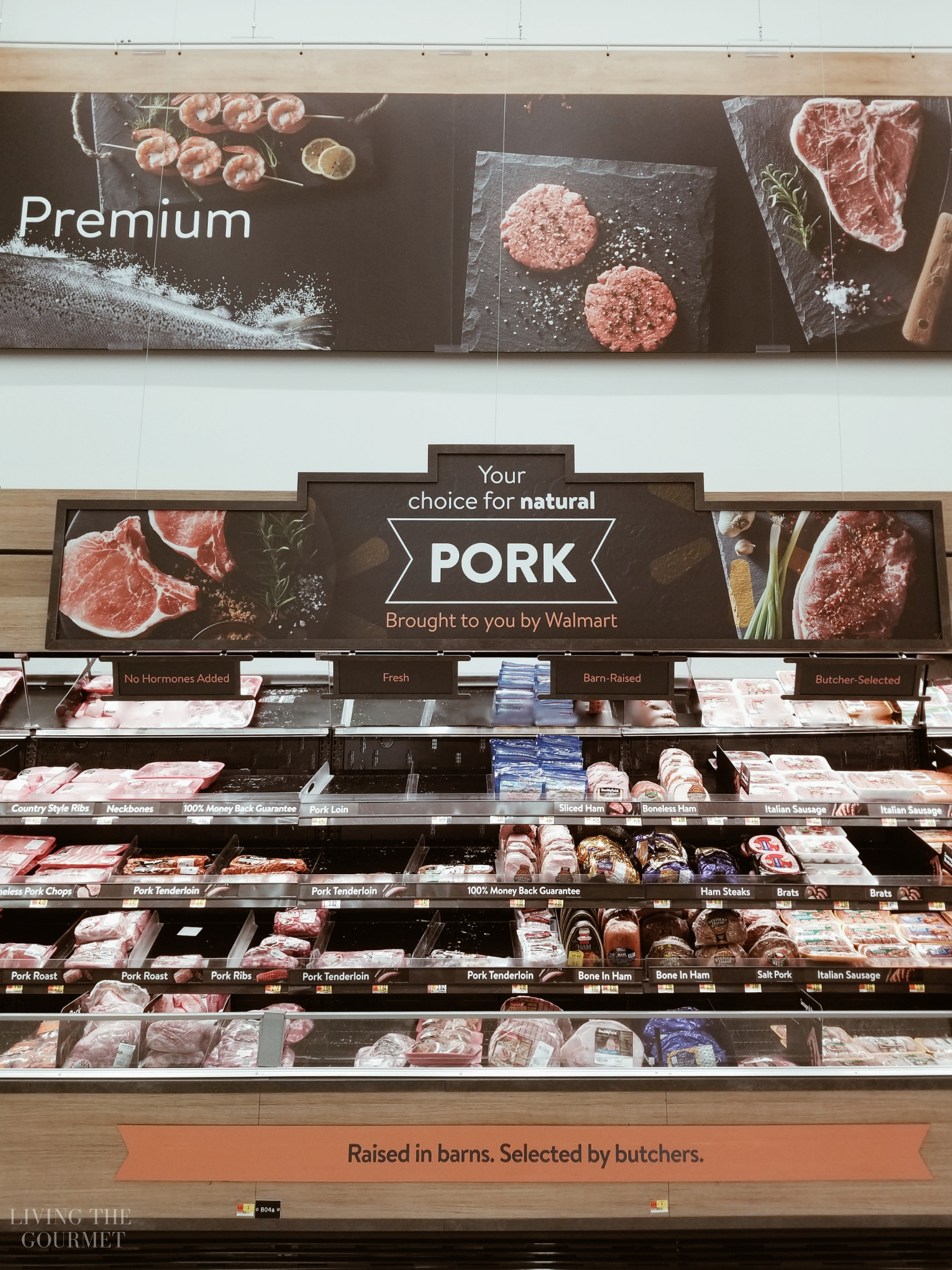 Hassle free, and conveniently available at Walmart, this marinated pork is all-natural, utilizing only real ingredients, making it a real solution for real life. It can be grilled, roasted, sautéed, or slow-cooked – however you like, providing real flavor real fast.
Don't forget to visit SmithfieldRealFlavorRealFresh.com between Sept 5-28 to vote for the best dinner time-saving tip or trick featuring Smithfield Marinated Fresh Pork and be entered in a drawing to win prepaid a gift card!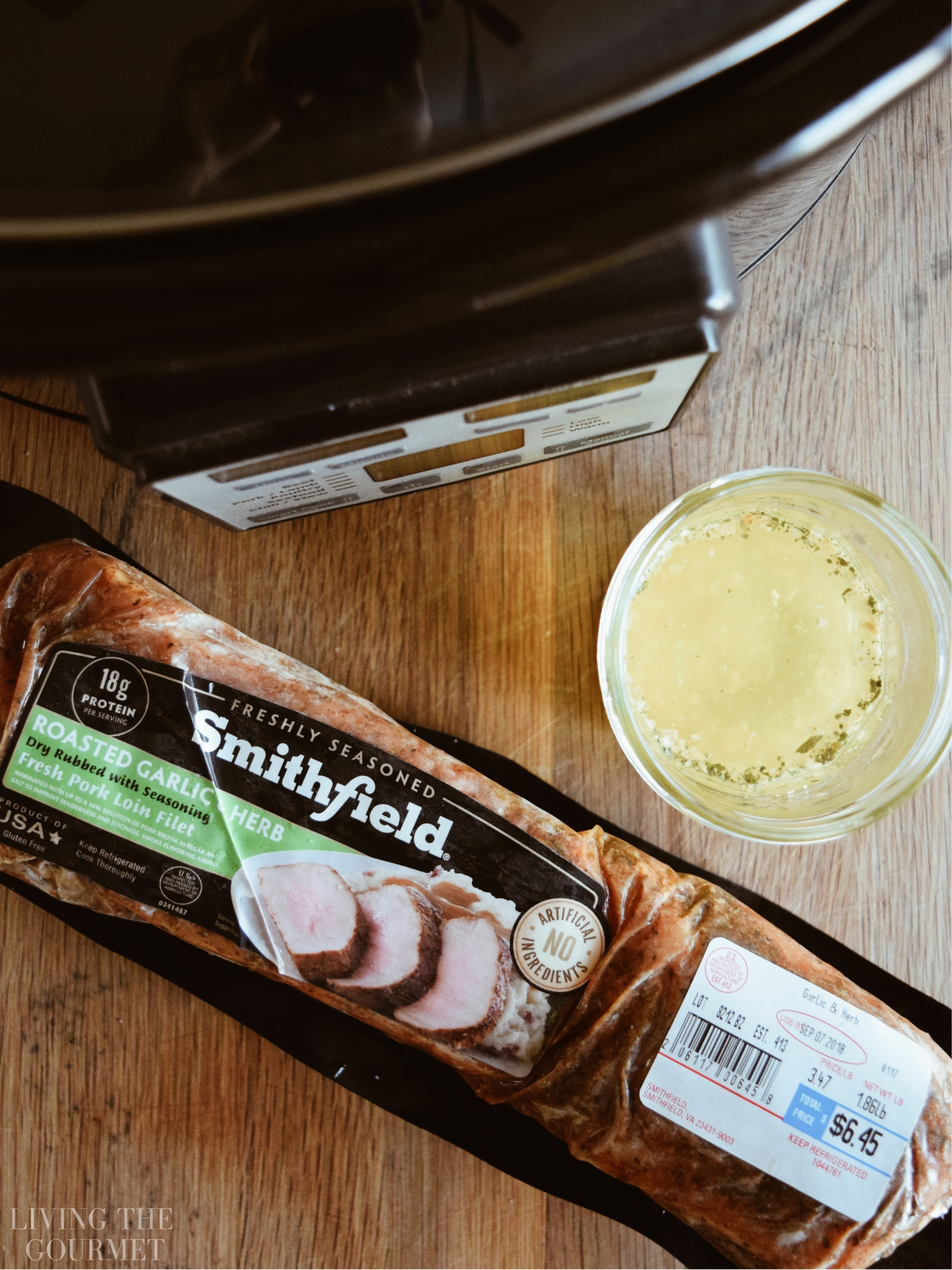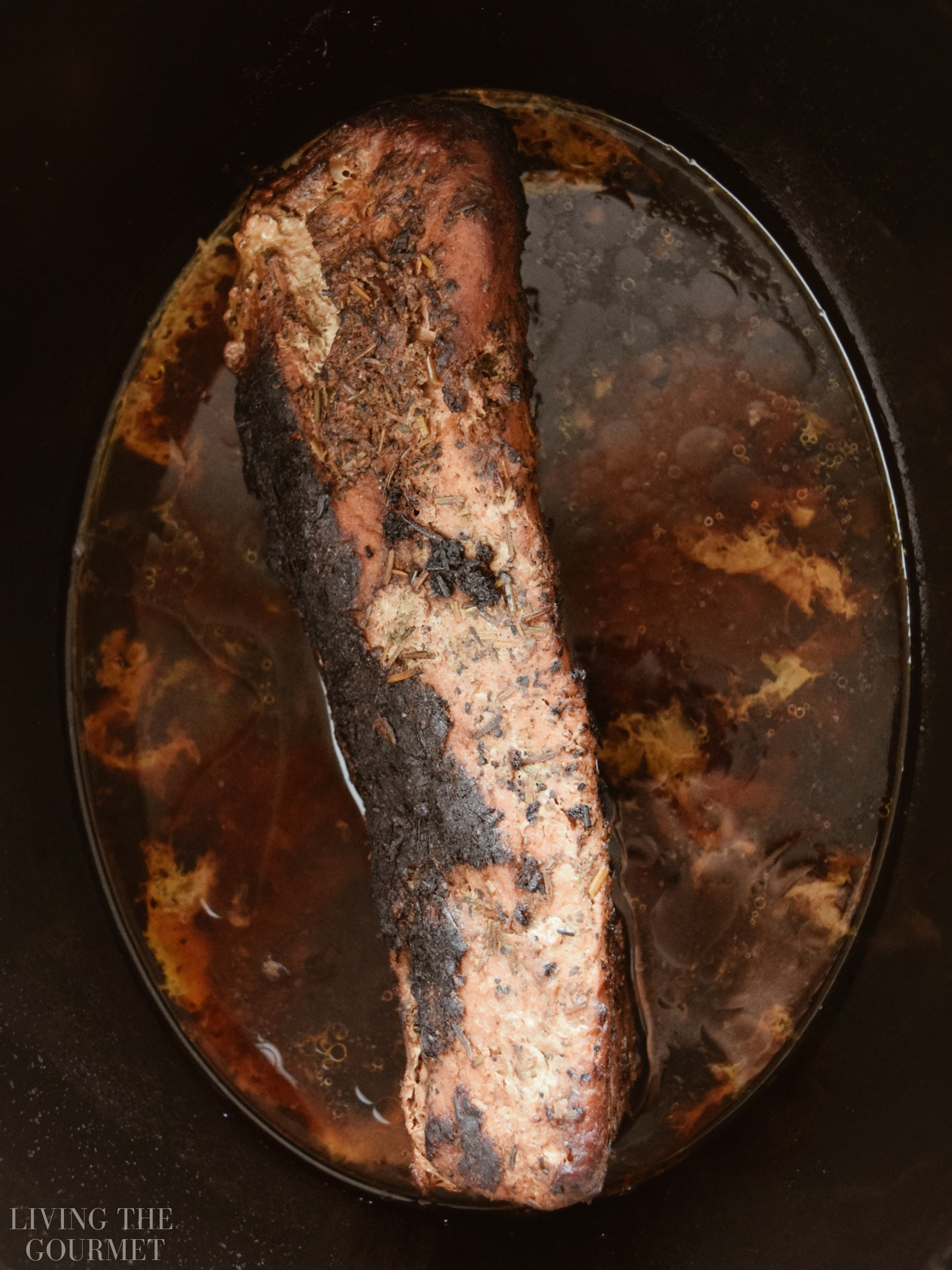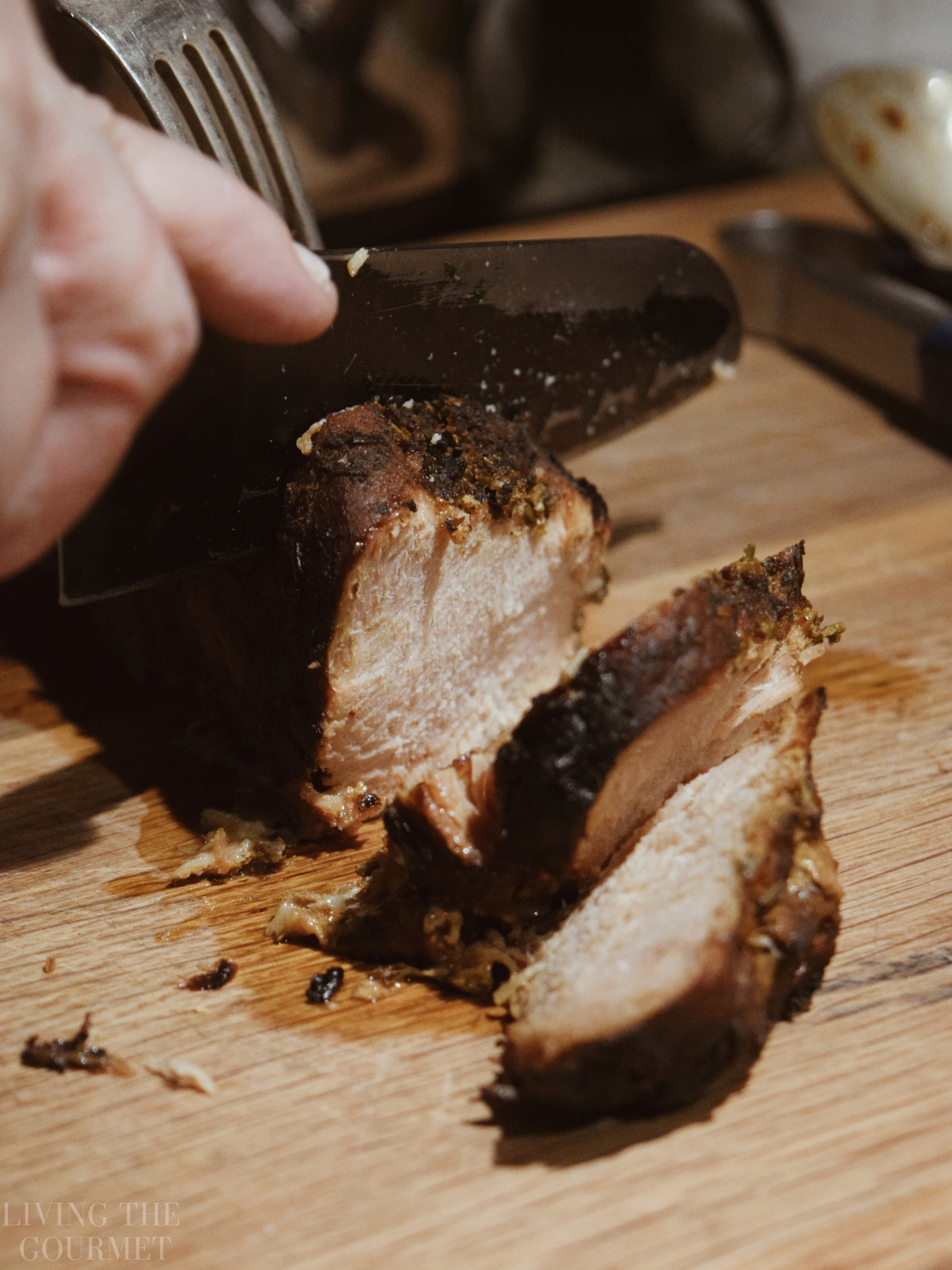 Today, for maximum convenience we're slow cooking the Smithfield Roasted Garlic and Herb Pork Tenderloin. To start things off, we quickly sear the tenderloin on all sides in a cast iron pan with a bit of olive oil, which should take at most three to four minutes. Then set the tenderloin in the crock pot with chicken broth. Then set the crock pot to cook either on high for about three and a half hours, or on low for about five hours.
While that cooks, we're going to prepare the Warm Pasta with Grilled Tomato Salad.
To start, heat a large cast iron frying pan, dry, and set the zucchini slices in the pan, and let them char on both sides before removing them. Do the same with the tomato slices, but as the tomatoes char gently press them to 'pop' them, and then drizzle them with olive oil and add the zucchini back in.
Once that's done, add in the seasonings listed below along with grated garlic, and let that heat for a minute or two. Add in the fresh basil and the Italian parsley, then toss and turn off the heat.
Then, prepare your pasta in well-salted water, you'll want to add a tablespoon or two of the pasta water to the sauce.
Then plate the pasta with the sauce, slice the pork, and set it over the pasta and spoon some of the juices from the pork over the pasta some fresh grated Parmesan or Romano cheese and serve.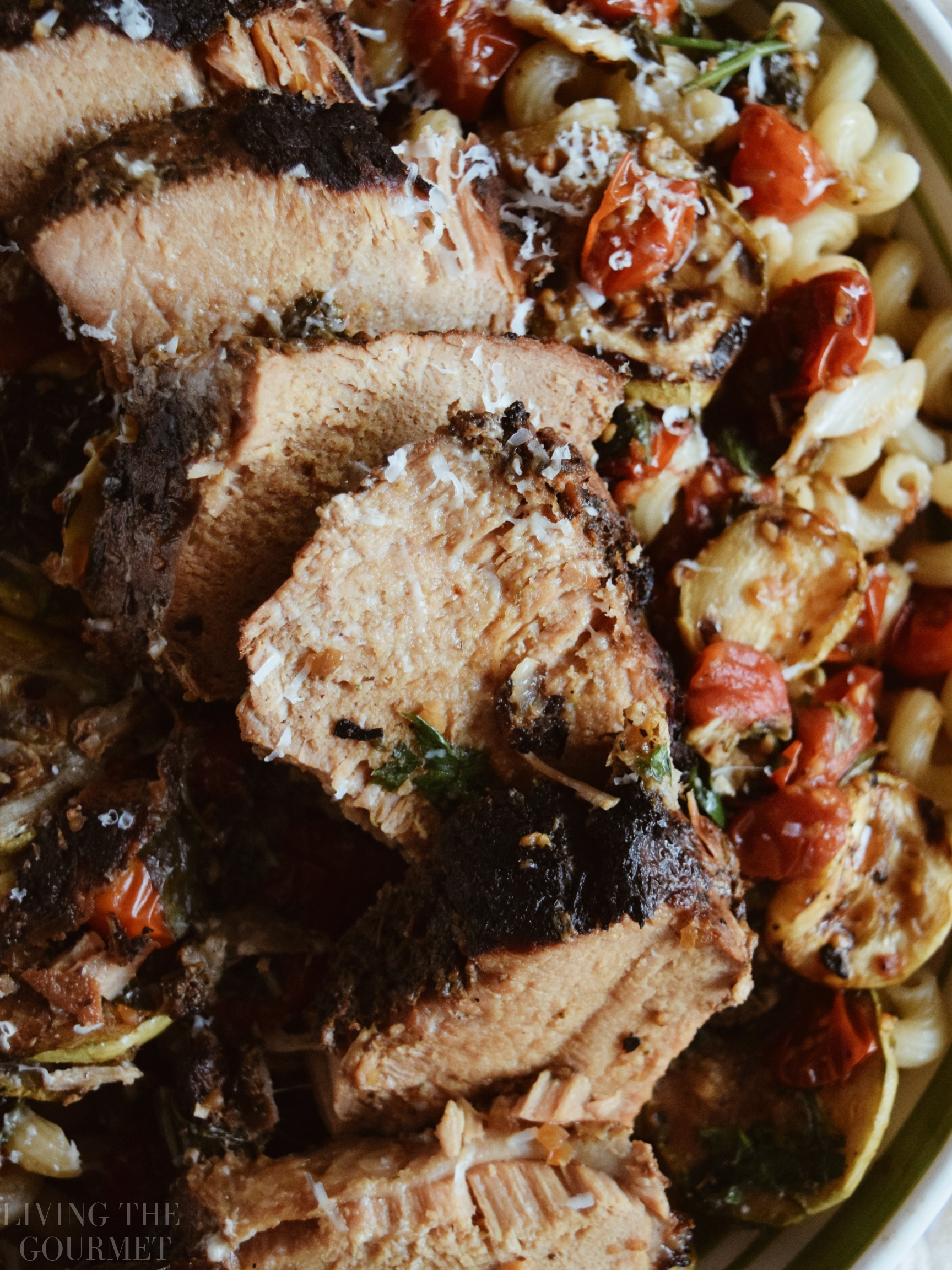 Now, unless you're particularly hungry, you are apt to have some leftovers – so let's make the most out of them.
For starters, a rice salad with baby peas, a drizzle of olive oil and a squeeze of fresh lemon juice, then simply (and gently) reheat the pork and set it over the rice.
Or, you could slice the pork thin and use it as the meat for lunch wraps, think your choice of cheese (I prefer either mozzarella or cheddar), hot sauce, mixed greens, fresh onion, sliced pepper, and then either pack that all inside a pita or assemble it wrapped in a tortilla and you're good to go. You can eat that as is cold, or give it a quick heat between two cast iron pans to melt the cheese.
Alternatively, you could prep a mixed green salad with a fresh Dijon, honey and lemon dressing and add thin slices of pork to top the salad with.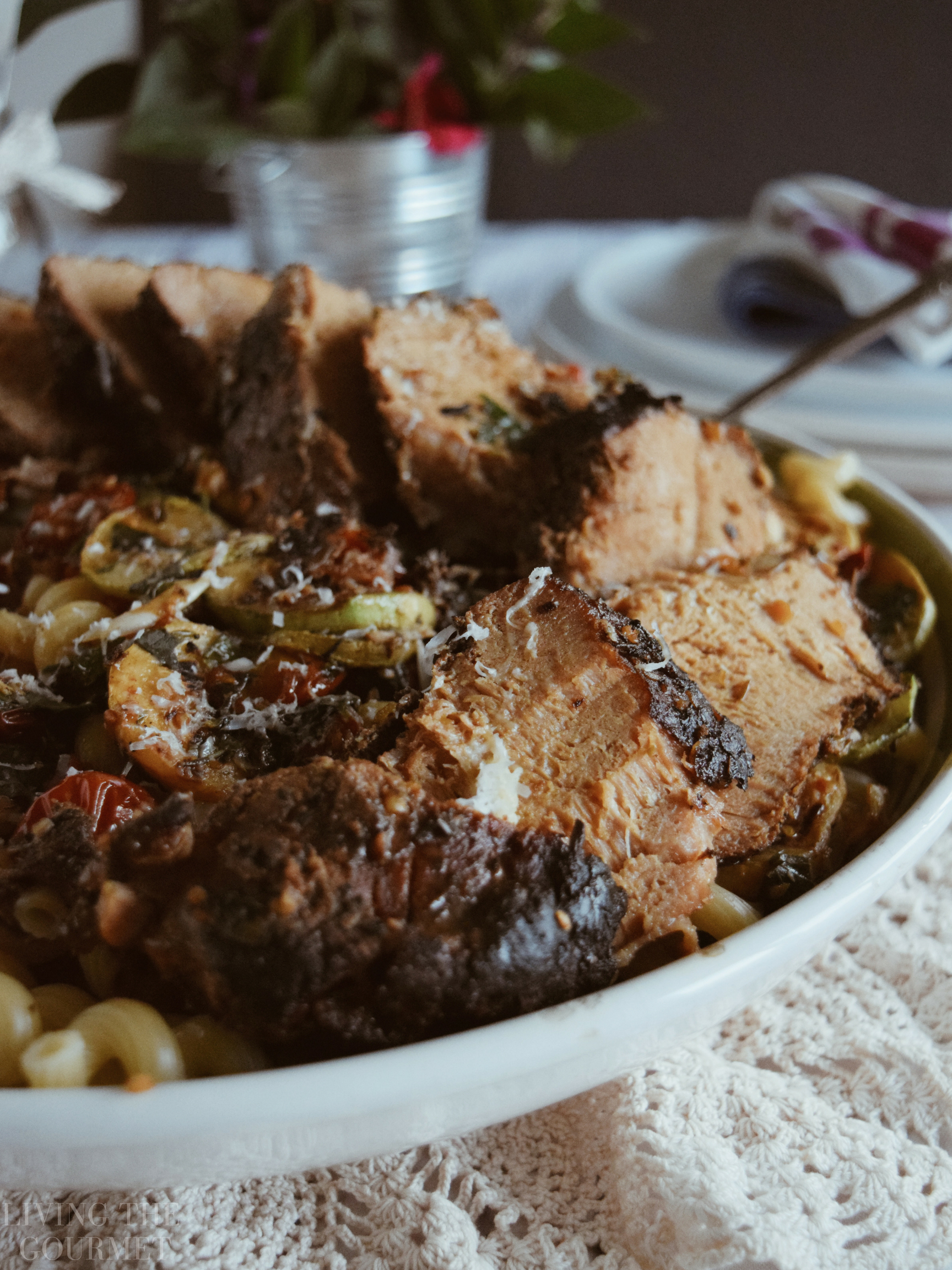 Print
Herbed Pork Loin with Pasta
Author:
Prep Time:

10 minutes

Cook Time:

4 hours

Total Time:

4 hours 10 minutes
Smithfield Roasted Garlic & Herb Fresh Pork Loin Filet

1/2

cup

chicken broth
For the Warm Pasta Salad:
1

lb

. of your favorite pasta

1

pint

of cherry tomatoes

1

zucchini sliced – 1/4 inch thickness

1/2

cup

fresh basil leaves

1/4

cup

fresh Italian parsley – stems removed

4

garlic cloves – grated

1 tsp

. dried oregano

1 tsp

. salt

1 tsp

. fresh ground black pepper

1/2 tsp

. dried red pepper flakes

2

–

3

tbs. olive oil
Fresh Romano cheese – for grating
Instructions
Heat a large cast iron frying pan with a drizzle of olive oil. Add the pork tenderloin and sear for 1 – 2 minutes on all sides.
Place the seared pork in the crockpot.
Add the chicken broth to the crockpot.
Cover the crockpot and cook on High for 3 hours and 30 minutes or on Low for 5 hours, or until the pork tenderloin is cooked through.
For the Warm Pasta Salad:
Heat a large cast iron frying pan and place the zucchini slices in the dry pan to char on both sides. Remove the charred zucchini and set aside.
Heat a large cast iron frying pan and place the tomatoes in a dry pan. Sprinkle the tomatoes with sea salt.
Cook until the tomatoes begin to char on all sides. Gently press the tomatoes down with a spatula. Be careful since the tomatoes tend to pop and splatter.
Drizzle the tomatoes with olive oil. Add the zucchini back to the pan with the tomatoes.
Add the seasonings and the grated garlic and simmer on a gentle heat for a minute or two. Add the fresh basil and the Italian parsley; toss and turn the heat off.
Prepare the pasta as directed in well salted water.
Add a tablespoon or two of the salted pasta water to the tomatoes and zucchini.
Drain the pasta and plate on a serving platter; top with the tomato and zucchini sauce and grated Romano cheese.
Slice the pork and serve over the pasta, spoon the juice from the pork over the pasta, add a drizzle of olive oil and fresh grated Romano or Parmesan cheese.
Recipe Card powered by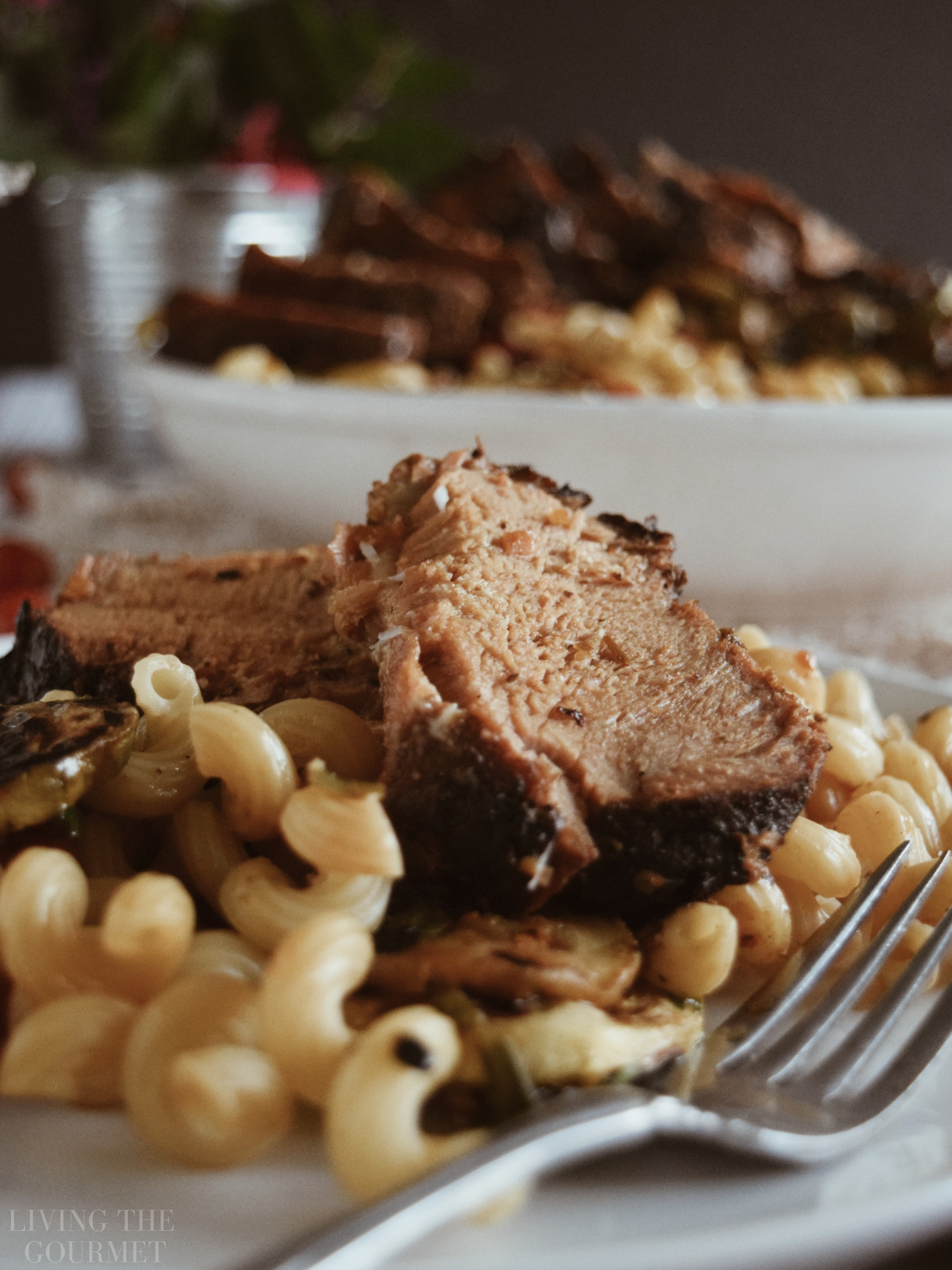 And just like that, you've got a perfect meal solution for any night of the week. Don't forget, you can earn $1 cash back on Smithfield Marinated Fresh Pork by visiting Ibotta today.

For more deliciousness, follow Smithfield on:
Facebook
Twitter
Instagram
Pinterest
Youtube
Enjoy with Love!
49