Thank you Bibigo for sponsoring this post. Visit your local market to enjoy the flavors of Bibigo any day of the week!
Today we're hosting a special luncheon showcasing some of our favorite South Korean dishes like classic Kimchi and Korean Plum Team served alongside Bibigo's Mandu and Steamed Dumplings!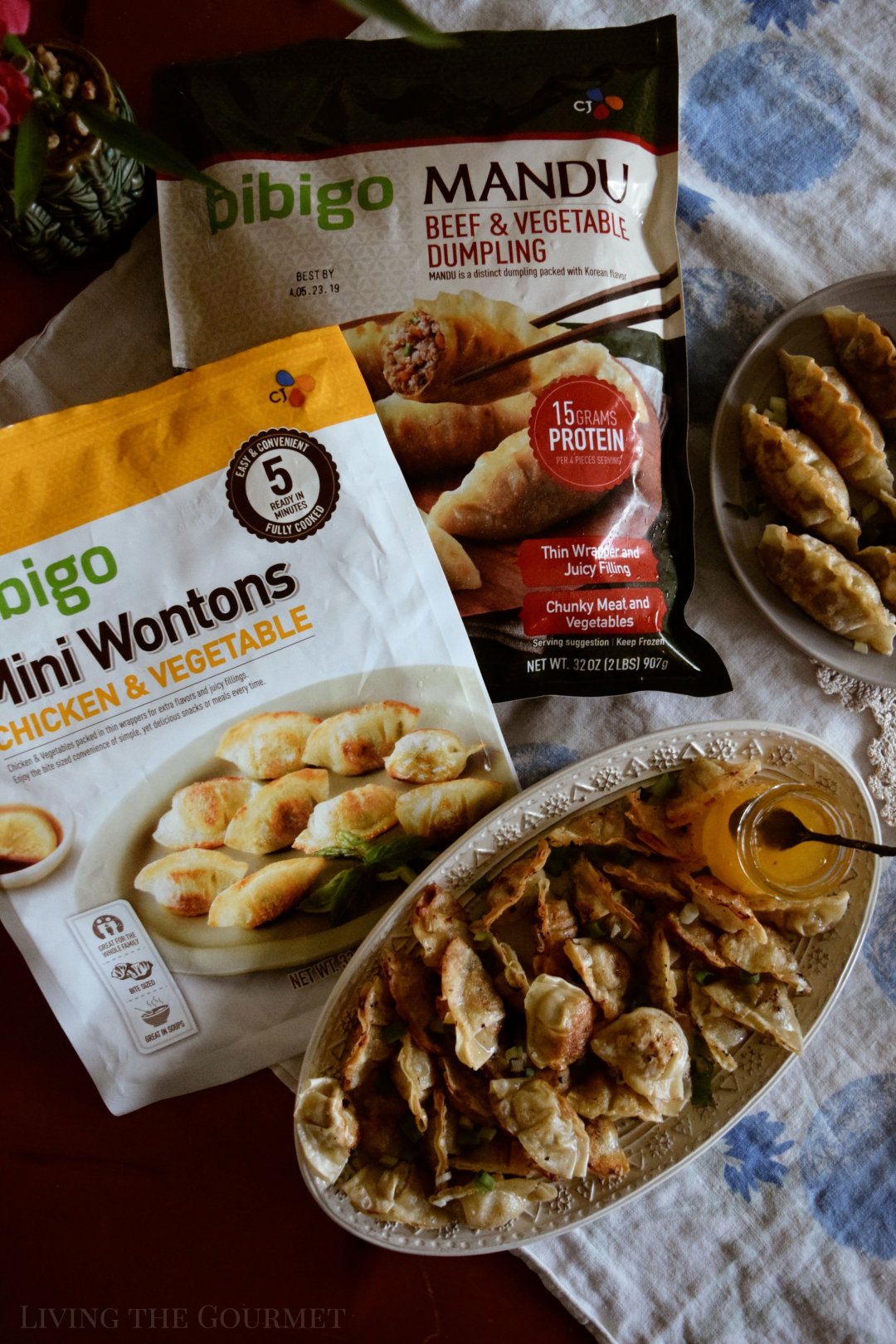 There's a pleasant stereotype regarding the autumn season in New York. It's a nostalgic yet thoroughly modern scene of city blocks lined with browning memorial trees blanketed in fog-laden air, while the pedestrian crowds fade into their long coats and scarves to ward off the first of the year's chills. Each year, this metropolitan scene plays out as masterfully as if Stevenson himself had composed the plot and set the scene.
It's the subject of countless songs, poems, and musings, by New Yorkers and would-be New Yorkers alike – many of such masterful talent that I needn't try to forge my own prose on the subject here to make my point.
Being out on the Island, autumn in New York is a tiny window of opportunity for, what I believe, is the best of the year's outdoor entertaining. The air is pleasantly chilled, being neither prohibitively cold nor witheringly hot, and since autumn in New York does make for some nice vistas, it's simply a nice way to end off the outdoor season.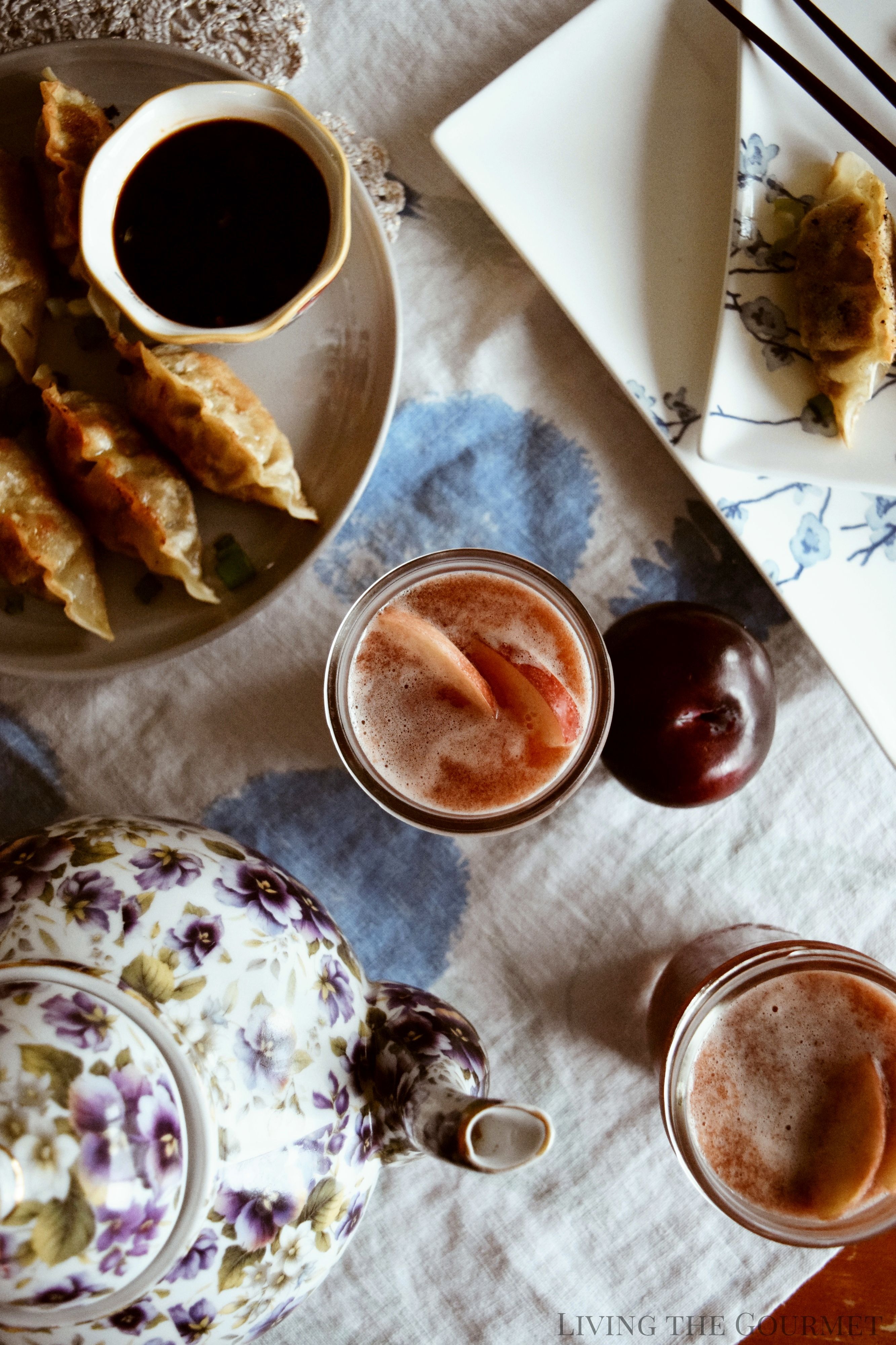 All I will say is that I wanted to use this Sunday afternoon as an opportunity to take advantage of the inspiration behind those aforementioned musings. To that point, I had decided on hosting the brunch seaside on my porch – think strung lights, a 'casually elegant' table setting, and salty air perforated with just a hint of boat fuel from off the river. The brunch would start inside with tea, and then move outside for our Korean-themed light brunch. I would be serving kimchi and dumplings, paired with a homemade plum tea.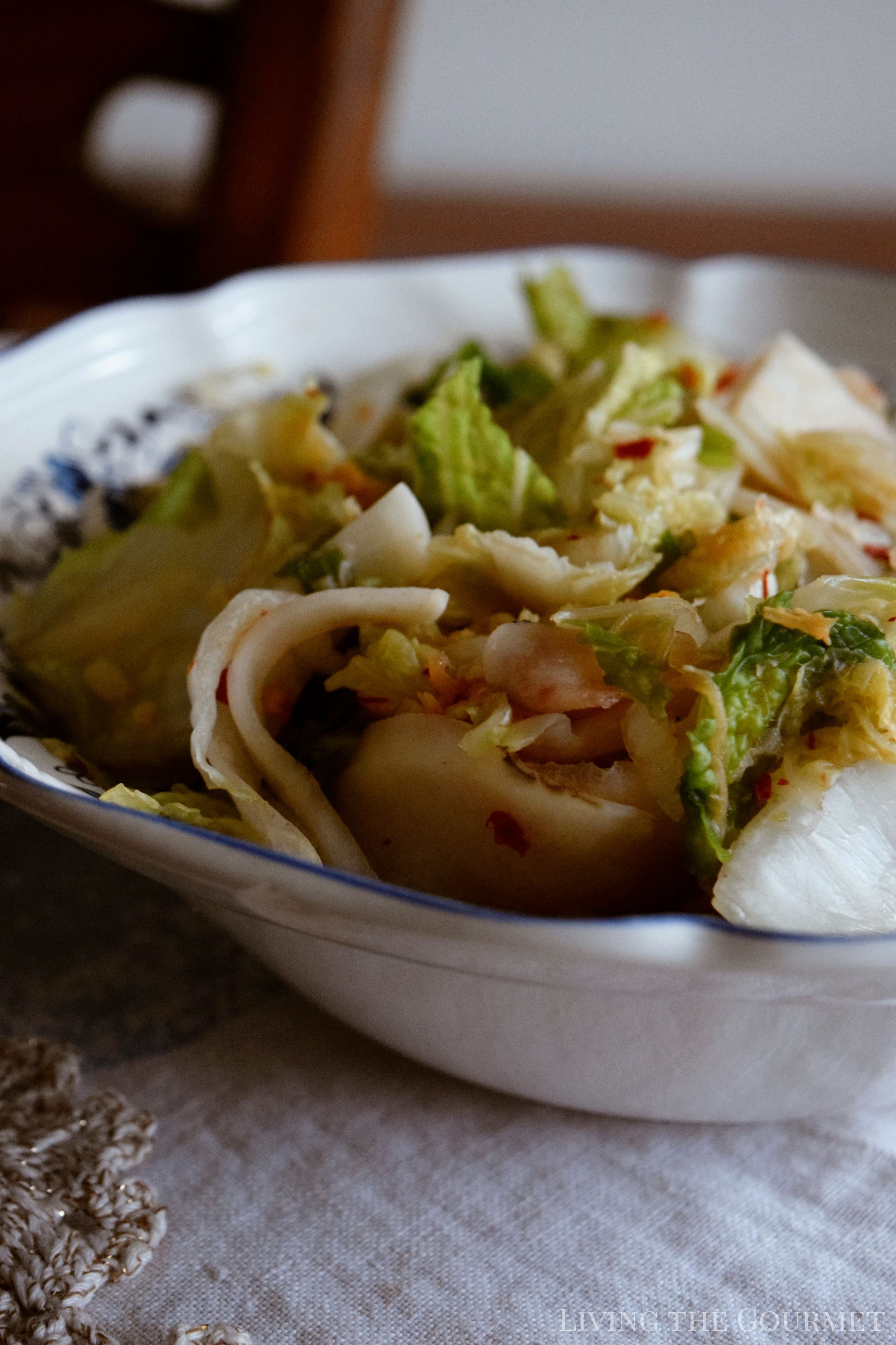 For precisely that purpose, I had prepared a kimchi several days ahead – to allow it to ferment properly. To prepare the kimchi, we simply chop a large Napa Cabbage in two-inch strips, and combine that in a bowl with a chopped black radish, and then add in enough water to fully cover them, add in about two ounces of sea salt, and then let that sit covered. Meanwhile, we're going to need to prepare the 'kimchi paste,' which is a mix of freshly grated garlic, shaved ginger root, chopped scallions, sugar, vinegar, fish sauce, and chili paste.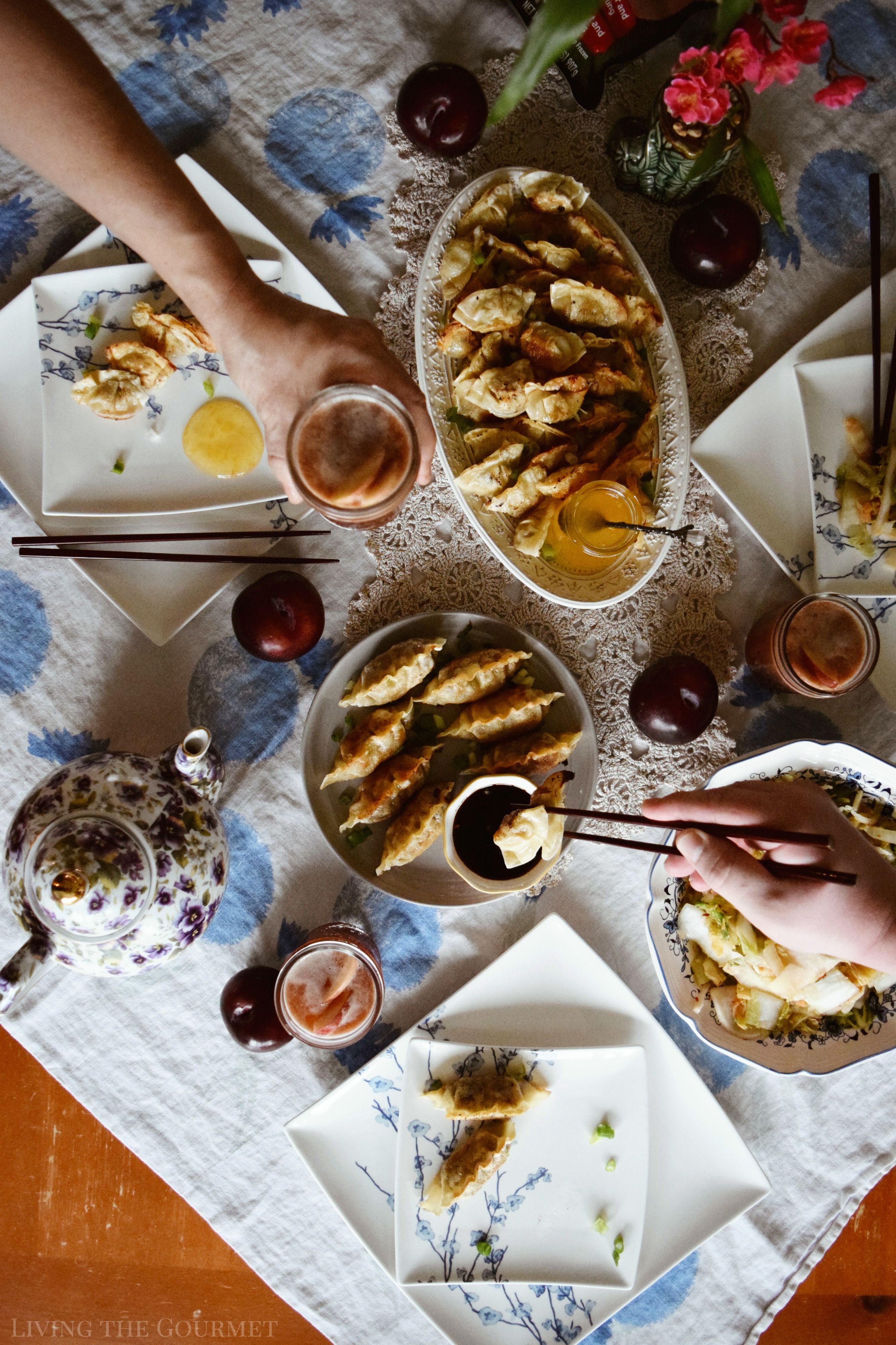 Once that's done, drain the cabbage, and combine that with the paste and then toss until it is all thoroughly mixed together, and then set that in the fridge to ferment. Curious to note as a fun fact, while virtually every modern kimchi recipe features garlic and chili pepper, historically kimchi wasn't originally a spicy dish. While recipes and mentions of the dish go back to beginning of the Korean Three Kingdoms period, chili peppers weren't widely used as a kimchi ingredient until about the 18th or 19th century.
Now, for the plum tea, we're going to need the juice of about four plums, and then whisk that together with our simple syrup, the recipe for which is Here. Then divide that evenly between three glasses, and then top each glass off with cooled green tea, and garnish with berries or thinly sliced fruit – and just like that it's ready to serve.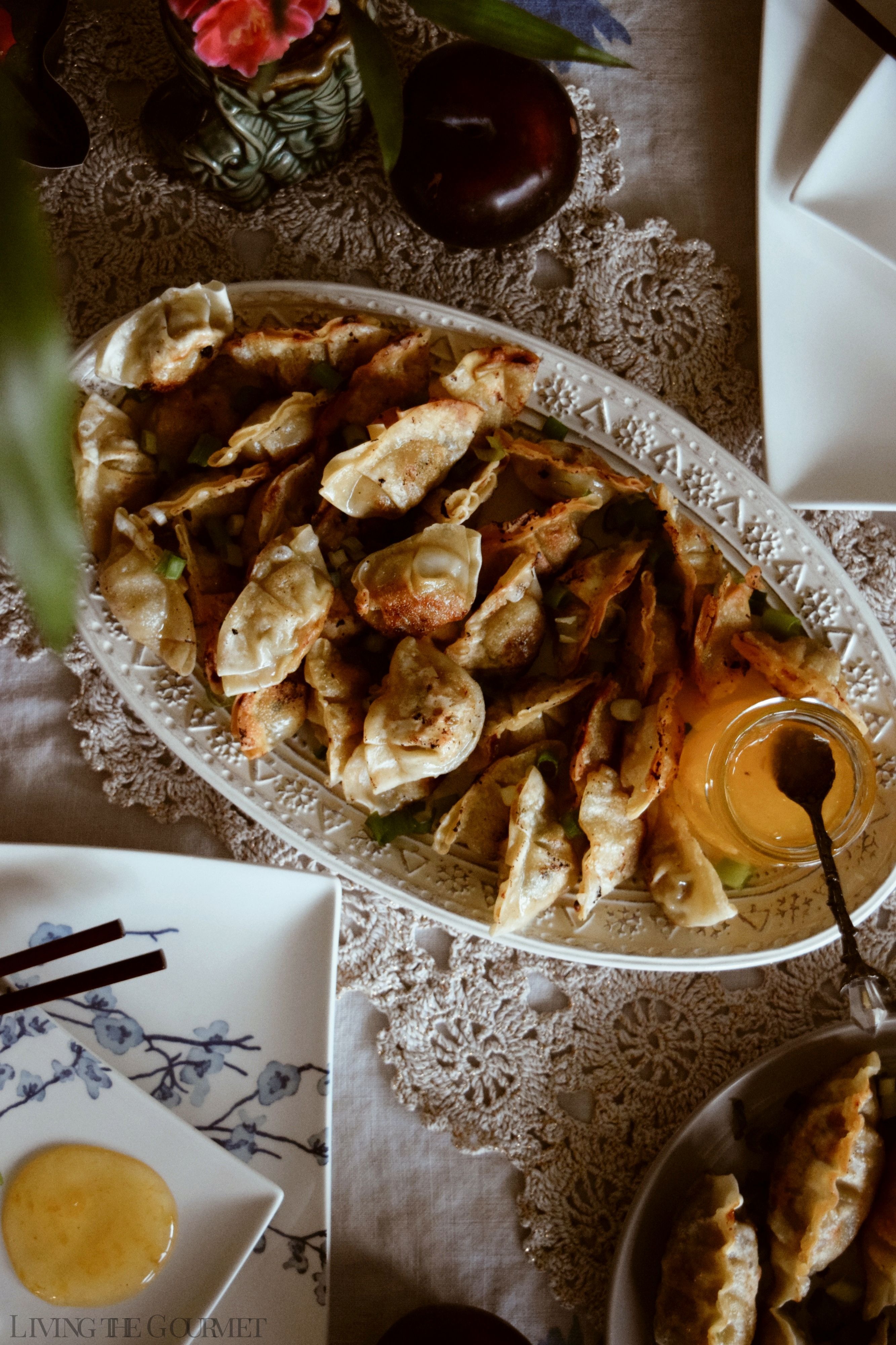 However, I wanted to keep things simple and easy, as I wanted to spend my time with my guests rather than in the kitchen. I also wanted to minimize my cleanup. Yet, I didn't want to sacrifice on flavor or authenticity. So, what was my solution to achieve both maximal flavor along with maximal convenience?
Bibigo Mandu dumplings, which couldn't be easier to prepare, and making discovering the flavor and excitement of Korean food super simple. To prepare them, I simply pan fried them as shown below, and then plated them as pictured, and they were ready to serve. Pan fried, these become slightly crunchy, which enhanced their inherent flavor, and makes either for a perfect appetizer or tapas-style meal – which was my goal for the brunch. As you can see in the pictures, for added authenticity and atmosphere, we're serving and setting the plates with chopsticks.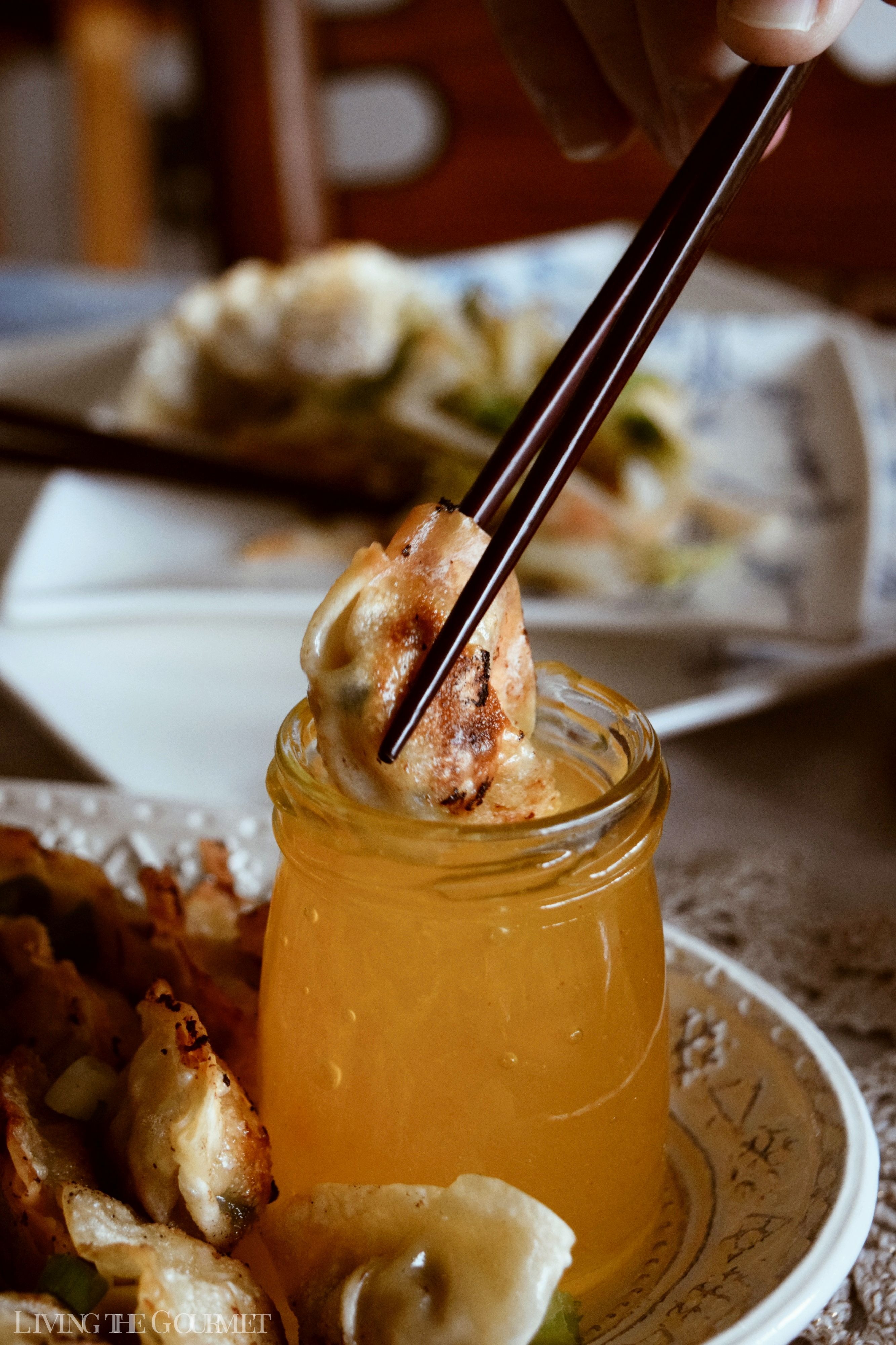 Sunday came, and everything was precisely as I had planned, but just as we were heading outside…cue grey skis, rain, and unseasonably chilly air – all without warning, and all very much 'all of a sudden.'
Needless to say, that forced our brunch back inside, or rather, forced our brunch to 'remain' inside – as you can see from the pictures of our final setting.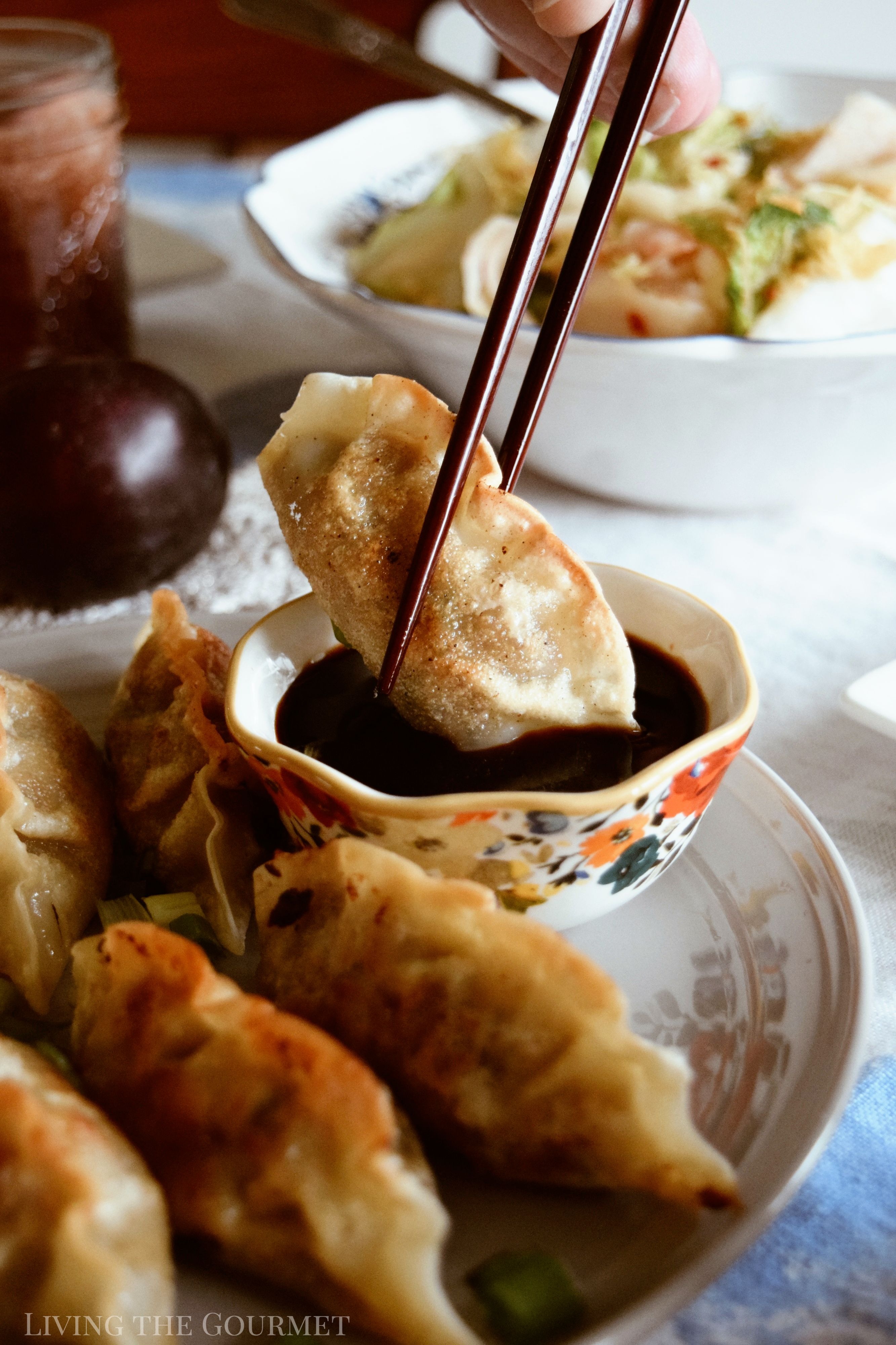 Living the Gourmet
Classic Kimchi and Korean Plum Tea
15 minPrep Time
15 minTotal Time
5 based on 16 review(s)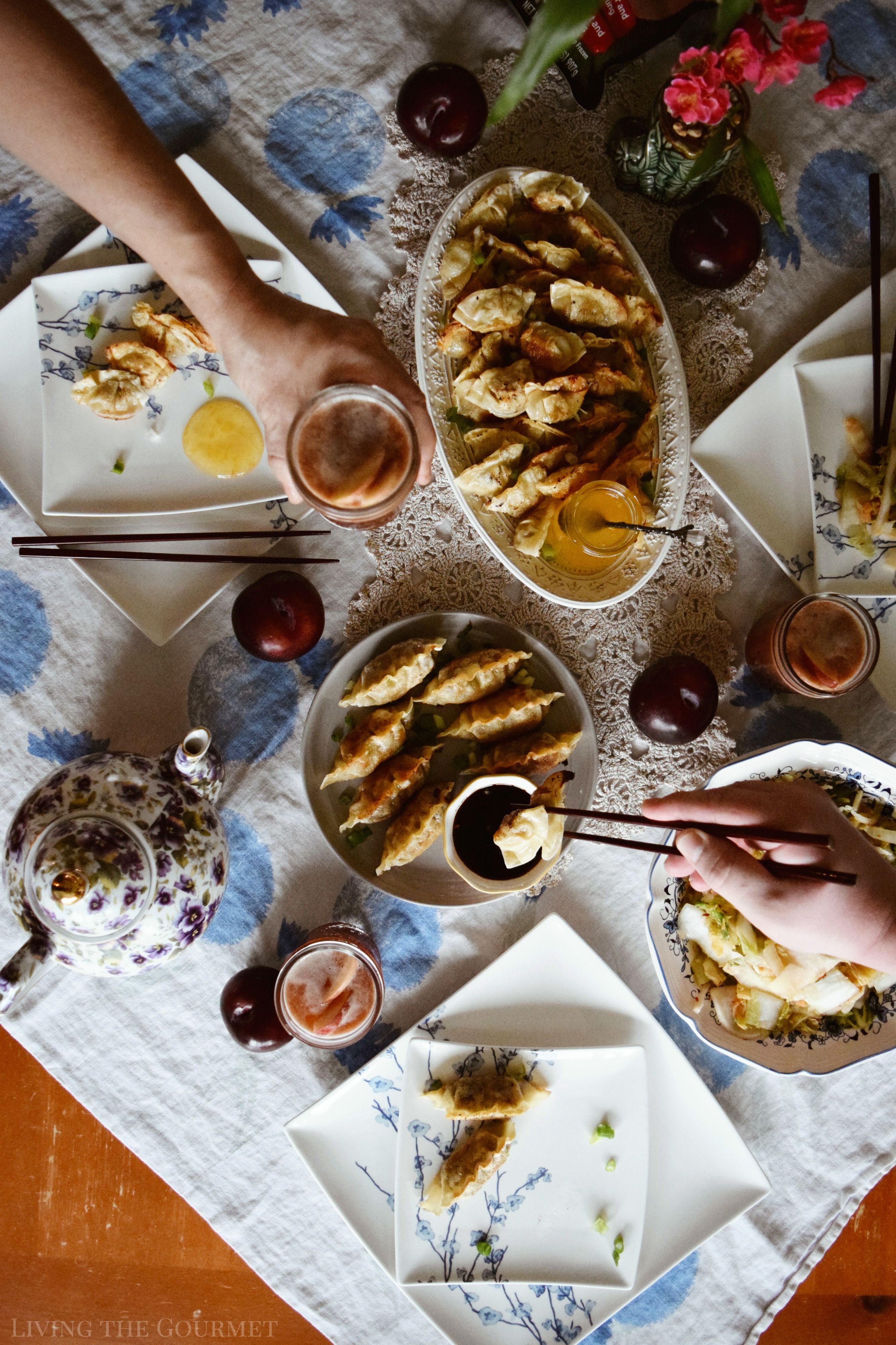 Ingredients
For Kimchi:

1 Napa Cabbage, chopped into 2-inch pieces
1 black radish, daikon radish or Korean radish, sliced very thin
4 bulbs grated garlic
1/4 cup shaved ginger root
3 scallions, chopped
2 teaspoons sugar
1 tablespoon rice vinegar
2 tablespoons fish sauce
1/4 cup fresh chili paste
Water
1/4 cup sea salt

Korean Plum Tea:

4 plums, juiced
3 tablespoons simple syrup
Fresh brewed green tea, cooled
Fruit for garnish
Instructions
For Kimchi:

In a large bowl, brine the chopped cabbage and sliced radish. Add enough water until the cabbage and radish are covered. Add salt, stir and cover. Leave to brine for about 2 hours.
In the meantime, prepare your kimchi paste. In a small bowl, mix together garlic, ginger, scallions, sugar, vinegar, fish sauce and chili paste. Set aside.
Drain and rinse the brined cabbage and radish. Toss in a large bowl with the prepared kimchi paste until well combined.
Serve and enjoy. Store any leftover kimchi in an airtight container. The longer it sits, the better it gets.

Korean Plum Tea:

Whisk the plum juice with the simple syrup and divide evenly between 3 glasses. You should have enough to fill each glass half way.
Top off each with the cooled green tea and garnish with berries or thin slices of fruit if desired.
Serve and enjoy.
Notes
Prep Time does not include Inactive Prep Time
7.8.1.2
781
https://livingthegourmet.com/2018/09/a-south-korean-luncheon.html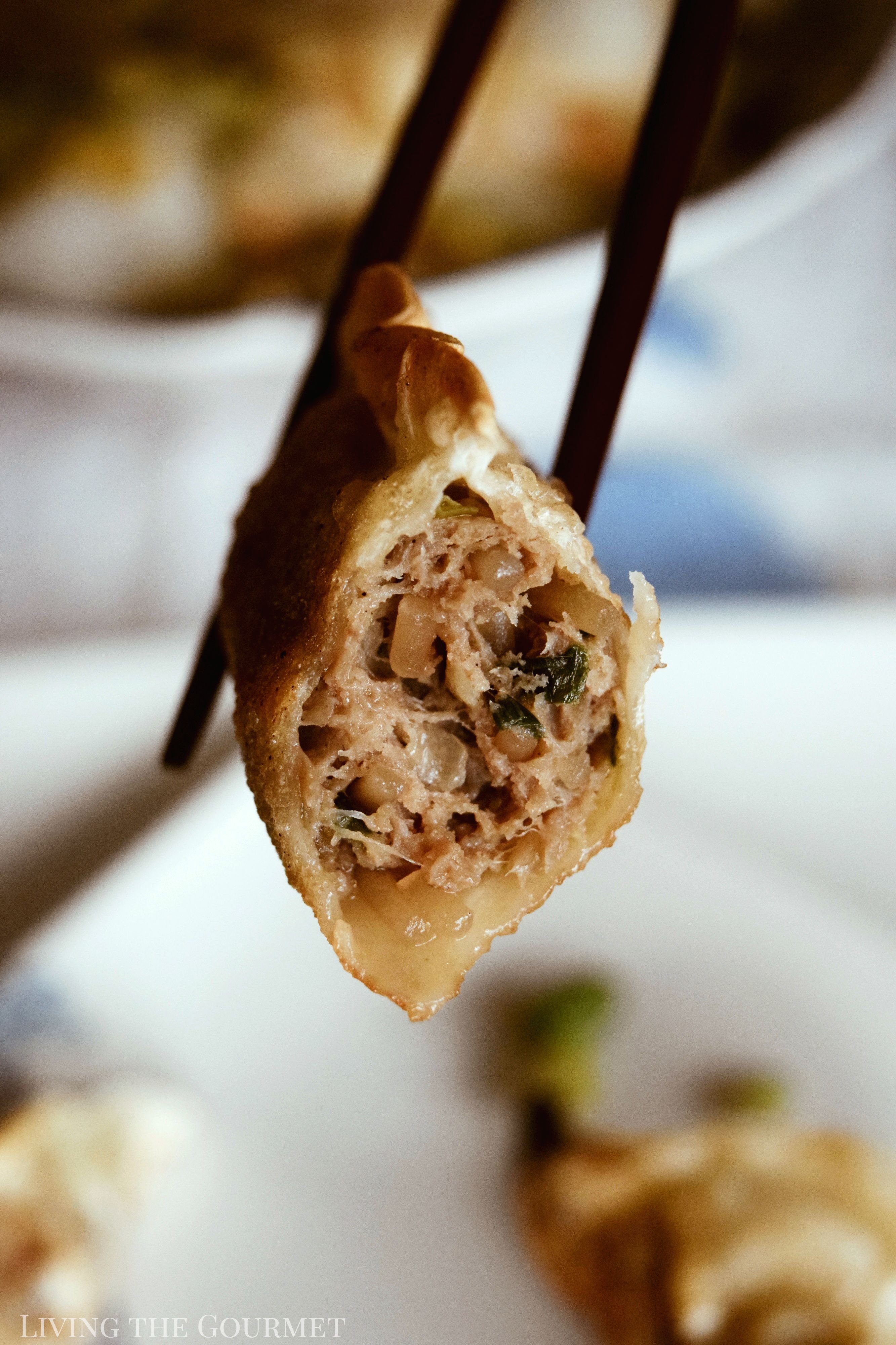 However, eating beside the bay window, with the grey skies and rain in the background created a bit of unintended atmosphere for our brunch, the sort of 'pleasantly sullen' atmosphere that gave rise to the trope of 'Autumn in New York.'
If you'd like to explore the flavor of Korea from the comfort of your home, be sure to check out Bibigo Here for more details or to find a store near you. Also, while you're here, why not enter our Bibigo giveaway for a chance to win some free dumplings? Simply enter below by following Bibigo and leaving a comment below! Giveaway runs September 10 – September 20, 2018. For more details and to learn more about Bibigo, check out theirwebsite today.
Enjoy with Love!
I was selected for this opportunity as a member of CLEVER and the content and opinions expressed here are all my own.
1