Following post and video has been sponsored by Table5 Pizza. All opinions expressed are my own.
This delicious pesto is a blend of parsley and basil, with pine nuts, anchovies, spices and a drizzle of sweet honey. Perfect for favorite pasta dishes and even better spread over a hot slice of Table5 Goat Cheese Pizza!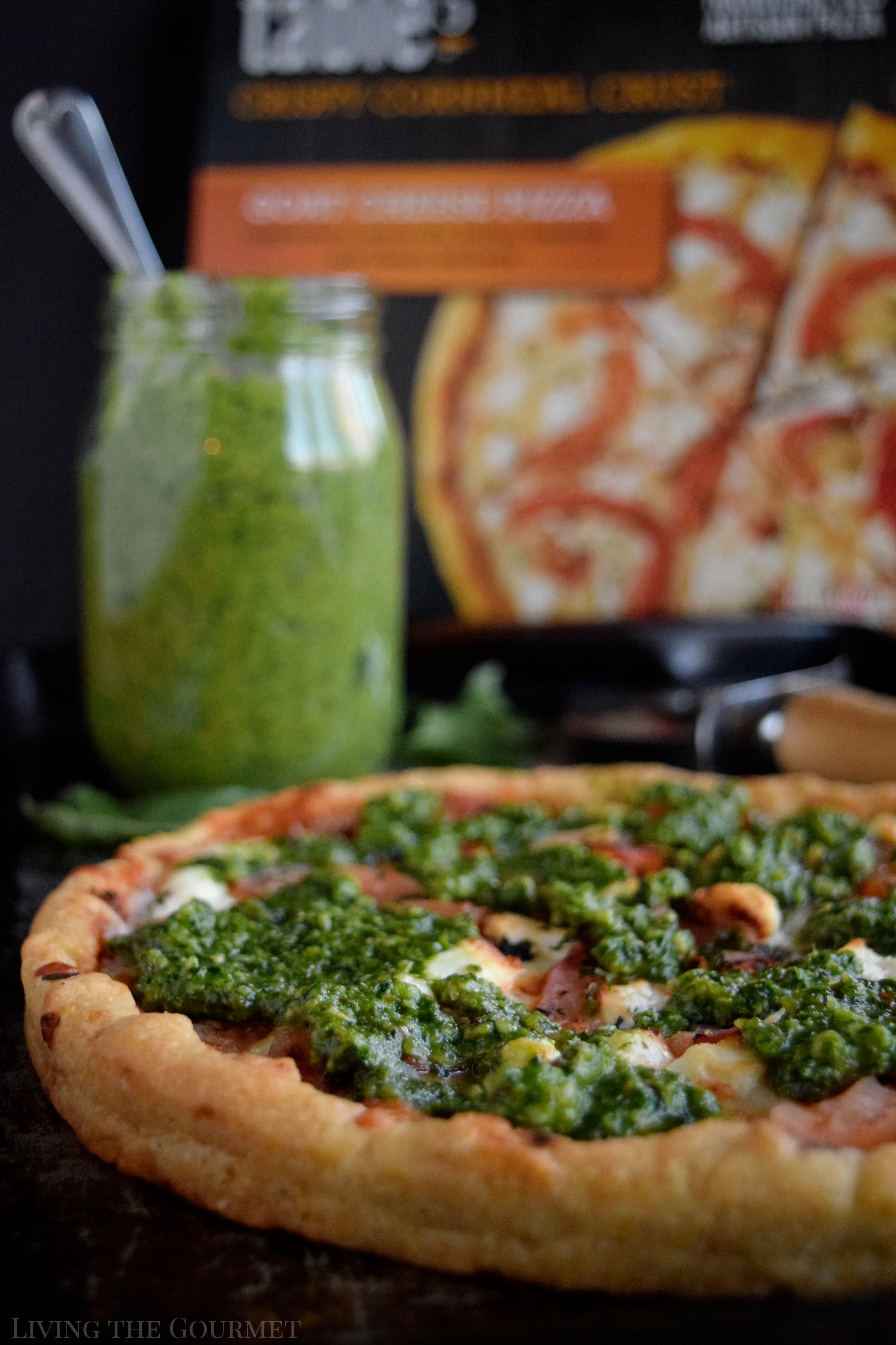 I remember some years back following the death of James Gandolfini, listening in my car to a culture and food critic talk about North America's perception of Italian food, and I paraphrase from memory "Americans, as well Italian-Americans from the second generation onward, have come to believe that these carnival sized portions of feast day fare is what the people of the Italian peninsula eat on a day to day basis, and while this may be true of the metropolitan North, it's certainly not for your average citizen. It would be a bit like extrapolating Manhattan or Philadelphia street food across the whole fifty-states."
Why do I bring this up? Because of the mention of 'feast day fare,' meaning 'the things you eat when the goal is just to have to have a good time,' and of course maybe make a few pleasant memories in the process.
For example, some blocks from where I live is a public park, and it's positioned across the road from a shopping center, and, like all good shopping centers, it contains a pizza place. On Friday and Saturday nights, this public park is lit up by tall stadium-style lights, and beneath those lights fresh-from-work amateur ball players don worn-out sports gear and take to the playing fields.
One such night forms one of my favorite memories from my son's childhood. I don't really remember how or why, but we ended up at that pizza place pretty late one Friday night. It was just myself, my son, and my daughter, both of whom were quite young at the time, but rather than order individual slices, I left with a whole pie. However, instead of heading home we parked in view of the stadium lights and the amateur players, and just like that, the three of us ate a late light, spur of the moment pizza.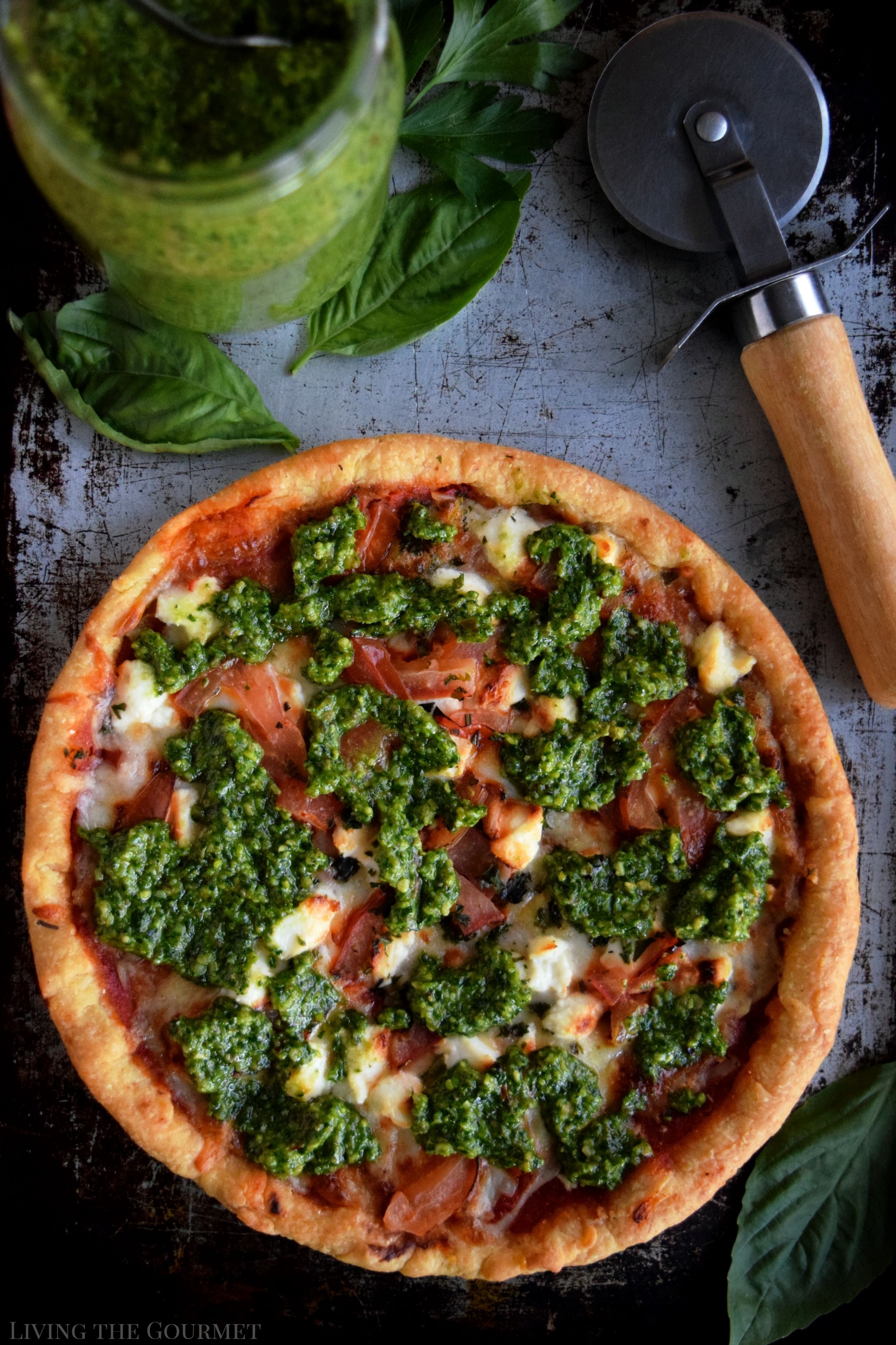 Moments like that are what I tend to think of when I think of pizza – pleasant memories framed by something that's simply 'fun' to eat.
Since those days, while I've largely graduated to homemade pies, let's be honest, sometimes you just don't have time to prep your own dough, or to make your own sauce, or to slice your own cheese, or to prep your own toppings, or to…well, you get the idea. Sometimes, part of the pleasure is having it all done for you. Yet, what about when you don't want to sacrifice on quality?
Maybe you've got a big game coming up and you want a surefire crowd pleaser without all of the prep, or maybe you're having friends over and want to keep things as laidback as possible without sacrificing even a single point on the Delicious Meter. We all have those moments, and, naturally, that's where today's recipe comes in.
As it turns out, I was able to experience precisely that sort of 'I want it all done for me' moment in regards to today's showcase product. To be honest, I debated with myself whether I would share this tidbit or not, since it does break down a little of Living the Gourmet's carefully guarded '4th Wall,' but I decided I just had to for the sake of sincerity.
You see, as coincidence would have it, I received the products for today's post during a week in which I spent the majority of my time corresponding with eye doctors. What started out as a routine trip to a corner optometrist for an update on our glasses ended off with my son in possession of a referral to an eye surgeon who wanted to see him 'as soon as possible.' Through what I can only call either being blissfully oblivious, calm denial, or the remnants of youthful invincibility, he was utterly unfazed.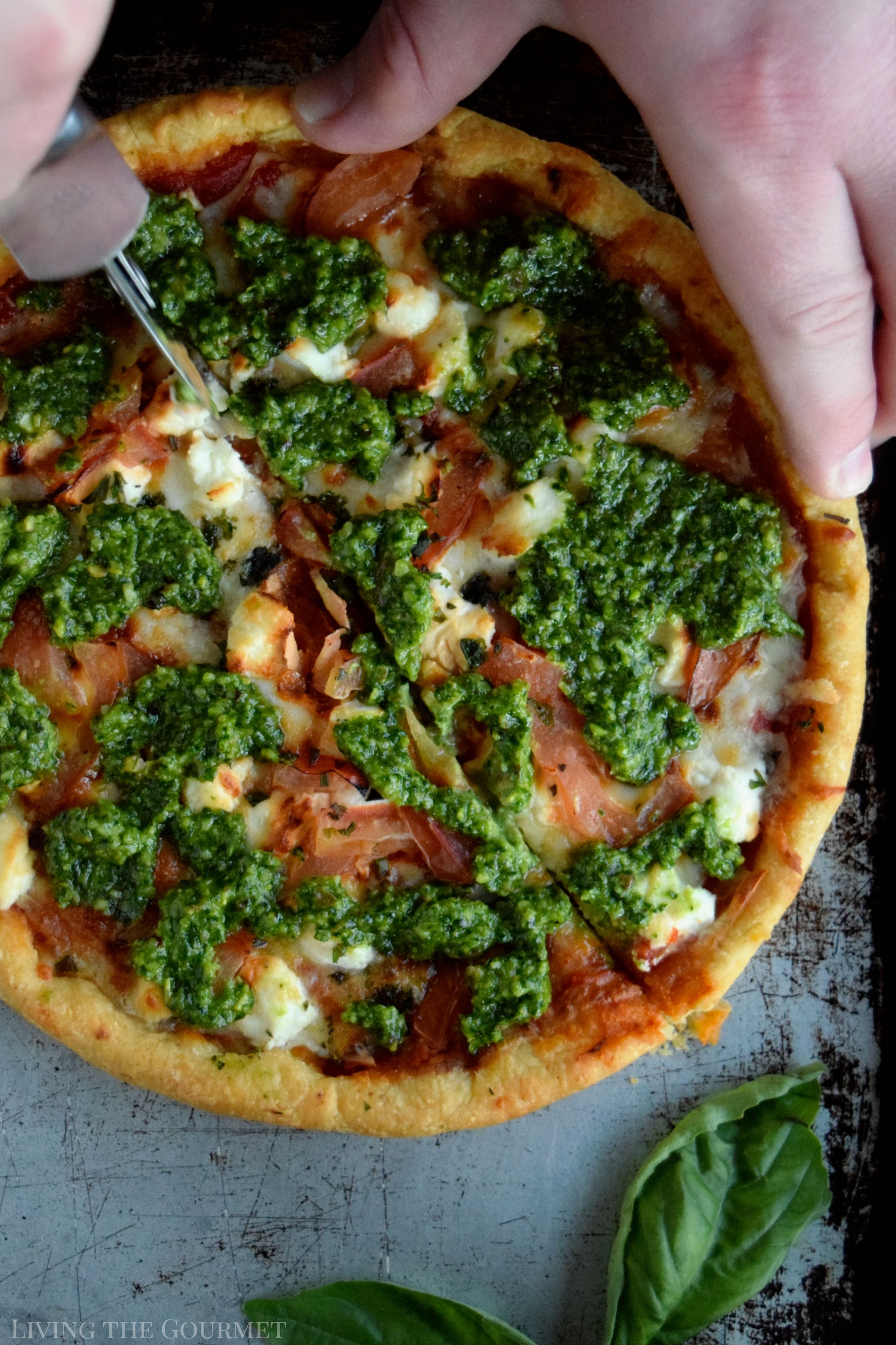 Despite my insistence to him that this was in fact a big deal, he persisted with positively infuriating gallows humor, which dictated that he sit quietly at his desk while blasting his ears with such apropos classics as Korn's "Blind" and Dio's "Rainbow in the Dark."
In the confusion of those first few nights, I will admit that my mind was simply not in the right place for cooking, and the only pre-prepped food I had on hand were the Table5 Pizzas I had received to feature. Yes, I put three of them in the oven, one for each of us, and yes, that was before I had even thought about today's post. In all honesty, I was very pleasantly surprised. Paired with a diet soda, some salsa and chips on the side, and it was precisely the relaxed, laidback evening we needed and it tasted absolutely great, featuring a #CrispyCornmealCrust and quality topside ingredients.
Okay, flash-forward several weeks and one a very positive follow-up eye exam later, and although I had received the good news I had been praying for…a new problem presented itself. I was short the primary pizza I was meant to showcase here today – the Table5 Goat Cheese Pizza.
Yes, I, Lady Gourmet of Living the Gourmet, had eaten the prop for my post.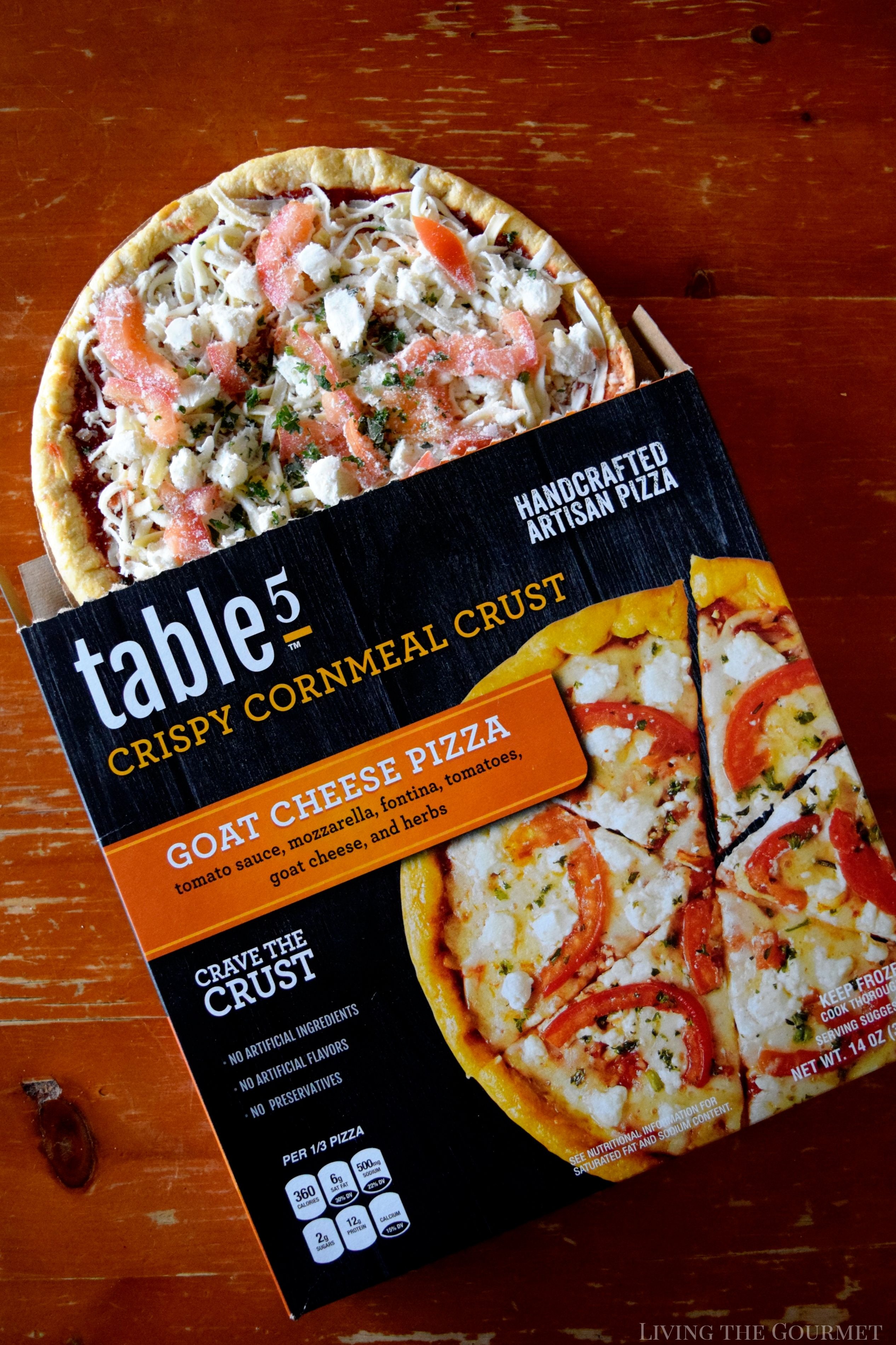 Live and learn I guess, but I'd be lying if I didn't admit that I know I'll be looking back at this whole episode and laughing about it later, much the way I look back at that original late-night pizza memory I opened with.
So, long story short, instead of a Pesto-Topped Table5 Three-Cheese, I'll present to you a Pesto-Topped Table5 Goat Cheese Pizza. A few less cheeses than the original idea, but I can assure you (from personal experience) that's it's just as delicious.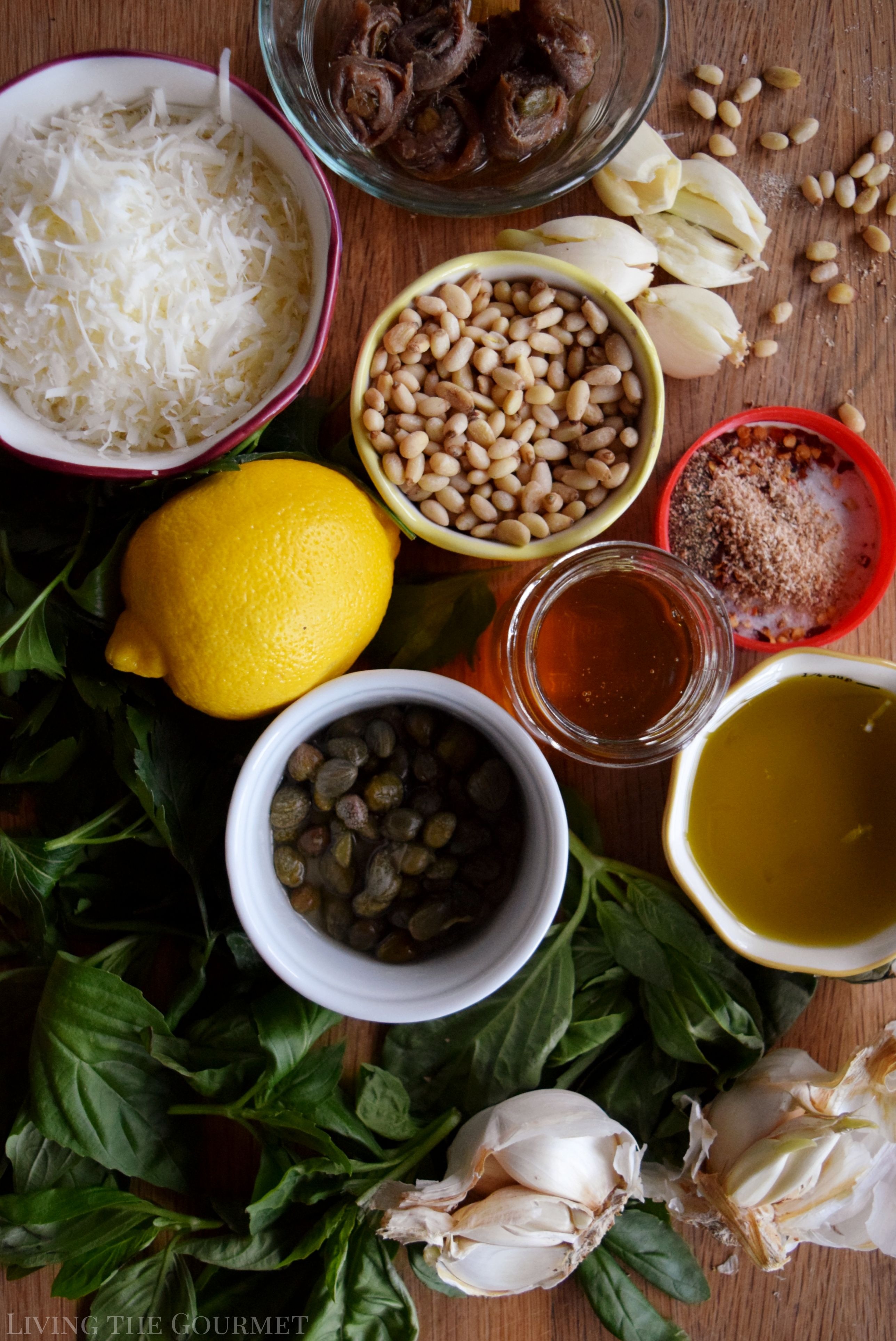 Living the Gourmet
Pesto and Goat Cheese Pizza
10 minPrep Time
15 minCook Time
25 minTotal Time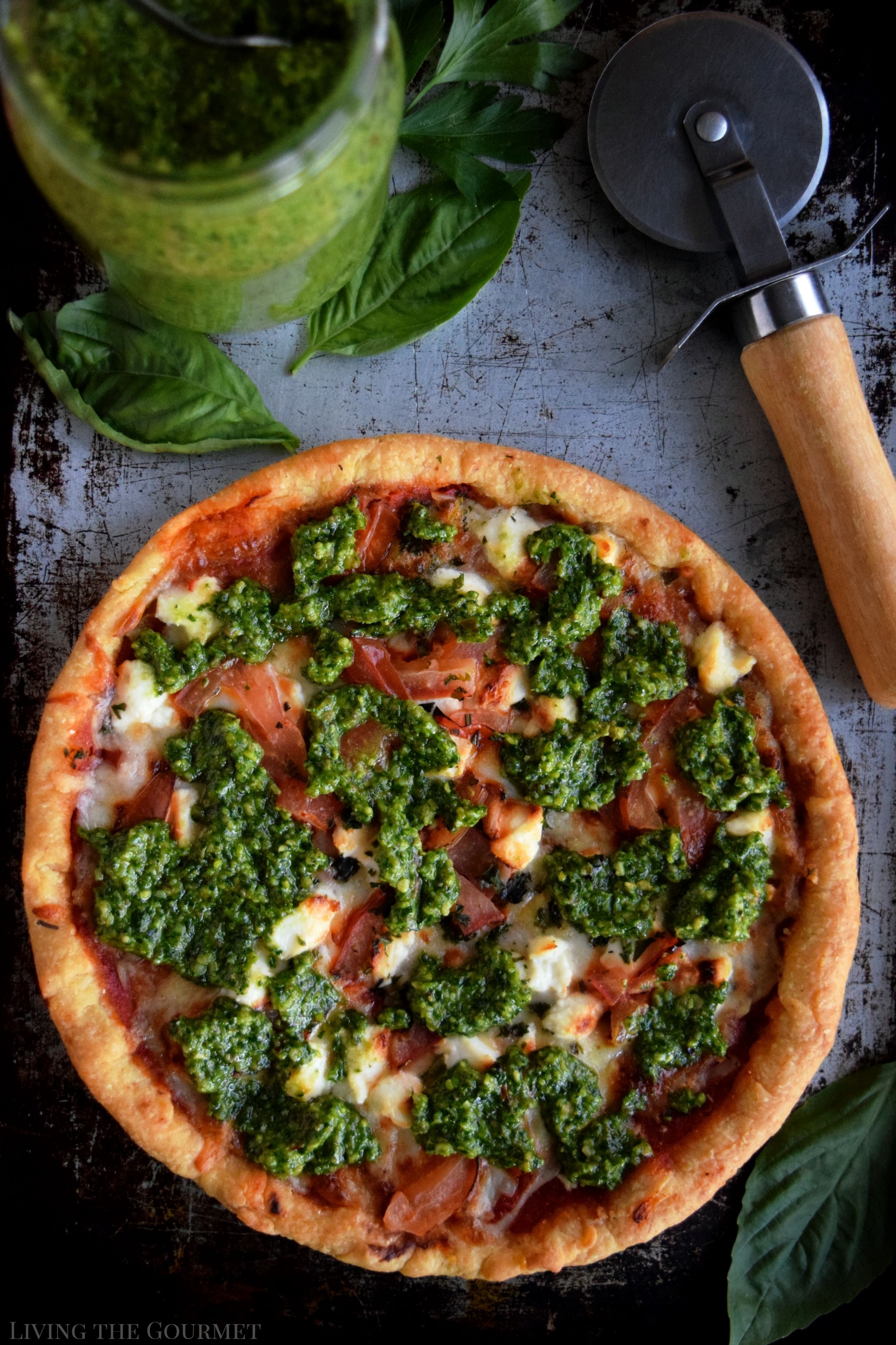 Ingredients
1 Table5 Goat Cheese Pizza (or any Table5 Pizza of your choice)

For the Pesto:

2 cups cleaned fresh Italian Parsley – stems removed
2 cups fresh cleaned basil leaves
4 large cloves of garlic
2 oz. can of anchovies
½ cup fresh grated Pecorino Romano cheese
Zest of 1 lemon
1 tbs. fresh lemon juice
½ cup of pine nuts
2 tbs. capers plus 1 tbs. caper juice
2 tbs. honey
¼ cup olive oil
1 tsp. red pepper flakes
1 tsp. black pepper
1 tsp. fresh grated nutmeg
1 tsp. salt
Instructions
Prepare pizza as directed.

For the Pesto:

Combine all of the above ingredients in a food processor and process until creamy.
Spread over the pizza as soon as its out of the oven. Serve and enjoy.
For remaining pesto, store in a jar and refrigerate.
7.8.1.2
726
https://livingthegourmet.com/2018/02/pesto-goat-cheese-pizza.html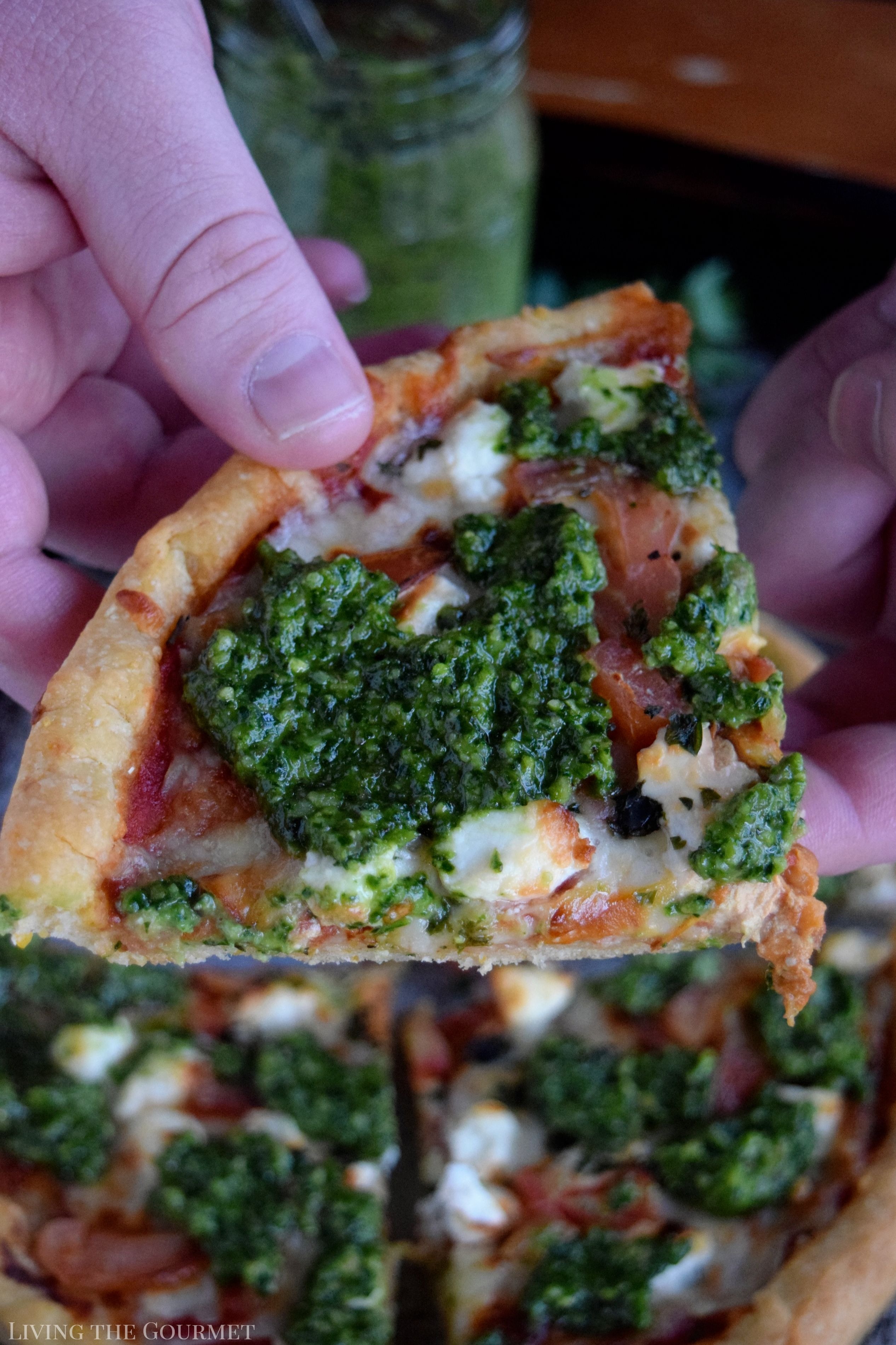 Enjoy with Love,
Catherine
0