Warm up these bitter winter days with a bowl of this comforting Tomato and Pea Soup!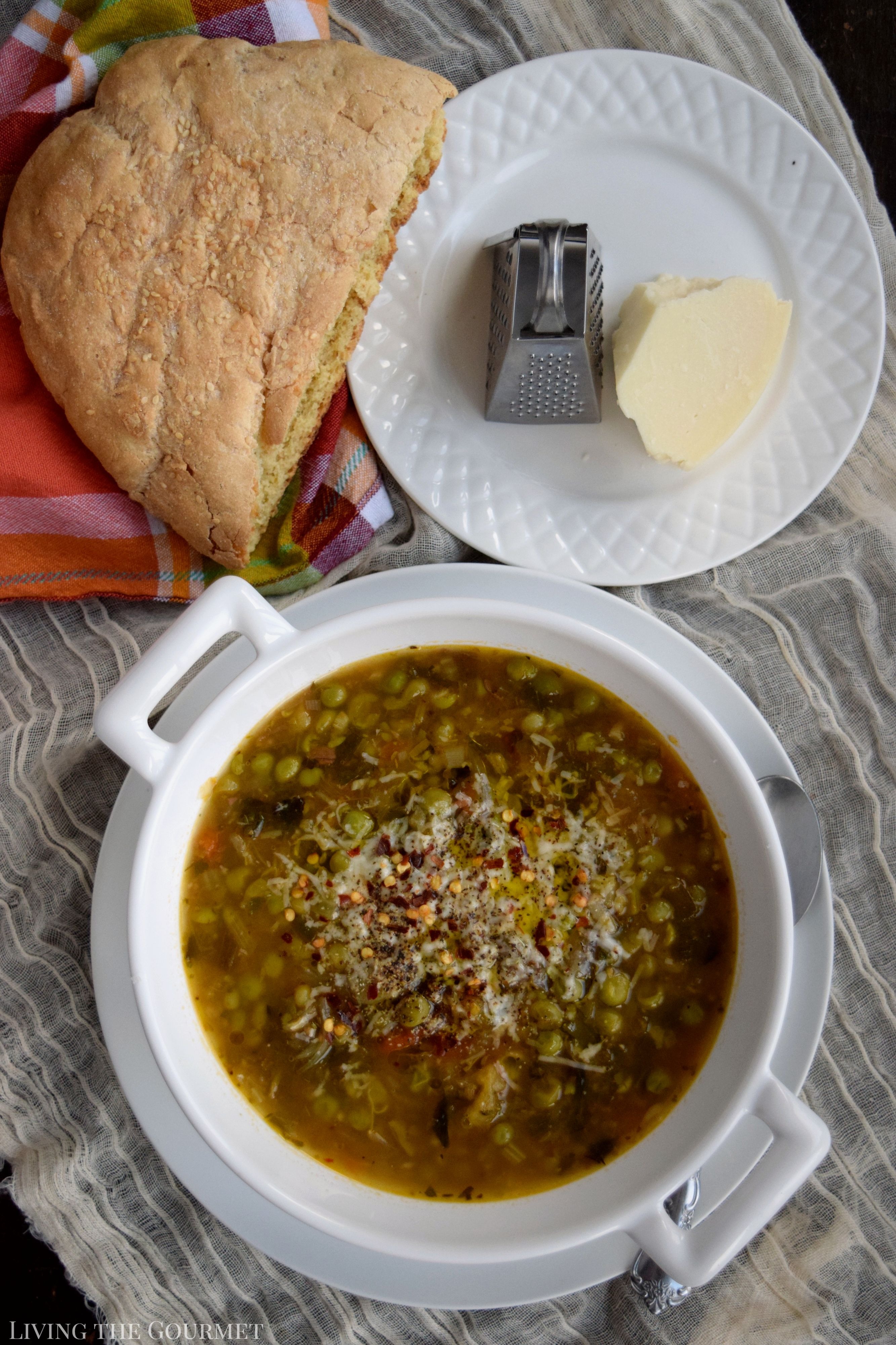 Like many of you, I started this year off with a handful of well-intentioned 'Resolutions' aimed at self-perfection, both personal and professional. Now, I'm about to embark upon a self-deprecating tangent on how I've already broken my waist-line orientated resolutions, or how I'm already planning to "get it right next year." Instead, like last week's zoodle post, I'm talking about keeping things on track.
Next week, it will be a year ago to the day that I posted my 'Split Pea Soup.' In that post, I started off with the Matrix's definition of reality, and linked that the 'presentation' of a good meal, explaining how "presentation, setting, and a good wine pairing are all key ingredients to one's dining experience, not so much because they effect flavor, texture or aroma – although a good wine pairing can – but rather because these effect one's perception of the meal, and likely do so before you've even taken your first bite."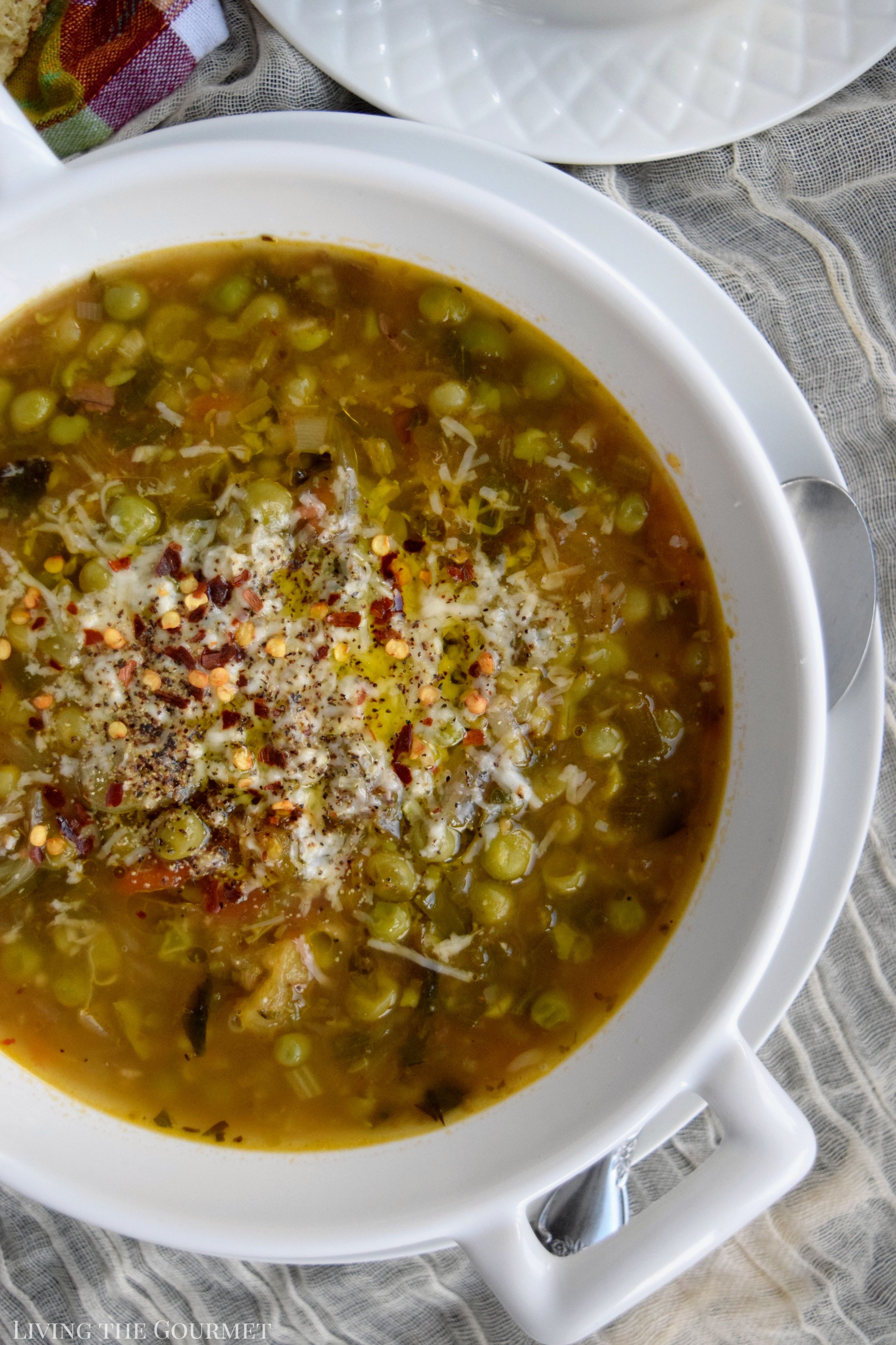 In other words, presentation is 'all' because it's the context into which 'reality' is framed. In the context of that pea soup was "a well-worn New York river, flanked and hemmed in by piers and piles, and draped in the haze of a fog thick with the caw of gulls and the chime of nautical bells. Now imagine that river swelling with rain just as the tide is coming in as a northern winter wind lashes white crested waves across the burgeoning waters."
This year, replace the rain with snow, and the burgeoning waters with ice. In fact, we've had something of a permafrost here for the last several weeks. Indeed, the images of light bites and intermittent fasting that are so often conjured by the idea of tending to one's waistline just don't pair well with permafrost and an iced over river. Instead, both the scene and oneself crave something a tad hardier, something filling, satisfying, and of course delicious. Naturally, to encompass those qualities while remaining true to one's self-perfection resolution, this brings us to today's recipe – Pea Soup.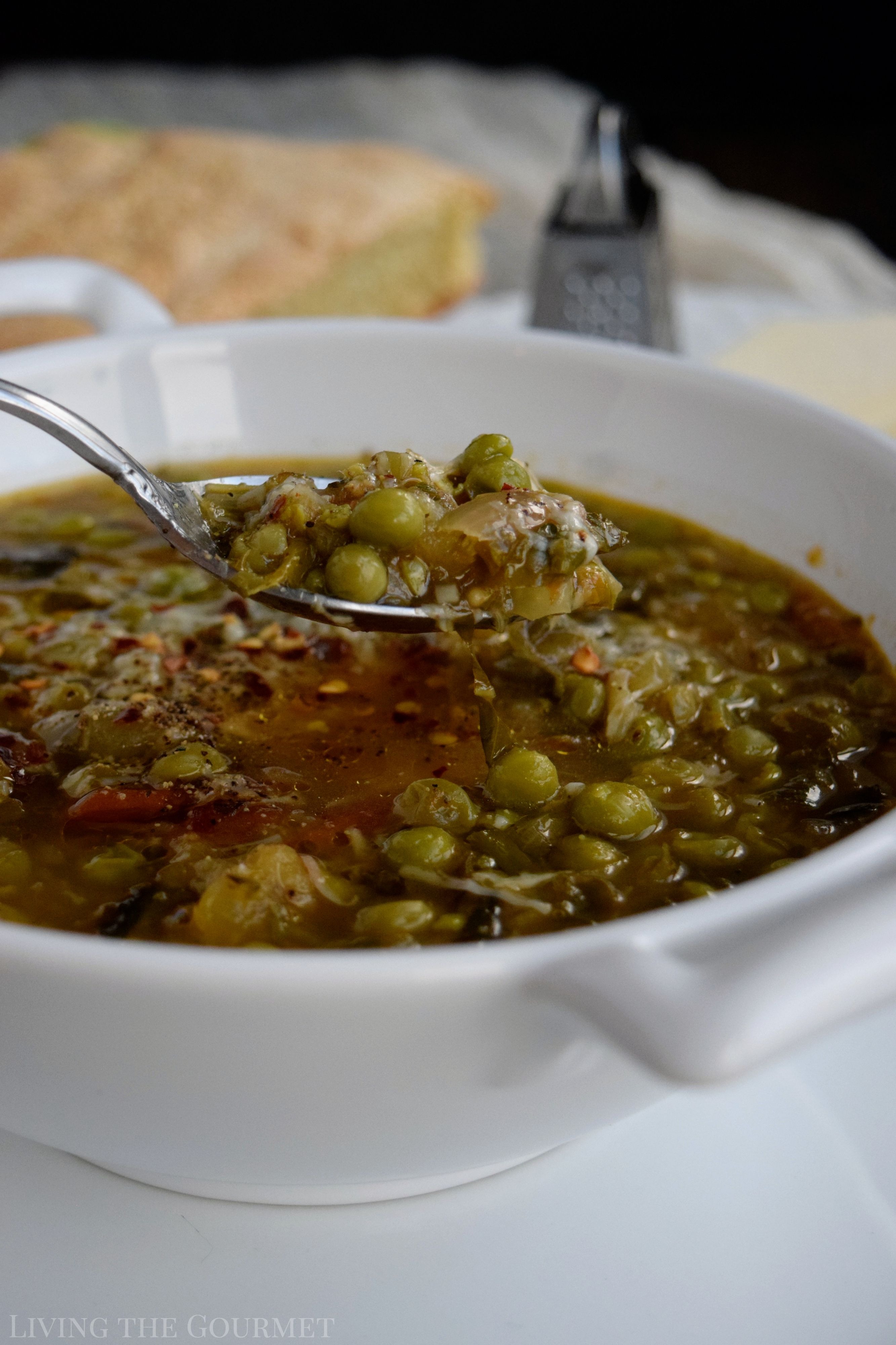 Come snow and ice, or sunshine and heat, whether we're making steaks or soups, we start things off the same – with a heated cast iron frying pan and olive oil. We then add in onions, garlic, scallions, and basil, along with the tomatoes and celery, all chopped, together with parsley, and allow that to reduce as described below.
Once that's done, add in the peas, the seasonings, the broth, and then loosely cover the pot and let this simmer on a gentle heat for about forty minutes or so. While that's simmering mash together the anchovies with honey and lemon juice, and stir thoroughly before adding it to the soup.
Taste the soup, adjust the seasonings to your preference, and then serve with a drizzle of olive oil, honey and freshly grated cheese, and maybe another dash of black and red pepper for garnish, and just like that you've got a thoroughly filling soup that won't break your start to the New Year.
Living the Gourmet
Yields 4
Tomato and Pea Soup
10 minPrep Time
30 minCook Time
40 minTotal Time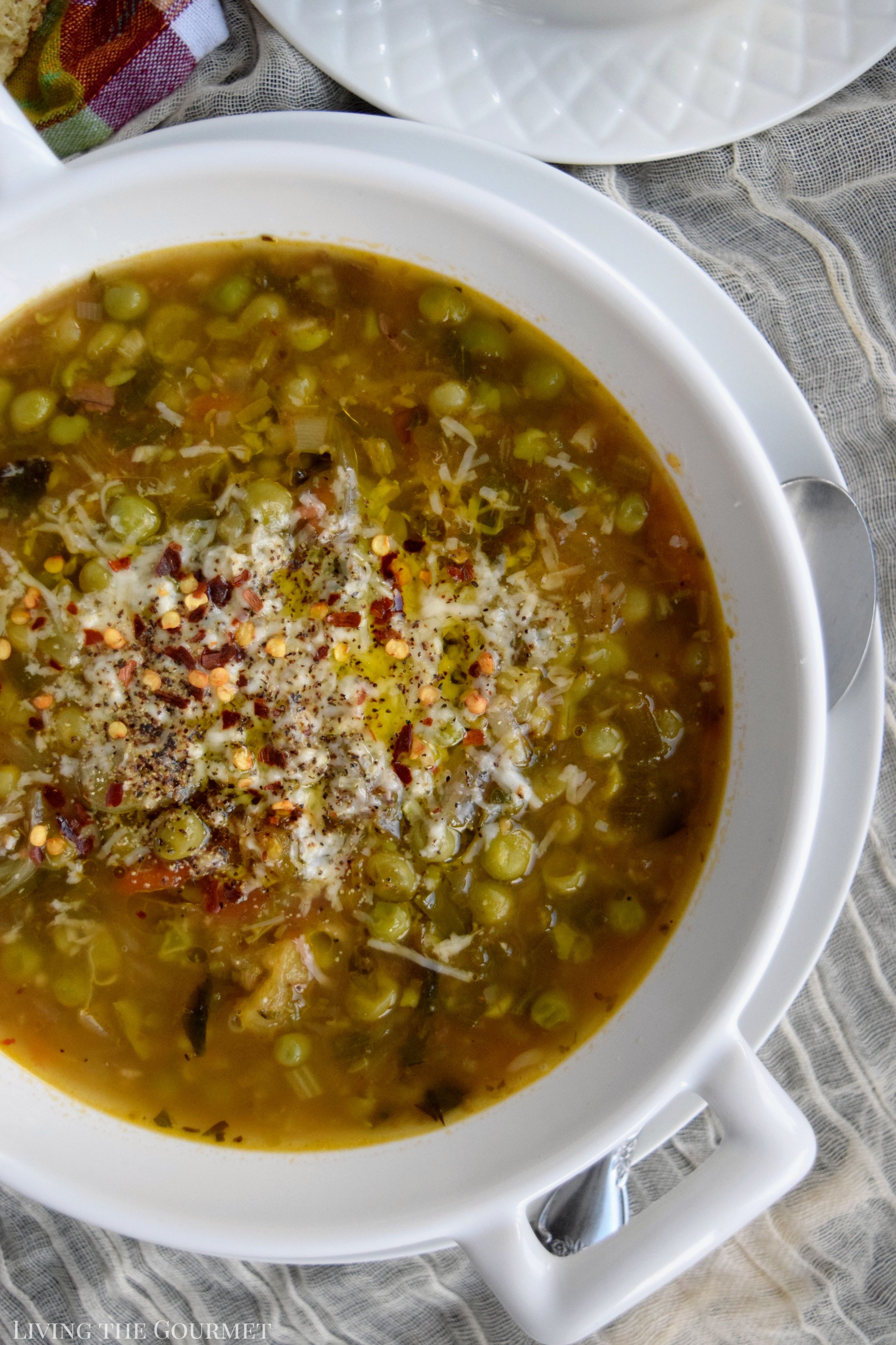 Ingredients
1 pint of cherry tomatoes - halved
16 oz. bag of Frozen peas
1 red onion – sliced thin
2 stalks celery - chopped
4 cloves garlic- crushed and chopped
¼ cup of fresh Italian parsley – chopped
¼ cup of fresh basil – chopped
3 bunches of scallions - chopped
6 cups of chicken broth
2 tsp. salt
2 tsp. dried oregano
1 ½ tsp. black pepper
2 oz. can of anchovies with oil – crushed
2 ½ tbs. honey
2 tbs. olive oil – plus more for drizzling
Juice of 1 lemon
Red pepper flakes for garnish
Grated cheese – Romano
Instructions
Heat a cast iron sauce pot with 2 tbs. of olive oil. Add the sliced onions, chopped garlic, halved tomatoes, chopped celery, scallions, chopped fresh basil and chopped fresh parsley; sweat down these vegetables until reduced in size and tender.
Add the frozen peas, seasonings and broth and loosely cover the pot. Let the soup simmer on a gentle heat for 30 – 40 minutes.
Mash the anchovies with a fork and add the honey and lemon juice and stir. Add this mixture to the soup and stir.
Taste the soup for seasonings to taste.
Serve the soup with a drizzle of olive oil, fresh grated cheese and extra black pepper and red pepper flakes for garnish.
7.8.1.2
722
https://livingthegourmet.com/2018/01/tomato-pea-soup.html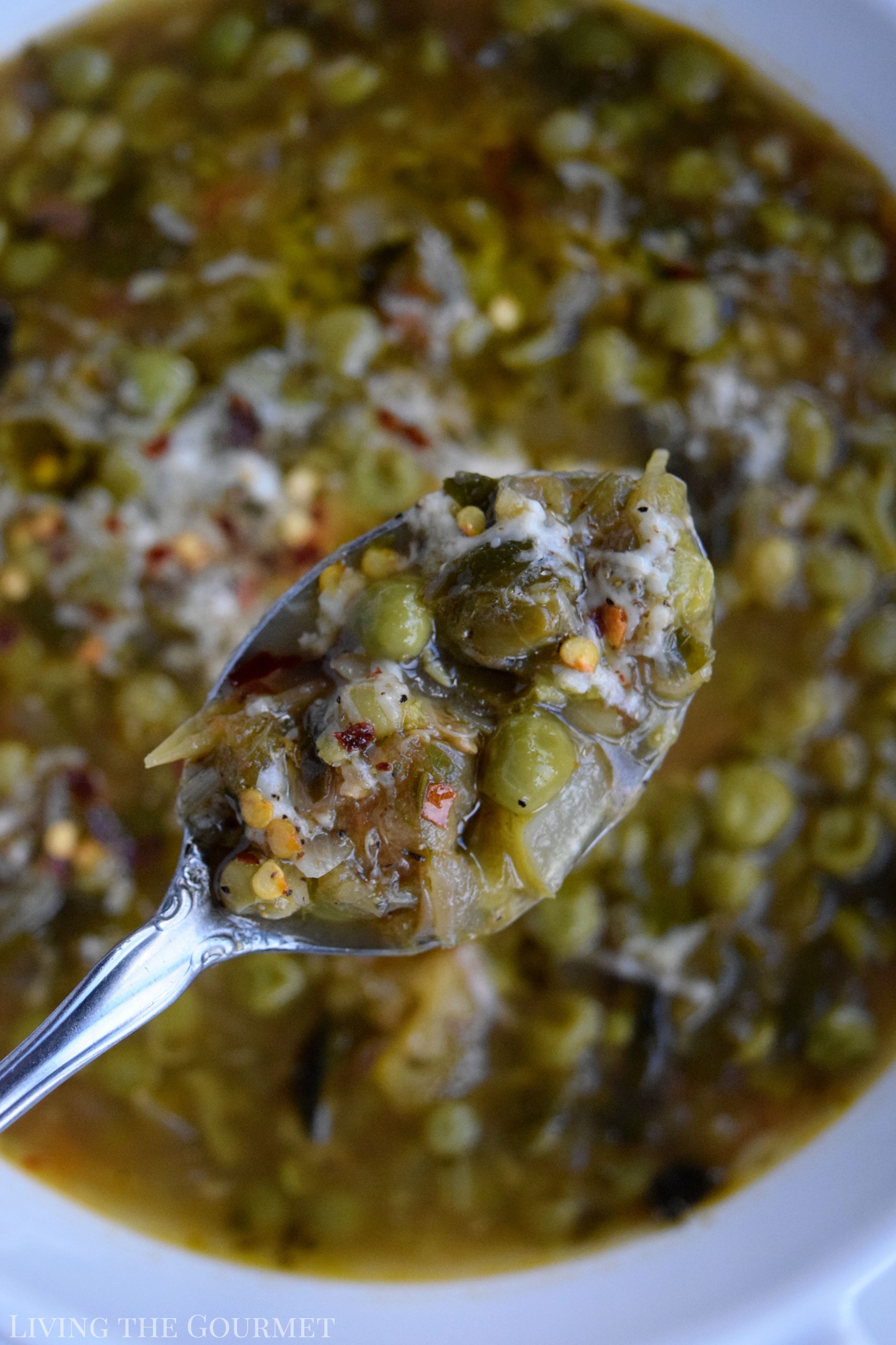 Enjoy with Love!
1