Serve up these Mincemeat Tartlets at your next holiday gathering alongside a glass of Vivanco Wine!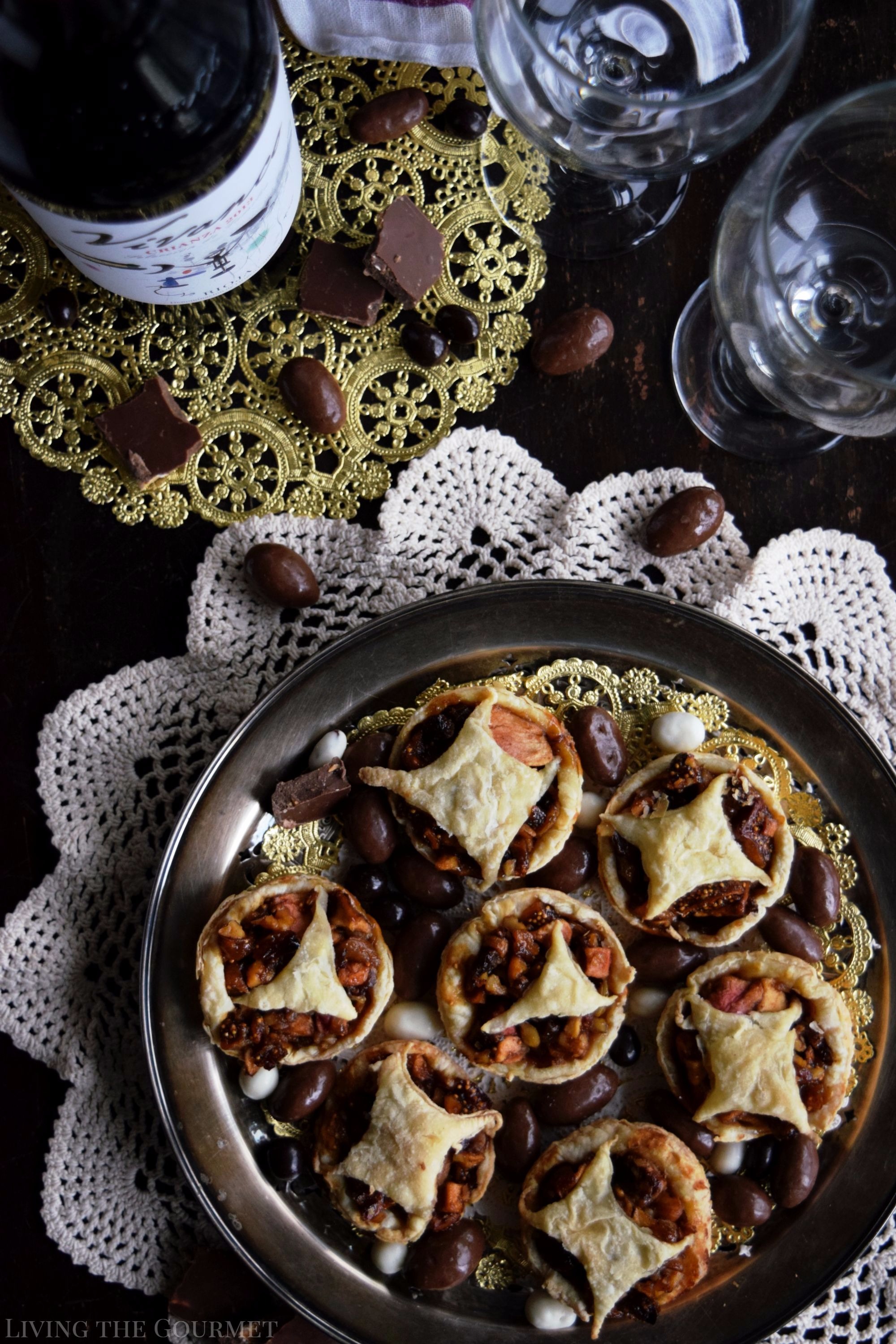 Dessert wine. Aside from the recent wine and chocolate fad, it's a concept that's been almost entirely lost, only making appearances at formal dinner parties, higher end restaurants, and used by enthusiasts to demonstrate their culinary know-how – and strangely so. In this era of ours when the casual reigns supreme, and enjoyment is the highest of virtues, you would think that pairing wine with one's dessert would be something brought to the fore rather than being pushed into the background.
Alas, the opposite has happened.
Now, does this mean that I'm talking about, for example, pairing a bottle like the 2003 Vinsanto I reviewed here some months ago with an equally 'fancy' dessert possessed of a name that defies pronunciation? Of course not. Such bottles, and desserts, 'are' reserved for the realm of the formal. However, humor me for a moment and think of the 'flavors' of the upcoming holidays. You're likely thinking of the 'big items' that populate most tables, savory items like the various incarnations of the yearly turkey and its accompanying potatoes, to which you've likely paired your favorite wines, if your family is anything like mine they likely have a go-to selection of bottles that serves admirably at each event.
Those 'big items,' naturally, are followed by a host of familiar 'holiday sweets,' but how many times, really, have you developed a wine menu for those sweets? In other words, how many of us are looking for that perfect vintage to pair with our Christmas cakes or Thanksgiving pies? A stark minority, I assure you.
Naturally, when the representatives of Vivanco Winery contacted me, asking if I would be interested in pairing one of their wines with a dessert, I quickly agreed. About a week later, a Vivanco Reserva 2011 Rioja arrived at my door.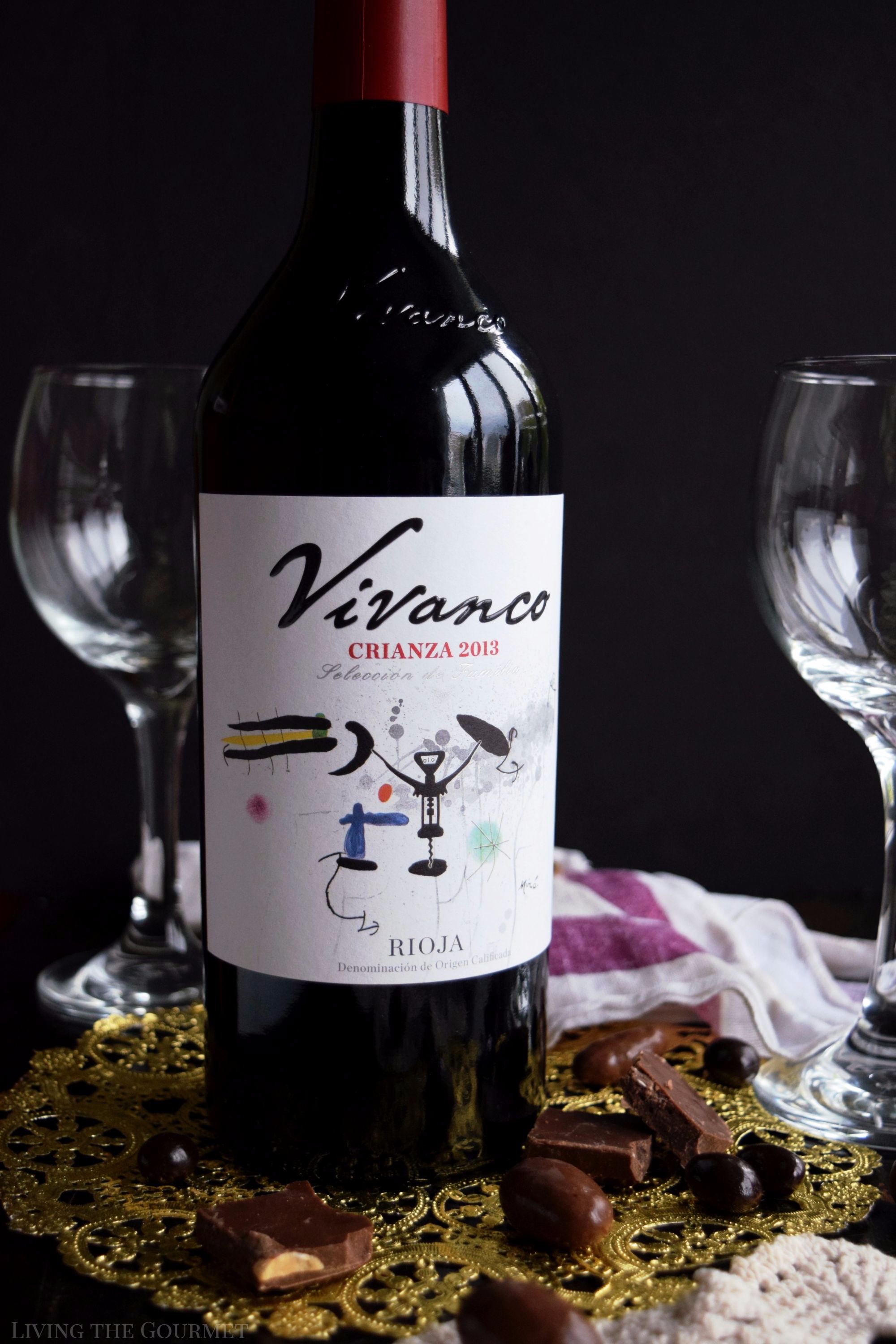 For the uninitiated, Rioja are Tempranillo based blends produced in its namesake DOCa Rioja, which comprises the communities of La Rioja and Navarre in the Spanish province of Alava. Rioja comes in four regulated classifications, which are indicative of the wine's age and quality, with quality largely being defined by how much time the wine has spent exposed to oak – the more time in oak the better. At the bottom are your basic Riojas, which were originally classed as 'vin joven' or 'young wine,' which have little or no exposure to oak, and are only aged for about a year or so in their bottles before heading to market. Above the young wines are Crianza, which are aged for a year in oak barrels followed by another year spent aging in their bottles. Above Crianza is the Reserva, which spends about two years aged in their bottles, preceded by a year in oak. Finally, at the top of the Rioja hierarchy sits the Gran Reserva, which boasts no less than two years in oak, followed by at least three years aging in their bottles.
That said, Tempranillo is only rarely bottled on its own – in fact, off the top of my head I can think of only four 100% Tempranillo bottles, and each is produced by a boutique luxury-label. Instead, this varietal is used in blends, but almost always comprises in excess of eighty-percent of the resulting blend. Today's bottle, for example is ninety-percent Tempranillo and ten percent Graciano. That said, the varietal boasts a contradictory palate, being both fruity and earthen in qualities, featuring profiles of cherry and leather, plum and cedar, or tobacco, vanilla, and fig. The very best Tempranillos, however, balance these qualities, striking as a close to a half-and-half proportion between the 'earthy' qualities and the brighter fruit notes, with the exposure to oak both bringing out the earthen qualities of the wine while ripening the wine's natural fruit notes. For this reason, vin joven and Crianza classifications tend to be very bright both aromatically and on the palate, as well as very fruit-forward.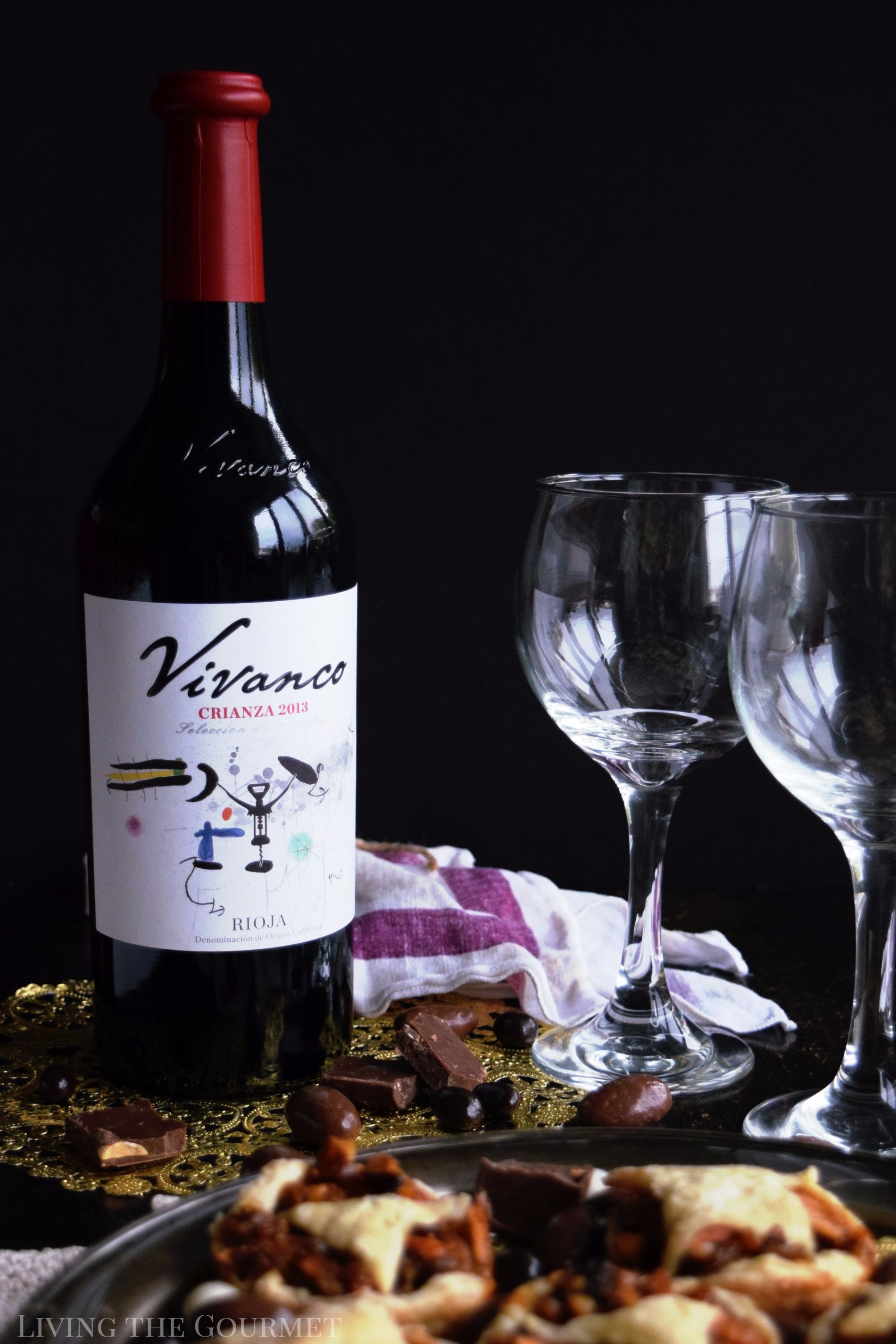 To start things off, on pouring the wine is a deep purple, think boysenberry tinged with garnet, while on tilting the glass, the outer rim of the wine features a distinct antique oak or dull garnet coloration. Looks aside, the wine introduces itself with aromas of dried sage or tobacco leaf and cedar, punctuated by dark ripe fruit essences, with dry herbal notes perforating deeper into the glass. On the palate, the wine greets with initial cherry notes, balanced against a distinct leathery quality with very vague almost indiscernible herbal notes, with copious tannins, creating a well layered mouthfeel.
While traditional pairings might include grilled meats, red sauces, and spicy food – that's not what we are here for today. Instead, we're going with something a bit less orthodox…okay, much less orthodox.
Instead, we're pairing the wine with a dessert, and if you hadn't guessed, that's precisely where today's recipe comes in – Mincemeat Tarts. Why mincemeat tarts? For the simple reason that we're not talking about a 'traditional' dessert wine. Instead, we're taking a partially savory, somewhat 'heavy' textured dessert, and using those qualities to pair with the wine's full bodied, multi-layered texturing and fruit-herb-leather palate.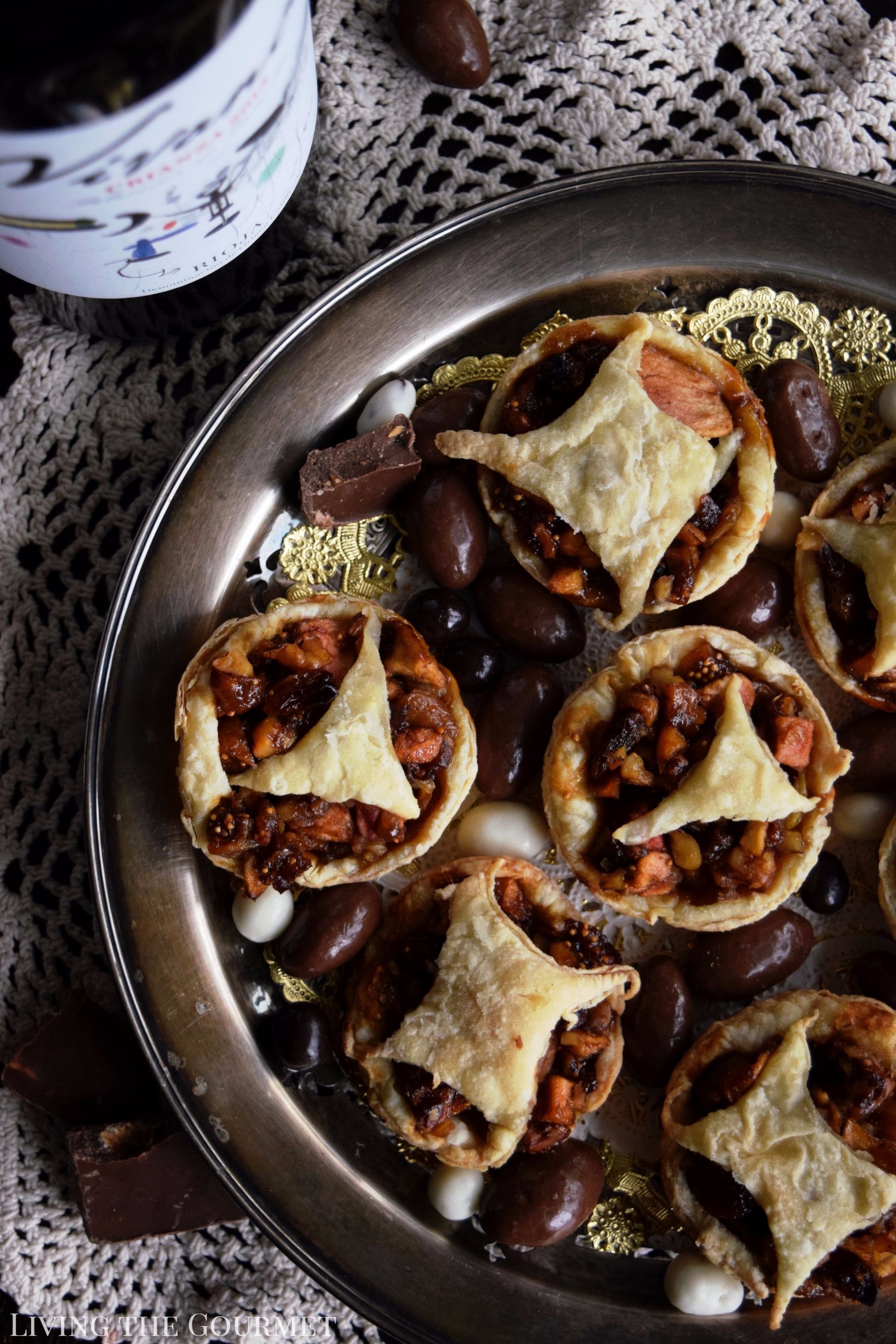 To start things off, we begin chopping up some figs, dates, walnuts, raisins, and combining those in a large bowl with the juice and zest of a lemon and orange, along with rum, vanilla, butter, brown sugar, honey, and molasses. While these ingredients marinate together, it's time to roll out the puff pastry.
After buttering your cupcake tins, roll out the puff pastry on a well-floured surface, and then press them into the cupcake tins as shown below, and then fill with a tablespoon of the dried fruit mixture, and top that with a piece of the puff pastry.
Print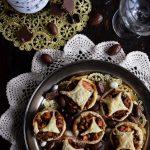 Mincemeat Tartlets
---
Author:

Total Time:

30 minutes

Yield:

2

dozen

1

x
Puff Pastry Sheets

2 cups

dried figs – chopped

1 cup

dried dates – chopped

1 cup

walnuts – chopped

1 cup

raisins – chopped
Zest of

1

orange
Juice of

½

orange
Zest of

1

lemon
Juice of

½

lemon

½ cup

rum

1

tbs. vanilla

½ cup

brown sugar

3

tbs. butter – cubed

2

tbs. honey

3

tbs. molasses
---
Instructions
Preheat Oven 350 degrees F.
In a large bowl combine the chopped figs, dates, walnuts, raisins, zest of the lemon and orange, juice of the lemon and orange, rum, vanilla extract, butter, brown sugar, honey and molasses. Combine these ingredients and let rest for a few minutes while rolling out the puff pastry.
Butter the cupcake tins.
On a floured surface roll out the puff pastry and cut into circles that fit the cupcake tin; press these circles into the cupcake tins. Fill with a tablespoon of the dried fruit mixture and top with a piece of puff pastry.
Bake 12 – 15 minutes or until golden.
Prep Time:

15 minutes

Cook Time:

15 minutes

Category:

dessert
Recipe Card powered by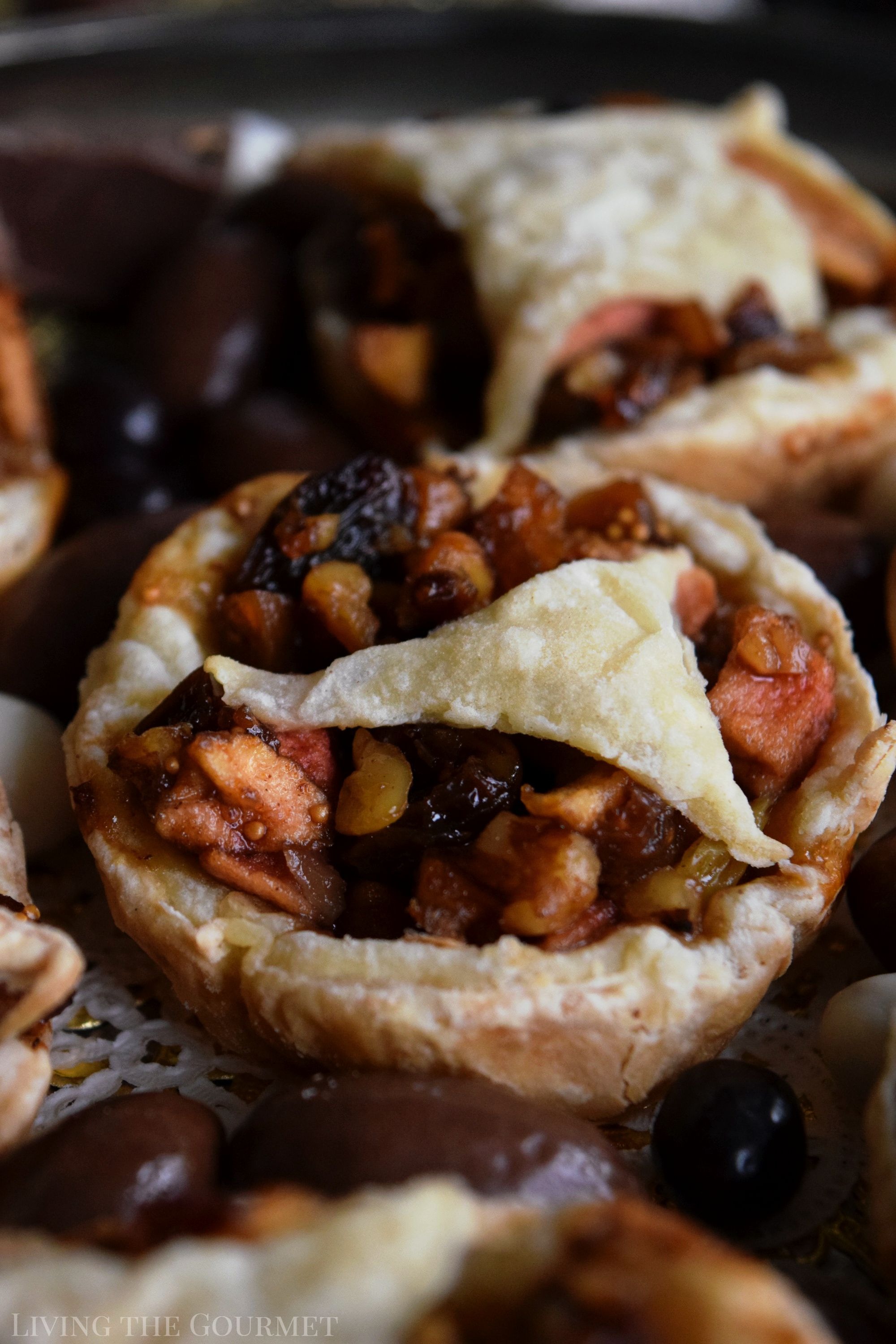 Then bake for about fifteen minutes – or until they are nice and golden, and just like that, you have the perfect dessert pairing for your Rioja Reserva.
Enjoy with Love!
0