This shop has been compensated by Collective Bias, Inc. and its advertiser. All opinions are mine alone. #changesnackingforgood #CollectiveBias
Toasted baguette slices are topped with an herbed goat cheese spread, grilled onions, crisp bacon and Sahale Snacks!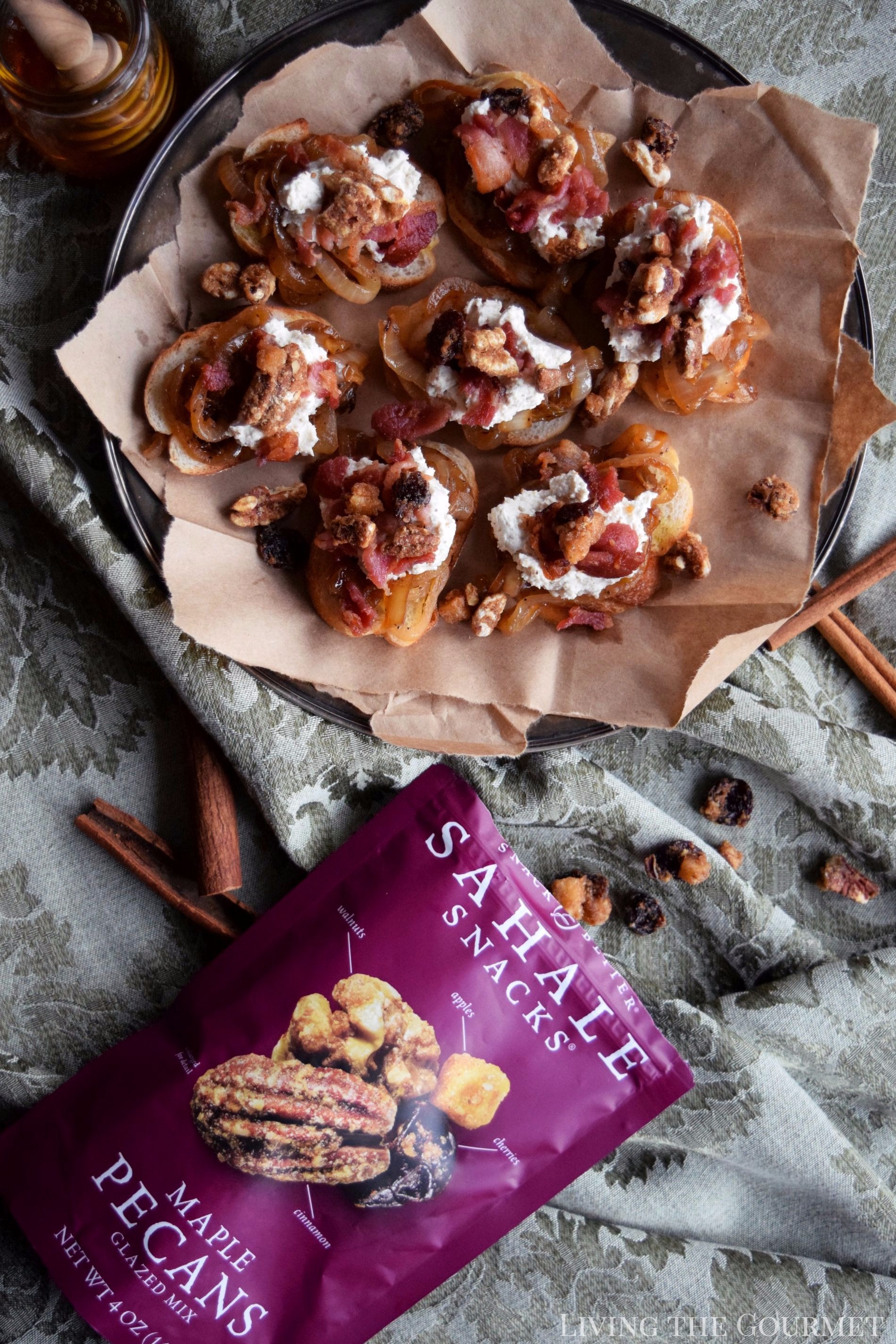 "I saw an angel in the marble, and I carved until I set him free," Michelangelo remarked of his own work.
And in some ways, we all experience that…albeit very few of us end up setting angels free from the depths of marble prisons. For example, think about the last time you planned something 'just because.' You saw a memorable event hidden inside of an ordinary day, something special within the mundane, and so you planned to make it yours. For that very reason, as a teacher of mine once remarked, "Planning is the best part of any event," and he was right. During the planning stage, everything is perfect, everything goes 'according to plan.' It's a bit like playing the director of a show, freely setting the stage, editing the final draft of the lines, and checking the script. Of course, planning ends where action begins. To carry the metaphor forward, the curtains part for the first dress rehearsal, the actors take to the stage, and any semblance of that perfect plan vanishes.
Or does it?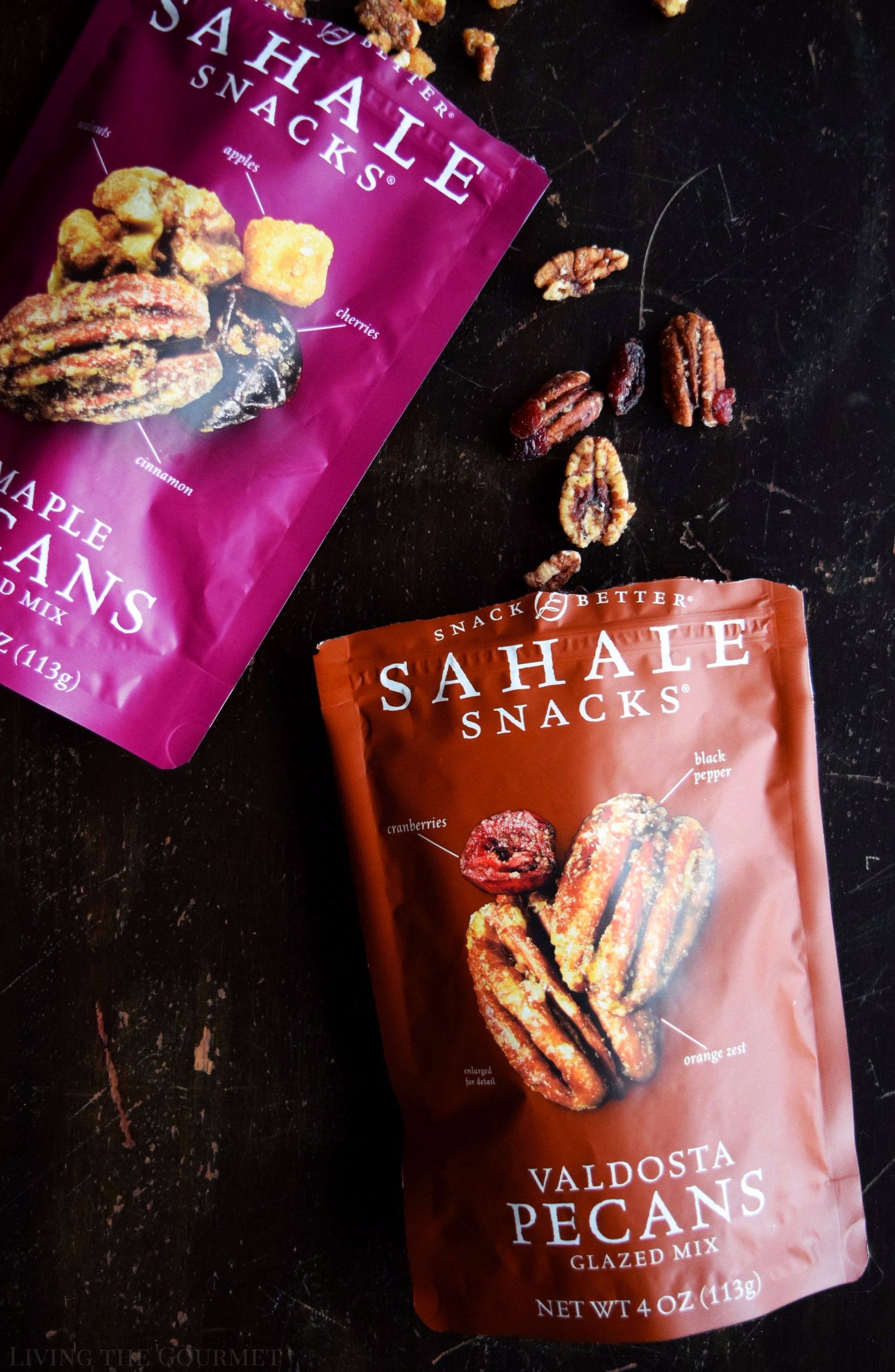 I had invited a dear friend of mine over for a fall themed light luncheon, and I certainly didn't want the planning to be the best part of it. To use the metaphor I opened with, I instead chose to see a lovely late afternoon within the clutches of a chilled autumn day, all that remained was to set the scene – both literally and figuratively. That said, I wanted a sort of 'relaxed elegance,' with just a hint of simplicity. I wanted to capture the season's flavors without all of the seasonal fuss.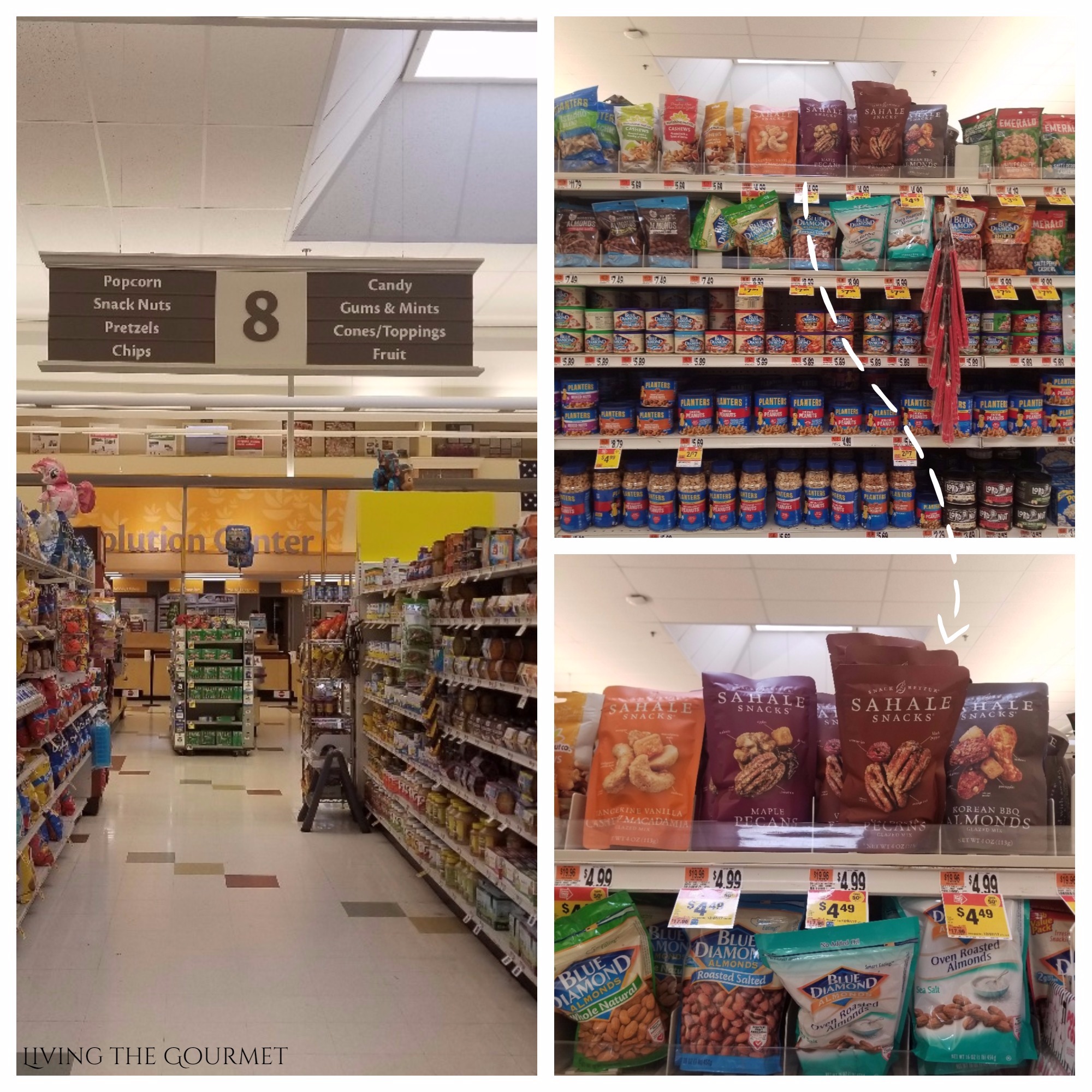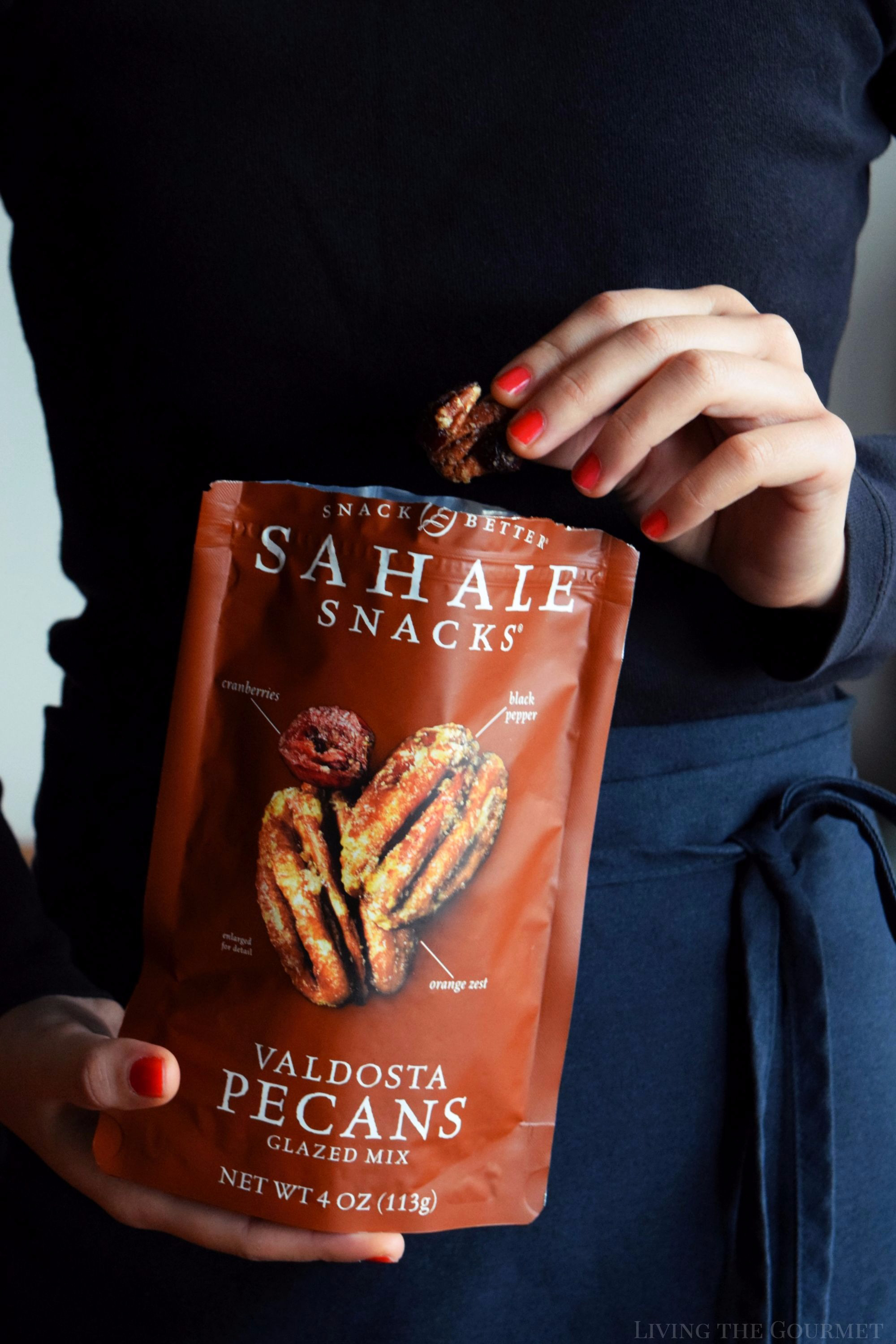 That was my thought process as I made a last-minute stop at Stop & Shop, and of course the simple question was 'how' to fit that bill. Now, I've written here a few times about building in 'failsafe's' and 'crowd pleasers' when it comes to entertaining one's guests, and I've also written about delicious snacking. Turning into the snack aisle, those themes just happened to cross paths in the form of Sahale Snacks which are both Gluten-Free Certified and Non-GMO Project Verified, as well as being Kosher. The Valdosta Pecans Glazed Mix caught my attention immediately- Roasted pecans glazed with whole cranberries and orange zest and just a pinch of black pepper. It's a little piece of heaven. Aside from being a great snack, these products are also great 'ingredients.' So I also picked up a bag of the Maple Pecans Glazed Mix which I knew would play into today's recipe perfectly!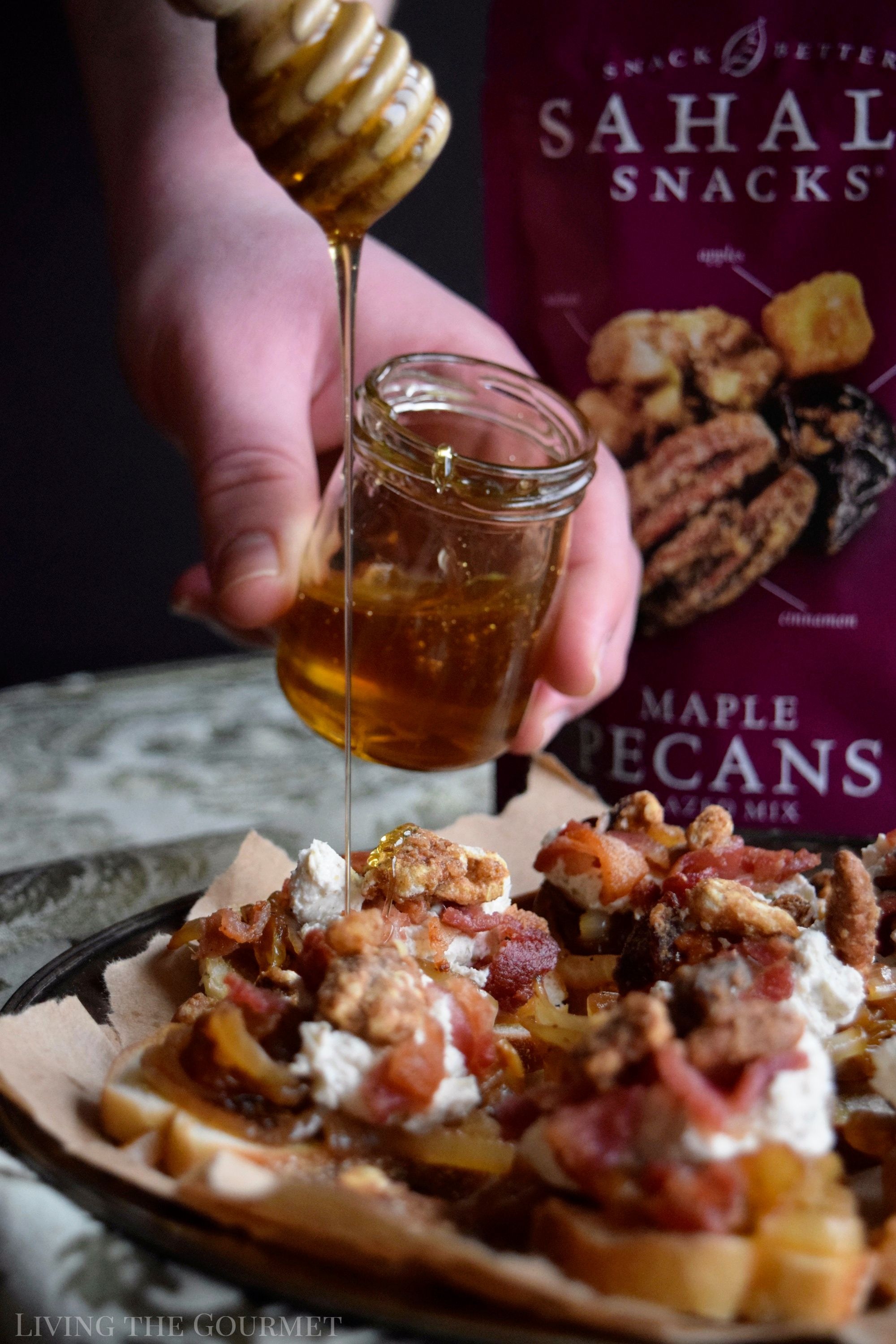 And that, of course, is where today's recipe comes in Herbed Goat Cheese and Nut Crostini, which are not only delicious, but they simply look beautiful, making them perfect starters that will be sure to please your guests.
To start things off, we heat a large cast iron frying pan with olive oil. We then add in the onions and let them sauté until they are tender and golden. Then add the raisins, vinegar, honey, cinnamon, salt, pepper, and molasses, and toss.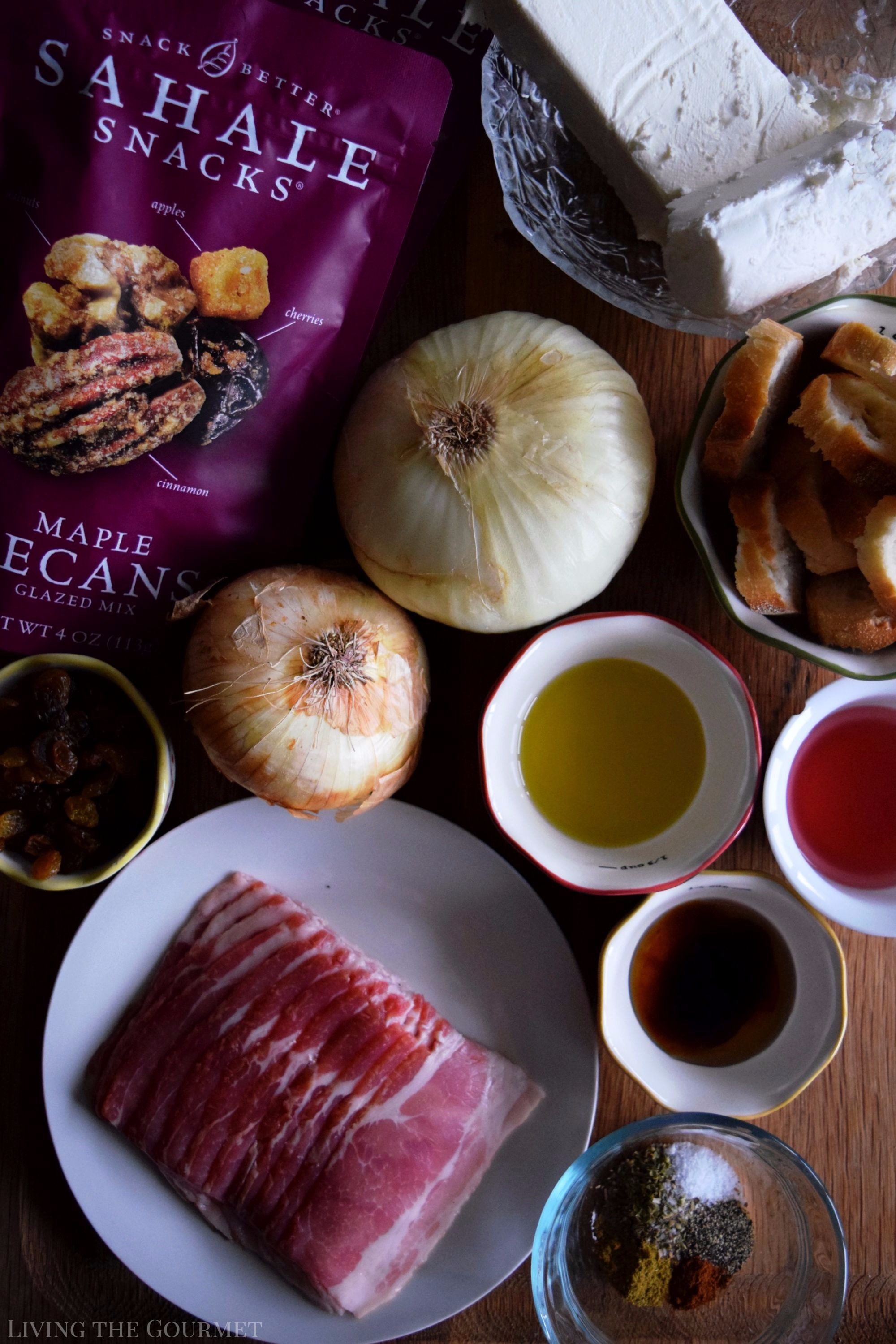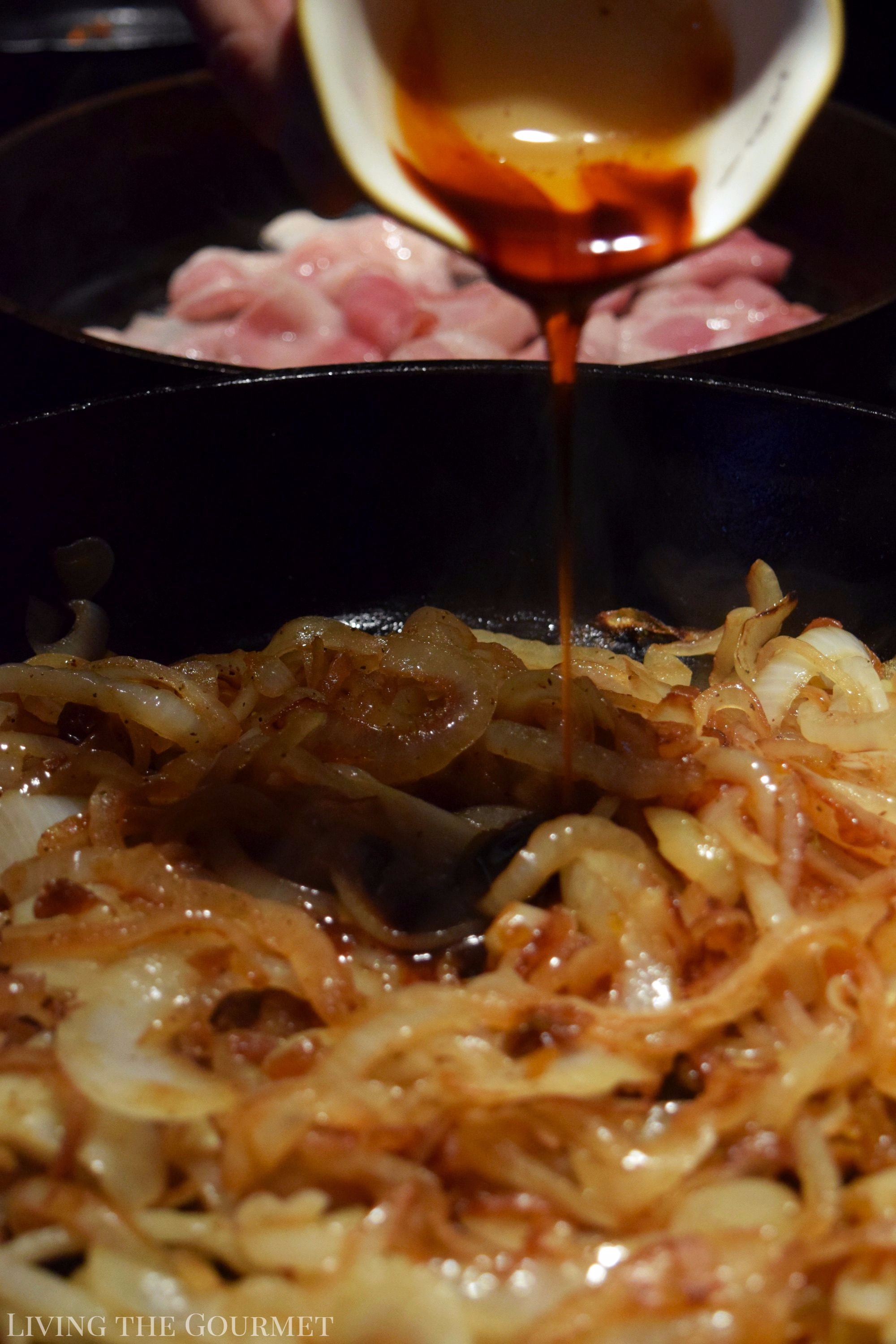 Once that's done, we prepare the goat cheese with some dill, salt, black pepper, and dried oregano, and then blend that together in the food processor until it's nice and creamy.
Now, with the onions and the goat cheese ready, it's time for the crostini part of this crostini equation. Begin by slicing a loaf of Italian bread into about quarter-inch 'rounds,' and then place the rounds on a baking sheet and gently brush them with olive oil, and then bake them for about four minutes, turning them over once midway through the process.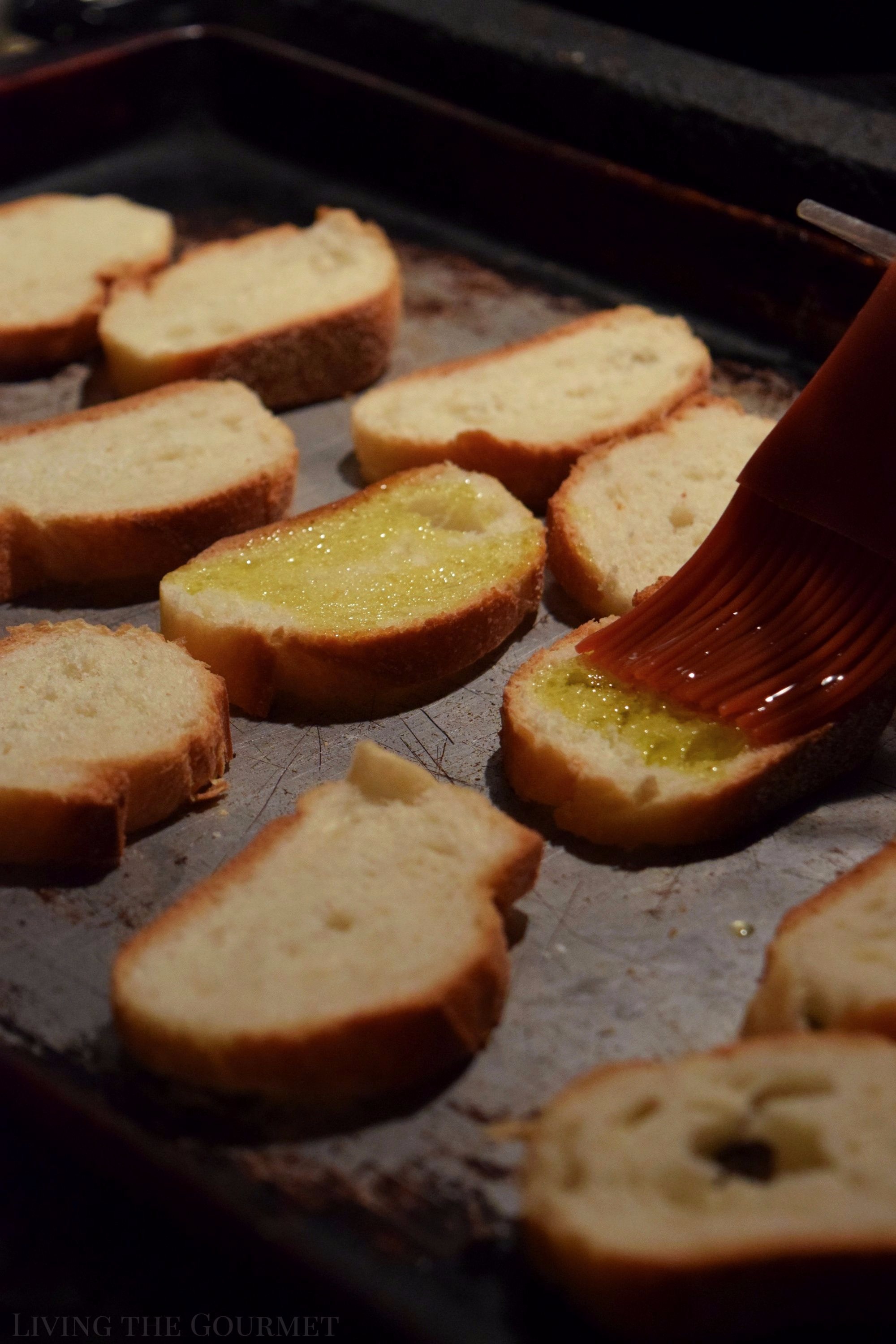 After that, it's time for the fun part – building the crostini. We start off with a base layer of onions – yes, the onions go first. Then add a dollop of the goat cheese, a quick sprinkle of crisped crumbled bacon, and then top these little beauties with the Sahale Snacks, and finish with a drizzle of honey and you're done.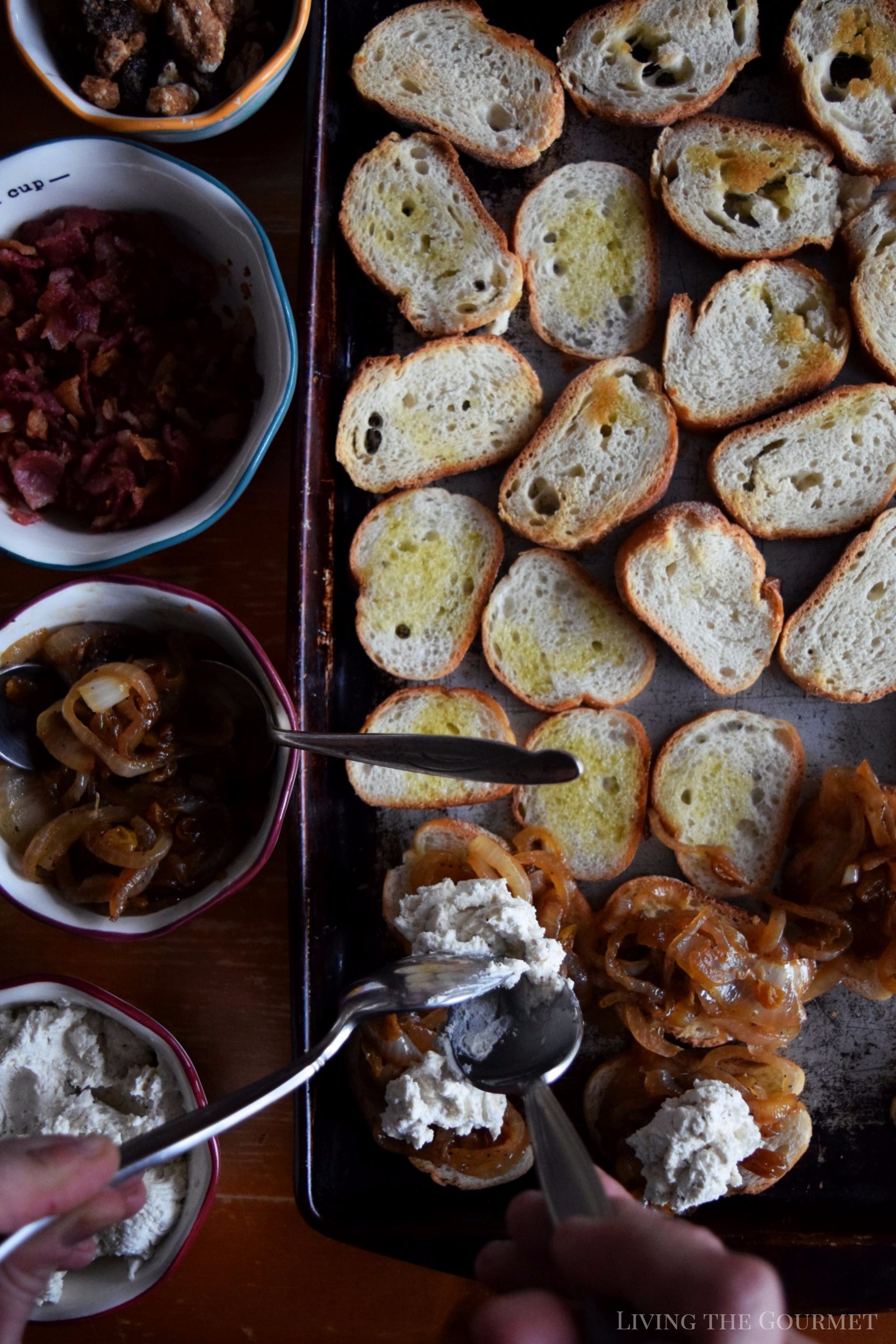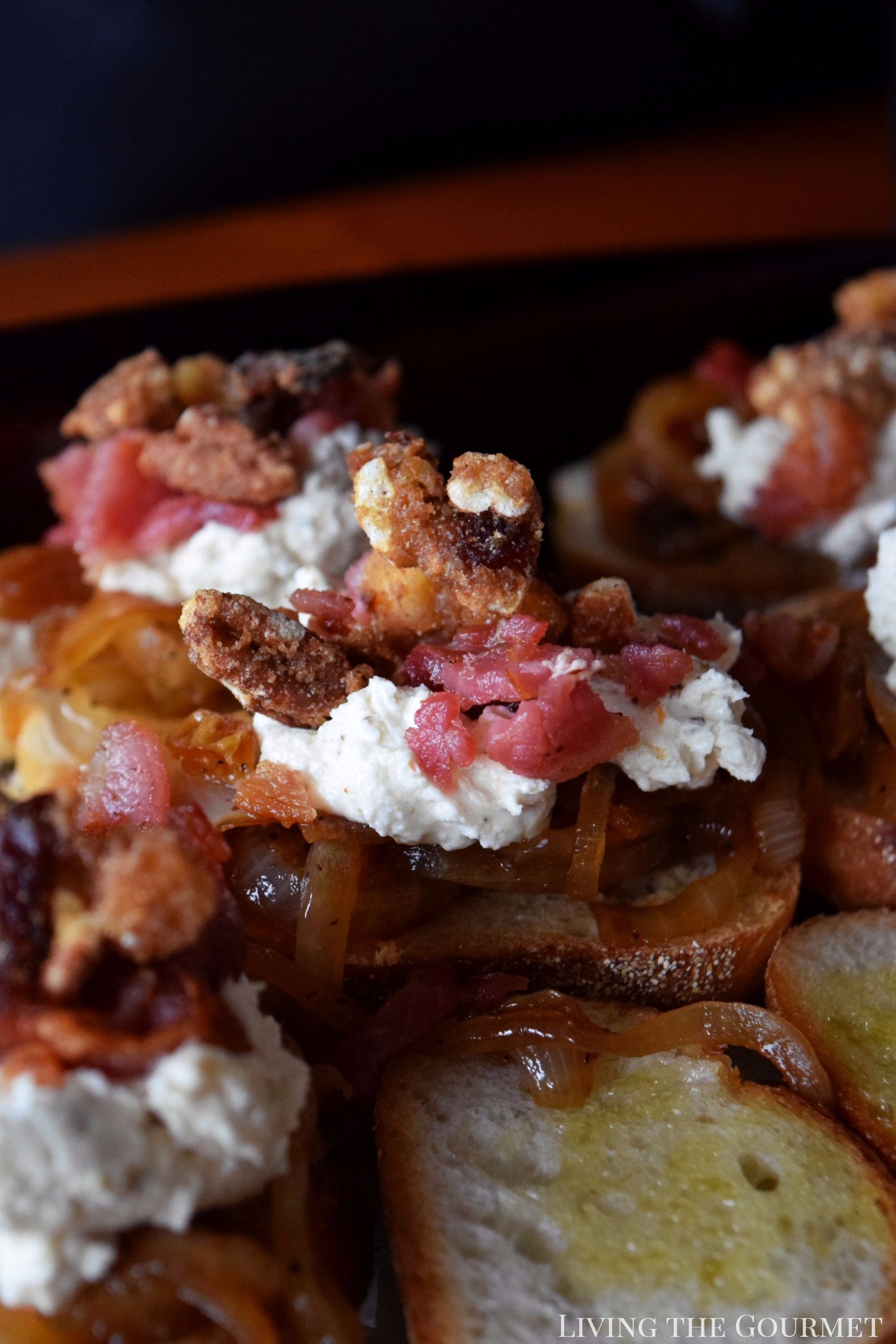 Print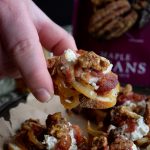 Herbed Goat Cheese and Nut Crostini
---
Author:

Total Time:

15 minutes

Yield:

6

-8

1

x
Sahale Snacks Valdosta Pecans Glazed Mix or Maple Pecans Glazed Mix

1

loaf of Italian bread or baguette, sliced 1/4-inch thickness

1/2

lb

. of bacon - cooked to a nice crispness
For the Grilled Onions:
2

sweet onions - sliced thin

1 tsp

. salt

2

tbs. olive oil

1/4

cup

raisins - chopped

1/4 tsp

. cinnamon

1

tbs. vinegar

2

tbs. honey

1

tbs. molasses
For the Goat Cheese Topping:
4 1/2

oz

. goat cheese

4

oz

. cream cheese

1/4 tsp

. dill

1/4 tsp

. salt

1/4 tsp

. black pepper

1/4 tsp

. dried oregano
Combine the goat cheese, cream cheese and the seasonings in a food processor and process until smooth and creamy.
---
Instructions
For the Grilled Onions:
Heat a large cast iron frying pan with the olive oil. Add the onions and sauté until the onions are tender and become a beautiful golden color.
Add the raisins, vinegar, honey, cinnamon, salt, black pepper, molasses and toss.
For the Goat Cheese Topping:
Combine the goat cheese, cream cheese and the seasonings in a food processor and process until smooth and creamy.
For the Bread Slices:
Preheat the Oven 350 degrees F.
Slice the bread to ¼ inch thickness and brush each slice with olive oil.
Place the slices on a baking sheet and bake for 4 – 5 minutes, or to desired crispness, turning once.
To Build the Crostini:
Place a rounded teaspoon of the onion mixture on each toasted bread slice, followed by a teaspoon of the cheese mixture, followed by the crumbled crisp bacon and finally topped with Sahale Snacks.
Prep Time:

10 minutes

Cook Time:

5 minutes

Category:

Appetizer
Recipe Card powered by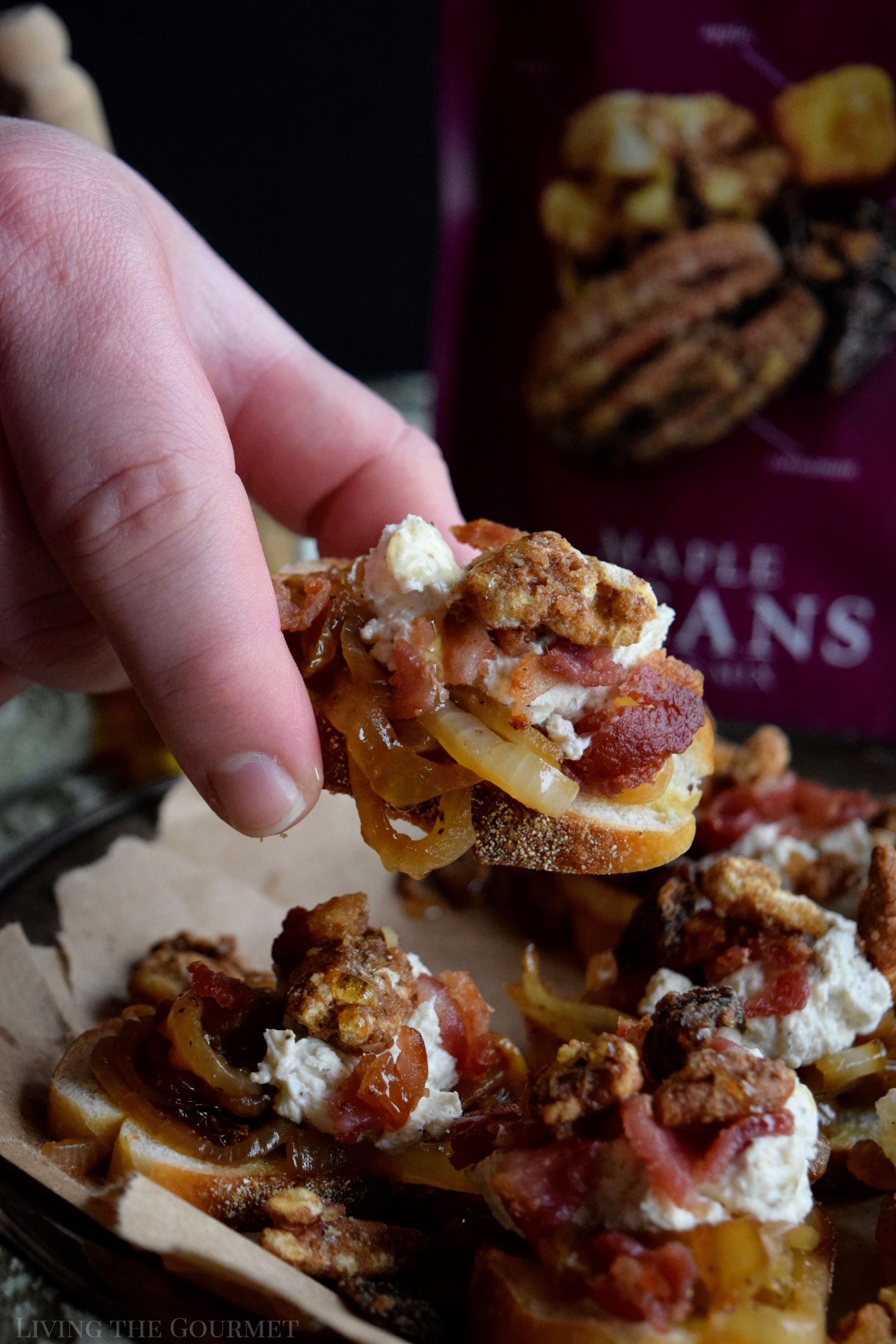 What are some of your favorite seasonal flavors? We would love to hear from you!
Be sure to get your digital coupon for Stop & Shop, Giant Carlisle, Giant Landover, and Martins to save $1.50 off any 4oz bag of Sahale Snacks. Offer valid 10/29 - 12/29!
Be sure to follow Sahale on:
Facebook
Twitter
Instagram
Youtube
Enjoy with Love!
0