This post has been sponsored by Sassoregale Wines. All opinions expressed are my own.
We're kicking off Fall with an Italian feast of Grilled Pork Chops and Apple Stuffed Artichokes paired with one of our favorite red wines at the moment, and to accommodate our white wine enthusiasts we also prepared a simple Pasta Aglio e Olio with sauteed Broccoli Rabe.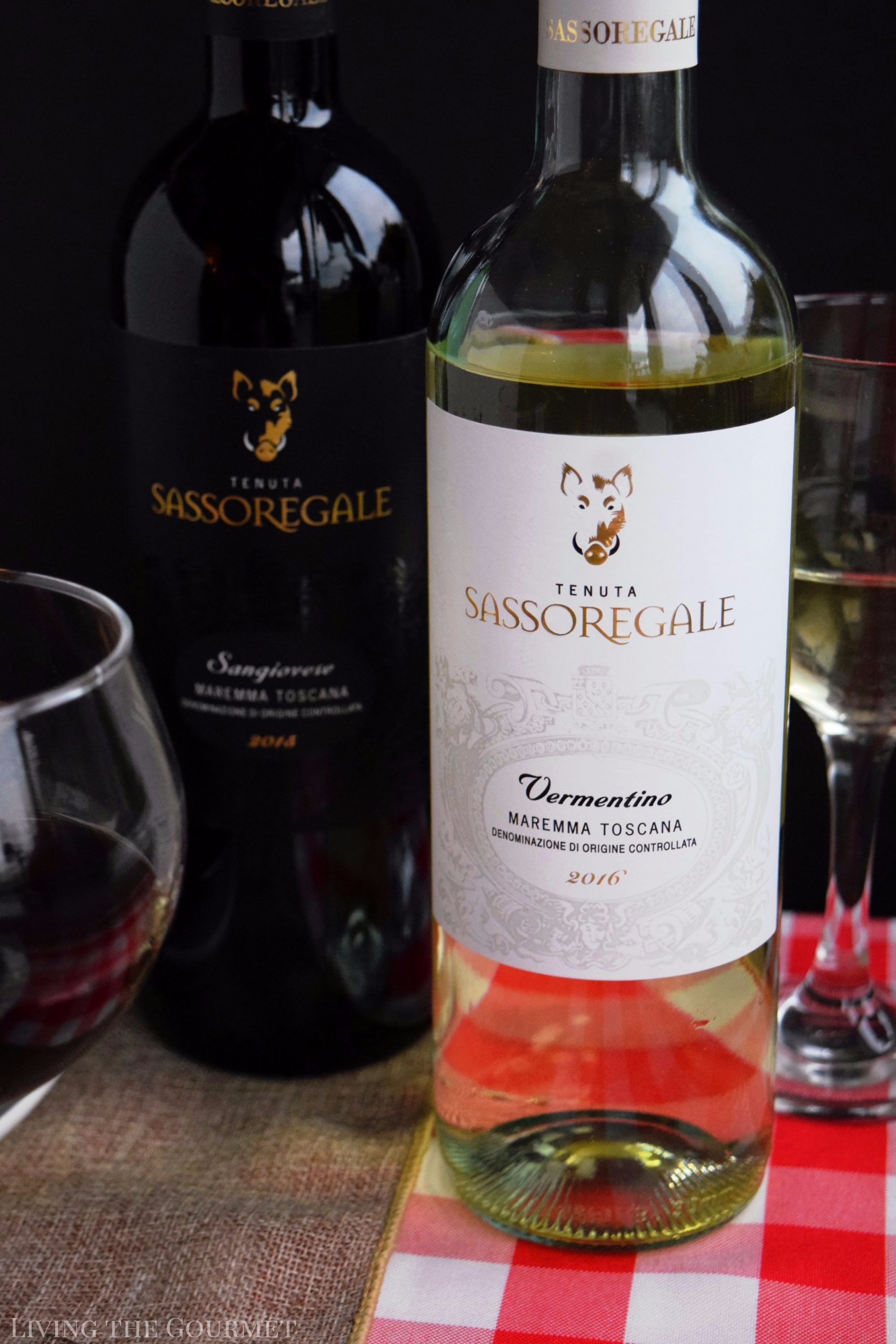 Growing up in a first-generation Italian family, certain things were simply ubiquitous in their presence at big family dinners, especially Sunday or holiday dinners. Chief among those things was the predictable selection of imported wines. Chianti and Sagrantino were ever present, and, of course, quality Sangiovese labels. This isn't to say other varietals didn't make their appearances – they certainly did, but there were 'classics' that, given our heritage, held a certain familiarity, and with that a certain sense of 'timelessness.'
Naturally, these varietals now hold a definitive nostalgia for me, and as a result, when I was contacted by a representative of the Sassoregale Winery, asking if I could put together a meal pairing for a set of their bottles, I naturally agreed.
I received two bottles from Sassoregale – a 2015 Sangiovese, and a 2016 Vermentino.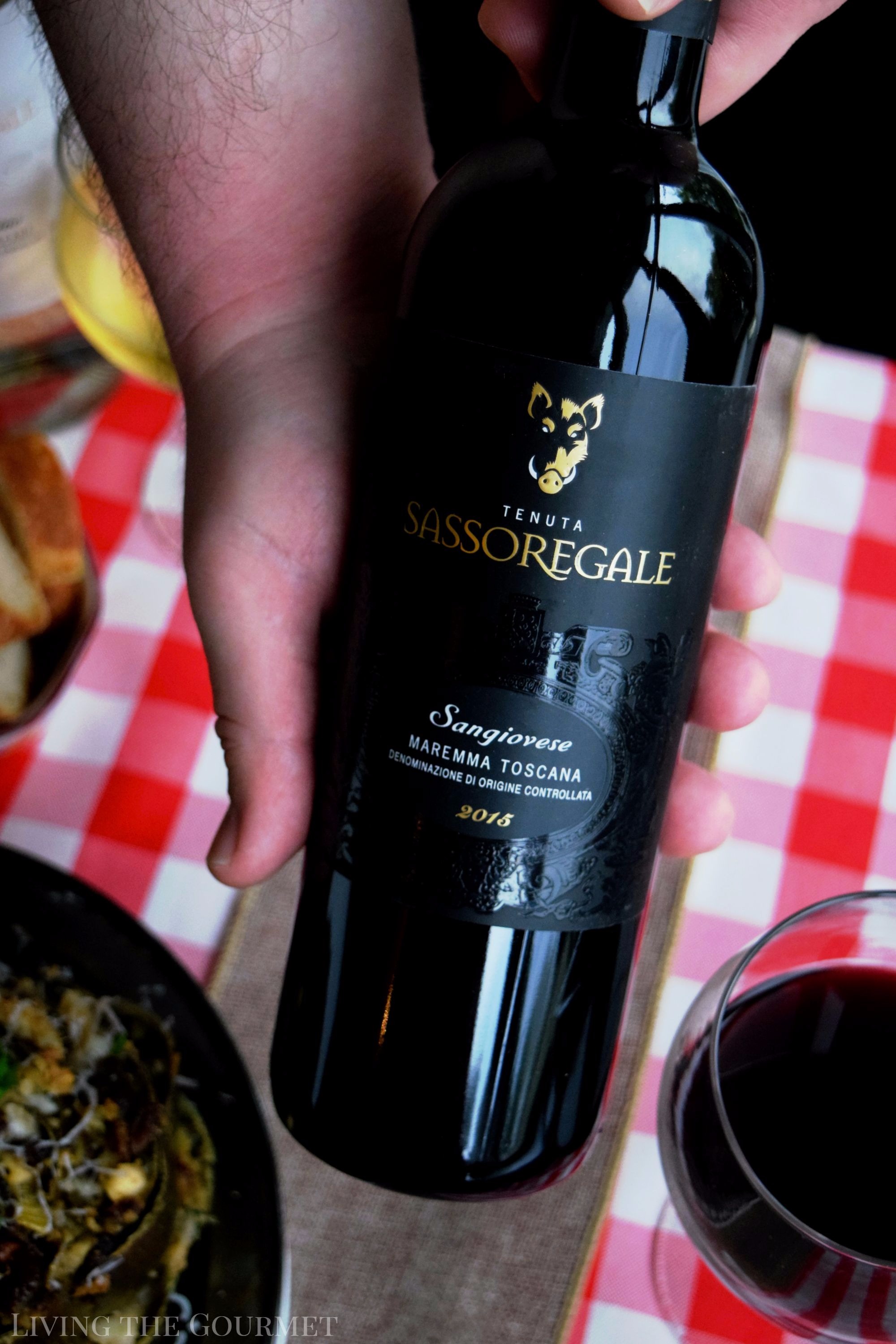 All things red being first, we begin with the Sangiovese.
For the uninitiated, Sangiovese derives its name from the Latin "Iovis Sanguis," which in turn gave us Sangue di Giove, from which we derive Sangiovese – literally 'Blood of Jupiter.' Despite the foreboding origins of its name, Sangiovese tends to be a medium-bodied varietal, but features a wide range of profiles. On the one end, Sangiovese can feature bright colorations with floral bouquets and a fruity palate, and these profiles tend to belong to younger Sangiovese bottles or 'table wine' incarnations of the grape. On the opposite end of the spectrum reside the very 'highbrow' labels, featuring well-aged bottles containing dark hued liquids, which are possessed of earth-laden toasted oak aromas carried on a largely roasted spice palate with leathery texturing bearing hints of overripe berry in the background.
Today's bottle, a 2015 Sangiovese, from the Maremma Toscana DOC, introduces itself with a bright red garnet or ruby coloration, and greets with dark cherry essences off the top of the glass, with lingering spice notes into the middle, perforated by a vague herbaceousness intensifying deeper into the glass. On sampling, the aromas largely carry over, with definitive ripe dark berry predominating throughout the palate, and bearing a pleasant intensity.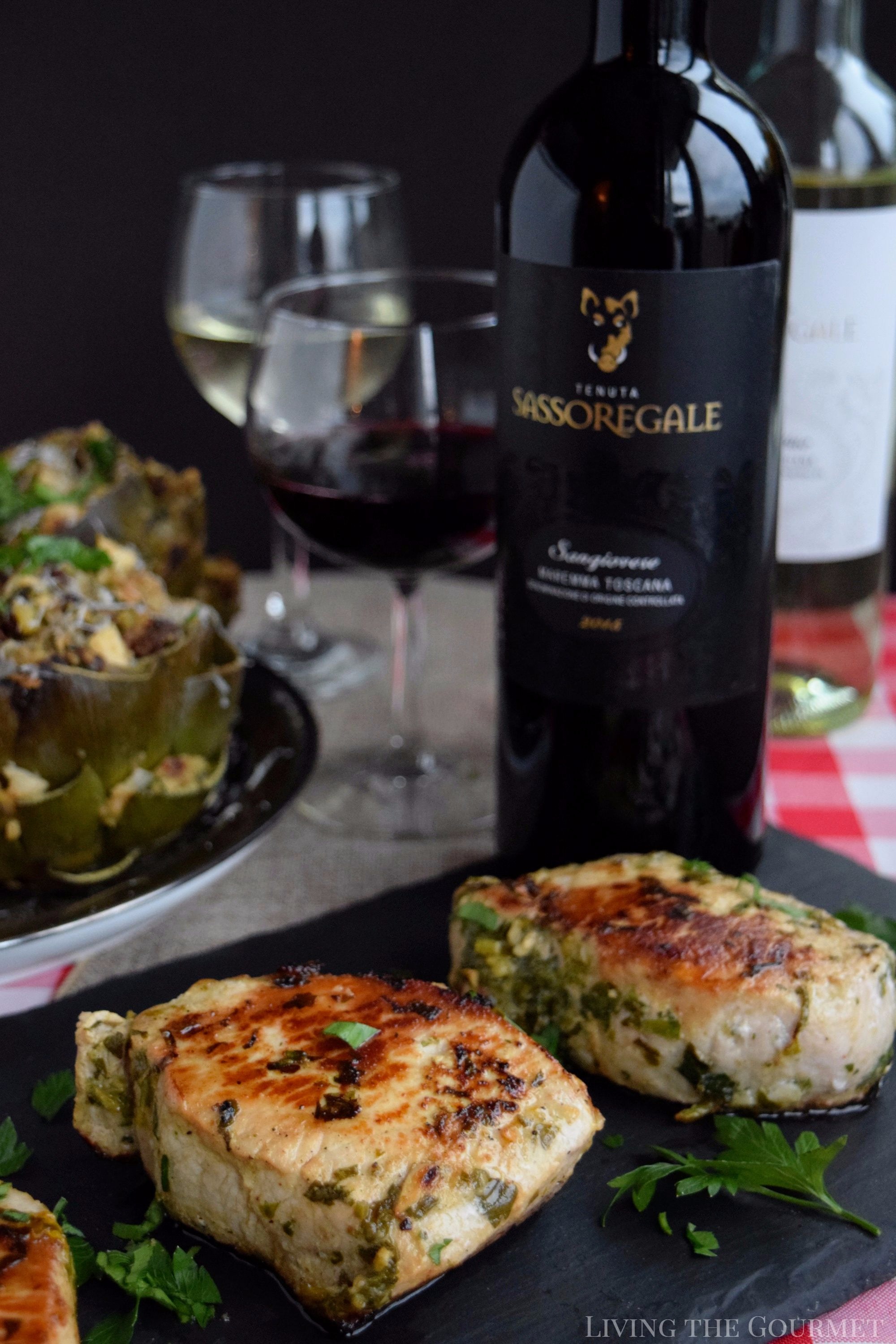 Like most wines of medium weight and body, pairing is generally versatile, and today's Sangiovese is no exception. However, I would lean towards red meats, roasts, marinated chops, hard cheeses, and tomato and garlic sauces.
For my personal pairing, I wanted something rustic, something undeniably Mediterranean, and something very 'fresh' without being 'light.' I decided on putting together a marinade, the base of which would be fresh lemon juice, olive oil, and red wine vinegar. From there, I added in sugar, salt, black pepper, ground coriander, and fresh Italian parsley.
This marinade would be put to use on pork chops, sliced to about a one-inch thickness. To marinade the chops, we simply combine them with the marinade in a zip-lock bag, or in a covered bowl, and then let them sit in the fridge for at least an hour, or preferably overnight.
To pair with the chops, I decided to continue on with the aforementioned theme, and prepare a 'back to basics' garlic, oil, and broccoli rabe sauce.
These two dishes would be the main course, served with the Sangiovese.
Now, onto the Vermentino.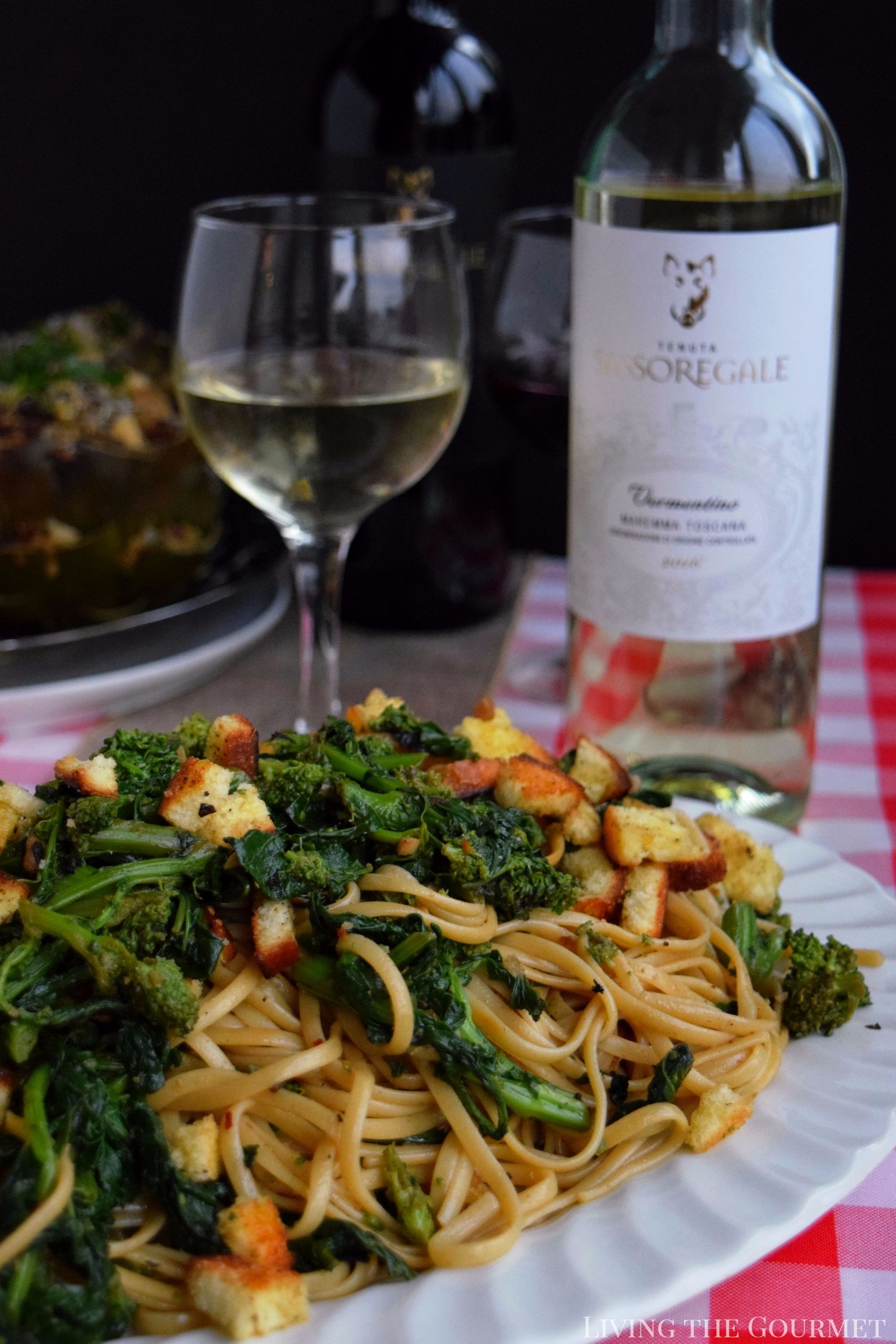 To start, Vermentino is often produced as a feather-light bodied wine boasting a blissfully complex profile. Honestly, this is one of my favorite white varietals, although it is little known to the point of obscurity, with just 22,000 acres devoted to its vines globally – by comparison there are over 277,000 acres devoted to sauvignon blanc. Typically, Vermentino possesses a somewhat 'oily' texture, with either a decided salinity or a vague 'bitterness,' underpinned by notes of lime, citrus zest, white peach or pear, and usually possesses a sharp or mineral finish. That said – and I'll likely be called a heretic for this – Vermentino can almost be considered akin to a lightweight Asyrtiko in how it pairs, since it 'pairs up' to foods generally heavier than its body might otherwise suggest.
With that in mind, how did today's Vermentino hold up?
The wine introduced itself with an almost translucent coloration on pouring, with just vague hints of lime or chartreuse-tinted gold on catching sunlight. Off the top of the glass, bright herbal notes are immediate, with characteristic citrus notes perforating throughout and intensifying deeper into the glass. On the palate, the wine is instantly mineral, with citrus predominating throughout, and providing a pleasantly astringent finish.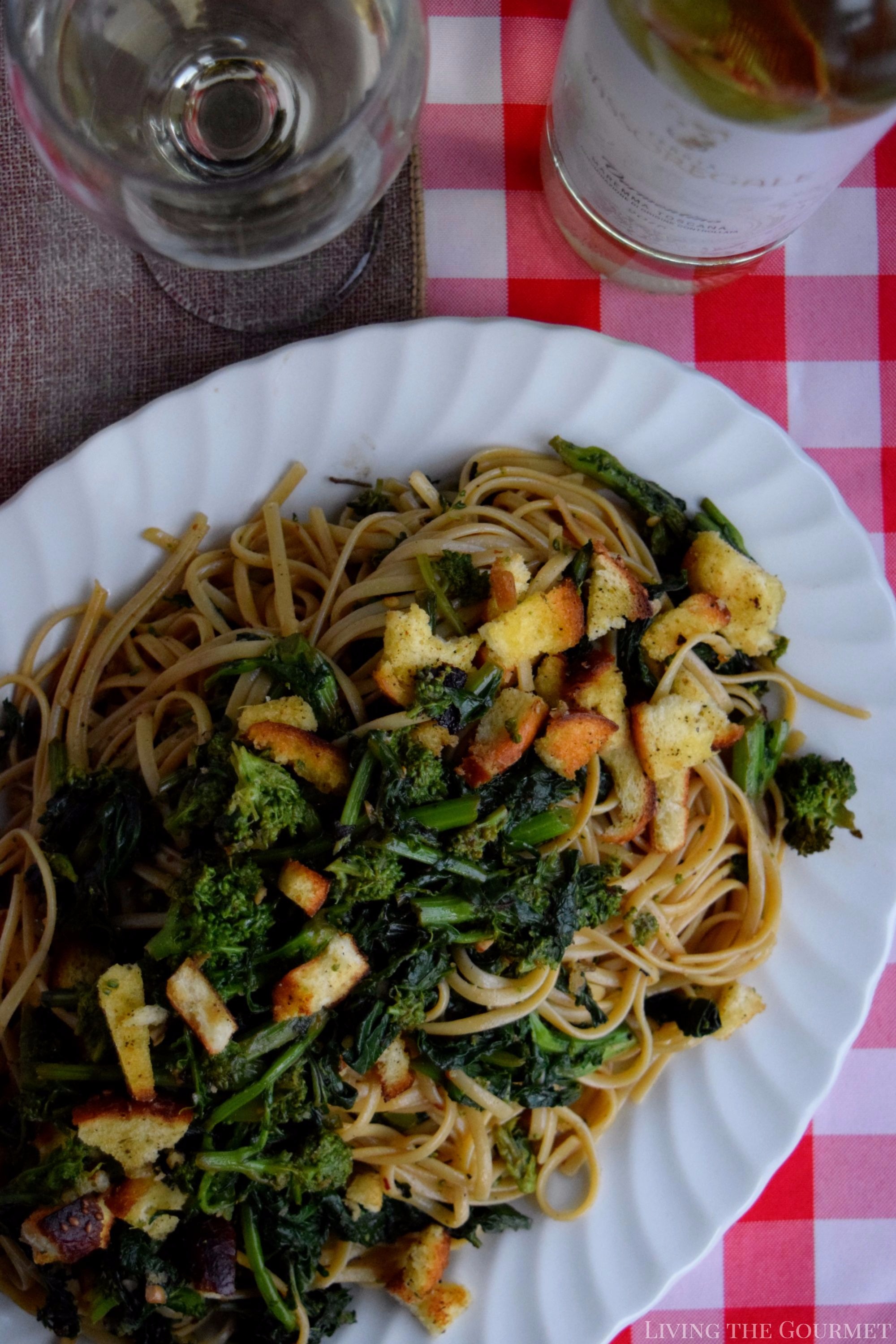 Pasta Aglio e Olio with sauteed Broccoli Rabe
INGREDIENTS:
2 bunches of fresh broccoli rabe – hard stems trimmed
4 – 5 large cloves of garlic – chopped
½ tsp. salt
½ tsp. black pepper
½ tsp. red pepper flakes
2 tbs. olive oil
1 lb. of your favorite pasta
Homemade croutons
Fresh Romano or Parmesan cheese for grating
For the Fresh Croutons:
Fresh Italian bread sliced thin and toasted
Salt/Pepper/Red Pepper flakes
Olive oil
DIRECTIONS:
Heat a large saucepot with water and salt. Bring to a gentle simmer and add the prepared broccoli rabe.
Simmer for 3 – 4 minutes or until a beautiful green color appears, then drain and set aside.
Heat a large cast iron frying pan with 2 – 3 tbs. of olive oil. Add the chopped garlic and the broccoli rabe.
Sauté until the broccoli rabe has softened to your liking. Cut into small pieces with a scissor.
Heat a large cast iron frying pan with olive oil. Crumble the toasted Italian bread in the pan and drizzle with olive oil, salt, black pepper and red pepper flakes.
Toss until well absorbed with the olive oil and nice and golden. Set aside.
Prepare the pasta as directed. Lift the pasta from the water into the pan with the broccoli rabe and toss.
Plate the pasta topped with the croutons, fresh grated cheese, drizzle of olive oil, fresh grated black pepper and red pepper flakes.
Pairing Vermentino is generally quite flexible. On the one hand, seafood like octopus and salmon would pair excellently, on the other hand, roasted chops or fowl prepared with herbs would also pair excellently, as would something like spinach and ricotta ravioli. Then again, starters like today's stuffed artichokes would also go great. In other words, think 'medium' and 'Mediterranean' when looking to pair this wine.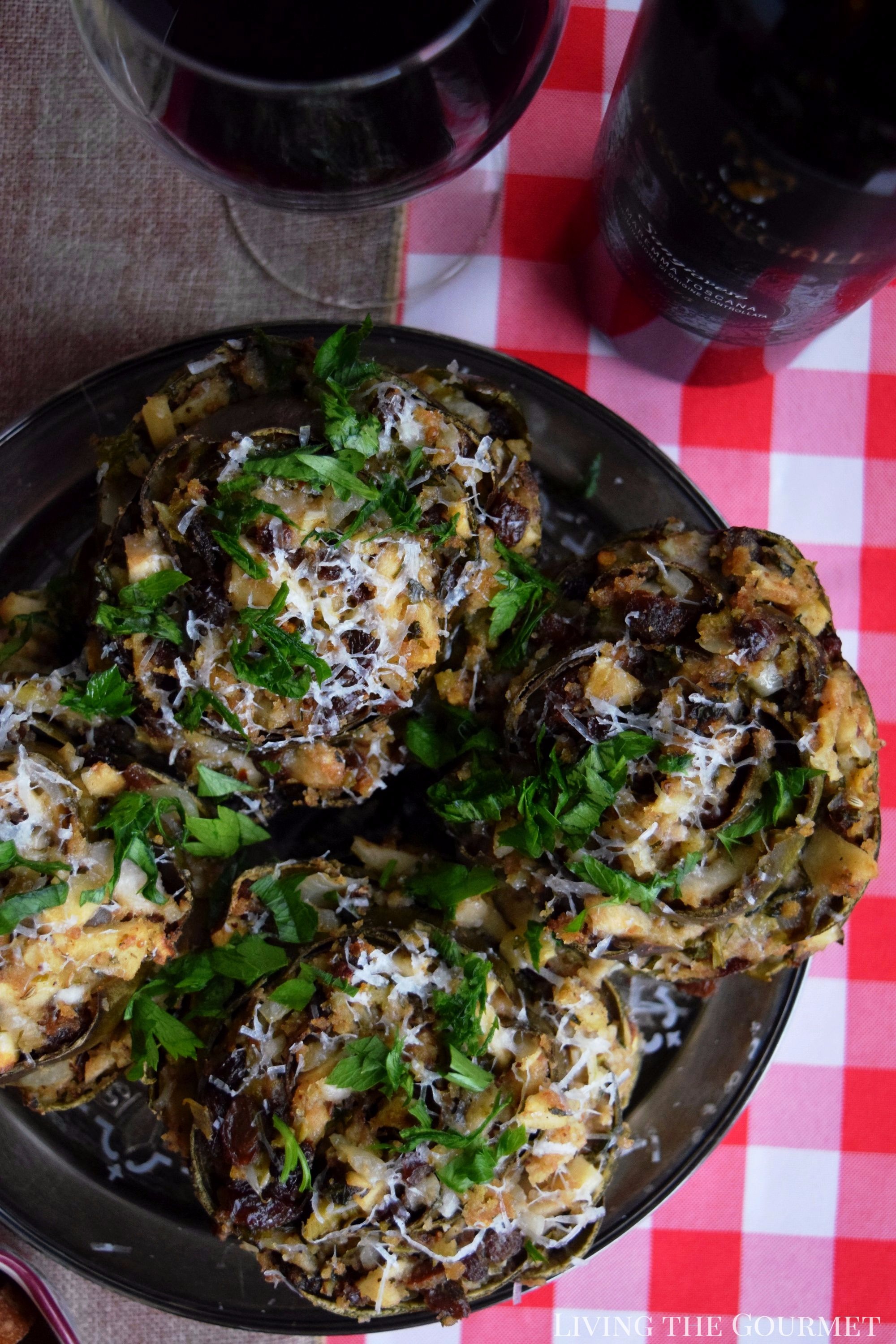 For my own pairing, I wanted to play to the wine's own complexity, while also showing how well it can stand up to a 'medium' weighted item. To achieve this, I decided on artichokes with a savory fresh fruit stuffing. To start, we prep the artichokes as described below, and then sauté together diced apples, a diced pear, raisins, celery, onion, Italian parsley, garlic, and Italian-style breadcrumbs in olive oil along with salt, black pepper, and red pepper.
Now, these artichokes, paired with the Vermentino, are usually served at the start of the meal. However, if you're like my son, you prefer to do things the 'very proper' way, and enjoy the artichoke and Vermentino after the main course.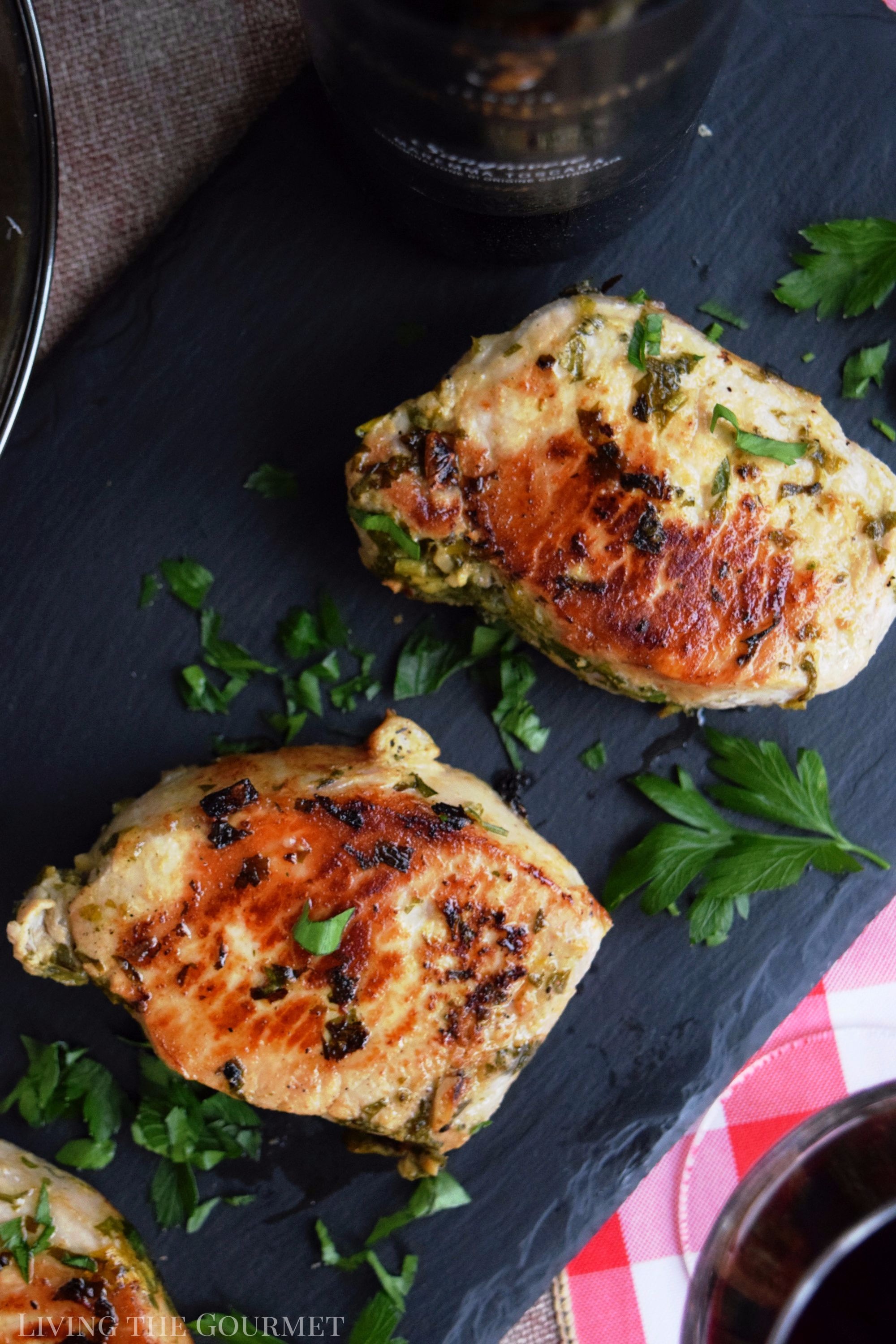 Print
Grilled Pork Chops and Fruit Stuffed Artichokes
Author:
Prep Time:

10 minutes

Cook Time:

1 hour

Total Time:

1 hour 10 minutes

Yield:

4

1

x
Category:

Main Dish
For the Pork Chops:
6

thick-cut boneless pork chops (about

1

inch thickness)
For the Marinade:
Juice of

2

large fresh lemons

1/2

cup

fresh Italian parsley – chopped

2

tbs. red wine vinegar

1/4

cup

of olive oil

1 tsp

. sugar

1 1/2 tsp

. salt

1 tsp

. black pepper

1 1/2

tsps ground coriander
For the Artichokes
4

fresh artichokes, tips cut and pounded

3

apples – peeled and diced

1

pear – peeled and diced

1

cup

raisins – chopped

3

stalks celery – chopped

1

sweet onion – diced

1

bunch of fresh Italian parsley – chopped

4

cloves of garlic – chopped

1

cup

Italian style bread crumbs

1 tsp

. salt

1 tsp

. black pepper

1/2 tsp

. red pepper flakes

3 tsp

. olive oil
Instructions
For the Pork Chops:
Combine all the ingredients for the marinade in a bowl and stir.
Place the pork chops in a large zip-lock plastic bag and pour in the marinade.
Seal tight and place in the refrigerator for at least one hour or up to overnight.
Heat a large cast iron frying pan with 2 tbs. of olive oil.
Cook chops 3 to 4 minutes per side, until golden brown on the outside with just a trace of pink inside (145 degrees F with an instant-read thermometer).
For the Artichokes:
Heat a large sauce pot with water and salt and bring to a slow simmer.
Place the prepared artichokes in the water and simmer for about 12 – 15 minutes.
Remove and let cool.
Combine all the ingredients for the stuffing in a large bowl and toss.
Heat a large cast iron frying pan with the olive oil.
Add the stuffing mixture and sauté until well combined and incorporated with the olive oil.
Pound the cooled artichokes on a clean hard surface to open the leaves.
Using a small spoon stuff between the leaves.
Preheat Oven 350 degrees F.
Place in a baking dish with about an inch of water at the bottom.
Cover tightly with aluminum foil.
Bake for about 1 hour.
Recipe Card powered by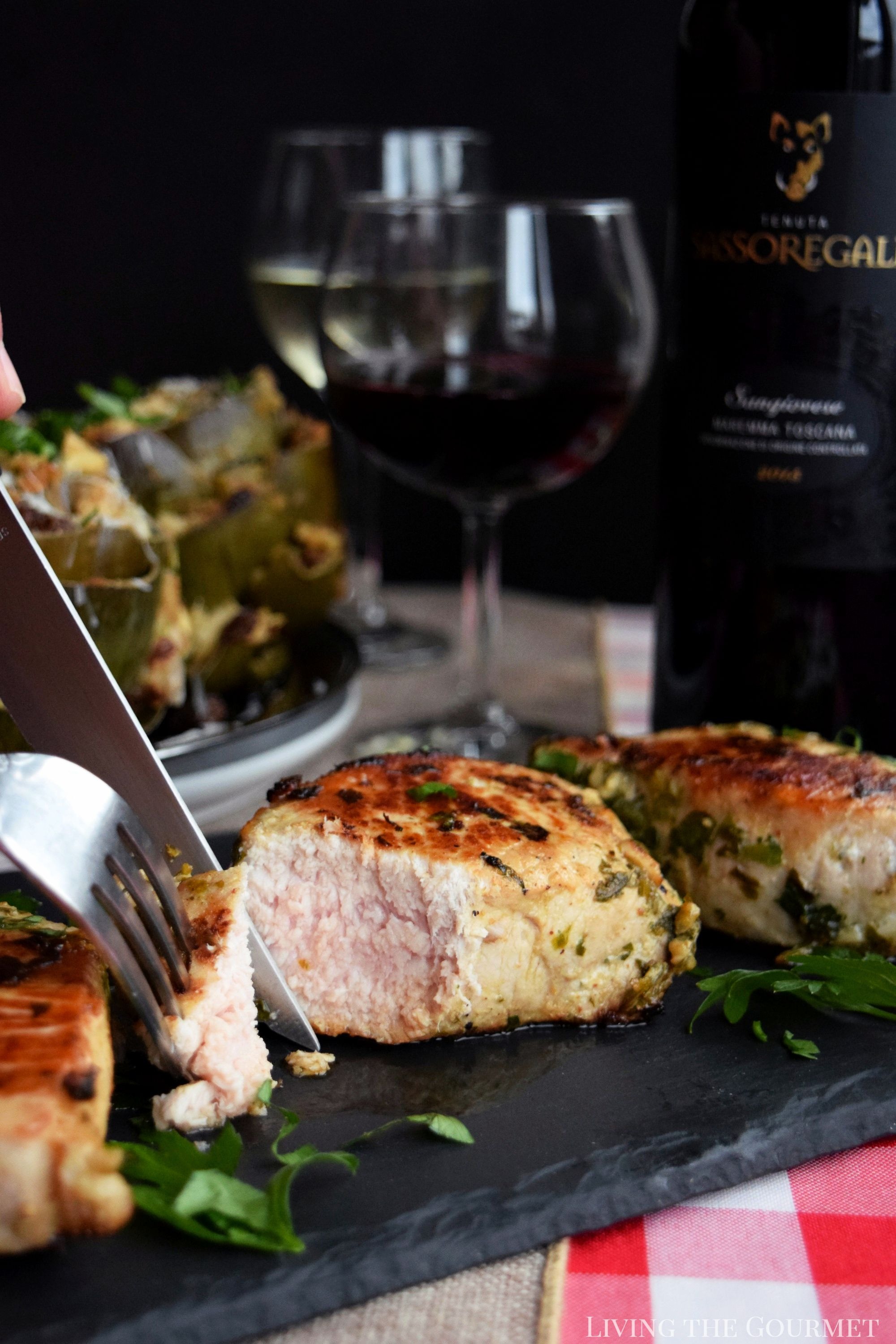 That said, combine todays wines with today's table-scape and, honestly, all I can do is end off on a question – who's better than you?
To close things off, I was very pleased with both bottles, and can easily recommend them to any of my readers looking for accessible yet delicious Tuscan varietals.
Don't forget to follow friends at Sassoregale Winery on Instagram!
Cheers!
0