Welcome Fall with this Spaghetti Squash and Chicken recipe that is simple enough for any night of the week!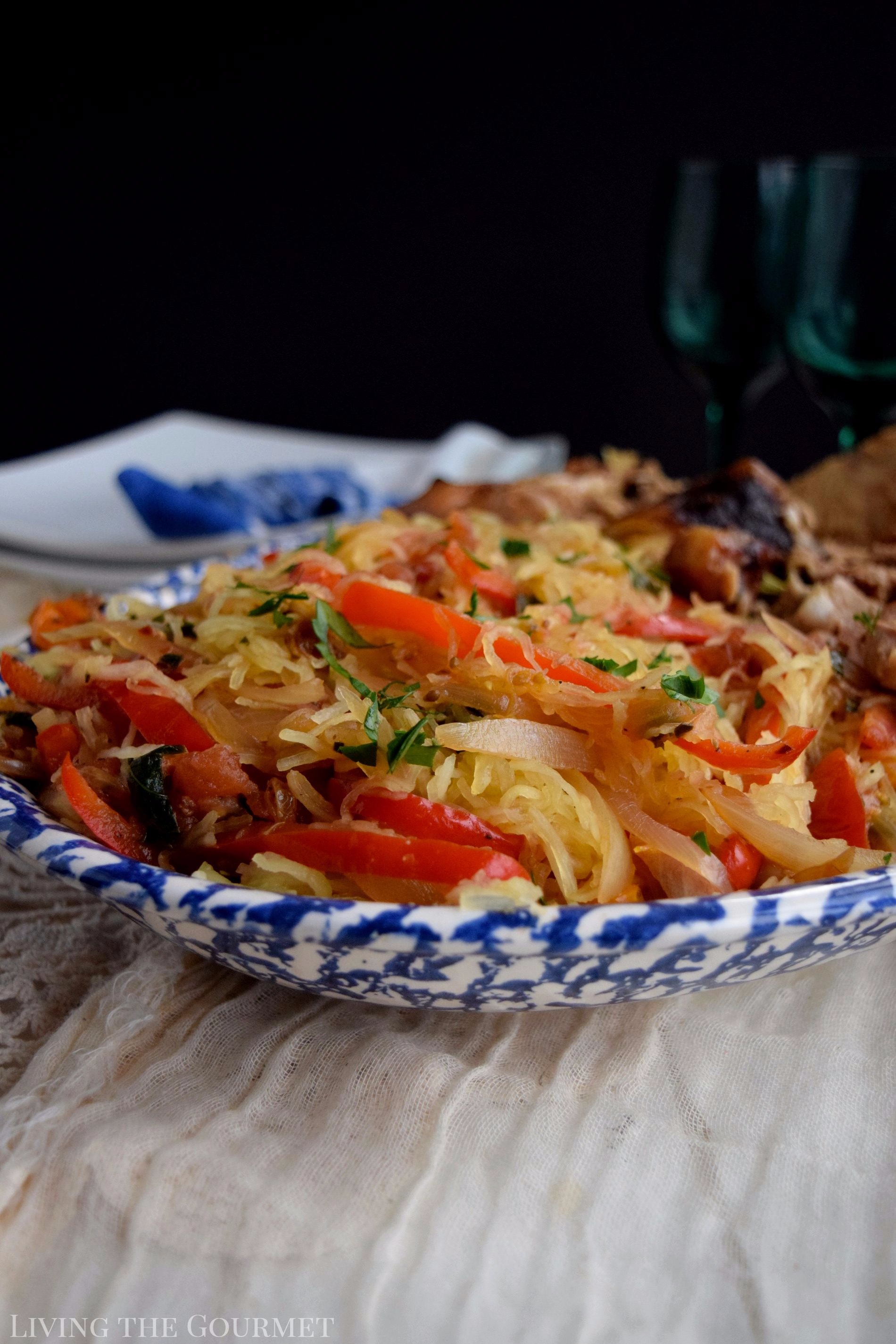 I don't remember the first time I ate a spaghetti squash, but the few times I do each year, I have to admit that it never quite feels 'familiar.' There's always a novelty about this bit of produce that "turns into spaghetti when it's cooked," and imagine that's likely how I was first introduced to this squash in the first place.
Like most members of the 'squash line of produce,' the flavor profile on its own can be a bit lacking, but not unpleasantly so. On the contrary, a recipe as simple as cooking the squash and then adding butter, salt, and pepper would suffice quite admirably – but that's not what we are here to do today, of course.
Instead, I wanted to take it in the opposite direction, and see just how well 'spaghetti made of squash' could go in replacing, well, spaghetti made of spaghetti.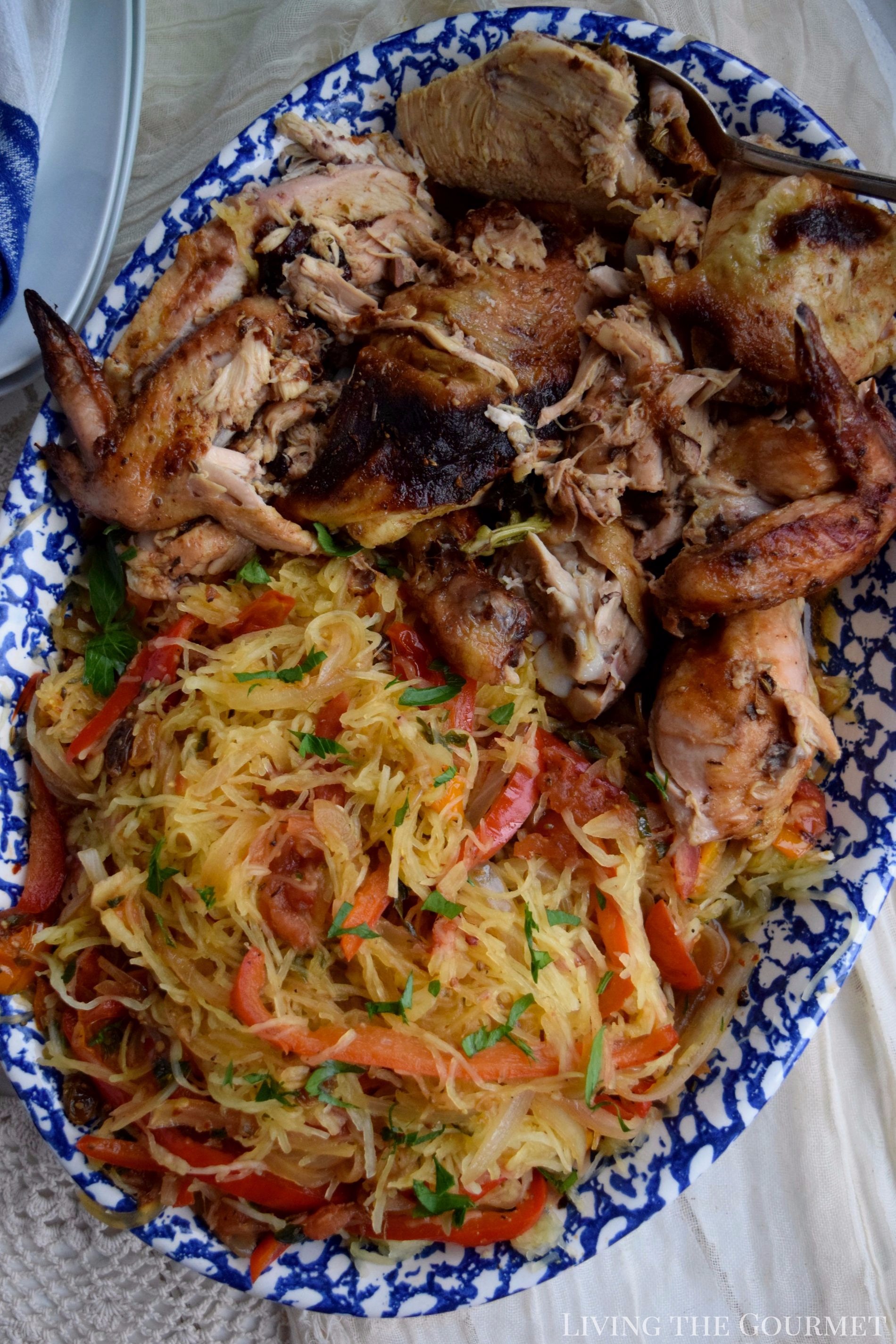 Starting this off is actually quite simple. We begin by placing the squash, whole, in a baking dish filled about halfway with water – roughly two inches of water, and bake at 350 degrees F. for approximately ninety minutes.
When the squash is cooked, carefully remove it from the water, and let it cool. The skin should be only slightly firm, and easily malleable. Once it's cool enough to handle, cut the squash lengthwise, and remove the seeds with a spoon.
The 'flesh' of the squash should easily 'collapse' under the gentle guidance of a fork, forming long strings of 'spaghetti.' Simply put the stringy flesh in a bowl, and set it aside.
Again, there's simply a world of uses for that string-ified squash, today, however, we're going to try preparing it 'as spaghetti.' To start things off, we begin caramelizing a sliced onion and a sliced bell pepper in a cast iron frying pan with some olive oil. To that, we add the garlic, tomatoes, raisins, parsley, basil, and seasonings, and continue to sauté over a medium heat.
You're going to want to continue cooking the sauce until the tomatoes are soft, and the sauce itself has become quite fragrant. Once that's been achieved, add in the spaghetti squash along with a pinch of salt, some pepper, and a squeeze of lemon juice.
Now, we could stop there, but I wanted to take this a step further, and decided to pair the squash with marinated chicken. To start things off, we begin with a whole chicken, which we clean thoroughly by rubbing it down with salt and water, and then patting it dry and setting it in a baking dish, and then prep the marinade, starting with a base of olive oil, apple cider vinegar, and honey, to which we add salt, pepper, coriander, oregano, turmeric, and paprika.
After that, it's time to rub the chicken down a second time, this time with the marinade you just prepared. Be sure to push a bit of the marinade under the skin as well.
Once that's done, set the chicken in a baking dish with about an inch or two of water, and then roast for about twenty minutes per pound, or until its juices run clear, and then let it rest for about ten minutes before carving.
Living the Gourmet
Yields 4
Spaghetti Squash and Chicken
15 minPrep Time
2 hr, 30 Cook Time
2 hr, 45 Total Time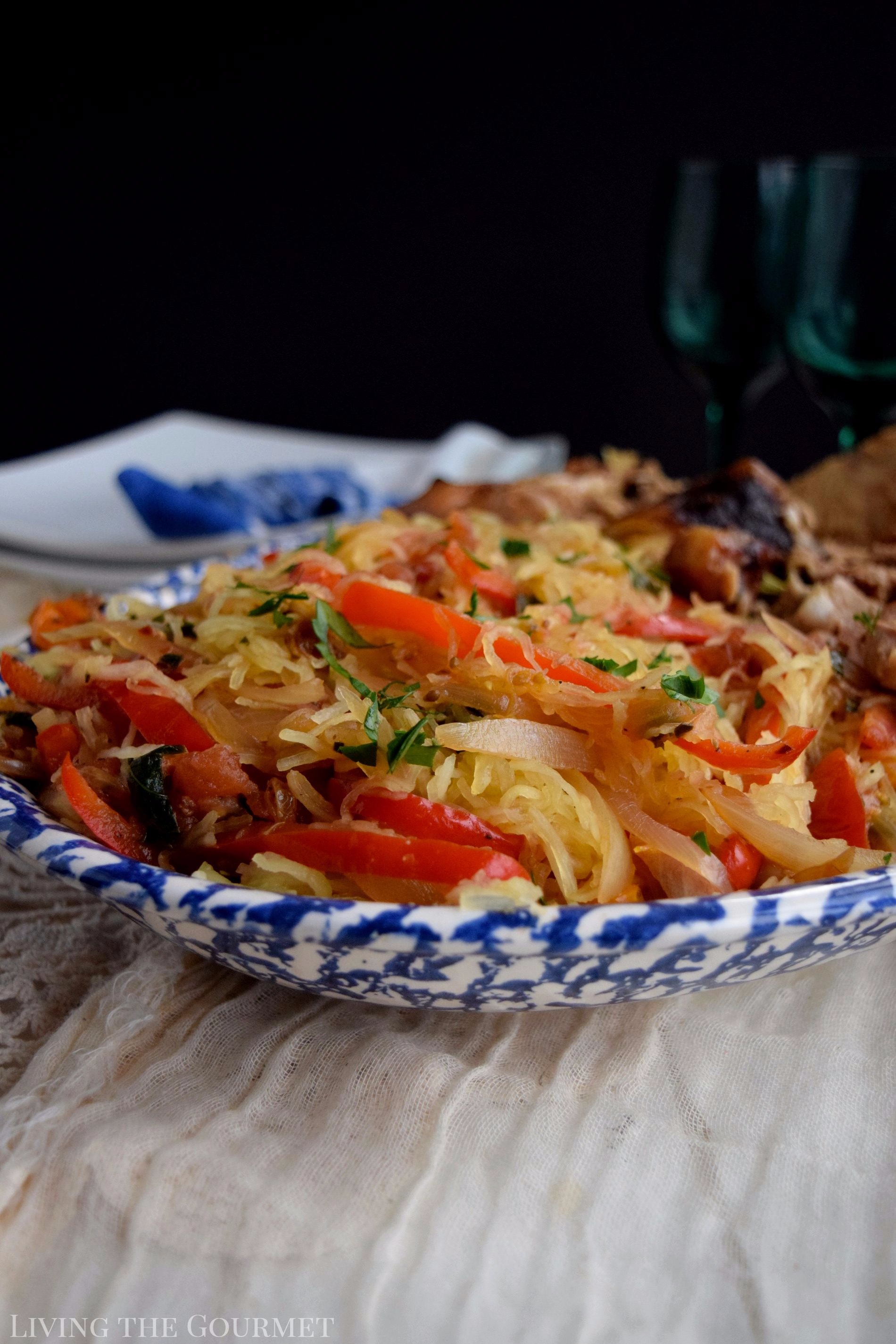 Ingredients
1 spaghetti squash

For the Sauce:

1 bell pepper – sliced thin
1 sweet onion - sliced thin
4 – 5 cloves garlic – chopped
2 vine ripe tomatoes – cubed
¼ cup Italian parsley – chopped
¼ cup fresh basil chopped
¼ cup raisins
2 tbs. olive oil
½ tsp. salt
¼ tsp. black pepper
½ tsp. dried oregano
¼ tsp. red pepper flakes
Juice of 1 lemon
3 tbs. honey

For the Chicken:

1 whole chicken

For the Marinade:

1 tbs. apple cider vinegar
2 tbs. honey
2 tbs. olive oil
½ tsp. salt
¼ tsp. black pepper
½ tsp. dried oregano
1 tsp. coriander
¼ tsp. ground turmeric
Dash of paprika
Fresh basil
Instructions
For the Squash:

Preheat Oven 350 degrees F.
Place the squash in a baking dish filled half way with a water bath.
Bake the squash approximately 90 minutes.
Carefully remove from the water bath and let cool before cutting in half.
When the squash has cooled cut lengthwise and remove the seeds.
Using a fork pull the squash out and place in a bowl. Set aside while preparing the sauce.

For the Sauce:

Heat a large cast iron frying pan with the olive oil.
Place the sliced bell pepper and the onion in the pan. Allow the vegetables to soften and gently caramelize.
Add the garlic, tomato, raisins, parsley, basil, seasonings and continue to sauté on a medium heat.
Continue to sauté until the tomatoes are softened and the sauce is fragrant.
When the sauce is fragrant and the veggies are softened, toss with the spaghetti squash.
Combine the lemon juice and honey with a pinch of salt and pepper; stir and drizzle over the dish and toss.

For the Chicken:

Preheat Oven 350 degrees F.
Clean the chicken and pat dry.
Place in a baking dish.
Combine the olive oil, apple cider vinegar, honey, salt, black pepper, ground coriander, dried oregano, turmeric and paprika in a small bowl and stir.
Rub the chicken down with this marinade gently pushing a little under the skin as well.
Push the whole basil leaves under the skin by gently lifting the skin and place two or three in the cavity of the chicken.
Place a half cup of water in the baking pan and roast the chicken for 20 minutes per pound and until the juices run clear.
Let the chicken rest for at least 10 minutes before carving.
7.8.1.2
539
https://livingthegourmet.com/2017/09/spaghetti-squash-chicken.html
With the chicken done, it's time to serve it alongside the spaghetti squash. While 'spaghetti from squash' will never quite replace the original, it nevertheless makes an admirable stand in, and can definitely make for a very pleasant change of pace, especially during the fall season when all things 'squash and gourd' are in vogue.
Enjoy with Love!
0