This post has been sponsored by Simply Organic. All opinions expressed are mine.
Give your typical tacos a refresh with warm flatbreads, a fresh tomato salad and Simply Organic Mild Taco Simmer Sauce – a chef-worthy, richly seasoned sauce made with organic ingredients!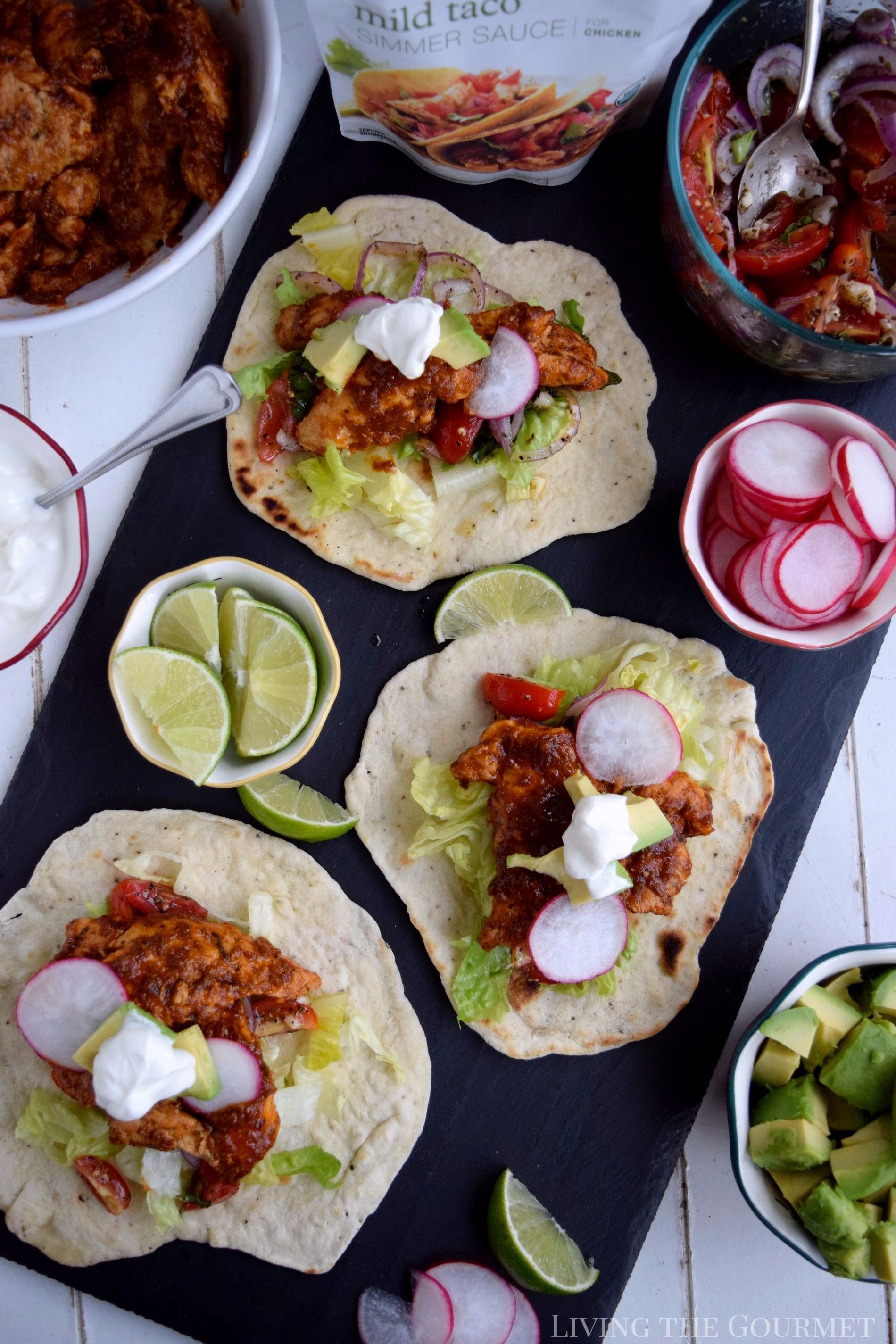 Let's set the scene. Your family and friends are finally of one schedule, and your backyard, kitchen, or dining room is their singular seasonal destination. That, of course, leaves you the responsibility of filling their plates with something delicious, and their minds with a pleasant memory as a takeaway.
How best to do this?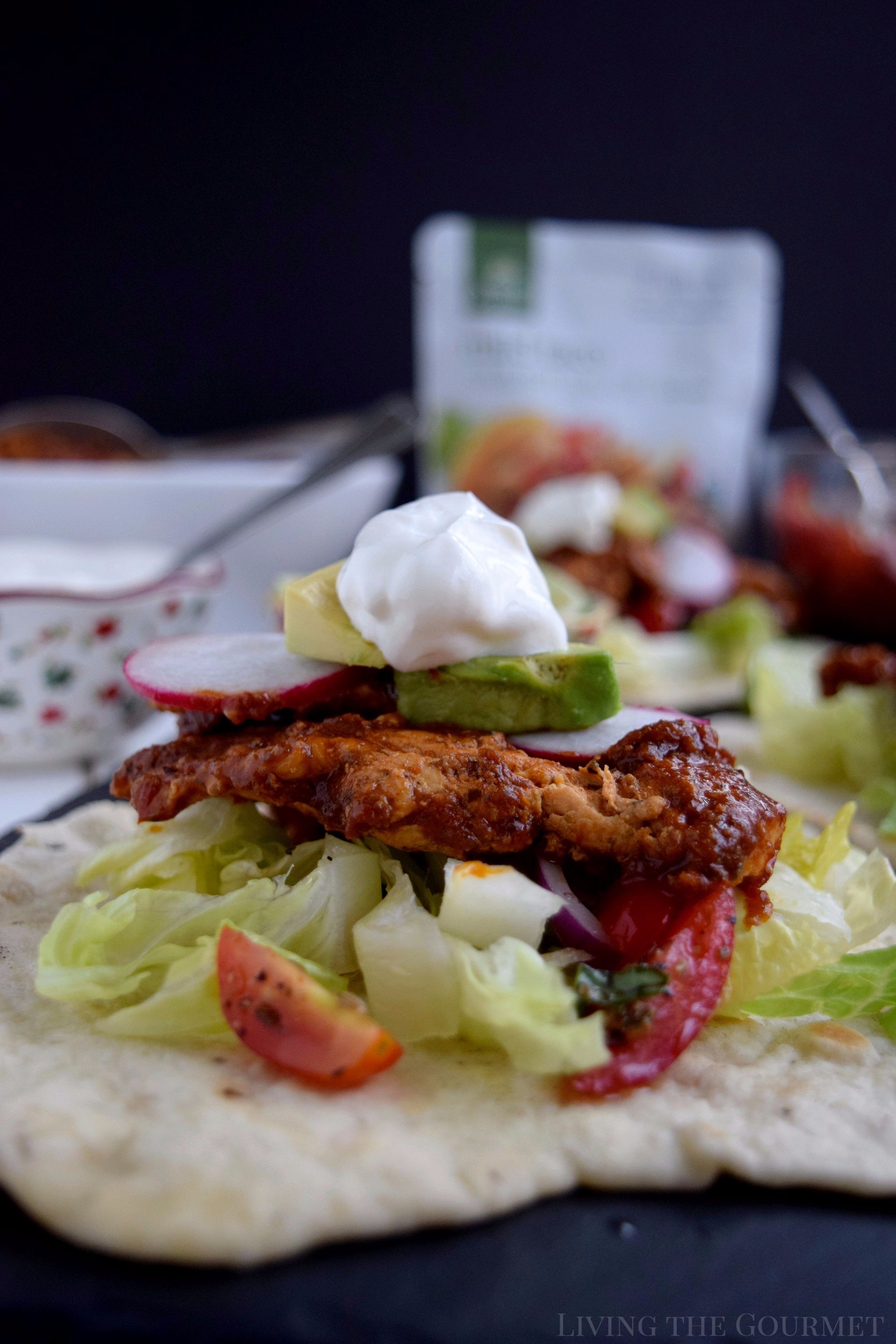 On the one hand, you want to impress yourself as much as your guests, on the other, you really just want to some have some of that illusive summer fun that you've…well, that you've read so much about.
When I find myself in that sort of predicament, I have to recall something a professor of mine once told me, something that has forever morphed my view on art, and which in turn has led into what I do here on Living the Gourmet, and I paraphrase, "If you want 'artistic fulfillment' from what you produce, then find fulfillment in the enjoyment your work brings to others. Otherwise, what's the value? Would the Odyssey have survived countless millennia if the Greeks had to convince themselves of Homer's poetic worth? Of course not!"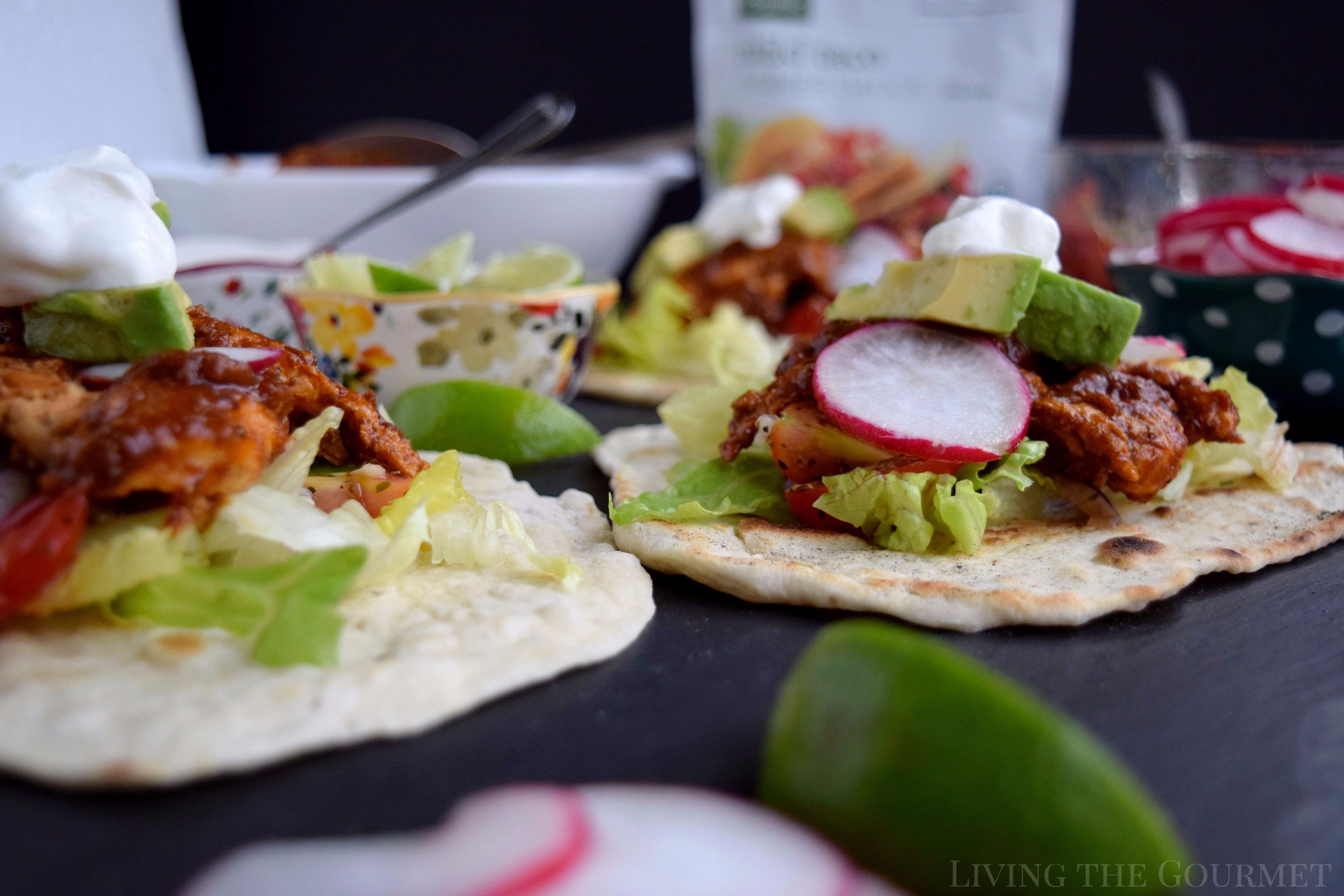 The application of this mode of thought towards all things culinary couldn't be more obvious. For example, for precisely the sort of summer afternoon that I opened with, when I think of a summer spread meant solely to please my guests, I think of something colorful, something fresh, something that's 'clean eating,' and, ideally, something that uses organic ingredients. In other words, something as fresh and crisp as the season itself.
Naturally, that brings us to today's homemade Chicken Tacos, prepared with Simply Organic's Mild Taco Simmer Sauce for Chicken. Now, I do prefer using this simmer sauce in this particular recipe for a couple of reasons. First and foremost, is simply the quality of the product, second is that it's a great time saver, especially for when you're feeding a crowd, and since it doesn't skimp on any of the hallmarks you would expect from quality Mexican cuisine.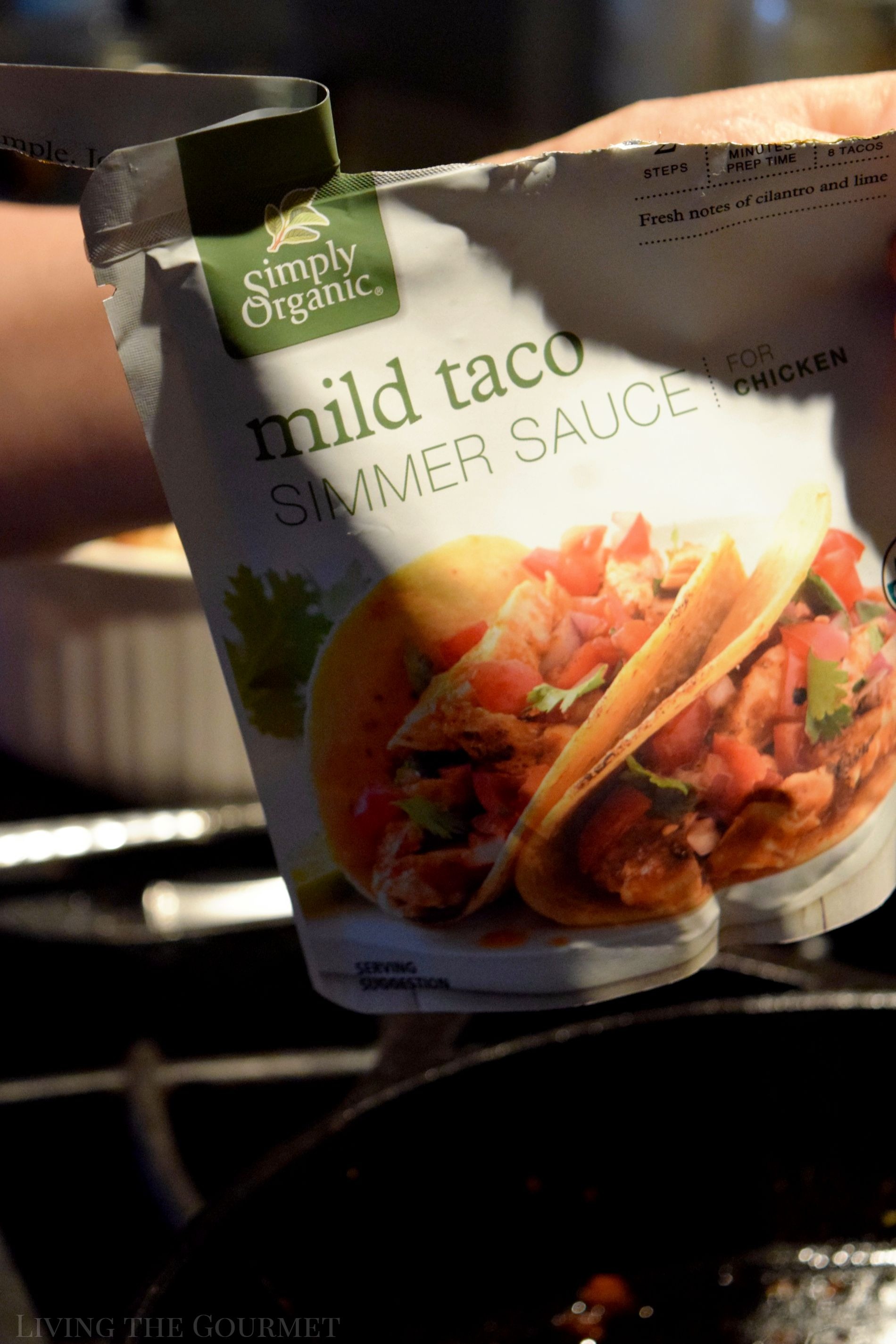 To start things off, we begin by preparing the chicken marinade with the ingredients listed below, and then set the chicken in this marinade in the fridge for at least an hour, or ideally overnight.
Once that's done, we heat a large cast iron pan or griddle, and we grill the chicken as directed below. You're basically looking to achieve a beautiful golden color on the chicken, the cooking time for the chicken depends on the thickness to which you've sliced your chicken as explained in the recipe below.
After that, heat up the Simply Organic Mild Taco Simmer Sauce in the same pan we cooked the chicken in and place the cooked chicken in the sauce.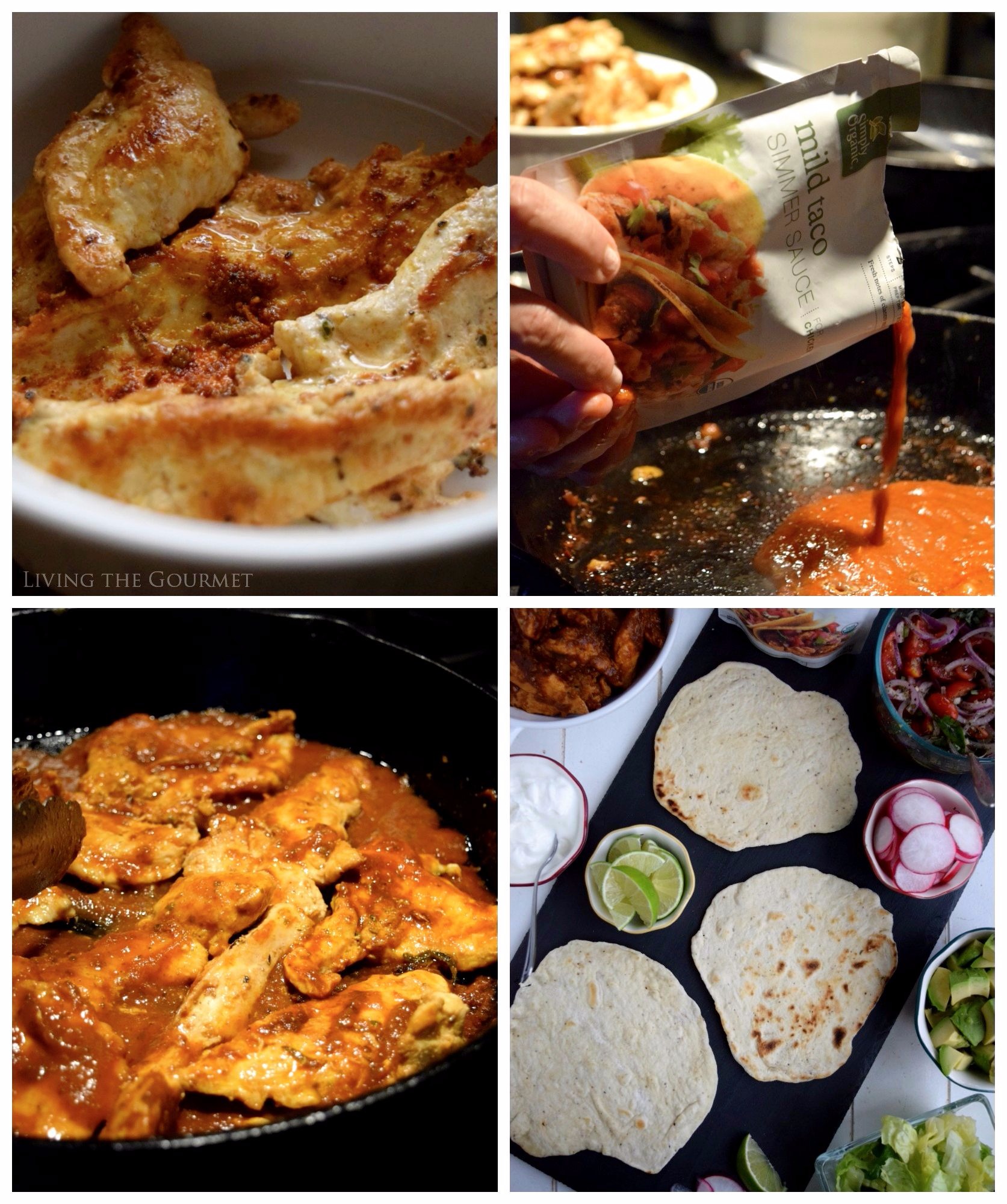 Once that's done, it's time for the fun part – assembling the tacos.
First things being first, for this particular recipe I'm using my homemade grape tomato salad, the recipe for which is below, along with cubed avocados, fresh Romaine lettuce, although you can use any of your preferred salad greens, and sliced radishes. I also like a twist of fresh lime in my tacos, but that's optional.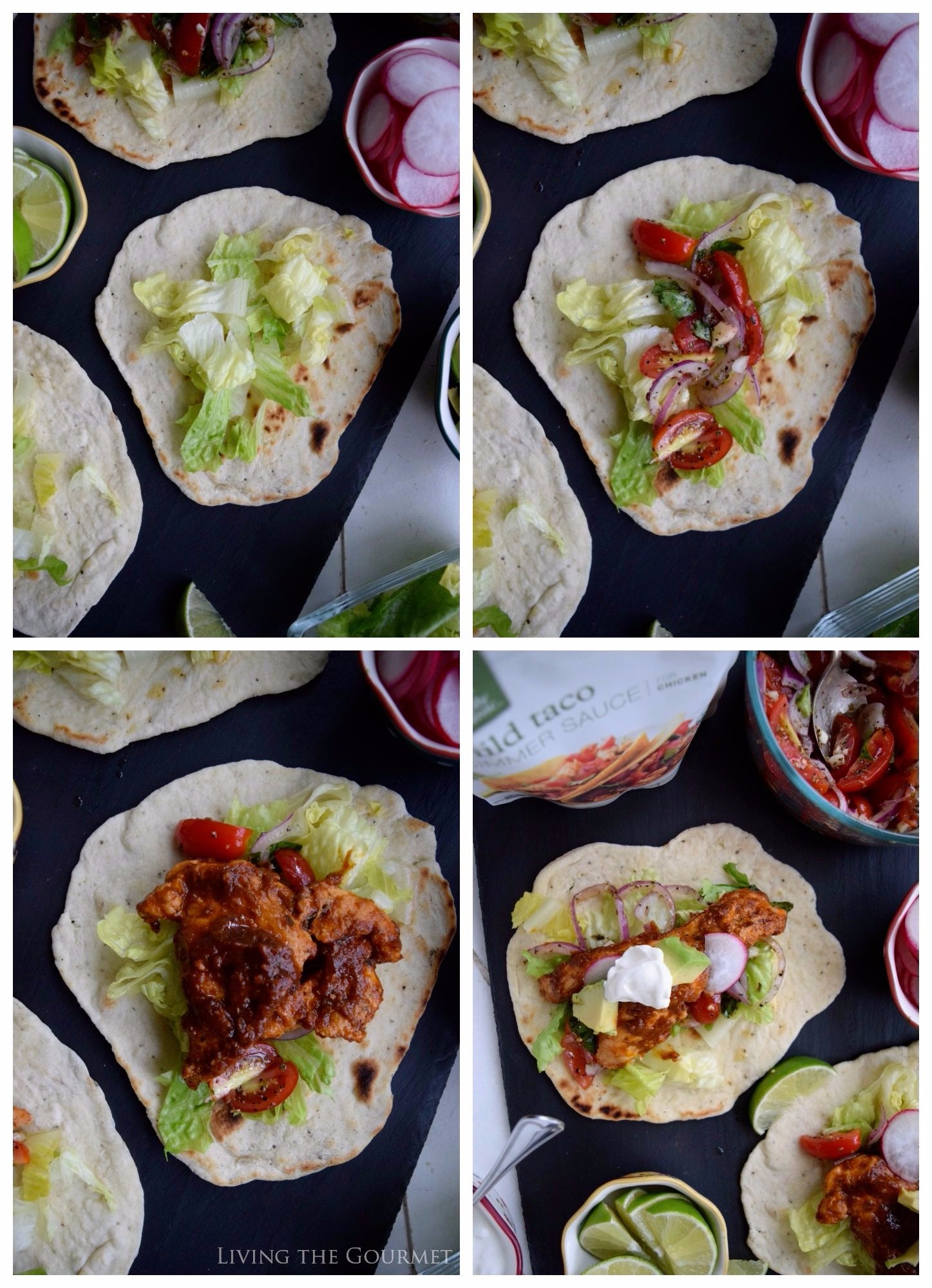 Print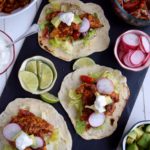 Fresh Chicken Tacos
---
Author:

Prep Time:

15 minutes

Cook Time:

15 minutes

Total Time:

30 minutes

Yield:

4

-

6

1

x
Flat breads,homemade or store-bought
Simply Organic Mild Taco Simmer Sauce for Chicken
For the Chicken:
2 ½

lbs. boneless chicken breast – sliced thin
For the Chicken Marinade:

1 tsp

. ground coriander

1 tsp

. ground cumin

1 tsp

. paprika

1 tsp

. dried oregano

½ tsp

. salt

½ tsp

. black pepper
Juice of

1

lemon or lime

¼ cup

vegetable oil
Fresh Gape Tomato Salad Recipe:
1 pint

grape tomatoes – quartered

1

small red onion – sliced thin

2

cloves of garlic – chopped fine

5

–

6

fresh basil leaves – chopped

1 tsp

. dried oregano

½ tsp

. salt

½ tsp

. black pepper

¼

–

½

cup olive oil
---
Instructions
Fresh Gape Tomato Salad Recipe:
Place all the above ingredients in a medium sized bowl and toss.
Refrigerate until ready to use.
For the Chicken:
Prepare the marinade and place the chicken in the marinade. Cover and place in the refrigerator for at least one hour or up to overnight.
Heat a large cast iron frying pan or griddle and place the chicken on the grill. When it is a beautiful color on one side turn over and finish cooking. The cooking time will depend on the thickness of the chicken.
The juices should run clear when the chicken is cooked.
In the same frying pan the chicken was cooked in, heat the Simply Organic Mild Taco Simmer Sauce and place the grilled chicken in the sauce. Gently simmer just until the sauce is heated through and serve.
To Build the Taco:
Fresh grape tomato salad – recipe below
Fresh Avocado – cubed
Fresh Romaine Lettuce or your choice of salad greens – sliced thin
Fresh radish – sliced thin
Lime slices – for squeezing over the taco
Sour cream
Build your taco with the ingredients of your choice.
Recipe Card powered by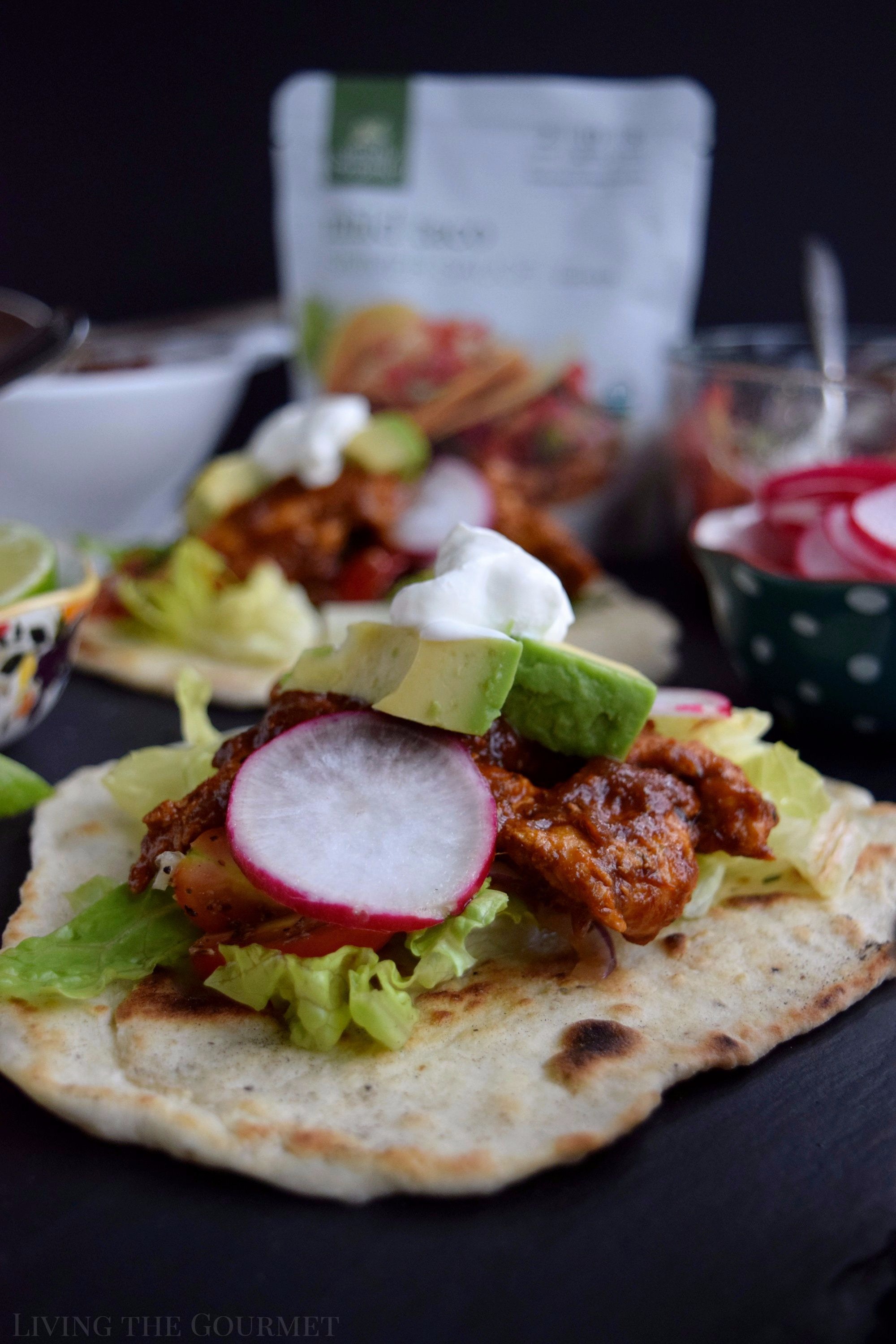 After assembling the tacos, you've got a tray of summer friendly cuisines that are sure to put a smile on the faces of your guests.
Enjoy!
0