The flavors of the Old World Mediterranean get a modern twist with these elegant Eggplant Stacks!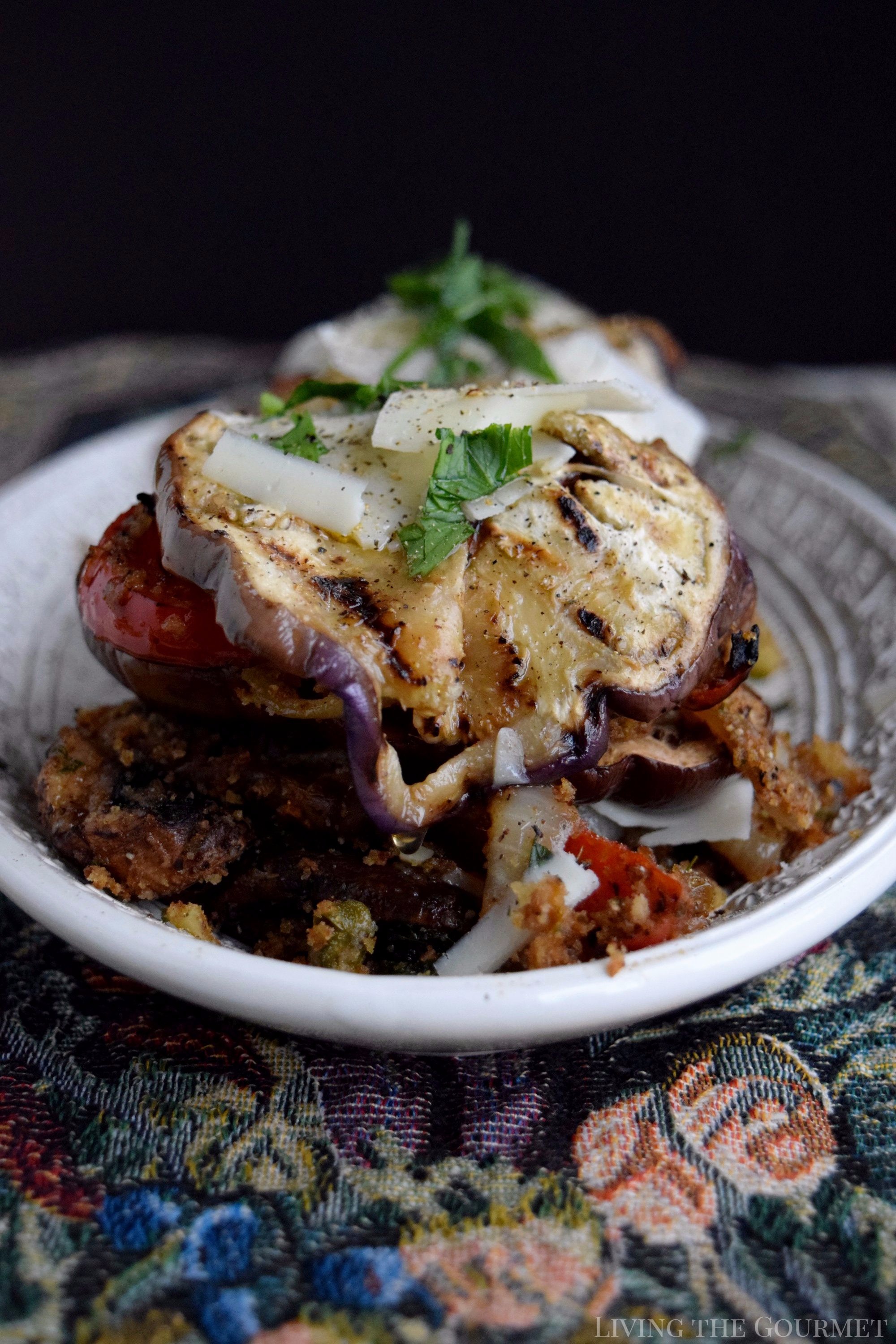 For millennia, mankind has lamented that there's "nothing left to say." In the fashion and entertainment industry, we're all familiar with the maxim that "Everything is made new again." In the classical world, the ancients themselves pined that "The thing that hath been, it is that which shall be; and that which is done is that which shall be done: for there is no new thing under the sun."
In the world of cooking, let me give you a rather pertinent example of this.
Suppose I were to grill up some vegetables, mushrooms, and onions either in cast iron with freshly pressed olive oil, or over an open fire with various Mediterranean or Aegean seasonings, and then serve it to you with homemade bread or flatbreads, and topped it off with a salt-preserved cheese, what would you think of that? You would likely consider that to be a rather decent example of "Old World gourmet."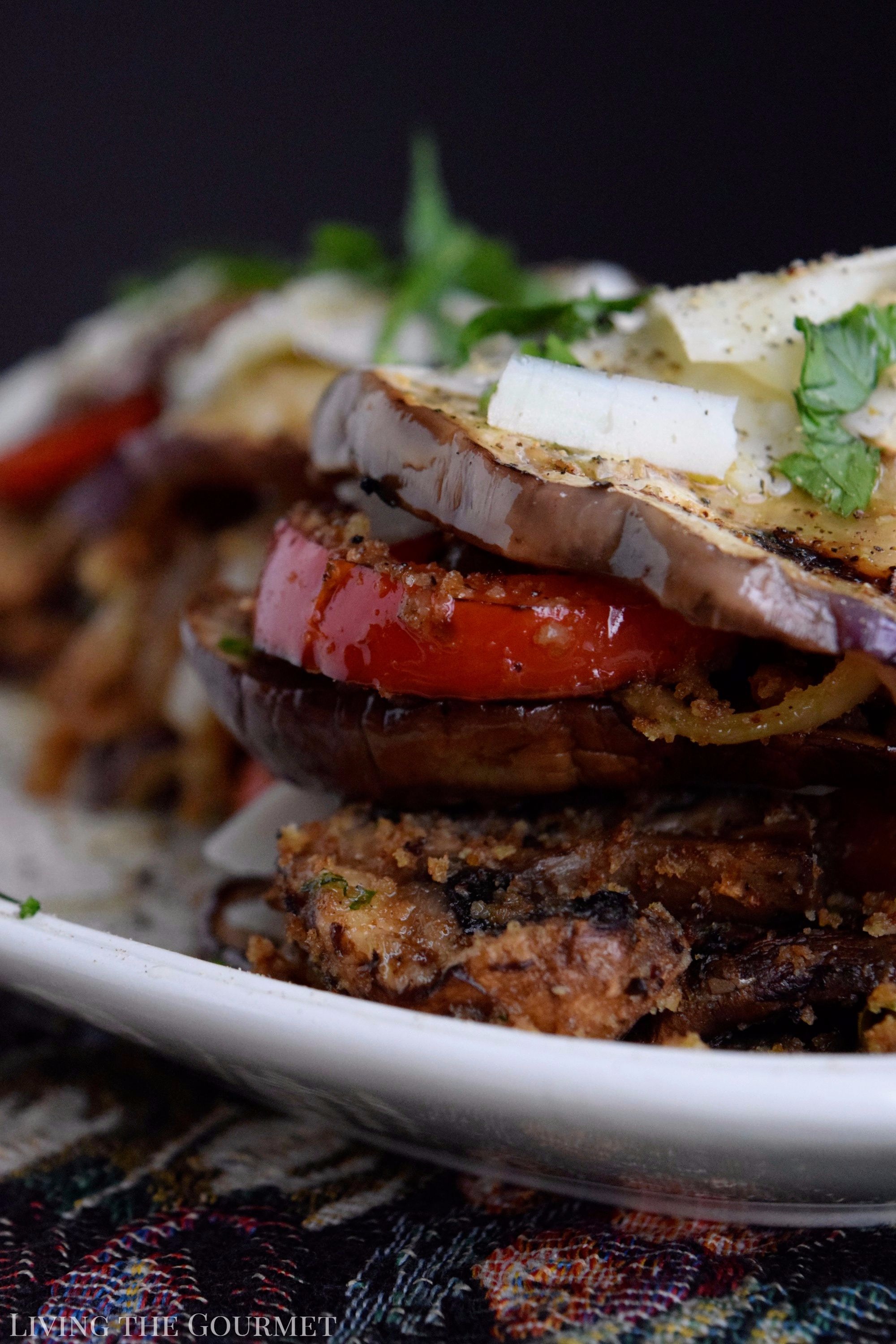 Now consider that the aforementioned ingredients, combined in various incarnations, were staples of the Byzantine Empire's peasantry in Greece and Turkey.
You see, in the food industry, there's something of a golden rule, that "If the peasants ate it once upon a time, or your grandparents considered it 'easy cooking,' you can serve it up with a fancy name, and charge any price you wish for it."
I was reminded of this the other day after I prepared basically that the same recipe – albeit with a few 'Living the Gourmet' twists – Mediterranean Eggplant Stacks paired with Angel Hair Pasta.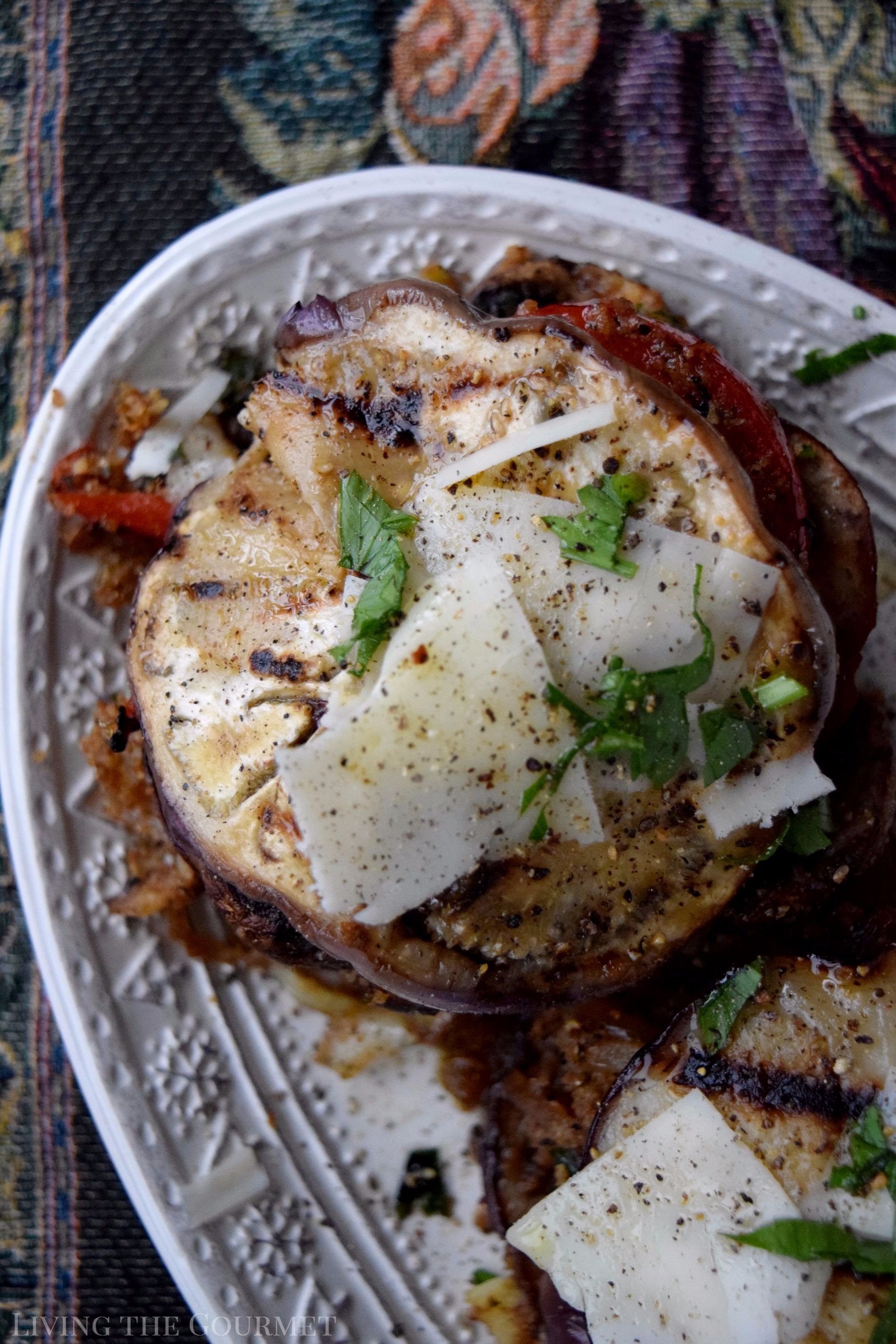 To start things off, we begin by slicing two eggplants to roughly a quarter of an inch thickness, then brush them with olive oil and dash them with salt. Once that's done, we heat our cast iron griddle, and line it with the eggplant, and grill them on both sides. Once that's done, we give the mushrooms listed below the same treatment, grilling them on both sides.
After that, heat a large cast iron frying with about two tablespoons of olive oil, and add the onions and bell pepper strips. You want the onions to reach a beautiful golden color before adding them to the same bowl into which you placed the mushrooms and the peppers a slight char. After that's done, add a bit more olive oil to the cast iron frying pan, and add in a bit of chopped garlic, letting that roast until it becomes nice and fragrant, after which you'll want to add in the breadcrumbs listed below, along with capers, parsley, raisins, and pitted olives.
Once the breadcrumbs have become golden, add the mixture into the bowl with the onions and mushrooms, and season further with salt, pepper, oregano and red pepper, and then toss gently.
After that's finished, it's time for the fun part – assembling the eggplant stacks. Start off with a serving platter, and place down one of the eggplant rounds, top it with the mushroom mixture, followed by shaved provolone, and then another eggplant slice. Repeat this process a few times before finishing with more provolone, chopped parsley, and a drizzle of the honey mixture outlined below.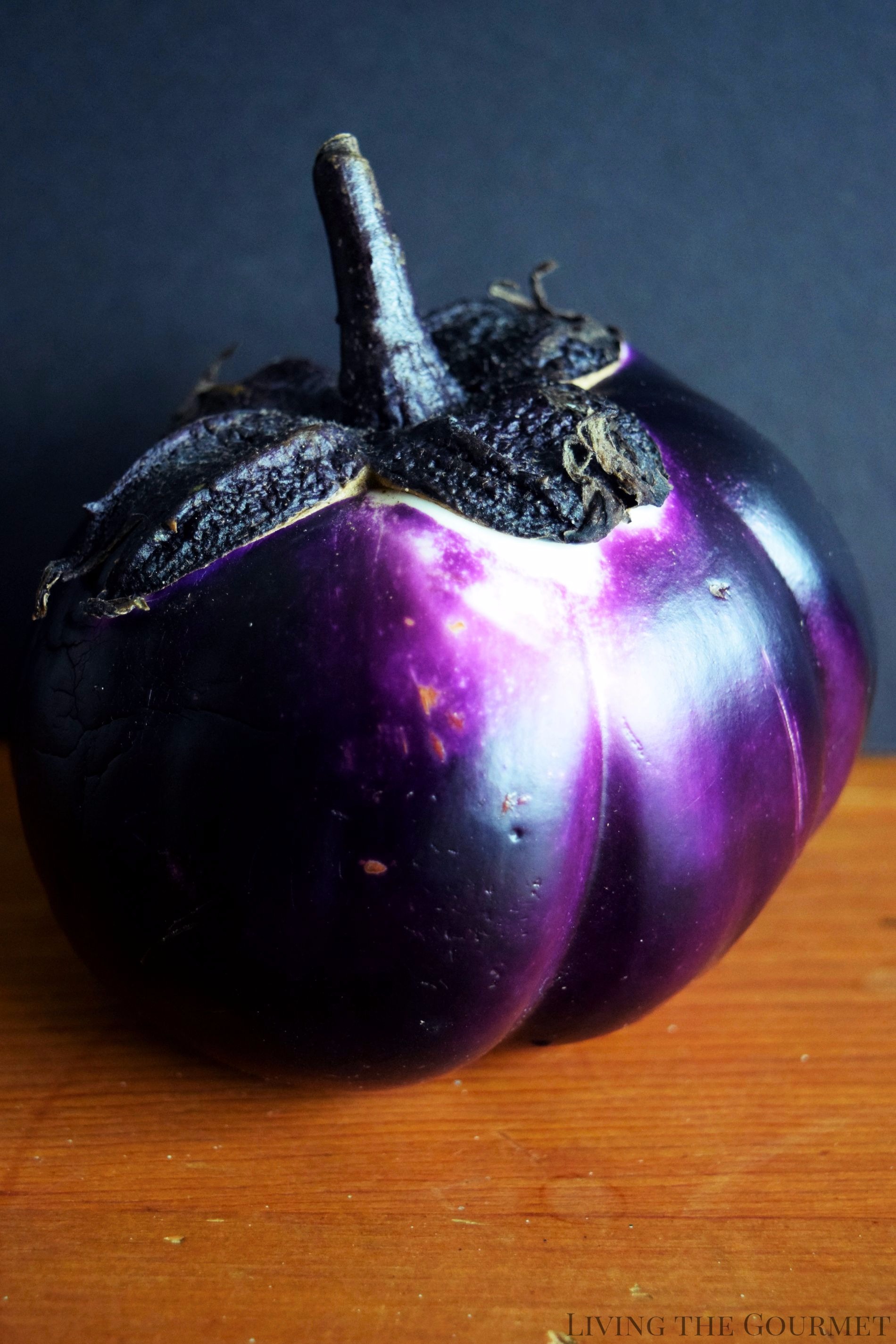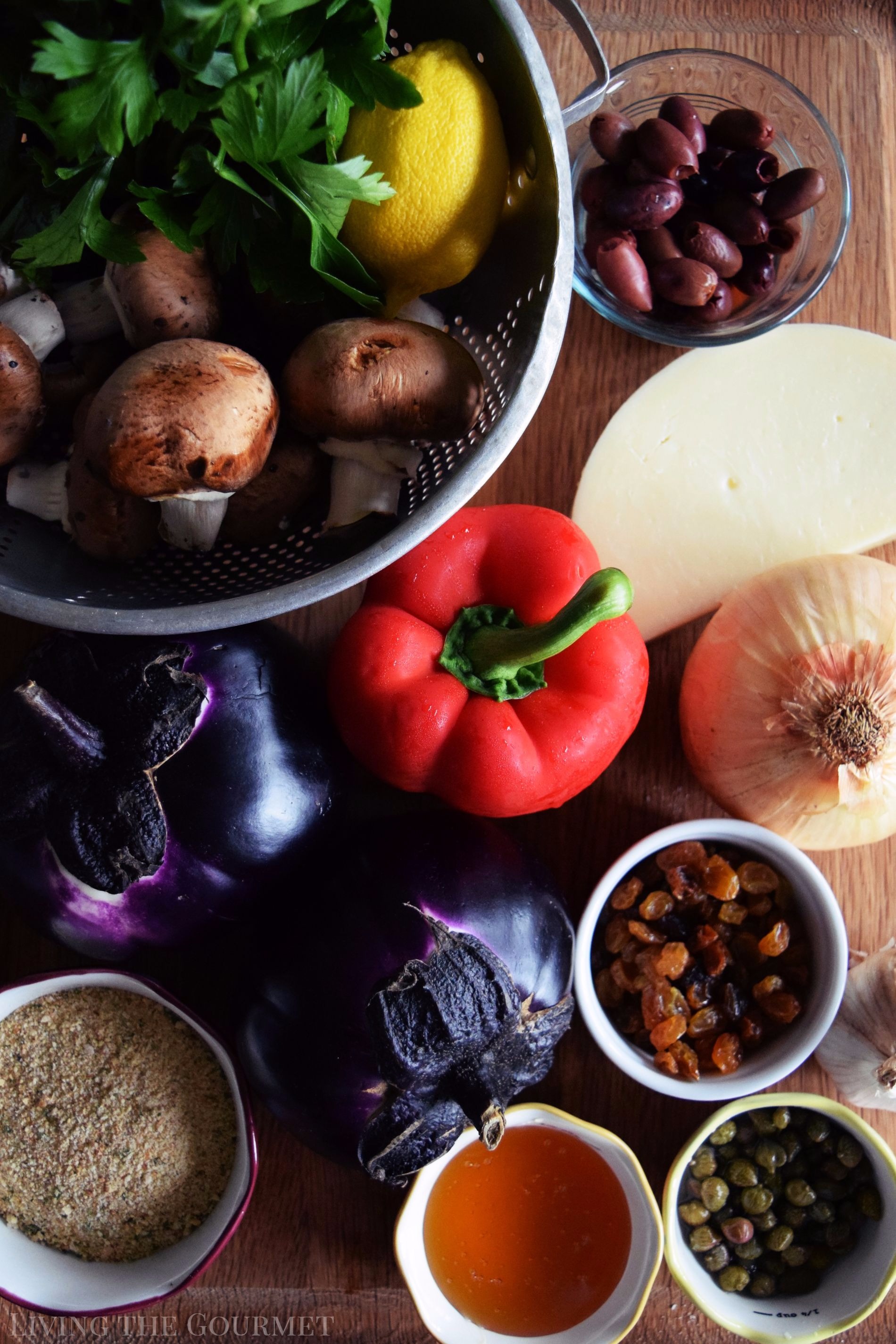 Print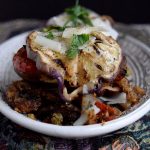 Eggplant Stacks
---
Author:

Prep Time:

10 minutes

Cook Time:

20 minutes

Total Time:

30 minutes

Yield:

4

1

x
2

eggplants – sliced ¼ inch thickness – brushed with olive oil and grilled

1

bell pepper – sliced in thin strips and grilled

4

cloves of garlic – chopped

¼ cup

of raisins – chopped

1 quart

of button or Baby Bella mushrooms – sliced and grilled

1

large sweet onion – sliced and grilled

¼ cup

Kalamata olives – pitted

¼ cup

of Italian style bread crumbs

½ cup

of fresh Italian parsley – chopped

¼ tsp

. red pepper flakes

½ tsp

. black pepper

½ tsp

. salt

½ tsp

. dried oregano
Fresh provolone shavings
Honey Lemon Drizzle:
3

–

4

tbs. honey
Juice of

1

lemon

3

–

4

tbs. olive oil
---
Instructions
Combine the honey lemon juice and olive oil in a small bowl and stir. Place in a small bowl and set aside for when the stacks are done.
Slice the eggplants and drizzle with olive oil and a dash of salt.
Heat a cast iron griddle and place the eggplant slices on the griddle. When one side is grilled carefully turn over and finish grilling on the other side. Place in a bowl.
Place the mushrooms on the griddle turning over once to grill both sides. Place in a separate bowl.
Heat a large cast iron frying pan with a 2 tablespoons of olive oil. Add the sliced onions and allow to turn a beautiful golden color; place in the bowl with the mushrooms.
Place the sliced peppers in the frying pan and let char, when this is achieved place in the bowl with the mushrooms and onions.
Place 2 tablespoons of olive oil in the cast iron frying pan and add the garlic; let the garlic become fragrant and add the breadcrumbs, chopped parsley, capers, raisins and pitted olives.
Let the breadcrumbs become slightly golden in color then remove and place in the bowl with the mushrooms, onions and peppers, season with salt, pepper, oregano and red pepper flakes and toss gently.
In a serving platter place an eggplant round topped with the mushrooms mixture, followed by shaved provolone and another eggplant round.
Repeat this process finishing off with shaved provolone, chopped parsley and a drizzle of the honey, olive oil and lemon mixture.
Serve alongside your favorite pasta if desired. Enjoy!
Category:

Main Dish

Cuisine:

Italian
Recipe Card powered by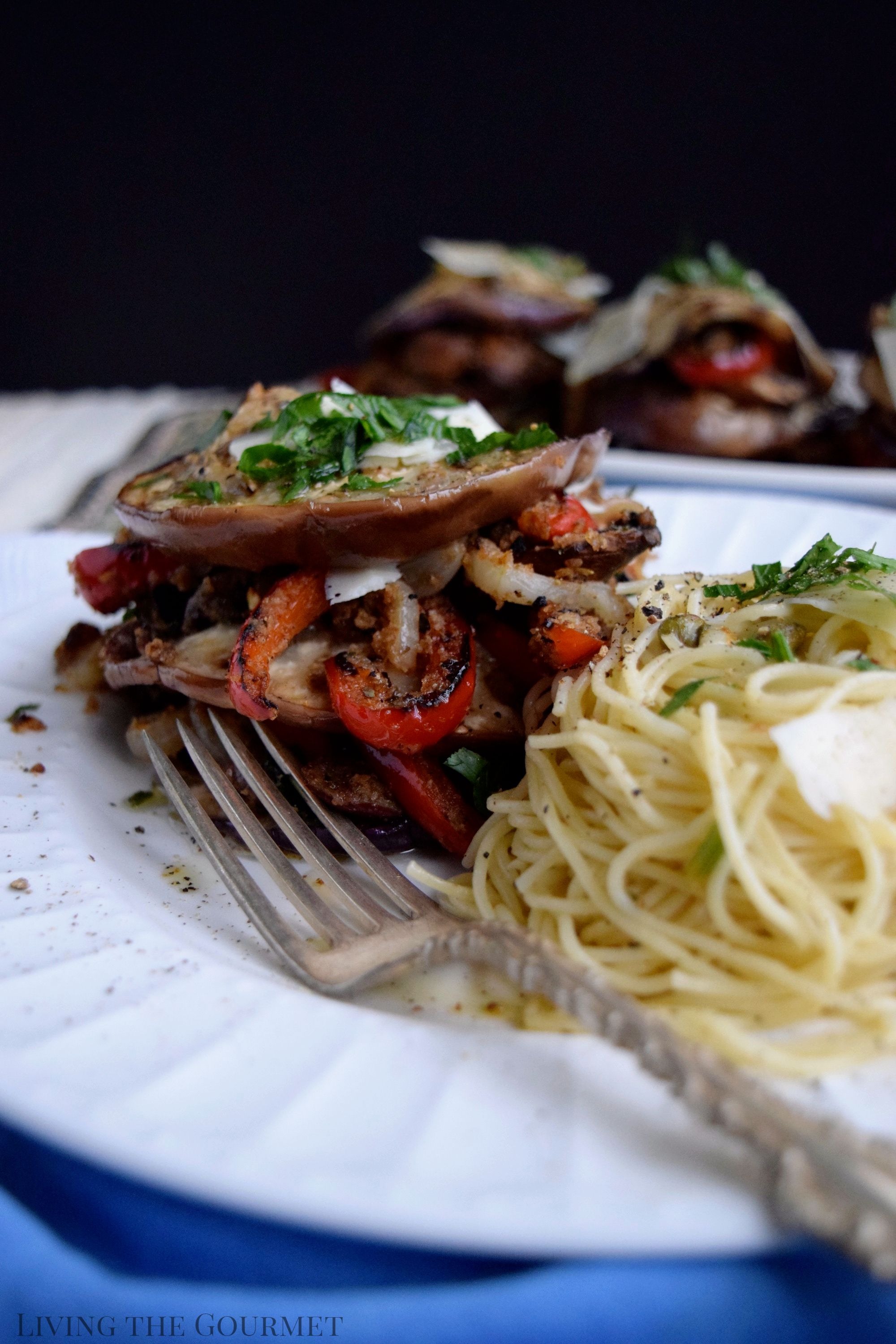 Once that's done you can prepare your desired pasta, and you're ready to serve a classic Old World style Mediterranean 'peasant dish' with a delicious modern twist.
Enjoy with Love,
Catherine
1