Traditionally these little pies are fried, but we've baked ours to a flaky perfection with a delicious spinach and currant stuffing that is sweet and savory!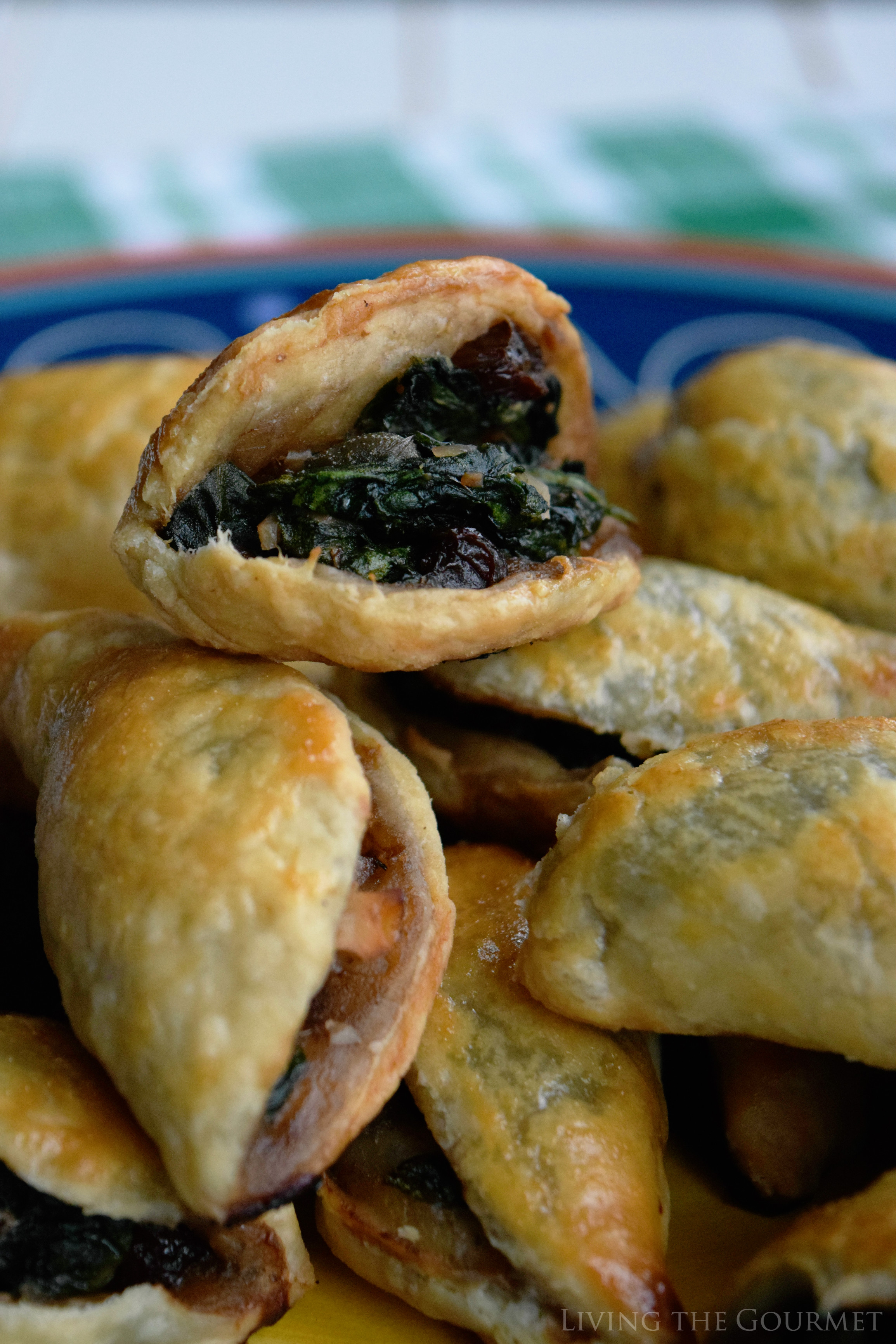 "When you make your plans, enjoy making them. In our minds, our 'great escapes' are the stuff of dreams, an exercise in naïve perfection. Enjoy that perfect version of whatever you're about to undertake, because as experience will surely teach you, the planning is the best part of anything." I can't recall if I heard that from one of my professors or a priest back in the day, but this summer I'll admit I don't think I've ever related quite so well to those words – and for the silliest of reasons.
I had been 'planning' away much of the winter, thinking about what were to be my 'agricultural triumphs' come summer, and how I would get to relate them here on Living the Gourmet, and plate them for my pictures. After so many years of never 'quite' getting my gardens right, this was to be the year, and a box garden was to be the method. However, I'll ask you to instead picture a frustrated would-be 'suburban farmer' sitting by her window glaring hopelessly at her empty box garden. You see, while, New York in the autumn is a pleasant cliché, the stuff of songs, novels, and Broadway plays, New York in the summer is another beast entirely, rife with thick humidity and protracted heat waves – which also makes for great amateur gardening. However, that version of Northeastern American summer has been pleasantly, if frustratingly, absent.
I had 'planned' on setting the groundwork (literally) for things like fresh basil and tomatoes by about this time, but grey skies, and a comfortable chill in the air that refuses to leave for more than a day or two at time…well, let's say the weather had its own plans.
However, my summer spirit hardly begins and ends at the garden's edge, and fate has a funny way of giving you that proverbial 'kick in the pants.' You see, just as my thoughts were turning as grey as these chilled summer skies, I received a call and a friend invited herself over for an early dinner.
Naturally, that's where today's recipe comes in – Spinach Empanadillas.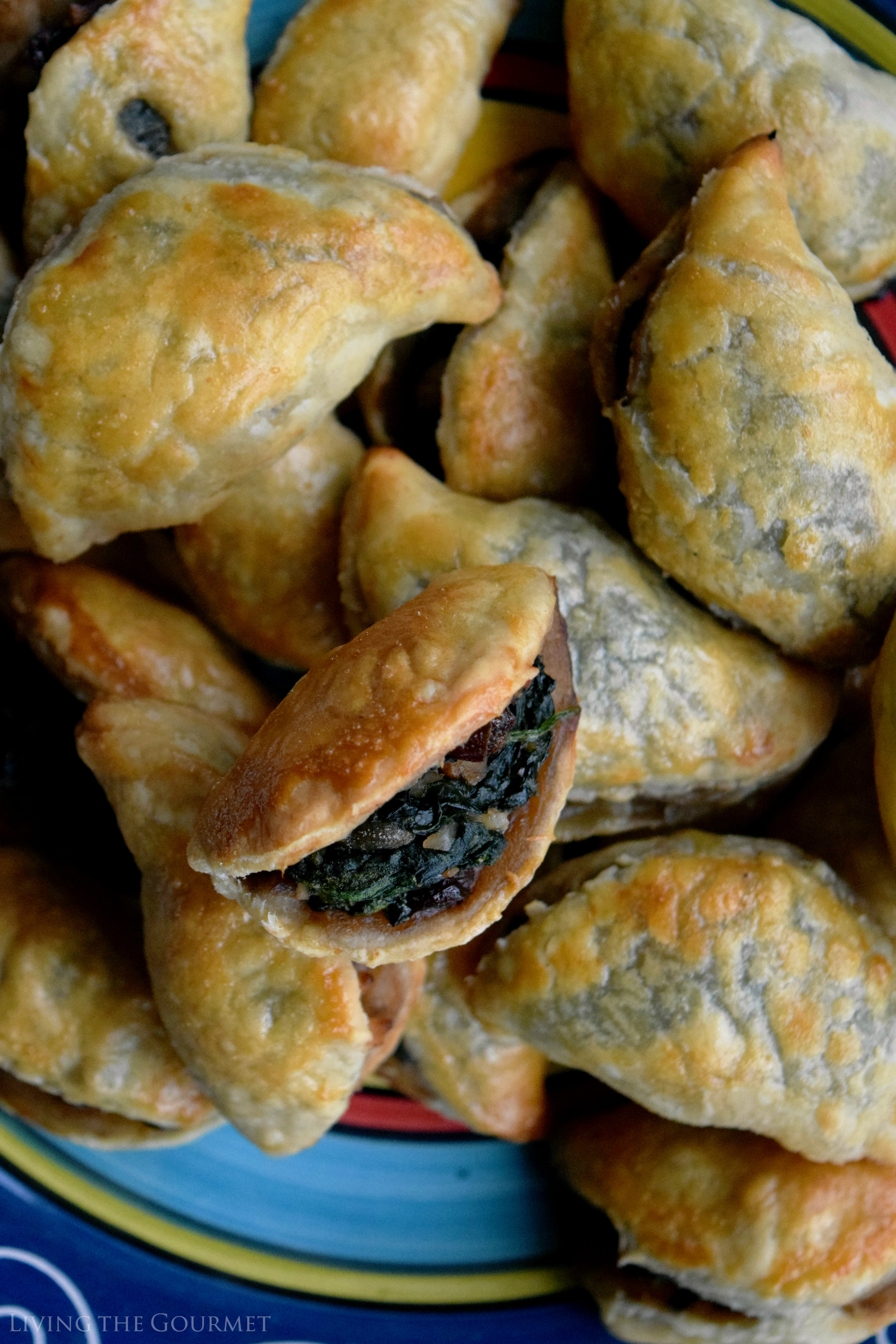 To start things off, we prep the filling as directed below, heating up some olive in a large cast iron frying pan, and toss the spinach until it wilts. Once your spinach is nice and wilted…don't give me that look, add in the garlic, anchovies, a bit of salt and pepper, and toss it again. Then finish it off with the raisins and chopped nuts.
Of course, once that's done, it's time for the fun part – rolling dough. Don't you just love when I say that? After rolling out the pastry dough to about a quarter of an inch in thickness, your going to cut out about twenty circular portions as shown below. A simple trick for this is using the business end of a jar to achieve even circles. Yes, I'm well aware jars comes in different shapes and sizes, pick your favorite.
Once that's done, you've a bit further to go before calling it quits. Spoon out about a tablespoon of filling into the center of each circle, brush the edges with a bit of water, and then fold and seal as shown below, and then brush with the egg wash as shown below, and bake for twenty minutes.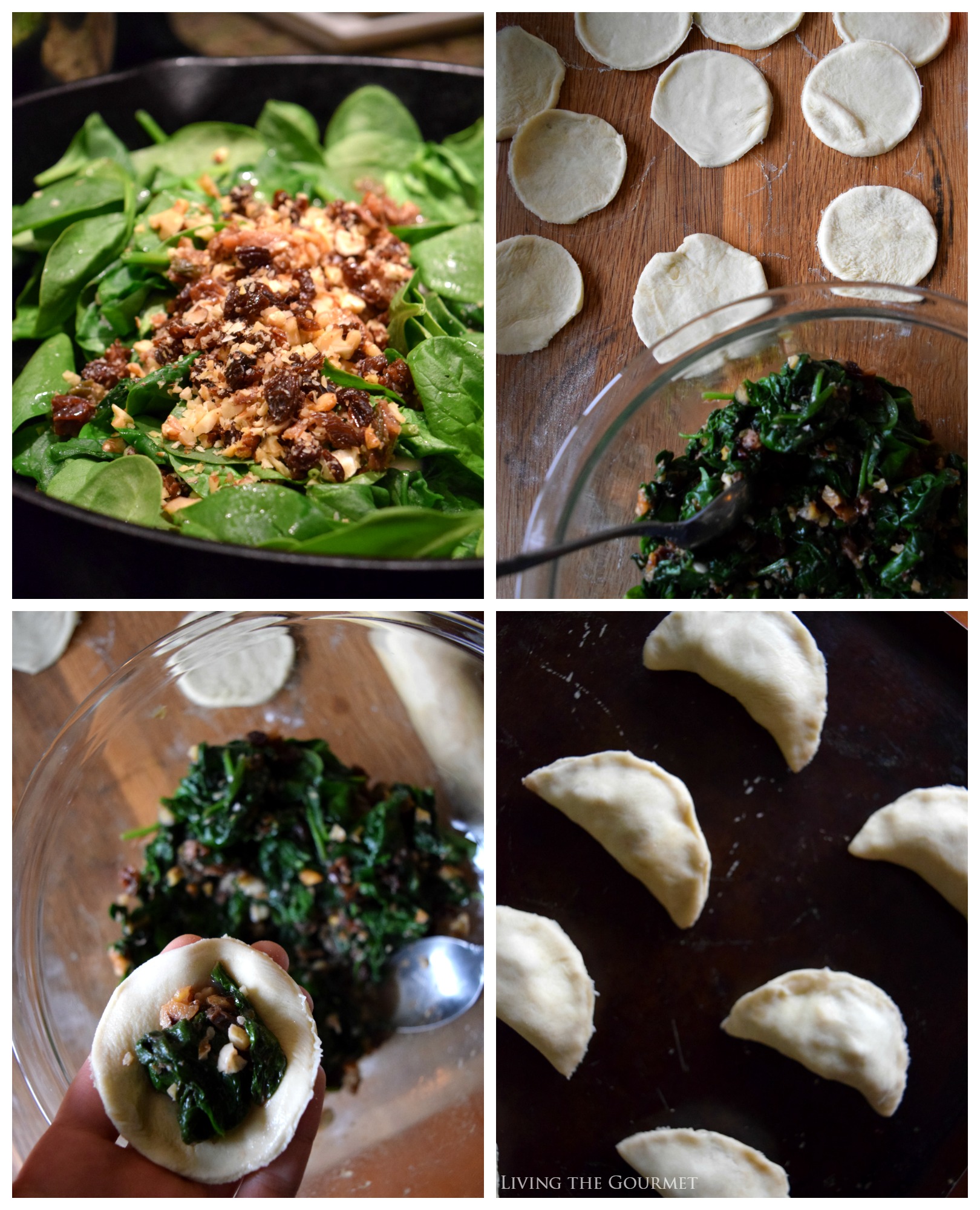 Living the Gourmet
Yields 2 dozen
Spinach Empanadillas
15 minPrep Time
30 minCook Time
45 minTotal Time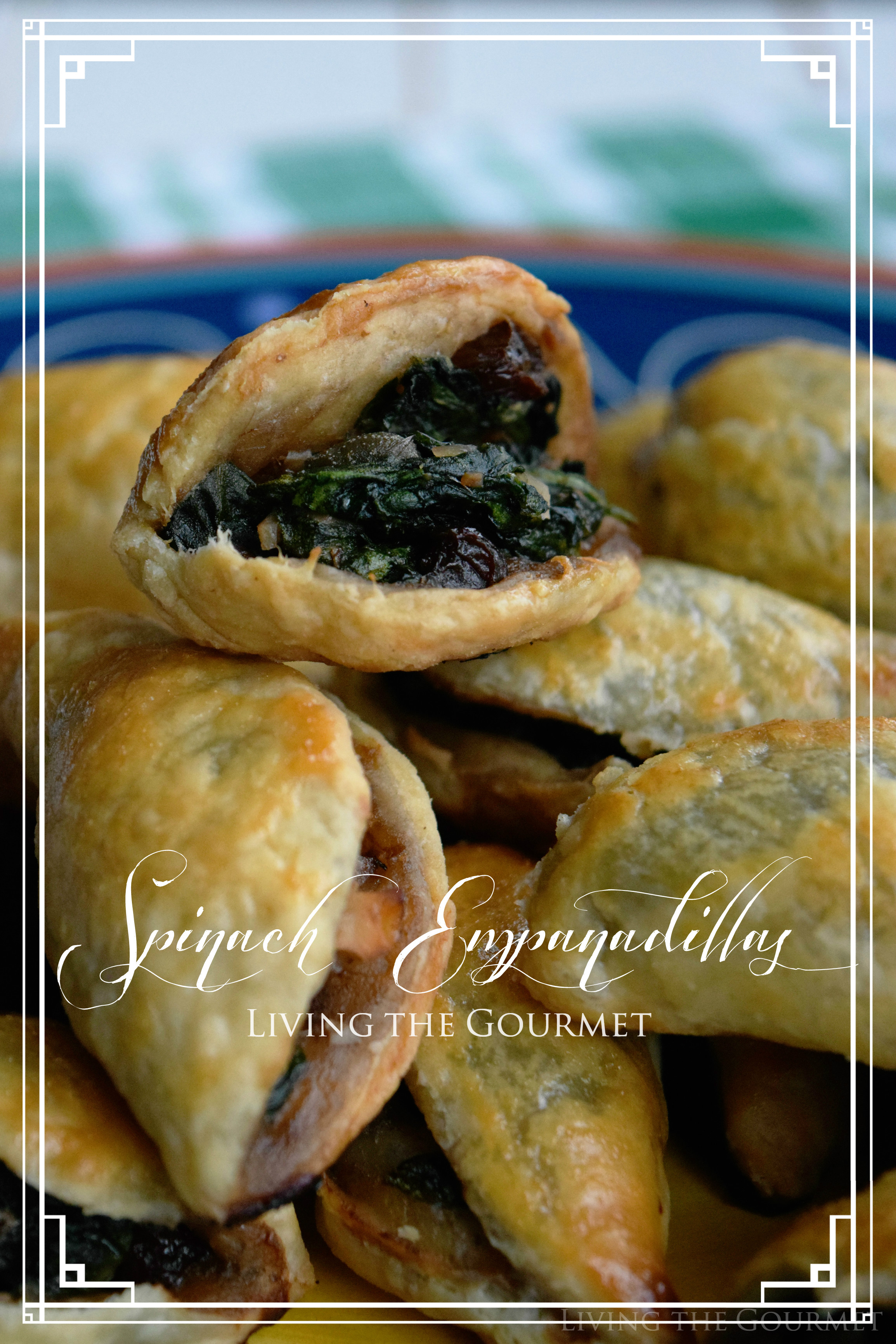 Ingredients
¼ cup raisins – chopped
1½ tbs. olive oil
1 lb. of fresh baby spinach
2 oz. can of anchovies – chopped
2 cloves of garlic – chopped
¼ cup of walnuts – chopped
1 egg – beaten
2 sheets Puff Pastry
Salt and Black pepper to taste
Instructions
For the Filling:
Heat the olive oil in a large cast iron frying pan; add the spinach and toss over a low heat, just until it begins to wilt.
Add the chopped anchovies, garlic and dash of salt and black pepper and toss over a low heat for a minute or two; then toss in the raisins and chopped nuts.
Remove from the pan and place in a colander; then set in a bowl to cool down.
Preheat Oven to 350 F.
On a lightly floured surface roll out the puff pastry dough to ¼ inch thickness.
Using a cover to a large jar cut out approximately 20 rounds, then re-roll the scraps and cut these into rounds as well.
Place a tablespoon of the filling in the center of each round. Brush the edges with a little water then fold and seal, pressing together with the edge of a fork. Brush each one with the egg wash.
Place the pies on a prepared baking sheet.
Bake for 15 – 20 minutes until puffed and a beautiful golden color is achieved.
7.8.1.2
505
https://livingthegourmet.com/2017/05/spinach-empanadillas.html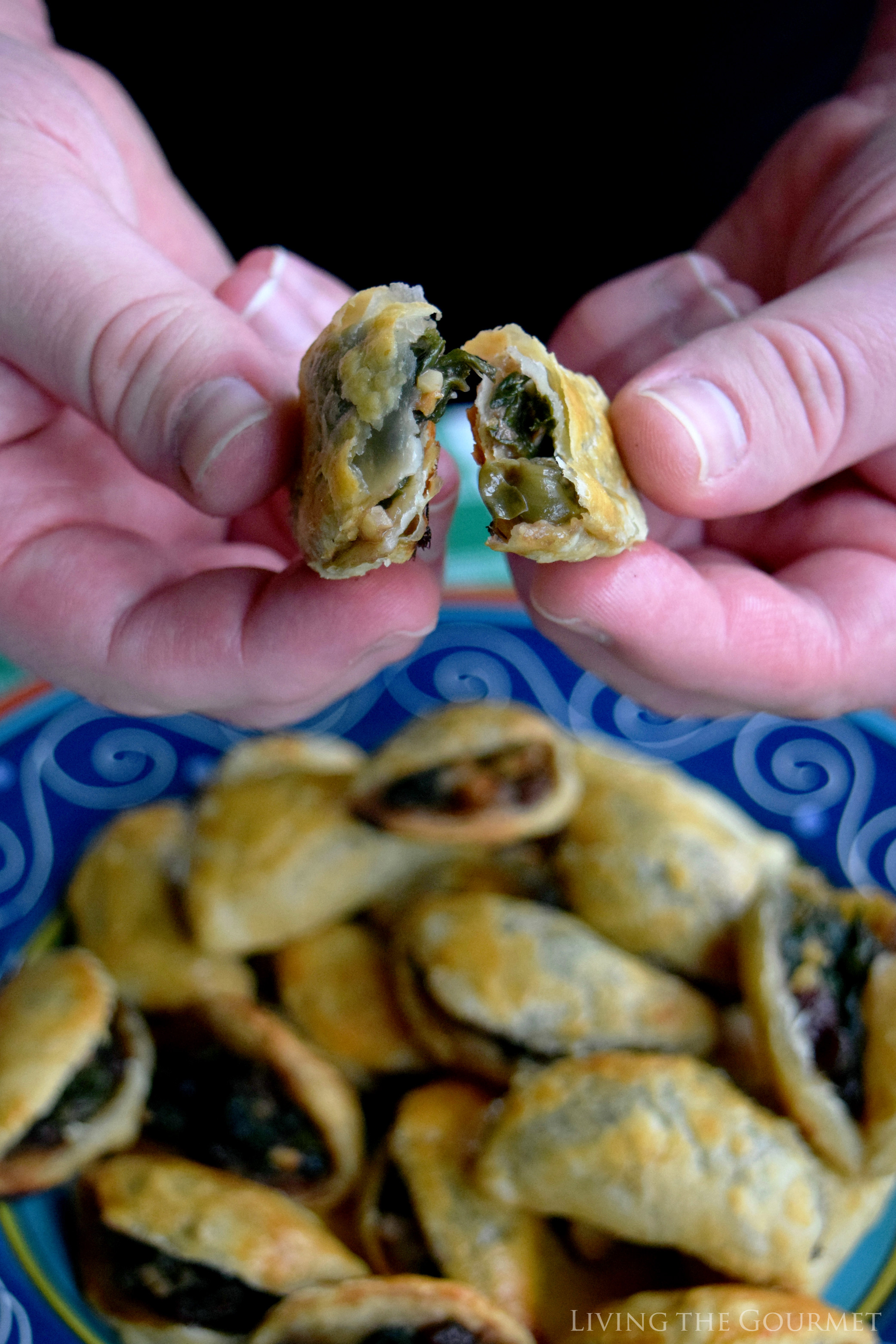 Now go pour yourself something cold, you've earned it.
These are great either as appetizers with a nice antipasto, or as a side to your entrée, and never fail to impress. And while not really sure what or why, to me these just scream warm weather dinning.
Enjoy with Love!
0