Delight in the summer weather with this Mediterranean-Style Tuna Salad that is both light and satisfying!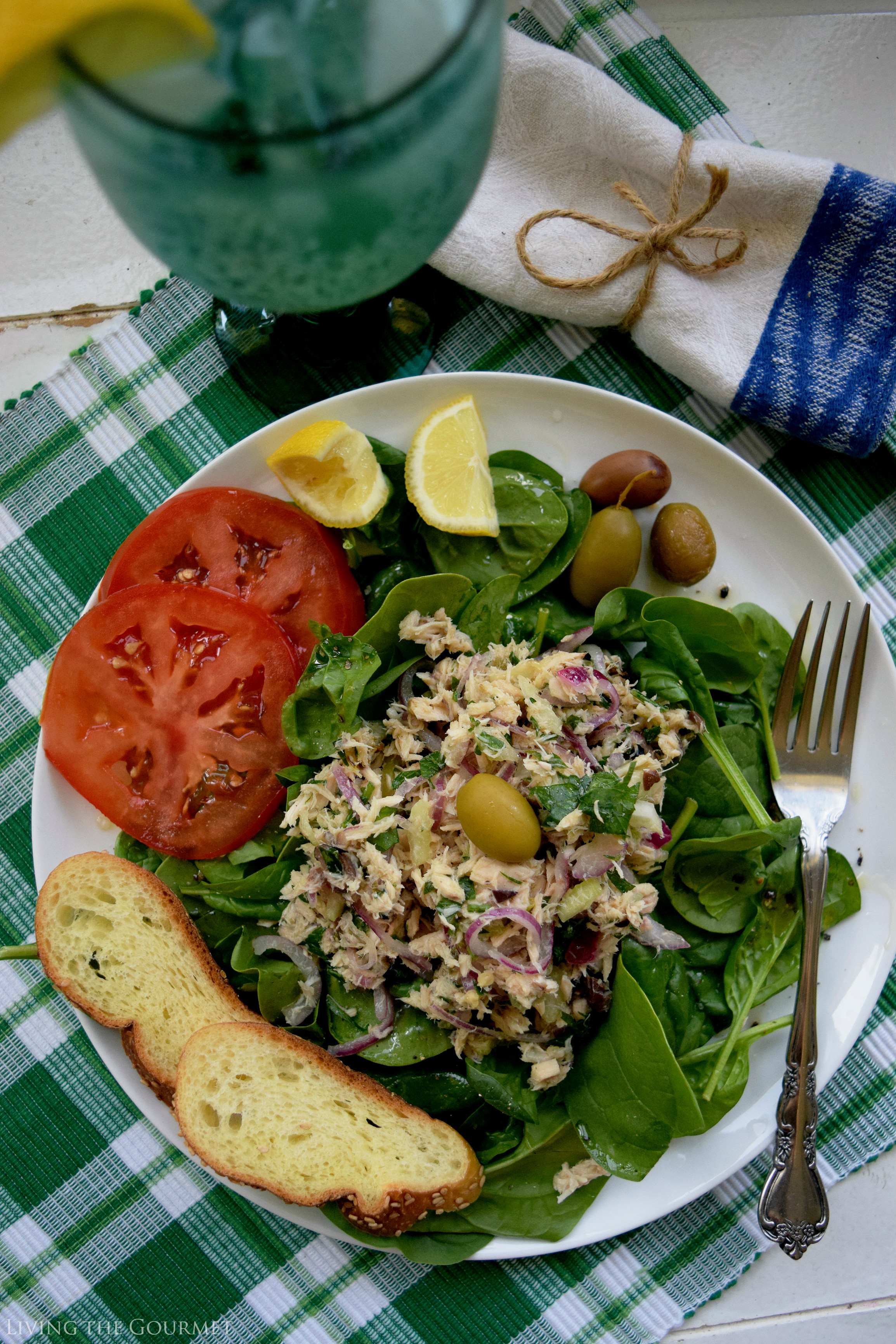 Let us set the stage a bit. Beyond my office window, the river is as a calm as glass – to use a tired cliché. The sun is pleasantly bright, but not so much so to forbid outdoor activity, and a calm sea wind is whispering through the tree leaves. It is as close to a 'perfect' summer day as one can imagine. As I write this, my daughter has decided to begin this season's gardening adventure, and in process of constructing a 'box garden,' hoisting boards, hammering spikes into the ground, and taking measurements. My son, of course, is tied up with a somewhat-too-perfectly timed arthritic attack. "It takes a fair amount of forethought and hard work to avoid having to think or work," as the saying goes.
On such idyllic days, simple meals would seem to be on order to accentuate the overall 'relaxed' summer feel.
Complexity, however, is often seen as a sign of quality, excellence, or proficiency. For example, we assume that a professor drowning us in a sea of quickly spoken words of cryptic origin simply must know what he is talking about – for simple reason that we cannot understand what is being said. Plato wrote about this at some length in the Protogoras and the Phaedrus, where he, through the voice of oft simple-spoken Socrates dismantled such ideas.
Similarly, and perhaps slightly more to the point, Hemmingway remarked "Does he really think big emotions come from big words? He thinks I don't know the ten-dollar words. I know them all right. But there are older and simpler and better words, and those are the ones I use."
However, we ought not mistake simple with drab or boring.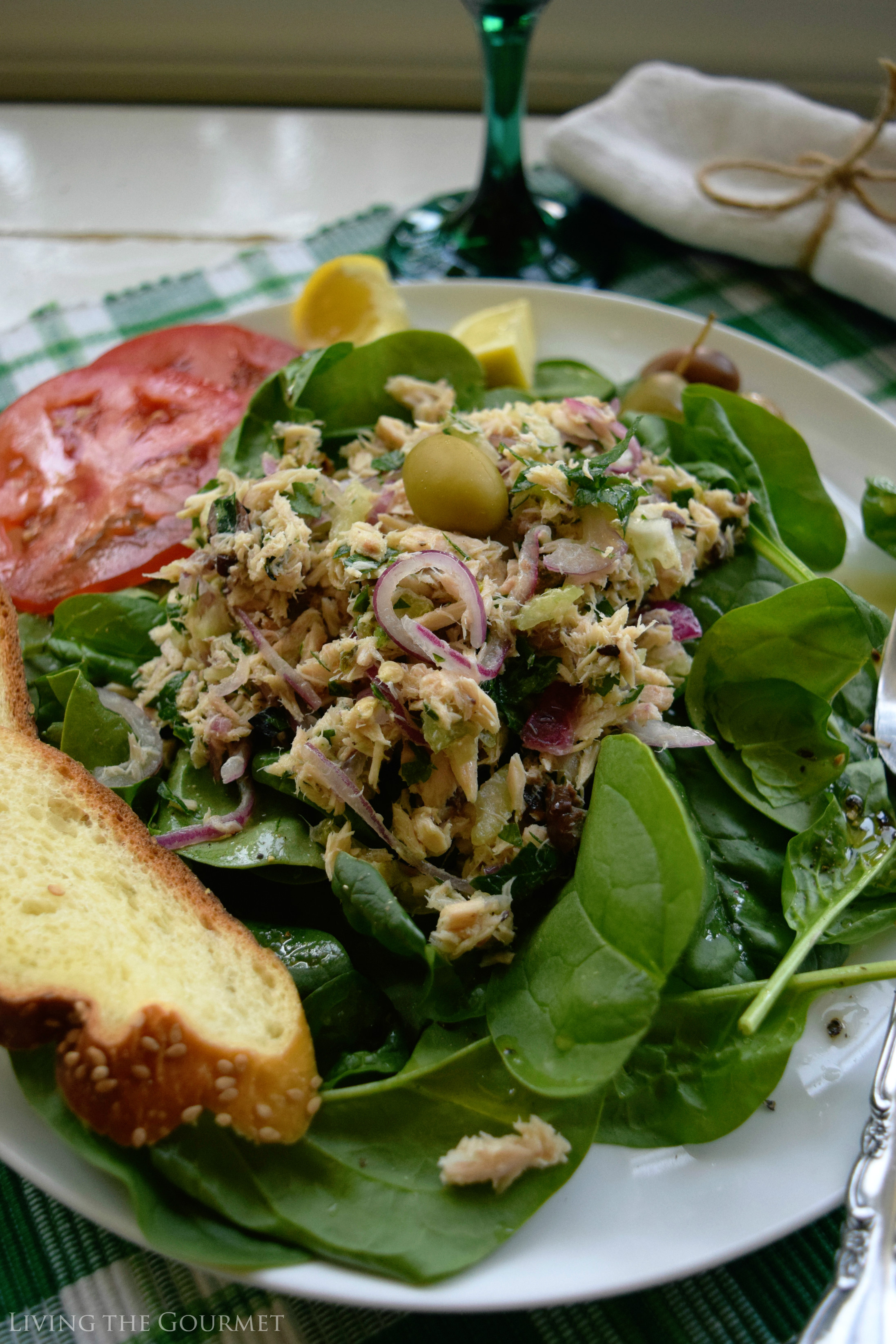 For example, if I told you that you could transform the standard, drab mayo-drenched tuna salad that we're all painfully familiar with into a bistro-worthy Mediterranean delight in less than an hour, would you believe me? Since you're here, I am sure you would.
This, of course, this brings us to today's recipe – Mediterranean Style Tuna Salad.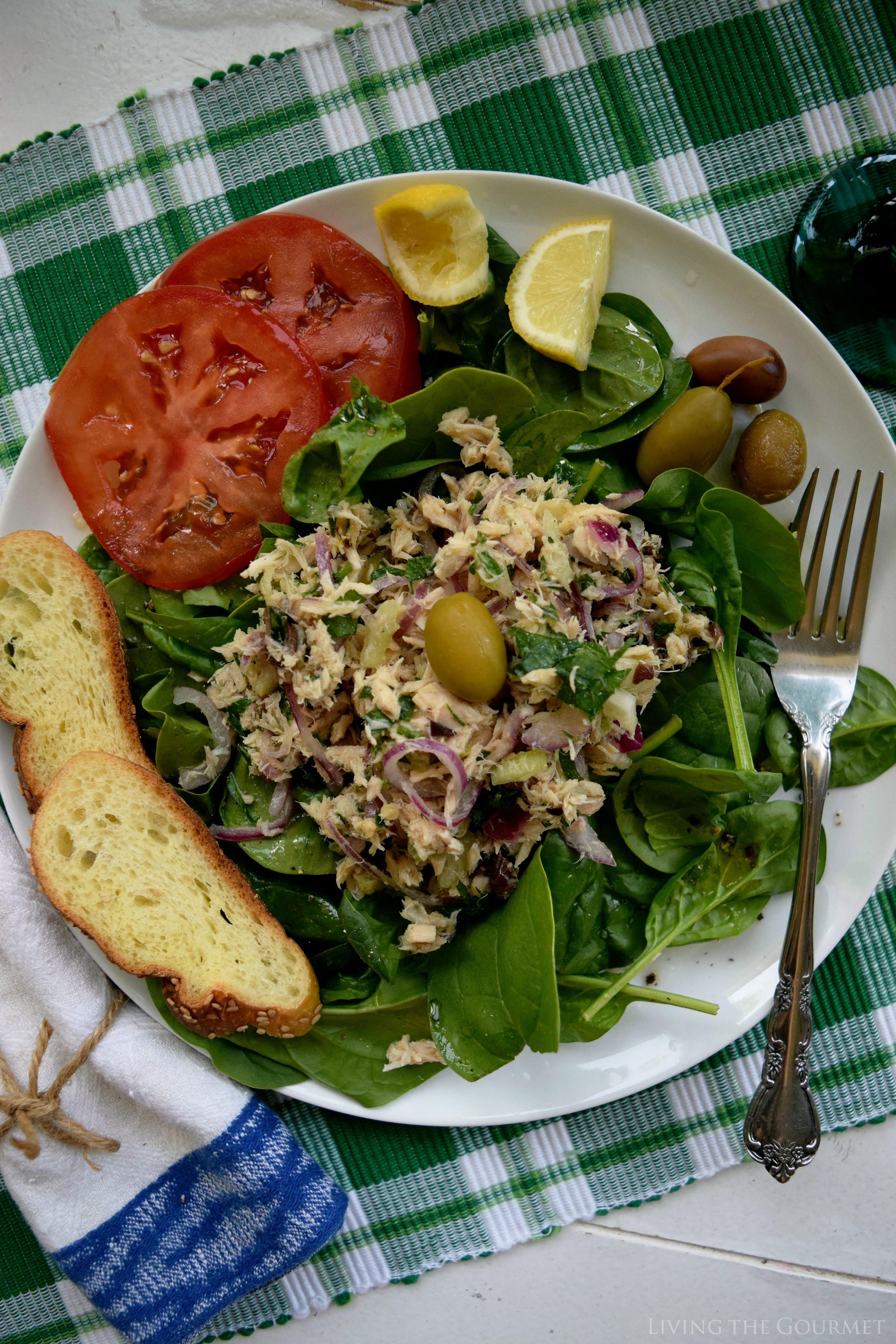 We start off by heating our cast iron griddle (or frying pan) and letting our jalapenos and scallions come to a nice char before chopping. We then set a few cans of drained tuna in a large bowl, add the chopped peppers, scallions, sliced onions, parsley, celery and of course Greek olives, along with some salt, pepper, lemon juice, olive oil and we toss that all together.
While I prefer to serve this over a bed of baby spinach with sliced tomato, this also makes a great sandwich.
Living the Gourmet
Yields 4
Mediterranean Style Tuna Salad
15 minPrep Time
15 minTotal Time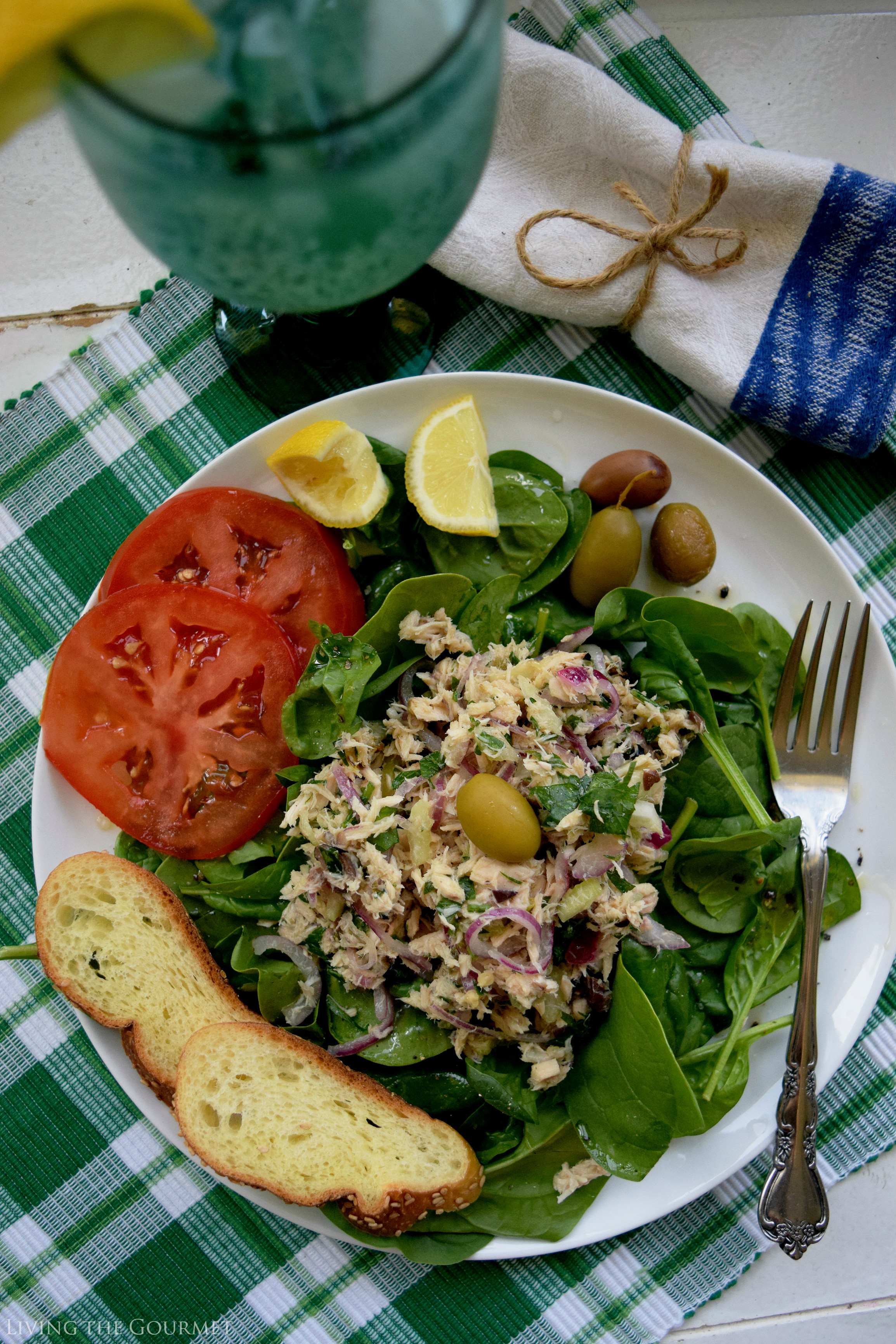 Ingredients
3 - 5 oz. cans of solid white tuna – drained
1 grilled jalapeño – chopped
1 small red onion – sliced thin
2 stalks celery – chopped
¼ cup of fresh Italian parsley – chopped
¼ cup of Greek olives – pitted and chopped
4 – 5 scallions – grilled and chopped
Sea salt – to taste
Fresh ground black pepper – to taste
Juice of 1 lemon
3 – 4 tbs. olive oil
Fresh baby spinach
Sliced tomato
Instructions
Heat a cast iron griddle or frying pan and place the jalapeño and scallions on the pan to char; remove and chop.
Place the drained tuna in a large bowl, add the chopped ingredients, salt, pepper. lemon juice. olive oil and toss.
Serve over a bed of baby spinach drizzled with olive oil and a squeeze of fresh lemon and a quick drizzle of honey served with sliced tomato, olives and your choice of bread or crackers.
7.8.1.2
503
https://livingthegourmet.com/2017/05/mediterranean-style-tuna-salad.html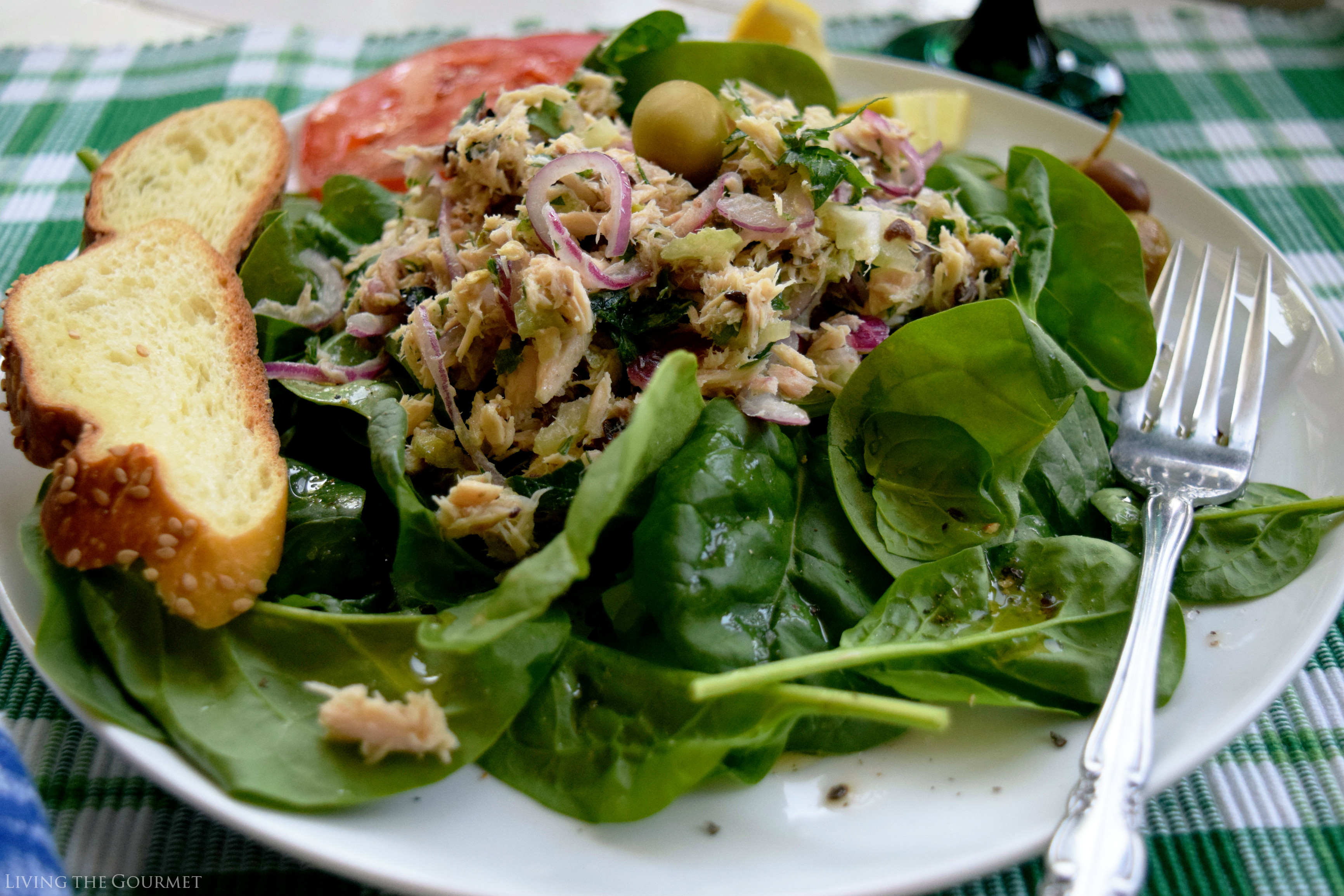 What are some of your favorite relaxed summer recipes? I would love to hear from you.
Enjoy with Love!
1