This post has been sponsored by Vidalia Onions. All opinions expressed are my own.
It's the season of onions! Vidalia onions that is. We're welcoming the season with this simple but delicious Tomato and Onion Tart bursting with the rich, vibrant flavors of Spring.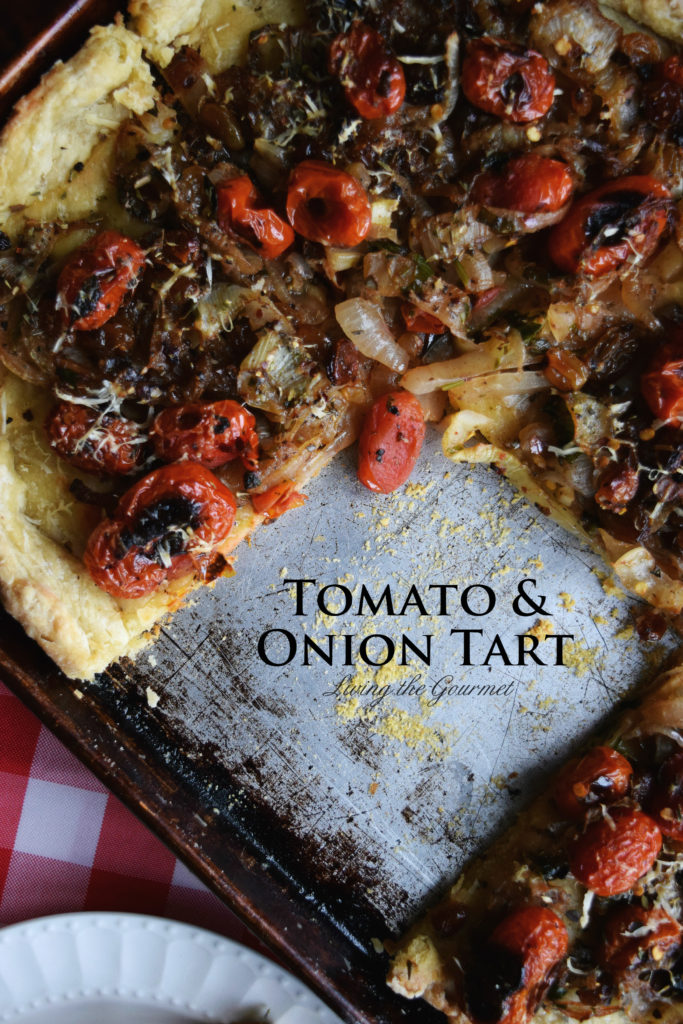 One of the things I try to convey here on Living the Gourmet is the importance of 'setting.' One of my fondest examples is that we 'eat first with ours eyes,' and that the final 'taste' of a meal is in fact one of the last ways in which we experience it. Instead, a meal, taken in its totality is in fact a 'feast' for the senses, a 'feeling' or 'set of emotions' as much as anything else. For example, how many meals have you consumed that were unenjoyable for no other reason than that they were rushed or because the surroundings were simply 'off' somehow?
That being said, sometimes when I'm putting together a planned meal, I like to intentionally tug on the proverbial heart strings, to 'set a mood' as much as possible for the simple purpose of accentuating the aforementioned qualities. For example, I hosted my brother and his wife the other day for a lunch out on the deck, and while I certainly could have gotten away with any simple start of the season recipe, especially given the relaxed atmosphere, I decided instead to pull a page from our youth and prep one of those recipes that simply exudes 'Old World Charm.'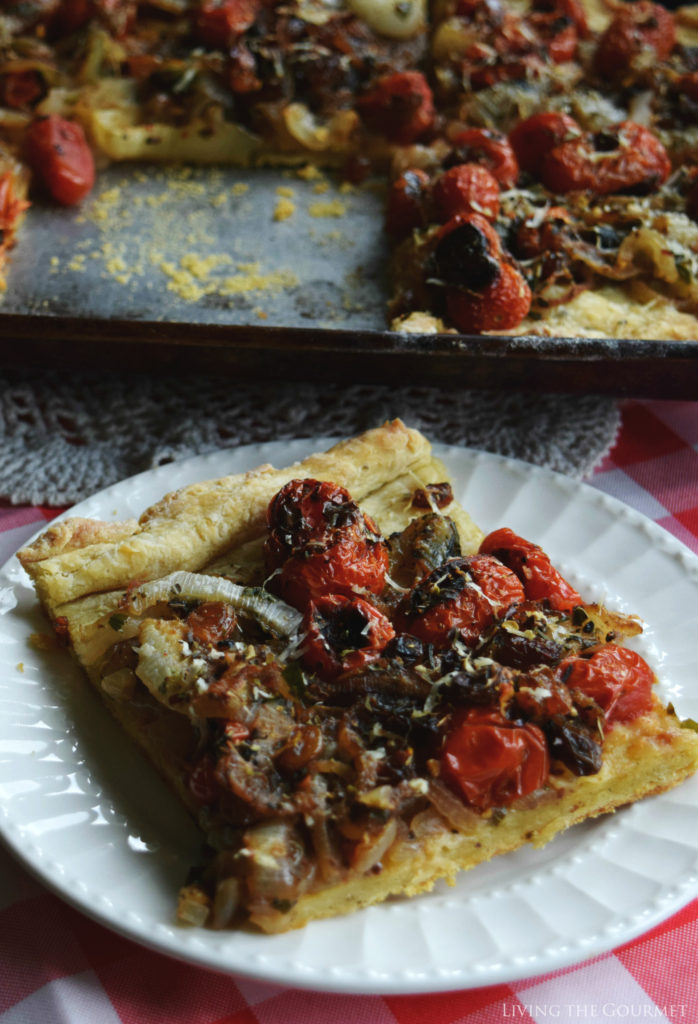 Now, picture a rustic table setting on a porch overlooking a river at mid spring. There's still a faint chill in the air, mixed with salt gusts lashed in from the bay. To pair with this setting, of course, I decided to put together today's recipe – a Tomato and Onion Tart.
To start things off, we put together a homemade, from scratch dough as outlined below. While that sets, we prep the topping. For this recipe, at this time of year, I do prefer to use Vidalia onions, a unique and delicious ingredient. 2017 marks the 25-year anniversary of the Vidalia onion's trademark which is held in the state of Georgia. Each winter, growers plant over 80,000 Vidalia onion seedlings per acre. Their distinctive taste is derived from the weather, water and soil uniquely found within 20 South Georgia counties. Aside from being an exclusively April to August treat, they are the sweetest onion available making them absolutely perfect for this recipe. That said, they are also typically, of far superior quality, and its natural versatility means that you can really get creative. After all, these are the go-to sweet onion of top chefs from around the world for a reason.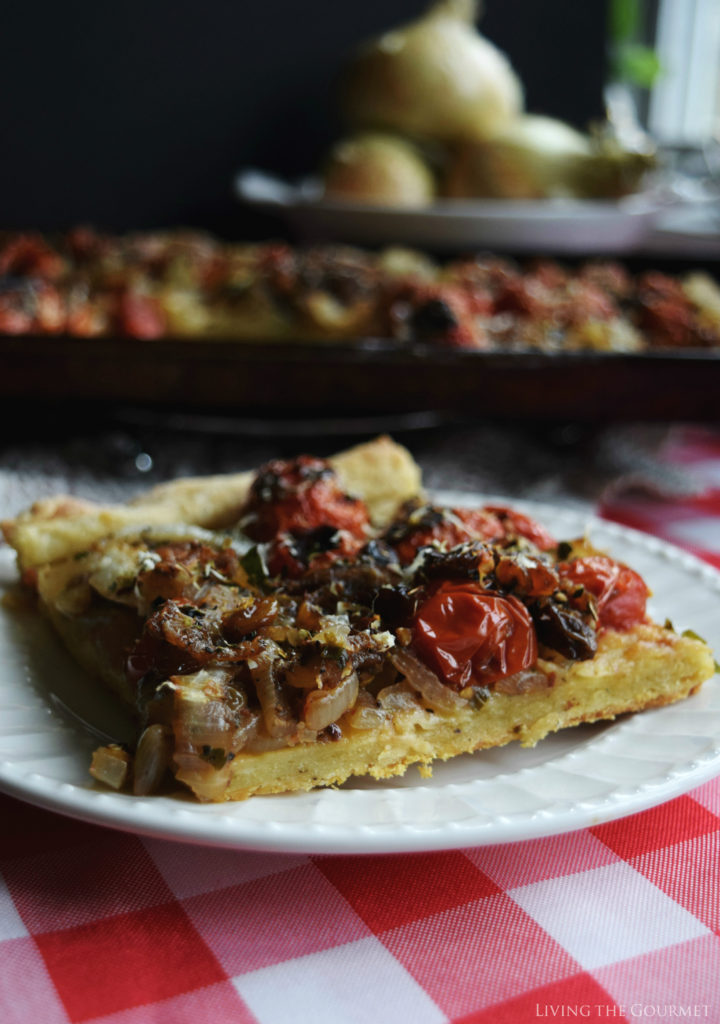 To put together the topping, we start off with a heated cast iron griddle, where we let about a pint of chopped cherry tomatoes come to a slight char. Once that's done, heat a large cast iron pan with olive oil and butter – yes both. Pour in the sliced onions, and sauté until they have softened. Then simply add in raisins, the spices as outlined below, the chopped parsley and the charred tomatoes.
Can you guess what comes next?
Yes, it's time to feel like a pro and assemble the tart. Simply top the tart dough with the onion mixture, top with a generous serving of Romano cheese, a little extra olive oil, and then bake for about twenty minutes and you're done.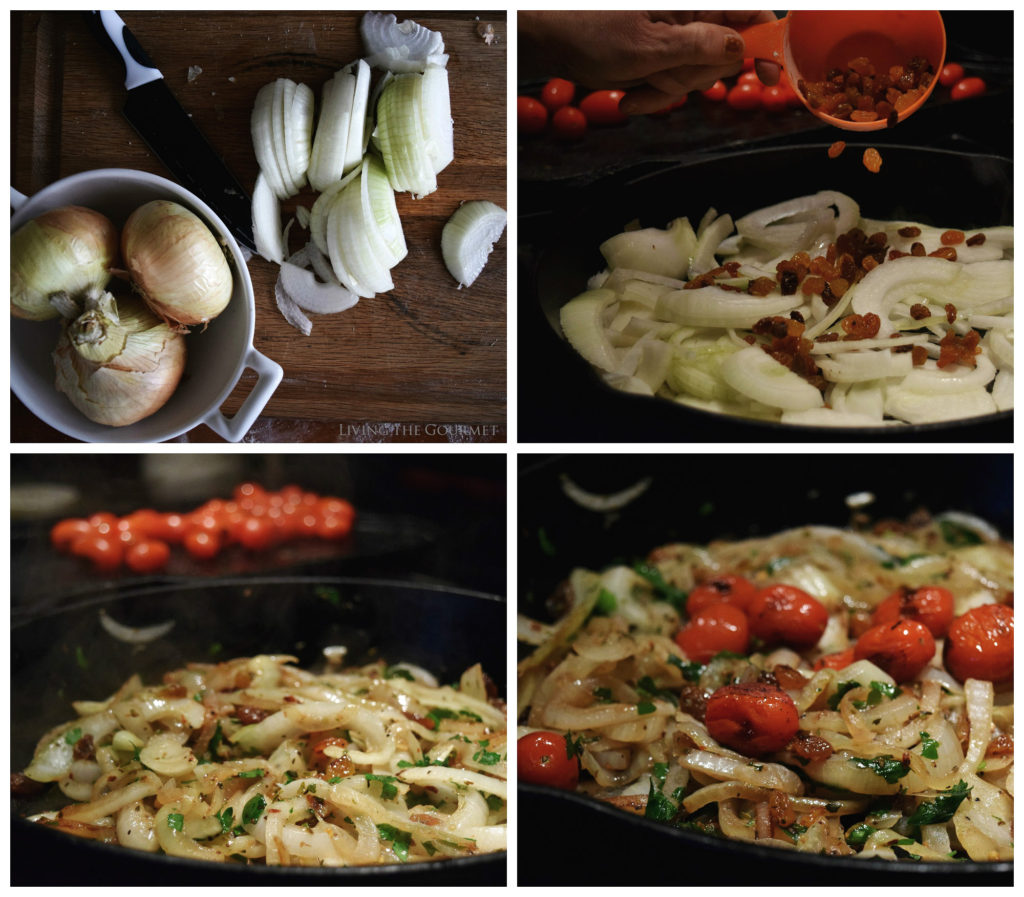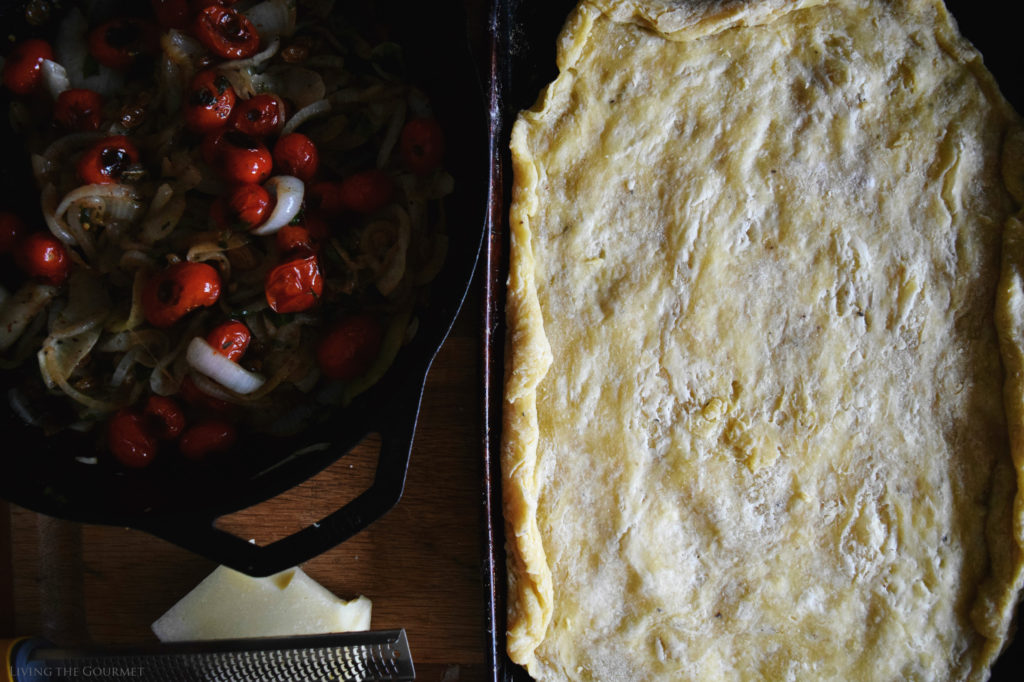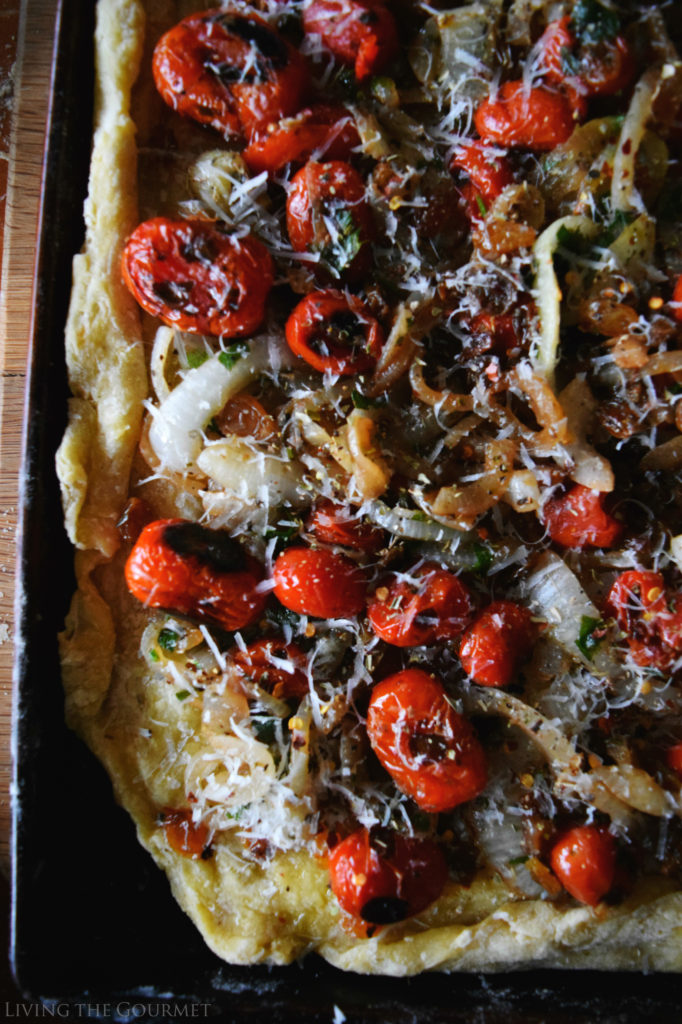 Print
Tomato and Onion Tart
Author:
Prep Time:

10 minutes

Cook Time:

25 minutes

Total Time:

35 minutes

Yield:

8

1

x
Category:

Main Dish
For the tart shell:
3

cups

flour

8

oz

. unsalted butter, chilled, cut into cubes teaspoon salt

2

large eggs

5

–

6

tablespoons cold water
For the tomato and onion topping:
1

pint

of cherry tomatoes

1

large Vidalia onion – sliced thin

1/4

cup

of fresh Italian parsley – chopped

1/2

cup

of raisins
Freshly grated Romano cheese

1/4 tsp

. Ground oregano

1/4 tsp

. Ground black pepper

1/4 tsp

. Red pepper flakes
Dash of cinnamon

1/4 tsp

. Salt
Olive oil for drizzling

1

pat of butter
Instructions
For the tart shell:
Preheat Oven 350 Degrees F.
Place the flour in a large mixing bowl.
Add the cubed butter.
Using a pastry cutter or crumble with your fingers the flour and butter into pea sized bits.
Making a well in the middle of the flour add the eggs and stir the dough with a fork to combine.
Add the water a little at a time while forming the dough. Do Not Overwork the dough.
Flour a clean surface and roll the dough to a ¼ inch thickness.
Dust a baking sheet with cornmeal and place the dough on the sheet.
Partially bake the dough for 6 – 8 minutes. Remove from the oven and prepare the topping.
For the tomato and onion topping:
Heat a large cast iron griddle and place the tomatoes on the hot griddle. Let the tomatoes come to a beautiful char and slightly pop open.
Heat a large cast iron frying pan and a tablespoon of olive oil and a pat of butter. Place the sliced onion in the frying pan and sauté to soften. Add the raisins and spices the fresh chopped parsley and the charred tomatoes.
Top the tart dough with this mixture and finish off with the freshly grated Romano cheese and an extra drizzle of olive oil.
Bake for 20 – 25 minutes.
Recipe Card powered by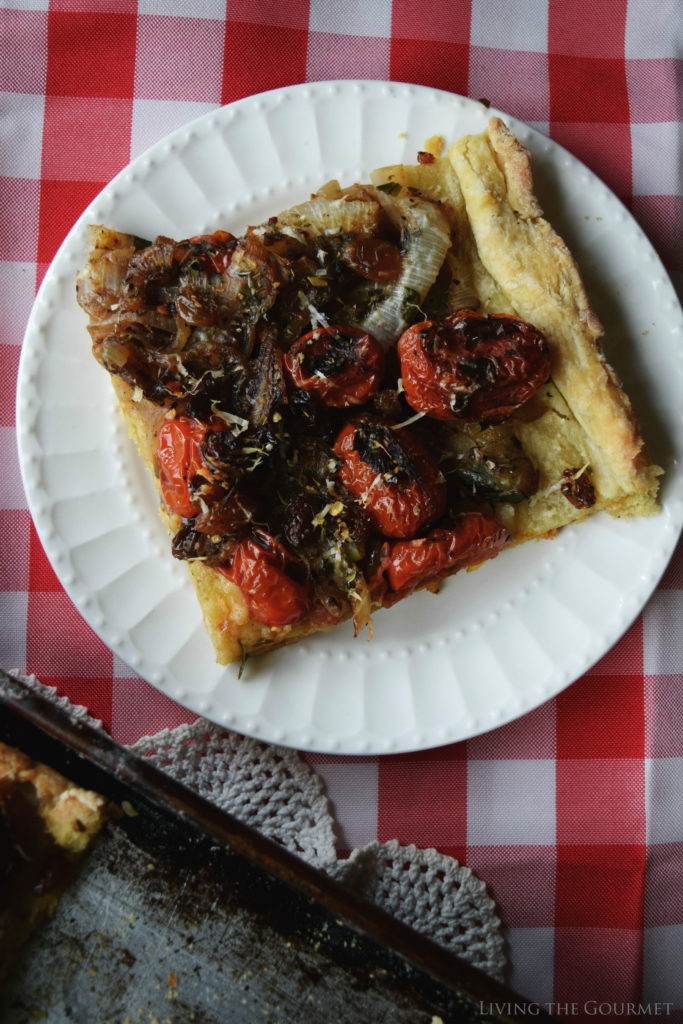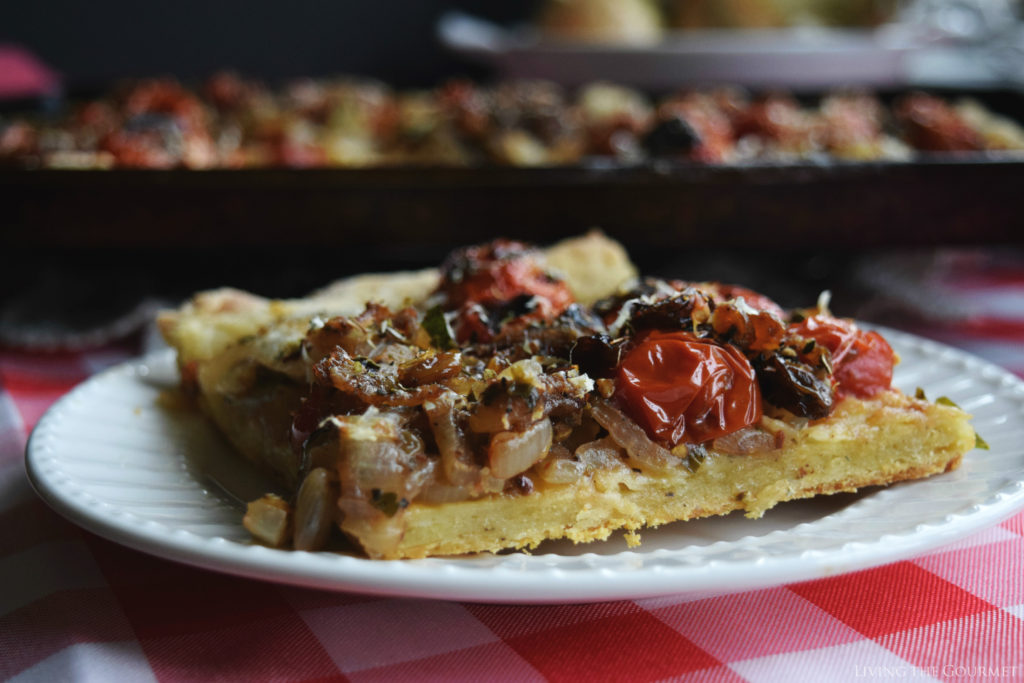 If you follow on Instagram then you know April 12th officially marked Vidalia season. Be sure to shop for these sweet pearls of flavor at your local grocery store today! Spread the word on social media and show your Vidalia love with #OnlyVidalia. For more information visit vidaliaonion.org.
Follow Vidalia Onions on:
Facebook
Twitter
Pinterest
Youtube
Instagram
Enjoy with Love!
0