The classic spring roll gets a summery twist with this light and healthy version filled with all your favorite seasonal vegetables!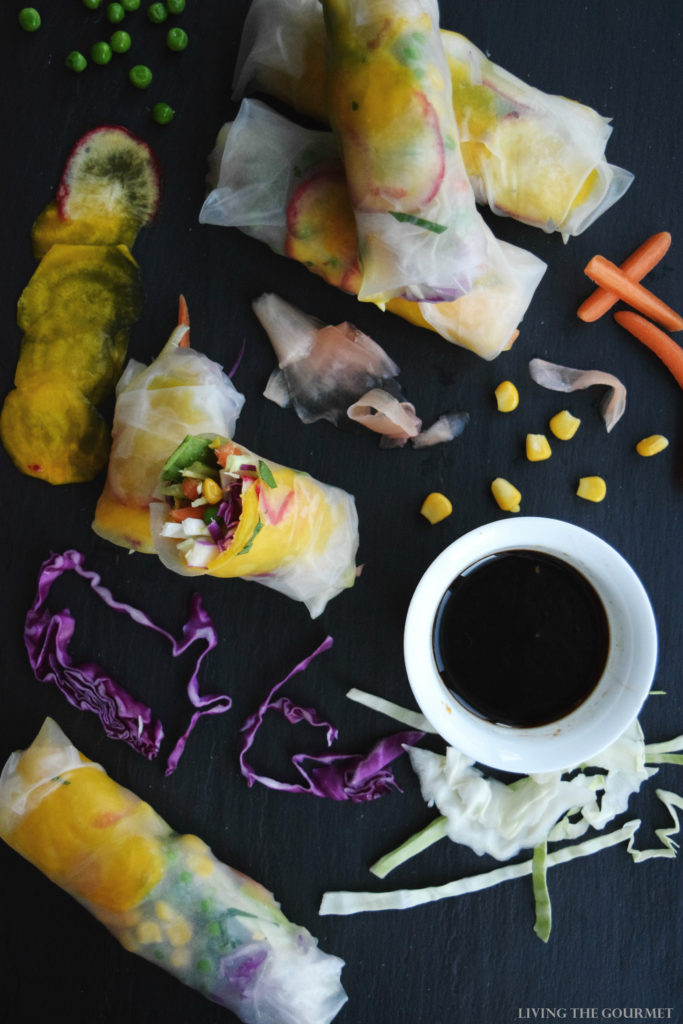 "It is spring again. The earth is like a child that knows poems by heart." -Rainer Maria Rilke
Oh how pleasant it is to be greeted in the morning by warm light than darkness, and the refreshing Spring air. Today we officially welcome the new season, and hopefully bid winter adieu once and for all.
I'm feeling more optimistic than I have in quite some time as I write this. After the long winter we've endured, I look out my window, dreamily musing over the bare yard thawing still from the faint patches of ice. Before my eyes, like a reel in motion, the bushes are a lush green with vines of morning glories spilling over the tops, and the beautiful vegetable box vibrant with tricolored vegetables and fragrant herbs. I long to sit out on dock with a cup of coffee, watching the gold dusty sunsets that come only a few months out of the year.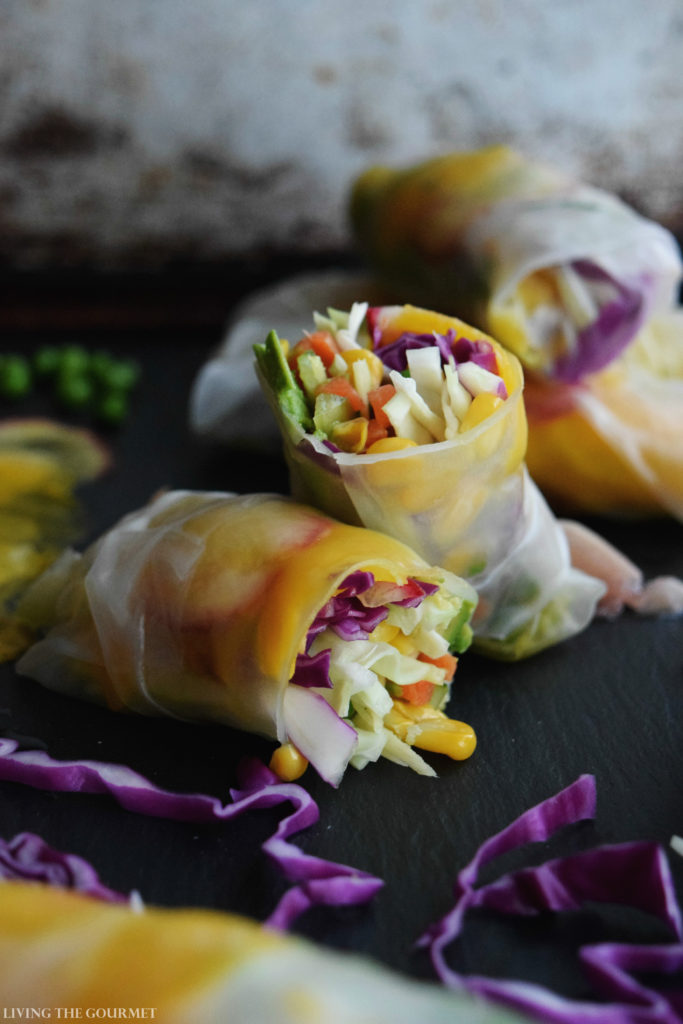 The first day of Spring has been an extremely pleasant one and as I stepped out my door today, there beneath the cold but softened earth was a young daffodil peaking through. Synonymous with new beginnings and rebirth, the 'Lent Lily' not only marks the end of winter, but a prosperous future ahead…now isn't that something to smile about?
So, let's celebrate the new season with these colorful and delicious vegetable spring rolls. It's a recipe I've been holding onto for a bit, saved particularly for today.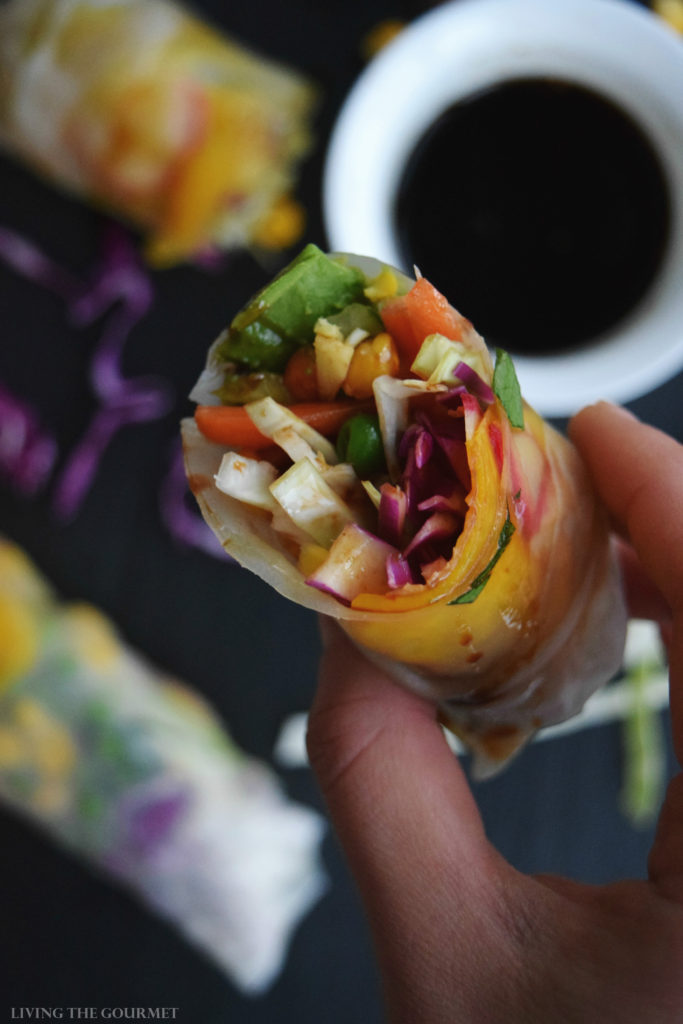 Fresh seasonal vegetables are wrapped in delicate rice wrappers for a light, crisp meal that is hearty but nourishing in more ways than one.
You can use your favorite veggies sliced delicately thin for this recipe and make it your own. Get creative and go all out with your favorite produce.
I used an array of sweet peas, crisp corn, golden beets, carrots, cucumbers, ginger, avocados, and cabbage to add a little extra 'meat' to this Springy dish. These go particularly well with a simple soy based dipping sauce that I prepared on the side.
Living the Gourmet
Yields 4-6
Vegetable Spring Rolls
20 minPrep Time
20 minTotal Time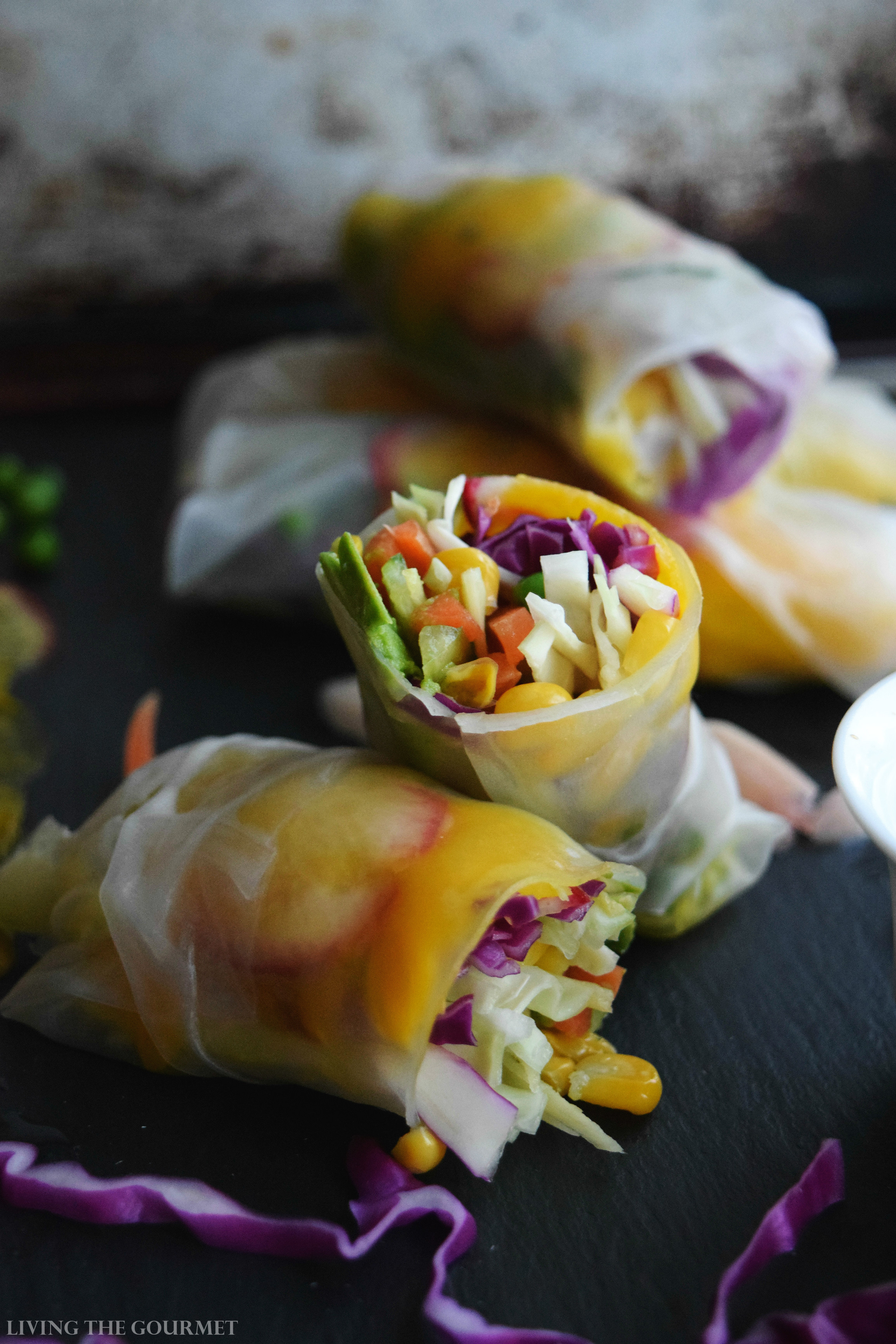 Ingredients
For the Spring Rolls:

8-10 spring roll wrappers
2 medium golden beets, washed and sliced very thin
½ cup corn kernels
½ cup sweet peas
1 medium avocado- peeled, pitted and sliced
1 small cucumber- peeled and julienned
1 medium carrot- peeled and julienned
1 cup red cabbage, shredded
1 cup green cabbage, shredded
½-inch piece of fresh ginger, julienned or pickled ginger

For Asian Dipping Sauce:

2 tablespoons soy sauce
1 tablespoon teriyaki sauce
1 teaspoon sesame oil
1 teaspoon hoisin sauce
1 heaping teaspoon fresh chili paste
2 teaspoons apricot preserves
Instructions
Prepare your work surface by placing a damp town onto a cutting board and place all the prepared vegetables in separate bowls.
Fill a shallow dish with warm water and soak one spring roll sheet at a time in the water for about 20-30 second, until just pliable. Carefully lift the spring roll onto the damp towel.
Top the wrapper with some beet slices first, cabbage, carrots, cucumber slices, ginger, avocado, then corn and sweet peas.
Tightly but carefully, roll the wrapper around the filling, tucking in the side as you roll. Repeat with the remaining wrappers until you have used all the fillings.
In a small dish, whisk all ingredients for the dipping sauce and serve alongside the spring rolls. Serve and enjoy!
7.8.1.2
484
https://livingthegourmet.com/2017/03/vegetable-spring-rolls.html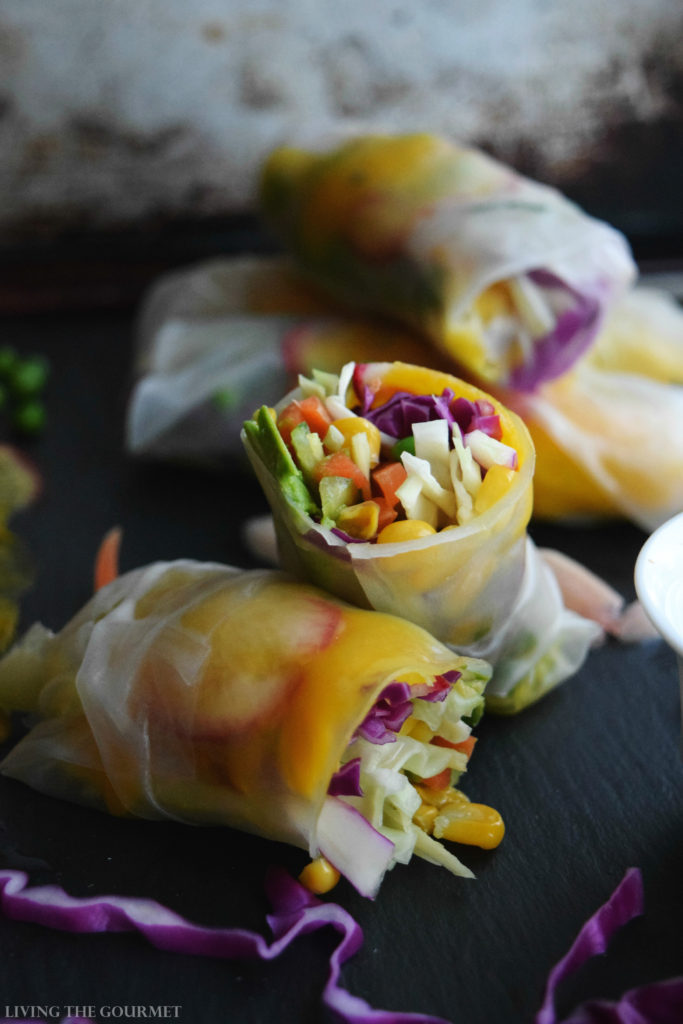 Enjoy with Love!
0