These traditional soft and sweet little buns are easier to make than you think and the best part is- they are gluten free! This is a sponsored post on behalf of Bob's Red Mill however all opinions expressed are my own.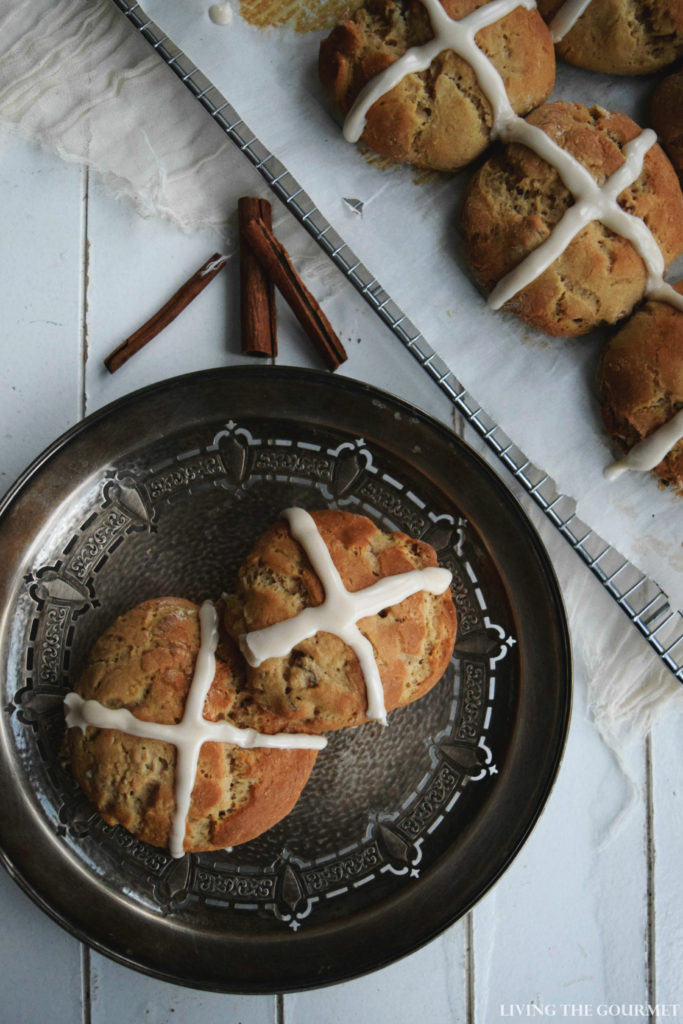 At some point, we recognize when an object, custom, or ritual crosses the line into becoming 'iconic.' Perhaps after a few years, or a generation, a certain recipe prepared for a certain occasion stops being either merely 'beloved' or 'traditional,' and starts to wholly embody the occasion.
Decorated trees at Christmas, for example, or Mirror balls being dropped from skyscrapers on New Year's Eve. Similarly, along with bunnies and molded chocolate, Hot Cross Buns have come to symbolize the Easter Season – in particular the end of Lent. While not as 'deliberately nonsensical' as dragging a fern into the living room to string with electric lights (fire hazards be damned), or as faux-audacious as dropping crystal balls from skyscrapers, Hot Cross Buns nevertheless found themselves outlawed by the government of Queen Elizabeth I, to be sold and consumed solely at Christmas and Good Friday.
A tad odd, I think, considering they're a quaint thing, really. Humble of ingredients and flavor, almost purposefully simple, and thoroughly antique as if reaching back to a bygone era. I can't help imagining "Black Market Bakers" selling these in the alleys between pubs, or in graveyards past midnight to Hot Cross Bun-craving Londoners in desperate need of their spice cake fix.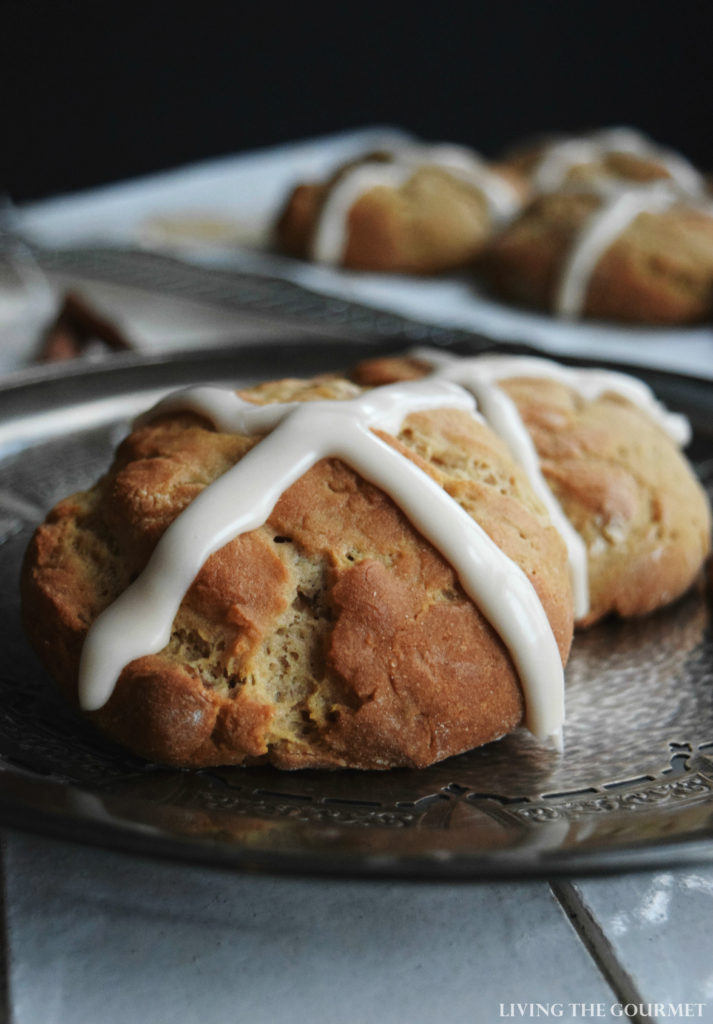 The precise origin of these once fugitive buns is, like most such traditions, largely lost to time. Some attempt to link the eating of hot cross buns to ancient Greek and Roman festival food, where small spiced cakes were common fare for the attendees. However, I can't really imagine how Hellenic era festival food would vanish for several millennia only to reemerge in Elizabethan England. Others link the buns to St. Albans Abbey in the thirteenth or fourteenth century, with monks piously marking their food with iconographic…frosting?
Growing up, I must admit that we bought rather than baked our Hot Cross Buns, and that they were almost exclusively a morning treat, or eaten midday with black coffee.
However, today, no Easter arrangement in my home would complete without these now coveted cakes. There is but a single caveat to the Hot Cross Buns in my home – and that is they need to be gluten free.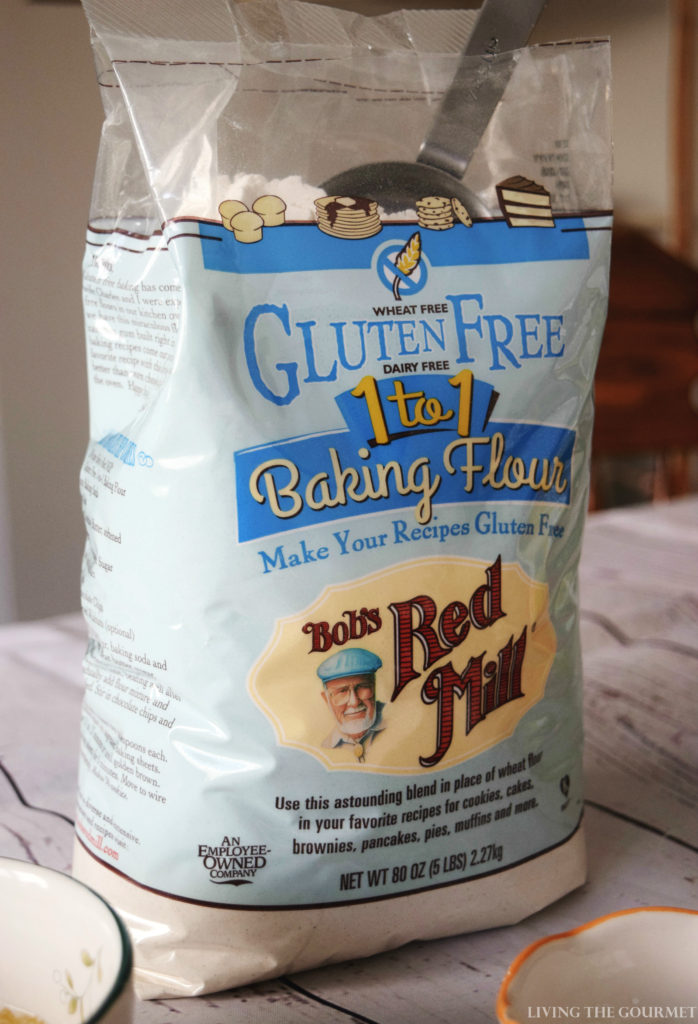 You see, my niece suffers from a gluten allergy, and I wouldn't even think of preparing a batch of these without her being able to enjoy them.
For precisely that purpose, I use Bob's Red Mill Gluten Free 1-to-1 Baking Flour. I use Bob's Red Mill for a couple reasons, first being that it's perfectly formulated for baking, assuring a delicious taste and perfect texture. This means that no additional specialization or customized recipes are necessary when using this flour.
That being said, we start things off by proofing our yeast as directed below. While that sets, soak some raisins in hot water until their nice and plump.
Don't be a wise guy and ask me "Wow, way to complicate things, why not just use grapes? Aren't grapes literally 'already plump raisins?'"
No, no grapes are not 'already plump raisins.'
Up next, mix together the Bob's Red Mill Gluten Free 1-to-1 Baking Flour with the rest of the dry ingredients. After that, gently heat about a cup of milk, and whisk in an egg and vegetable oil. Then add in the dry ingredients, the proofed yeast, plumped raisins (or currants), and stir until thoroughly combined.
If you've done this all correctly the dough should be wet and sticky. Now, cover the dough with a towel, and place in a warm dark place to rise. It should just about double in size within an hour.
Once the dough has risen, work the dough into a ball as described below, and then cut into eight equal parts, and then set them aside to rise a second time. No kneading necessary. Again, they should about double in size.
After that, bake them at 400 degrees Fahrenheit for about twelve to fifteen minutes, and you're done.
Print
Gluten Free Hot Cross Buns
Author:
Prep Time:

10 minutes

Cook Time:

12 minutes

Total Time:

22 minutes

Yield:

8

1

x
Category:

Bread
For the Buns:
2 teaspoons

yeast

1 teaspoon

sugar

1/2 cup

warm water

3/4 cup

raisins or currants

2 1/2 cups

Bob's Red Mill Gluten Free 1-to-1 Baking Flour

1 teaspoon

salt

1/2 cup

sugar

1 teaspoon

cinnamon

2 teaspoons

baking powder

1 teaspoon

baking soda

1 cup

warm milk

1

egg

3 tablespoons

vegetable oil
For the Crosses:
1 cup

confectioner's sugar

1 teaspoon

vanilla

2

–

3

tablespoons milk
Instructions
Proof the yeast first by mixing the yeast and sugar in 1/2 cup warm water. Let the yeast stand for 10 minutes until foamy.
Soak 3/4 cup raisins in 1 cup hot water to let the raisins plump up. Set aside. (Remember to drain the raisins before adding to the dough).
In a large bowl, whisk together flour, salt, sugar, cinnamon, baking powder and baking soda.
In a large pot, heat 1 cup milk until very hot but not boiling. Let the milk rest until warm. Whisk in egg and vegetable oil to the warm milk.
Add the dry ingredients, proofed yeast and drained raisins to the milk mixture. Stir until combined. The dough will be wet and sticky.
Cover the dough with a towel and place in a warm dark place to rise and double in size, about 1 hour.
Turn the dough over to a well floured surface and shape into a ball gently. Since this is gluten free you do not have to knead this dough.
Divide the dough into 8 equal parts. Shape each piece into a ball and place on a parchment lined baking sheet. Let the dough rest again until each bun has doubled in size.
Preheat oven to 400 degrees F. Bake the buns for 12 – 15 minutes, until nice and golden. Remove and let cool on a cooling rack.
For the Icing:
In small bowl combine confectioner's sugar, vanilla, and milk. Whisk vigorously until all the clumps are out. You want the icing nice and thick, but if it's too thick add more milk 1 teaspoon at a time.
Transfer the icing to a piping bag and pipe a cross over each bun. Serve and enjoy!
Notes
Prep Time does not include Inactive Prep Time
Recipe Card powered by
What are some of your favorite Easter treats? We would love to hear from you.
Enjoy with Love!
This is a sponsored post written by me on behalf of Bob's Red Mill.
6