Buitoni Three Cheese Tortellini is tossed with blistered tomatoes, fresh basil and grated cheese for a simple, elegant meal perfect for quiet weeknights or weekend gatherings!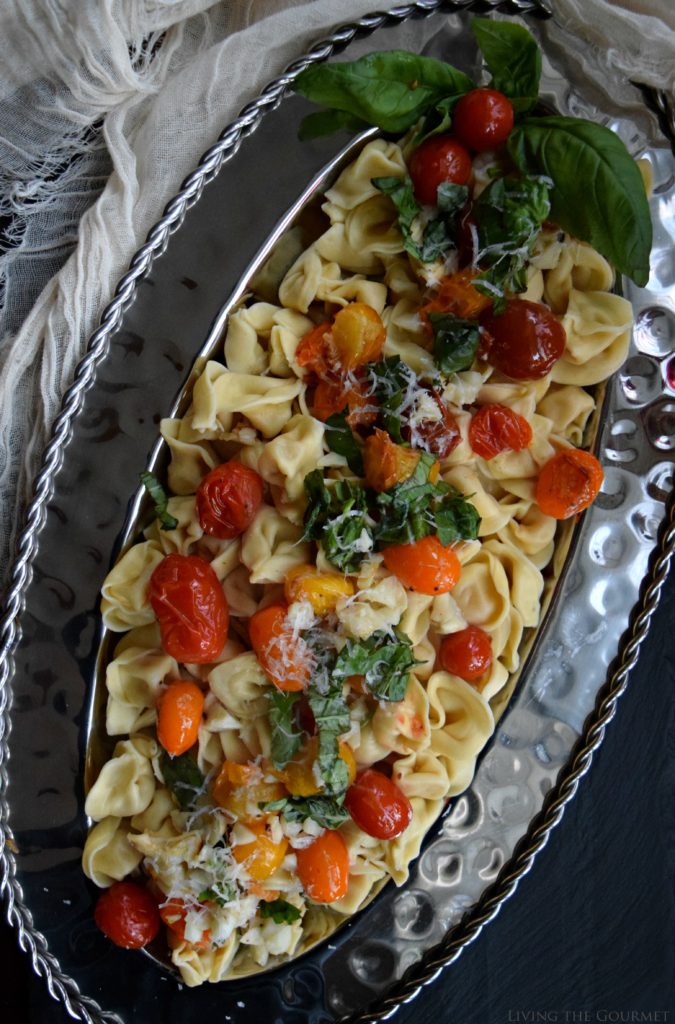 "Time and memory are true artists," John Dewey remarked. "They remake reality nearer to the heart's desire."
I found myself thinking about precisely this just the other day after I got off the phone with my brother. We were talking about, of all things, meatloaf, and trying to recall just how, exactly, our mother used make hers – which we agree is still the best either of us has had. The following morning, my daughter announced that she was planning to prepare fresh pasta for an upcoming event – something both of us have been meaning to try our hand at.
Honestly, I've neither had, nor made, homemade pasta since my mother's. Picture an antique laundry room pulled from any black-and-white television show, complete with exposed copper pipping, and then picture rows upon rows of freshly prepared pasta hanging from the pipes to dry and set. That's what comes to mind when I think of homemade pasta.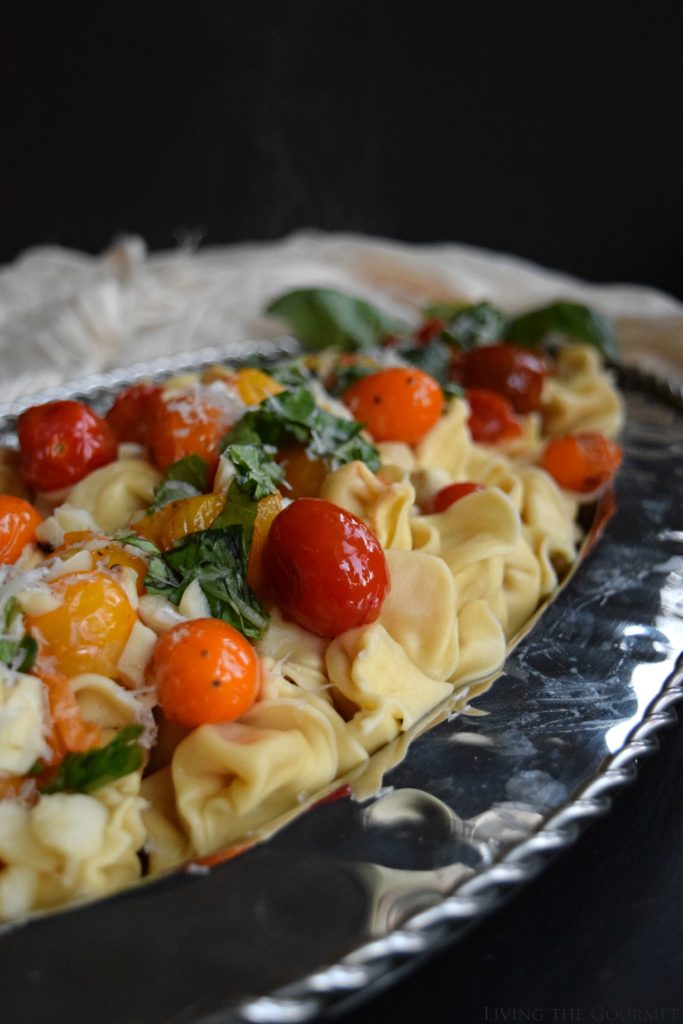 Coming from such a large and varied first-generation Italian family, certain recipes and traditions now exist solely in the memories shared by my brothers and myself. For example, my first-generation Italian father, a butcher by trade, prepared his own sausages for the holidays, an undertaking neither myself nor my older brother have ever even attempted. New Year's, Christmas, and any family event really, saw mandolins, songs sung in Italian, and more food than I could even possibly comprehend preparing for any single event.
The question I often ask myself is not so much 'why' certain things have remained solely as fixtures of the past, but more 'When did it stop?' When did exposed copper pipping, for example, stop being a place for pasta to be hung? When did 'homemade sausage' morph into something advertised from specialty stores? When did quiet formality take the place of mandolins and song?
I suppose, at least in part, it happened right around the time that 'Time' became a scarce commodity.
However, no matter how tight the schedule, I do, however, still take a great deal of pride in how I prepare my day to day meals.
As I often say here on Living the Gourmet, gourmet cooking begins with fresh, quality ingredients. I'm also fond of saying that it's important, each and every day, to remind oneself of one's 'humanity,' and to treat oneself with the dignity deserved by that most precious of titles.
As a result, when you sit down at the end of the day to relax over a meal, it should be an experience. Basically, a meal should be about more than food.
Think vibrant colors, full flavors, and pleasurable textures, these should all feature as prominently as you can manage. Now, being the busy 'gourmet' that I am, you might not be surprised that I often find myself pressed for time more often than I might like, making it difficult sometimes to live up to my own high standards. I've used this example before, but picture that ending 'dinner' scene in the movie Burnt where all the chefs gather round a table to eat a hardy, quickly prepared meal.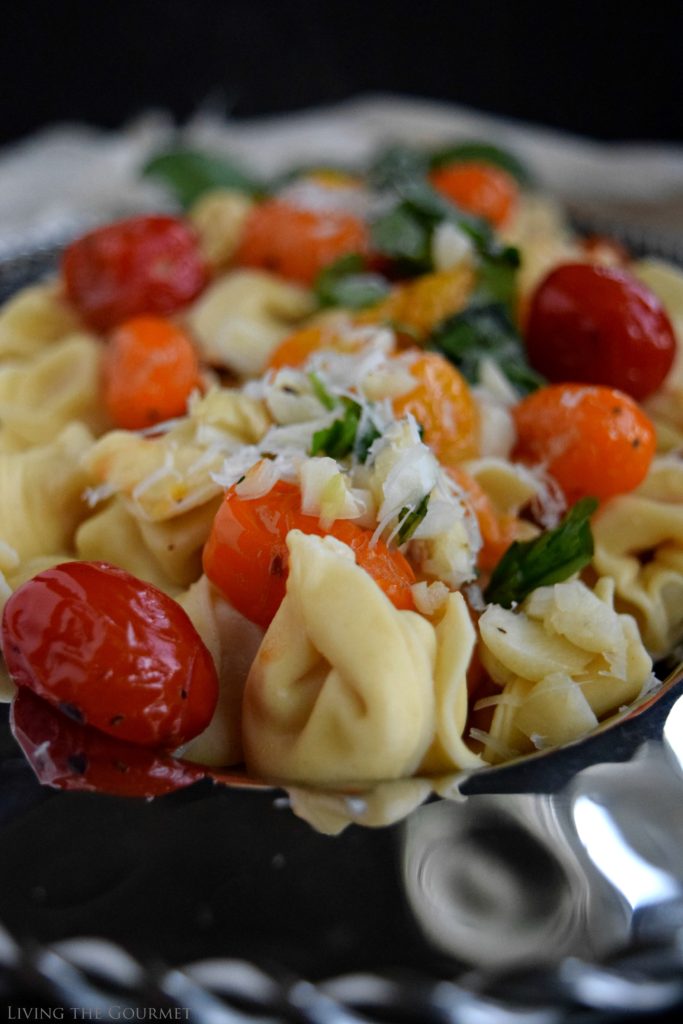 Now, in order to achieve all of that, to create a dinner experience that everyone will enjoy, well, as you might imagine, that's where today's recipe comes in as just one small example. To start off, we begin by preparing some Buitoni Three Cheese Tortellini as directed, since this will give us a fresh, wholesome foundation to work with, one that encompasses all of what I just spoke about. In addition, Buitoni uses no GMO ingredients, and is still crafted with all of the soul of Sansepolcro, Italy.
Since this gives us a fresh, easy to prepare base, we have some room to get creative. Of course, that's where today's charred tomato sauce comes in. To start, we begin with about three pints of tri-colored grape tomatoes, which we set to grill in a hot cast iron pan, charring each side as shown below. Once that's done, add in a drizzle of olive oil and the seasonings listed below.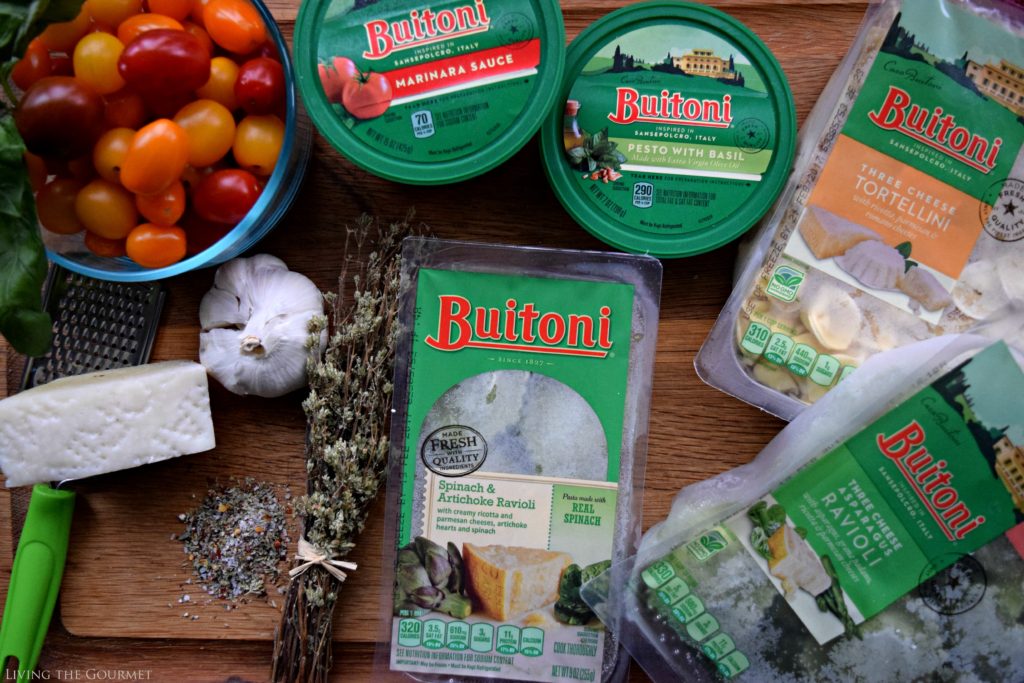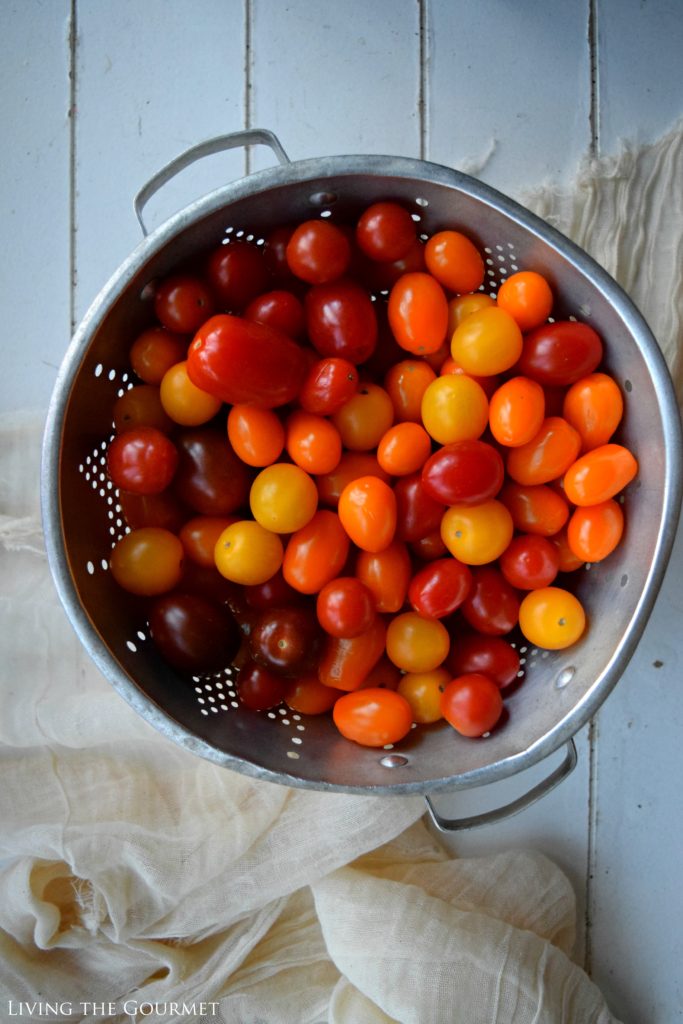 Print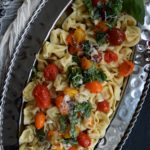 Tortellini with Blistered Tomatoes
---
Author:

Total Time:

35 minutes

Yield:

4

-6

1

x
Buitoni Three Cheese Tortellini, prepared as directed
For the Blistered Tomatoes:
3

pints

of tri-colored grape tomatoes
Fresh basil leaves - torn
Dashes of coarse salt
Dashes of fresh ground black pepper
Dashes of red pepper flakes
Dashes of dried oregano

3

-

4

tbs. olive oil
Freshly grated Romano or Parmesan cheese
For the Crostini:
Loaf of French or Italian bread, sliced thin
Salt
Pepper
Olive oil
Buitoni Marinara Sauce
Buitoni Pesto with Basil
Shredded mozzarella cheese
---
Instructions
For Tortellini and Blistered Tomatoes:
Place the tomatoes in a hot cast iron pan and grill to a char on each side. Do not overcook or the tomatoes will burst.
Turn the heat off when the tomatoes are blistered and drizzle with the olive oil and add the seasonings to taste and the fresh basil.
Plate the prepared Buitoni Three Cheese Tortellini and top with the Blistered Tomatoes.
Garnish with fresh grated Parmesan cheese or Romano cheese and serve immediately.
For the Crostini:
Preheat oven 375 degrees F.
Place the sliced bread on a baking sheet and brush the slices with olive oil and season with fresh ground black pepper and dashes of course salt.
Bake for 10 – 12 minutes turning once during the cooking process.
Remove from the oven and spoon the Buitoni Marinara Sauce on half of the slices and top with the shredded mozzarella.
Place bake in the oven for 3 – 4 minutes until the cheese melts.
Top the rest of the crostini with the Buitoni Pesto with Basil Sauce.
Plate the crostini and serve.
Prep Time:

15 minutes

Cook Time:

20 minutes

Cuisine:

Italian
Recipe Card powered by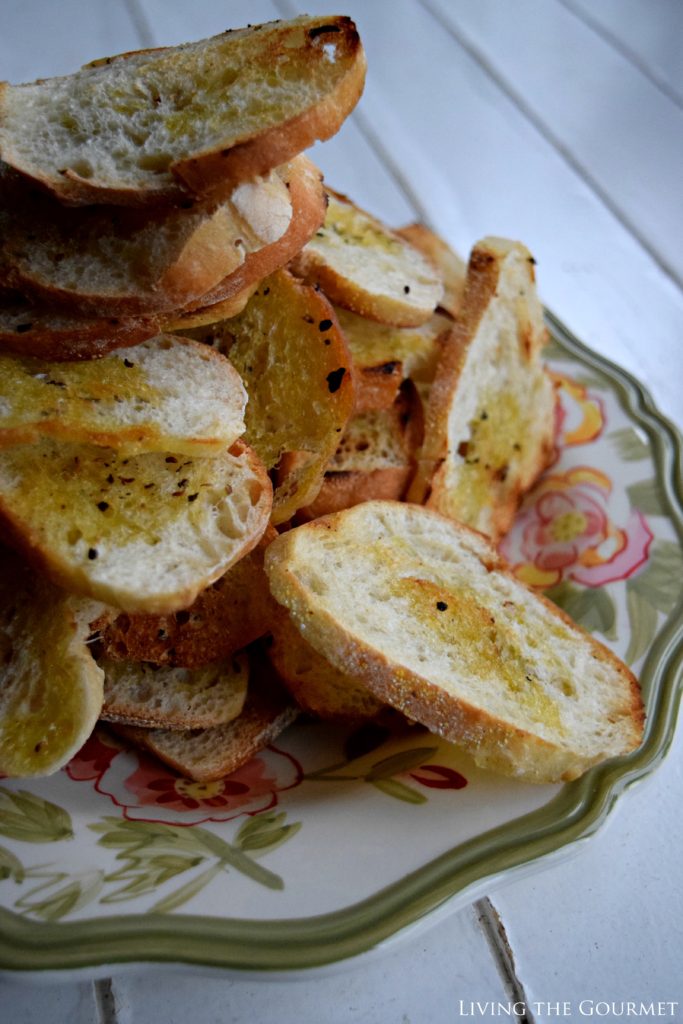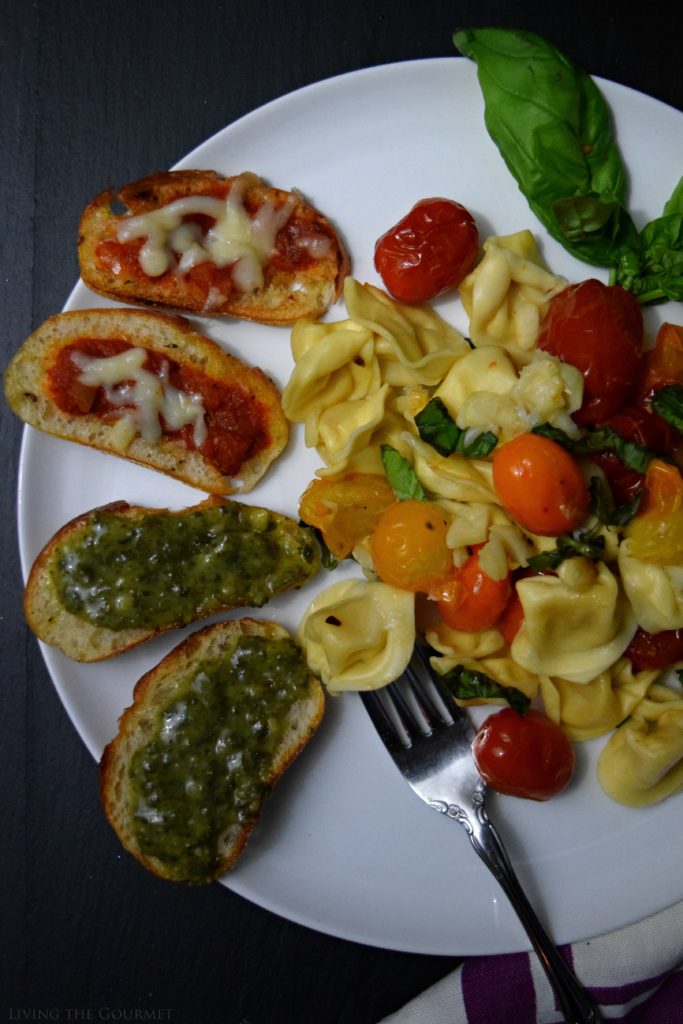 After that's complete, we plate the blistered tomatoes with the Buitoni Three Cheese Tortellini, garnish with some freshly grated parmesan or Romano cheese, and we've got a dinnertime experience we can be proud to serve. Now, pair that with the fresh crostini included in the recipe card and tell me, who's better than you?
Enjoy with Love!
I was selected for this opportunity as a member of CLEVER and the content and opinions expressed here are all my own.
0