This classic Fresh pastry get's a holiday makeover with dried fruit and nuts with a drizzle of honey baked between each flaky layer!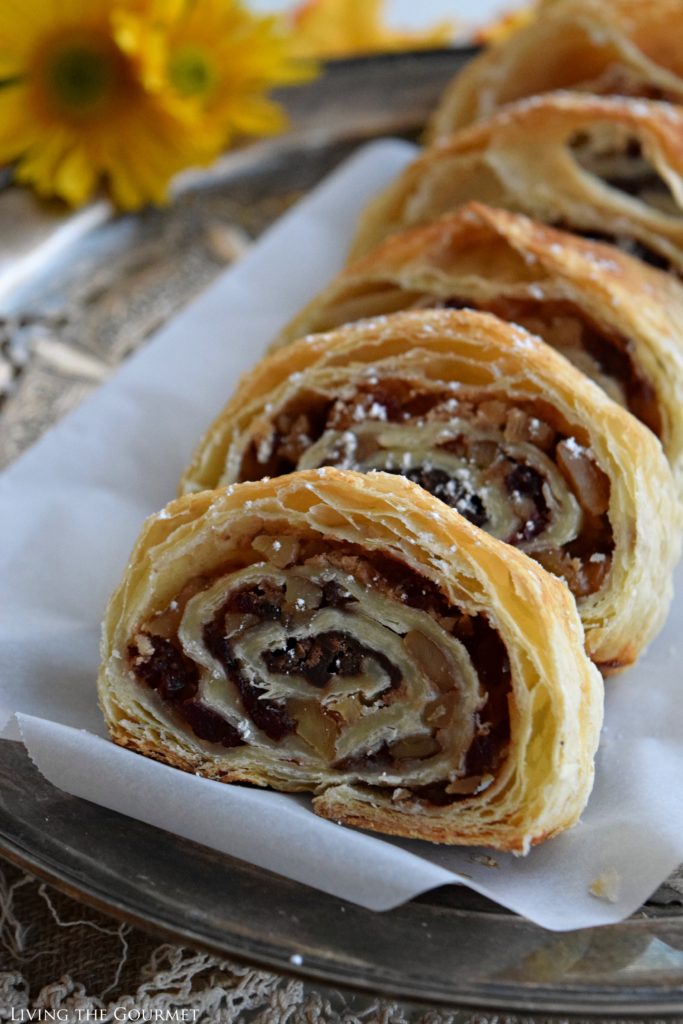 It is part of the human condition to seek certainty, and from this certainty to gain a measure of predictable order and safety. However, the only thing 'certain' is a constant and inexorable march forward, pushed ever onward by the invisible force that governs our existence as a passive tyrant – time.
Of this journey, all that we may, truly, carry with us is an increasingly imperfect record, a record fogged by our human perception, nostalgia, and bias – our memory. Memories, in that regard, are like ghosts, haunting their place of origin, lurking just out of sight, but reminding us of their presence once we trespass within their domain. An aroma, a familiar song, a bit of old silverware, and like echoes from the depths of one's heart, the memories emerge, ageless silhouettes entombed within the minds of the living. Yet, memories are elusive things, and even in this form life is fleeting. Like scorned lovers, if we ignore them, they will depart, and be forgotten.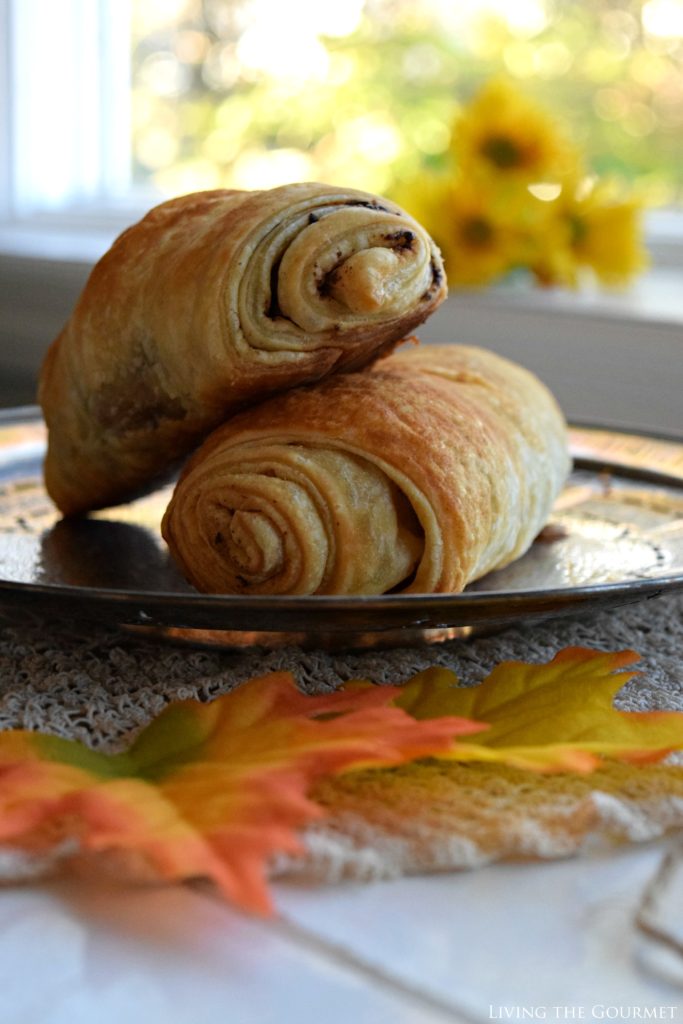 Since it is season for purposeful 'memory-making,' I decided to reach back to some of my own most treasured memories for inspiration in preparing my menu for yet another round of holiday meals. Since so many of them involve gatherings at long dinner tables, and festivities where endless food and drink were the main attractions, this was a natural place to start for me.
I've written about a lot of the big favorites from my home such as the grain cakes and the baklava, and even about a few small after dinner details such as my grandfather and his penchant for fresh sliced peaches in wine. However, apart from all of that, like the most delicate brush strokes of a painting, or the finer edges of a sculpture, it's the smaller details that help accentuate a memory – and this recipe is one such detail – Pain au Chocolat. Aside from being a fixture on our holiday dessert tables, it's also a great wintry sweet for 'just because.' While I know I should be recommending these for after dinner, I must admit to indulging a few of them for breakfast with black coffee (gasp!).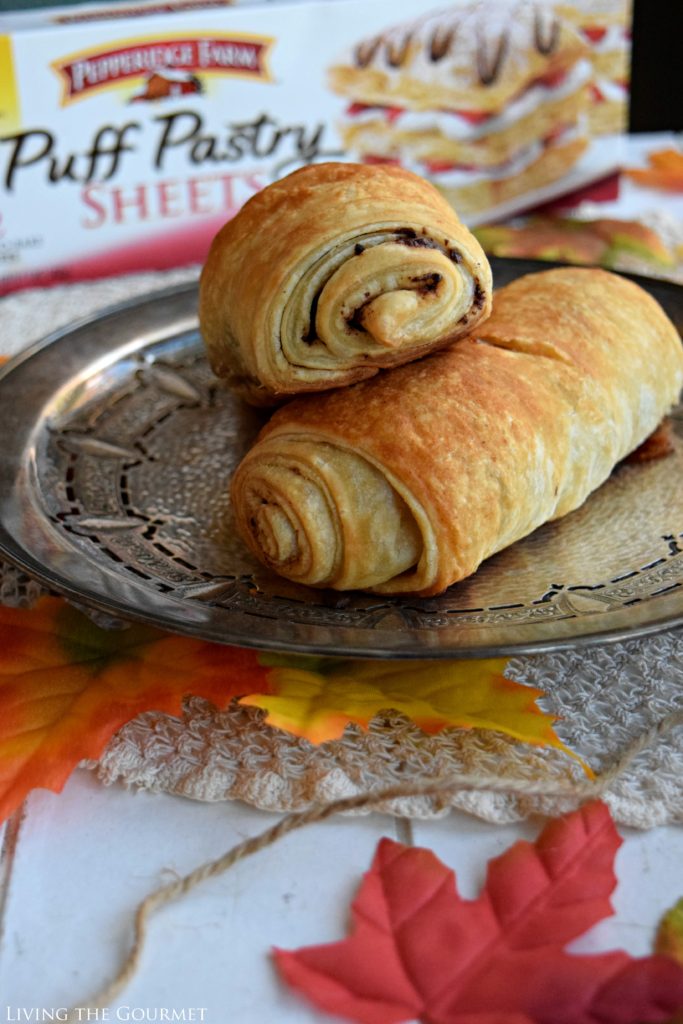 Now, before I get to the recipe itself, I want to pass along a small bit of advice I happened across a long time ago for when it comes to dealing with puff pastry desserts – and I paraphrase – "The pastry shell itself should be delicious enough to be eaten on its own. If in eating the pastry you're thinking about getting past the shell to the 'good stuff,' you've failed." To accomplish this, I value consistent quality above all else, and so I use Pepperidge Farm® Puff Pastry.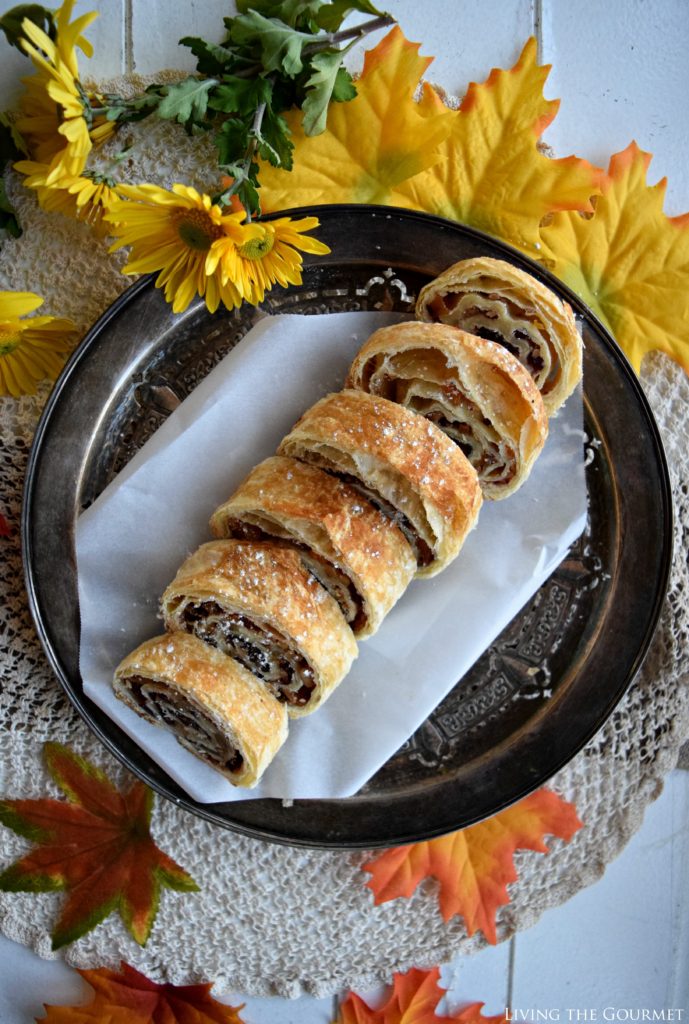 To start, I prepare the puff pastry sheets as shown and outlined below. After that, I proceed to chop up the dried fruit – I prefer dried cherries and apricots, since I find these be supremely apropos seasonal flavors, though you could easily use your own favorites as well. To compliment this, I then chop up some walnuts and dark chocolate. Once that's done, line the pastry with the walnuts and the dried fruit, and fill one end of the pastry with the dark chocolate as shown and described below. Then gently roll the pastries up as show below, and bake.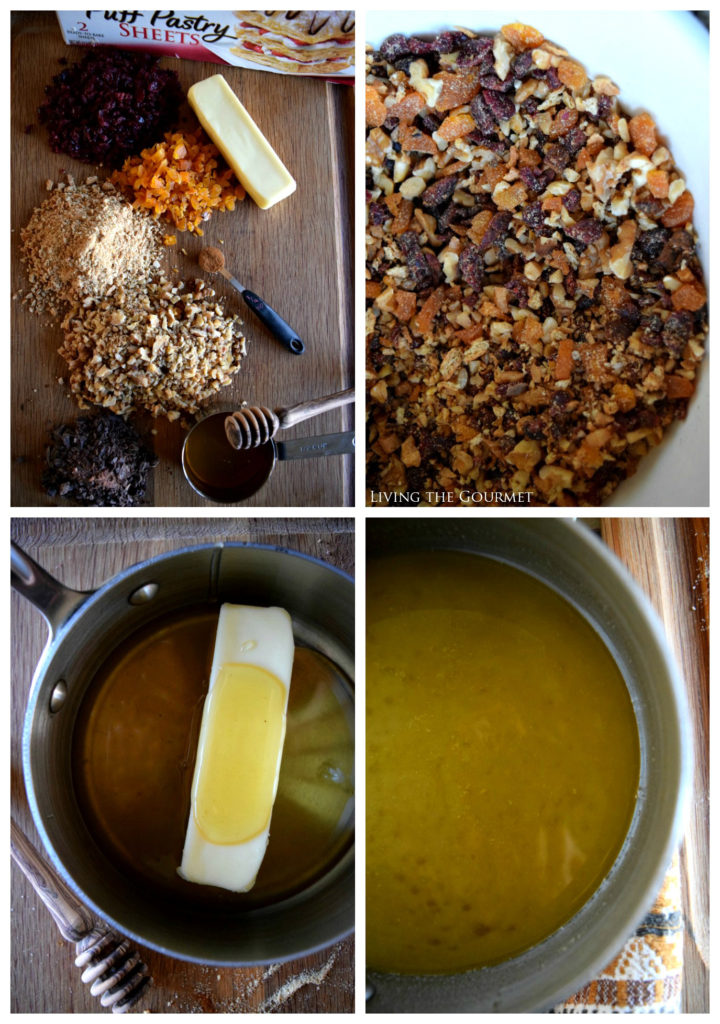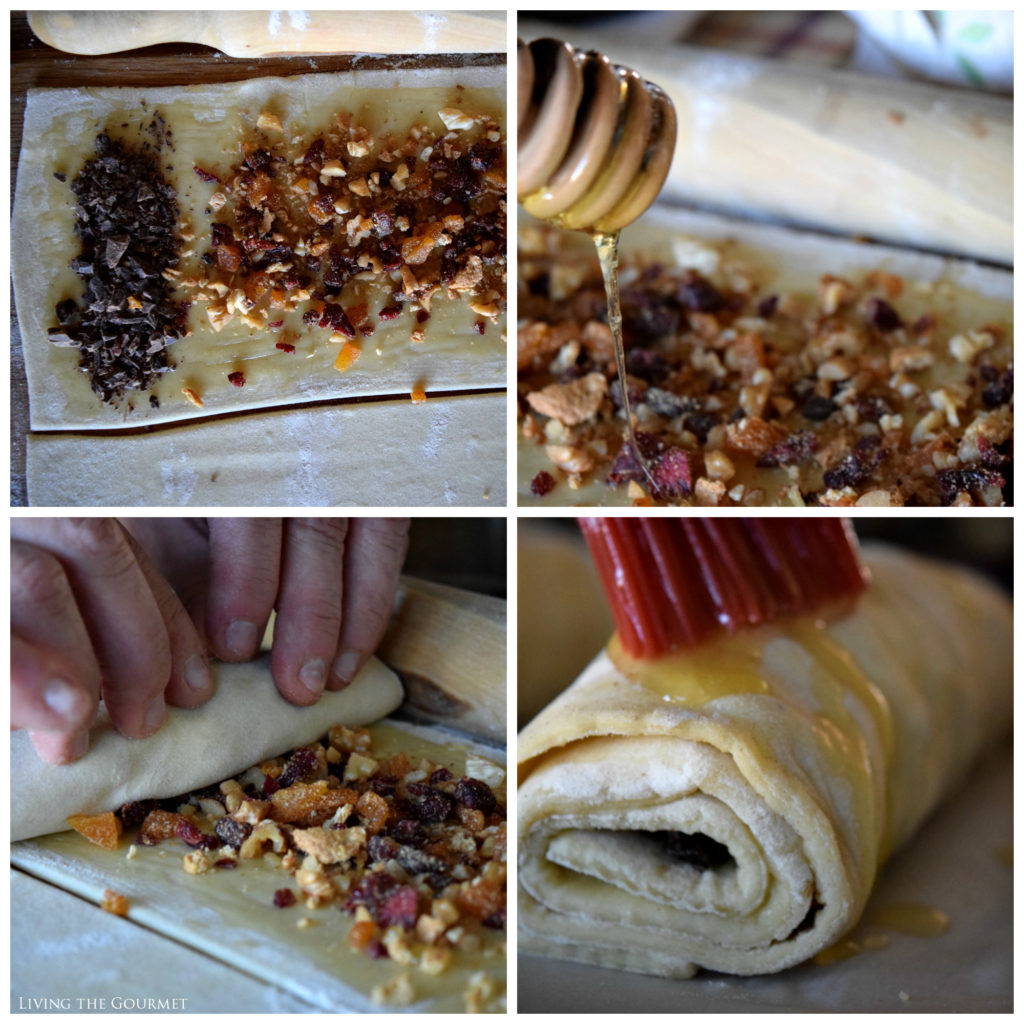 Living the Gourmet
Yields 4
Pain au Chocolat (with dried fruit and nuts)
12 minPrep Time
18 minCook Time
30 minTotal Time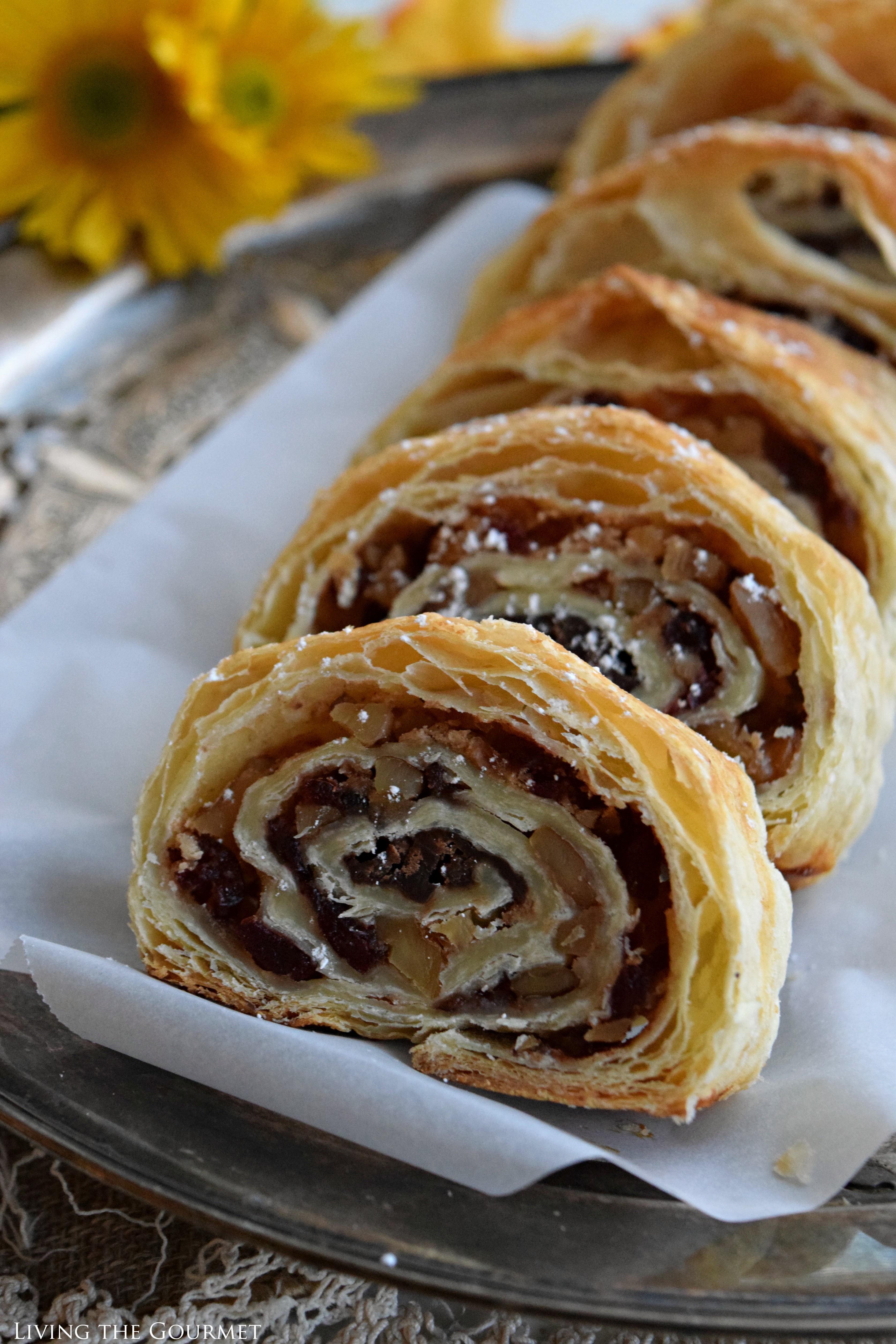 Ingredients
1 box of Pepperidge Farm Puff Pastry Sheets – (17.3 oz. box) - thawed
1 cup dried cherries – chopped
1 cup crushed graham crackers
1 cup walnuts – chopped
½ cup dried apricots – chopped
½ cup chopped chocolate
1 tsp. ground cinnamon
½ cup unsalted butter
½ cup honey
Powered Sugar for dusting
Instructions
Preheat Oven 350 degrees F. and line a baking sheet with parchment paper.
In a medium sized bowl combine the chopped cherries, crushed graham crackers, chopped walnuts, chopped dried apricots and the ground cinnamon and toss.
Set the chopped chocolate in its own small bowl.
Combine the butter and the honey in a small saucepan and melt on a gentle heat.
On a well-floured surface roll out each sheet of pastry dough into about a 10-inch square.
Using a sharp knife or pizza cutter, cut the dough right down the middle horizontally and brush the doughs with the melted honey butter.
Place 2 teaspoons of chocolate at the edge of each strip of dough. Sprinkle the dried fruit and nut mixture over the rest of the dough.
Starting on the side of the chocolate, gently roll the dough to enclose. Place the pastries on the prepared baking sheet and brush each with the honey butter.
Bake for 15 -18 minutes or until the pastries are puffed and golden.
Remove and transfer to a cooling rack. Once cooled, gently dust each with powdered sugar before serving.
7.8.1.2
456
https://livingthegourmet.com/2016/11/pain-au-chocolat-dried-fruit-nuts.html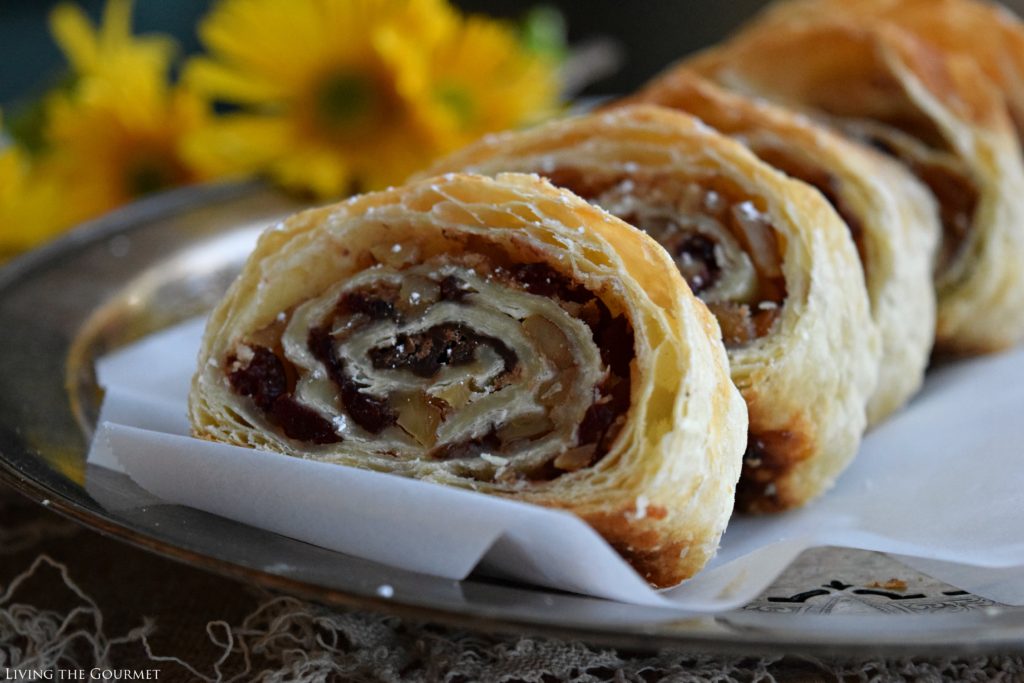 By the end of this process, you should have a puff pastry dessert that's not only delicious, but that will make a picturesque addition to your holiday dessert table. Or, if you are so inclined, a decadent indulgence for 'just because.'
For more puff pastry recipes, head over to Pepperidge Farm®, and be sure to sign up for their newsletter for tips and exclusive monthly offers.
Also enter below for a chance to win a $50 gift card for the holidays!
Enjoy with Love!
0