These stuffed shells are a taste of yesteryear's classic Italian dish that boast of both sweet and savory nuances.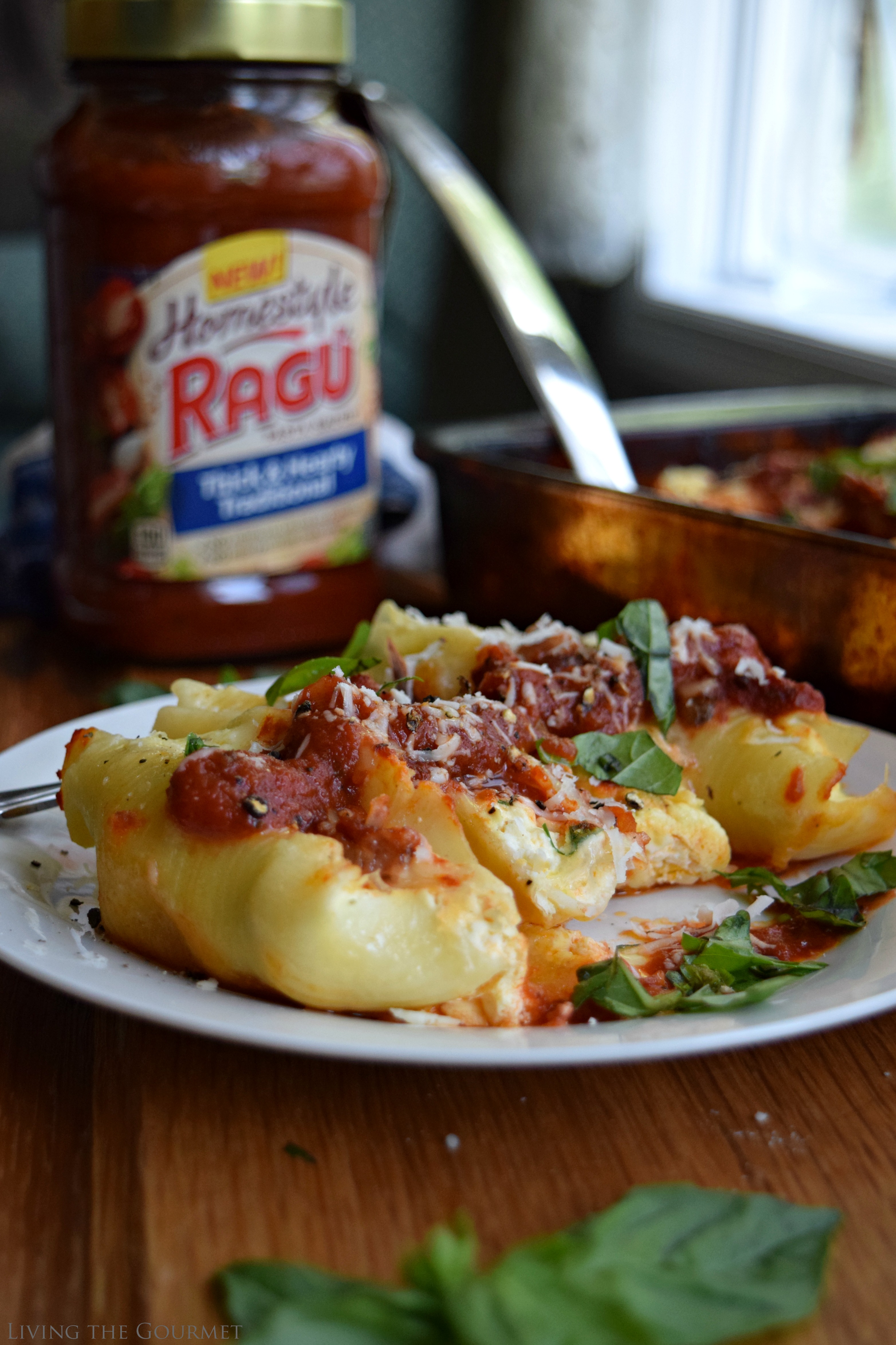 Memories, perhaps fittingly, are a bit like books. They record the past, and revisiting them has the strange effect of shaping how we look at the present, and judge the future. Sadly, like books, they fade with the passage of time, their pages yellowing, thinning, becoming frail. Like the oldest of books, some memories simply disappear, but here memories take a turn, since they can be sparked back into existence. It's odd, the things that can conjure up a memory. For example, I was reading through some industry pieces, and came across a mention of Ragu Pasta Sauce, and for no reason at all I found myself transported.
At the risk of sounding theatric, allow me to set the scene. A self-made blogger sits in her upstairs office surrounded by the reminders of work and the comforts of home in equal measure. A cherry wood antique desk, a dresser-turned-task board, and a century old ebony night stand form her unintentional 'cubicle.' Each is thoroughly covered over in scraps of papers with scrawled recipes, culinary magazines, bottles of yet un-reviewed wine, and long forgotten reminders. Behind her, just beyond a window overlooking the river, the summer is fast approaching, the days grow as long as they are hot, and the bitter New York humidity is now ever-present. Below her office window, a vacant porch pleads to be used, but such temptations are thoroughly thwarted by a well-practiced sense of responsibility and the constant lure of ambition.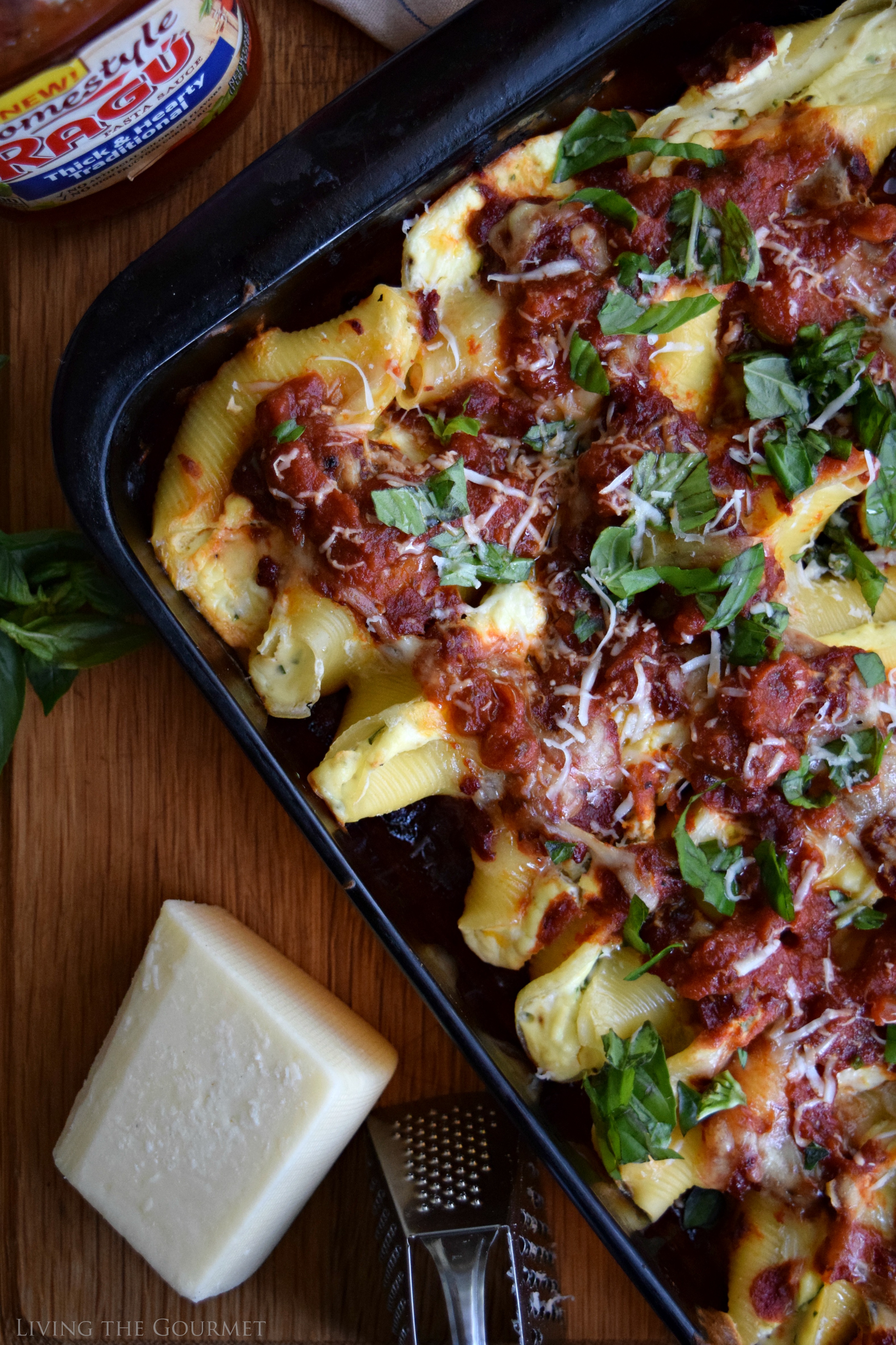 In a moment of weakness, or clarity, she thinks back to the site's first posts, and the 'why' behind them. Reliving the long journey, memories both good and bad, and some indifferent drift across her mind's eye like a mist, images of those first clumsy photos, the first round of recipes, and long years of trial, error, and stubborn perseverance.
Those first recipes were essentially memories put to action, recreations of old homestyle cooking, steeped in family tradition and my best attempts to recreate many of the meals my mother and family used to make. Like most whose heritage is crisscrossed through the Mediterranean, the large majority of my most cherished memories involve 'food.' While the food itself was certainly central, it was more the 'event' surrounding the food, the mixture of laughter and guitar, the soaking of peaches in dessert wine, the long cast of characters seemingly pulled from the pages of a turn-of-the-century novel, the stories told of what were then the 'grand old days,' and the clinging to what were the last vestiges of truly old world culture.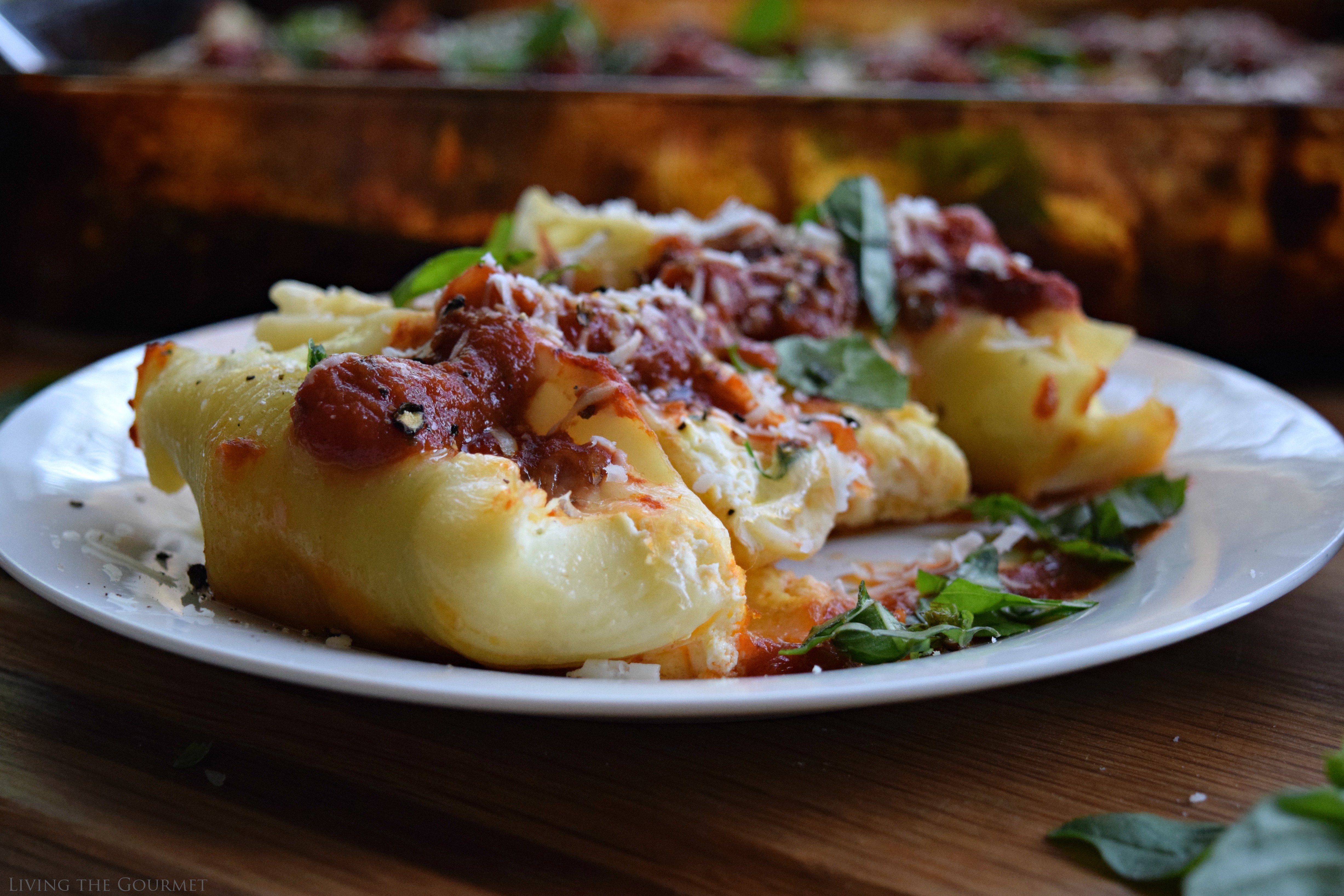 Driven by that momentary nostalgia, I simply couldn't sit at my desk anymore, and instead decided to put some of those memories to work. One of the great debates in my house growing up, one that never quite got resolved, and that instead always ended in 'amicable compromise,' was whether to prepare the stuffed shells with a spicy filling or a sweet filling. That 'compromise,' of course, meant simply making two batches of shells rather than one…both of which always ended up disappearing.
This brings us to today's recipe, and my own preference for how shells ought to be prepared – sweet and savory.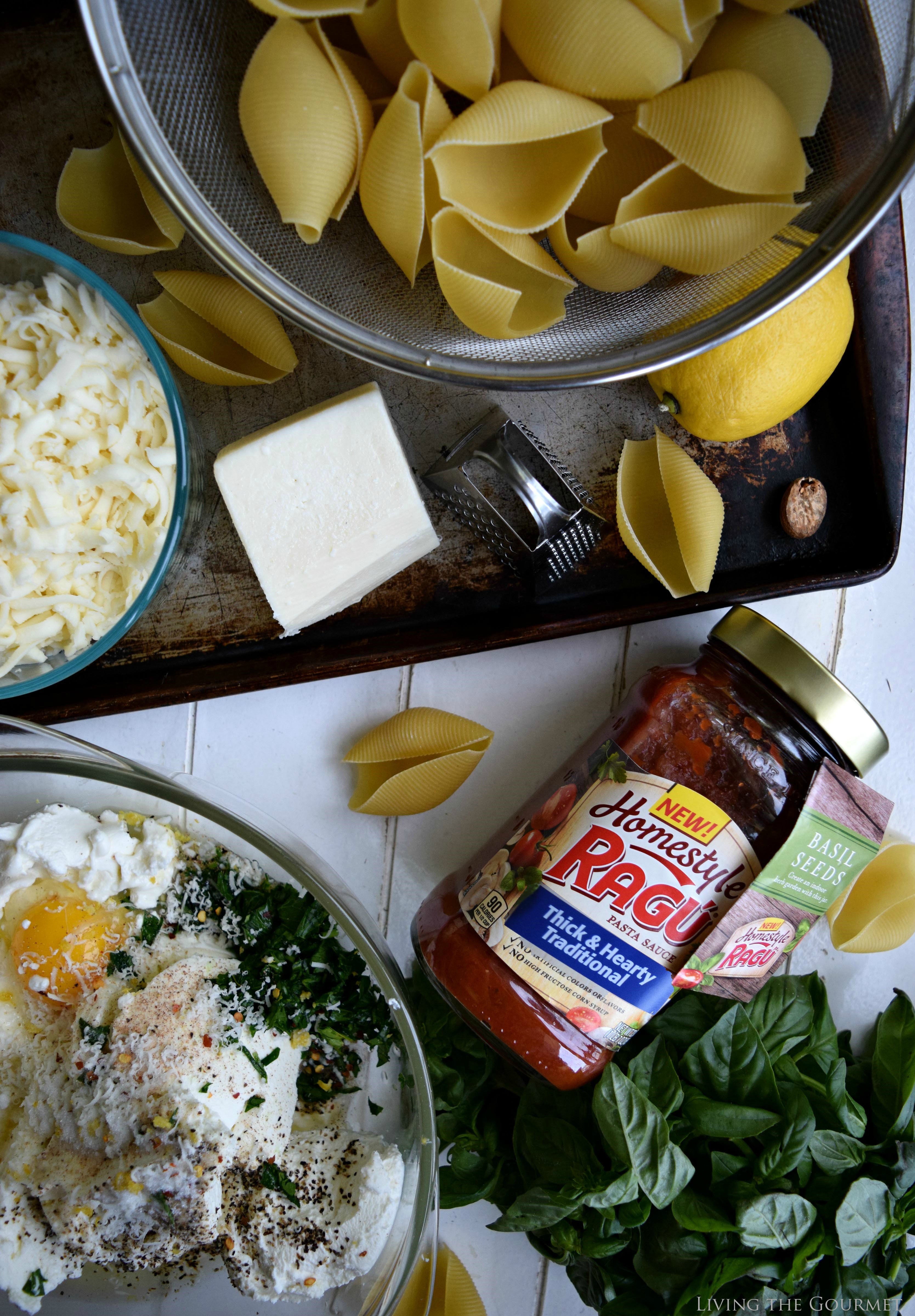 The recipe starts off with the filling, the base of which is two cups of ricotta cheese, which I then combine with fresh ground black pepper, salt, fresh parsley, lemon zest, nutmeg, and sugar. This creates a savory balance between the sweet of the sugar and the nutmeg, and the more savory elements of the pepper and lemon.
After that, I prepare the shells as described below, then cover the bottom of a baking pan with sauce. For this particular recipe I used RAGÚ Homestyle Thick and Hearty Traditional Sauce, which is a delicious mixture of basil, fennel, oregano, and black pepper, which creates a deliciously layered flavor. In other words, the RAGÚ Homestyle line is perfect for exactly this kind of recipe.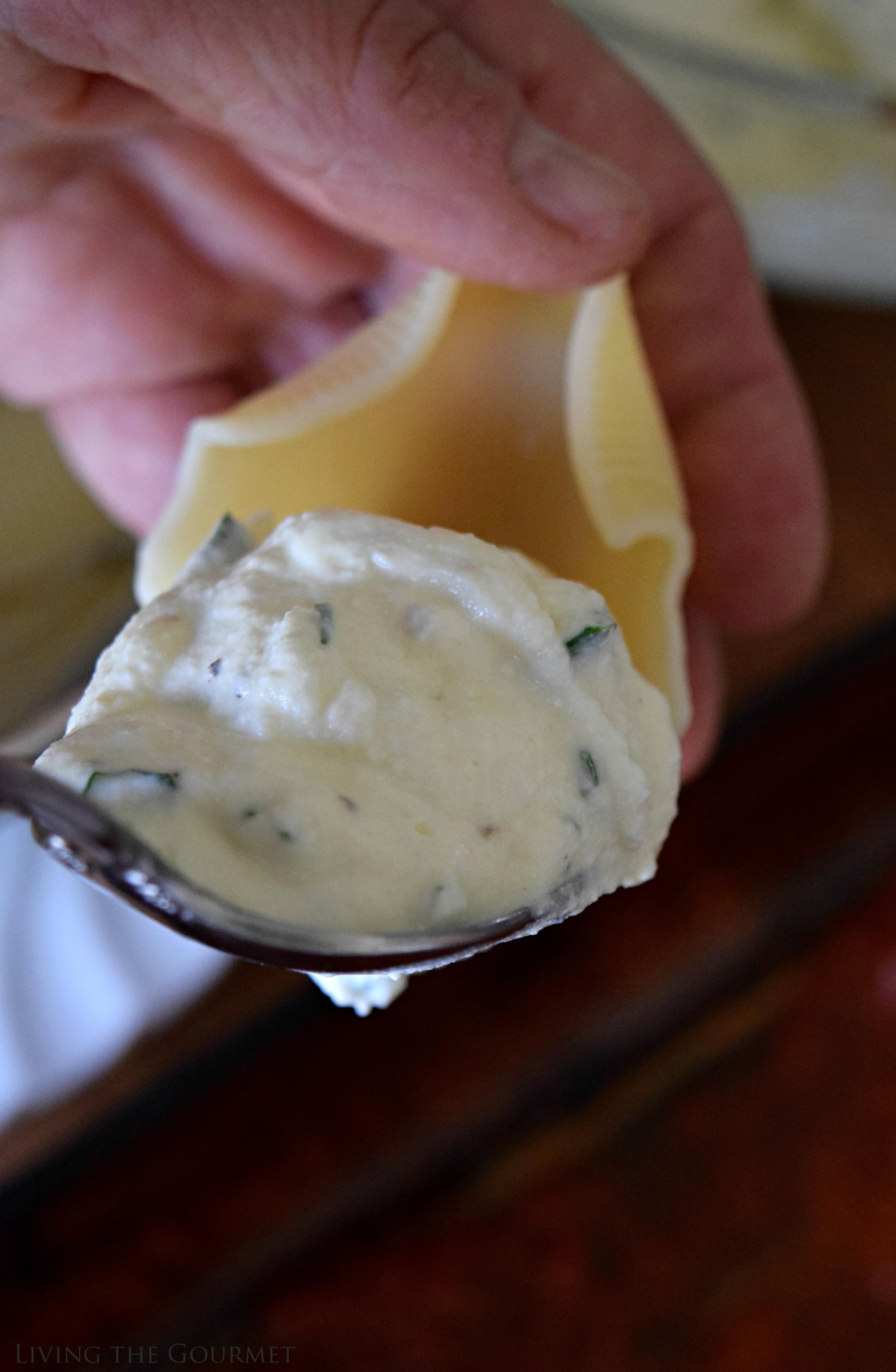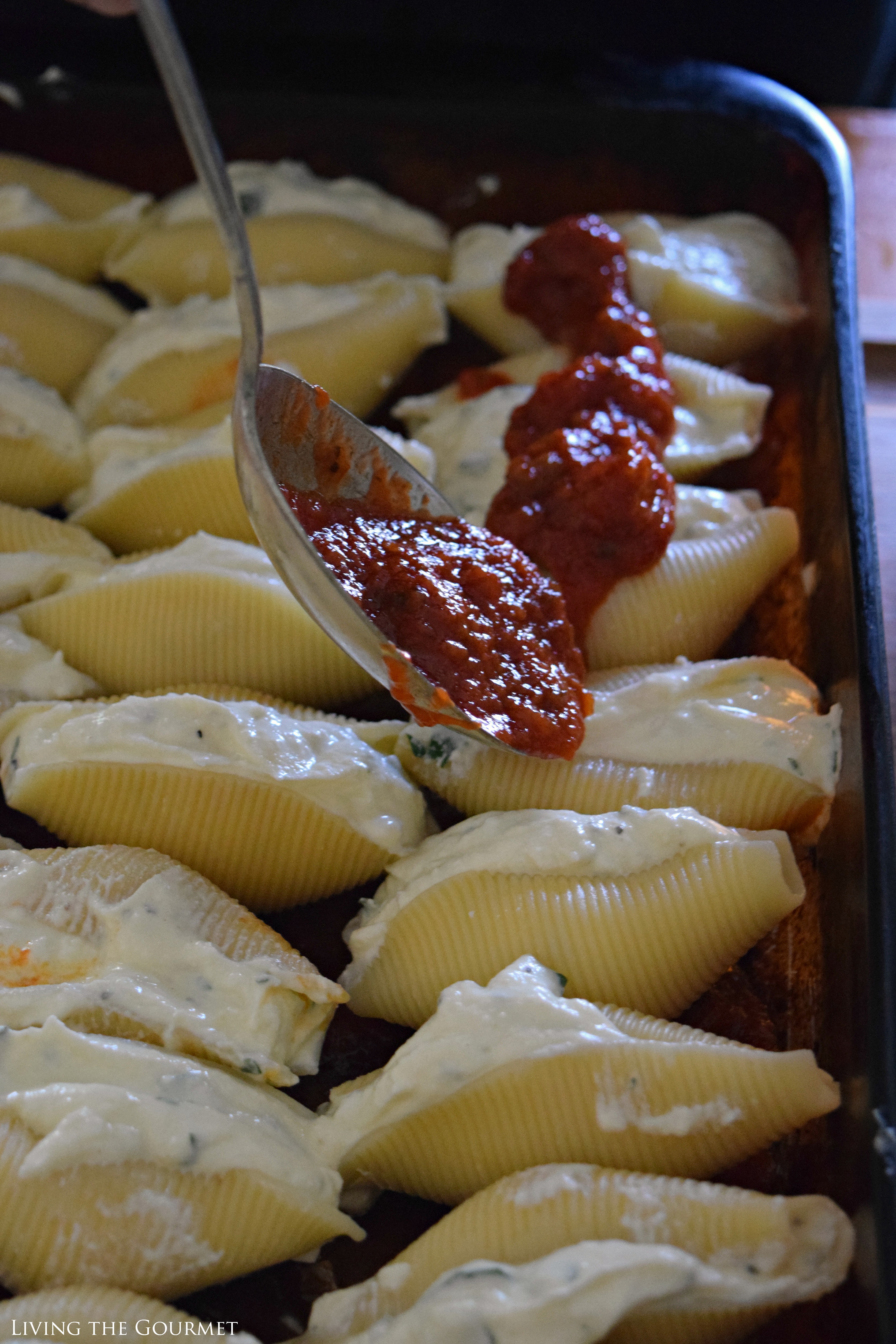 Once that's done, I fill the shells with the ricotta mixture, and line them in the baking pan.
After that, I spoon the Ragu Pasta Sauce over the shells. Again, the Ragu Pasta Sauce is simply perfect for this recipe since it is super thick, hugging the pasta and staying in place even after baking, which gives the shells that nice 'layered' appearance. After that, I just top the shells with some grated mozzarella, and I'm done.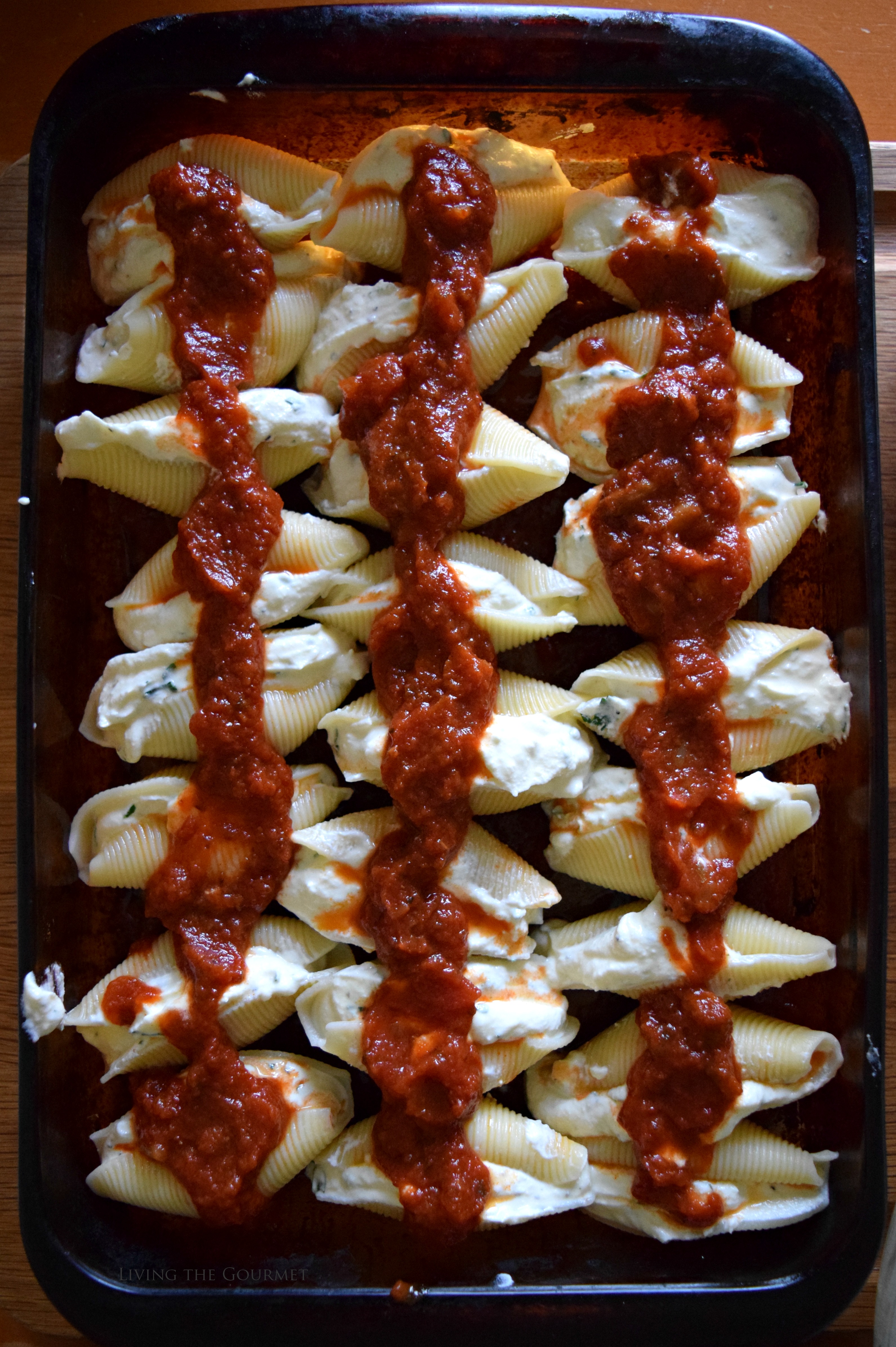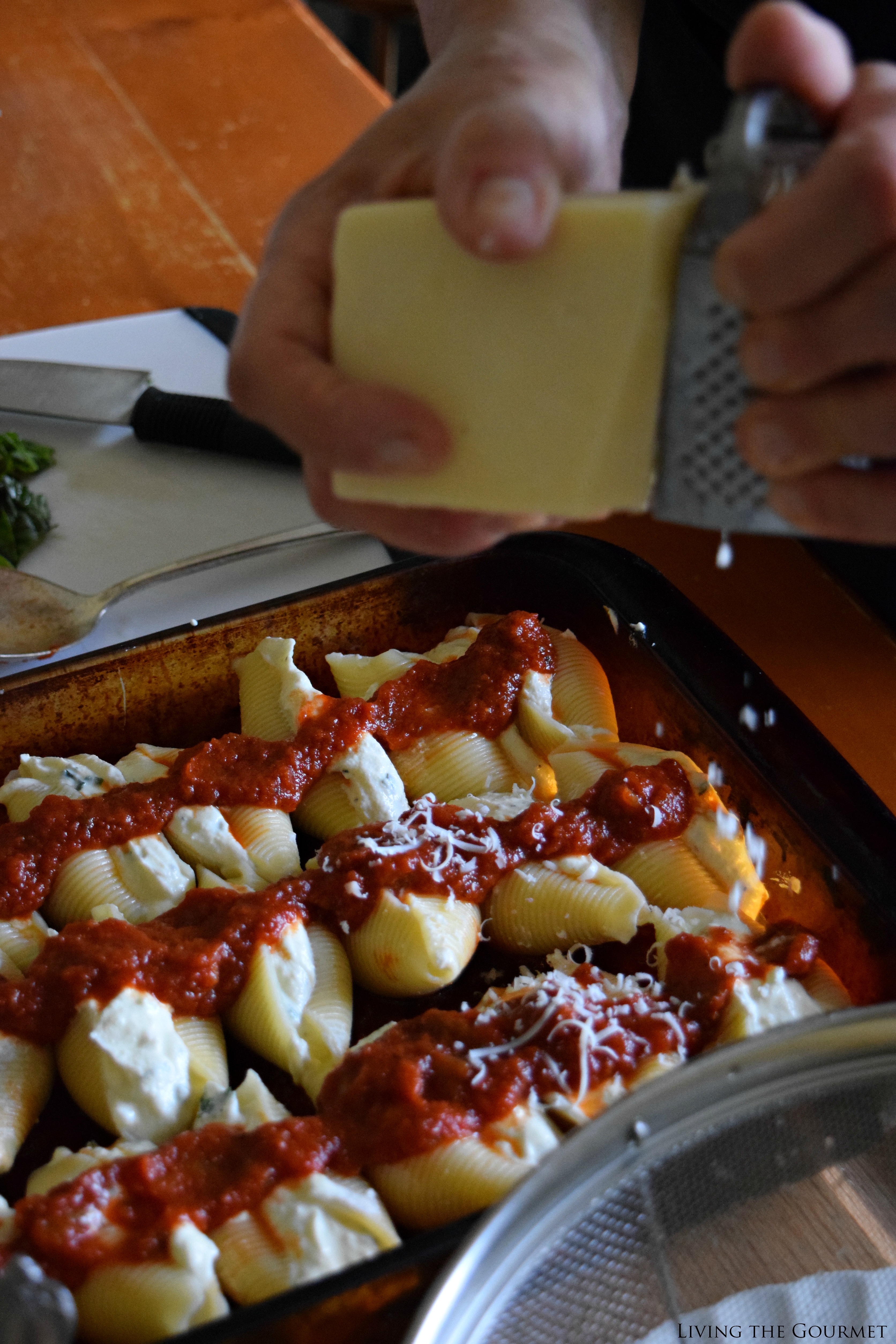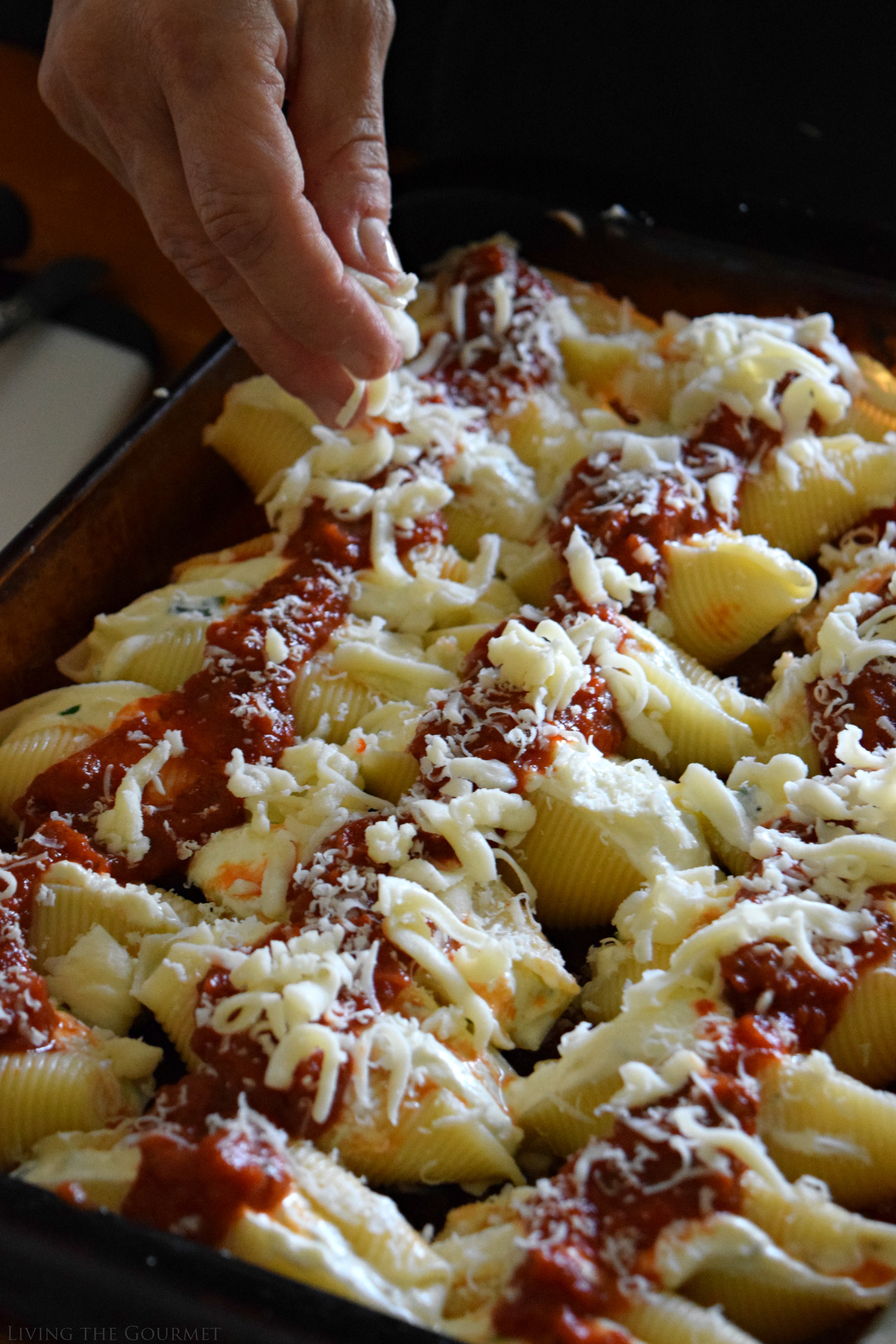 This is quintessential homestyle cooking, and brings back so many memories for me. What are some of your favorite homestyle cooking recipes? Or what are some of your fondest memories involving food? We would just love to hear from you. Also, feel free to share some of your favorite Ragu Pasta Sauce Recipes with us.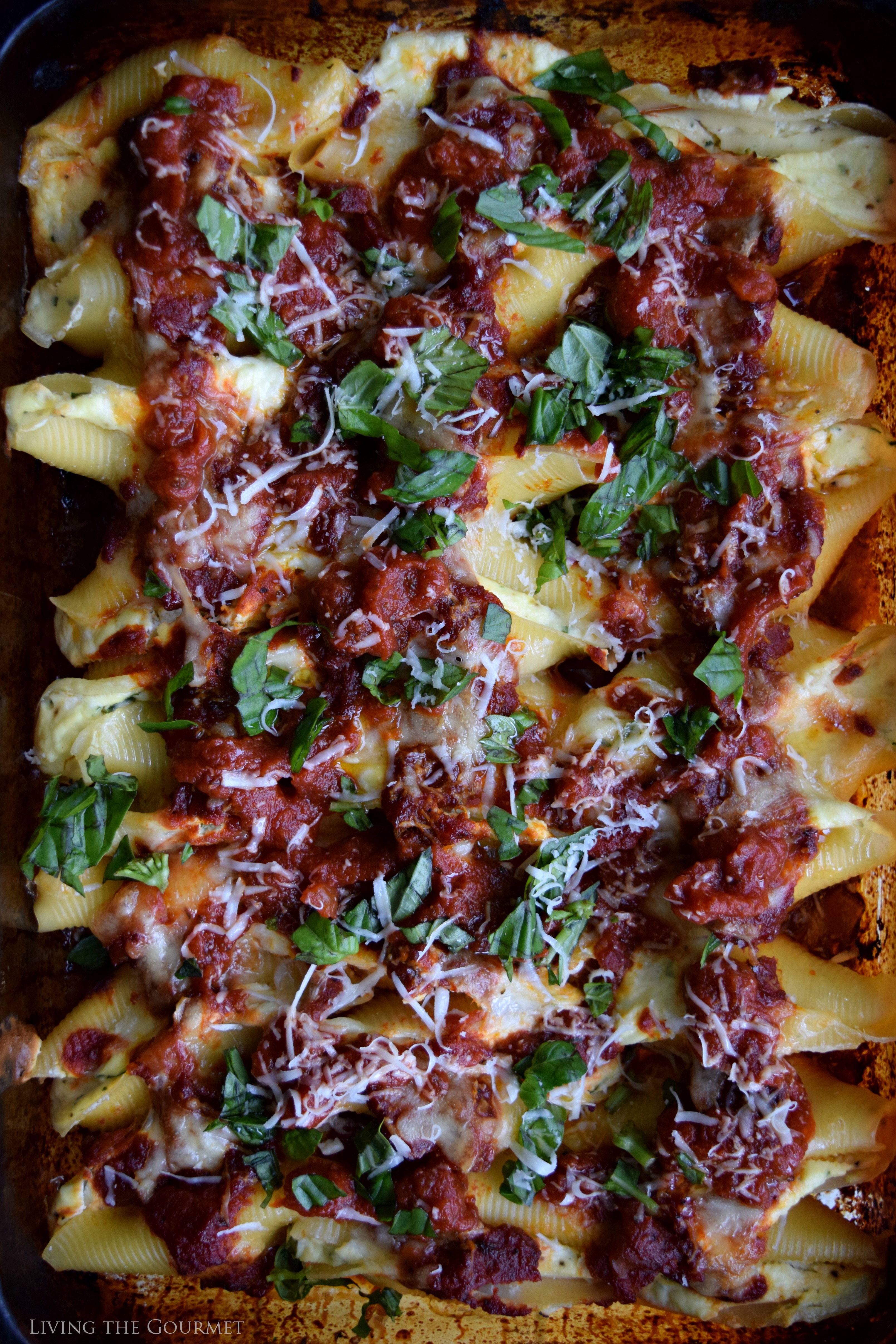 Print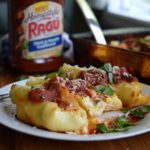 Sweet and Savory Stuffed Shells
---
Author:

Total Time:

40 minutes

Yield:

4

-6

1

x
23 oz

. jar of RAGÚ Homestyle Thick and Hearty Traditional Sauce

1

lb

. of large pasta shells

16

oz

. of grated mozzarella
Fresh grated Romano cheese
Olive oil
Fresh basil leaves for garnish
For the Ricotta Filling:
16

oz

. of ricotta cheese

2

eggs

1/4

cup

of Romano or Parmesan cheese - grated

1/2 tsp

. fresh ground black pepper

1/2 tsp

. salt

1/4

cup

of Italian parsley - chopped
Zest of

1/2

lemon

1/8 tsp

. fresh grated nutmeg

1

tbs. sugar
---
Instructions
Prepare the pasta shells as directed.
Rinse with cold water after draining.
Preheat Oven 350 degrees F.
In a large bowl combine the ricotta cheese, eggs, chopped parsley, Romano cheese, black pepper, salt, nutmeg, lemon zest and sugar and mix well.
Gently take the cooled shells; using a teaspoon fill the shells with the ricotta mixture.
Spoon the Ragu on the bottom of a baking dish along with a tablespoon of olive oil.
Place the shells in the baking dish.
Spoon the Ragu on top of the shells, followed by grated Romano and grated mozzarella cheese.
Bake for 25 – 30 minutes.
Serve with fresh grated Romano cheese, Ragu and chopped fresh basil.
Prep Time:

10 minutes

Cook Time:

30 minutes

Category:

Main Dish

Cuisine:

Italian
Recipe Card powered by
I'm excited to announce that Living the Gourmet is now officially on Snapchat. We share a few bts videos and snaps of this dish. Be sure to add us and follow us along our food journey!
Don't forget to visit the official Ragu webpage to learn more about the new line of Ragu Homestyle sauces and find a taste of home.
Enjoy with Love!
Submitted to Contest Heat
1