A delicious blend of kale and provolone is baked over a buttery crust making this a must for spring gatherings!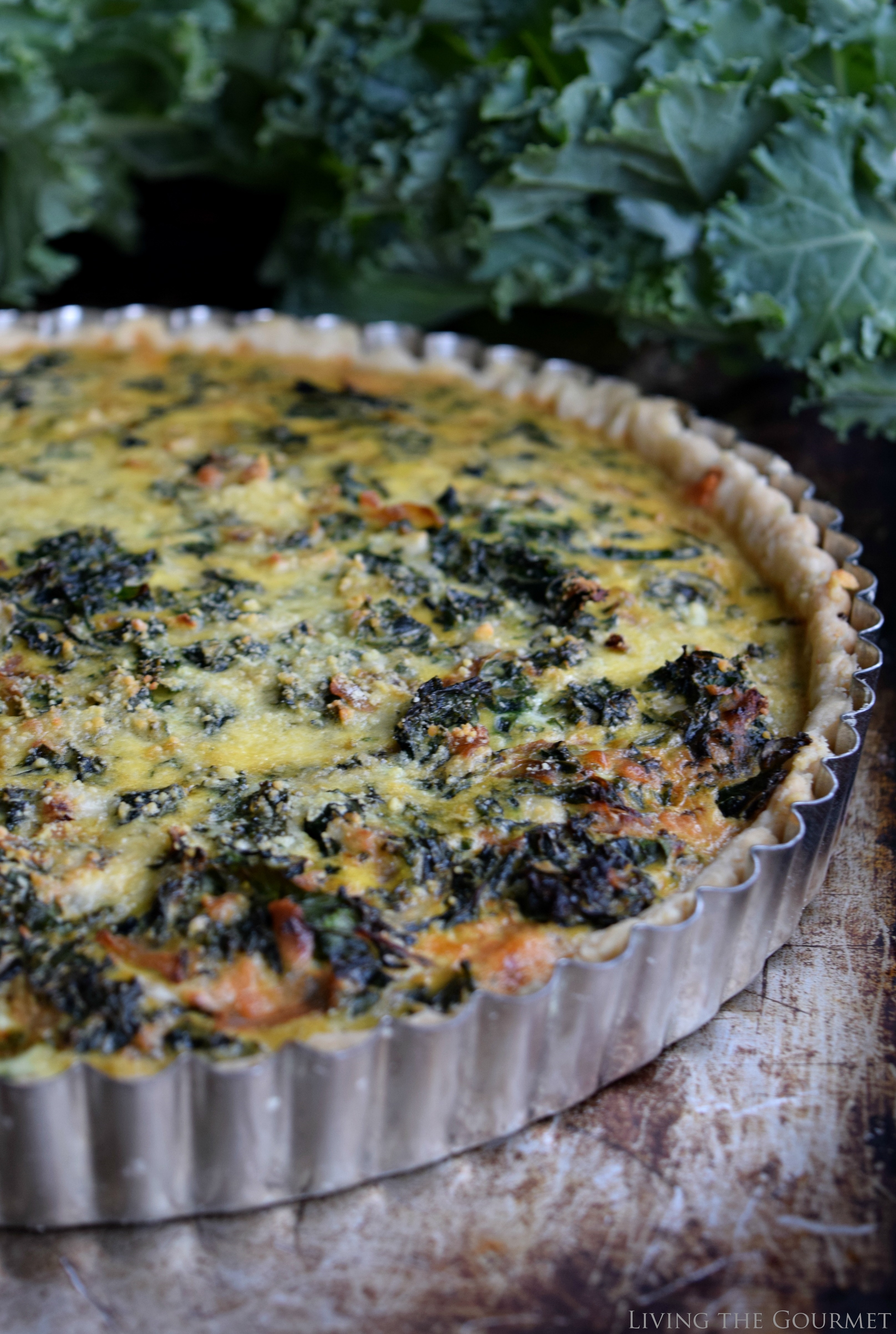 Every industry has its trends. For the food industry, it runs roughly…the latest in fusion. The latest in cava. The latest small plate confections. The latest in Meze. The reinvention of the tapas. Keeping track of dozens of new wine regions, and being the first to spot the next revelation in varietals. Then, of course, keeping tabs on who's in and whose out as the next Celebrity Television Chef, and who's gunning to take her or his position.
That is, of course, where the glitz and glam is to be found – feeding people's sense of the New, rather than catering to finer notes of their palates.
Dita von Teese remarked, quite succinctly, that "People who follow all the rules and chase every trend tend to be forgotten." By extension, trends themselves also tend to fade almost as quickly as they appear, bursting in and out of existence with each shift of the general public's notoriously short attention span, and, of course, every industry has a notoriously cutthroat regard for those not currently 'going viral.' To quote Ms. Teese's ex, "They love you when you're on all the covers, when you're not then they love another."
That is the very definition of a vicious cycle.
This is of course why for the classicalist, it's plain to see why names like Homer, Cervantes, Moliere, and Dante stand like giants, weathering the passage of time, even as each generation of daily bestsellers wax and wane like waves crashing against the shores. Occasionally, those waves produce a Doyle or a Hawthorne, who resist fading alongside the fashionable, and instead, like demi-gods, remain timeless.
They resist the call for the trendy and the fashionable.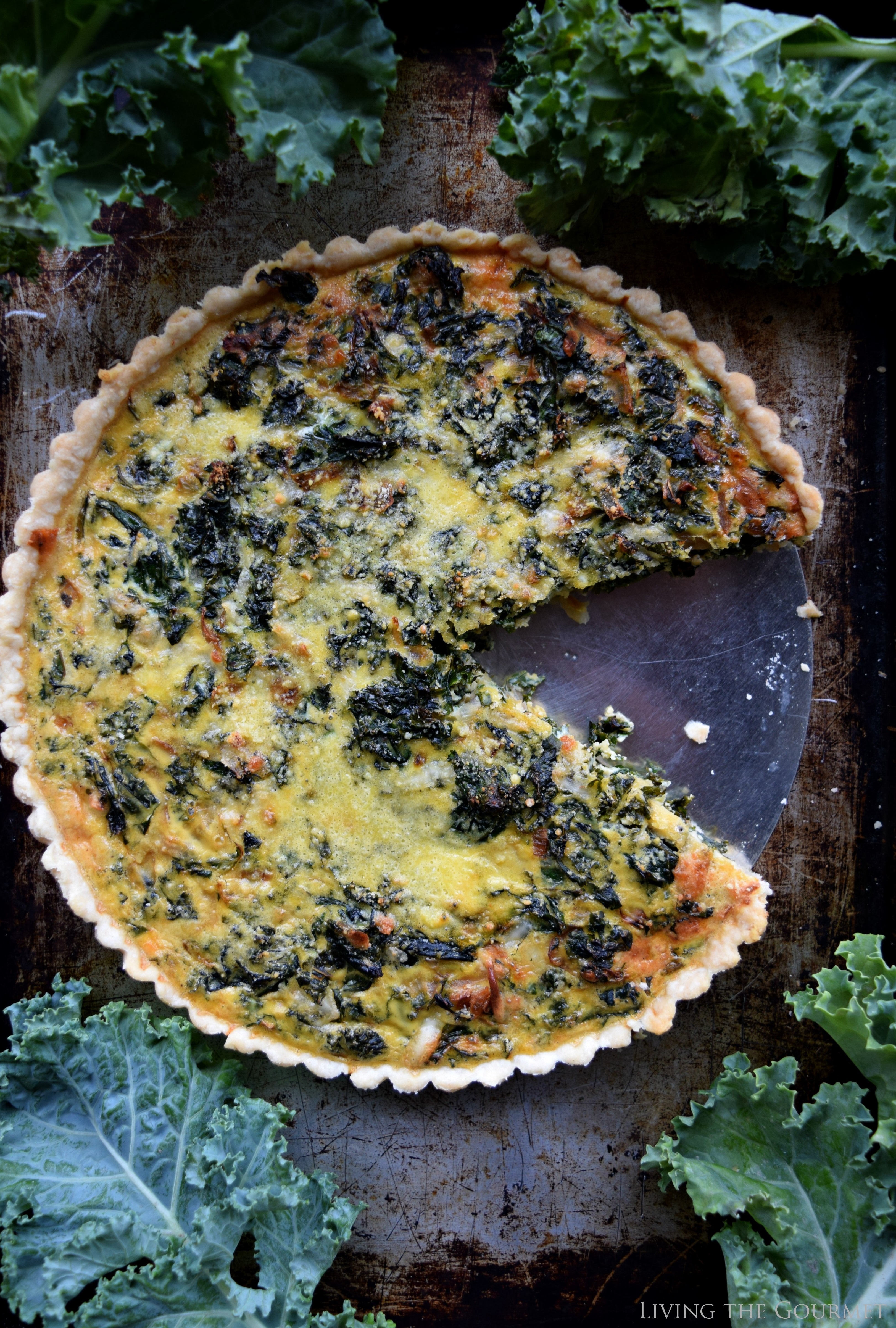 I know it might sound odd, but every once and while, like a singer returning to the 'standards,' it's honestly just 'fun' as a recipe developer to return to what I'll call 'culinary standards.' .
For example, few things are as classic to a home kitchen as the perennial 'quiche.' Once a mainstay of home cooking, this savory pie is now often regarded as 'old fashioned' alongside a plethora of other similarly delicious 'home and hearth' recipes.
However, let me give you an example. I make no secret of the fact that the morning is the highlight of my day, in particular my first cup of coffee and my light breakfast – pure highlights. Sitting beside the bay window, lit up with fresh morning light, and either page through a magazine or novel with my coffee is, to put it plainly, blissful.
Now, add to that equation a buttery crust, warm eggs, sautéed kale, and shredded provolone cheese. Yes, sometimes life really can be just that good, and this is one of those times. Just the thought alone is enough to take the edge off of a long night spent in front of a word processor.
The nice thing about a quiche is that it can be put together ahead of time, and then simply heated up right in the toaster oven, saving valuable time and effort in the morning.
To start things off, we prepare the crust, which is equal parts butter and shortening. Then let it rest in the refrigerator and prepare the greens. Just sautee the kale leaves with some garlic and onions, and let that cook down. After that, let them cool before adding in the eggs.
Once it was ready, I whisked the kale in with beaten eggs and cheese then poured it right over my crust. Then cook.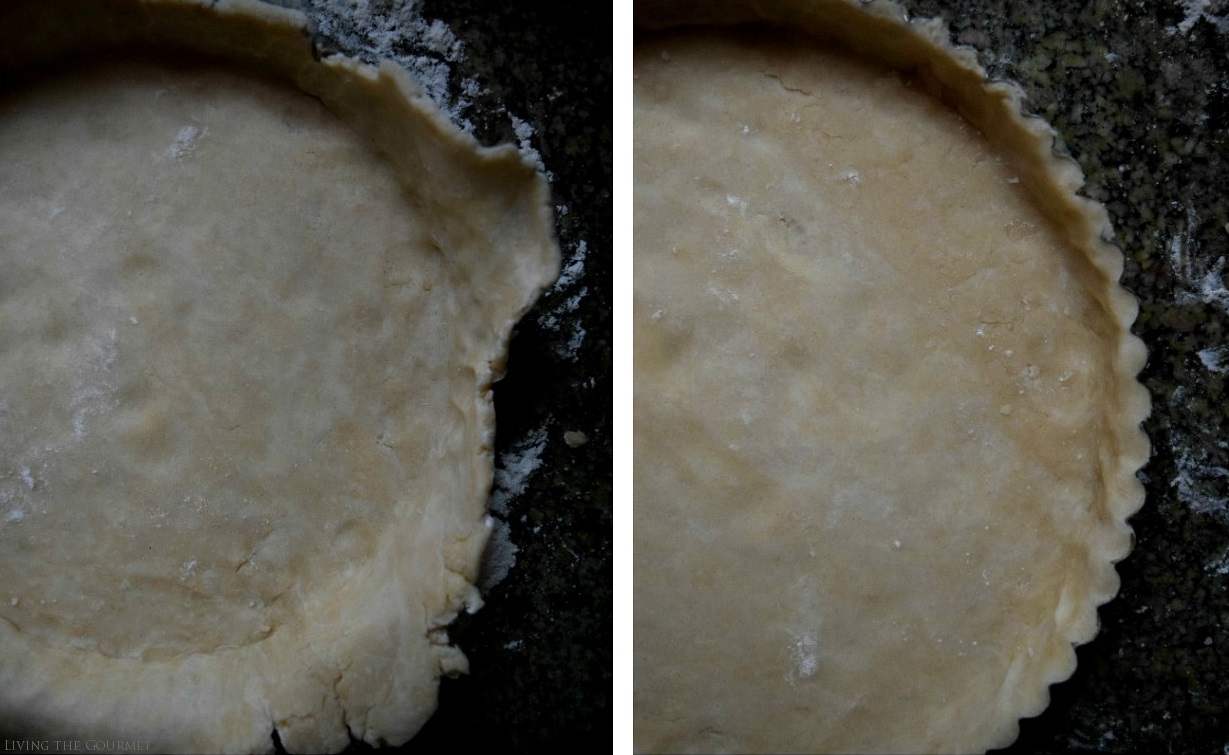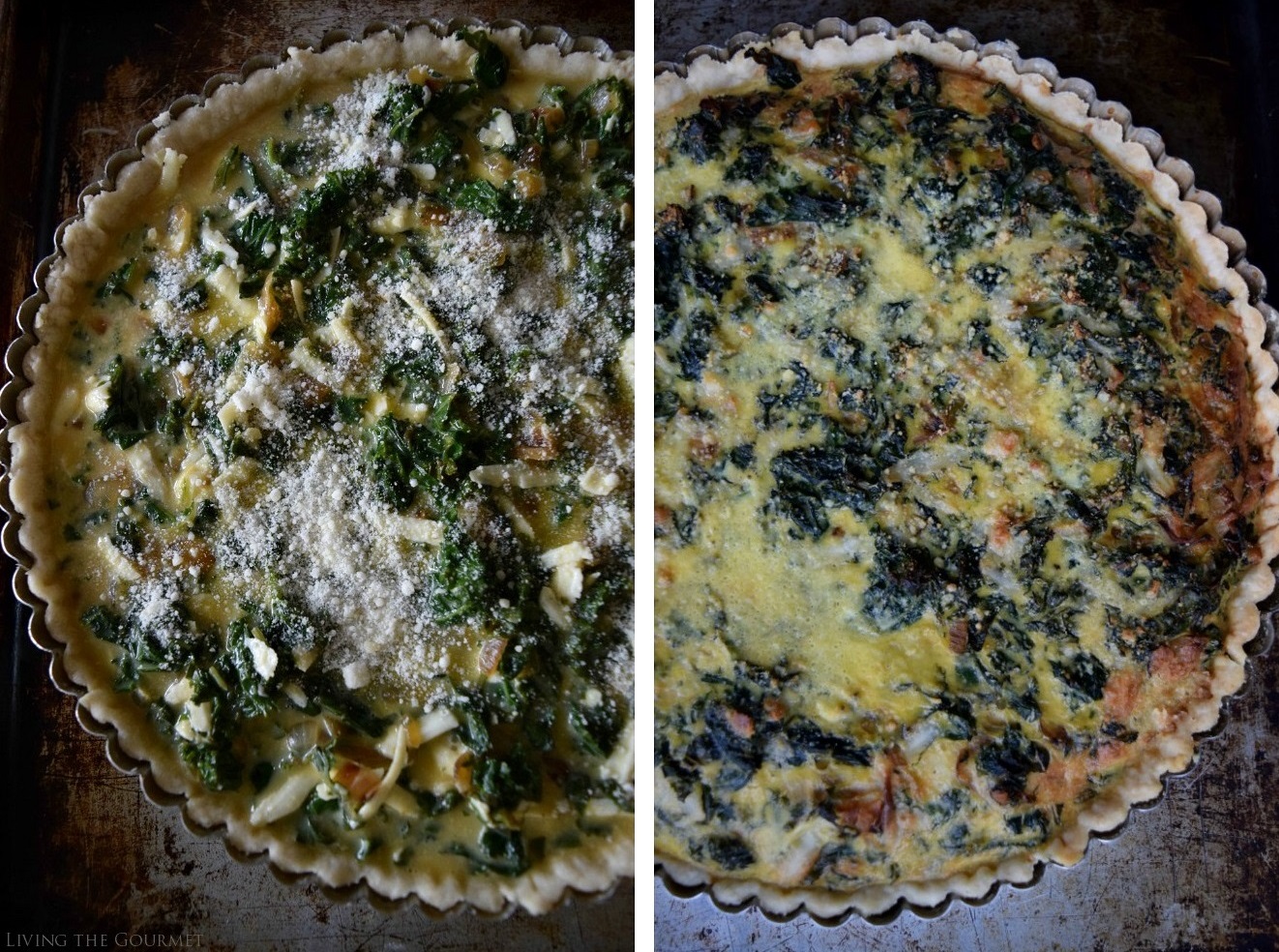 Print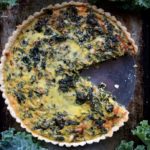 Kale and Provolone Quiche
---
Author:

Total Time:

1 hour

Yield:

4

-6

1

x
For the crust:
1 1/2

cups

all-purpose flour

1/2 teaspoon

salt

4 tablespoons

butter, cold and cubed

4 tablespoons

shortening

3

-

4

tablespoons ice water
For the filling:
5

eggs

2 tablespoons

whole milk

2

cups

kale leaves

1

clove garlic, grated

1/2

white onion, finely chopped
Salt and Pepper to taste

1/2

cup

grated sharp provolone cheese
Parmesan cheese for spinrkling
---
Instructions
In a medium bowl, whisk together flour and salt. Add butter and shortening then combine with a pastry blended until pea-sized crumbs form. Add ice water 1 tablespoon at a time until a soft, pliable dough forms. Wrap in clingfilm and let rest in the refrigerator for 10-15 minutes.
In a medium saucepan over medium heat, drizzle olive oil in the pan. Add the garlic and onions once the oil has heated. Cook the onions down until they are clear. Add the kale leaves and toss as it begins to cook down. Sprinkle generously with salt and pepper than remove from heat and let cool.
Preheat oven to 350 degrees F.
Roll out the dough onto a well floured surface and fit into an 8-inch tart pan or pie plate if you desire. Trim the edges and blind bake for 8-10 minutes. Remove the crust and let rest while preparing the filling.
In a bowl, whisk together 5 eggs and milk. Beat until slightly frothy on top. Add in the cooled kale and provolone cheese. Pour the batter into the prepared tart shell and sprinkle generously with grated Parmesan.
Bake the quiche for about 40 minutes or until the crust is golden around the edges and the filling has set.
Let rest on a cooling rack for about at least 10-15 minutes before serving.
Prep Time:

10 minutes

Cook Time:

50 minutes

Category:

Breakfast
Recipe Card powered by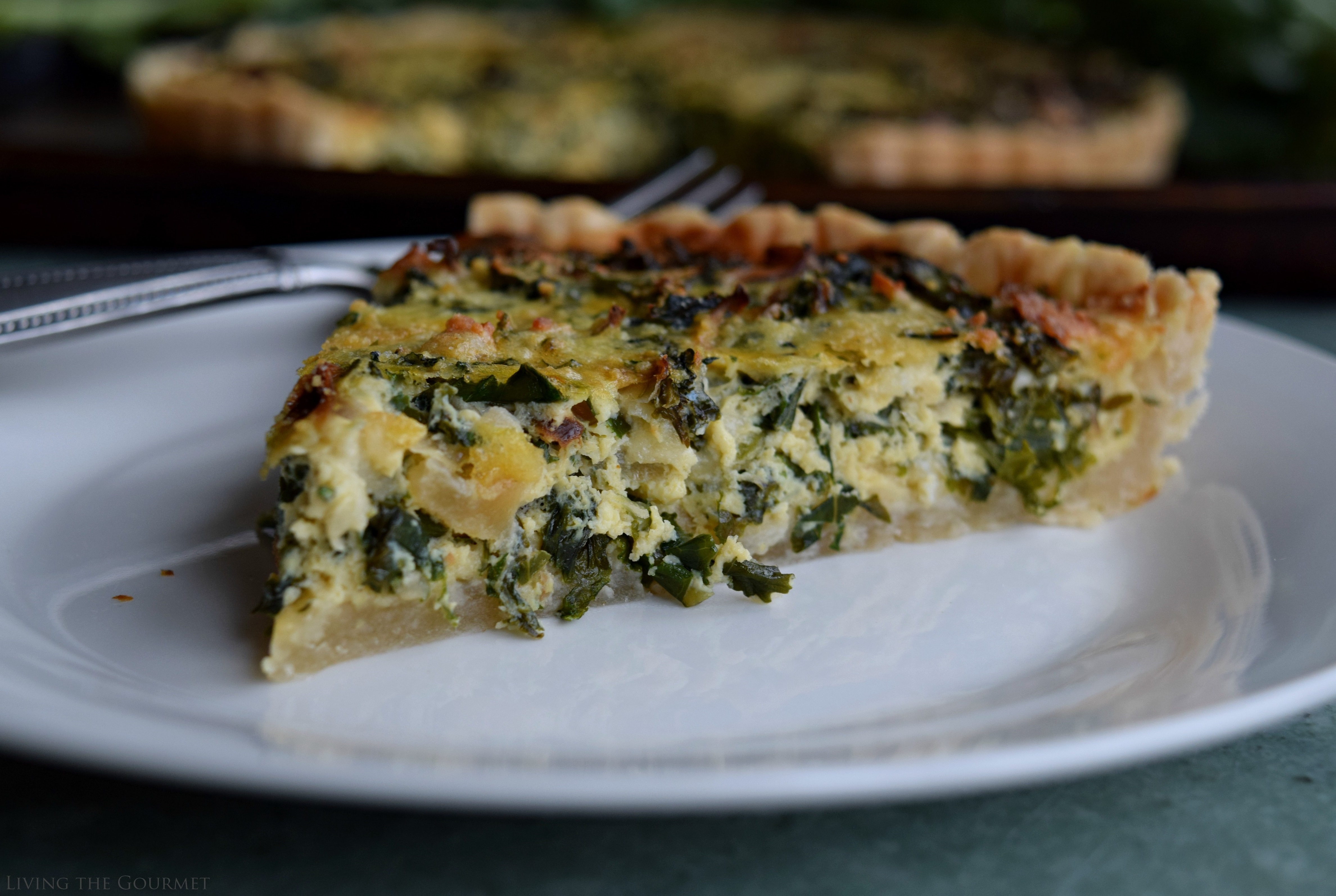 Simple, timeless perfection.
Kale is such a nutritious and wonderful green. From breakfast recipes to energy drinks, this versatile vegetable offers so much. Need more convincing on why you should add more kale to your diet? Check out these 26 Science-Backed Health Benefits.
Enjoy with Love!
0