This year we're celebrating the Lunar New Year with a few of our favorite Asian-style cuisines! From pork pot stickers served with a spicy soy dipping sauce, steamed salmon and even fresh seaweed rolls, there is something for everyone to enjoy!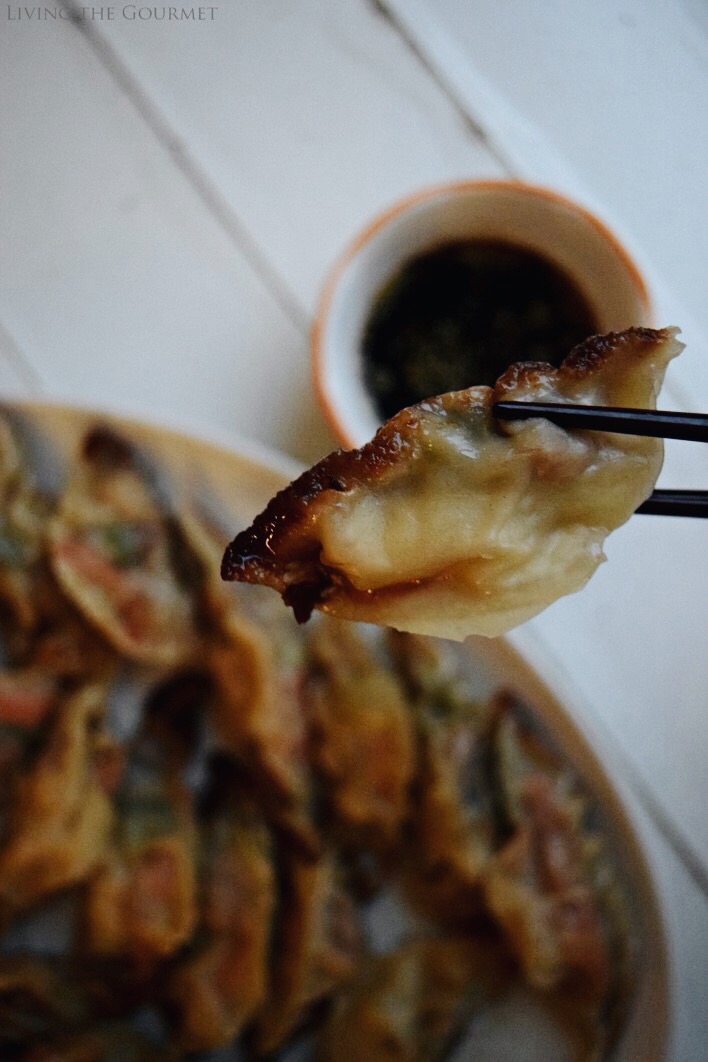 "The world under heaven, after a long period of division, tends to unite; after a long period of union, tends to divide. This has been so since antiquity," Luo Guanzhong remarked in the Romance of the Three Kingdoms.
The quote, while certainly spoken in a much different context, that of an empire at war with itself, I can't help viewing the words in a perhaps more metaphoric context – that of the cycle of renewal. Today, that cycle, especially as regards the human experience, is often referenced as a proverbial "pendulum" that invariably, and alternately, must swing in both directions.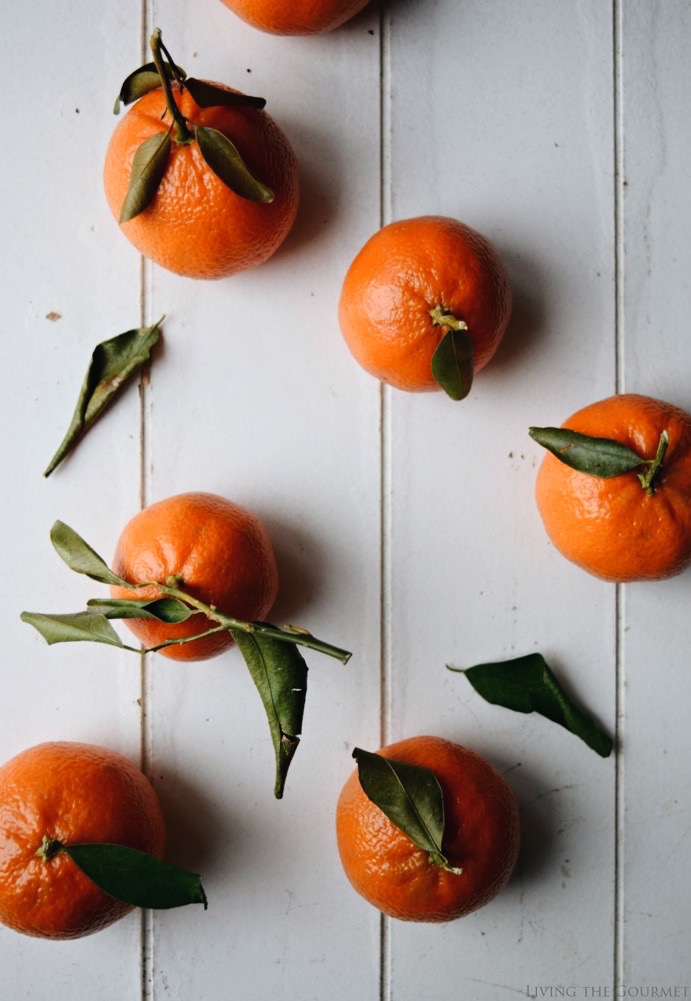 This, of course, cuts directly to the Chinese New Year's celebration coming up this February 8th. As with any New Year's celebration, the hope for good fortune, a forward view to renewal, and reawakening is at the fore. From the time my son was in grade-school we've always celebrated Chinese New Year, and always with a selection of close childhood friends.
Being who and what I am, these gatherings always revolved around food, and copious amounts of decorating. However, as is often the case, childhood friends rarely last long into adulthood, and this year we decided to revive our New Year's celebrations, albeit with a slew of new faces, and just a few new recipes for added measure.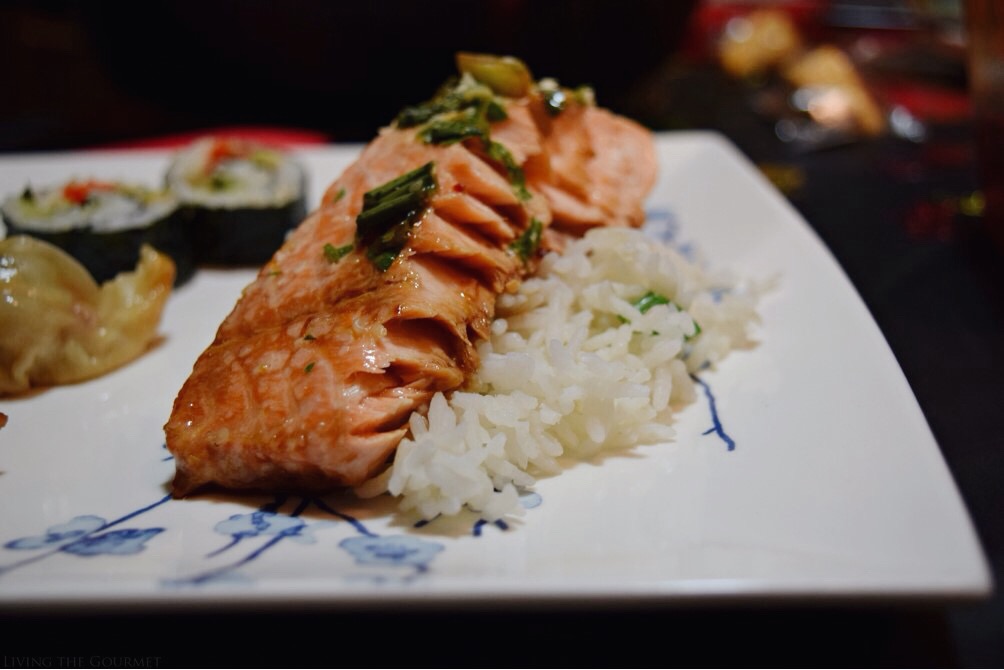 For example, in years passed we used to steam whole snappers, and prepare them as the centerpiece of our tablescape. This year, however, we decided to go a bit more 'gourmet,' and just a tad bit more traditional, preparing salmon with fresh ginger, Kikkoman soy sauce, and diced spring onions. This would be the 'center' of the meal, and we would build around it.
Print
Ginger Sesame Steamed Salmon Fresh Seaweed Rolls Pork Pot Stickers & Spicy Ginger Dipping Sauce
Author:
Prep Time:

15 minutes

Cook Time:

20 minutes

Total Time:

35 minutes

Yield:

4

-6

1

x
1

lb

. fresh salmon
Juice of

1

orange
Zest of

1

orange

1/4

cup

soy sauce

2 tablespoons

teriyaki sauce

1 tablespoon

rice wine vinegar

1 tablespoon

sesame oil

1 teaspoon

chili paste
Scallions, chopped

1

clove garlic, minced

1 tablespoon

fresh grated ginger
A small handful of parsley, chopped

2 teaspoons

sesame seeds

5

sheets of nori

1

cup

cooked glutinous rice (sticky rice)

1

avocado, thinly sliced into pencil-like strips

1

cup

carrots, thinly sliced

1

cup

cucumber, thinly sliced

1/2

cup

pickled ginger
Sesame seeds for garnish
Pork Pot Stickers:
1

package wanton wrappers

1

lb

. boneless pork loin, cubed

1 1/2

cups

shredded cabbage

1/2

cup

scallions, chopped

1/2

cup

carrots, shredded

1/2

cup

white button mushrooms, thinly sliced

2

cloves garlic, finely chopped

2 tablespoons

fresh ginger, grated

2 tablespoons

soy sauce

1 teaspoon

chili paste

1 tablespoon

teriyaki sauce

2 teaspoons

sesame oil
Spicy Ginger Dipping Sauce:
2 tablespoons

fresh ginger, grated

2 tablespoons

soy sauce

1 teaspoon

chili paste

1 tablespoon

teriyaki sauce

2 teaspoons

sesame oil
Sprinkle of sesame seeds
Salt & Pepper to taste
Instructions
In a bowl, combine all ingredients but the salmon.
Place the salmon in a cast iron skillet, and pour the marinade over the fish.
Cook over medium-high heat and bring to a boil. Then cover the fish and turn the heat down low, gently simmering it until the salmon is cooked. It will have a pale orange color and it will flake when touched. Remove from heat and serve.
If you don't have a bamboo rolling mat, just use a sheet of aluminum foil for these rolls.
Lay out a sheet of nori and evenly spread a layer sticky rice. About 1/2 inch from the bottom of the wrap begin adding your filling in horizontal rows. I placed the cucumber slices first, followed by carrots, avocado and then the pickled ginger.
Gently begin wrapping each roll, carefully. As you roll, pull the mat or aluminum foil, up and out so it doesn't get caught in the roll.
Moisten the edge of the seaweed to seal the roll, then wrap the entire mat or aluminum foil around the roll and give it a firm but gentle squeeze. Leave each roll to set before slicing. So repeat this step until you have used up all your fillings.
Taking a sharp knife, lightly brush the edge with sesame oil, then slice each roll into bite size pieces.
Garnish with an additional sprinkle of sesame seeds and serve with green tea if desired.
Pork Pot Stickers:
In a large bowl, mix together cabbage, scallions, carrots, mushrooms and garlic.
In a small bowl combine ginger, soy sauce, chili paste, teriyaki and sesame oil. Toss that together with the chopped vegetables. Let sit for at least 30 minutes in the refrigerator.
One the vegetables have absorbed the soy mixture, toss together with cubed pork.
To prepare pot stickers, lightly brush the edges of each wanton wrapper with water. Place a spoonful of pork mixture in the center of the wanton. Fold over diagonally and pinch the edges.
Heat 1/4 cup of oil in a cast iron skillet and carefully add your pot stickers. Fry just until the bottoms of each is golden in color. Once the pot stickers are fried, wipe out any excess oil with a paper towel. Place the post stickers back in the the skillet and add about 1 1/2 cups of water to the pan. Turn the heat on medium-low and cover. Steam the pot stickers until the water has evaporated from the pan. Transfer immediately to a serving platter.
Spicy Ginger Dipping Sauce:
In a small bowl, whisk together all ingredients for the spicy dipping sauce and serve alongside your pot stickers.
Recipe Card powered by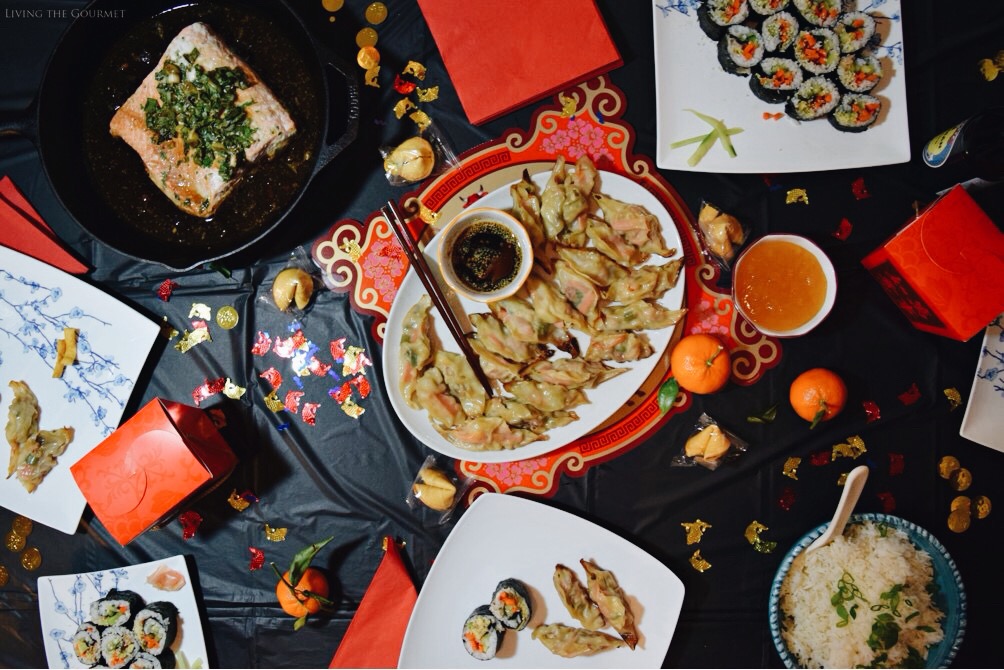 However, what is a truly good meal without a presentation to match? To complete our New Year's celebration, I decorated our dining room in clashing red and gold tones, Chinese lanterns, and decorative Asian dinnerware. The end result wasn't just a delicious, and festive meal, but one that had the atmosphere to match.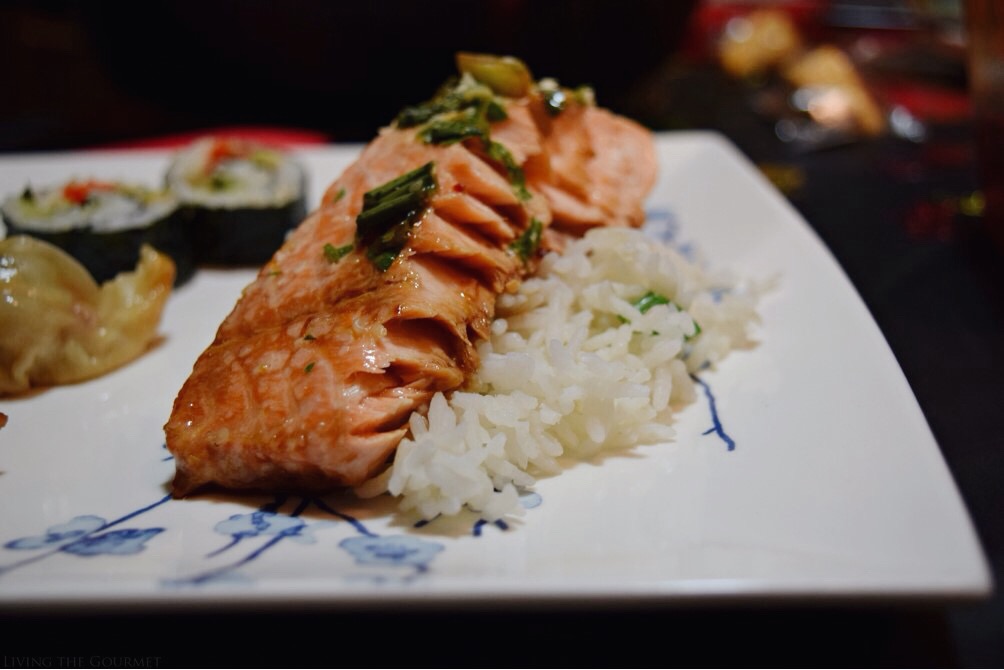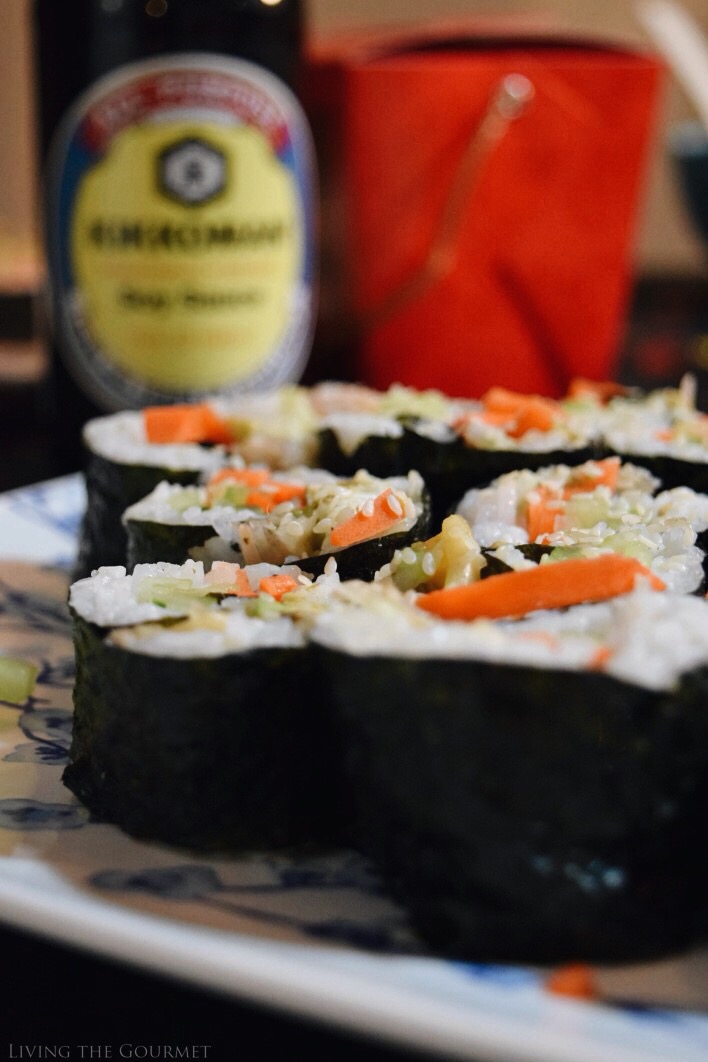 What are some of your plans for Chinese New Year? What are some of your favorite traditions? We would love to hear from you.
Enjoy with Love,
Catherine
xo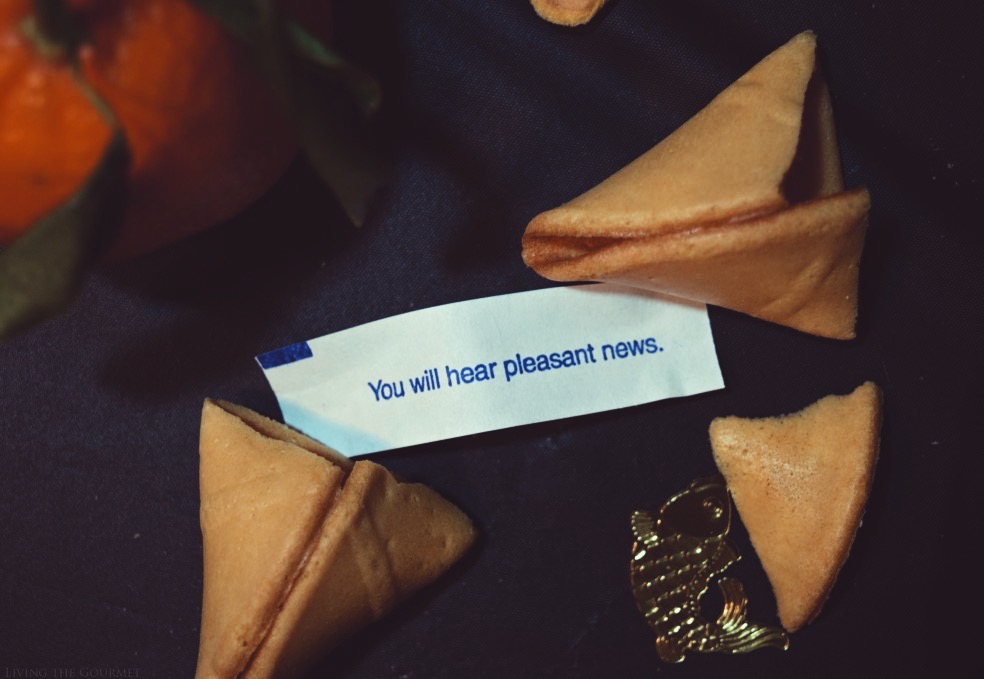 I was selected for this opportunity as a member of Clever Girls and the content and opinions expressed here are all my own.
2