This shop has been compensated by Collective Bias, Inc. and its advertiser. All opinions are mine alone. #LoveDoveFruits #CollectiveBias
Delight this season in a delicious and decadent, better-for-you dessert with these Greek Yogurt Parfaits featuring an assortment of DOVE® Chocolate Fruit & Nut!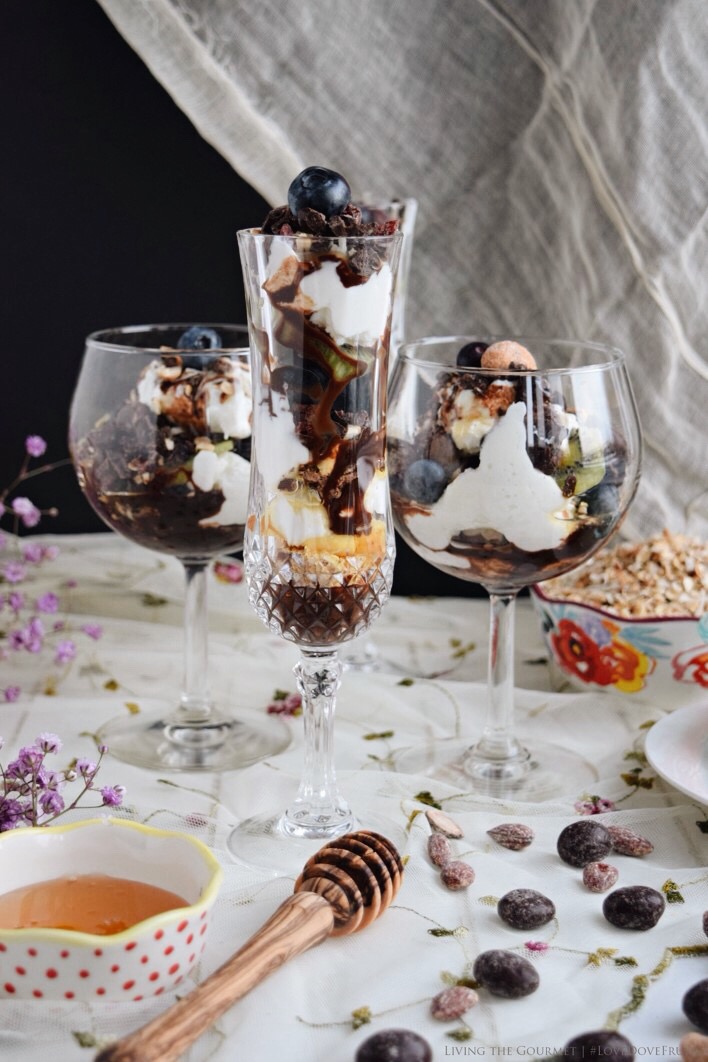 John F. Kennedy remarked that "Physical fitness is not only one of the most important keys to a healthy body, it is the basis of dynamic and creative intellectual activity."
Now, if you skimmed through any of my New Year posts, you are well aware that I succumbed to the tired temptation of making a wellness related Resolution. At the outset of my journey along this resolution, I was told that I would have to be prepared to make serious changes, and one word that kept surfacing, no matter how I tried to avoid it, was "Sacrifice."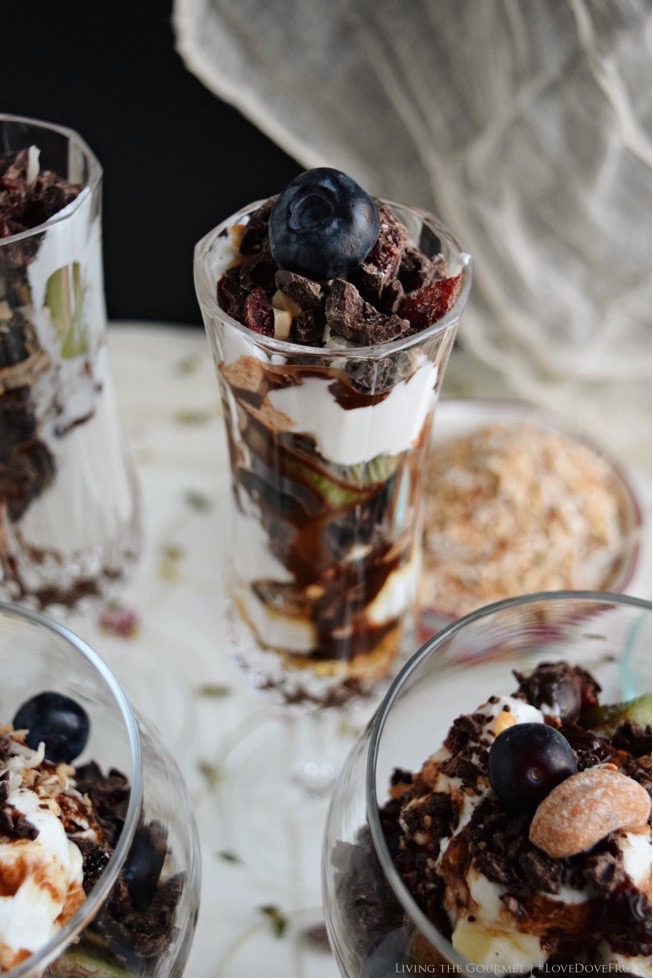 Sacrifice and exercise. Sacrifice at the dinner table. Sacrifice television. Sacrifice my relaxed mornings in favor of movement regimens. Sacrifice my midnight snacking ritual. In other words, almost every aspect of my life, particularly those devoted to rest and destressing, was about to be invaded by steely notions of 'Sacrifice.' Such, I suppose is the price of general wellness.
There was, however, one very important area where I was simply not willing to accept 'Sacrifice,' and that, strangely enough, was at the dessert table. Now, I'm not talking about frostings, cakes, and puddings. Instead, what I'm talking about is flavor, texture, and 'joy,' the 'spirit of the cake,' if you will. That's what I was unwilling to part with.
As if that weren't enough of a stumbling block, as a busy fully time blogger, whether early in the morning, or at the end of a busy day, the gnawing sensation that there's never enough hours in the day is relentless and inescapable. This could hardly be a worse pitfall, since not only does it continually refresh the temptation to stress it, but also means I rarely if ever have to time to fix a 'proper' snack. Rather than try to combat the temptation for snacking altogether, I've instead decided to tweak my snacking in favor of "better for me" alternatives that also happen to be a good bit more delicious. After all, DOVE® Chocolate Fruit & Nut are at their most delicious when eaten whole on their own. As a result, whenever I have a craving for something sweet, or absolutely must stress-eat, a few DOVE® Chocolate Fruit & Nut bites do the trick like nothing else can.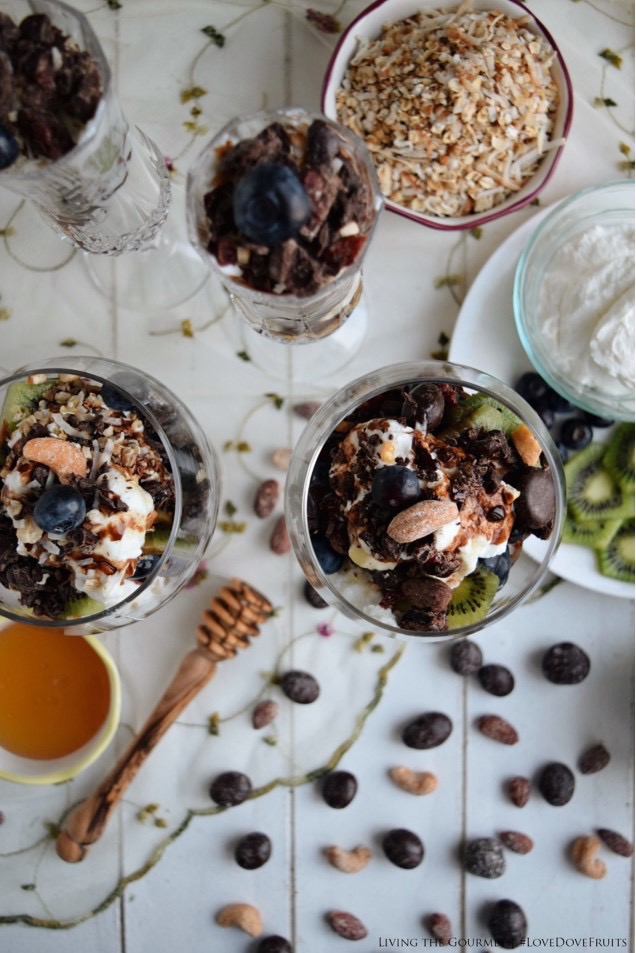 And that's where today's recipe comes in – A Greek Yogurt Parfait with DOVE® Chocolate Fruit & Nut. It's a 'better for you' alternative to the typical tarts, puddings, and black forest treats that I've come to love over the years, which allows me to go a bit off the metaphoric wellness road without entirely losing track of my goals.
I got the idea for this the other day during a supply run to Walmart when I came across the DOVE® Chocolate Fruit & Nut display. I will admit that I had to try all of them, the DOVE® Dark Chocolate Strawberry & Cocoa Almond, the DOVE® Dark Chocolate Blueberry & Vanilla Cashew, and the DOVE® Dark Chocolate Raspberry & Honey Roasted Almond. I also picked up a package of the DOVE® Dark Chocolate Cranberries.
These couldn't be easier to make. We start off by pooling the bottom of a wine glass or champagne flute with chocolate syrup, and then dust the syrup with granola. Then dollop a generous portion of Greek Yogurt into the glass, drizzle in honey, layer on fresh kiwi, fresh blueberries, or your favorite fruit combo, followed by the DOVE® Chocolate Fruit & Nut over the yogurt, and you're done.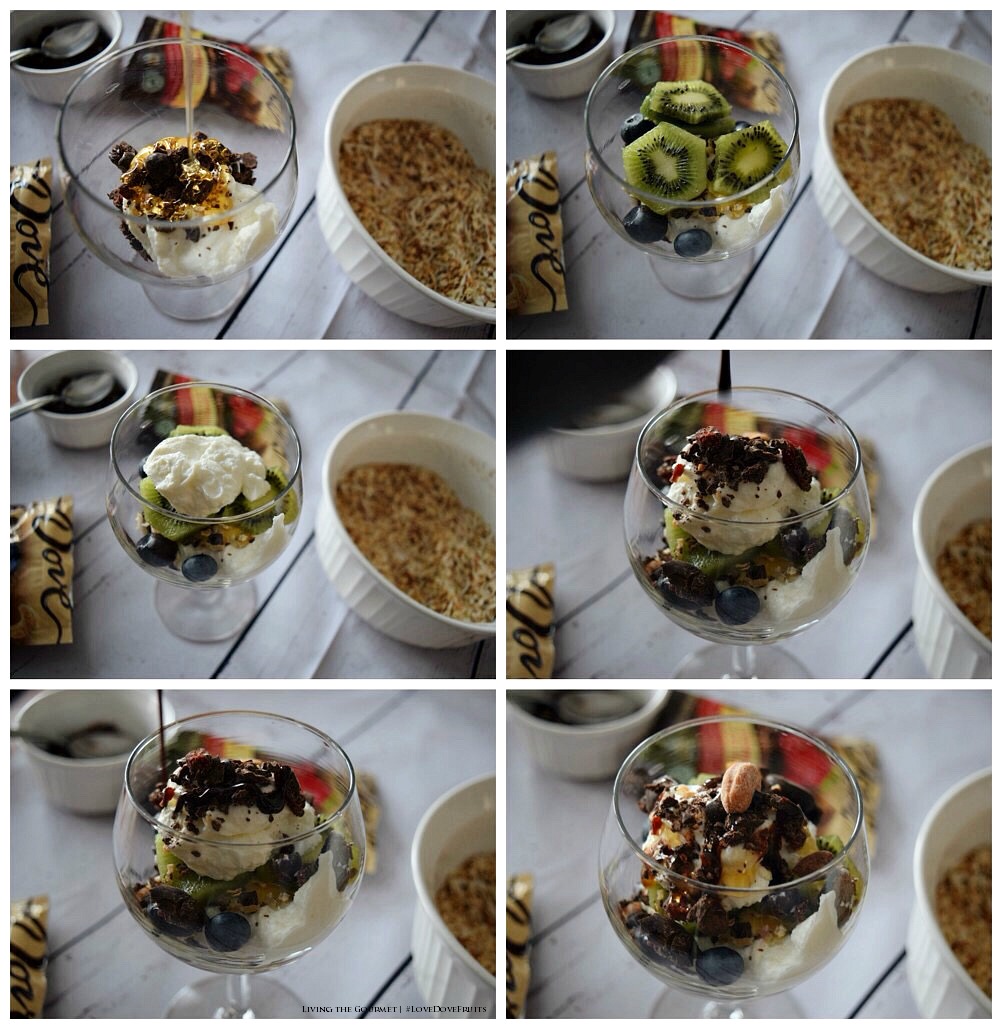 Print
Greek Yogurt Parfaits with DOVE® Chocolate Fruit & Nut
Author:
Prep Time:

10 minutes

Total Time:

10 minutes

Yield:

4

1

x
Category:

Dessert
16

oz

. of plain Greek yogurt

1/2

cup

DOVE® Dark Chocolate Strawberry & Cocoa Almond

1/2

cup

DOVE® Dark Chocolate Blueberry & Vanilla Cashew

1/2

cup

DOVE® Dark Chocolate Raspberry & Honey Roasted Almond

1/2

cup

of honey

1/2

cup

of chocolate syrup

3

kiwis – peeled and sliced

1

cup

fresh blueberries

1/2

cup

of your favorite granola
Instructions
To Build Your Parfait:
Start your parfait with a drizzle of chocolate syrup followed by granola, followed by Greek yogurt, followed by a drizzle of honey, followed by fresh fruit, followed by DOVE® Chocolate Fruit & Nut.
Repeat this process until you reach the top of the glass.
Recipe Card powered by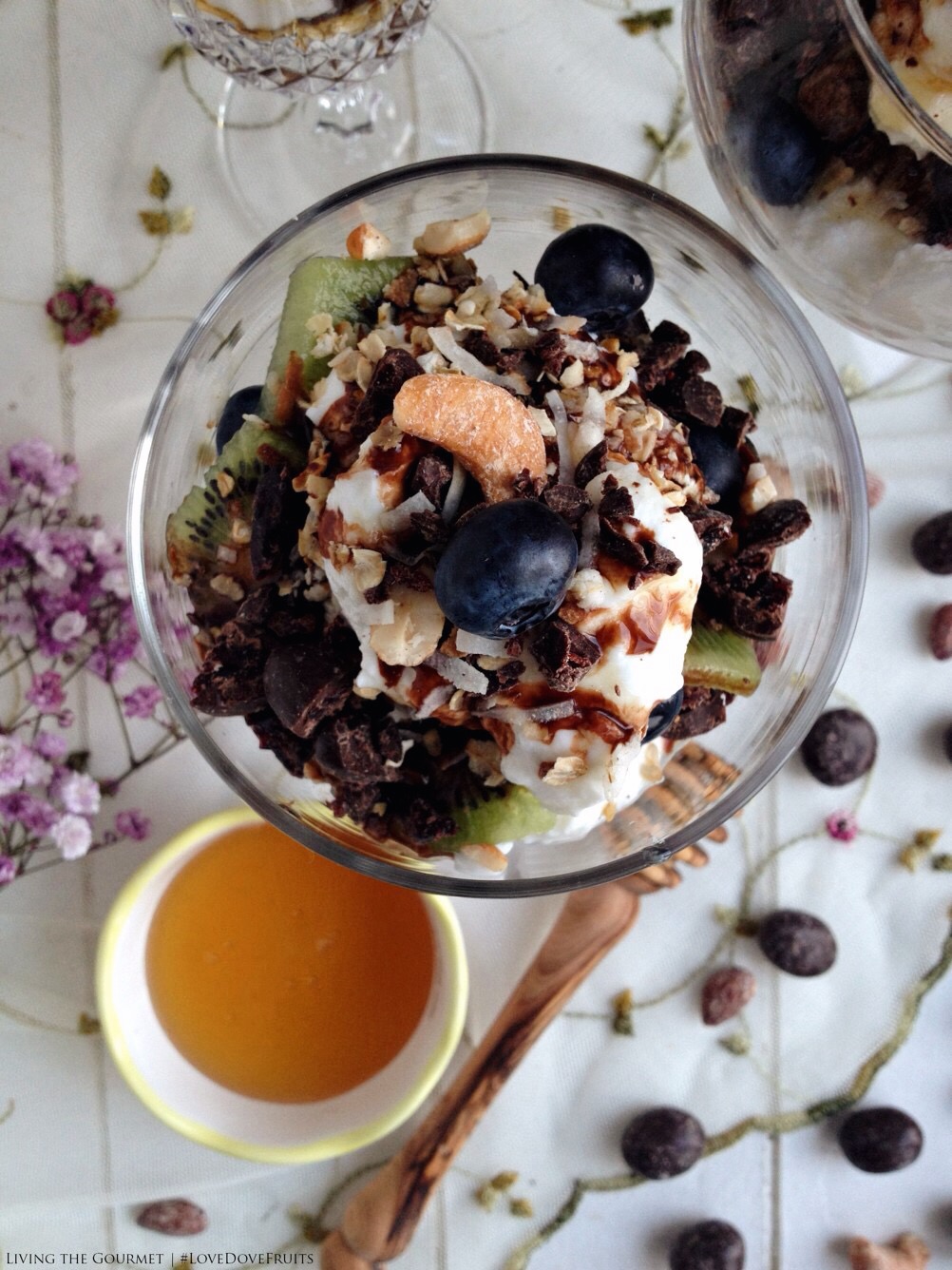 What are some of your favorite 'better for you' dessert options? We would love to hear from you!
For delicious ideas and #LoveDoveFruits inspiration, check out the MARS social hub!
Enjoy with Love,
Catherine
xo
0