This shop has been compensated by Collective Bias, Inc. and its advertiser. All opinions are mine alone. #HolidaySweetTreats #CollectiveBias
This rich, creamy cheesecake is swirled with spiced pumpkin then topped with candied walnuts and Smucker's Toppings for extra indulgence! It's the holidays, time to delight in the flavors of the season.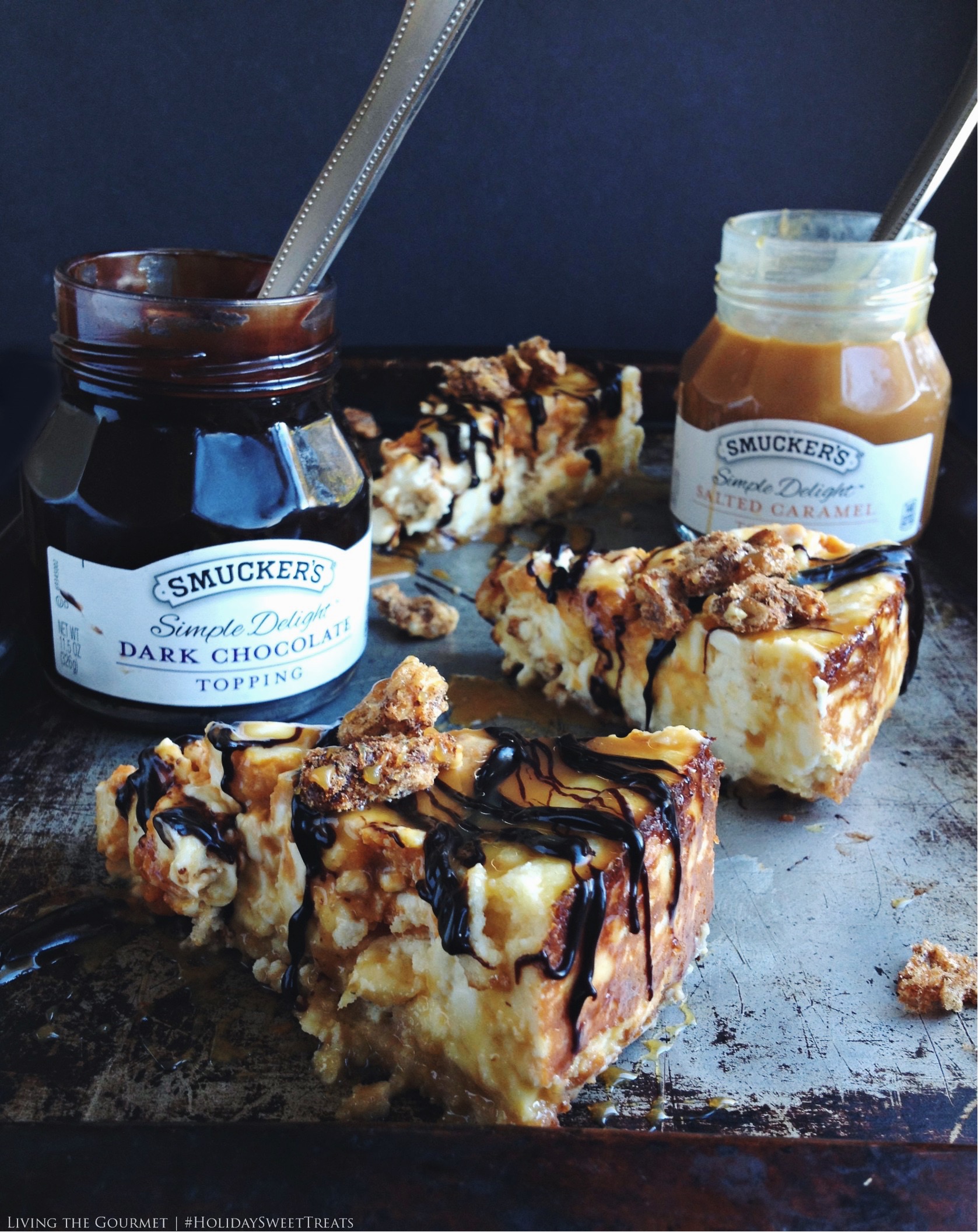 Someone recently remarked to me that "All good things must end." While it was in reference to a mundane subject, I couldn't help pondering on just how frustratingly common that statement is, and even more depressing, I thought, is how many people mistake it for some sort of pessimistic brand of wisdom
For starters, the Universe is condemned to wither into thermodynamic equilibrium, making "All good things must end" a painfully obvious observation since all things good, bad or indifferent will eventually freeze over into primordial darkness. That aside, the remark also suffers from being a bit of a self-fulfilling prophecy, since predicting the premature end of one's enjoyment is hardly a pleasant line of thought.
Feel free to accuse me of overthinking.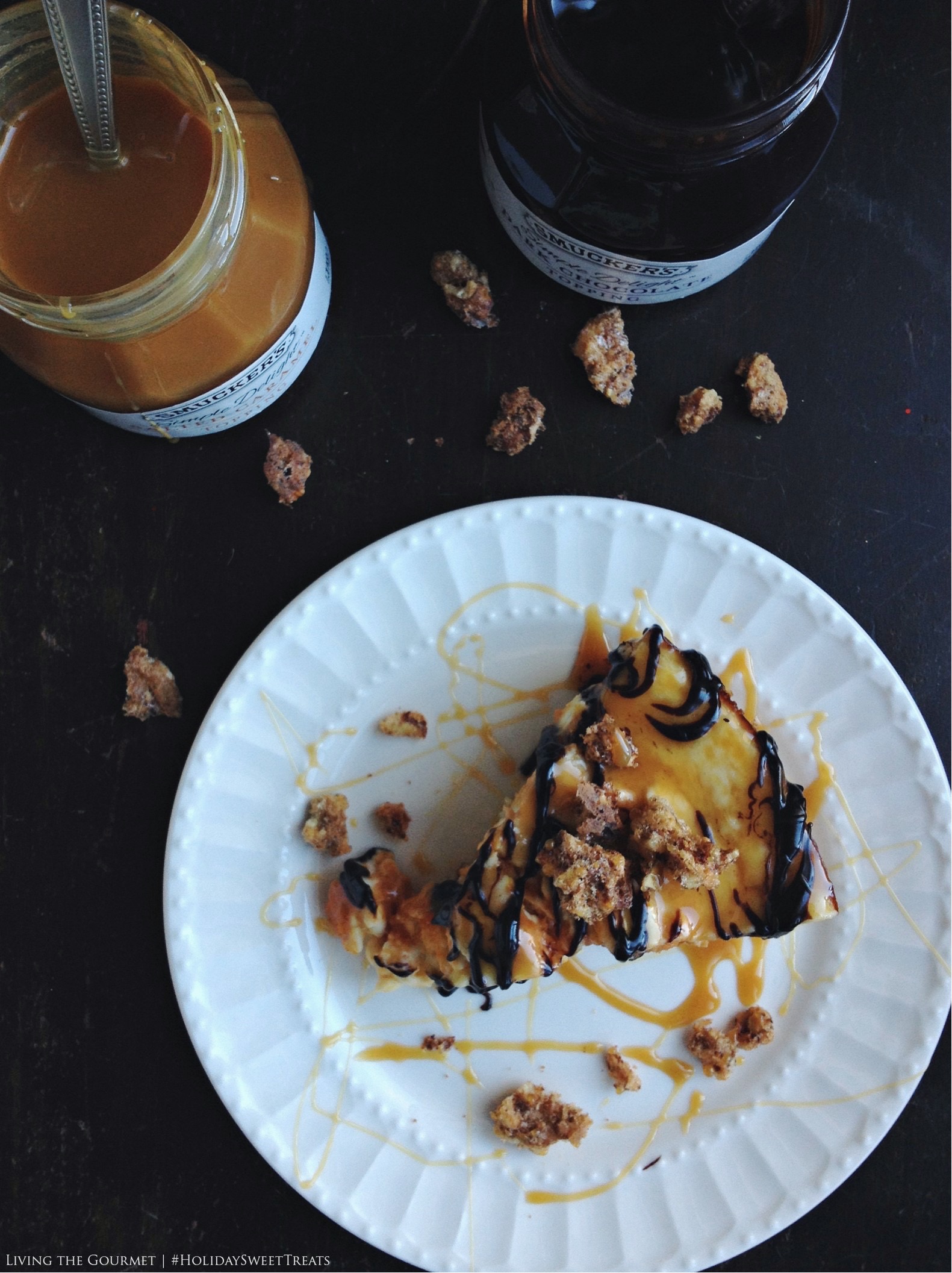 In any event, in case you haven't already guess, I'm one for clinging stubbornly to the things I enjoy. Whether it's keeping the Christmas tree up well into March, sipping stale morning coffee long after sunset, or eating pumpkin pie after Thanksgiving, I take my enjoyment where I can find it, and tend not to let go.
Today's recipe touches on precisely that last item. You see, I'm not quite ready to give up on the Thanksgiving palette just yet, and decided I wanted to re-purpose the classic pumpkin pie for use at Christmas, or at least in the lead up to Christmas. Yet, I wanted to do more than 'merely' make a few adjustments to the same recipe I used at Thanksgiving.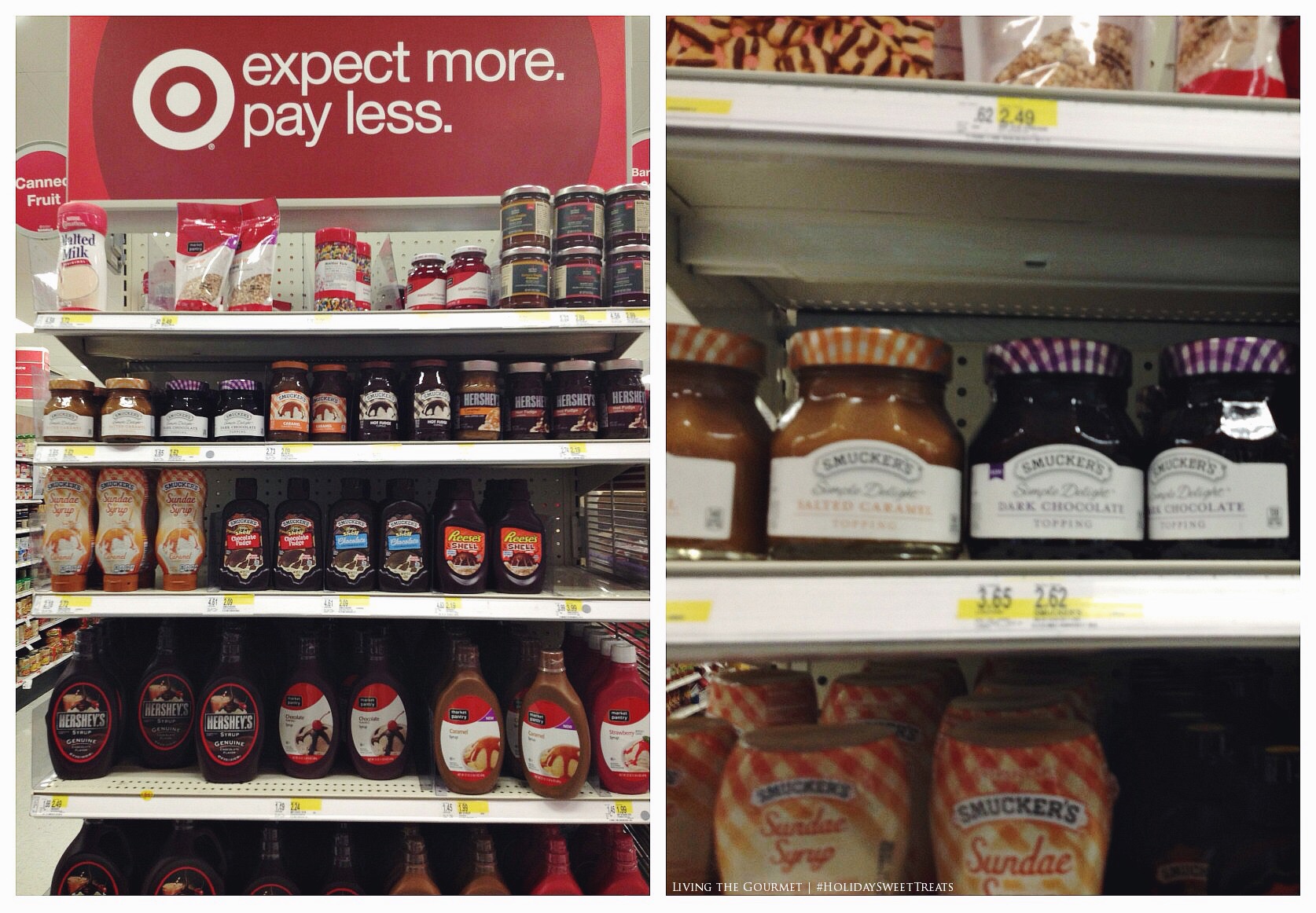 You see, one of my family's favorite desserts, at any time of year, is a classic cheesecake topped either with some sort of preserved fruit, caramel, or fudge. That being said, you probably won't have to think too hard to imagine what I thought of when I saw the Smucker's All Natural Salted Caramel Sauce and Hot Fudge while making a holiday supply run to Target.
I'm not quite sure 'how' it clicked, but that settled it. I was going to attempt to turn my family's favorite cheesecake into a pumpkin pie.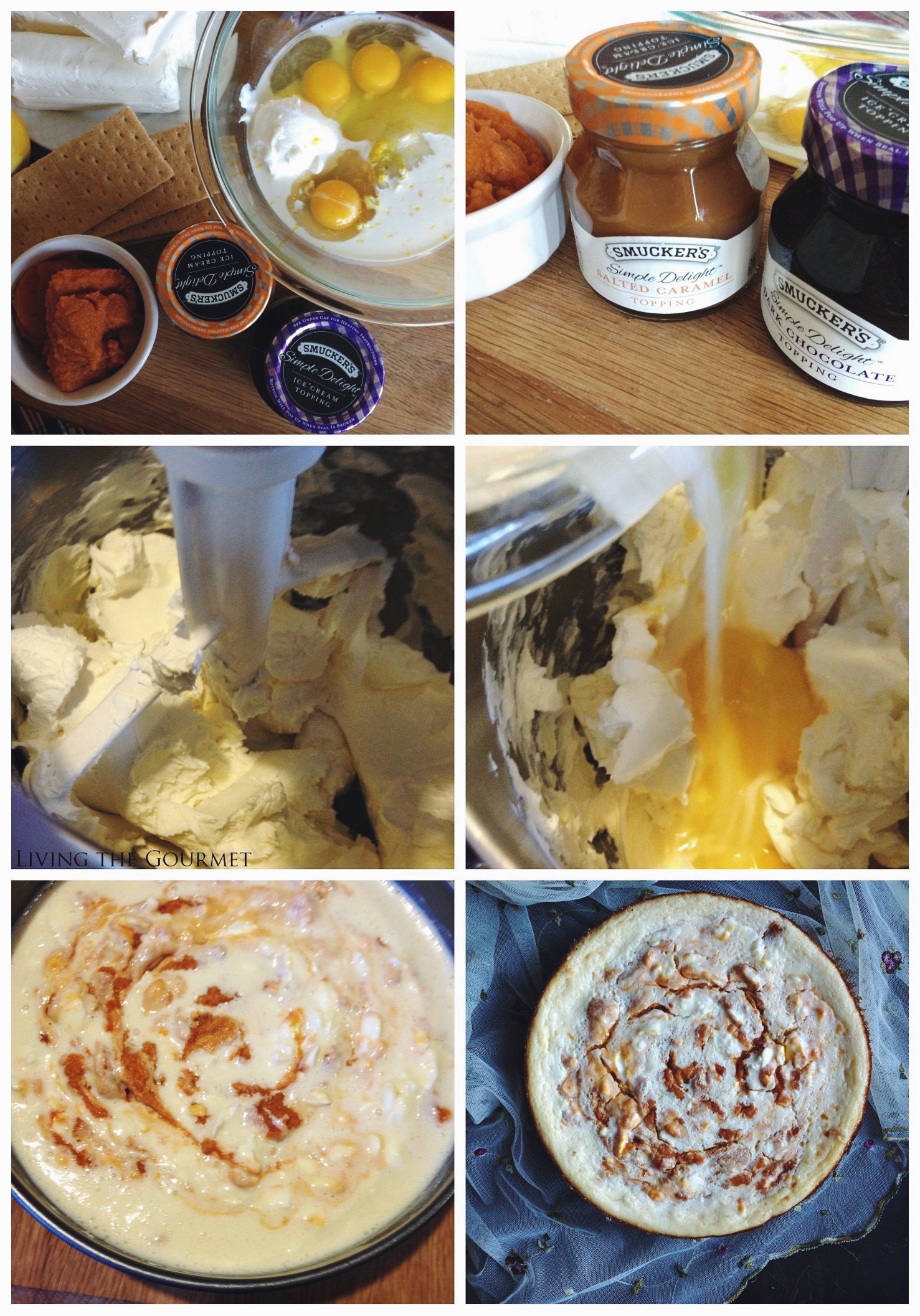 To start things off, I combined crushed graham crackers with softened butter in a small mixing bowl. I then prepped the bottom of a nine inch spring form pan with the buttery graham crackers, and buttered the sides of the pan. After that, I beat two pounds of cream cheese in my stand mixer until very smooth, while gradually adding in sugar, eggs, lemon zest, vanilla and sour cream. I then poured that batter in the prepared spring form pan.
After preparing my pumpkin puree as described below, I swirled it through the cheesecake in dollops and then let it bake for about forty-five minutes. You're going to want to let this cool and then sit in the refrigerator for a stint before serving.
Now here's the fun part. Once you've sliced the cheesecake, serve each with a generous topping of Smucker's All Natural Salted Caramel Sauce & Hot Fudge, and you have pumpkin-cheesecake hybrid perfect for a December gathering.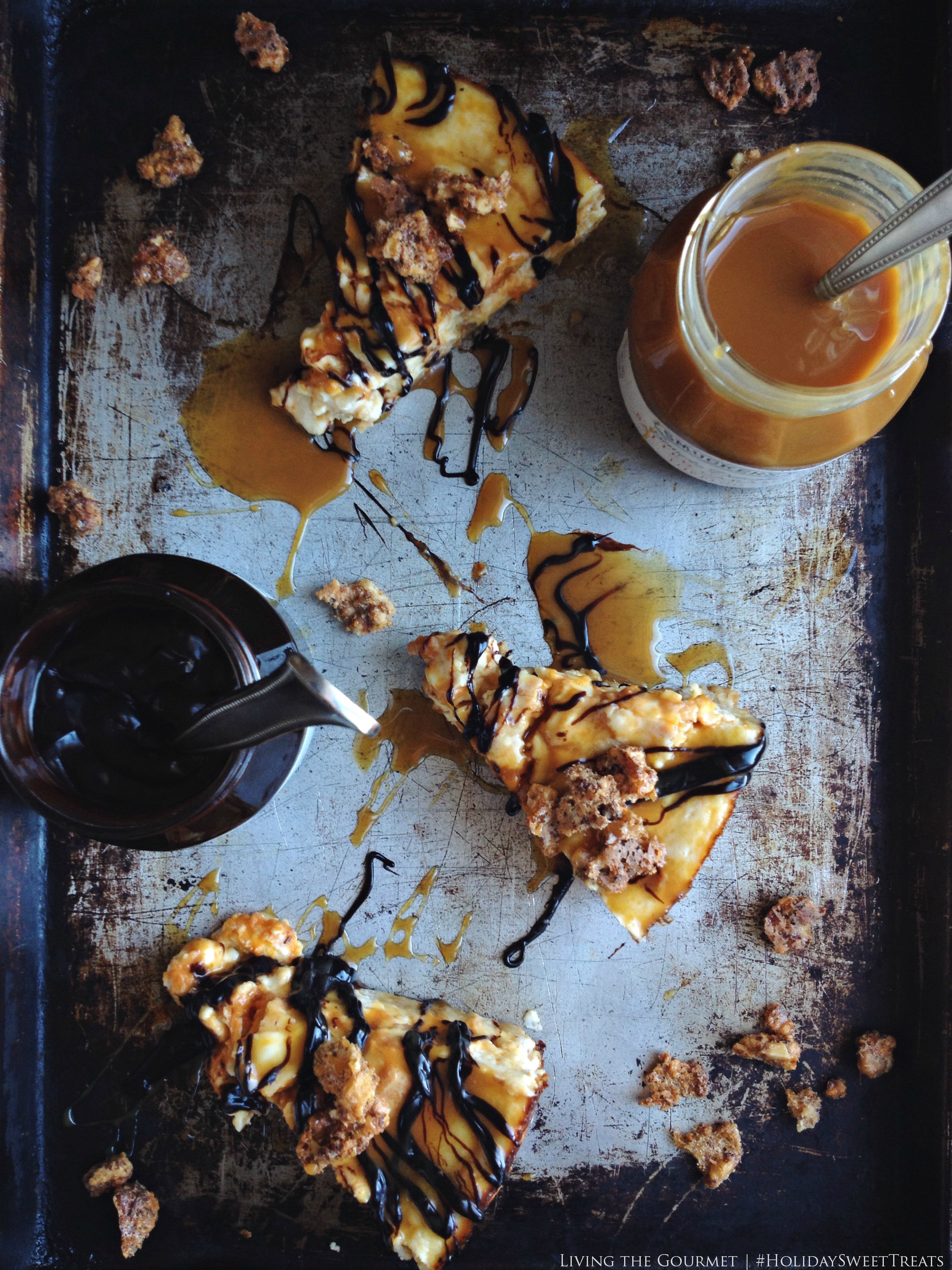 Print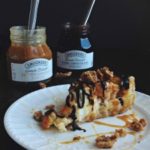 Pumpkin Swirl Cheesecake
---
Author:

Prep Time:

10 minutes

Cook Time:

1 hour

Total Time:

1 hour 10 minutes

Yield:

8

1

x
Smucker's All Natural Salted Caramel Sauce, for drizzling
Smucker's All Natural Hot Fudge, for drizzling
Crust:
4

sheets of graham crackers, crumbled

2 tablespoons

plus 1 tablespoon butter, melted
For Cheesecake:
2

lbs. cream cheese, at room temperature

1 cup

superfine sugar

4

large eggs

1 teaspoon

finely grated lemon zest

3 teaspoons

vanilla extract

1/2 cup

sour cream
For Pumpkin Swirl:
3/4 cup

100% Pure Pumpkin Puree

3 tablespoons

heavy cream

1 teaspoon

cinnamon

1/2 teaspoon

nutmeg
Candied Walnuts:
1

egg white

1 cup

walnuts

1/2 cup

sugar
---
Instructions
Preheat the oven to 350 degrees F. Brush the side and bottom of a 9-inch spring form pan with about 1 tablespoon melted butter. Set aside.
In a small bowl, combine graham crackers and 2 tablespoons melted butter. Fit to the bottom of the prepared spring form.
Beat the cream cheese in a stand mixer with the whisk attachment until very smooth. Gradually add the sugar and beat on medium speed until the sugar has dissolved. Add the eggs, one at a time, beating just until incorporated. Be sure to scrape down the sides of the bowl after each addition. Add the lemon zest and vanilla and beat just until incorporated. Remove the bowl from the mixer and stir in cream and sour cream with a wooden spoon. Pour the batter into the prepared pan.
In a separate smaller bowl, whisk pumpkin puree with heavy cream and spices.
Drop spoonfuls of the pumpkin batter on top of the cheesecake. Then taking a knife, run the dollops of pumpkin puree throughout the batter and swirl.
Place the cheesecake onto a baking sheet and at 500 degrees F. for 10 minutes. Reduce the oven temperature to 200 degrees F. and leave the oven door open until the temperature has reduced. Bake until the cheesecake's perimeter is set, but the center jiggles when the pan is tapped, about 1 hour. Turn off the heat and let the cheesecake rest in the oven for about 1 hour. Transfer to a wire rack and let the cheesecake cool to room temperature before covering with cling film and refrigerating until chilled, about 4 hours.
To prepare the candied walnuts, whisk egg white until frothy and toss the walnuts in with it. Spoon the walnuts out into a separate bowl and toss with sugar. Place the nuts on a parchment lined baking sheet and bake for 30 minutes at 350 degrees F.
Slice the cheesecake and serve each slice with a generous drizzle of Smuchers All Natural Salted Caramel Sauce & Hot Fudge. Top with fresh whipped cream if desired. Serve & Enjoy!
Recipe Card powered by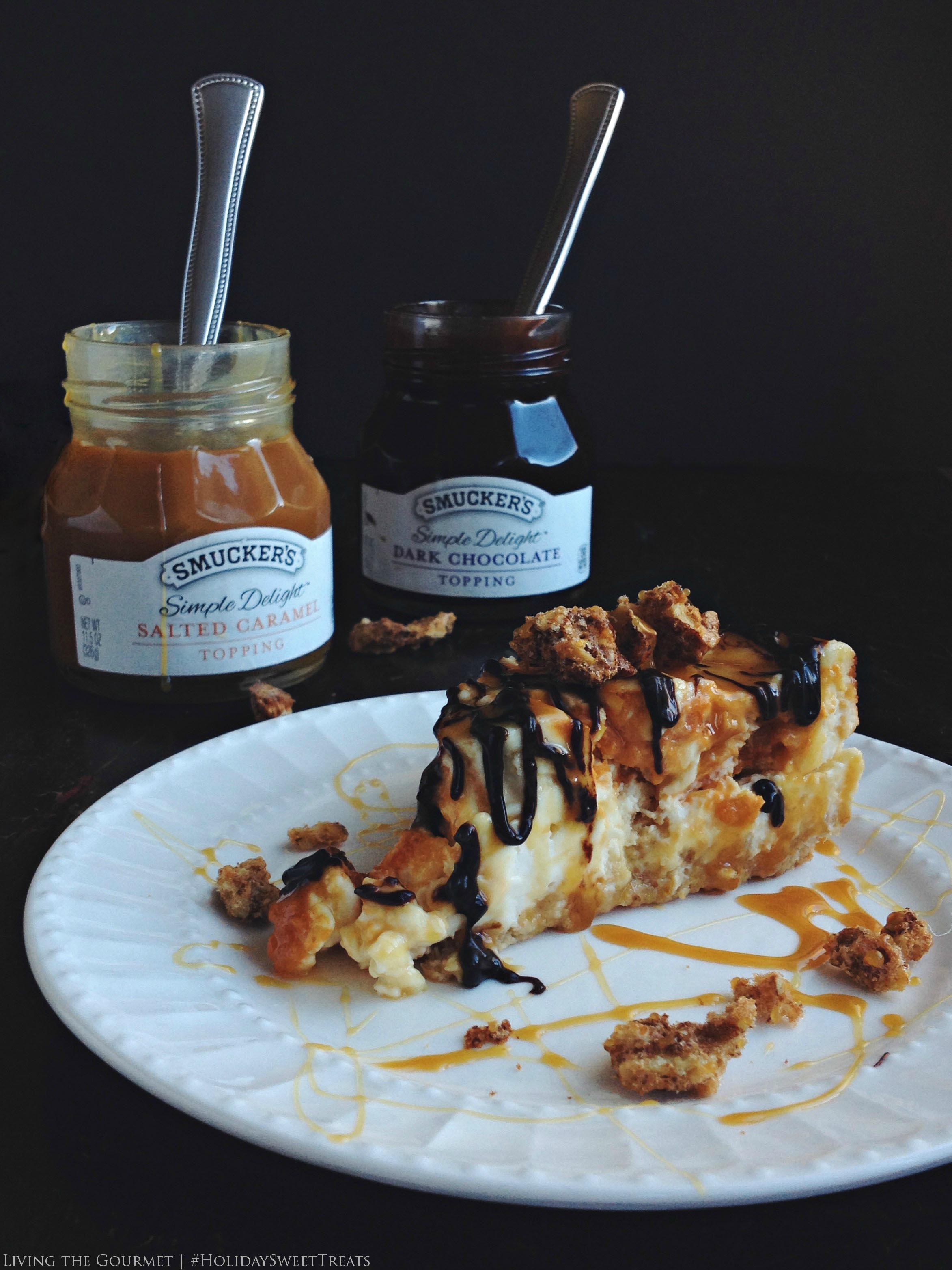 What are some of your favorite holiday desserts? Or what are some of your family's favorite baking traditions? We would love to hear from you.
Save 20% now on your next Smucker's Toppings purchase at Target with this exclusive Cartwheel Deal running 11/29 – 12/12!
Enjoy with Love,
Catherine
xo
0