This post is part of a social shopper marketing insight campaign with Pollinate Media Group®, Rubbermaid® fasten + go, but all my opinions are my own. #pmedia #FastenNGo http://my-disclosur.es/OBsstV
Thanks to Rubbermaid® fasten + go, bringing your meals on the go has never been easier or more convenient, no matter what life may throw your way. Today we are revamping holiday leftovers and creating a delicious on-the-go meal!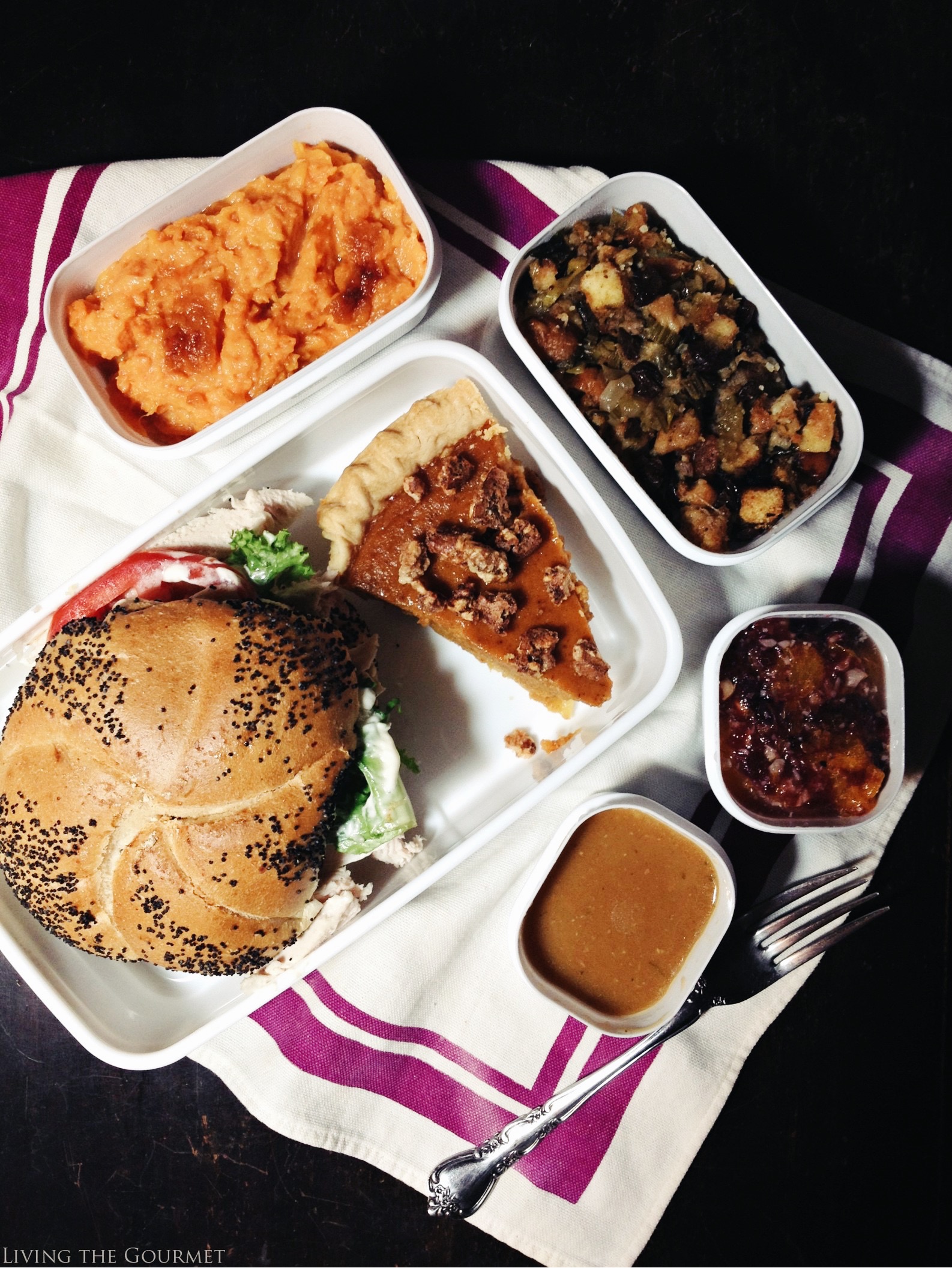 There's an old cliché about Thanksgiving dinner, and how it's a treat most of us indulge in but once year, if that. While many of us enjoy the leftovers, they are usually but a mere shadow of the former feast, of course. Often times, at least from my perspective, as delicious as the leftovers undeniably are, they are often more of a post-holiday tease, at least from my perspective.
However, I do not despair, for as the Chinese philosopher and poet Lao Tzu instructed us "Do the difficult things while they are easy," and to "do the great things while they are small. A journey of a thousand miles must begin with a single step."
And so, with that in mind, I like to create something entirely different, at least in feel and spirit with the Thanksgiving leftovers, as opposed to trying to turn them into a shadow of their former selves. I found myself thinking about precisely that during a conversation with a friend a few nights ago, and we were talking about work, and she remarked that I must "Always eat gourmet" given what I do. My reply was that "Working at home means you're always at the office, and that means a lot of eat-to-survive office food."
Now, I'm not sure if it was the prosecco coupled with the copious amounts of dinner party dessert, or wide-eyed holiday exhaustion, or both, but that got me to thinking about "Post-Thanksgiving-Home-Office-Lunch."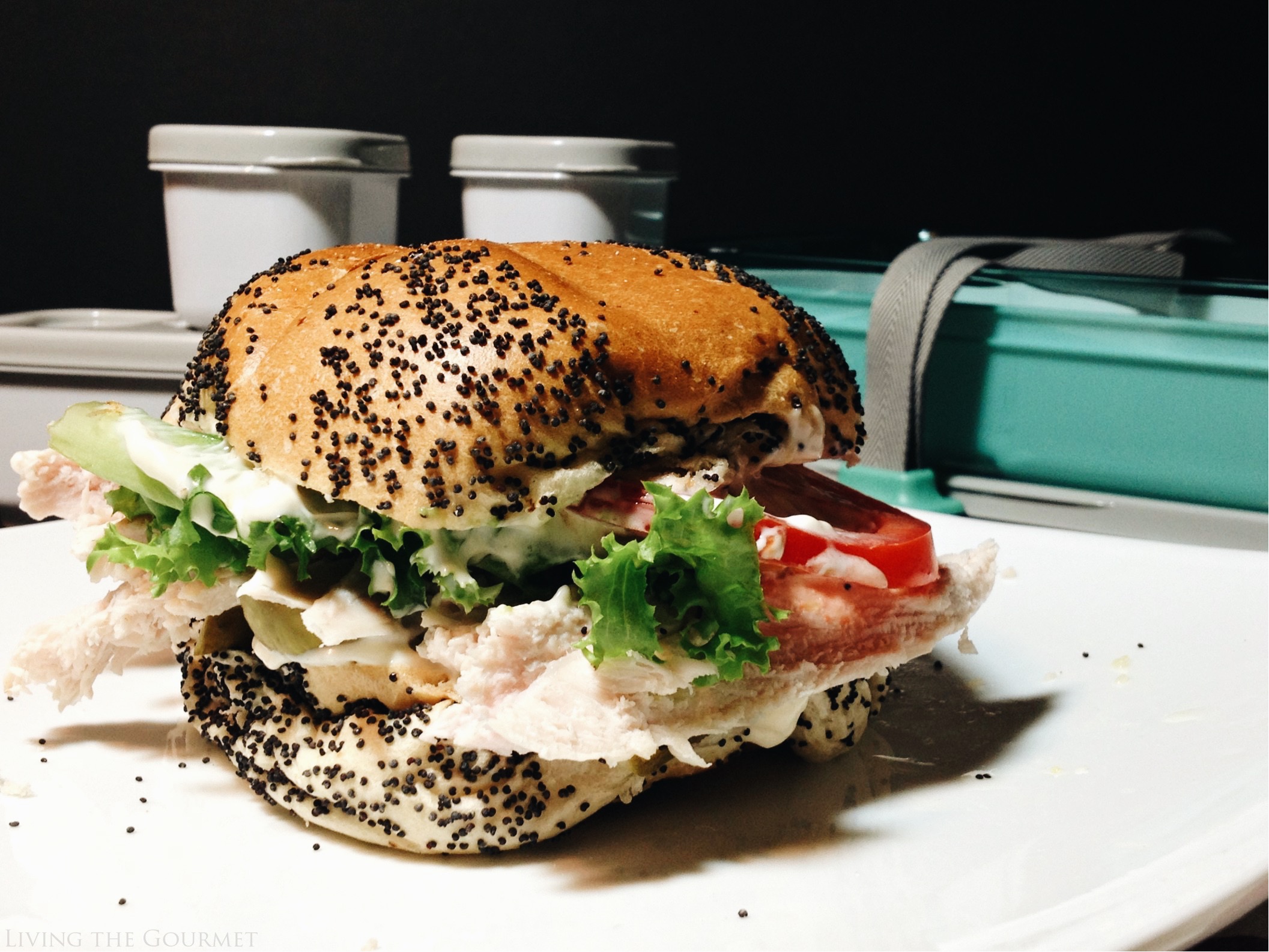 Just hear me out.
All too often I've found myself eating my Thanksgiving leftovers, or any holiday leftovers for that matter, little by little, either in late night sneak-eats in ominous glow the open fridge, or heated up little by little for rushed workday lunches, and all the while never really 'enjoying' them the way I wanted to, and in fact knew I could. To solve that, without consciously disrupting my workday, I decided to pull a page out of my commuting days, and pack myself a lunch for work in my new set of Target Rubbermaid® fasten + go, with all of the trimmings of a Thanksgiving dinner in desk-friendly luncheon portions.
You see, all the ingredients for a delicious holiday meal are there, why not take that first 'small step' and begin putting them together to be enjoyed? Simple really.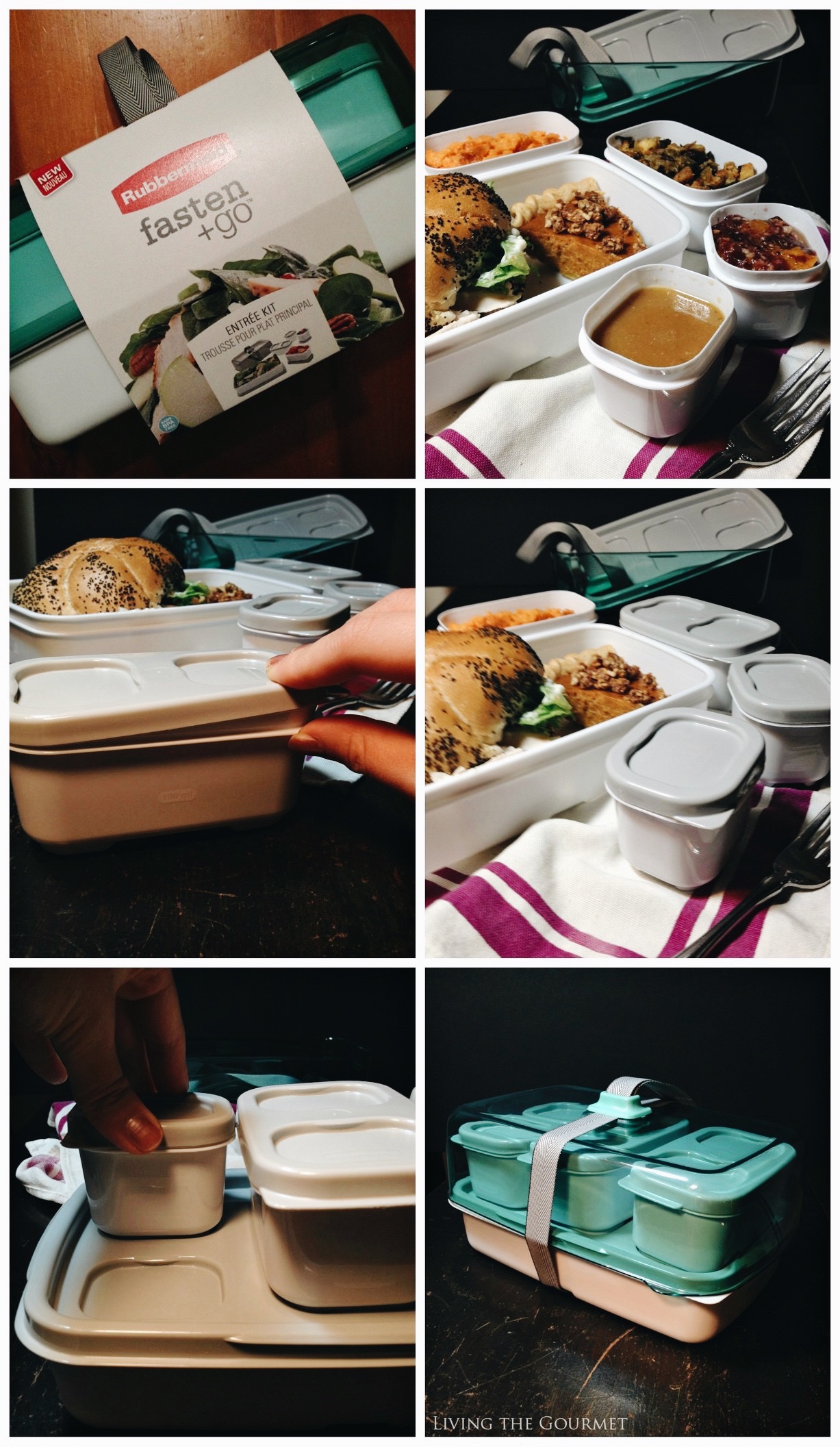 Living the Gourmet
Yields 2
Sausage Stuffing & Cranberry Chutney Seasoned Turkey Breast Perfect Pumpkin Pie
15 minPrep Time
3 hr, 45 Cook Time
3 hr, 55 Total Time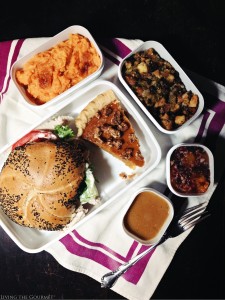 Ingredients
16 oz. Italian sausage – removed from casing
1 bunch of Italian parsley – chopped
1 head of celery – chopped
1 sweet onion – diced
1 cup raisins – chopped
4 – 5 fresh sage leaves – chopped
12 oz. soft cubed stuffing
1 cup chicken broth
1/2 tsp. salt
1/2 tsp. black pepper
2 tbs. butter
2 tbs. olive oil
3 – 4 tbs. grated Parmesan cheese

Cranberry Chutney:

14 oz. can of whole cranberry sauce
11 oz. can of mandarin oranges - drained
20 oz. can of pineapple chunks – drained
1/2 cup of chopped walnuts
9 lb. turkey breast
1 lemon sliced
1 tbs. salt

For the Rub:

1 tbs. Old Bay Seasoning
1/2 tsp. ground nutmeg
1 tbs. ground coriander
1 tsp. Bells All Natural Seasoning
4 – 5 fresh sage leaves
2 tbs. butter
29 oz. can of 100% Pure Pumpkin
1 1/2 cups of sugar
1 1/2 tsp. ground cinnamon
1 tsp. ground ginger
1/4 tsp. ground cloves
1/2 tsp. salt
4 eggs - beaten
2 cups whole milk
1/2 cup sour cream
2 9-inch pie shells
Instructions
Heat a large cast iron frying pan with 2 tbs. butter and 2 tbs. olive oil.
Add the chopped celery, onion and parsley; sauté until the onion is softened and the celery cooks down a bit.
Add the sausage, sage and raisins and continue to sauté until the sausage is cooked.
Add the cubed bread a little at a time tossing and incorporating; while slowly adding the broth a little at a time; season with the salt and pepper.
Butter a casserole dish and add the stuffing. Finish the dish off with a few pats of butter and sprinkle with the Parmesan cheese.
Preheat Oven 350 degrees.
Bake for 25 – 30 minutes.

Cranberry Chutney:

Combine all of the above in a bowl and toss with the chopped walnuts; chill and serve.
Preheat Oven 350 degrees F.
Clean the turkey breast.
Rub the turkey breast down with the lemon wedge and salt.
Place the turkey breast in a baking pan.
Mix the seasonings for the rub in a small bowl and add the butter. Rub the turkey down with the butter and seasonings.
Fit the sage leaves under the turkey skin.
Place two cups of water in the baking pan.
Bake the turkey 20 minutes per pound, approximately 3 hours, or until the juices run clear.
Preheat Oven 350 degrees F.
Place the pumpkin in a large bowl. Add the eggs, milk, sour cream, sugar, cinnamon, salt, ginger and cloves. Mix together until smooth and creamy.
Divide between the pie shells evenly; do not overfill the pie shells.
Bake 45 - 55 minutes or until the toothpick test in the center comes out clean.
Let the pie cool for at least one hour then serve or refrigerate until ready to serve.
7.8.1.2
219
https://livingthegourmet.com/2015/12/leftover-holiday-sandwiches.html
What are some of the ways you keep up with the holiday flavors despite a busy schedule? Or what are some of the ways you put your leftovers to use? We would love to hear from you.
Starting on 12/27/15 head to your local Target store to purchase the NEW Rubbermaid® fasten + go kits! Available in Entree, Sandwich, and Soup Kits!
Enjoy with Love,
Catherine
xo
0