This post is sponsored by Blue Diamond Almonds.
In the wake of another year gone by, we gather to celebrate the past year; to reflect, and to learn from. We gaze ahead towards a brighter future, in hopes that the New Year will bring us the peace, happiness and success we seek.
So in the spirit of celebration, a homemade antipasto platter is in order. Blended with the classic Italian flavors I love, then encrusted in a variety of chopped almonds, this cheese ball is a delight to whip up and enjoy.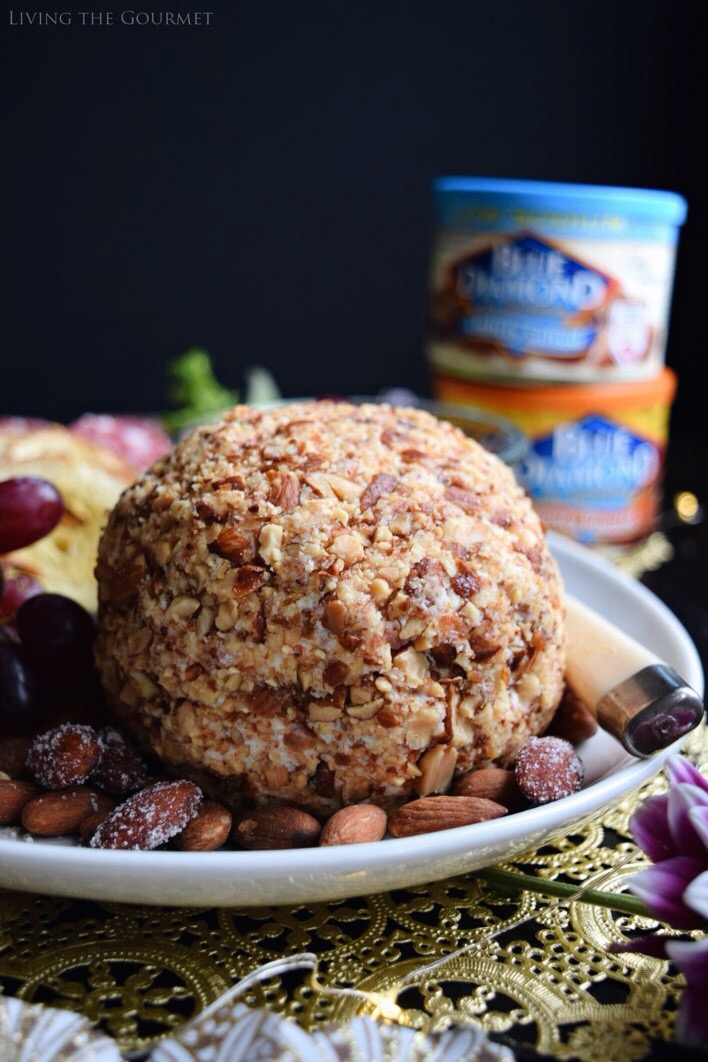 "And now we welcome the new year. Full of things that have never been," as Rainer Maria Rilke quipped.
In sitting down to write this post for New Year's Eve, I couldn't help feeling as though my mind were traversing a vast desert of tired cliché phrasing, dramatic monologues, and painful 'purple verse' in perusing the ways in which our collective journey over the past year is so often commemorated, and the New Year greeted.
You see, standing at the edge of a closing year, I can't help feeling like an artist at the end of a long project. Like the artist staring at a completed piece, the emotions are mixed. There's a measure of pride in what I see, tempered by the moments of pain along the journey, and then of course my eyes can't help resting on the stumbles where the chisel or brush didn't quite hit the mark, and that reinforces the ever bitter uncertainty of what lies ahead, bitterness soon warmed by the hope for 'can' be.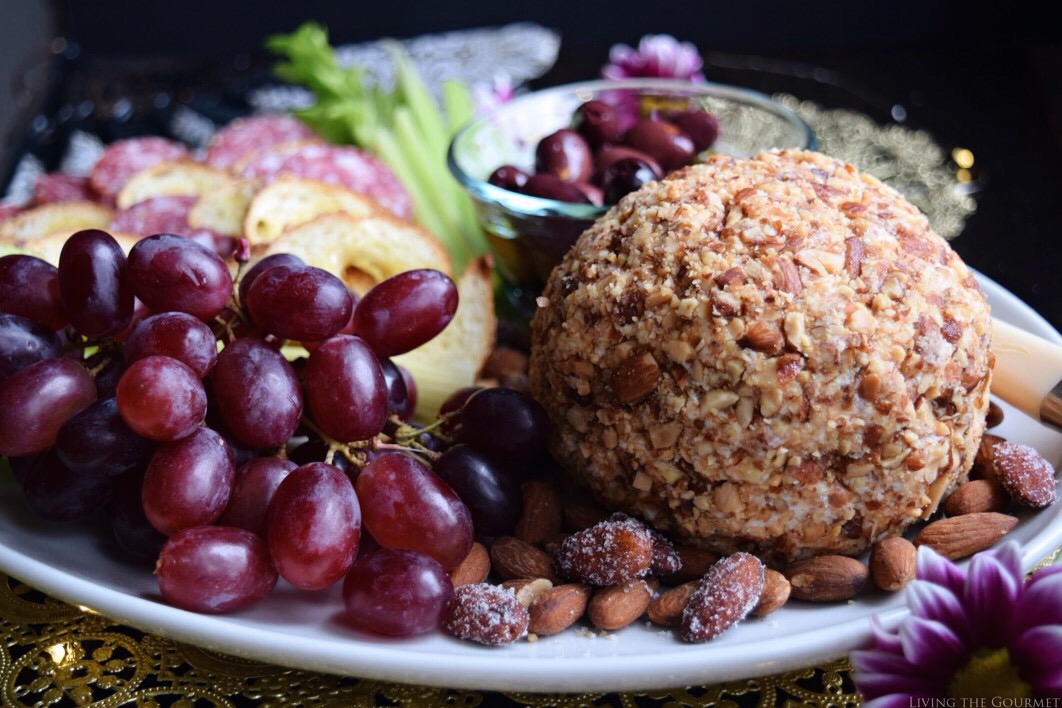 The year itself, at its end, is framed like an increasingly foggy, oversized mosaic hung upon the wall of our mind's memory, a mosaic that is either marred by mishaps, or graced by triumphs…or both. Yet, for all of the New Year's celebrating and well-wishing, we are unwittingly in the process of hanging another oversized frame on the wall our memory. We title our first few pieces of the new mosaic things like "Resolve," "Hope," "Rebirth," or "New Beginning." In this way, 'celebrating' the New Year is itself entirely an act of hope and self-well-wishing. After all, when we wake up in the morning, no matter how mundane the day is meant to be, we are never guaranteed how it will unfold, we merely expect and hope, and try our best to direct it to a peaceful conclusion.
It is for this reason that I always like to start my New Year off with as pleasant a memory as possible, to start things off 'the right way' so to speak. After all, that first memory is the first bit of the new mosaic.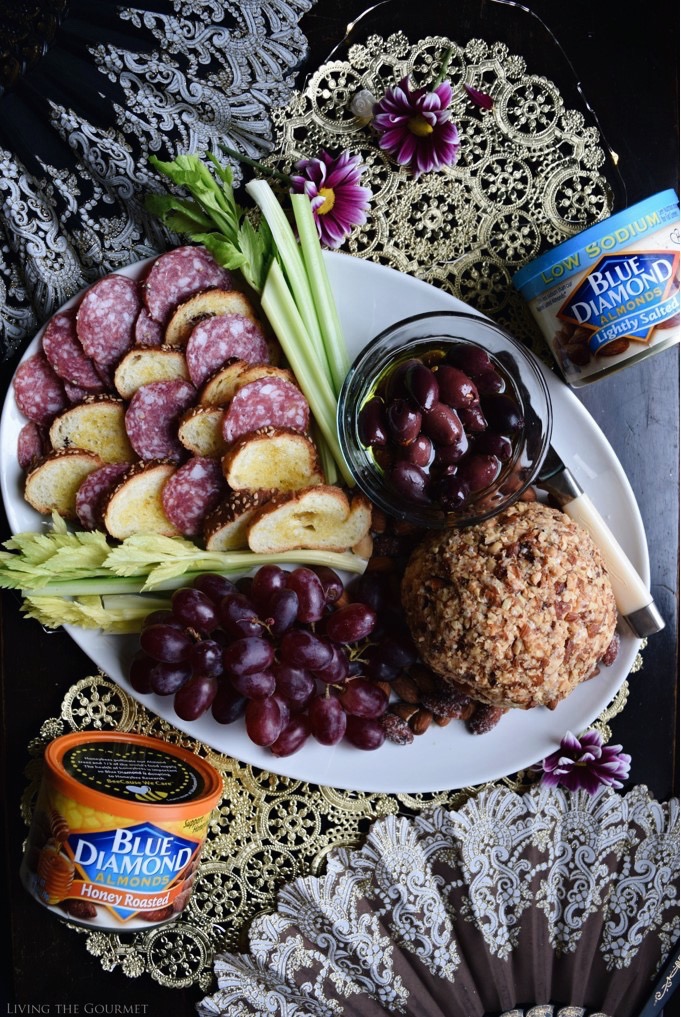 Being who and what I am, and doing ever what I do, that 'pleasant memory' is usually centered around something as simple as it is delicious, which of course means an evening at home with my son and daughter, with an evening full of food from beginning to end. This, of course, brings us to today's recipe – an almond crusted Cheese Ball.
Don't let the name fool you, this cheesiest of appetizers is assembled with aged Gorgonzola, fresh lemon juice for added zest, and cream cheese for binding, which I then coated in Blue Diamond Honey Roasted Almonds, along with Blue Diamond Lightly Salted Almonds for a bit of balance.
As a result, this Cheese Ball paired excellently with the accompanying spread of sliced salami, Kalamata olives, and herb infused oil alongside crusty Italian bread, which I assembled ahead of time to help me ring in the New Year this evening. The Cheese Ball, and its accompanying spread couldn't possibly be easier to put together, while at same time being an appetizer that's sure to impress your guests.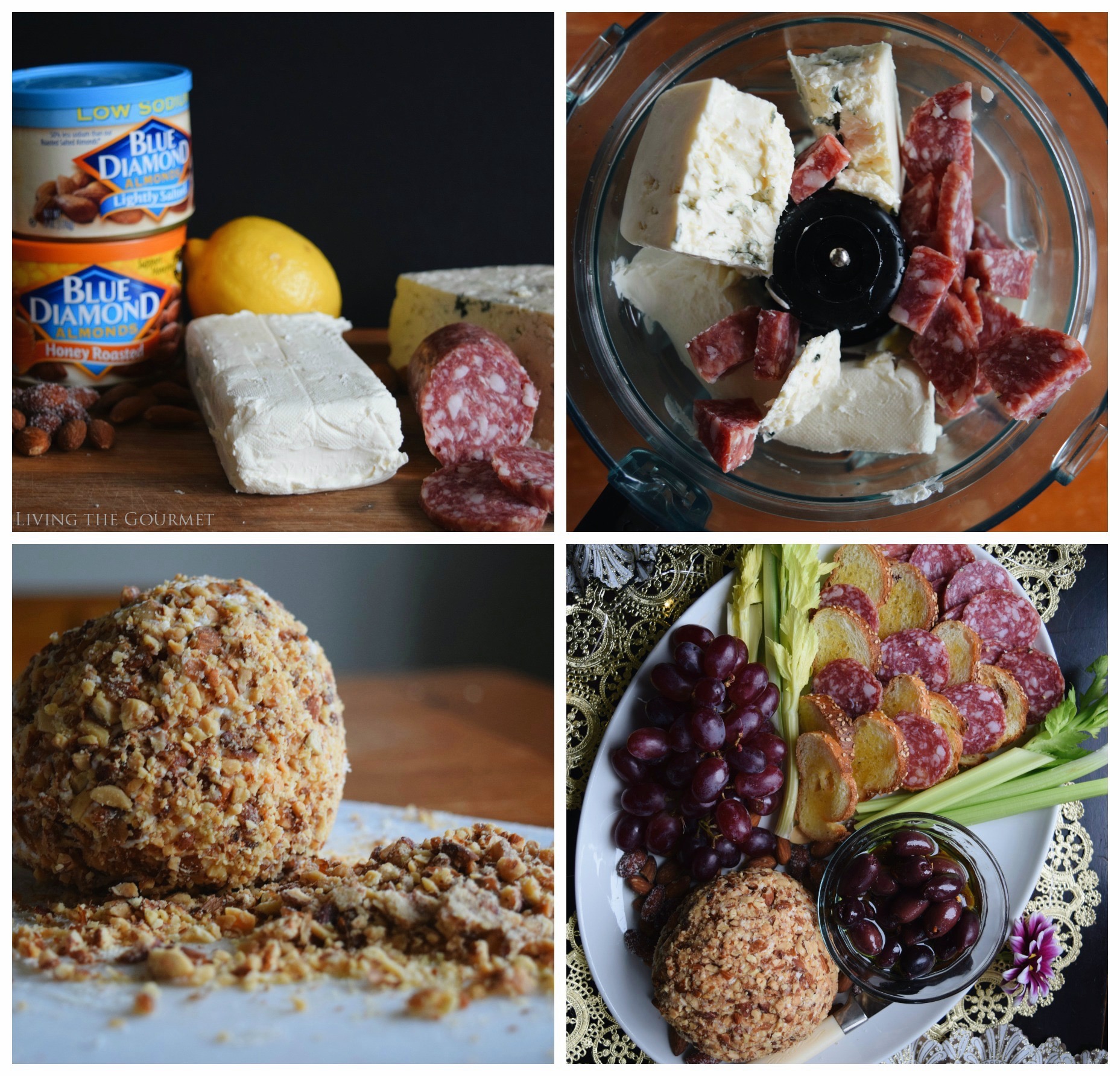 Living the Gourmet
Yields 8-10
Italian Cheese Ball
10 minPrep Time
10 minTotal Time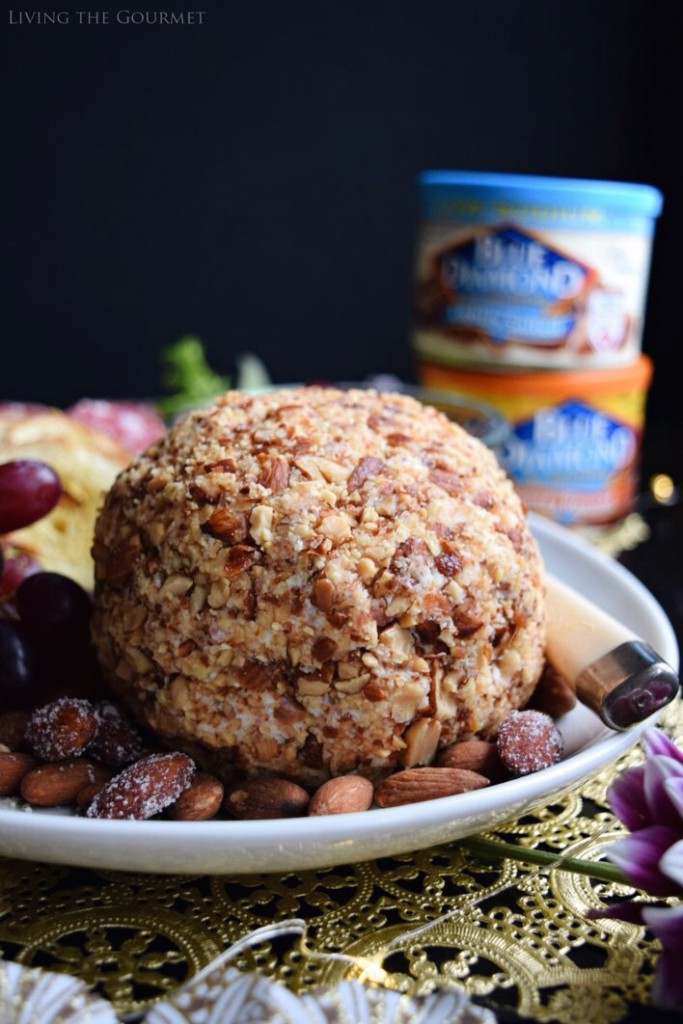 Ingredients
8oz bar of cream cheese
4-5oz Gorgonzola cheese
3-inch piece of hard Italian salami, diced
3-4 tablespoons lemon juice
4-5 tablespoons Blue Diamond Lightly Salted and Honey Roasted Almonds, coarsely chopped
Instructions
Place the cream cheese, Gorgonzola, diced salami, and lemon juice in food processor. Process until creamy.
Remove cheese batter from bowl and form into a ball.
Place chopped nuts on smooth surface and roll the cheese ball in the nuts to coat on all sides.
Place in the refrigerator for at least 1 hour before serving.
Serve alongside your favorite appetizers.
7.8.1.2
228
https://livingthegourmet.com/2015/12/italian-cheese-ball-a-happy-new-year.html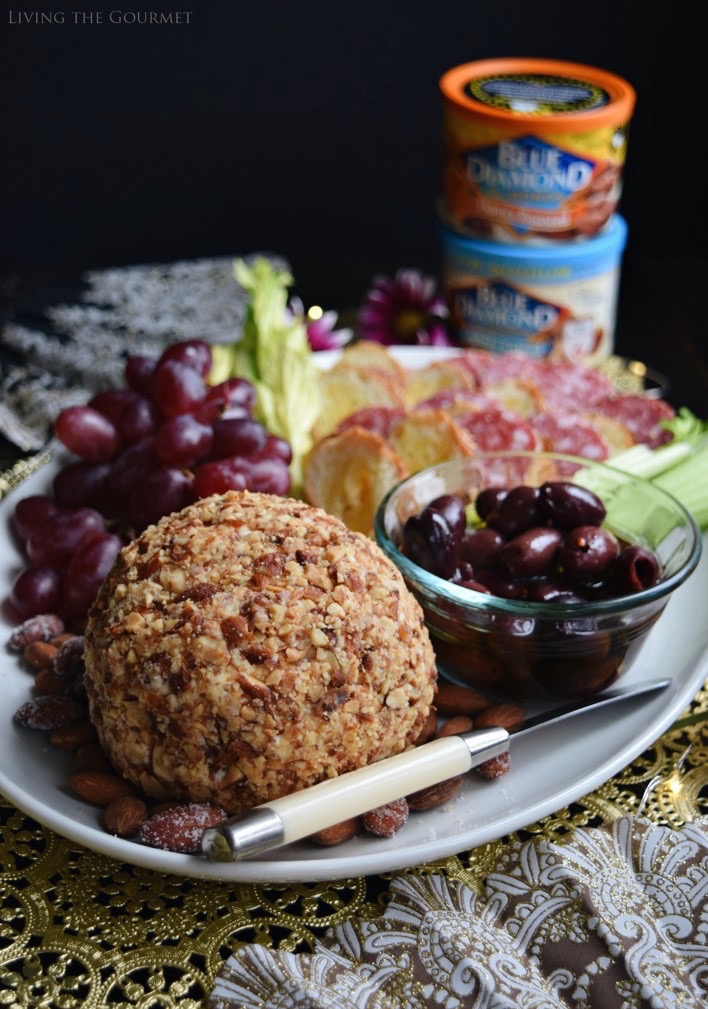 What are some of your favorite New Year's Eve recipes? We would love to hear from you.
Wishing you all a happy & healthy New Year!
Enjoy with Love,
Catherine
xo
1