This holiday season #BeGlorious and serve your guests a variety of Gloria Ferrer Wines paired elegantly with a tray of Blistered Tomato Crostini & an exquisite Holiday Antipasto platter.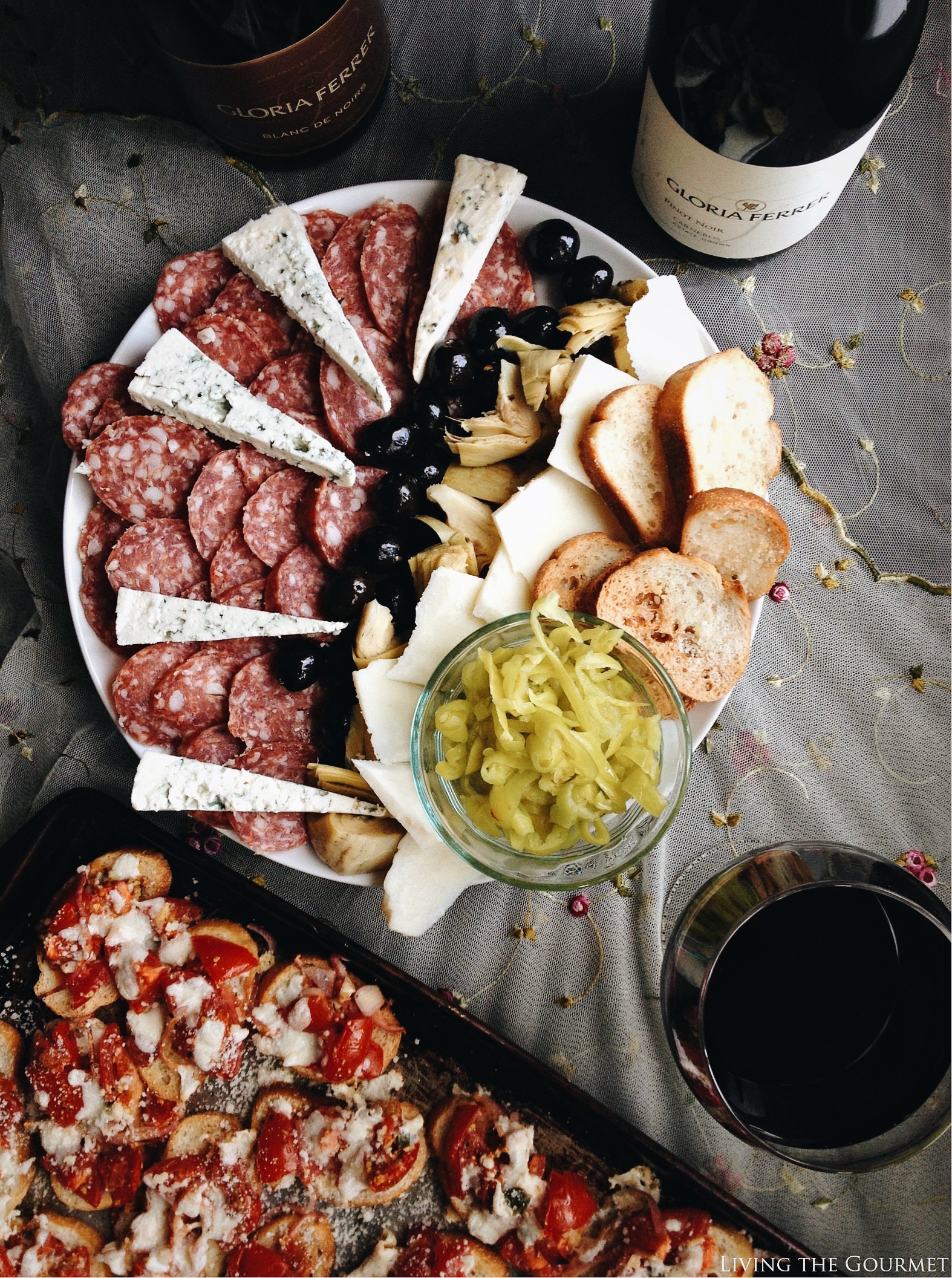 When I first started reviewing wine on Living the Gourmet, I ran across a pair of quotes that I can honestly say I didn't quite appreciate until just recently. The first, from Plautus, ran "Let us celebrate the occasion with wine and sweet words," pointing out the obvious connection between wine, good company, and relaxed socialization.
Benjamin Franklin echoed the sentiment roughly two millennia later when he observed that "Wine is proof that god loves us, and loves to see us happy."
I wrote recently about a pre-Christmas dinner party I put together for a couple of old friends, and how I paired it excellently with a prosecco and a red wine, and how both made the evening not merely complete, but accentuated all of its finer points. I had the opportunity to do that again just last night, albeit it in a somewhat less formal but nonetheless equally enjoyable setting.
You see, with the holidays here we've had to produce a constant stream of new content, and we decided last night to treat ourselves, and to simply let go and relax, if for no other reason than to remind ourselves of our humanity. Envision a "Home Office Party." We didn't want to do anything complex or overwrought, we just wanted to unwind, and that's how today's antipasto spread came into being.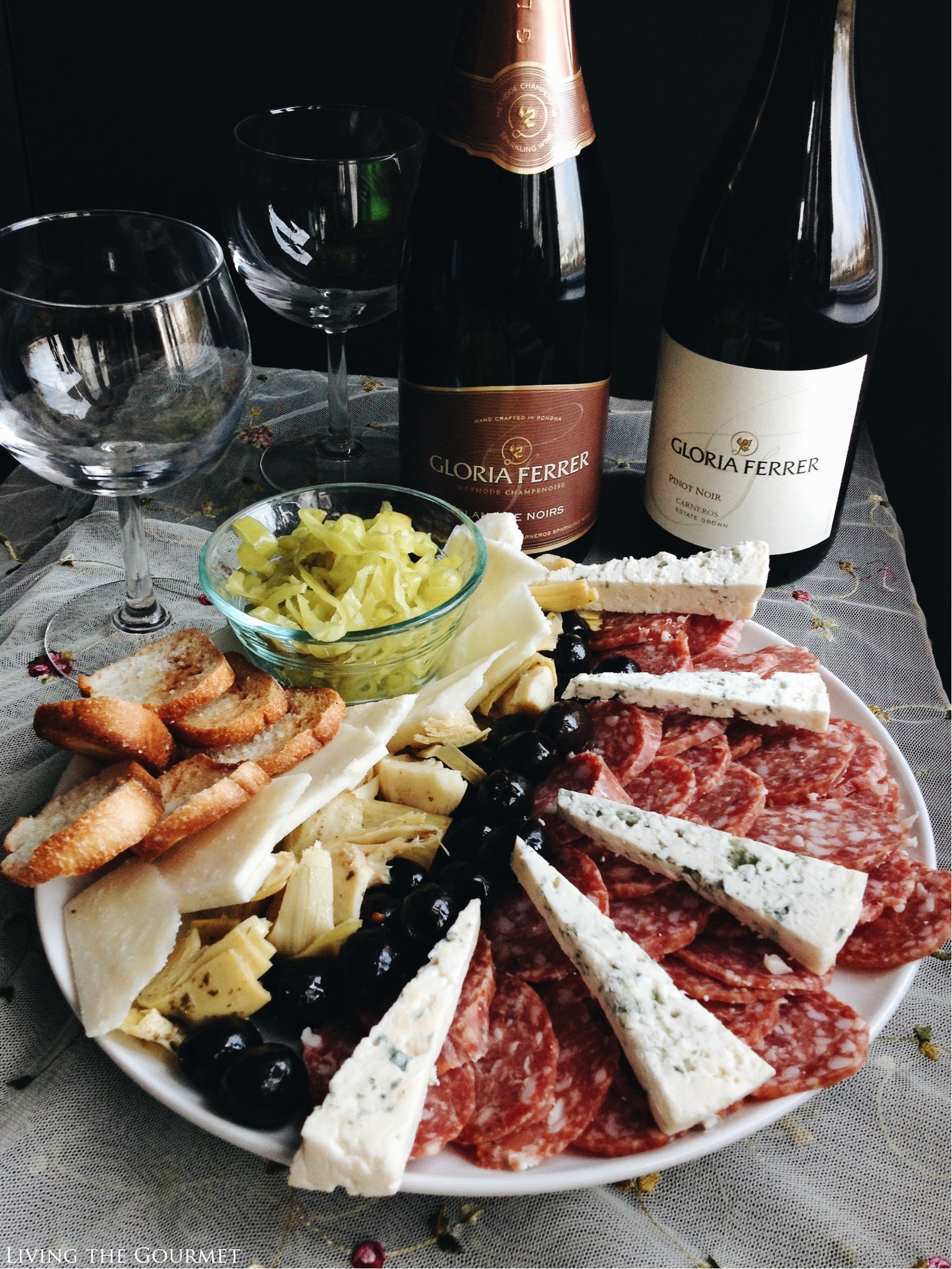 Now, I wrote recently about my heresy of starting off my last dinner party with a hearty red wine rather than a sparkling white, and I'm afraid I did that again for this "Home Office Party" of ours. Let me explain. Outside of France, Spain, and Italy, sparkling wine is almost exclusively regarded as an aperitif, and here in New York that is essentially a cemented custom – even amongst us displaced Italians. So, of course, you can imagine my hesitance when I forsook my local custom for the second night in a row, and rather than beginning the night with ourGloria Ferrer Blanc De Noire Methode Champenoise sparkling wine, we instead began the evening with our Gloria Ferrer Pinot Noir.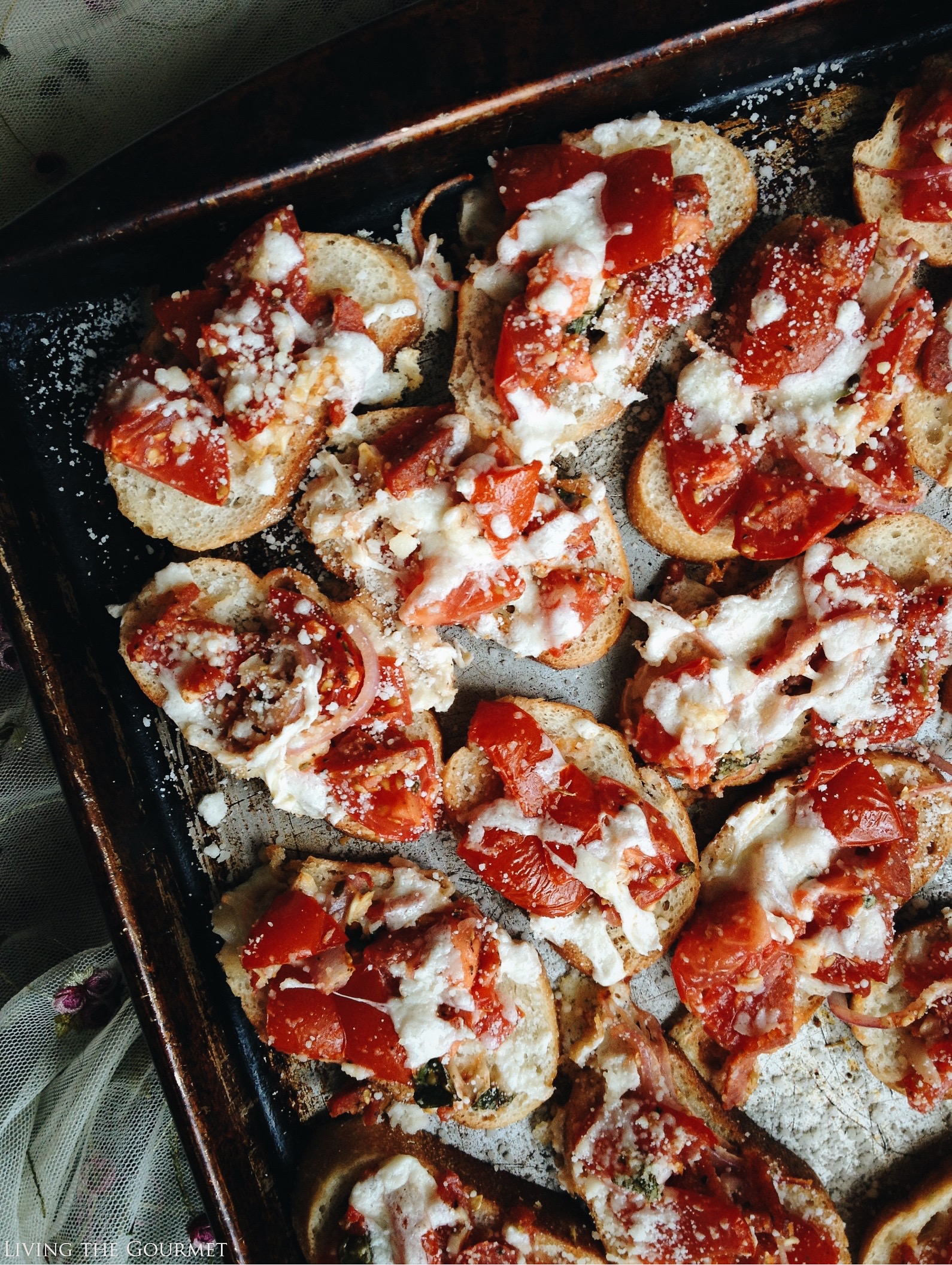 Print
Blistered Tomato Crostini Holiday Antipasto
Author:
Prep Time:

10 minutes

Cook Time:

15 minutes

Total Time:

10 minutes
1

loaf of French or Italian bread – sliced thin
Grated Parmesan cheese
Olive oil
Topping:
1/2

lb

. of fresh mozzarella – shredded or sliced thin

2

inch piece of pepperoni – chopped

2

cloves of garlic – chopped

6

–

8

fresh basil leaves – chopped

4

–

5

vine-ripe tomatoes – diced

1/2

small red onion – sliced thin

3 tsp

. grated Parmesan cheese

1/2 tsp

. dried oregano

1/2 tsp

. ground black pepper

1/2 tsp

. salt

3

tbs. olive oil
Hard salami – sliced thin

1/2

cup

of olives – drizzled with olive oil, ground oregano and red pepper flakes
Asiago cheese – sliced
Marinated artichoke hearts
Blue cheese – sliced
Deli sliced marinated peppers
Your choice of bread or crackers
Instructions
Preheat Oven 350 degrees F.
Place the sliced bread on a baking sheet; brush with olive oil on both sides of the bread and sprinkle with grated Parmesan cheese.
Bake for 10 – 12 minutes, turning over once half-way through the baking process.
Topping:
Combine the tomatoes, pepperoni, garlic, onion, basil, Parmesan cheese, seasonings and olive oil in a bowl and toss.
Top each baked slice of bread with a spoonful of the tomato mixture; finish with the shredded mozzarella and a little more Parmesan cheese.
Bake for 5 – 6 minutes or until the mozzarella cheese melts.
Arrange the above on a platter and enjoy.
Recipe Card powered by
Obviously, it was a beautifully successful if informal evening for us at Living the Gourmet, and we wholeheartedly concur with the winemakers of Gloria Ferrer who regard their wines as bottled expressions of the vines, sky, and hillsides of Sonoma County.
Enjoy with Love,
Catherine
xo
I was selected for this opportunity as a member of Clever Girls and the content and opinions expressed here are all my own.
0