This shop has been compensated by Collective Bias, Inc. and its advertiser. All opinions are mine alone. #SendHallmark #CollectiveBias
The holidays stir up a world of beautiful memories. Today we pay tribute to those memories as we create new ones with these homemade sweet Italian Ravioli.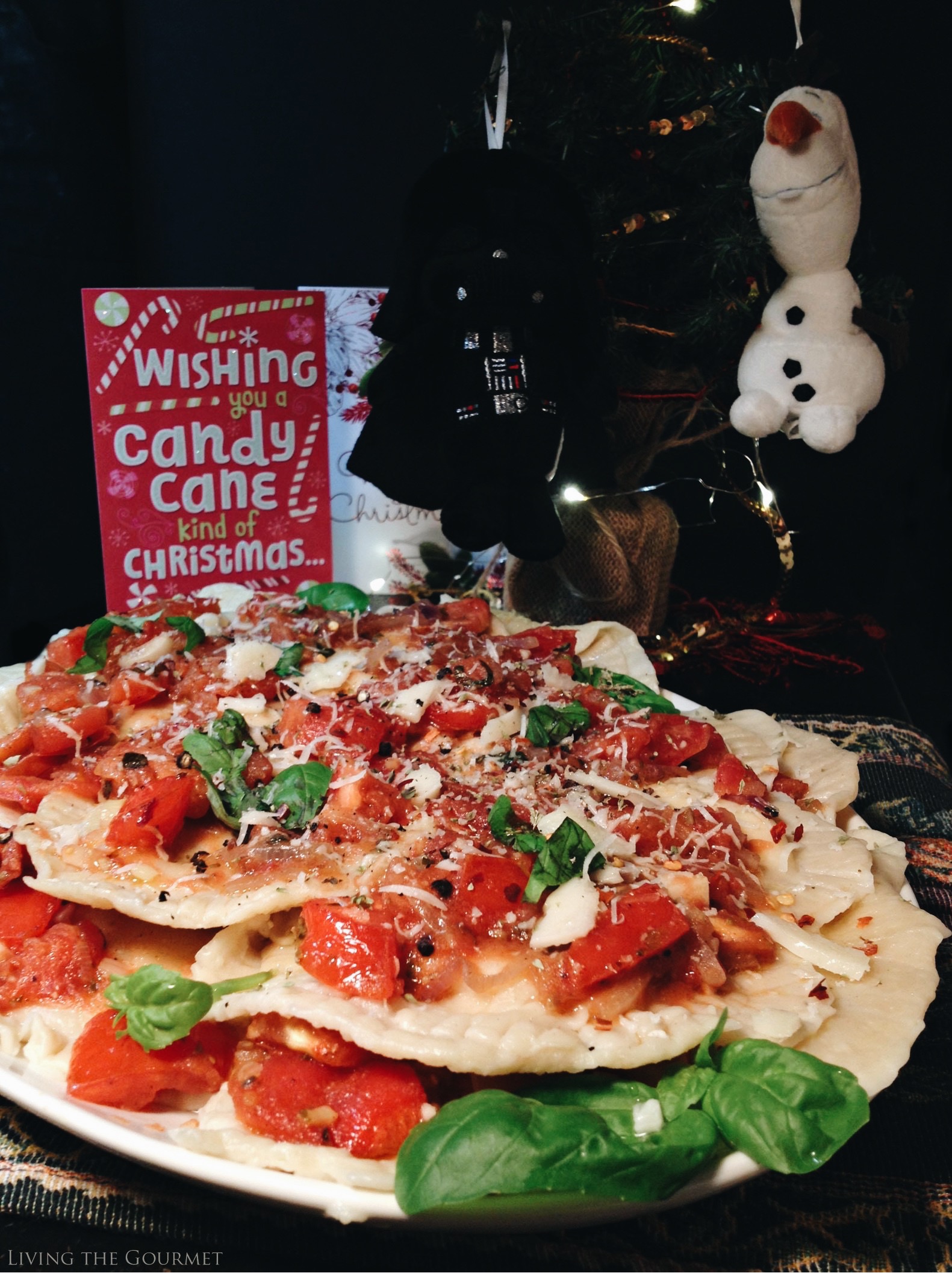 'Special' is word attached so often to such a wide variety of subjects that it has lost almost any trace of an actual meaning. In most cases it finds itself synonymous with 'unique,' others times it finds itself romanticized, used to describe something such as a 'pleasantly memorable evening,' or something 'of value' in a larger group such as 'diamond in the ruff.' To say the word is an umbrella phrase would be a vast understatement.
Yet, this vague definition has hardly stopped us from deciding that certain occasions, almost by the mere fact of their existence, need to be special, that they need to be remembered fondly almost as a matter of ritual. After all, there's a reason why a drab weeknight dinner is both forgivable and ultimately forgettable, while a drab Christmas affair on the other hand, well, that's another matter entirely.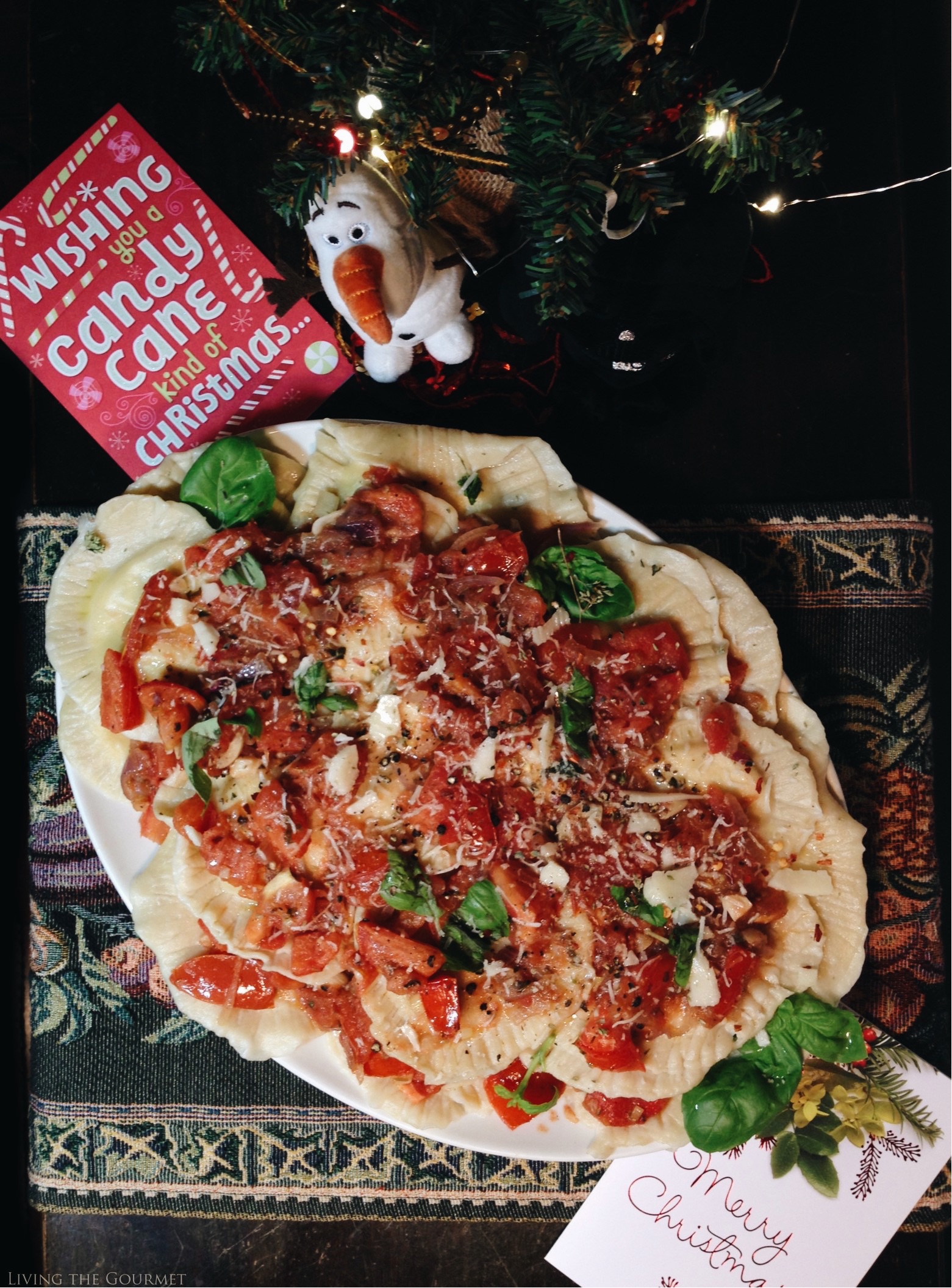 Strangely enough, far from radical deviance, a form of 'ritual routine' is one of the most common ways to make an event memorable – tradition. Whether it's 'chestnuts roasting on an open fire,' hanging oversized socks from banisters and then filling with them with handfuls of palm size gifts, or dragging trees into the living room to be strung with electric lights, these seasonal 'routines' are meant to make the moments special, and embed them pleasantly in our memories.
While my family has certainly been known for leaving Christmas trees up well past their welcome, and blowing fuses due to an excess of lights, our favorite holiday traditions, as one might expect, usually take a more culinary route. For example, for the past several years, we've been making batches of homemade ravioli for Christmas Day and News Years. I don't quite remember how we got started on that, but it is now a tradition, and now it is part of what makes the days special for us, since it gets us all in the kitchen at once, which is always fun, and always memorable, and the meal afterwards never disappoints.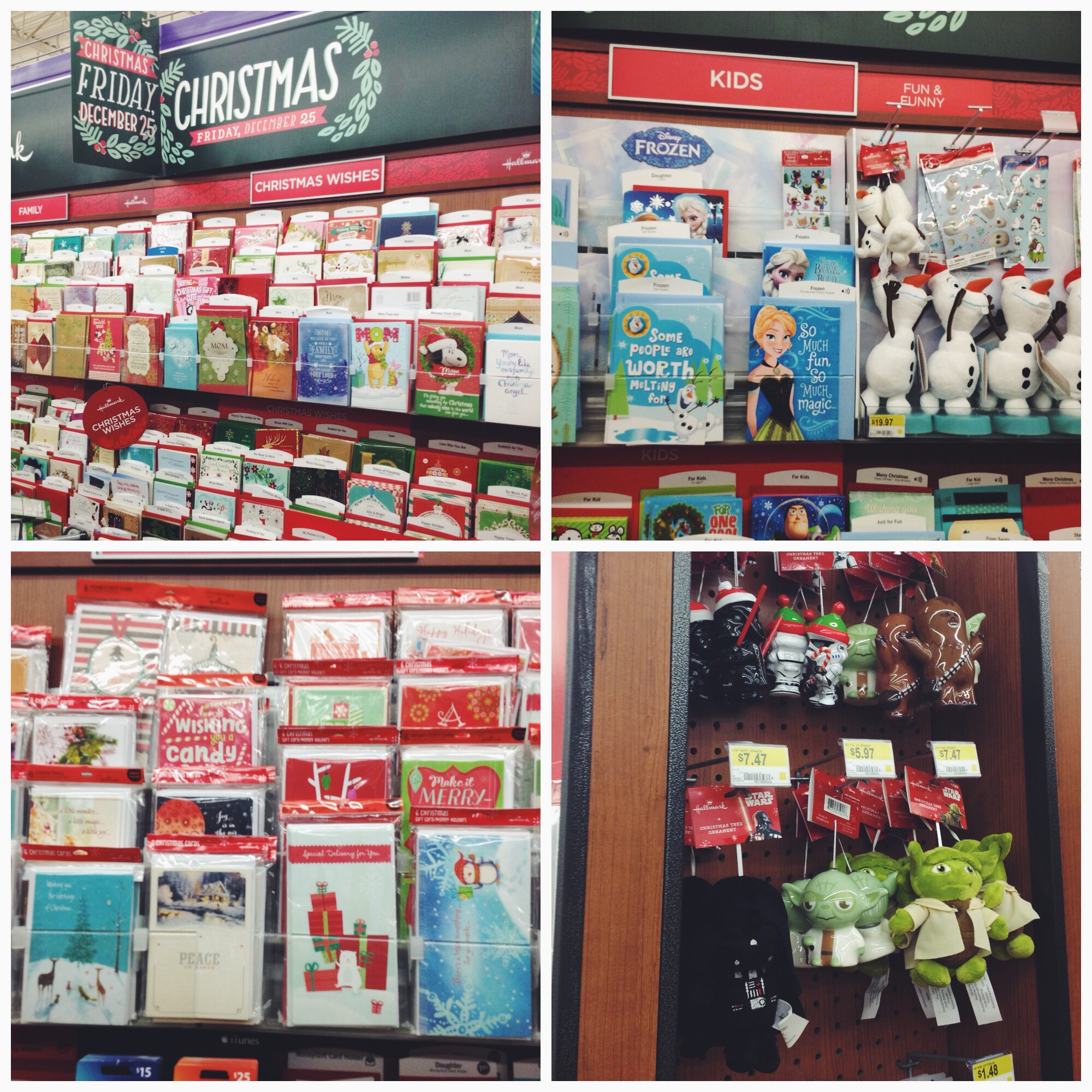 It was while shopping for ingredients to our ravioli at my local Walmart that I happened across the Hallmark Ornaments & Greeting Cards display. Now, with Star Wars fever once again in full throttle, and with my son an avowed fanatic, I simply had to pick up the Darth Vader Ornament. And when I say fanatic, he's the sort that knows the 'TIE' in TIE-Fighter stands for Twin-Ion-Engine, and that the Millennium Falcon was really just a glorified YT-1300 Light Freighter…whatever that means. I should note that I asked for a pair of quick Star Wars facts while writing this, and he gave me those off the top of his head.
I selected Frozen's Olaf for my daughter, along with a pair of Hallmark Greeting Cards. I also decided, then and there, that the night had to be special. I wasn't sure why, but I knew it just needed to be. Maybe it was my lingering over the Christmas ornaments, or maybe my subconscious was waxing nostalgic. No matter, I decided then and there that we would not be waiting to make ravioli.
Why wait? I figured.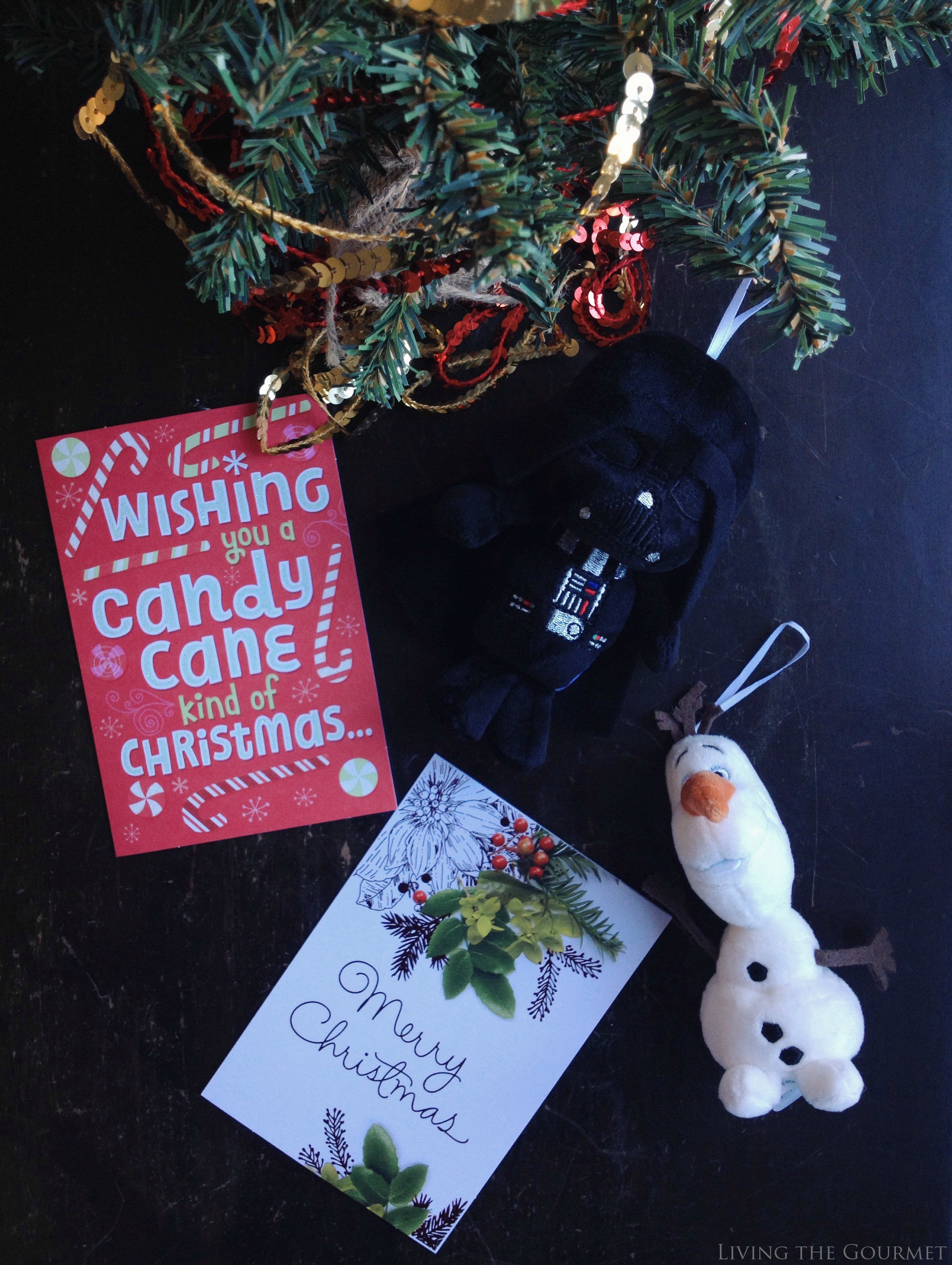 To start things off, you're going to sift two cups of flour into a pile on your countertop, and make a well in the center of it, as shown below. In the well, place the egg yolks and olive oil, and then add three tablespoons of water and begin working the flour until you have a stiff dough. Feel free to add a little more warm water as you go if needed. You know you're done when you have a smooth, elastic dough. Once that's done, cover it and let it rest for about fifteen minutes.
For the filling, I like to add in a few rustic, seasonal flavors, especially cinnamon, nutmeg, and orange zest, in addition to what I have outlined below for mixing the filling.
Once the dough has rested, roll it out as thinly as possible, and begin cutting the dough into circles. To cut the raviolis themselves I like to use a large, metal mayonnaise cover to 'stamp' out the circles from the dough to ensure nice, uniform cut. Once that's done, portion about three quarters of a teaspoon into one circle, and then cover with another of the circles, and seal the edges with a fork as shown below. Once that's done, simmer them for about ten minutes, top with the sauce recipe below, and you're done.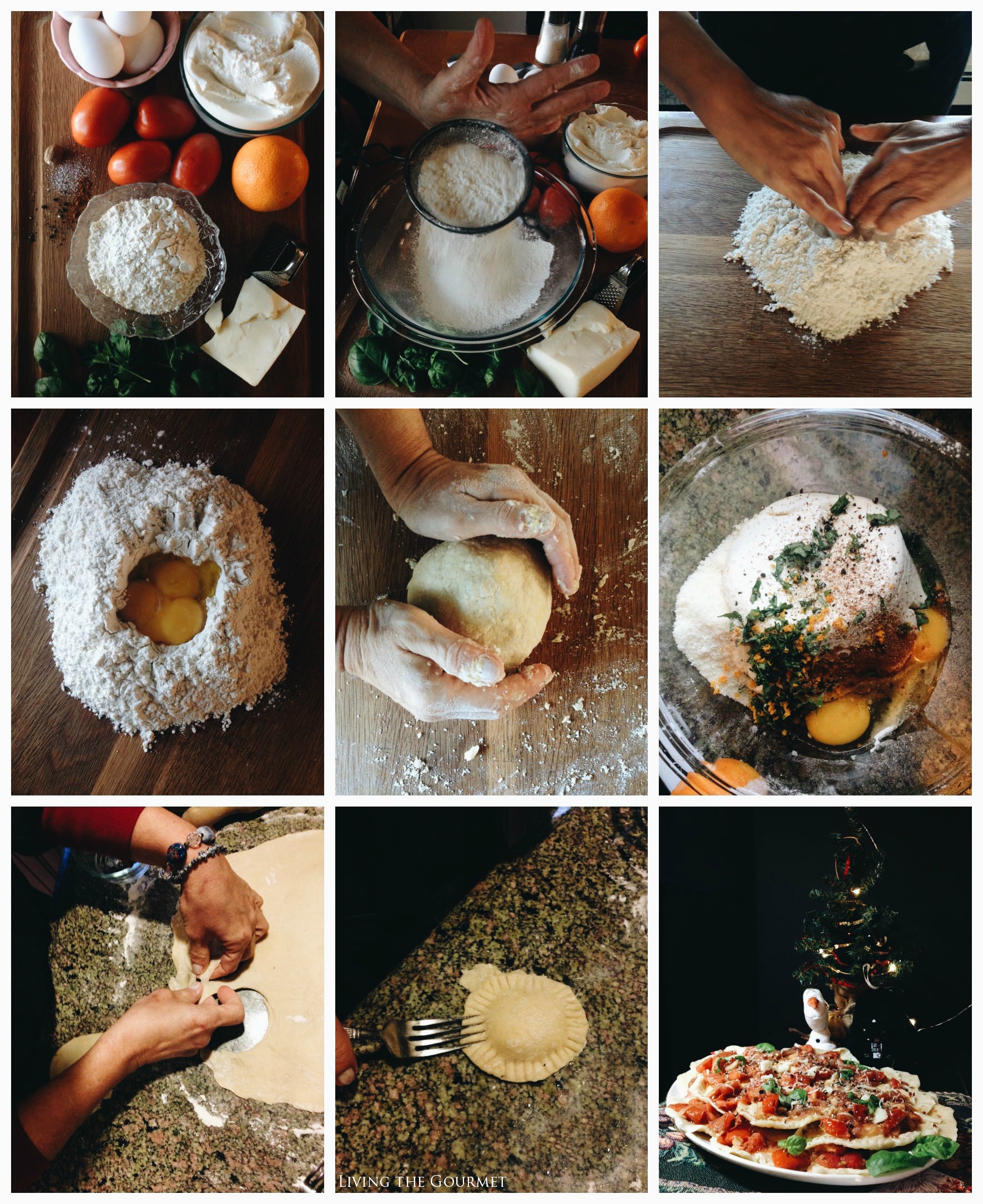 Print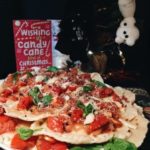 Sweet Italian Ravioli & Holiday Memories
---
Author:

Prep Time:

15 minutes

Cook Time:

20 minutes

Total Time:

35 minutes

Yield:

8

-

10

1

x
For the Dough:
2 cups

sifted flour

3

egg yolks

1/2 tsp

. salt

1/2 cup

warm water

2

tbs. olive oil
For the Ricotta Filling:
1

lb. of ricotta cheese

1/2 tsp

. salt

1/4 cup

fresh Italian parsley – chopped

1/2 tsp

. black pepper

1

tbs. sugar

1/2 tsp

. cinnamon

1/2 tsp

. ground nutmeg
Zest of

1

orange

3

tbs. grated Parmesan cheese

2

eggs
For the Fresh Tomato Sauce:
7

–

9

vine ripe tomatoes or plum tomatoes – quartered

1

tbs. butter

1/2 cup

of chicken broth

3

–

4

cloves of garlic – chopped

1/2

red onion – sliced thin
Handful of fresh basil – chopped

1/2 tsp

. salt

1/2 tsp

. black pepper

1/4 tsp

. red pepper flakes

1/2 tsp

. dried oregano

3

tbs. olive oil
---
Instructions
For the Dough:
Sift the flour with the salt onto a board; make a well in the center, and place the egg yolks and olive oil in the well. Add three tablespoons of water and work it into the flour; knead the dough until a stiff dough is formed, adding a little more warm water as needed. Knead until a smooth and elastic dough is formed. Cover the dough and let it rest for about 15 minutes.
For the Ricotta Filling:
Place the ricotta cheese in a large bowl. Add the eggs, salt, pepper, parsley, cinnamon, nutmeg, zest, sugar and Parmesan cheese and mix well. Refrigerate until ready to use.
On a floured surface roll out the dough as thinly as possible. Using a round circle cutter, such as a mayonnaise cover and cut out round circles for the ravioli. Fill about 3/4 of a tsp. in the center of the circle and with warm water dampen the edges of the dough. Place another dough disc on top and seal the ravioli with the edge of a fork all around. Repeat this process until all of the dough is used.
Bring a large pot of salted water to a boil and carefully drop the ravioli into the water. Simmer for about 10 minutes. Drain well and serve with the homemade tomato sauce.
For the Fresh Tomato Sauce:
Heat a large cast iron frying pan with the olive oil and butter; add the garlic, sliced onion, salt, pepper, oregano and red pepper flakes. Sauté until the garlic is fragrant and the onion is softened.
Add the tomatoes and basil and continue to sauté until the tomatoes are softened.
Add the chicken broth and continue to simmer on a low heat for about 15 – 20 minutes.
Recipe Card powered by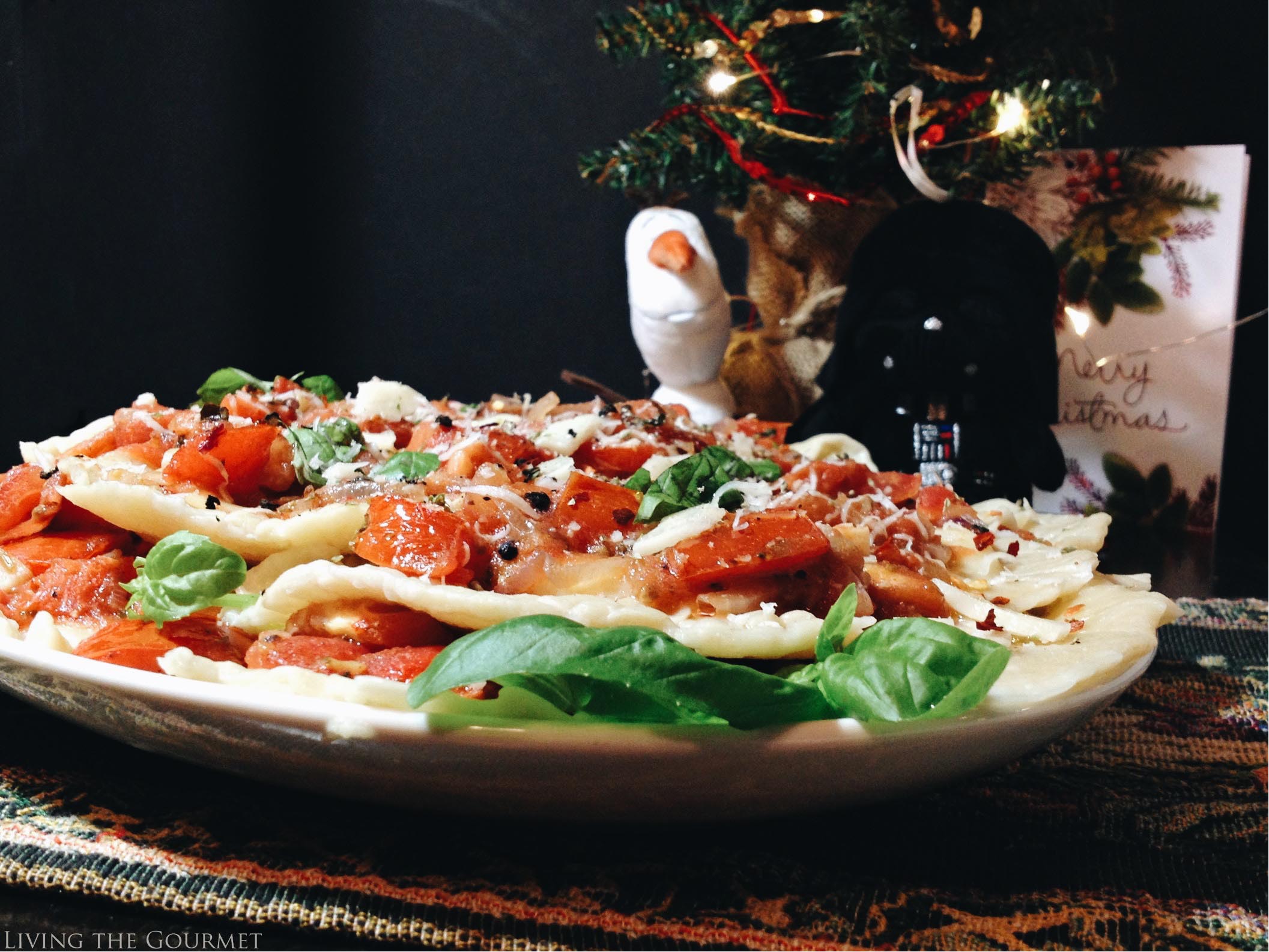 It was a perfect end to our evening, and my kids absolutely loved the ornaments, which will make perfect additions to our tree, which is sure to overstay its seasonal welcome.
What are some of the ways to make the holiday season special? What are some of your family's traditions? We would love to hear from you.
Enjoy with Love,
Catherine
xo
0