Thank you to the Jeio & Mionetto for sponsoring this post. All opinions expressed are mine.
'Perfection' is a word that has almost entirely lost its original meaning. Philosophically, 'perfection,' as used by such great and varied minds as Plato, Aristotle, and St. Thomas Aquinas, denoted a subject that functioned such that no deficit existed, to which any change at all would result in degradation.
Today, perfection means something far more nuanced, a word appropriately derived from the French for 'cloudy.' We might describe watching the sunset from the beach, good company, or even just a delicious wine pairing as 'perfect.' Or, perhaps, writing about wine in a comfortably antique office while sipping Earl Grey tea 'perfectly' enhanced with 'perfectly' cultivated Calabrian bergamot oil. You get the idea.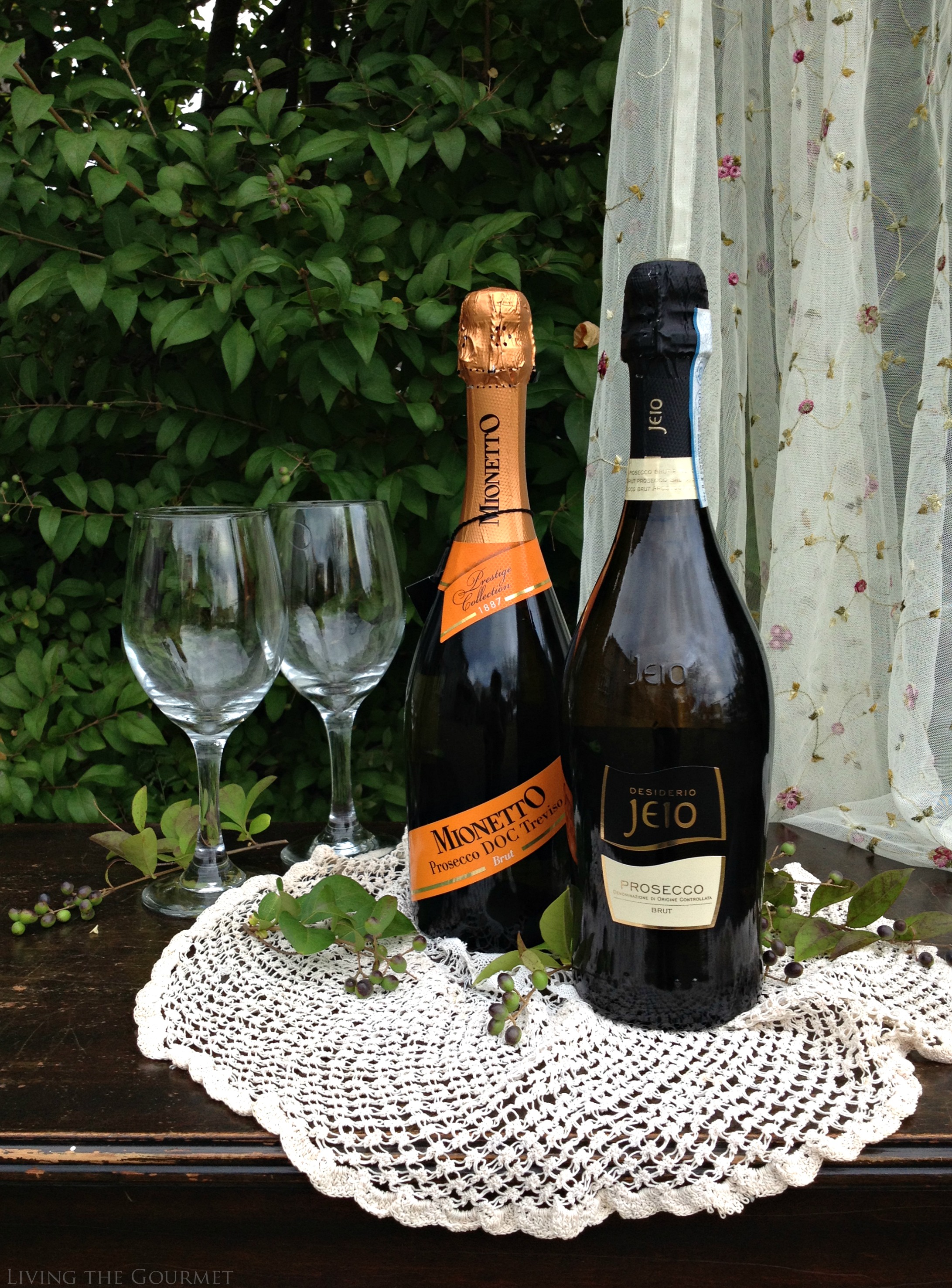 Naturally, none of the aforementioned are 'actually' perfect in the original sense of the word, but they all nevertheless touch on the idea of indulging the finer things life has to offer, and attaching to them a word meant to emphasize the enjoyment we receive from them. So when I say that popping a bottle of expertly paired spumante with friends is a perfect beginning, or end, to any evening, be assured that I am 'perfectly' aware of how I'm using the word.
You see, spumante has been a simple fact of life in my family for far longer than my memory reaches back, whether popping a bottle on New Year's Eve, or putting a bubbly end to a holiday meal or a Sunday dinner. Yet I've only truly become acquainted with the beverage beyond cursory recognition over the past few years.
For the uninitiated, prosecco spumante is a sparkling Italian white wine produced chiefly from Glera grapes, and is produced throughout nine provinces of the Veneto and Friuli Venezia Giulia regions. Prosecco Conegliano Valdobbiadene Superiore DOCG is produced exclusively in the Treviso province of Veneto, while the Asolo Superior DOCG is produced exclusively in the vicinity of Asolo.
And so, it should come as no surprise that when the representatives of the Mionetto and Jeio wineries asked if we would be interested in sampling a pair of their bottles, I couldn't help but to agree.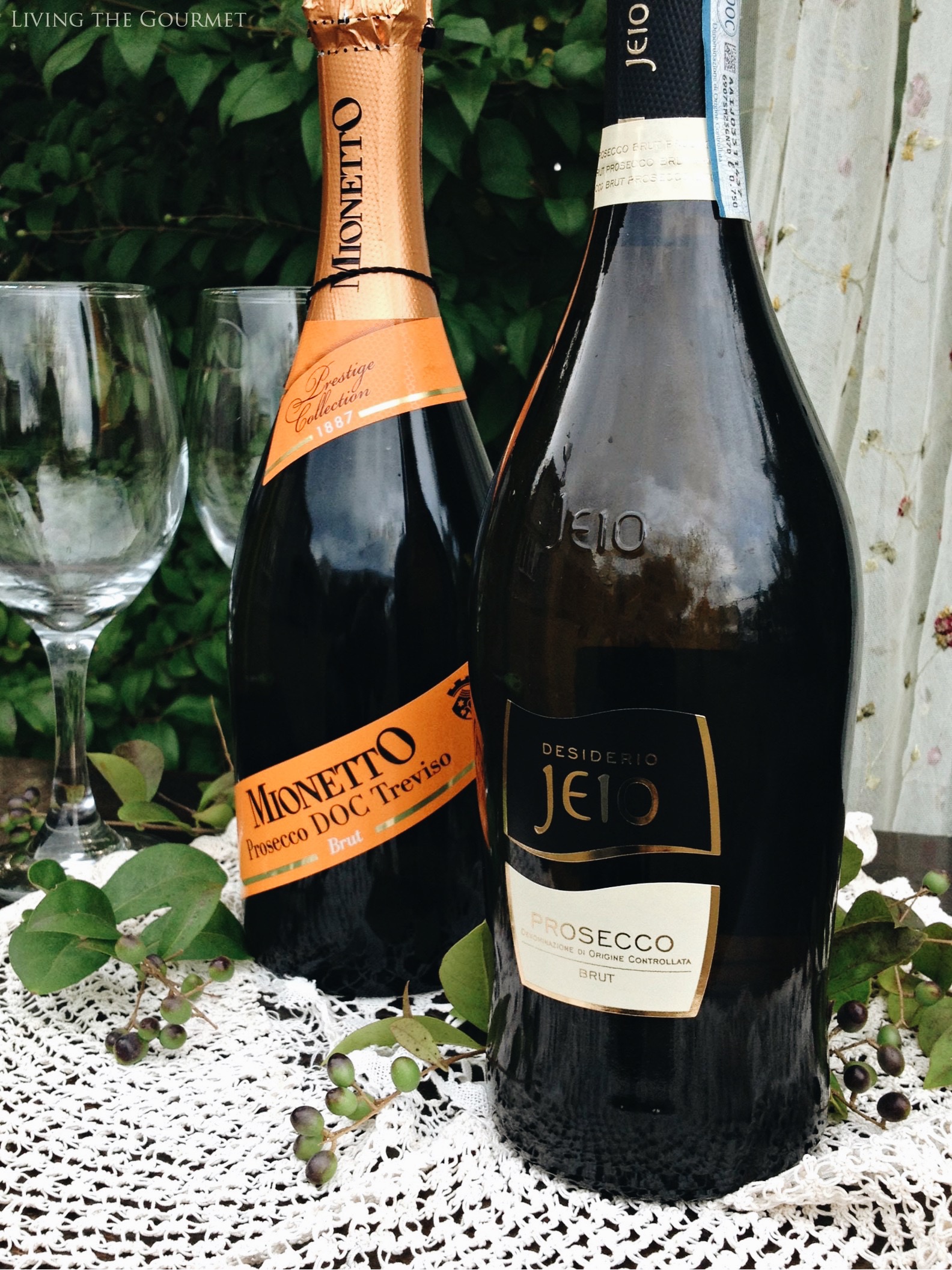 From Jeio, we received a glera 'Brut' Prosecco, the driest classification. On appearance, the Jeio is fairly quintessential, featuring a dry straw hue, think clouded gold, with faint jade tinges puncturing the background. The prosecco greets with a summer fruit bouquet carried on thin effervescence, with sliced peach or apricot becoming discernable just beneath the initial bubbly haze, complimented by wild floral notes. On sampling, the bouquet largely carries over, as I was expecting, with classic prosecco pear and apple notes immediate on the palate. The finish lasting, and largely floral.
Founded in 1887, Mionetto has been producing prosecco for over one-hundred and twenty five years near the village of Valdobbiadene north of Treviso. We received a brut glera, which featured a light straw hue with sharp gold highlights throughout. The wine greets with a decidedly fruity bouquet, with hints of green apple just beneath the effervescence, punctuated by white peach or pear, with hints of floral accentuations. On sampling, the Mionetto is a good bit more acidic than its Jeio counterpart, but pleasantly so, with balanced texturing throughout. In terms of flavor, the bouquet largely carries over, chiefly the white peach and sharp apple notes. The finish is lasting, pleasant and largely fruity.
As with any prosecco, I would serve either bottle as an aperitif, or as a joyful end to an evening. If you're looking to pair these bottles with food, I would suggest light spicy dishes, or with light seafood.
This message is intended for persons 21+. Please enjoy responsibly.
Cheers,
Mike
0