Sweet cherries are baked to bubbly perfection between two layers of flaky dough in this unconventional yet delicious cobbler.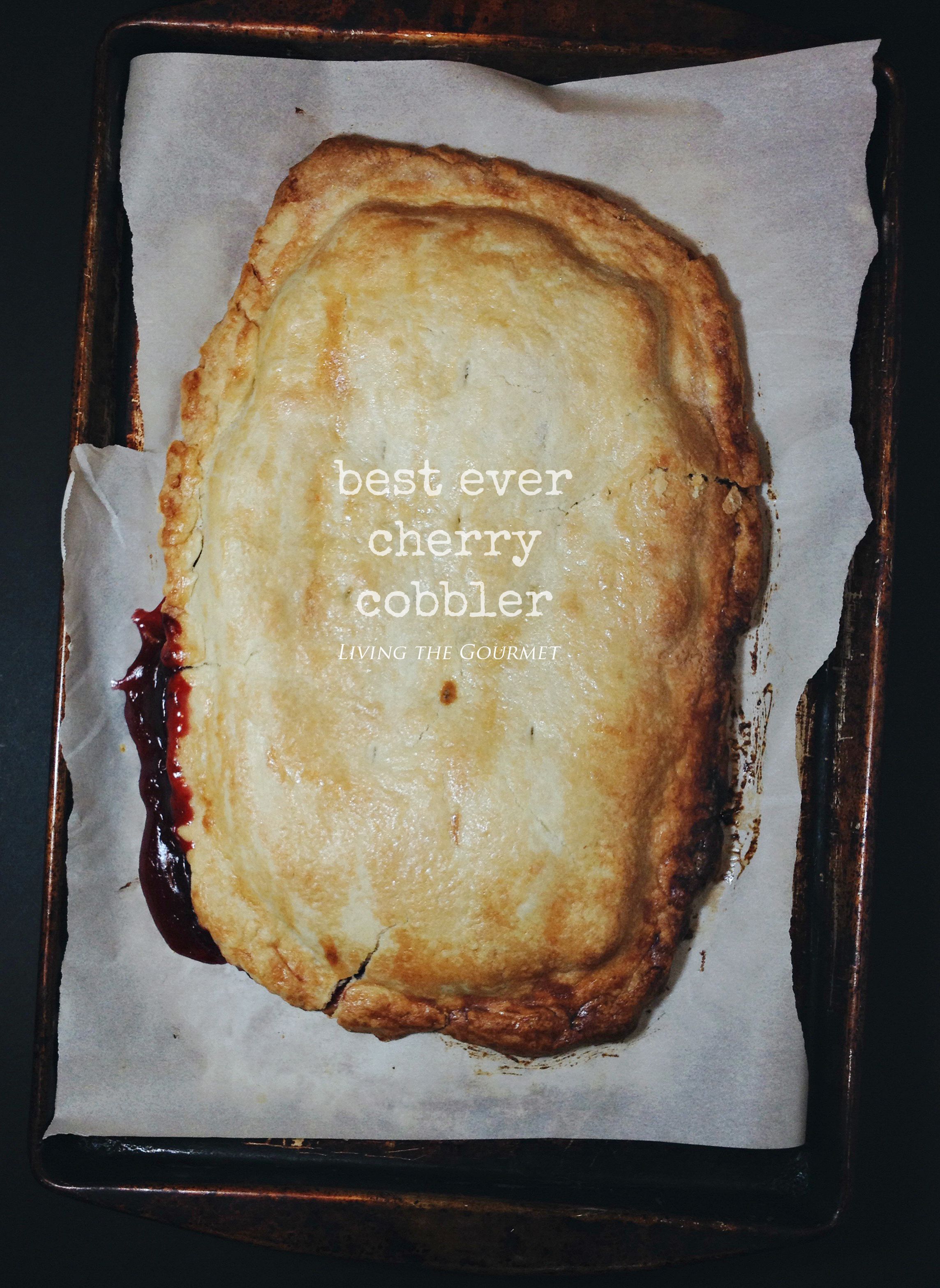 When I first came across this Best Ever Peach Cobbler, I was immediately attracted to the flaky dough and the fact that it was inspired by Carla Hall; not to mention Mom and I both had a hankering for pie, which is pretty much what this cobbler is like with its buttery, flaky crusts! That said, we knew immediately what we would be making for this month's Secret Recipe Club
In case you didn't know, Pumpkins & Peonies is a delightful space filled to the brim with inspiration! Jess, the girl behind the site shares everything from recipes to fashion. I loved discovering her site, so it is with great pleasure I welcome her to Living the Gourmet.
Like Jess, when I think of 'cobbler' I think of a soft biscuit topping baked over soupy fruit. (Sorry, cobblers were never my forte) …buuut if we are talking about the kind of cobbler that consists of golden pie crusts and thick fruit fillings bursting with flavor, then yes, I am very good at making cobblers. 😉
Needless to say, it was a brilliant hit with the family. I did not have peaches on hand, so I cheated and used cherry pie filling, which only proves that this recipe goes perfect with just about any fruit you fancy!
Enjoy this super simple, super scrumptious dessert!! And thank you to Jess for the wonderful recipe and all the inspiration. Be sure to check out her beautiful site!
Living the Gourmet
Yields 6
Best Ever Cherry Cobler
10 minPrep Time
1 hrCook Time
1 hr, 10 Total Time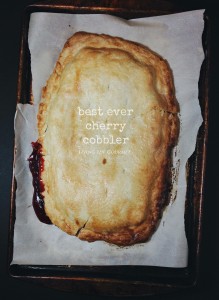 Ingredients
Crust:

1 tablespoon sugar
1 teaspoon salt
1/3 cup cold water
2 cups all-purpose flour
1/4 cup shortening
5 tablespoons unsalted butter, chilled and cubed
1 egg, beaten
Sugar, for sprinkling

Filling:

1 can Cherry Pie Filling
1/4 cup finely chopped almonds
Instructions
In a small bowl, dissolve sugar and salt in cold water. Set aside.
In the bowl of your stand mixer fitted with the paddle attachment, combine flour, shortening and butter. Mix on low speed until a find crumbly mixture forms. Slowly add the water mixture and increase speed to medium, until a soft, pliable dough forms.
Roll the dough together and divide in half.
Heat oven to 400 degrees F.
On a lightly floured surface, roll out one dough to form a 13x9-inch rectangle. Place on a baking sheet and bake for about 15 minutes or until golden. Remove the crust and reduce the heat to 350 degrees F.
While the crust cools, prepare your fruit filling. In a bowl, toss together cherry pie filling and almonds. Spread evenly over the baked and cooled crust. Set aside.
Roll out the other half of dough to fit over the cobbler. Pinch the edges and brush with the egg. Sprinkle liberally with sugar and bake for about 35-40 minutes or until golden and fruit is bubbling.
Serve warm with fresh whipped cream.
7.8.1.2
185
https://livingthegourmet.com/2015/09/src-best-ever-cherry-cobler.html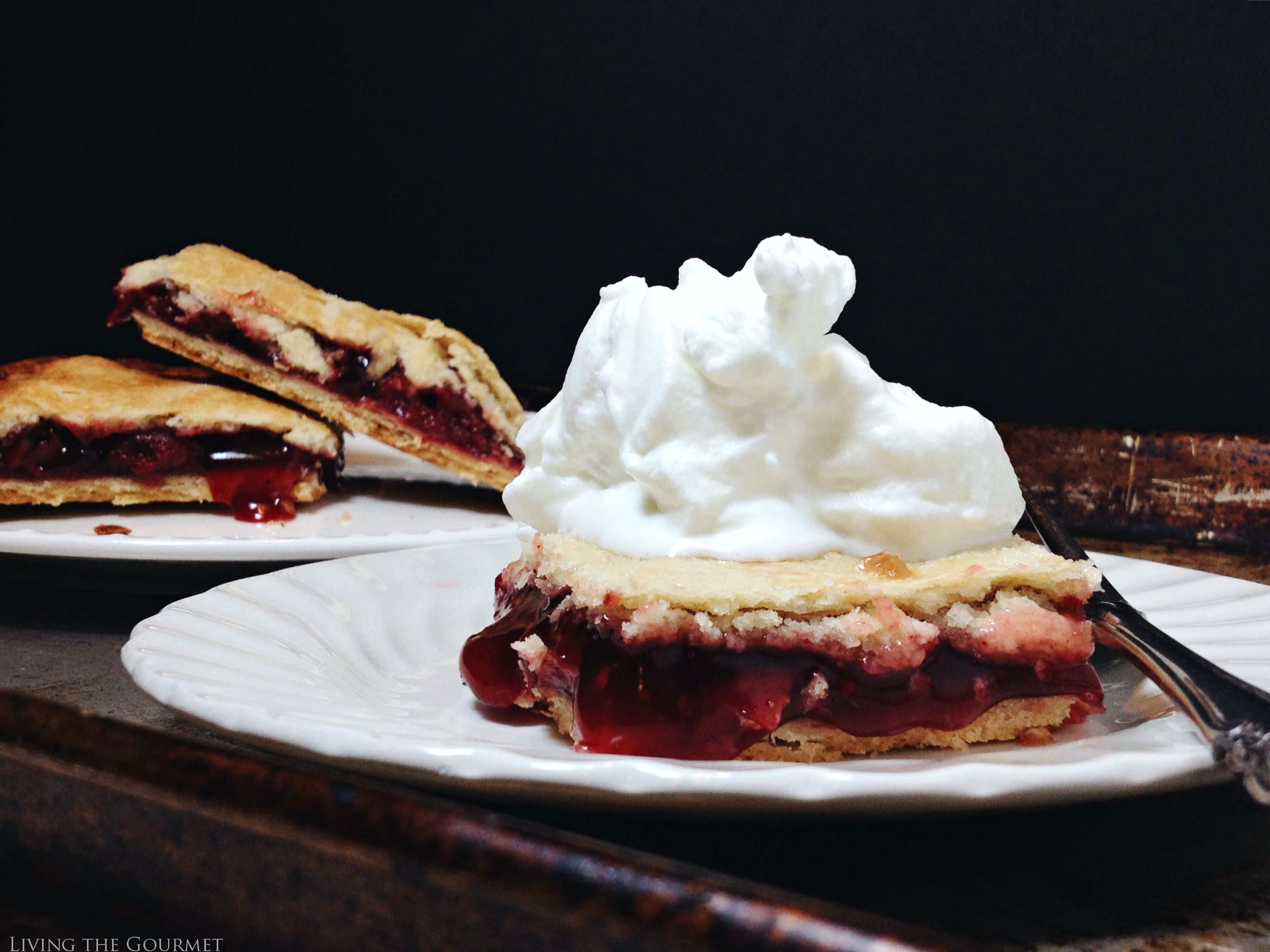 Toodles,
Tammy<3
14