This shop has been compensated by Collective Bias, Inc. and its advertiser. All opinions are mine alone. #SipYourSummer #CollectiveBias
Enjoy this cool, refreshing Snapple slushy bursting with fresh mint and lemon!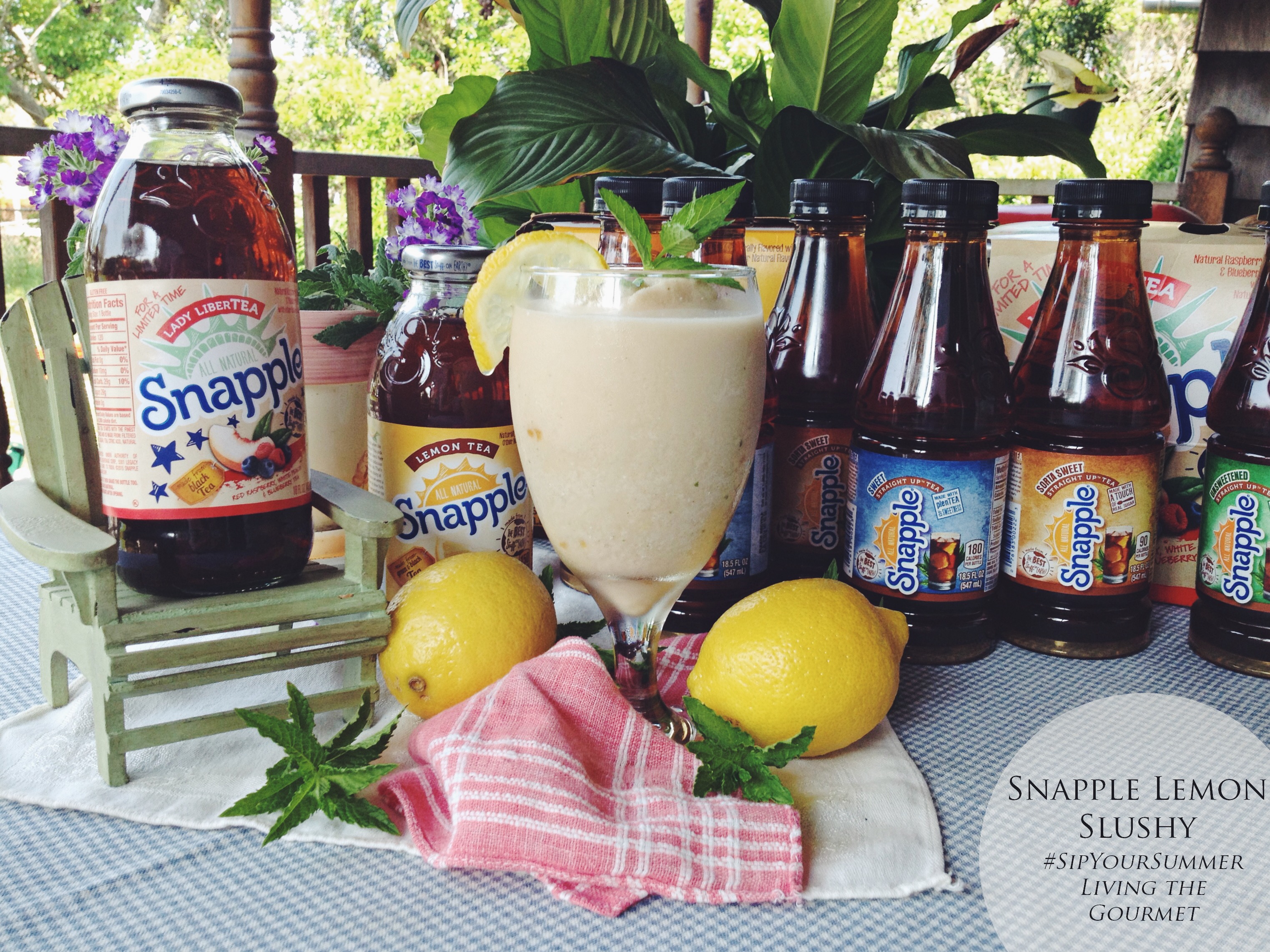 I've been writing a lot lately about preparing for summer get-togethers, both elegant and casual, while detailing some deceptively simple shortcuts to help make your next luncheon, dinner party, or family barbeque a success. While the joy of making others happy is simply sublime, and while constructing the perfect tablescape is enough to make one feel like a culinary Michelangelo reincarnate, one should remember to take the same care with 'me moments.'
For example, we finally made time to start on one of our most beloved yearly hobbies – the garden. While our garden, of course, has all of the Long Island archetypes such as strawberries, tomatoes, basil, and mint, this year we decided to add something a little different to our repertoire – Jalapeno and Ancho peppers.
It wasn't until after I had already purchased a small batch of the plants that I decided it was probably best to do a little research, as truth be told I've never been known for my green thumb.
After a cursory glance at the growing requirements for the Jalapenos, it was painfully obvious that these are not a beginner's crop. Optimally, the peppers should receive roughly 16 hours of light per day, and if not, the difference should be made up with 'grow lights' positioned several inches above the plants. The water requirements posed the most glaring obstacle, as the soil is said to need roughly an inch per week.
Regardless of whether or not I had bitten off more than I could chew, and regardless of whether or not I would actually be growing any of my favorite peppers, I decided to make a day of it, to do nothing that afternoon but enjoy my yard, one of life's simplest – and at this point rarest – of pleasures.
To prepare, I needed a refreshment that positively screamed summer, and so I decided to stock up on Snapple Premium Tea at Walmart. With the Fourth of July just around the corner, I couldn't resist grabbing a few bottles of Lady LibterTEA and Snapple Straight Up as well.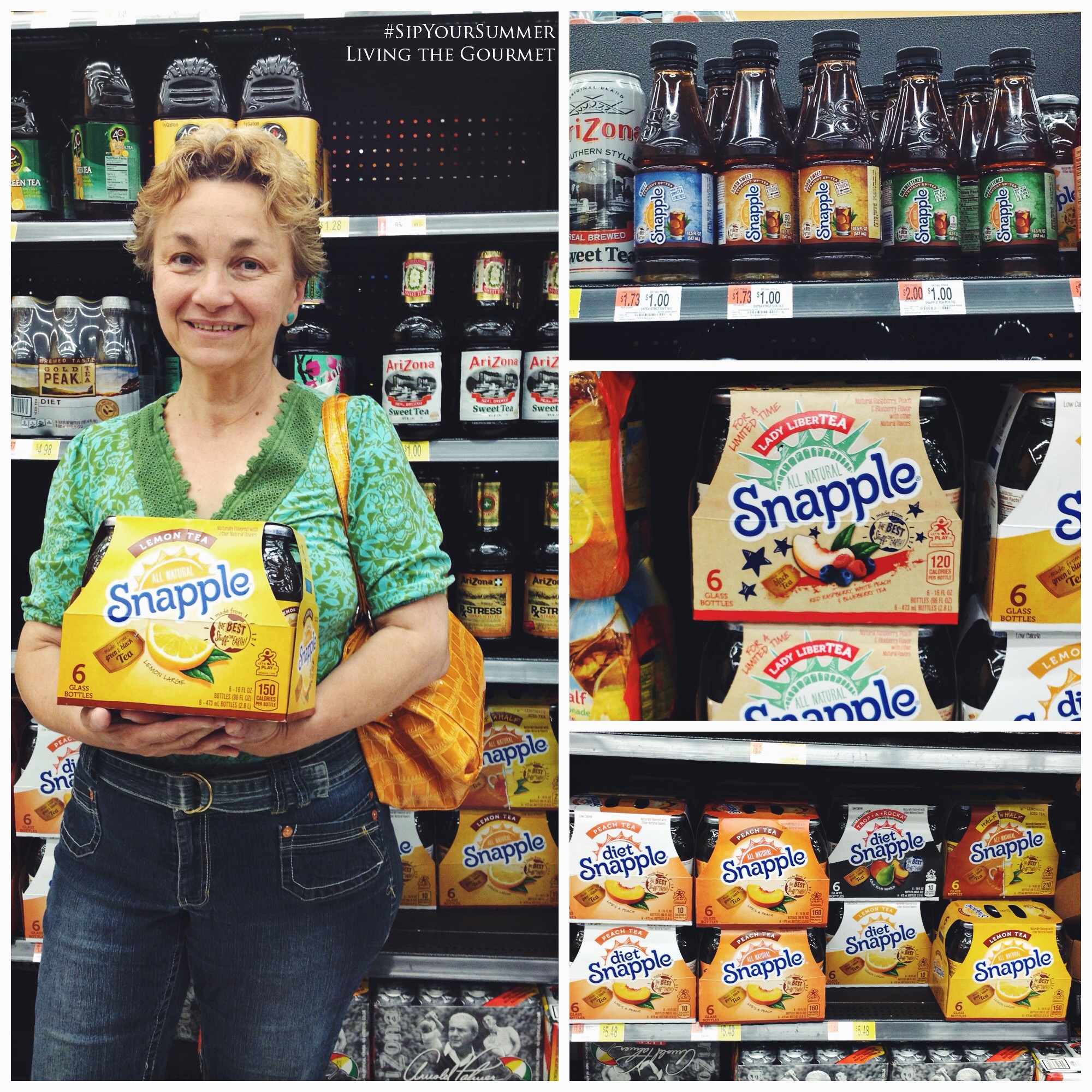 After the first round of peppers were in the ground, I stepped back, admiring the little mounds of dirt and the wisps of green protruding meekly through the soil, and felt very much like a newly minted farmer. However, as the sun grew in the sky, and my limbs felt the strain of another two short rows of crops, the allure of spending the entire afternoon beyond the shady refuge of my porch began to dull.
My eyes drifted tiredly back to my porch, and settled on my recliner, which was beckoning to me with open arms. Casting aside my shovel, and planting my empty gloves in the dirt, I made the trek back to my shady civilization, but walked right past my recliner and into the kitchen, where I proceeded to fill a pair of ice trays with a dose of Snapple Premium Lemon Tea. After that, I took a Straight Up Tea from the fridge, and returned to my recliner where I melted into the shade with a hardback novel.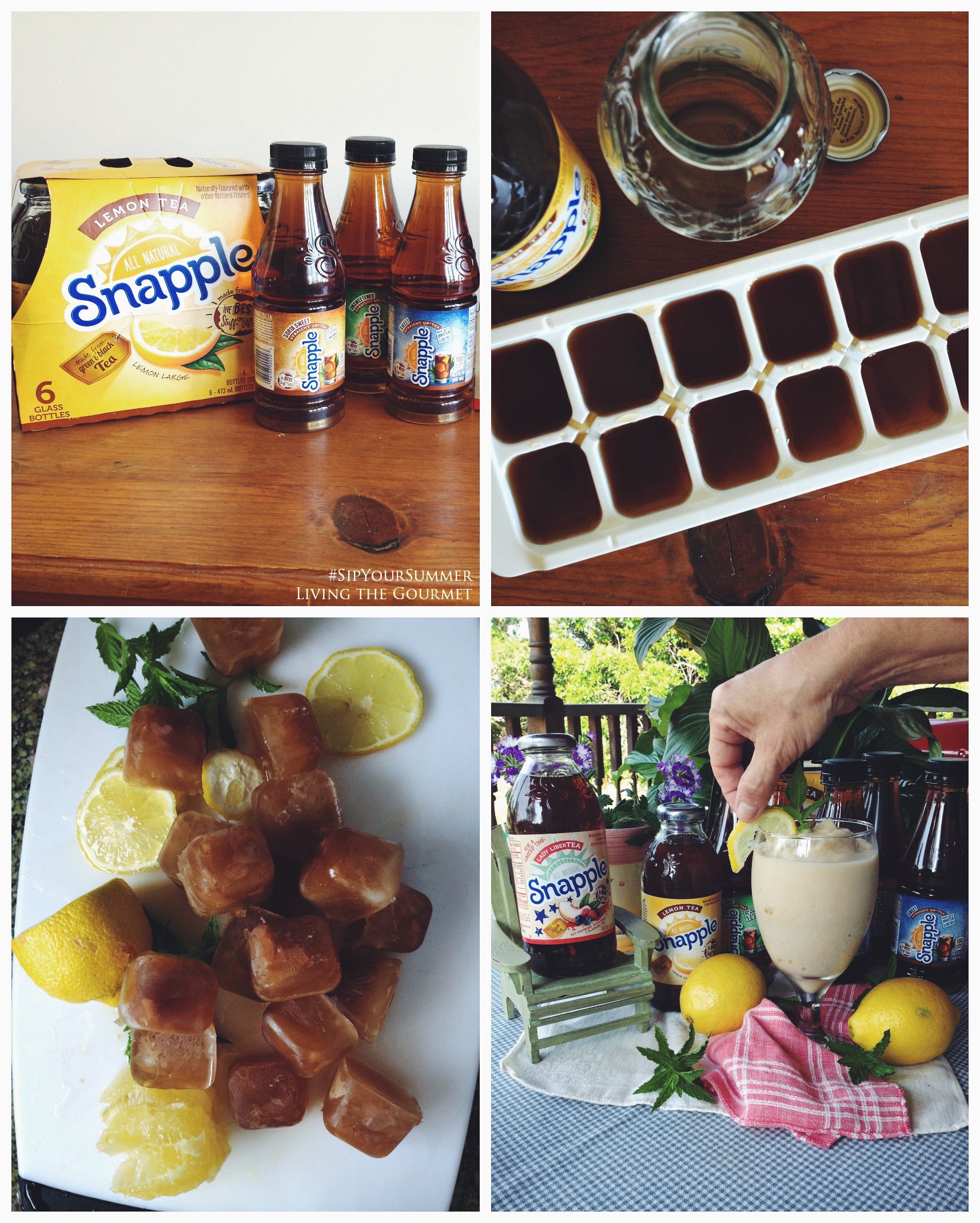 The next few hours passed seamlessly along the pages before it was time to check the trays. I combined the Snapple Premium Tea ice cubes in the blender with honey for natural sweetness, fresh mint, a cup of coconut milk for body, and half a lemon for acidic contrast, then blended them together to create the perfect seasonal slushy.
I returned to the pleasant shade of my porch, and kicked back for some much needed 'me time,' which in this case meant finished that hardback novel while sipping a tall Snapple slushy,
What are some of the ways you get in 'me time' during the summer months? What are some your favorite recipes to relax with?
Don't forget, Lady LibterTEA is available from May 1 st through July 4th, and is a delicious blend of black tea with red raspberry, white peach, and blueberry, available in both 16oz singles and 6 packs.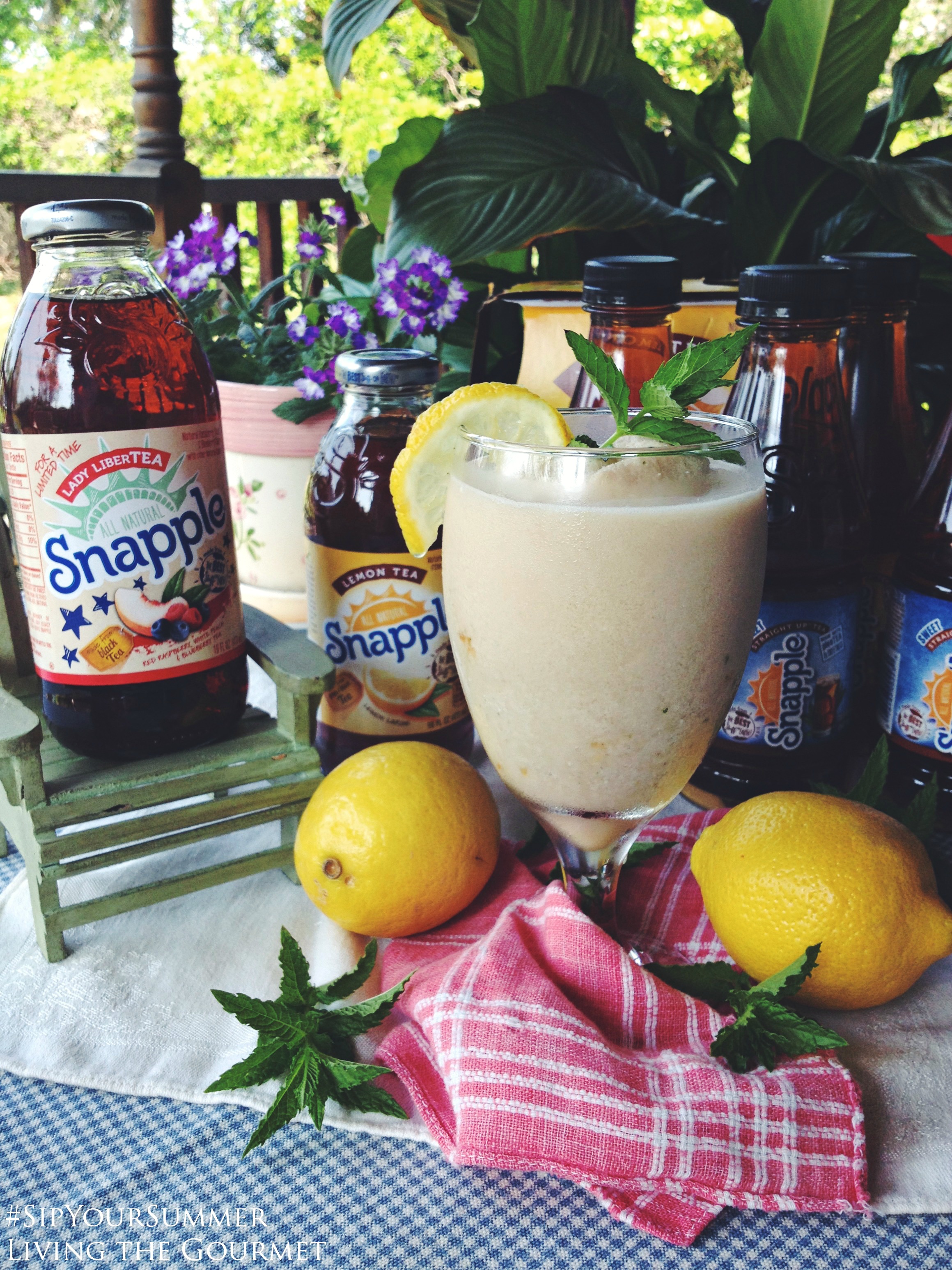 Print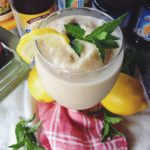 Snapple Lemon Slushy
---
Author:

Prep Time:

5 minutes

Total Time:

5 minutes

Yield:

3

1

x
1

–

16

oz. bottle of Snapple Premium Lemon Tea – made into ice cubes

8 oz

. coconut milk – chilled

1/4

–

1/2

lemon – without skin

1/4 cup

of honey

4

–

5

mint leaves and extra for garnish
---
Instructions
In a food processor or blender, combine the Snapple ice cubes, coconut milk, honey, 1/2 lemon and mint leaves and process until smooth.
Garnish with fresh mint leaves and a lemon slice.
Notes
*Prep Time does not include Inactive Prep Time
Recipe Card powered by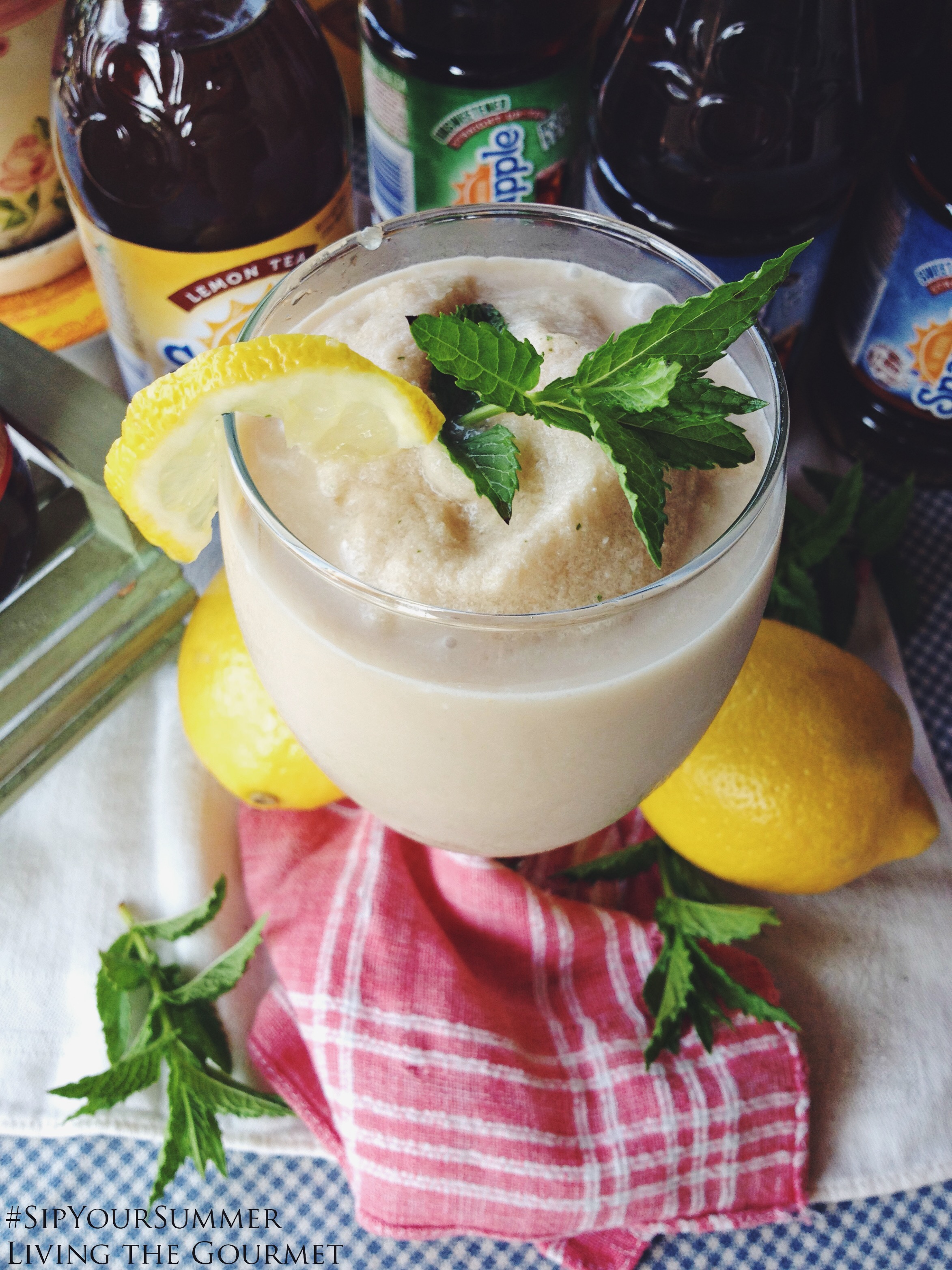 If You Enjoyed Today's Recipe…
Be sure to follow us on Instagram to stay up to date with all things Living the Gourmet, and for more great recipes, tips and tricks.
Did you make this recipe?
If so, let me know in the comments down below, or post a picture to Instagram, or to Pinterest, and I'll give you a shoutout on Instagram, or post your pin to one of my Pinterest boards!
Enjoy with Love!
1