May is Celiac Awareness Month and in an effort to raise awareness and promote a healthy, gluten-free diet, Living the Gourmet has partnered with Breton: Gluten-Free Crackers. All Breton crackers are certified gluten free by the National Foundation for Celiac Awareness Gluten Free Certification Program.
This Spinach & Goat Cheese Soufflé is everything a French soufflé should be- light, airy and rich in flavor.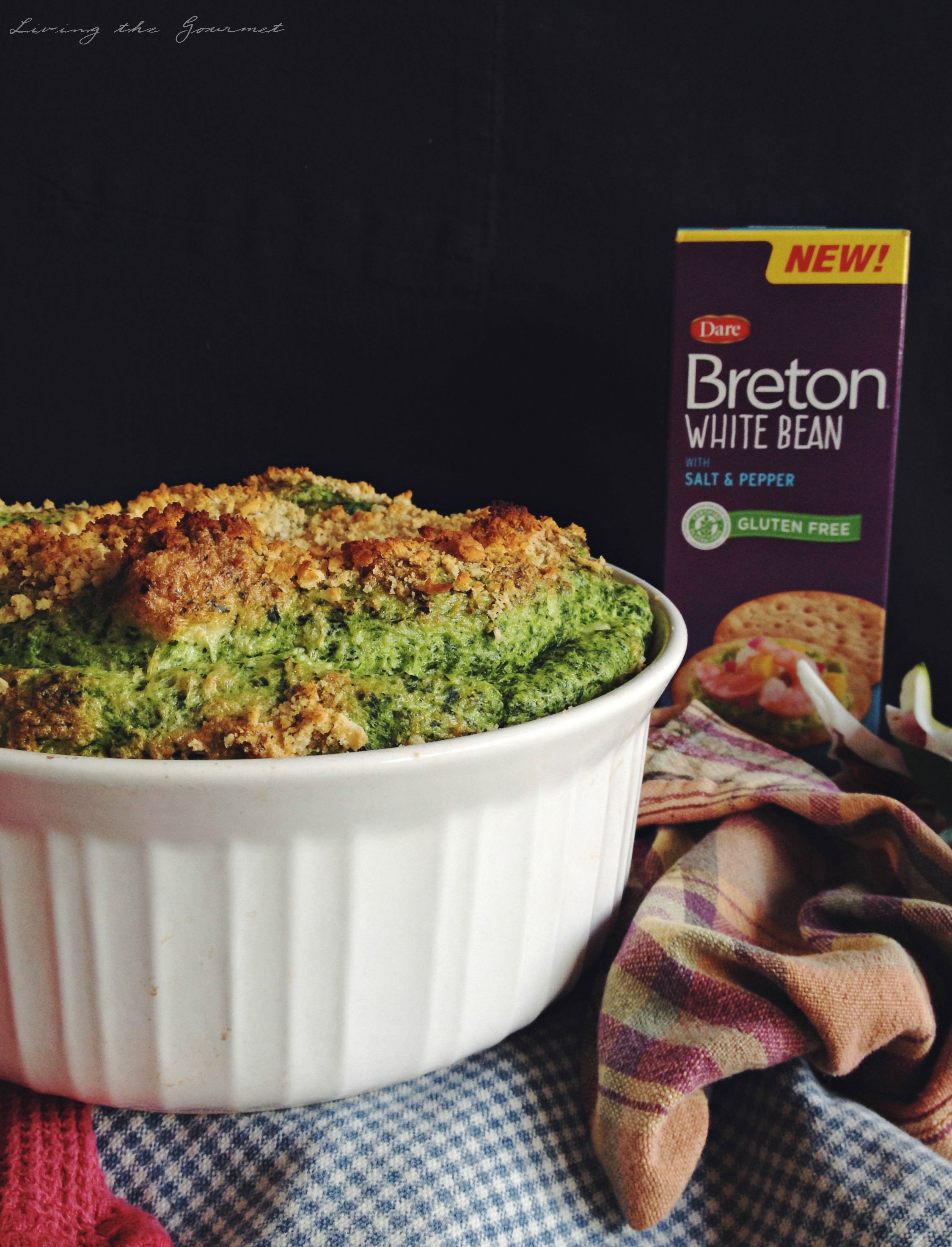 One of the most iconic moments in cooking, especially for amateur chefs or 'nonprofessional enthusiasts,' doesn't actually come from a cooking programme, culinary publication, or even from a cookbook. Instead, it comes from a film where cooking was a plot element, and largely a background element at that.
The movie was 1954's Sabrina, starring Audrey Hepburn and Humphrey Bogart, and the scene in question featured a ruined soufflé courtesy of chef-in-training Sabrina.
Since then, soufflés have suffered from a harsh reputation as being devilishly difficult to prepare, due largely to their delicate consistency and their inevitable deflation after cooking. Nonetheless, the soufflé is widely enshrined as something of a 'right of entry' for most chefs, regardless of whether or not their forte is French cuisine.
You might be wondering how this ties into Celiac Awareness Month, and the answer is quite simple. While deciding on an item, I found myself paging through my recipes here on LTG, and I realized something that I found quite surprising – that many of my everyday dishes are either already gluten free, or are only one or two easily replaceable ingredients away from being gluten free. In other words, many of us may already eat a largely gluten-free diet without realizing it.
To emphasize that note, I therefore decided on creating something that simply isn't very often associated with gluten-free eating, and that is where the soufflé comes in.
Much like Sabrina who suggested making a soufflé with crackers and tomato juice, I too will be using crackers as the main attraction here – Breton White Bean Gluten Free Crackers to be precise.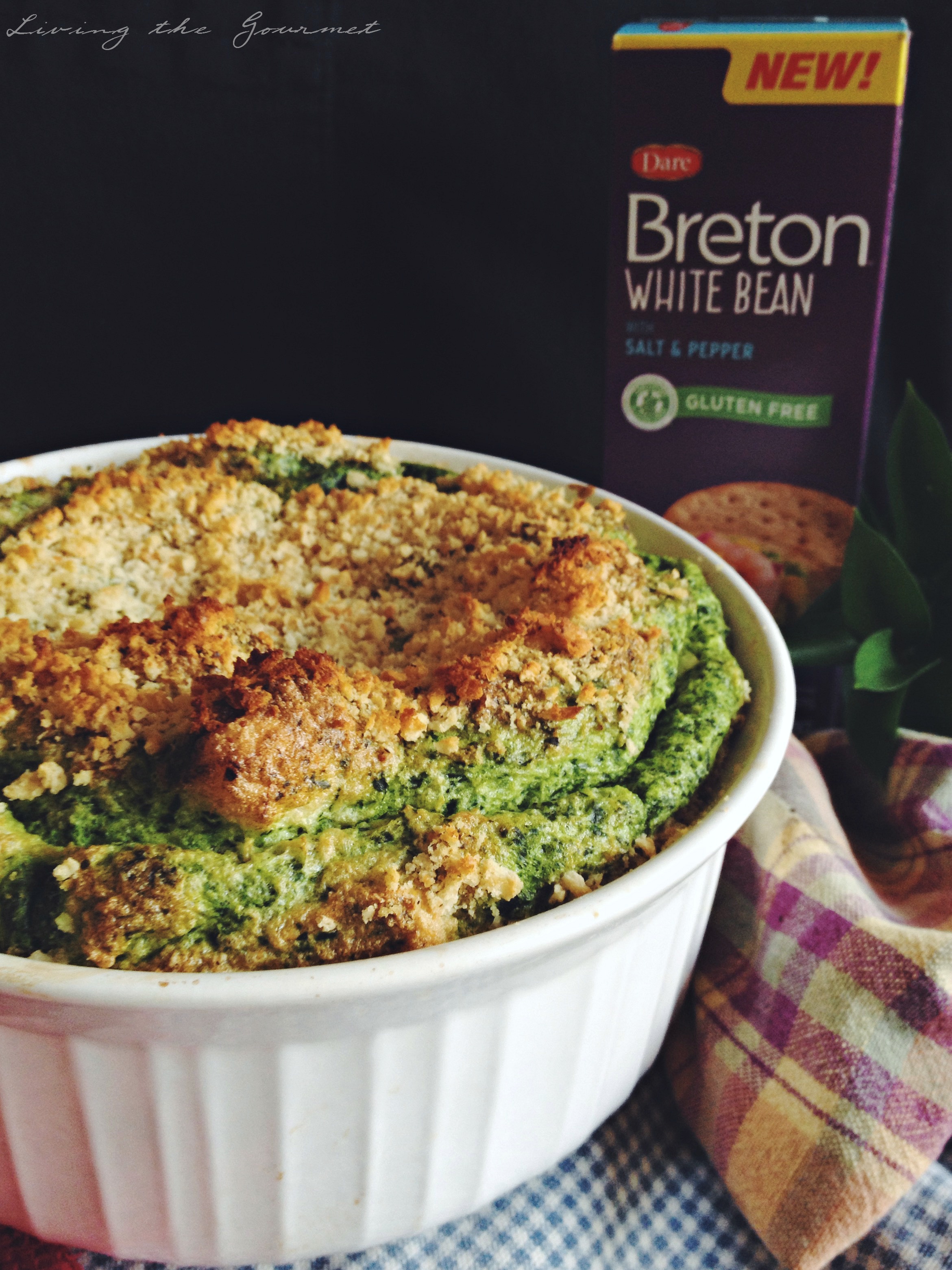 What makes these little gems both delicious and gluten-free is that beans are the main ingredients, and are listed first on the nutritional label. Aside from that, each serving contains two grams of fiber, as well as two grams of protein. These crackers are also low in saturated fat, and contain no artificial colors or flavors, nor do they contain cholesterol or trans-fat.
To pair with the rustic herb flavors of the white bean crackers, which I would be using as a top crust for the soufflé, I decided to make the base of the soufflé from a mix of spinach and goat cheese. From there, making the soufflé gluten-free was simply a matter of substituting standard flour for gluten-free flour, with the rest of the ingredients consisting of egg yolks, egg whites, salt, pepper, milk, and a dash of cream of tartar.
For serving, soufflés are best served immediately, and therefore may be tricky to serve to company, as the timing needs to be impeccable, lest you risk serving your creation in its notorious deflated state. Aside from that, soufflés are surprisingly versatile, being just light enough to be served as summer fare, and hardy enough to serve at a winter dinner party.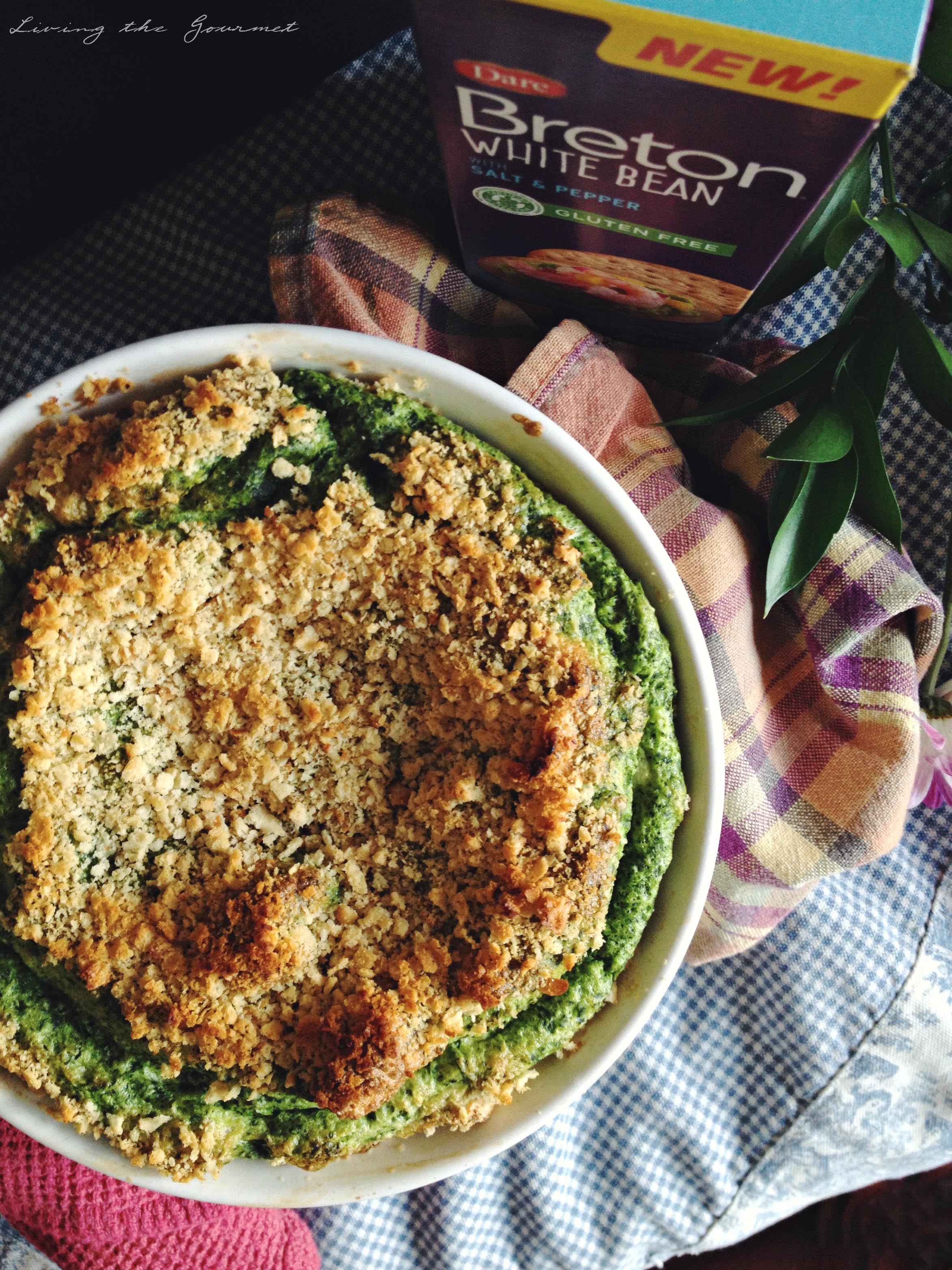 Print
Gluten Free Spinach & Goat Cheese Soufflé
Author:
Prep Time:

10 minutes

Cook Time:

20 minutes

Total Time:

30 minutes

Yield:

4

1

x
8

oz

. of fresh baby spinach

1/4

pound

creamy fresh goat cheese – crumbled

3

tbs. butter

3

tbs. gluten free flour

1

cup

milk

1/4 tsp

. salt

1/4 tsp

. black pepper

3

egg yolks

4

egg whites

1/2

sleeve of gluten free crackers
Pinch of cream of tarter
Instructions
Preheat Oven 425 degrees F.
Place the crackers in a food processor and give good chops reaching a crumb-like consistency; remove and set aside.
Butter a five-cup soufflé dish; butter the rim well. Line the bottom of the prepared dish with the processed cracker crumbs.
Place raw spinach in food processor and process until finely chopped.
In a small heavy saucepan melt butter over low heat. Add flour and cook, whisking constantly; about two minutes; the mixture will foam. Gradually whisk in the milk, bring to a boil over medium-high heat; whisking, reduce heat to low, continue to cook, while whisking, about two minutes. Whisk in spinach and goat cheese, bring to a simmer and season with salt and pepper.
Remove from heat and whisk in the egg yolks, one at a time. Heat gently until slightly thickened, but do not boil.
Beat egg whites with cream of tartar until stiff but still supple. Quickly fold one –quarter of the whites into the warm spinach mixture. Spoon the mixture into the remaining whites and fold in lightly and quickly.
Transfer mixture to prepared soufflé dish and sprinkle the cracker crumbs over the top.
Bake approximately 20 minutes until puffed and a beautiful golden color is achieved.
Soufflé should shake slightly in the center when moved.
Do Not Over-bake!
Serve immediately.
Recipe Card powered by
To pair with this dish, provided it is being served as a late lunch or early dinner, I would suggest a good sauvignon blanc, preferably one with a mineral or herbal profile given the use of goat cheese and spinach in the soufflé, as well as the herb notes from the Breton white bean crackers.
There is a cracker for all your needs – from elegant entertaining to healthy snacking with a variety of gluten free flavors and textures. Try Breton: Gluten-Free Crackers today!
Enjoy with Love,
Catherine
xo
**DON'T FORGET TO ENTER OUR GIVEAWAY TO WIN A $25 VISA GIFTCARD!!!
I was selected for this opportunity as a member of Clever Girls and the content and opinions expressed here are all my own.
2