This post is sponsored by Blue Diamond Almonds. All opinions expressed are mine alone.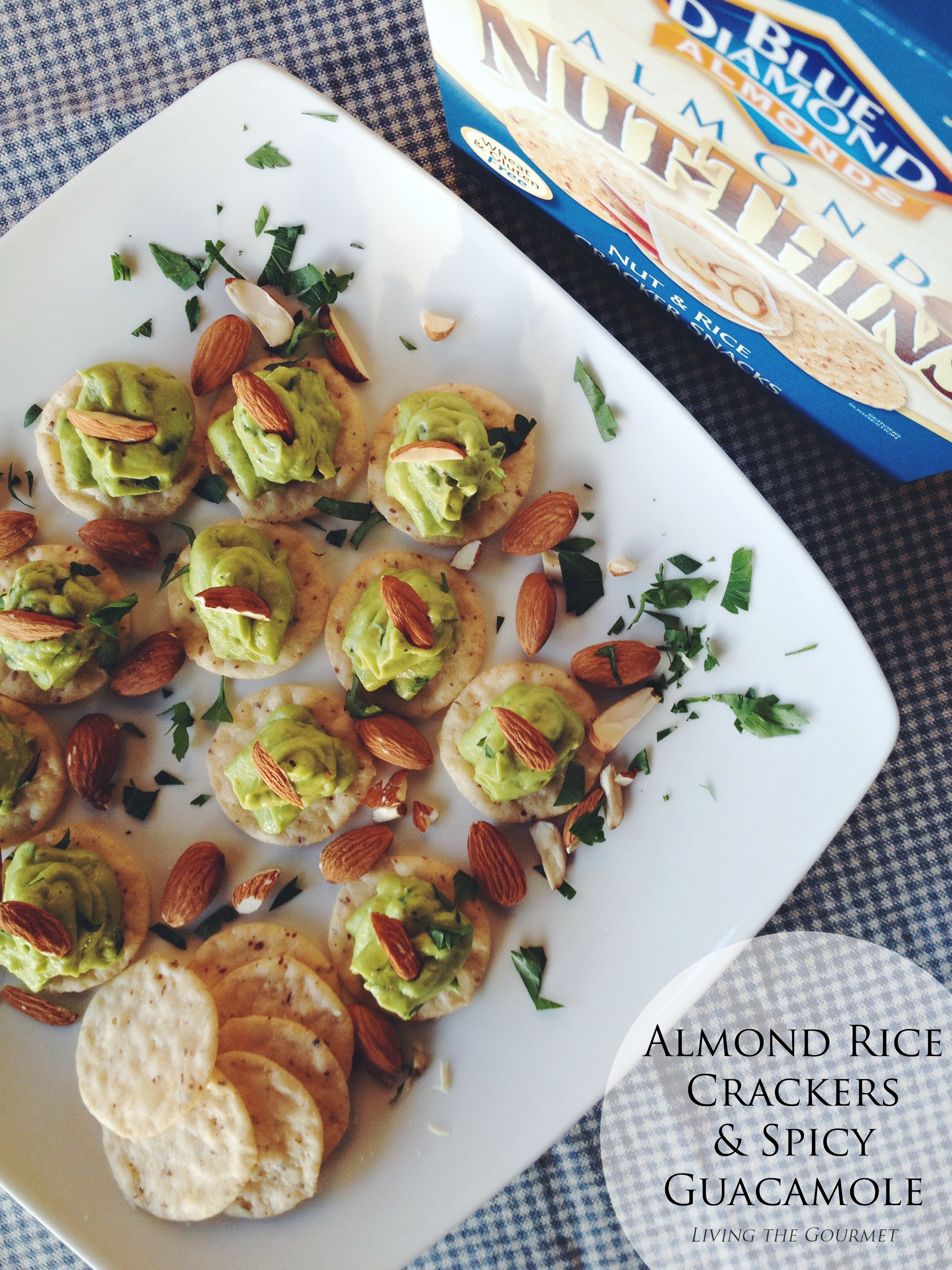 One of my absolute favorite things to do during the summer is to have a 'micro-gathering' of just a few close friends, and either enjoy the balmy weather on my porch, or sit at the table beside my bay window overlooking the garden, while enjoying conversation across a spread of late afternoon appetizers.
While summer entertaining is synonymous with big barbeques and poolside parties, smaller gatherings allow for an added layer of care, a closer eye for detail, and a greater range of table options. While the oversized, the grand, and the loud certainly have their place, some of my fondest summer evening memories are of smaller, more intimate affairs. For example, I recently had two friends over for a late lunch, and it ended up turning into an early dinner since we were able to linger on the porch until well after sunset.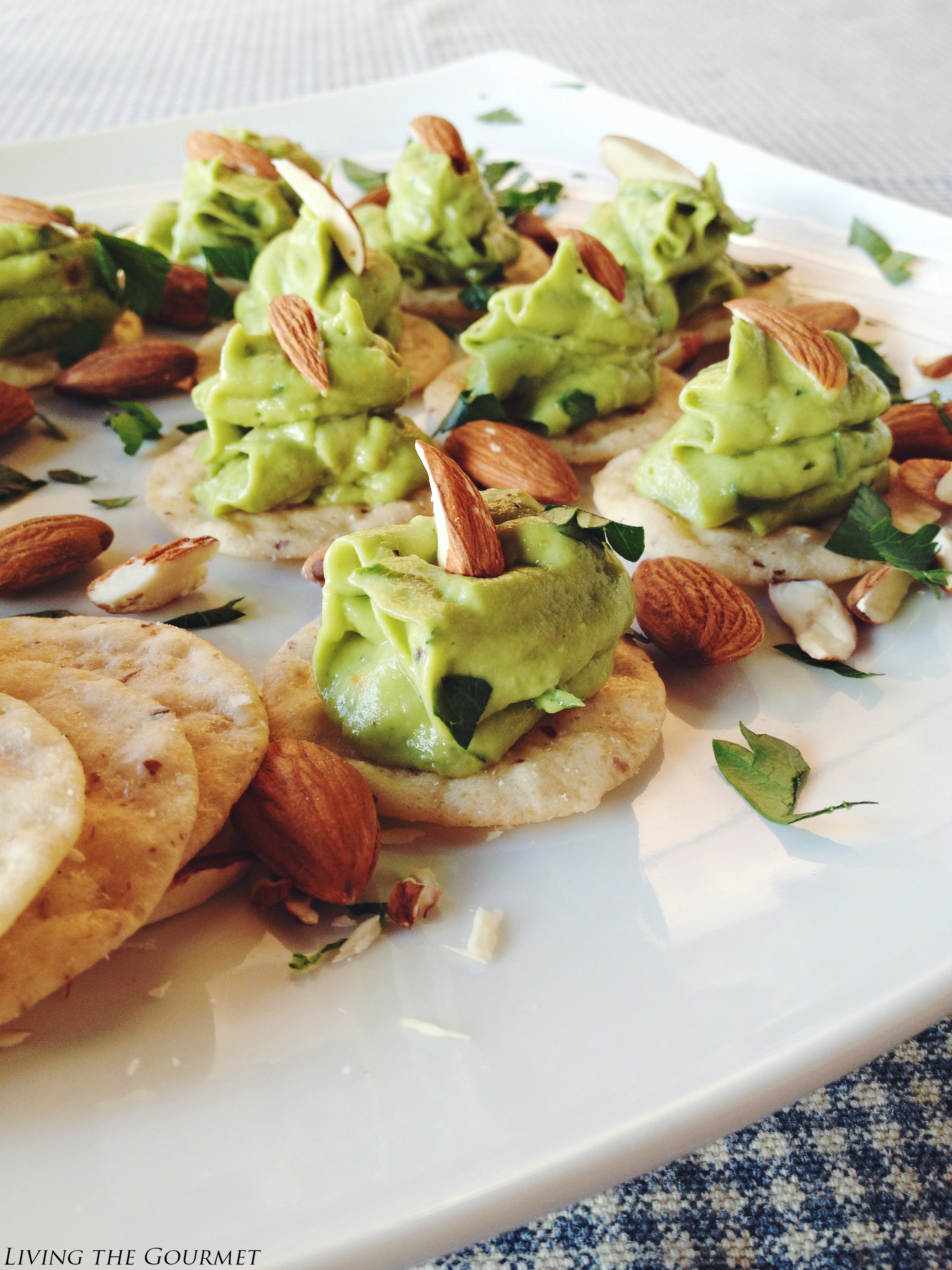 To start things off, I knew that we would want something light and summery, while still being a satisfying introduction to the meal ahead. To achieve this, I decided to put a spin on a classic warm weather tapa, and prepared a creamy guacamole with roasted garlic and fresh lemon juice for savory acidity, a roasted jalapeno with the seeds intact for a bit of subdued flare, and fresh parsley and olive oil to enhance the body.
However, I didn't want to put the guacamole out on the table on its own, instead I wanted to do something a little extra. Since there were just a few of us I decided to prepare the guacamole on almond crackers, which I find lend a distinct crispness while at the same time adding an underlying savory note. I prefer the Blue Diamond brand for this. After dolloping each cracker, I crumbled almonds over the platter with parsley for garnish. Dates and grapes rounded out the spread.
Wanting to avoid conversations interrupted by kitchen intermissions, I did this all ahead of time, and had the table set out on the porch before they arrived. Needless to say, the spread was a success, with our late luncheon turning into an impromptu dinner party.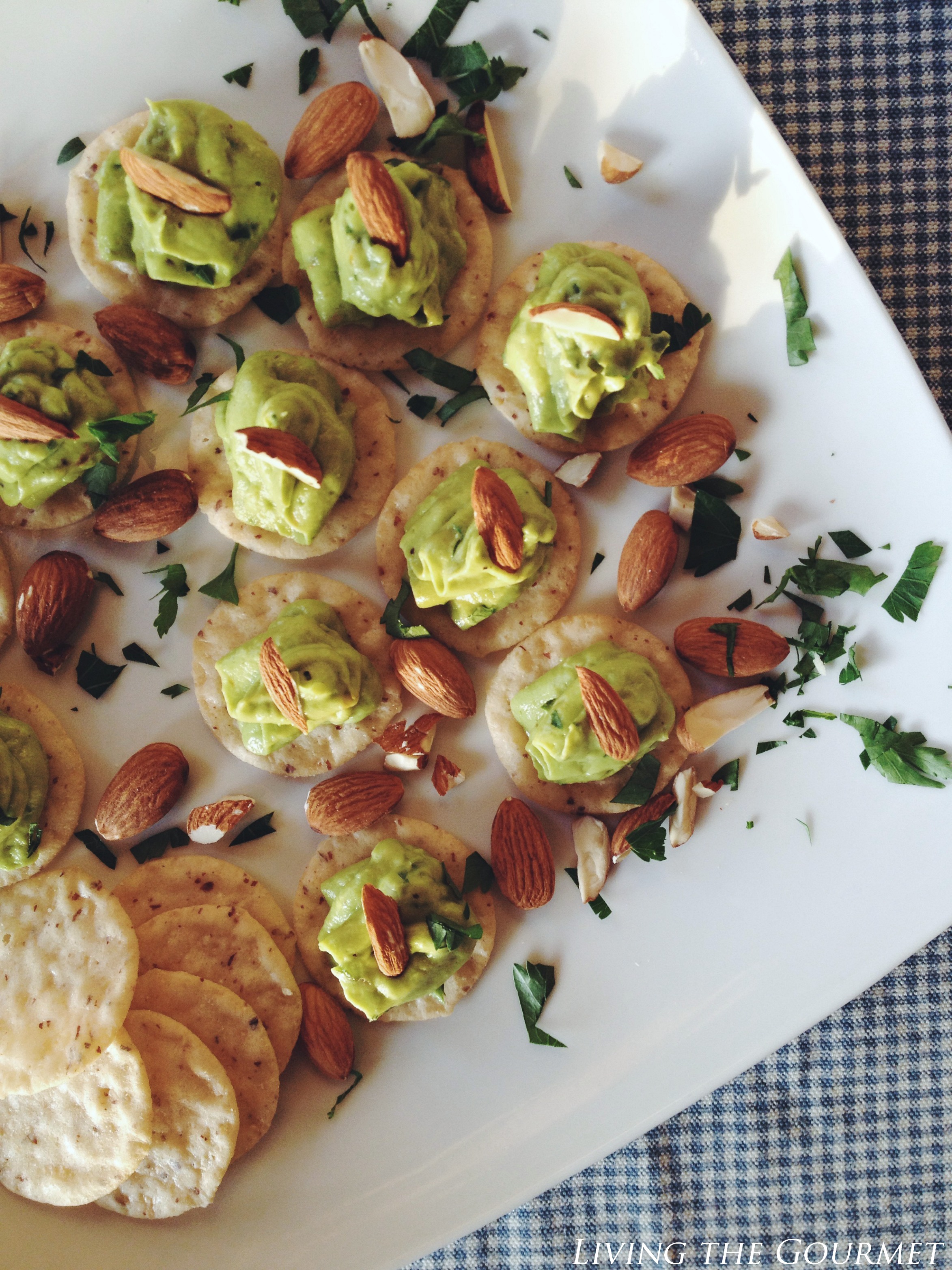 Living the Gourmet
Almond Rice Crackers & Spicy Guacamole
10 minPrep Time
5 minCook Time
15 minTotal Time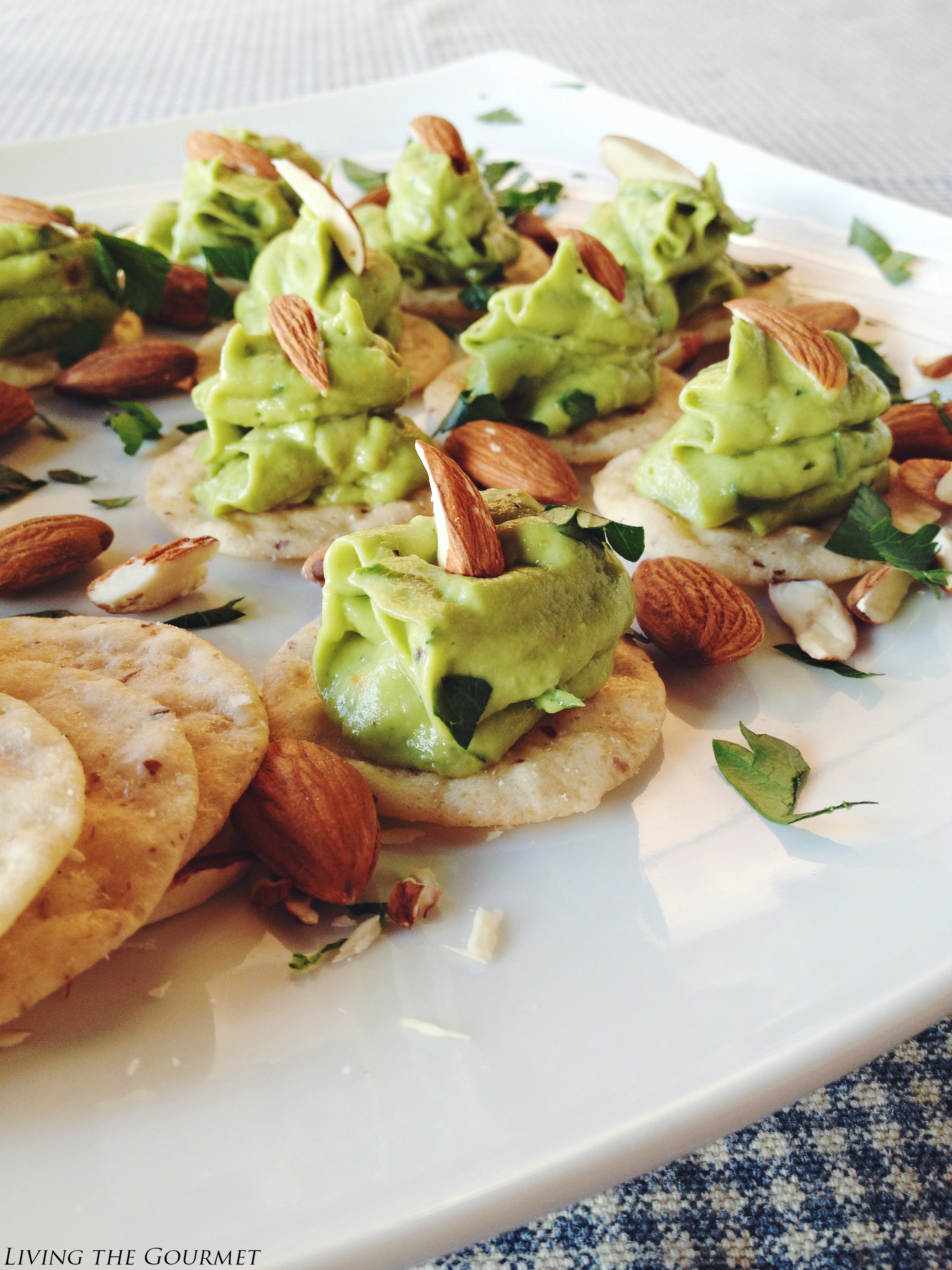 Ingredients
Blue Diamond Almond Breeze Nut Thins

Spicy Guacamole:

2 avocados
3 large cloves of garlic – grilled
1 jalapeño – grilled whole
1/4 - 1/2 tsp. salt
1/4 cup of fresh Italian parsley
3 – 4 tbs. olive oil
3 – 4 tbs. lemon juice
Almonds and fresh parsley for garnish
Instructions
Heat a cast iron frying pan and place the garlic with its skin and the whole jalapeño in the pan to grill.
When the garlic starts to gain color and the jalapeño is slightly charred; turn the heat off and remove from the pan. The garlic will pop out of the skin with a gently squeeze.
Place the avocado along with all of the other ingredients in a food processor and process until creamy.
Using a piping bag; pipe the guacamole on each nut thin, topped with a sliver of almond for garnish.
7.8.1.2
31
https://livingthegourmet.com/2015/05/almond-rice-crackers-spicy-guacamole.html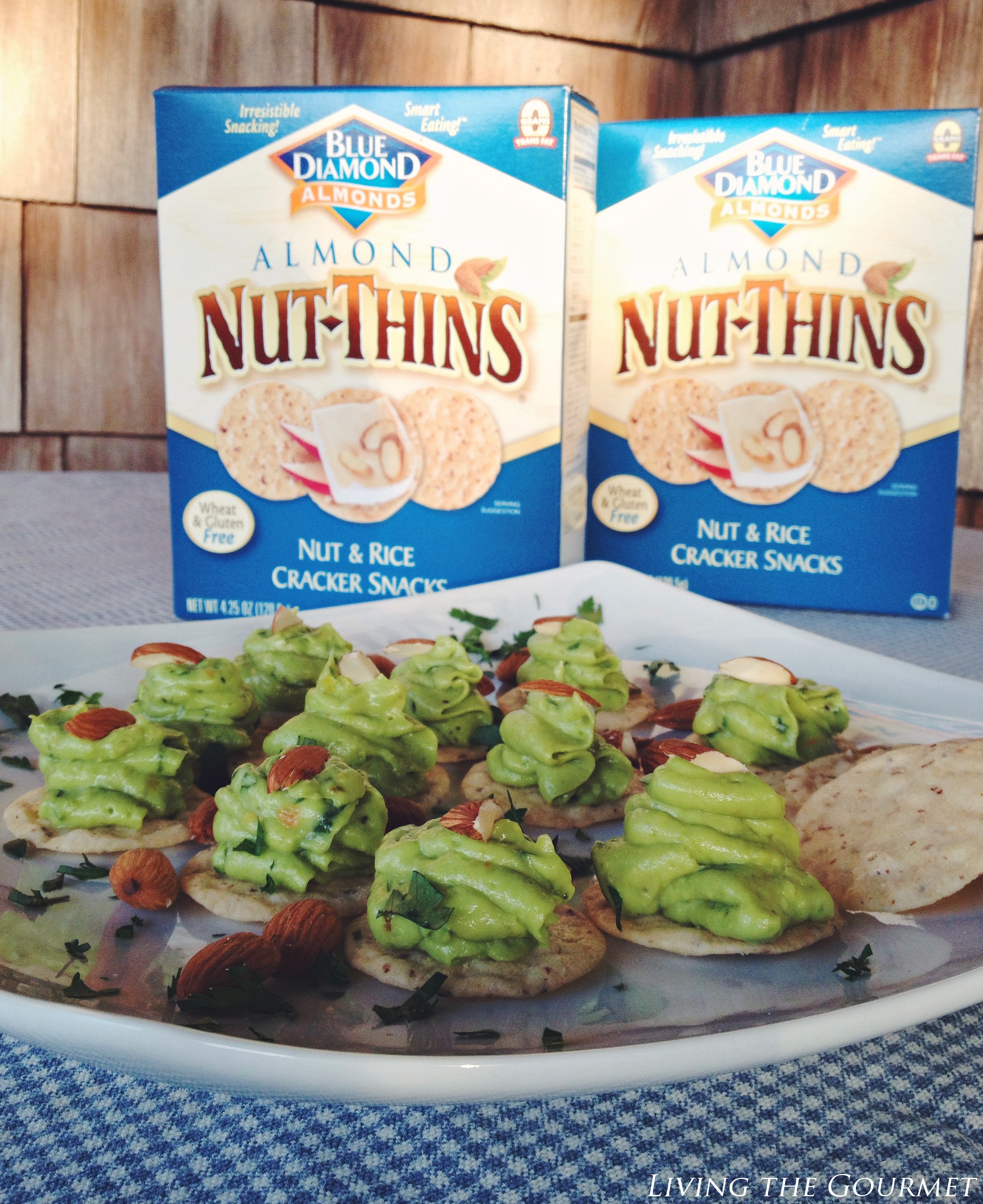 Enjoy with Love,
Catherine
xo
1