As my birthday approaches, I could not think of a more comforting meal than this crostini to bid farewell to a year that has been very good to me. Though this meal is rustic, it has an elegant and sophisticated profile, which is befitting for a birthday, don't you agree?
Happy Birthday to Me!!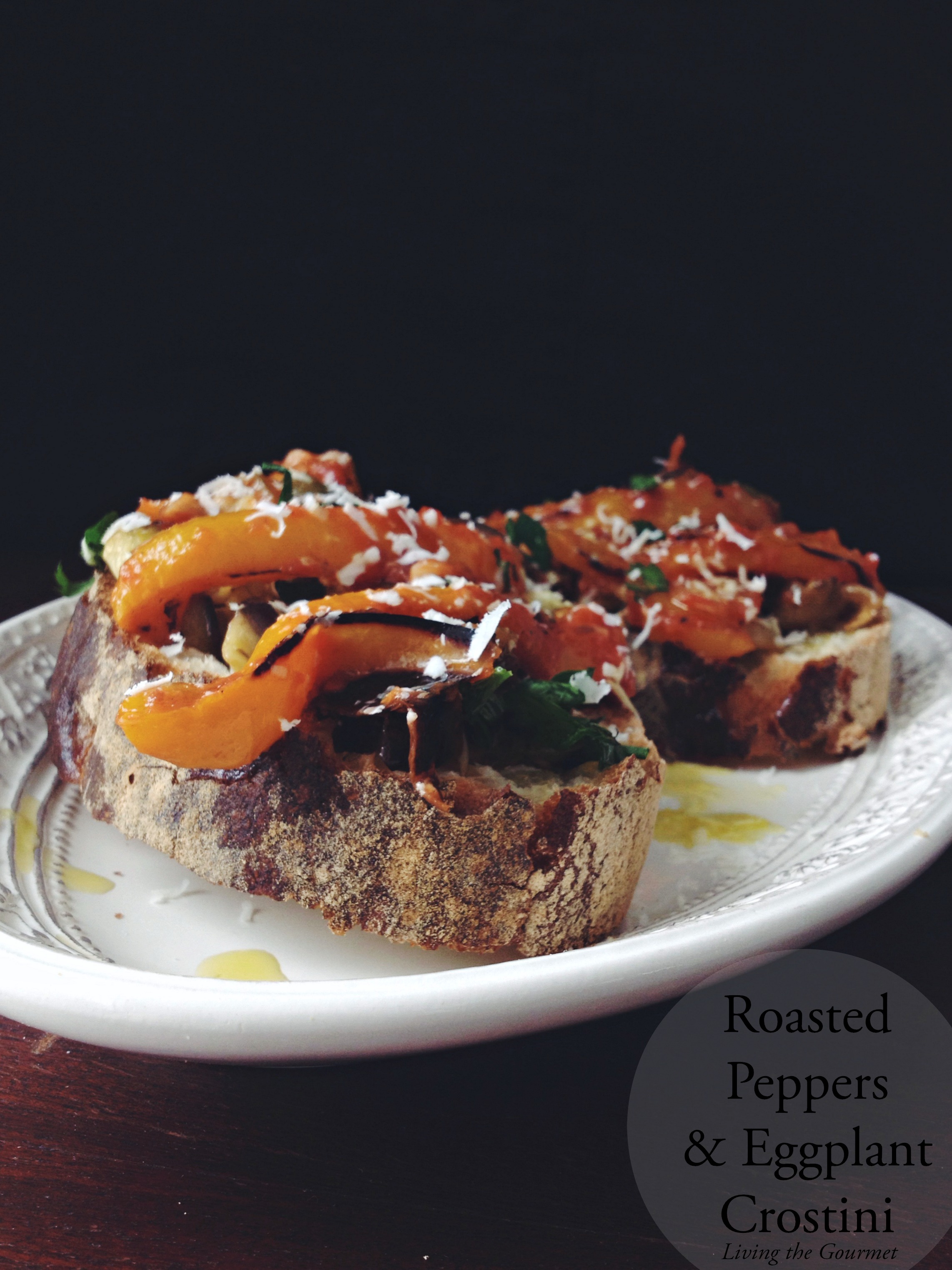 As the late Leonard Nimoy said, or rather tweeted, "Life is like a garden, perfect moments can be had, but not preserved." It is those few and scattered perfect moments that make life worthwhile, but not just our defining moments, or our grand triumphs, but rather our 'simple' pleasures that see us through our hardships.
While shopping at my local supermarket, it's safe to say I was not expecting to find one of these precious moments. In fact, I almost put the key ingredient to that moment back on the shelf. What am I talking about? On-clearance yellow bell peppers, of course.
The peppers came packed by the dozen, and naturally I ended up with roughly a dozen of them, and no concrete idea for how I would be using them – all I knew was that I simply couldn't pass up such fine specimens. As I roamed the supermarket, picking up the rest of my items, with space becoming an ever rarer commodity in my crowded cart, I began to doubt the wisdom in the peppers I had selected. After all, they were clearance produce, and would need to be used promptly lest I risk spoiling them.
Then I passed the bakery section, and the aroma of fresh bread entranced my senses. I stopped, and watched as one of the bakers lined the shelves with freshly packed loaves of ciabatta bread. Perfection. The equation from that moment on simply couldn't have been easier. I now knew precisely how I was going to use the peppers – in a caponata.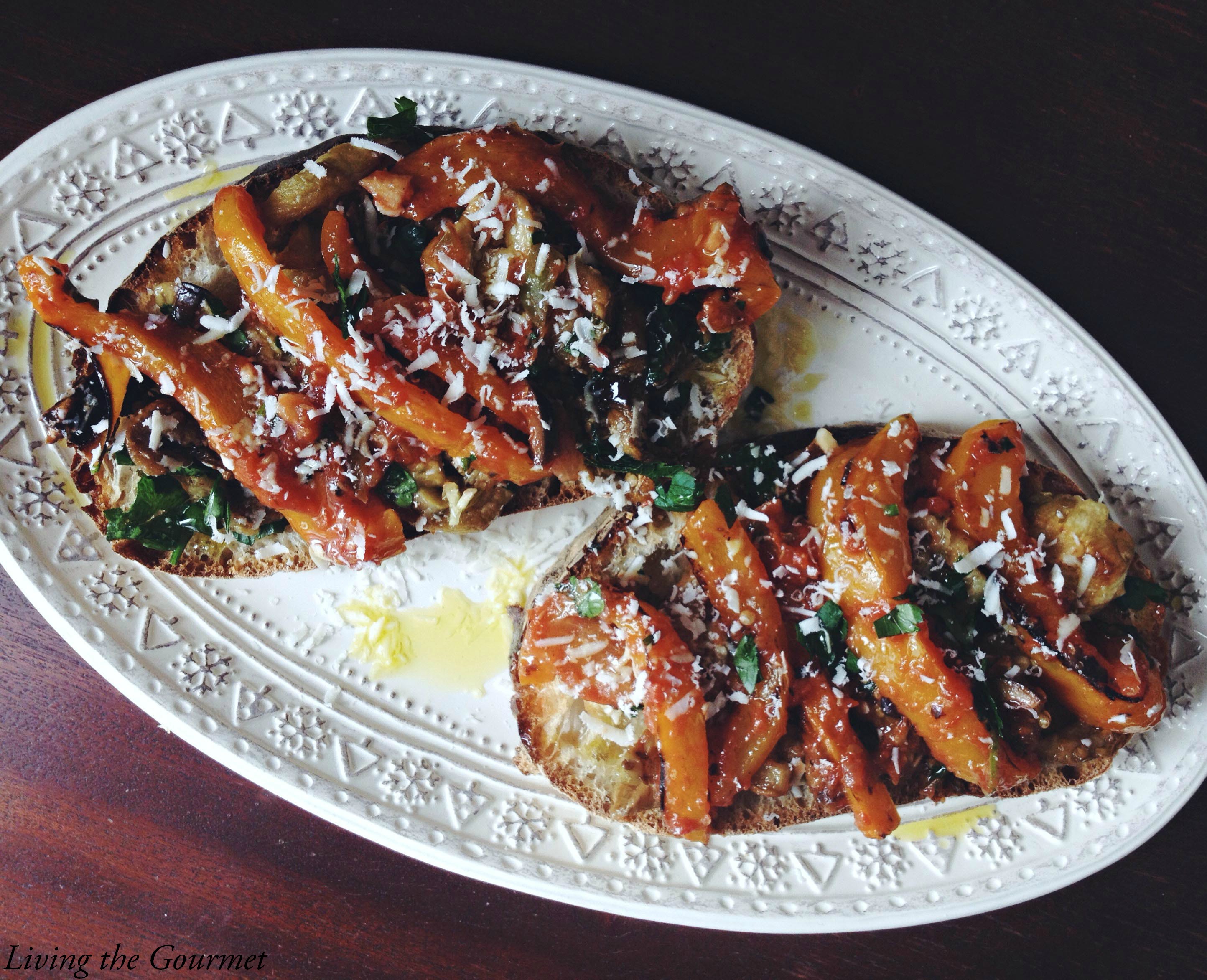 Now, a traditional caponata is best described as something of a thick eggplant sauce, and typically served as a side dish to fish. However, I decided to do things a little bit differently, and prepared the sauce and eggplant separately. This would allow the peppers to play the star of the sauce, while also allowing me to dress up the eggplant into something truly special.
The peppers I prepared in a thick, almost salsa-like red sauce with garlic, red onion, and olives, and added in a jalapeno for just a hint of heat. The eggplant, meanwhile, marinated in a mix of lemon, oregano, and capers. Once the two halves of my caponata were prepared, I assembled them over generous slices of warmed ciabatta bread, and topped them with copious amounts of grating cheese and olive oil.
Serving the crostinis beside my bay-window overlooking our snow covered yard and iced canal, it was simply 'perfection.' Looking back, the only thing that could have possibly made the moment better was to have properly paired the caponata with a sturdy red wine. Live and learn, I suppose.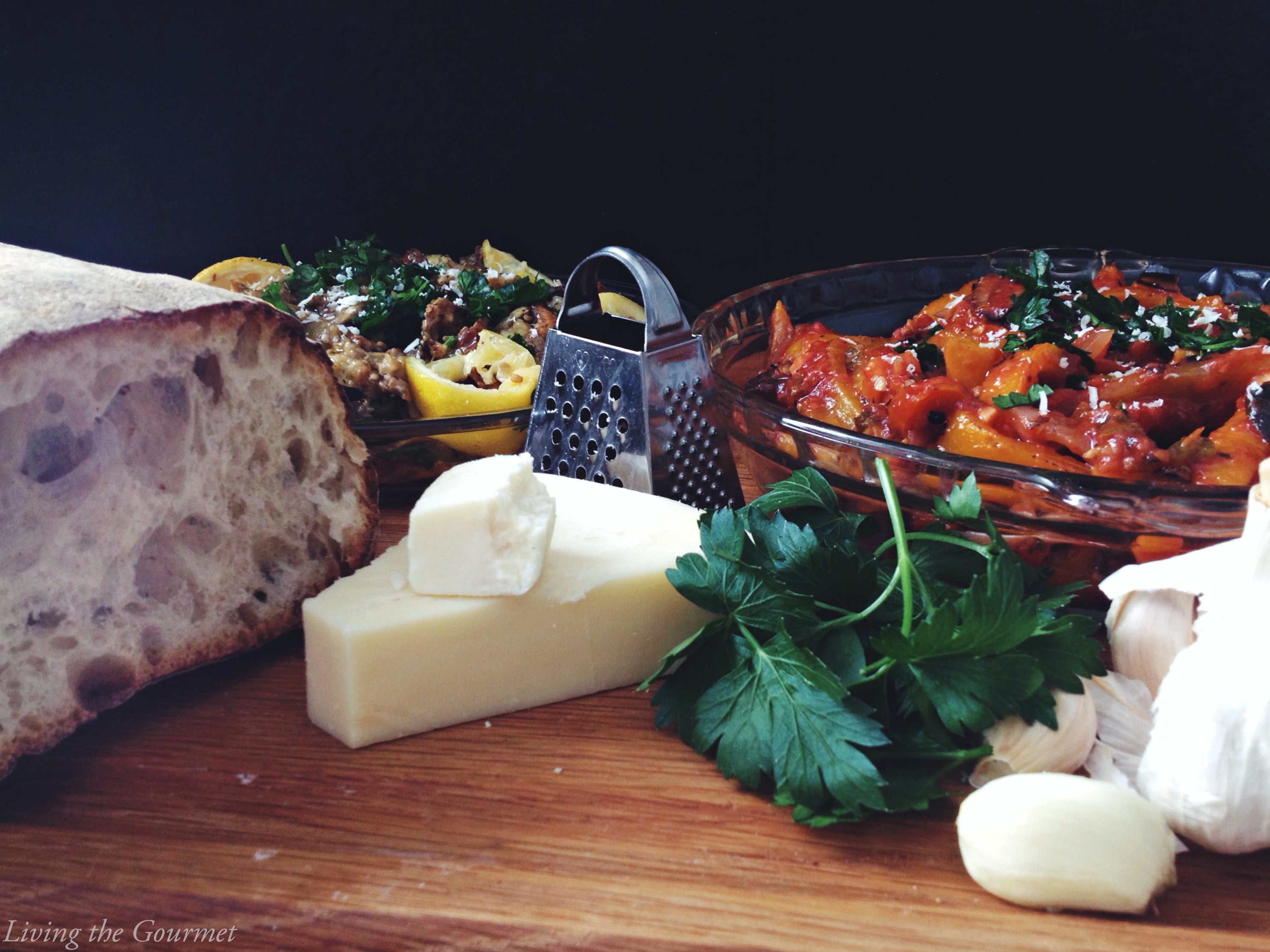 Print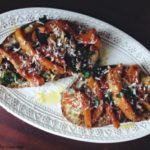 Roasted Peppers & Eggplant Crostini
---
Author:

Total Time:

40 minutes
Peppers:
5

-

6

bell peppers (any color) - sliced

1/4

-

1/2

tsp. salt - for sprinkling on the pepper slices

2

-

3

tbs. olive oil - for drizzling over the peppers after they are charred
Sauce:
29 oz

. can of crushed tomatoes

2

large garlic cloves - chopped

1

large red onion - sliced

1

jalapeño - chopped - with or without seeds

4

oz

. of black olives - chopped

1

-

2

tbs. of capers - chopped - plus 2 tbs. of caper juice

1/4

cup

of Italian parsley - chopped

1/2 tsp

. salt

1/4 tsp

. black pepper

1/4 tsp

. red pepper flakes

1 tsp

. dried oregano

3

tbs. olive oil
Marinade (for eggplant):
Juice of

1

lemon

1

tbs. capers - chopped - plus 2 tbs. caper juice

1/4

cup

of Italian parsley - chopped

1/2 tsp

. salt

1/4 tsp

. black pepper

1/4 tsp

. red pepper flakes

1/2 tsp

. dried oregano

3

-

4

tbs. olive oil
Crostini:
Ciabatta bread - sliced
Parmesan, Romano or Asiago cheese for grating
Olive oil - for drizzling

1

clove of garlic - crushed
---
Instructions
Peppers:
Heat a large cast iron griddle; place the pepper slices on the dry griddle to slightly char; do not overcrowd the griddle.
Place the charred peppers in a bowl and sprinkle with salt and a drizzle of olive oil. Set the peppers aside while preparing the sauce.
Sauce:
Heat a large cast iron frying pan with the olive oil; add the garlic, onion and jalapeño and sauté until the garlic is fragrant.
Add the crushed tomatoes, capers, olives, parsley and seasonings to the sauce and simmer on a low heat for about 15 – 20 minutes. Add the peppers to the sauce and cover and turn off the heat.
Let the sauce sit and cool before putting the sauce in a container to refrigerate and cool.
Eggplant & Marinade:
Preheat Oven 350 degrees.
Place the sliced of eggplant on a baking sheet; drizzle with the Canola oil and sprinkle of salt.
Bake for 10 – 12 minutes or until slightly golden.
Let the slices cool.
Combine all of the above ingredients in a bowl; add the eggplant and toss; cover and refrigerate.
Crostini:
Preheat Oven 350 degrees.
Slice the Ciabatta bread in 1/2 inch to 1 inch slices. Place the bread slices on a baking sheet.
Rub each slice with the garlic and drizzle each slice with olive oil.
Spoon the eggplant on each slice of Ciabatta, top with the peppers and grated cheese and a drizzle of olive oil.
Prep Time:

10 minutes

Cook Time:

30 minutes

Category:

Main Dish

Cuisine:

Italian
Recipe Card powered by
0