This sweet, soft bread is layered together with butter and cinnamon sugar, then topped with a thick vanilla icing - like any cinnamon bread should be.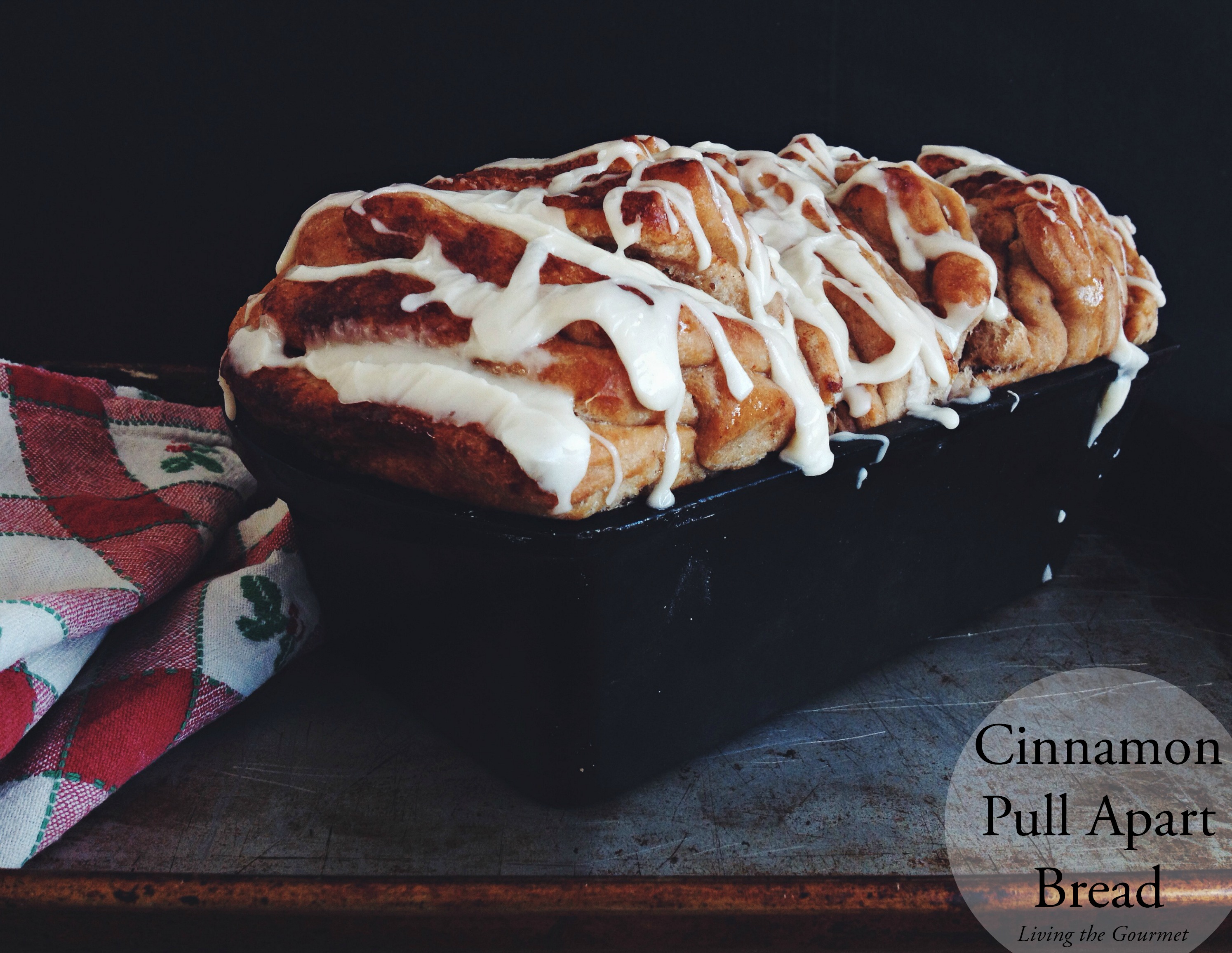 I guess it is true what they say about March - March comes in like a lion and hopefully will go out like a lamb.
I think it is safe to say that the cold weather has definitely made herself known this season and is not eager to rest just yet. One thing in particular I will miss is turning the oven on and baking goodies; such as this pull apart bread. Since once summer arrives in all her glory the oven will be given a rest and the bbq will be front and center. At this very moment however I am reminiscing of the fireflies on a summer evening; though those evenings will not lack a dessert, I am forming a list of "no-bake" summer treats and checking it twice!
What started out as cinnamon rolls, turned into a pull apart bread when my imagination began to work overtime.
I confess I ate more than I should have...but I regret nothing.
It was a wonderful way to kick off the weekend. If you follow along on Instagram you probably saw our breakfast table...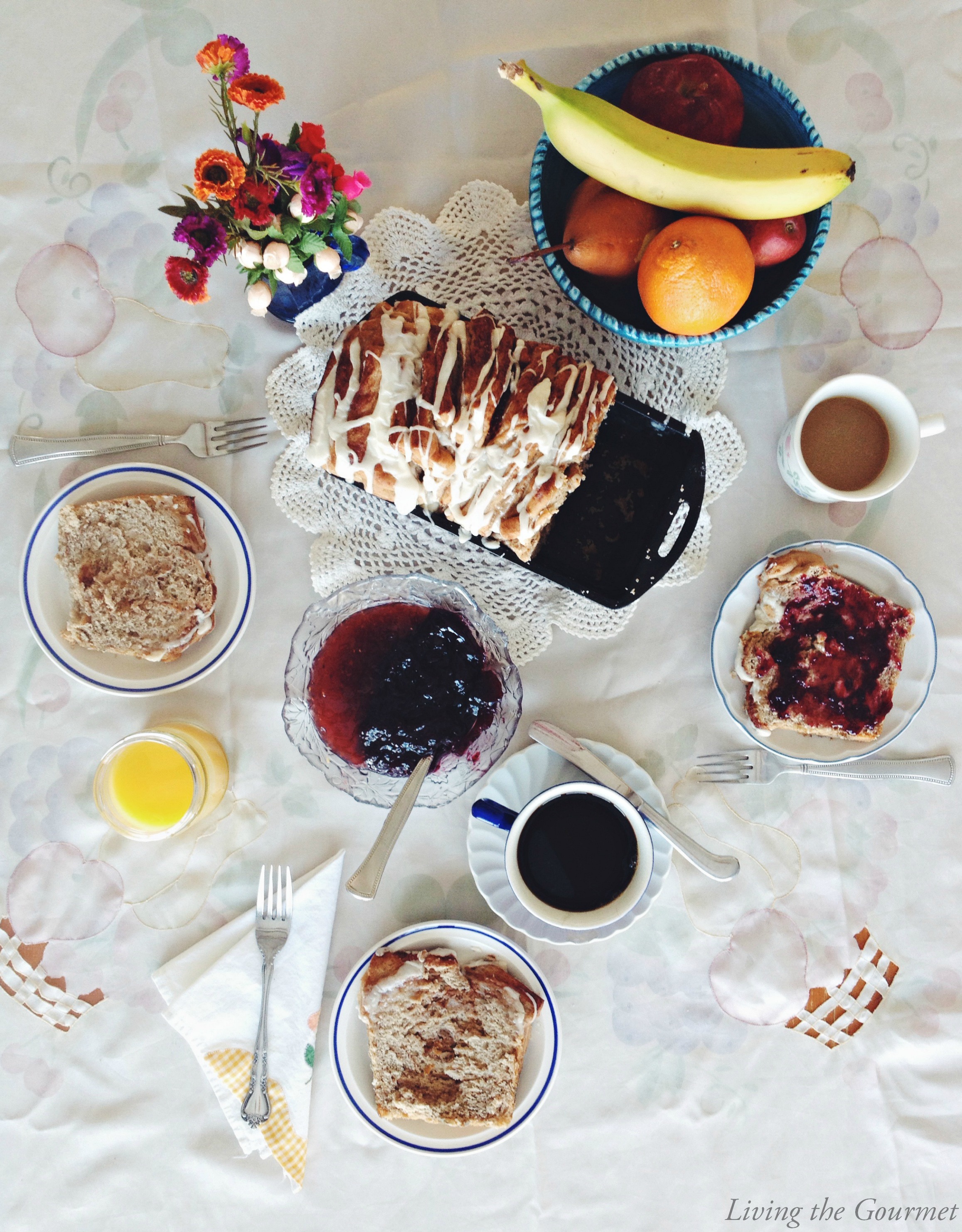 I suggest eating this bread warm, so be sure to heat it before serving. I also suggest some jam and maple syrup.
Print
Cinnamon Pull Apart Bread
Author:
Prep Time:

10 minutes

Cook Time:

30 minutes

Total Time:

40 minutes

Category:

Quick Bread
Dough:
1

cup

warm water

1 tablespoon

active dry yeast

1 teaspoon

sugar

3 1/2

cups

plain flour

2 tablespoons

dark cocoa powder

1

egg

1 teaspoon

vanilla

4 tablespoons

butter, melted and slightly cooled
Pinch of salt
Filling:
3 tablespoons

sugar

1 teaspoon

cinnamon

1 teaspoon

vanilla

3 tablespoons

butter, melted
Topping:
1 1/2

cups

icing sugar

1 teaspoon

vanilla

2 tablespoons

milk
Instructions
Proof your yeast by dissolving it in a cup of warm water with 1 teaspoon sugar. Let stand for 10 minutes, until the top is frothy and bubbling.
Preheat oven to the lowest setting, mine is 170 degrees F. Once the oven has reached 170 degrees turn it off.
In the meantime, in the bowl of your stand mixer with the dough hook attachment, mix together flour, cocoa powder, egg, vanilla, melted butter and salt. Then add the activated yeast. Turn the dough over to a well floured surface. Knead gently a few times then transfer to an oiled bowl. Cover and place the dough in the warmed oven until it has doubled in size, about 2 hours.
Once the dough has risen, turn over onto a flour surface and roll it out to about 1/4-inch thick. Mix together sugar and cinnamon, then melt 3 tablespoons of butter. Brush the entire dough with melted butter and sprinkle generously with the cinnamon sugar. Using a pizza cutter, slice the dough into rectangles. Carefully stack the rectangles on top of one another, then slice again into squares. Here is a visual tutorial.
Carefully place each stack of dough squares into a greased loaf pan. With the remaining melted butter and cinnamon sugar, just brush the top of the entire loaf to finish it up. Cover and let the dough puff up a bit for about 30 minutes.
Preheat the oven to 350 degrees F. and bake your bread for about 30-35 minutes. Transfer to a cooling rack. Now make your drizzle.
If the icing looks too thick for your liking you can add an extra teaspoon of milk to thin it out to your desired consistency. Drizzle liberally over the entire loaf and allow the drizzle to set before serving - if you can 😉
Notes
Note: Prep Time does not include Inactive Prep Time.
Recipe Card powered by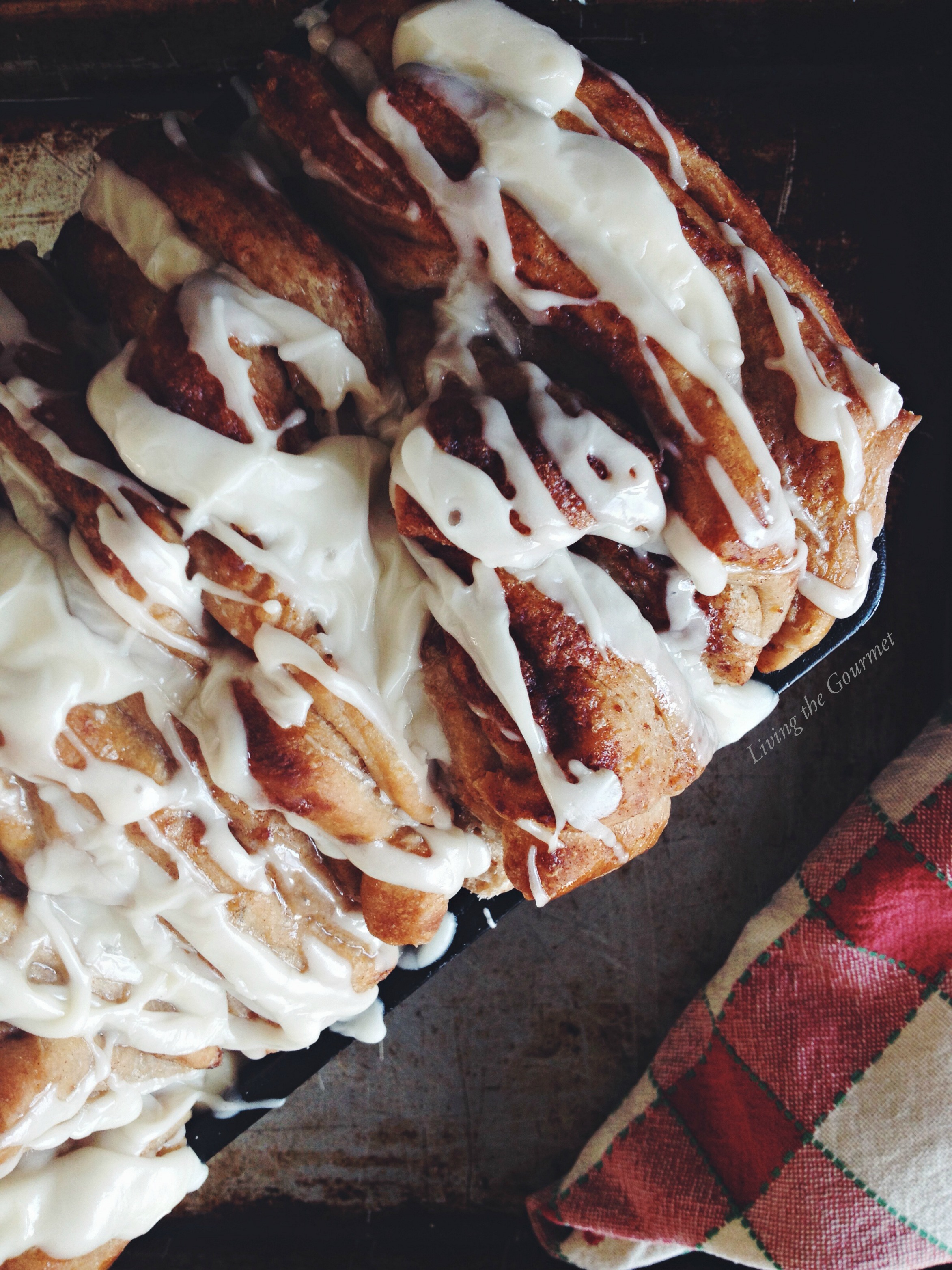 Enjoy with Love,
Tammy & Catherine
1