A classic chocolate cake, layered with whipped citrus cream cheese frosting and topped with a dusting of sugar and candied oranges. It is a simple, elegant cake that is sure to make a statement this Valentine's Day.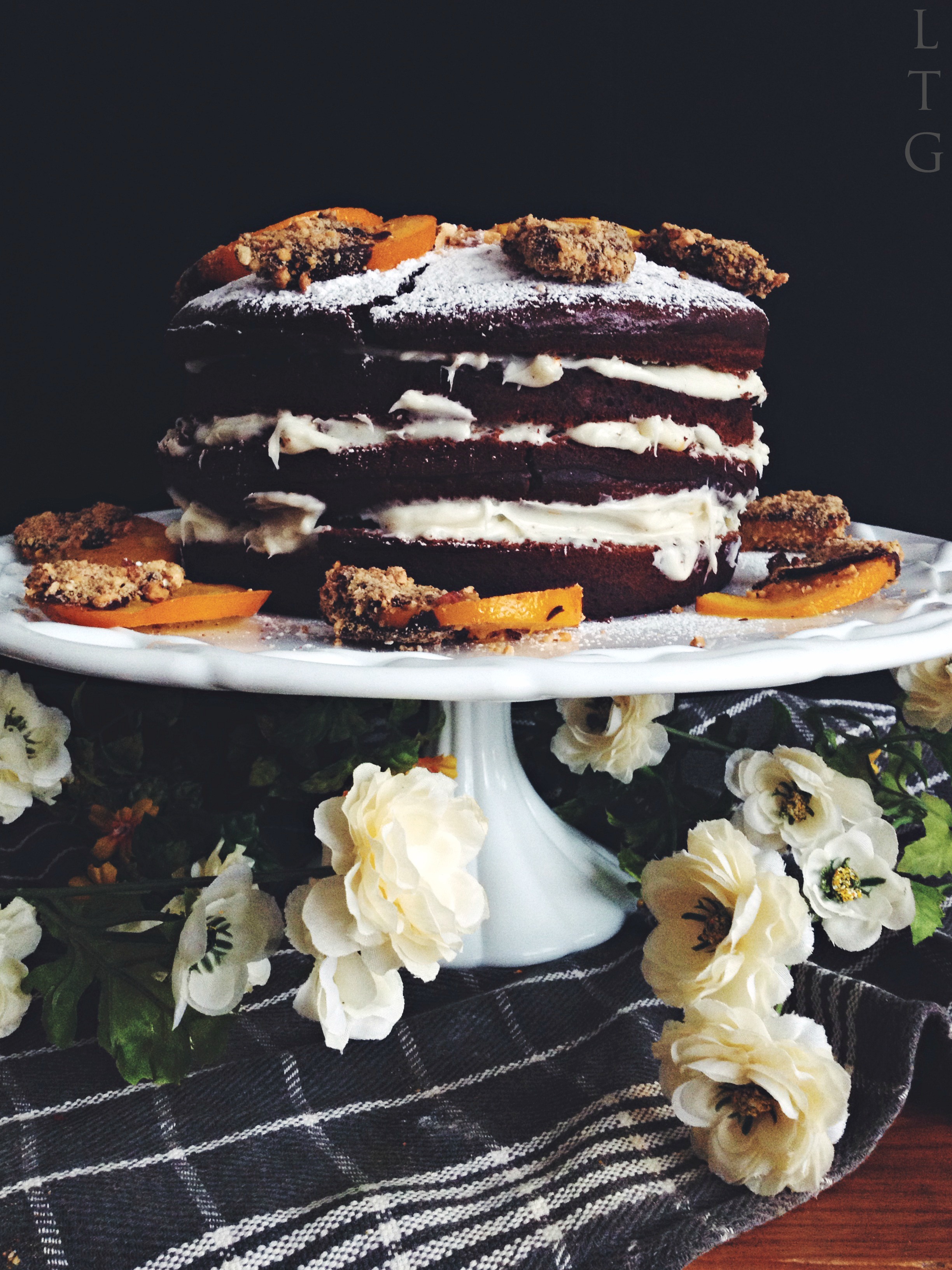 I'm going to admit that I've wanted to a do a post like this for quite some time, essentially 'A Day in the Life' sort of bit, and for a few reasons. First and foremost is the pure self-indulgence of the process. Second, however, is to give a small glimpse into the sites day to day for those who may be unfamiliar with the process.
At approximately half passed midnight, we learned about a very special occasion that we needed to prepare a special dessert for a certain occasion, one that I will certainly be telling you about in the very near future. The clincher – this was a sudden, last minute affair, and we only had about eighteen hours to prepare. While the task was daunting, the blogger in me realized this made for an excellent posting opportunity.
After all, to quote Hyman Roth from the Godfather, "This is the business we have chosen."
What ensued were several hours of on the spot planning for a dessert concept that we needed to peg into a Valentine's Day setting. Despite the harsh winds, snow and ice of our locale, we needed to come up with something warm and inviting, something simple and romantic. In other words, something in complete contrast to the world around us – and we needed to do it quick.
Despite having already put together a couple of Valentine's themes over the past month, by sunrise we still had only a vague idea of what we were going to create, with ideas ranging from a cannoli cheesecake to dark chocolate cupcakes. Regardless, and with no set idea of what we wanted to do, I was left with no choice but to brave the ice and the wind, and head to my local supermarket in order to hunt for ingredients for an as of yet to be decided recipe. I thought perhaps that browsing the shelves would help narrow down the decision.
Where I shop, patrons are greeted with a counter of fresh-baked goods, and I was instantly drawn to a selection of candied strawberries set over chocolate-chocolate cake. Resisting hungry temptation, I moved along into the produce department where I instantly noted a pyramid of picture-worthy oranges.
No, things did not click…yet.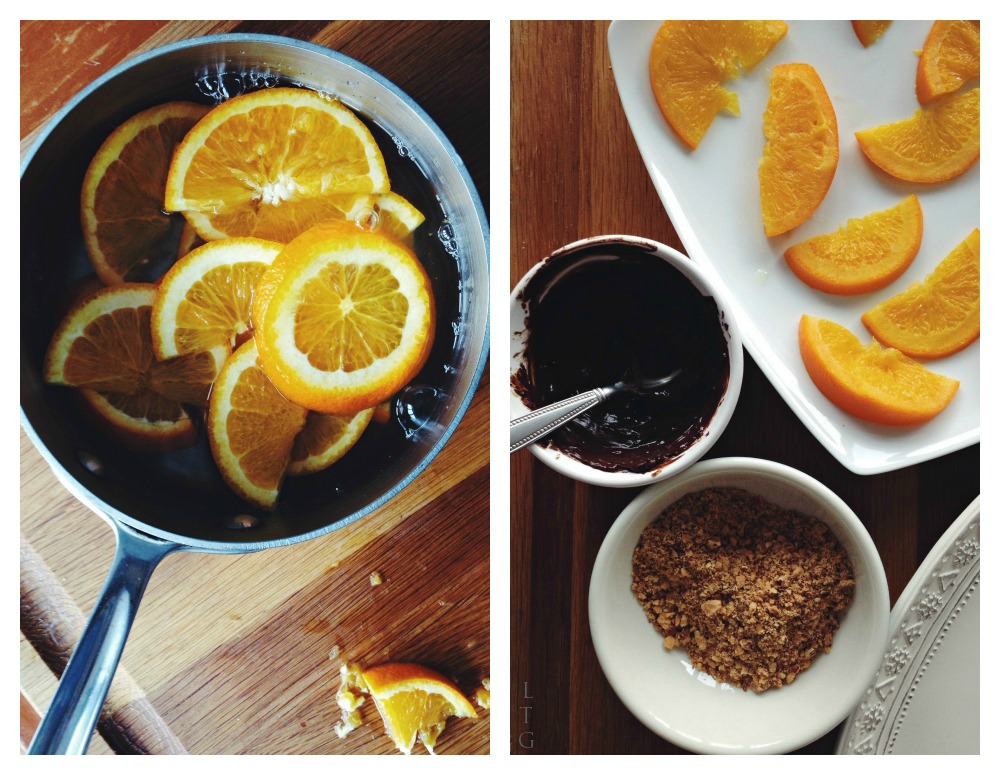 During about thirty or so minutes of uninspired browsing, my mind kept returning to the excellent selection of oranges, and the fresh baked cakes. Yes, then it clicked. Orange flavor is a universally perfect complement to chocolate, and such picturesque oranges would also lend themselves to an exquisite garnish.
From there, and over the course of hours of baking, the rest of this creation essentially 'wrote itself.' What we ended up with was a rich chocolate cake with an absolutely decadent cream cheese based frosting, infused with orange essence, and then garnished with chocolate dipped candied orange slices. As pleasing to the eye as to the palette, and while perfect for any occasion, this chocolate cake will be certain to turn your Valentine's Day into a night to remember.
Needless to say, the end result exceeded our expectations, and made the entire effort a rewarding and worthwhile experience. Then again, we really had no choice as to outcome, since "this is the business we have chosen."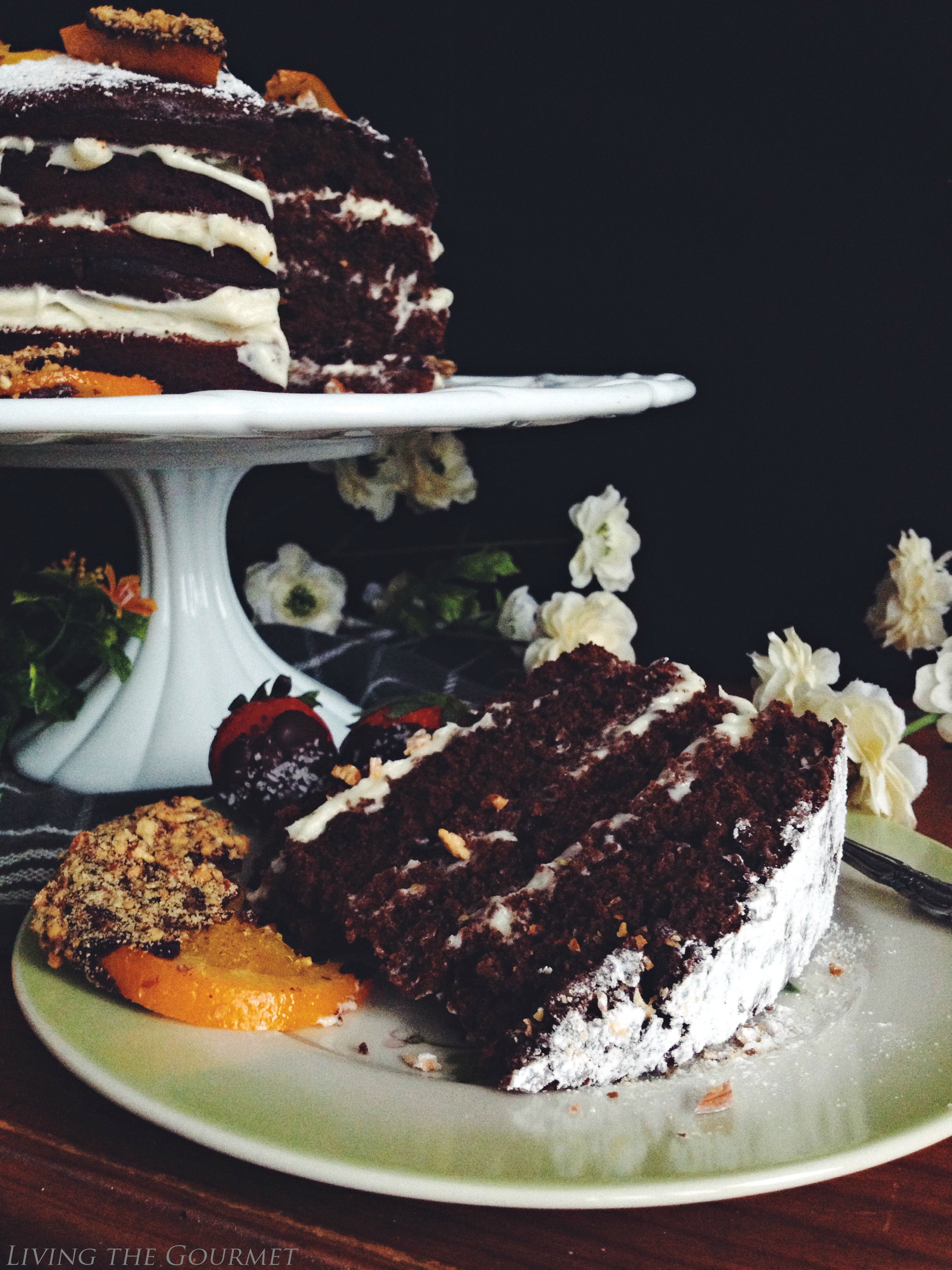 Living the Gourmet
Yields 1
Classic Chocolate Cake & Candied Orange Slices
10 minPrep Time
30 minCook Time
40 minTotal Time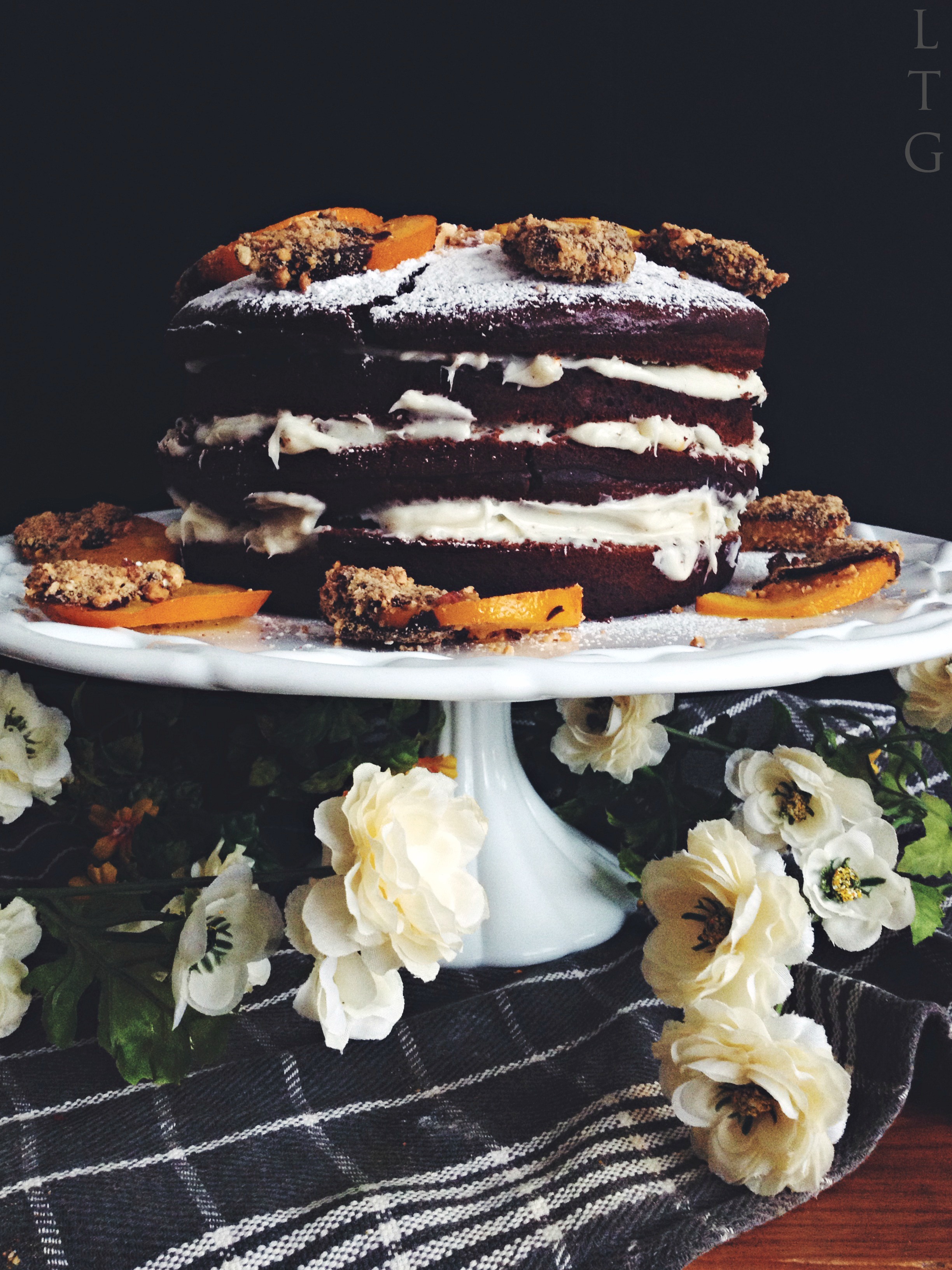 Ingredients
Candied Orange Slices:

1 Orange (I used navel oranges for this recipe)
Water
1/4 cup white sugar
1/4 cup dark chocolate chips
1 tablespoon shortening
1/2 cup ground almonds

Classic Chocolate Cake:

2 1/4 cup all-purpose flour
1 1/2 teaspoon baking powder
1/2 teaspoon baking soda
1/2 teaspoon salt
3/4 cup cocoa powder
1 3/4 cup sugar
1/2 cup butter, softened
4 eggs
1 teaspoon vanilla
1 cup sour milk (1 cup whole milk + 1 tablespoon cider vinegar)
1/2 cup hot coffee

Orange Infused Cream Cheese Frosting:

2 cups confectioner's sugar
4 ounces cream cheese
1/2 cup shortening
1 teaspoon vanilla
2 tablespoons orange infused simple syrup, or plain simple syrup (note: refer to the directions for the Candied Orange Slices for infused simple syrup)
1 heaping tablespoon orange zest
Instructions
Candied Orange Slices:

Thinly slice your orange, then cut each slice in half.
Place orange halves in a small sauce pot with enough water to cover the orange. Bring to a boil, about 5-7 minutes. Drain.
Return the orange slices to the same sauce pot with just enough water to cover them, about 1/2 cup. Add 1/4 cup sugar. Cook over low heat for about 10 minutes until the orange skins are nice and tender. The syrup should almost be cooked down.
Gently transfer the orange slices to a plate, leaving a little space between each slice. Reserve the syrup for the cream cheese frosting (see below).
Freeze the orange slices for about 10 minutes. In the meantime, prepared your chocolate dip and almonds.
Ground 1/2 cup almonds in the food processor. Set aside.
In a double broiler, melt down the dark chocolate and shortening, until smooth. Remove from the heat immediately, so ensure the chocolate does not seize.
Remove the candied oranges from the freezer. Dip each slice in the chocolate then the ground almonds. Place on a new plate (if the other has syrup otherwise this will make the almond coating soggy) and place in the refrigerator until ready to serve.

Classic Chocolate Cake:

Preheat oven to 350 degrees F. and grease two 8 1/2 inch cake tins. The sift about 1/2 teaspoon of cocoa powder on the bottom of each pan. Pat each pan to shift the cocoa powder so that the entire inside of the pan in lined in the cocoa powder. Set aside.
In a bowl, whisk together flour, baking powder, baking soda, salt and cocoa powder. Set aside.
In a separate large bowl, beat together sugar, softened butter, eggs, vanilla and sour milk until smooth and incorporated.
It is important to continually whisk (or if using a stand mixer, keep on low speed) as you add the hot coffee, so not to scramble the eggs in the batter. As soon as the coffee is mixed in, add the flour and cocoa mixture 1/2 cup at a time. Continue to mix until a thick batter forms.
Divide the batter equally between the two prepared cake pans. Lightly tap your cake pans against the counter a few times to ensure you avoid air pockets in your finished cakes.
Bake for about 25-28 minutes, or until cake tester comes out clean.
Transfer the cakes to a wire rack and let cool completely in the pans.

Orange Infused Cream Cheese Frosting:

Combine all ingredients for the frosting in the bowl of your stand mixer. Mix until all is well incorporated and the frosting is smooth.

Assembly:

Once the cakes have cooled, gently turn out of the pans. Using a long serrated knife, slice each in half, horizontally.
**To ensure a even, level cake, I sliced the top off of each cake before I divided them.
On a cake plate, place the bottom of one of the cakes down first. Spread generously and evenly with the citrus frosting. Place the other half of the cake, top-down, and add an equal amount of frosting to this layer. Top again with the bottom half of the second cake and finish off the rest of the frosting. Complete the cake with the final half. Dust with powdered sugar. Sprinkle chopped almonds if desired in the center and then garnish with the candied orange slices.
Notes
Chocolate Cake adapted from King Arthur

**For added garnish, dip strawberries or any other fruit/berry on hand. Roll in ground almonds or sprinkle with course sea salt like I did!
7.8.1.2
86
https://livingthegourmet.com/2015/02/classic-chocolate-cake-candied-orange-slices.html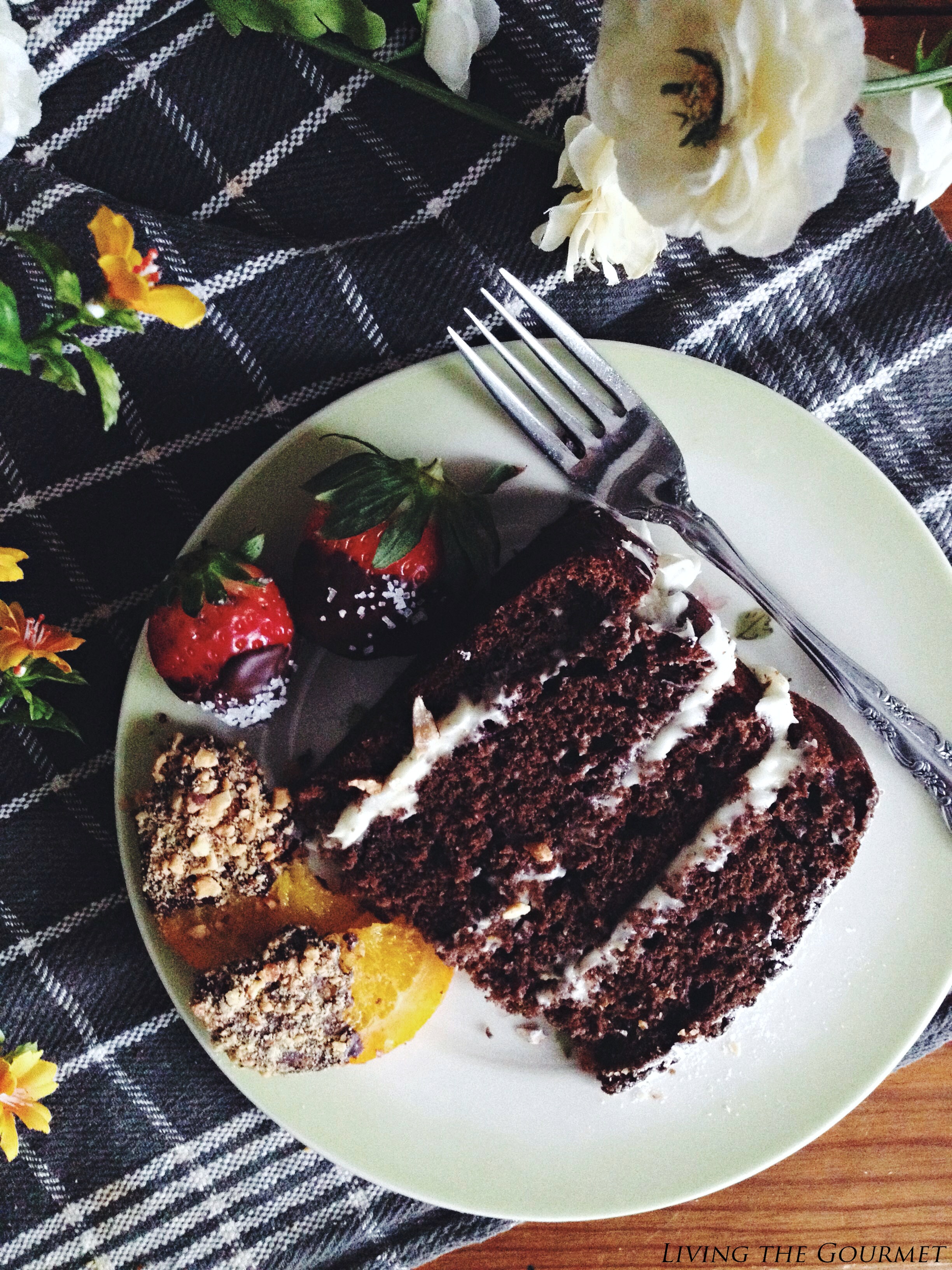 Enjoy with Love.
Post by Michael Pappas
Recipe by Catherine Pappas
Photos by Tammy Pappas
1