Orange baked chicken tossed with shredded vegetables then wrapped and fried in a spring roll, makes for a different kind of comfort food. Paired with a sweet & sour fresh cranberry sauce, these spring rolls will leave you wanting more!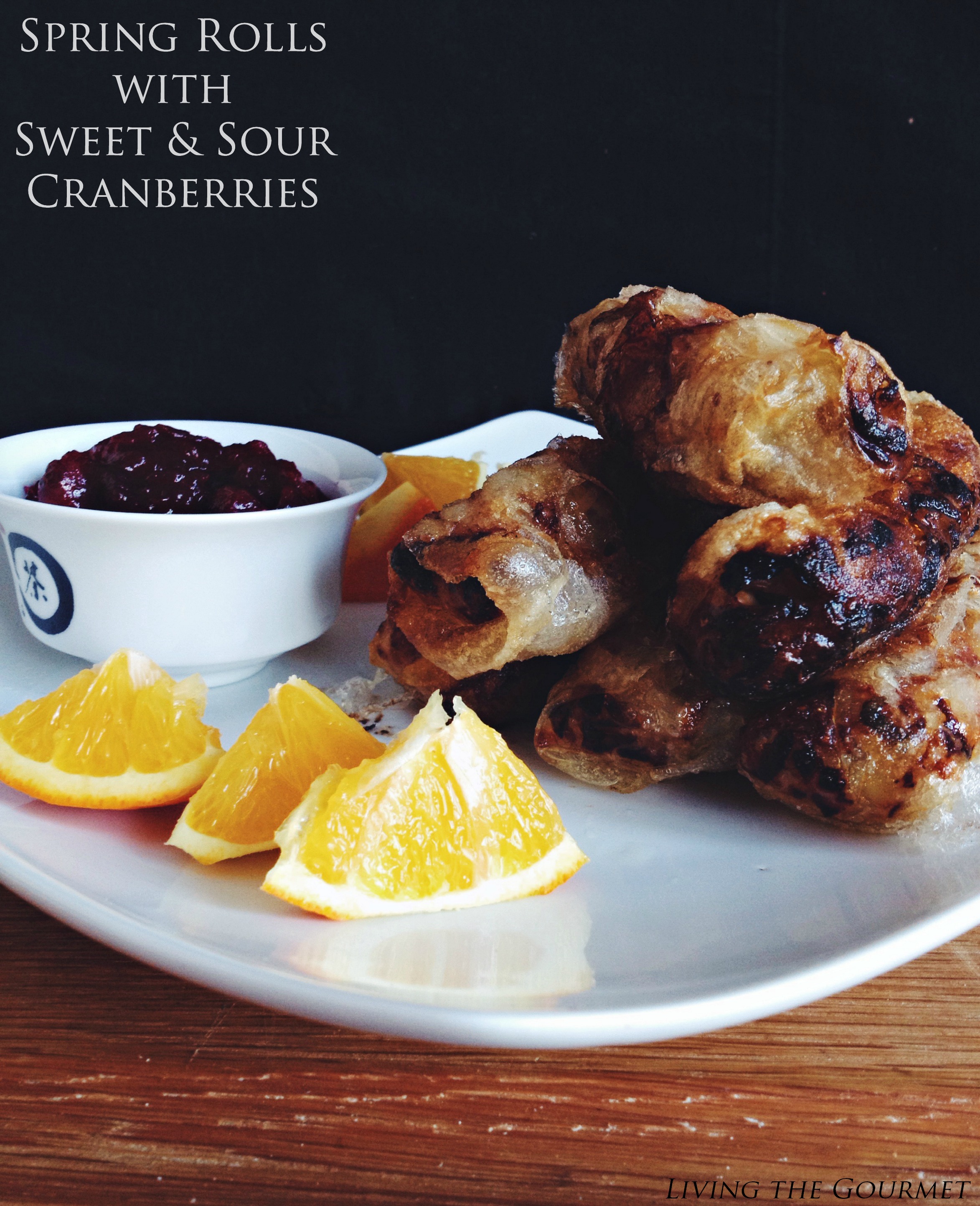 I admit these spring rolls are not quick, though they are surprisingly easy – after your first attempt.
It does not take long to get the hang of it, and wrapping them up is not as difficult as you may think. My only advice is to be careful when it comes to frying. That oil has to be hot. Otherwise, these rolls will fall apart the moment they hit the oil.
I served them with egg drop soup for New Year's Eve and had every intention of sharing them with you all…well, here we are three weeks later. It has been a busy month – a good way to kick off the New Year. I am so happy to finally be sharing these with you.
Enjoy!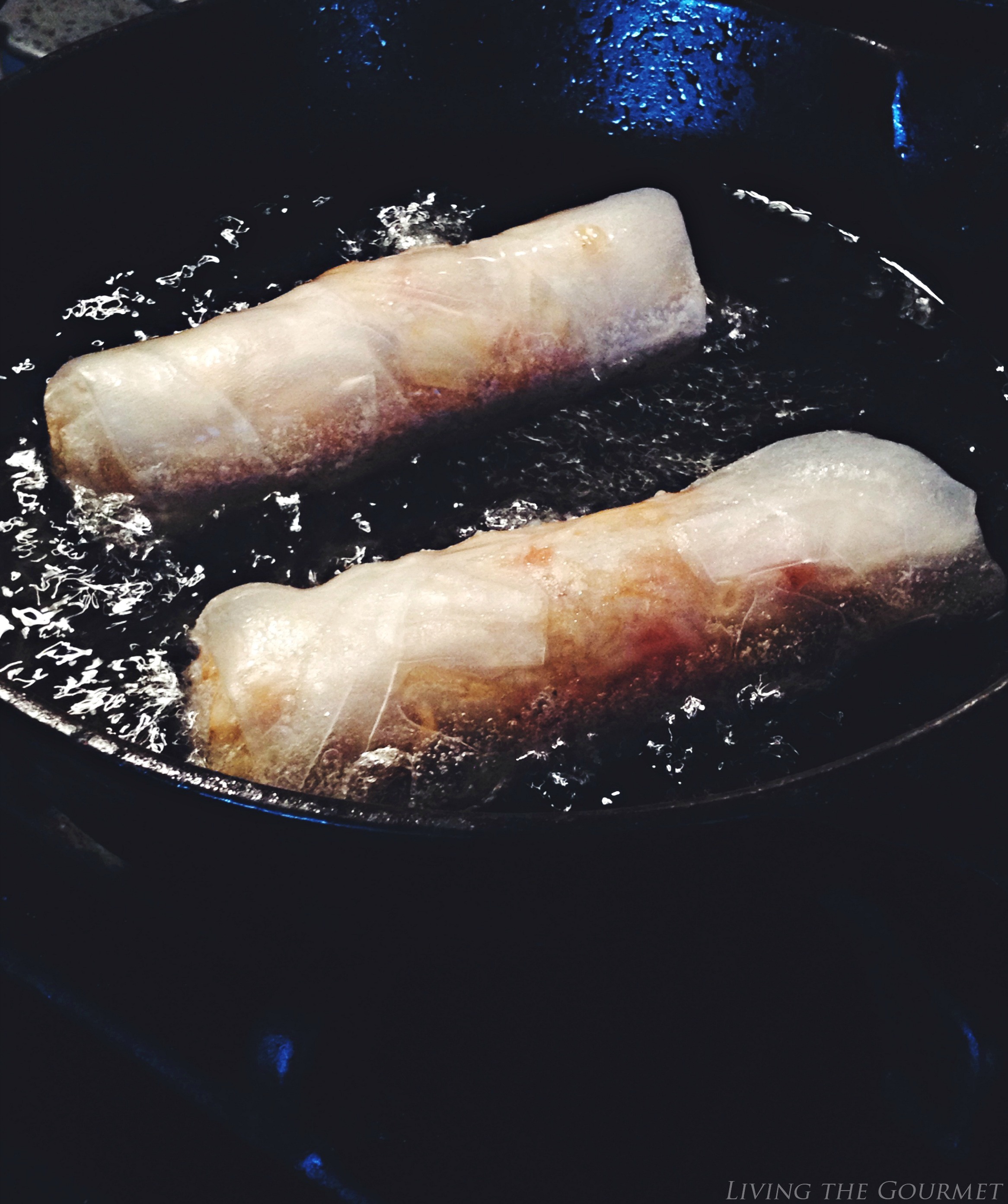 Print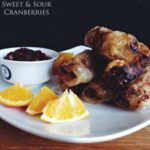 Spring Rolls w/ Sweet & Sour Cranberries
---
Author:

Prep Time:

15 minutes

Cook Time:

25 minutes

Total Time:

40 minutes
For Spring Rolls:
10

spring rolls wraps

2 tablespoons

oil, plus oil for frying
Juice of

1

orange, divided
Salt & pepper for taste

2

chicken quarters

2 cups

brown rice

1 cup

scallions, chopped

2

cloves garlic, grated

1 teaspoon

fresh ginger, grated

1

stalk celery, chopped

1

large carrot, grated

1 cup

mushrooms, diced

1/4

head cabbage, shredded

1 cup

bean sprouts

1/2 cup

parsley, chopped

1 tablespoon

soy sauce

1 tablespoons

teriyaki sauce

1 teaspoon

sesame oil

1/2 teaspoon

fresh chili paste
For Sweet & Sour Cranberries:
2

strips orange rind

1 cup

fresh cranberries

1/2 cup

white sugar

1 cup

water

2 tablespoons

brown sugar

1 tablespoon

soy sauce

1 tablespoons

teriyaki sauce

1/4 teaspoon

fresh chili paste

1/4 teaspoon

sriracha sauce
Salt & pepper to taste
---
Instructions
For the Spring Rolls:
Preheat oven to 400 degrees F.
In a medium cast iron skillet, place chicken quarters. Drizzle with juice of 1/2 an orange, 2 tablespoons canola oil and salt and pepper. Bake for about 20 minutes, until golden and the juices in the pan are sizzling. Remove and let cool slightly in the pan. Shred the meat from the bones and set aside.
In a large skillet, cook scallions, garlic and ginger with a little oil. Add the celery, mushrooms, cabbage and bean sprouts. Leave over medium heat until the mushrooms and cabbage have cooked down.
In a small bowl, whisk together soy, teriyaki, sesame oil, chili paste, and juice of remaining orange half.
Add the parsley, shredded chicken and rice to the sauteed vegetables. Add the soy and orange mixture. Toss and set aside on low heat.
In a small cast iron skillet, heat about 3/4 cup of cooking oil.
Fill a pie plate with water and dip one spring roll into the plate for a few seconds until softened. Transfer to a damp kitchen cloth and place a little more than a tablespoon of filling an inch away from the bottom of the wrapper. Fold the bottom of the wrapper up and over the filling, towards the center. Fold the sides in and finish rolling.
Make sure your oil is very hot, otherwise your spring rolls will stick to the pan and will fall apart. Leave the rolls to fry until the edges are golden and crispy, gently roll them over and cook the other side until golden as well. Transfer to a plate lined with paper towels to drain the excess oil.
For Sweet & Sour Cranberries:
In a medium saucepan, cook down the cranberries with water and 1/2 cup white sugar.
Once all the cranberries have popped open and the mixture is sticky and thick, remove from the heat. Transfer to a heatproof bowl. Mix in brown sugar, soy, teriyaki, chili paste, sriracha, salt and pepper. Serve with your spring rolls.
Recipe Card powered by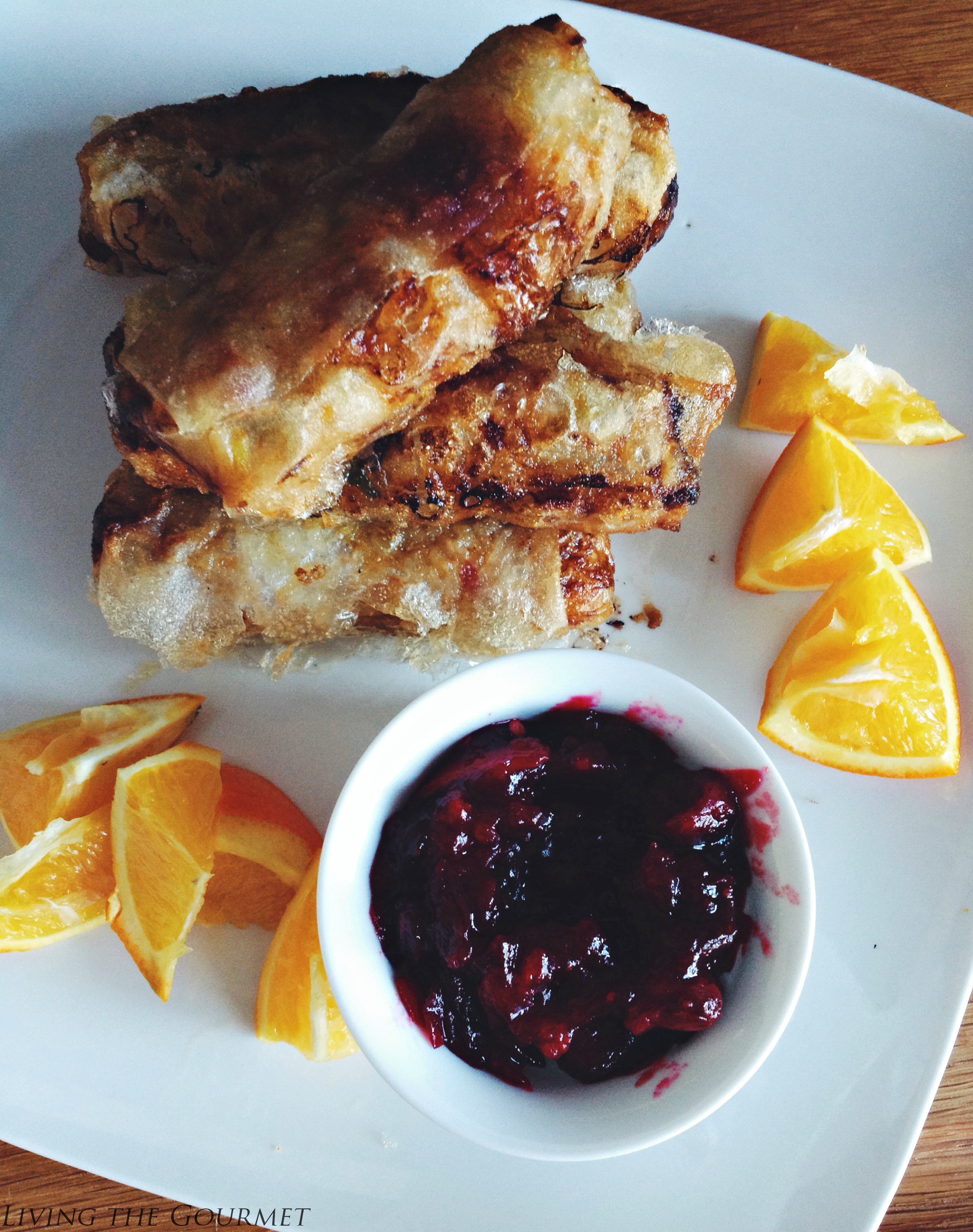 Toodles,
Tammy<3
Linking up to these parties!
0