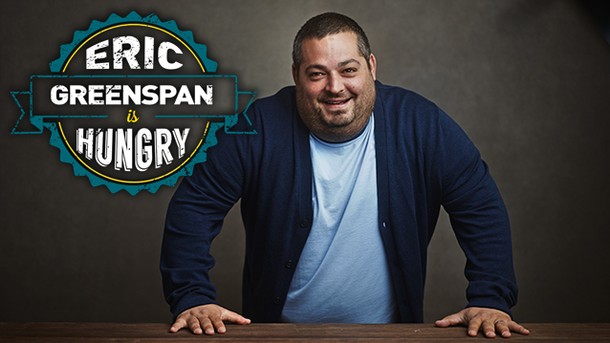 Living the Gourmet is pleased to present Eric Greenspan, whose new show on the National Geographic Channel, Eric Greenspan is Hungry, premiered November 24, 2014.
Eric Greenspan is Hungry takes viewers across America on a quest to find the quintessential meat experience. From hunting wild hog to fishing for prehistoric alligator gar, the show takes the viewer on a wild gastronomic quest with Eric and his sidekick Captain Mauzner as they experience America through food.
Taking viewers directly to the source, Eric meets the people who farm, hunt, raise, and butcher the meat, while putting Americana on full display through local homemade recipes, and a deep appreciation for their long history. A decidedly off-the-beaten-path adventure, Eric Greenspan is Hungry uncovers some of the best dishes imaginable with the help of those closest to the source.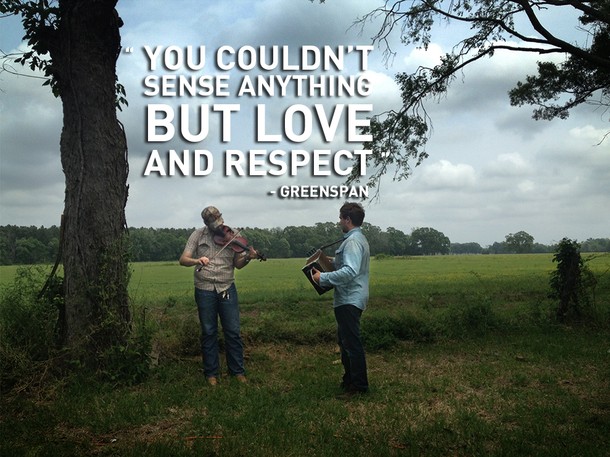 **We recently had the pleasure to speaking with Chef Eric on the phone about his adventures across the country, his love for grilled cheese sandwiches, and of course his time on Iron Chef America.
Catherine: Congratulations on your new show on the National Geographic Channel, Eric Greenspan is Hungry.
Eric Greenspan: Thank you so much. It's a product that we really enjoyed making and it's a really new, exciting look at a food show, so I'm excited to be a part of it.
C: That is so wonderful. Well, I did a little bit of research so I thought I would ask you a few questions for my readers. I see that you are a graduate of the Cordon Bleu Culinary School in Paris, and you are the chief talent of The Roof on Wilshire and The Foundry on Melrose [which is now closed].
EG: Yes, and also Greenspan's Grilled Cheese. We just opened that about six months ago.
C: Yes! I was getting to that. So this [Eric Greenspan is Hungry] is a whole new experience for you. Is this out of your comfort zone? It is a little bit different from what you have been doing.
EG: I like to think of the world as my comfort zone. I'm definitely one of those people who like to take the bull by the horns. So for me, I mean, it's definitely something new- you know, I've never hunted or fished before, and I think that also serves as part of the entertainment for the show. But, the show is more about people. I'm in the hospitality business and I meet new people all the time. That's what I love about the restaurant business. So for us, outside of that facade, it's really about going around the country meeting people who are just passionate about food, so that is most definitely my comfort zone.
C: On Eric Greenspan is Hungry, you are hunting wild hog, fishing for alligator gar, and buffalo. You are going straight to the source, so are you finding you will be able to incorporate these techniques into your own preparations of food?
EG: What's interesting about it is that- the short answer is yes; the long answer is that it's not even about incorporating, because I do use a lot of these foods. For example, I've used crawfish and have been serving it in my restaurants for years. I've been serving turkey in my restaurant for years. Alligator gar, never served it before, I'll be honest. But buffalo and wild pig, these are things that I have prepared before, but what I have is a new found understanding for them. And part of the reason why we did the show is because with all the farm-to-table movement, and these are things that I really do believe in, I wanted a deeper experience. Like with the organic vegetables, I can go to a farmer's market and tangibly see a lot of the vegetables and produce but you don't really get that experience with proteins. And so, for me to get a better understanding of the product, we had to go hunting and fishing. Learning about regional cuisine will always alter your food, but it alters your respect for the food. When I used to serve pork, it would come to me from a butcher and now, having been a part of this experience it really alters the way you treat animals and the respect you have for these products. It also impacts what it means to be an American as far as American food goes.
C: That's true, our country has so many food cuisines.
EG: Yeah, it's funny, I've been talking to people around the country about this, and at the end of the day, you see that the heart and soul of this show is the country. You get people saying, "What are you doing a hunting show? A cooking show?" and I'm like, "No, we're doing a culture show." When people talk about Italian food, or Chinese food, or French food, it's always about micro-regionality and all these different regions and their specialties. America has its own, very unique, truly distinct cuisine. When we did alligator gar, which I'm not going to claim is a staple in American cuisine, we went to different parts of that area, and they all made alligator gar balls but they all made them differently.
C: You have your friend, Captain Mauzner along on the show. He describes the experience as 'an orgy of food and drink,' so what would you pinpoint as the wildest moment from Eric Greenspan is Hungry?
EG: There were so many of them…definitely from the first episode when we were chasing the hog. We were running through the swamps being pulled by a bulldog. That was a very wild and unique experience. This week coming up, the turkey hunt, was an extremely wild and interesting experience because it was bizarre and brilliant. You don't hunt turkeys, they hunt you. They hear better than us, they see better than us, so you have to talk the turkey into you. It's a very interesting form of a hunt. Everything that we did was wild and fun. Most of the wildest was the people we hung out with.
C: I'm sure there is a great difference in taste between hunting it wild and buying it from the butcher. The taste is probably immensely different.
EG: I think the immense difference would be more the perspective of the person cooking it. If I were to hunt my own wild hog, or buy wild hog from the butcher I think the taste would be the same. It's not just the product, it's also how that product is treated that will eventually create the dish. I think in the hands of someone who was just involved in the hunting of the animal, there is a level of respect in the treatment that I think will come through in the dish.
C: I see. I also want to ask you about winning the Grilled Cheese Invitational in 2008. You started Greenspan's Grilled Cheese and I find it intriguing how you built up a whole restaurant on the concept of grilled cheese – of which I love.
EG: The grilled cheese started at the Foundry of Melrose, which was my original restaurant, a fancy restaurant on Melrose Avenue. It was meant to be a casually elegant restaurant, and we had a cheese plate on the bar menu. People really responded to it and then the sandwich just kind of took off. Then we won the Grilled Cheese Invitational and it was on The Best Thing I Ever Ate. Frankly, the grilled cheese's popularity helped contribute to the closing of the Foundry in many ways because it got so popular. People who would come in for tasting menus started ordering the sandwich instead. So, I had to open Greenspan's Grilled Cheese just to kind of quarantine the sandwich to a more appropriate location.
C: Well, I have to ask you about winning Iron Chef America now. That is phenomenal!
EG: It was funny because I won Iron Chef America on the heels of getting thrown off of The Next Iron Chef. So, I was thrown off The Next Iron Chef first, which is not something you want to leave. So, you know, you're kind of down in the dumps and then I got a call for Iron Chef America and a chance at redemption. That was a great time…and winning feels so much better than losing. [laughs]
C: I can imagine! That is really wonderful.
EG: Yeah, I'm really proud. Only three chefs in all of the Los Angeles area has ever won and to compete against Bobby Flay, the king of American food, and who is just a great guy all around- it felt good for the recognition.
C: Would you like to tell the readers of Living the Gourmet the date and time of your show?
EG: We are on every Monday at 10 PM ET/ 9c. It's called Eric Greenspan is Hungry on the National Geographic Channel.
C: It's a great show. It's a wild show, and a great way to see how food in America is caught, prepared, and eaten. I think it's really wonderful how you go to different parts of the country, highlighting America.
EG: It's my absolute pleasure. I've always been proud to be an American, and it has been such an honor to get out there and understand all the glory and grandeur that is our country.
C: Thank you so much for visiting with Living the Gourmet. It's been a pleasure and an honor speaking with you, and I wish you all the best with your travels and endeavors.
EG: It's been a pleasure and I look forward to speaking with you many more times. Happy Holidays.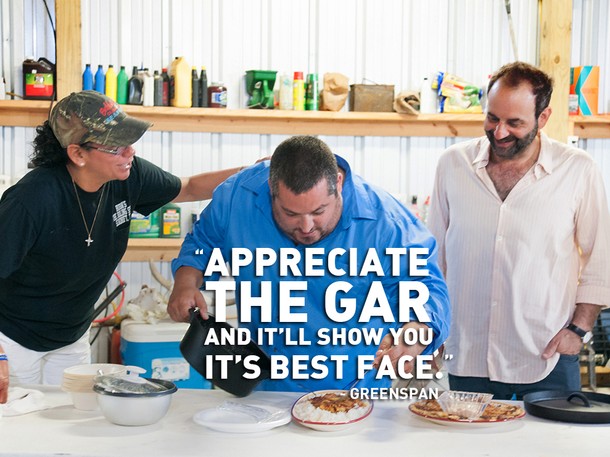 Follow on Twitter:
Living the Gourmet - @LivingtGourmet
Eric Greenspan - @ChefGreeny
Exclusive clips & previews of Eric Greenspan is Hungry
A special thanks to Michael Pappas for his contributions to this interview. For more updates on what goes on behind the scenes at #LTG follow Michael on twitter - @MikeSilverGod
0