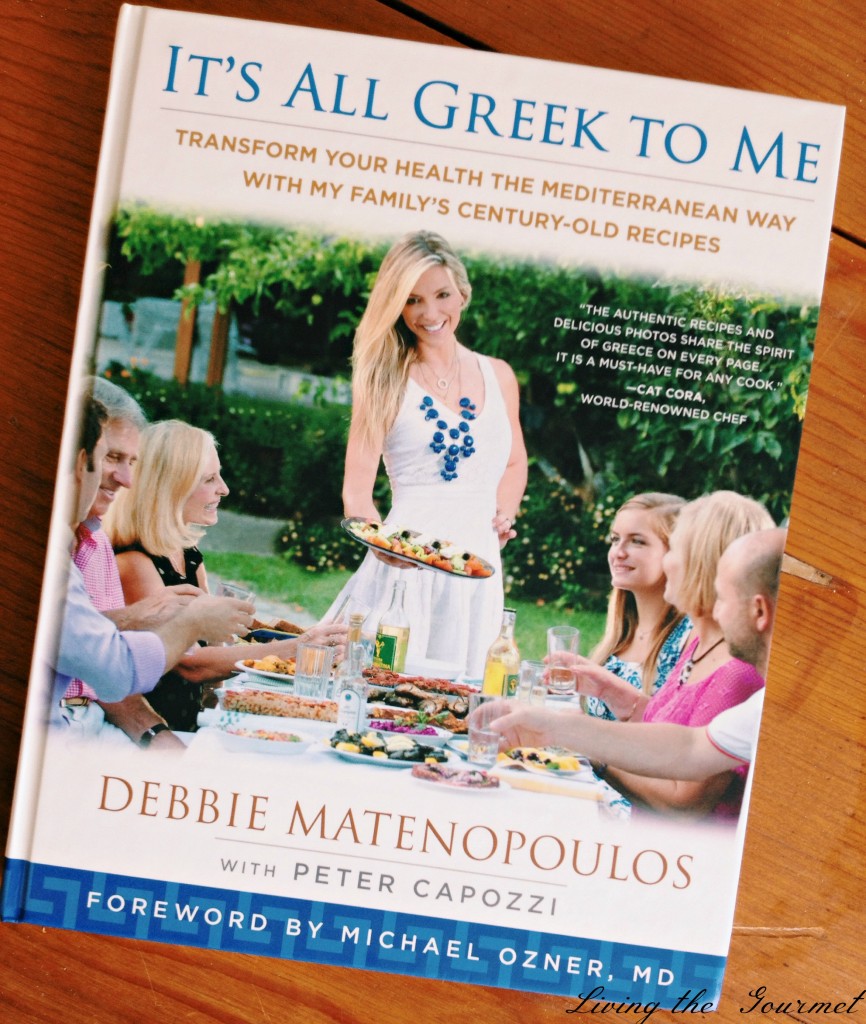 Living the Gourmet had the distinct pleasure of interviewing former host of The View and TV personality Debbie Mattenopoulous for the launch of her new book It's All Greek to Me.
Catherine: You're known as a host on The View, CBS, MTV, and E!, and you mention in It's All Greek to Me how your busy schedule had you eating a diet of ready to go, quick meals. After all this time, what prompted you to enter the world of food? What was the inspiration for this cookbook? How did it begin?
Debbie: I had always wanted to write a cookbook and share my family's recipes with the world. This just happened to be the perfect time to do so. I had a break from my shooting schedule and therefore had the time to travel to Greece in order to write a book that me and my family would be proud of. It was very important to me that this book be completely authentic. My mom is such a great cook and I wanted to showcase that. I grew up surrounded by amazing women in my family (my mom, aunts, yia-yia) who cooked everything from scratch. Not only was everything delicious but it was also super good for you. These wonderful women taught me how to cook and were my inspiration for this book. I didn't realize how fortunate I was until I moved away from home to go to NYU and work at MTV. I was no longer eating healthy and nutrient rich whole foods. Instead, I was eating processed foods from delis and fast food restaurants. My health suffered. When I went back to the way I was eating as a child, my health returned. That's when I was certain that the Mediterranean diet I was raised on was the healthiest way of eating, and I wanted everyone to know about it so that it could maybe help them be healthier as well.
Catherine: You talk a lot about how food for Greeks isn't just food, it's a part of tradition, family, and an expression of their culture. You talk about growing up in a traditional Greek home, and what that was like. So while the recipes are certainly the focus of the book, is that message of tradition and culture, for you, the larger part of what you hope people take away from It's All Greek to Me?
Debbie: Tradition and culture are definitely a big part of this book. Food is indeed more than just food to Greeks. It represents love and family and a time for the family to all come together and connect. I feel that this is a very important aspect of keeping not just families, but also cultures and societies healthy. I would like to see us return to the old school way, of the family gathering around the table for lunch or dinner, the way they still do in Greece.
Catherine: A running theme throughout It's All Greek to Me is the healthfulness of Greek cooking, and of larger Mediterranean cooking in general, and how healthfulness is naturally built into the cuisine. In particular you talk about how modern science is just now catching up to what the Greeks have known for thousands of years in regards to healthy dietary practices. If you could, expand a little bit on the Greek approach to food, and its relation to healthy eating.
Debbie: The 3 basic ingredients in Greek food are Extra Virgin Olive Oil, Lemon, and Oregano. The health benefits of these three ingredients alone are immeasurable. Olive oil helps lower cholesterol and control insulin levels. It also helps protect cells from damage from free radicals and supports healthy digestion. Lemons alkalize the body, cleanse the liver, contain powerful antibacterial properties, and are full of vitamin C. Oregano is basically a "super food". It is an antifungal, antibacterial, and anti-inflammatory used to fight upper respiratory infections AND has cancer fighting effects. The other 2 most prevalent ingredients in Greek cuisine are tomatoes and onions. Both of these have also been proven to be incredibly good for people. Tomatoes are antioxidants and help with bone health. They also lower LDL cholesterol levels and triglycerides. Onions reduce inflammation in the body and have been used to heal infections. They regulate blood sugar and help build the immune system. And that is just the beginning as to why I believe the Mediterranean diet is the healthiest way of eating on the planet. The proof is in the pudding……literally!!! 😉
Catherine: Finally, it has to be asked, is It's All Greek to Me going to be your only venture into the culinary world? Or should we expect more?
Debbie: It's All Greek to Me is just my first step into the food space. I have never enjoyed anything more in my career as I have writing this book. It truly demonstrates who I am as a person. Most of the world may know me from my countless years as an entertainment reporter and host, but my close friends and family know me more as the person in this cookbook. What started out as a simple cookbook became so much more. It became a love letter to my culture and to my family, and I hope you enjoy using it as much I have making it. Happy cooking!!! 😉
Tammy: I love that necklace you're wearing on the cover of the book! Did you get it in Greece?
Debbie: I love that necklace too. It actually belongs to my niece who is on the book cover with me. She's seated directly to my left. She had a pink one and a blue one, and she put the blue one on me right before we started shooting. She thought it would be a nice pop of color against the white dress. I couldn't agree more. Not to mention, blue and white are the colors of the Greek flag, so it worked out perfectly. She actually got the necklaces from right here in the States at J. Crew. I'm not sure if they have them anymore, but I bet you can still find them online. Lots of different companies are making those exact necklaces now. 😉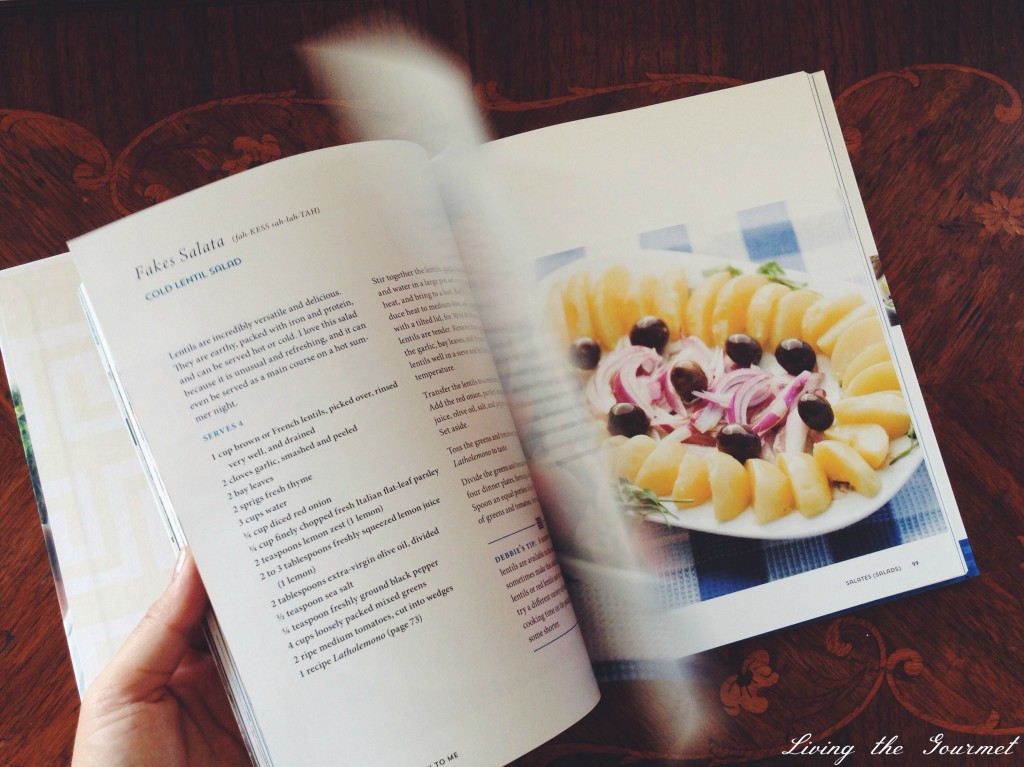 And now a little bit about Debbie's book!
In It's All Greek to Me, Debbie shares one-hundred and twenty of her family's traditional Greek recipes.
Throughout It's All Greek to Me, the reader is not only introduced to a host of traditional Greek and Greece-inspired recipes, but is instead taken on a journey through Greece with the author. Along with pleasant anecdotes, local history, and heartfelt family stories, the cookbook is peppered throughout with photos of rolling Greek landscapes, busy markets, and iconic blue-white coastlines. The view Debbie gives of Greece, while touristic in nature, is one that strikes a much closer, more intimate note, a view of modern Greece rarely given to outsiders. She approaches Greek tradition with an obvious familiarity, introducing the reader to Greek culture as one who has lived it, rather than learning along with her audience as is so common.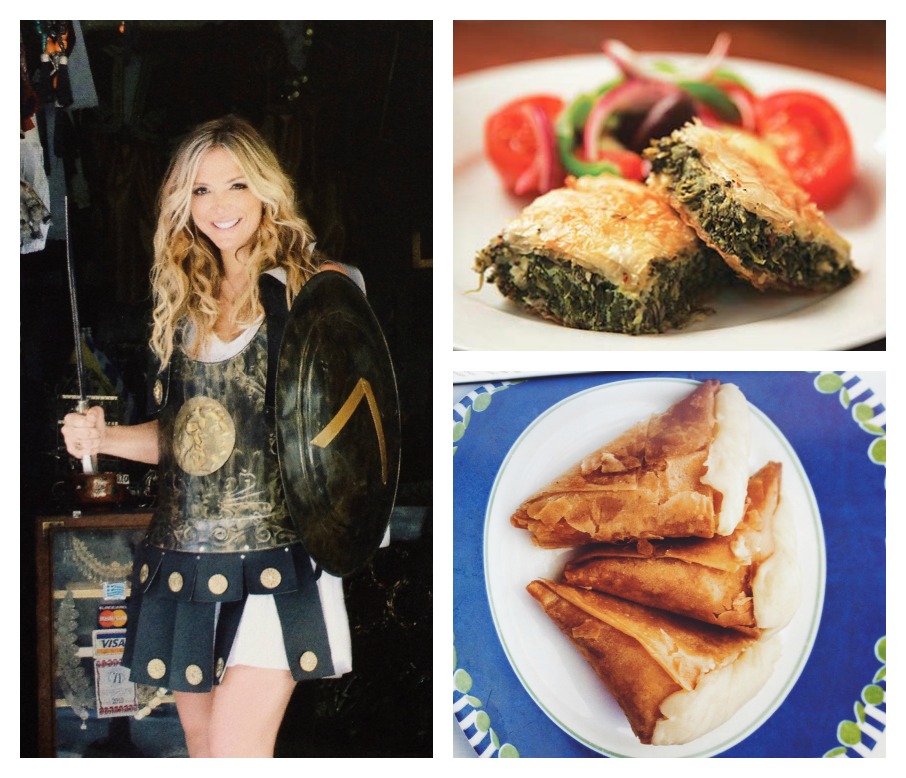 From the very onset, the author takes aim at two central points, which serve to frame the recipes. First is the healthfulness of Greek and larger Mediterranean cooking, with the book featuring a foreword by Dr. Michael Oznar, one of the US's leading cardiologists, who expounds upon the health benefits of eating a Mediterranean diet. Second, is a good-natured attack on various clichés and stereotypes regarding Greek cooking, with one of the book's opening quotes being from Olympia Dukakis, "Greek food is so much more than Spanikopita!"
The book opens with a collage of the Acropolis, and a brief history and explanation of the Parthenon, the Athenian relic that has come to symbolize Greek cultural achievements, aptly setting the tone for the chapters to come. From there, the book moves onto Mezzethese, appetizers, and features such classic items as stuffed grape leaves, grilled octopus, and white bean puree – items instantly recognizable to anyone with even a glancing familiarity with Greek cuisine.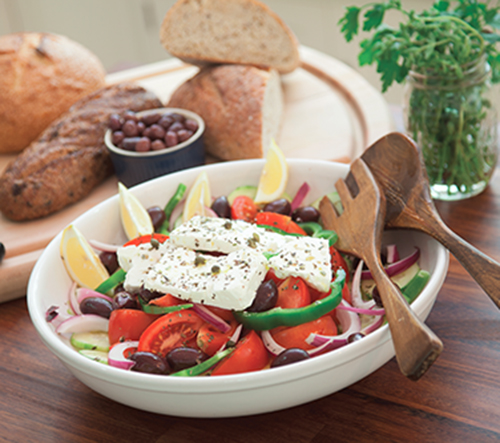 Mezzethese leads into Saltses and Salates, or 'basic sauces' and 'salads' respectively. Basic sauces, perhaps unsurprisingly, features a number of foundational items used throughout the book, such as a classic Tzatziki and Tahini sauce, as well as a recipe for a lemon-olive dressing – which should be a staple in any kitchen. I found the chapter Salates rather interesting, since it was 'unconventional' in its tradition, giving us a recipe for a 'true' Greek village salad, which is actually devoid of lettuce, and instead features peppers, olives, and of course feta.
After a brief but endearing encounter with the 'Fabulous Athens Baker Boys,' the reader is treated to the author's selection of phyllo based recipes, as if any Greek cookbook would be complete without a recipe for Spanikopita or 'spinach pie.' The reader is also treated to some less conventional but perhaps more interesting phyllo items such as a 'kreatopita,' a phyllo dough meat pie, as well as a 'prasopita,' a phyllo pie with cheese and leeks, one of my personal favorites.
As if combining two essential Greek traditions – religion and seafood – the author treats us to her take on Greek seafood recipes before visiting a coastal monastery. The chapter Psaria features crowd favorites such as spicy calamari along with essentials such as seafood rice, as well as wine and garlic marinated Mediterranean sea bass. After Debbie's trip to the monastery, we move, appropriately, to the vegetarian recipes, or 'Hortofagos,' from which I strongly recommend trying the orzo with tomato and feta, a recipe in which simplicity and gourmet taste are found in equal measure.
From the vegetarian selection of Hortofagos, we are, perhaps somewhat ironically, introduced to the Butchers of Fanari, and from there the book's main meat and poultry dishes, or Kreata kai Kotopoulo. The chapter features such items as a classic roasted leg of lamb or 'Arni kai Patates,' and Greek meatballs in tomato sauce, 'Soutzoukakia.' Less 'mainstream' Greek dishes are also found here as well, such as stuffed zucchini, and a recipe for a spicy cabbage and pork stew.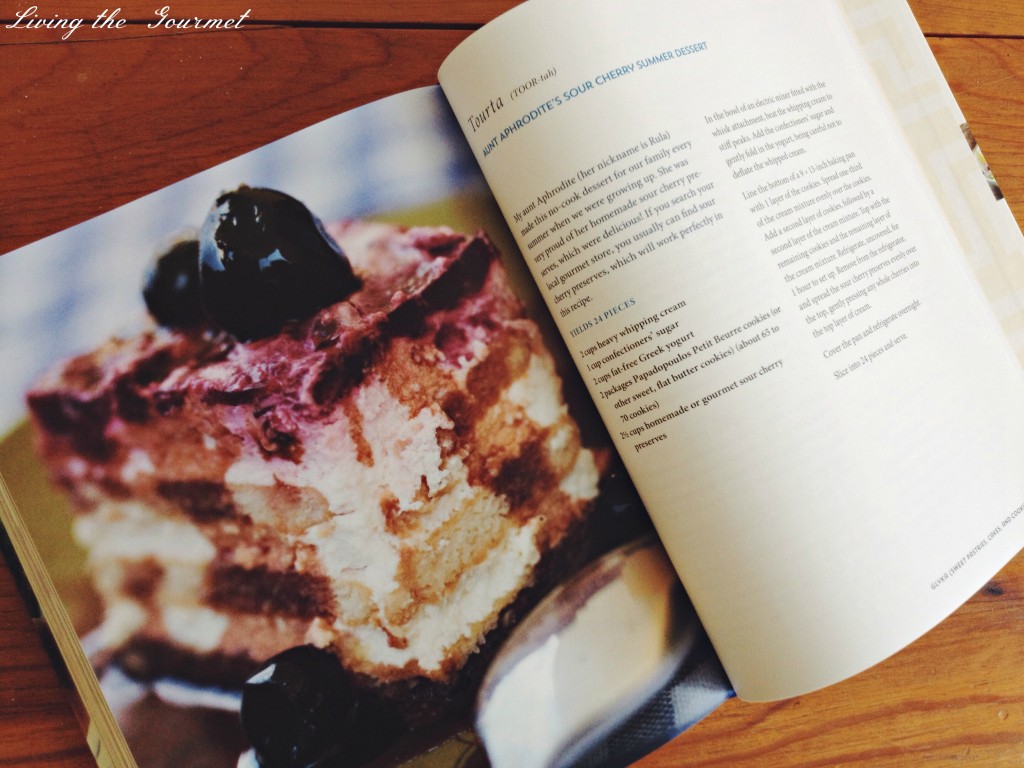 The book ends, appropriately, with a chapter devoted to Glyka, or sweet pastries, cakes, and cookies. A recipe for Revani makes an appearance, an orange, almond, and semolina cake soaked in orange and cinnamon syrup. Rounding out the desserts are a sour cherry Tourta, and koulourakia, the basic traditional Greek cookies. Of course, what Greek dessert menu would be complete with a recipe for Baklava?
The book ends on a lighthearted note entitled Extras, and includes somewhat more anecdotal recipes such as homemade bread, and croutons. I found the breakfast smoothie particularly interesting, with its blended combination of Greek yogurt, honey, and cinnamon.
Overall, It's All Greek to Me accomplishes what it sets out to do, displaying all the versatility and healthfulness of Greek and Mediterranean cooking, in a lighthearted, easy to read, and enjoyable format. That said, Living the Gourmet can wholeheartedly recommend It's All Greek to Me.
Chicken Souvlaki & Orzo
Prep Time:

20 minutes

Cook Time:

50 minutes

Total Time:

1 hour 10 minutes

Yield:

6

serving

1

x
10

–

12

boneless skinless thighs – cut into bite sized pieces

1/2

pint

of cherry tomatoes

2

bell peppers – sliced and halved

1

large onion – sliced
Skewers – soaked in water for before using
For the Marinade:
Juice of

1

lemons
Juice of

1

lime

1 tsp

. balsamic vinegar

1 tsp

. salt

1 tsp

. black pepper

1

tbs. dried oregano

3

–

4

tbs. of fresh dill – chopped

3

–

4

tbs. of fresh Italian parsley – chopped

1/4

cup

of olive oil
For the Orzo:
1

bunch of fresh spinach

2

–

3

cloves of garlic – chopped

1/2

pint

of cherry tomatoes – halved

1/2 tsp

. salt

1/2 tsp

. black pepper
Juice of

1

lemon

4

tbs. olive oil

16

oz

. of orzo
Instructions
Combine all of the ingredients for the marinade in a bowl; place the chicken pieces in the marinade and cover. Refrigerate for at least on hour or more.
When ready to assemble the souvlaki rotate the veggies with the chicken on each skewer that has been soaked in water first.
Preheat Oven 350 degrees;
Place in a baking pan and bake for 45 – 50 minutes; until there is a nice golden color on the chicken pieces and the juices in meat run clear.
Let the kabobs rest about 5-10 minutes before serving.
The souvlaki may also be grilled on the bbq.
For the Orzo:
Prepare the orzo as directed.
Heat a large frying pan with 2 tbs. of olive oil. Add the garlic, spinach and halved tomatoes; sauté until the tomatoes soften and the garlic is fragrant; season with the salt and pepper.
Add the orzo to the pan.
Combine the lemon juice with 2-3 tablespoons of olive oil; drizzle over the orzo and toss.
Recipe Card powered by
Want to win a copy of It's All Greek to Me?? Enter below for a chance to win!
*Please note this giveaway is open to residents of the US and Canada only. Read our Disclosure Policy for more details on giveaways held here.
a Rafflecopter giveaway

1