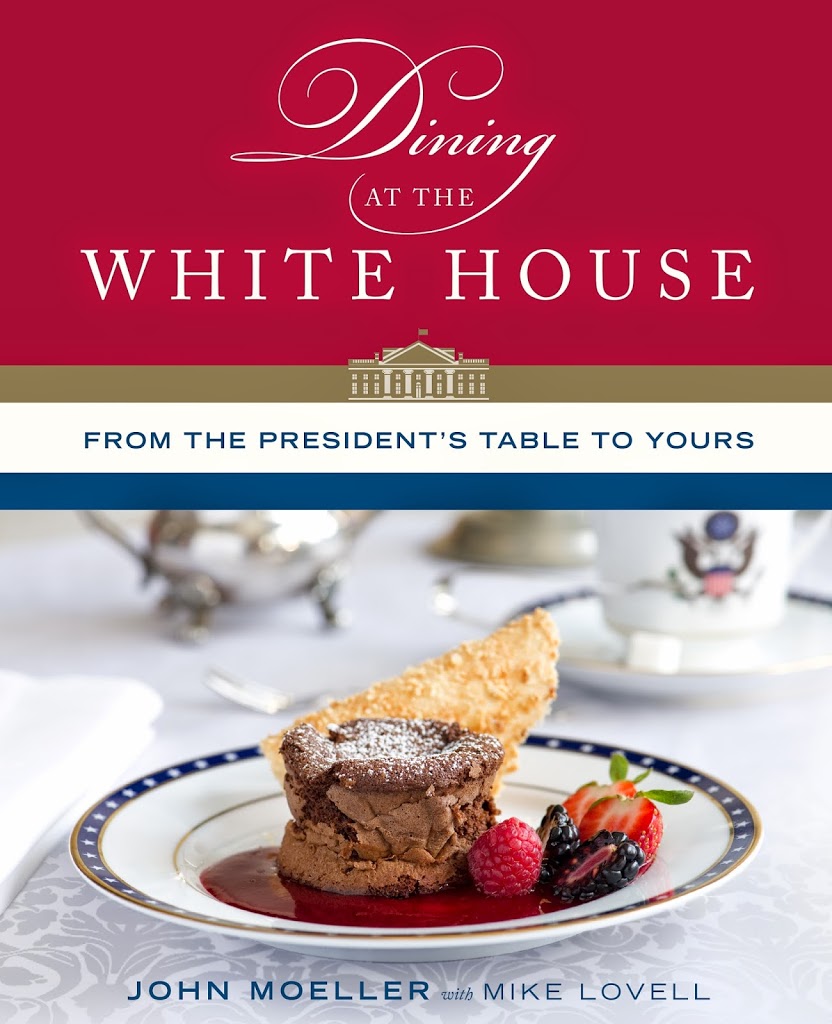 Living the Gourmet is pleased to present
Dining at the White House
from Chef John Moeller, one of the longest tenured White House chefs to have served.
The book opens with a simple question, "Have you ever wondered what it would be like to dine at the White House?"
Part autobiography, part cookbook,
Dining at the White House
sets out to explore its premise question not only through food – featuring some thirty recipes directly from the White House table – but also through an expert retelling of Chef John's life and career. Complete with photos, anecdotes, and a rich recounting of Chef John's journey to the White House, and his thirteen year tenure,
Dining At the White House
offers a unique, and fascinating perspective not only on being a White House chef, but also on day to day life inside our nation's capital.
Aside from the 'palace eye view' from the White House, which forms the book's core,
Dining at the White House
also features deeply personal stories. For example, we learn that Chef John was introduced to cooking in high school, when he received the book
Great Chefs of France
as a gift from his father. That interest would eventually find Chef John on what he describes as a 'two year adventure' in France, where he lived with the locals, and came to master the French approach to cooking.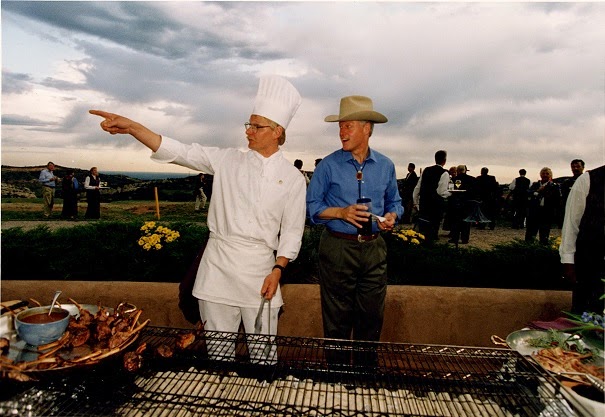 One of my favorite anecdotes was Chef John's encounter with a 'mushroom soup' during his graduation trip to England. Before heading north to Scotland, Chef John stopped at a local restaurant, and what ensued is described as a 'Holy Grail' moment, with the author recounting that he had never tasted anything so good. Chef John writes that he came to understand that the soup was a combination of both masterful cooking and good quality, fresh ingredients. He goes on to explain how this impressed upon him that the technique and the ingredient are vital to good cooking.
The use of fresh, healthy ingredients would become a trademark of Chef John's White House career, a career that would begin almost entirely by a single, fortunate turn of fate. Following a seasonal job cooking in St. Croix, Chef John decided to stop in DC on his way to visit his brother, who was attending Loyola University. While in DC, Chef John would acquire a job cooking at the Four Ways, and an apartment, in the course of just a single afternoon. That fateful stop in DC would eventually lead to Chef John earning a place among Washington's elite French Chefs, and from there an invitation to serve in the White House.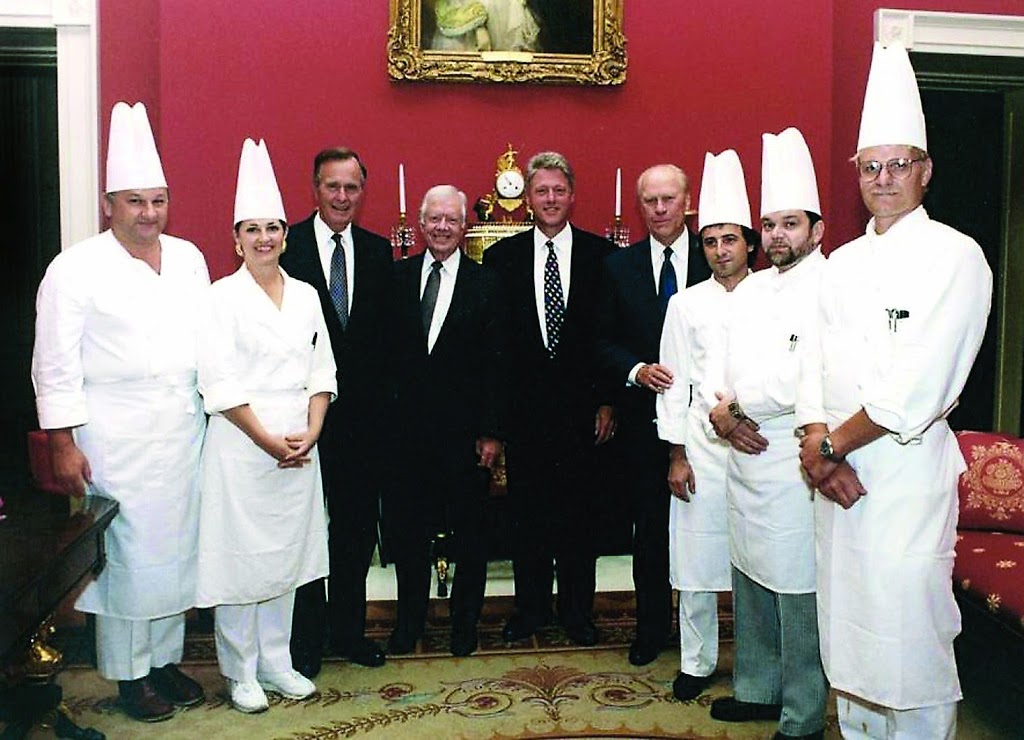 From serving Nelson Mandela to hosting the Rolling Stones, the portion of the book devoted to Chef John's time at the White House is seasoned throughout with stories that both enlighten and amuse. From 'compliments to the chef' from Julia Child to conversing in French with Jacques Chirac, John Moeller's time at the White House quickly becomes more than an autobiography. What will grasp the reader's interest is the precious glimpse into the day to day world behind the veil of the cameras. For example, we learn of President Bill Clinton's taste for elk, and that he was fond of showing off still visible signs of the 1814 White House fire to his guests. Perhaps even more interesting is the 'workman view' given to such events as a trip to Camp David shortly after the 1992 election, and all that is involved in serving the First Family at Laurel Cabin.
If even just for these glimpses into life at the White House from his unique perspective, Dining at the White House is easily worth a read…or two.
The recipe portion of the books opens with all the pomp and circumstance one would expect from a White House table, opening with the luncheon menu served to the President of the Russian Federation in November of 2001. Expectedly refined, among the items on offer for the luncheon are an artichoke and leek soup with Nantucket bay scallops that I strongly suggest the reader try.
The recipes themselves are divided between Starters, Soups and Salads, Mains, and Dessert.
Starters opens with grilled shiitake mushrooms with Jonah crabmeat, herbs and roasted red pepper sauce. From their there we move onto 'Soups and Salads,' which features one personal favorites from among the recipes, a lobster bisque with pesto galettes. The section also features a masterfully assembled mousse of artichokes with fine herbs, salad of red oak lettuce, and tomato dressing.
Mains features such items as tenderloin of beef with cremini mushroom sauce, chestnut spaetzle, and glazed root vegetables. A delicate rosemary and garlic roasted chicken with ragout of summer vegetables and shiitake polenta is also on offer, among a variety of other fine dishes.
However, from all of the recipes on offer, Chef John's tour de force is easily the warm flourless chocolate torte. The story behind that dessert, however, is one I'll let you discover for yourself.
All in all,
Dining at the White House
was a fascinating read, and features a variety of gourmet dishes. That being said, Living the Gourmet wholeheartedly recommends this book to our readers.
Feature
-by-
Michael Pappas
----
I received this product for review. All opinions stated are my own. I was not financially compensated for this post.
For LTG's full disclosure policy, see here.

To learn more about Chef John, his years at the White House and his company, State of Affairs Catering, visit him here and here.

Special select recipes from John Moeller coming soon to LTG...
---
Linkups:
Whimsy Wednesday
Wonderfully Creative Wednesday
Wednesday Whatsits
Wake Up Wednesday
Wonderful Wednesday
Creative Muster Link Party
Wow Us Wednesdays
Four Seasons Blog Hop
Homemaking Link-Up
Show & Share Wednesday
The Pin It Party Lovely Little Link Party
Full Plate Thursday
Thursday Favorite Things
Showcase Your Talent Thursday
Fantastic Thursdays
0