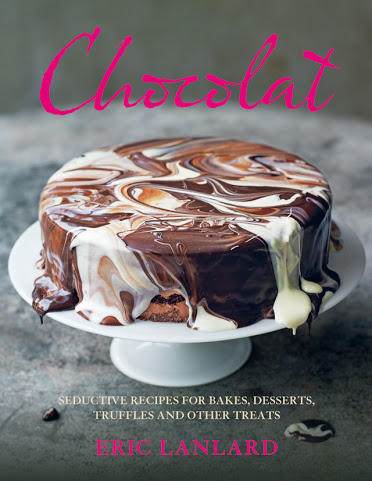 As the title suggests, Eric shares over 100 of his best recipes featuring his favorite ingredient, chocolate.
Within these artfully crafted pages, Eric teaches the techniques of molding, blending, shaping, and baking with chocolate so you too may be a master patissier.

From indulgent chocolate drinks, tarts, muffins and mousses to gateaux, petit fours and elaborate creations for special occasions, Eric showcases how versatile and wonderful chocolate can be.
Having trained in France, Eric moved to London where he eventually launched his own business, Cake Boy, a destination café, cake emporium and cookery school. He has earned himself a reputation for superlative creations, and built an impressive A-list clientele that includes such figures as Madonna and Sir Elton John.
It has been a pleasure having the opportunity to review Eric's book and taste his heavenly confections for myself.
Today, I have prepared my own take on Eric's Chocolate and Pistachio Biscotti. Since I did not have pistachios on hand, I substituted them with sweetened orange rind. The result was nothing short of wonderful- as expected.
**I was given this product for review. I was not financially compensated for this post. All opinions expressed are my own.
Yields 26
Chocolate and Orange Biscotti
20Prep Time
50Cook Time
70Total Time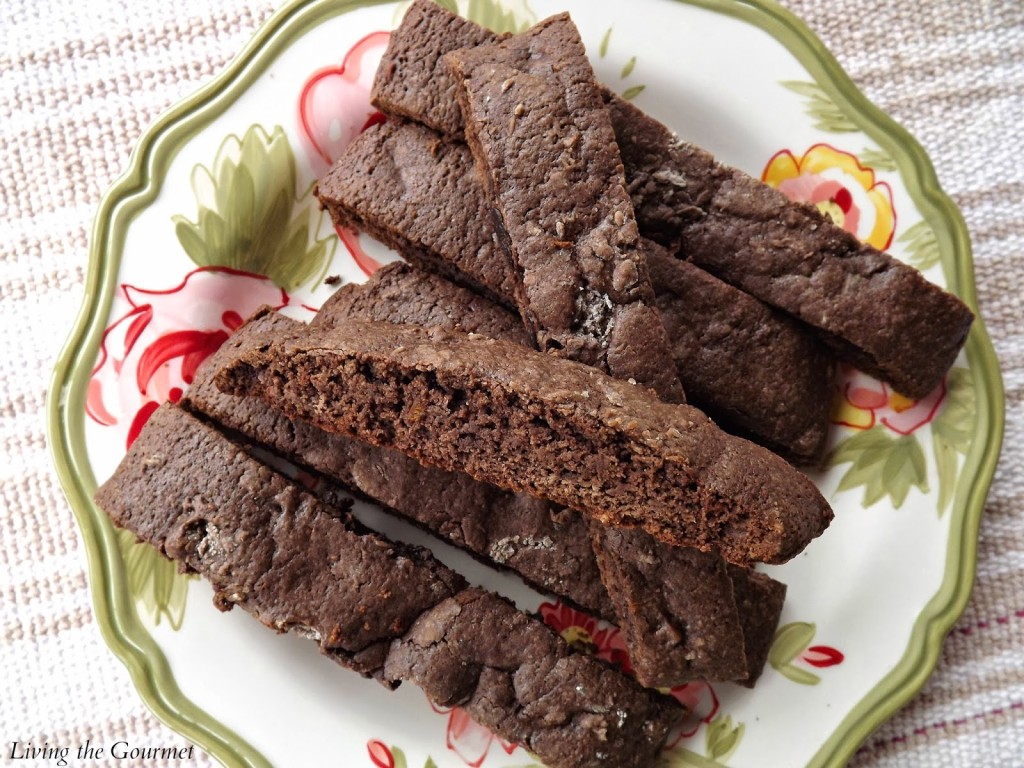 Ingredients
1 stick unsalted butter, softened
1 cup granulated sugar
2 eggs
2 ¼ cups AP flour, plus extra for dusting
2/3 cup unsweetened cocoa powder
1 teaspoon baking soda
½ cup semisweet chocolate chips

For Sweetened Orange Rind1 cup water

Rind of half an orange, sliced and chopped
2 tablespoons sugar
Instructions
Preheat the oven to 350 degrees F. Line two baking sheets with parchment paper.
In a small saucepan over medium heat, bring to a boil orange rind and sugar. Strain and set the sweetened orange rind aside.
In a large bowl, cream together the butter and sugar until pale and fluffy. Beat in the eggs one at a time, then sift together the flour, cocoa powder, and baking soda and fold in. Gently stir in the orange rind and chocolate chips.
Turn out the batter onto a floured surface and form into a large, slightly flattened loaf shape, about 12 x 3 inches. Carefully transfer to one of the prepared baking sheets and bake for 30 minutes. Remove from the oven and let cool for about 10 minutes. Reduce the oven temperature to 300 degrees F.
Place the warm loaf on a cutting board and slice into ½-inch-thick slices. Arrange them on the baking sheets and return to the over for another 20-25 minutes, or until dry and crispy. Once cooked, transfer to a cooling rack to cool and harden.
You can store the biscotti in airtight containers for up to 2 weeks. They also make really nice presents when wrapped in a gift bag.
7.8.1.2
684
https://livingthegourmet.com/2013/11/chocolate-orange-biscotti.html
Linkups:
Whimsy Wednesdays
Wednesday Whatsits
Wonderful Food Wednesday
Wake Up Wednesday
Full Plate Thursday
All Things Pretty
Thursday's Treasures
The Weekly Creative

1