This post has been sponsored by Hampers.com. All opinions expressed are my own.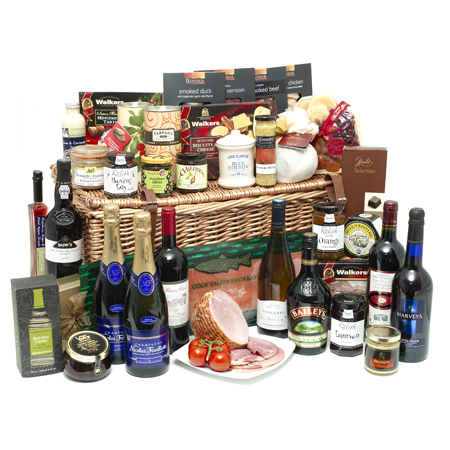 Living the Gourmet is pleased to be featuring the fine products of Hampers.com. Their wide selection of gift baskets ranges from traditional arrangements of fine wine, cheese, and smoked salmon to themed and seasonal baskets for virtually any occasion from Christmas to St. Valentine's Day. All of their arrangements are of the highest quality, and are beautifully arranged to be as pleasing to the eye as they are to the palate.
Hampers.com believes that sometimes the old favorites really are the best, and that is a sentiment I certainly agree with here at Living the Gourmet. Take for example The Countryman basket. Featuring such delights as Vintners Collection Shiraz Cabernet Sauvignon 2010, De Bortoli Sacred Hill Semillon Chardonnay 2009, Belgian Chocolate Truffles, White Stilton with Apricots, smoked Scottish Salmon, and Herb and Spice Mill Chardonnay Wine Jelly. The Countryman makes a fine gift for any occasion. In addition to the basket's contents, the fabric covered hamper itself makes for a very nice keepsake!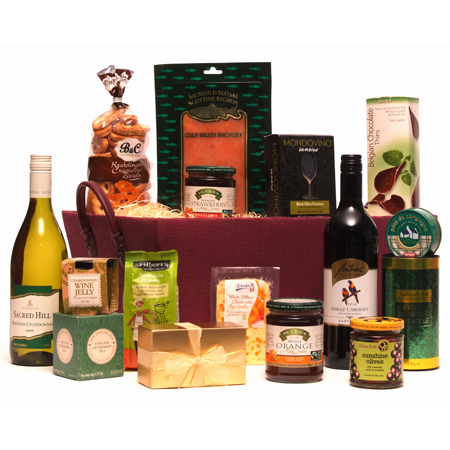 With winter upon us, perhaps you're in the market for a more 'spirited' arrangement, something to warm up with by the fireside. The Fireside makes an excellent gift for a colleague or close friend, especially during the Yuletide Season. The basket contains a wide assortment of both hearth and festive favorites such as La Gemiere Sancerre 2010, Harvey's Bristol Cream Sherry, Chateau Grandefont Bordeaux 2010, Coles Brandy Butter, Moet and Chandon NV Brut Champagne, Grandma Wilds Luxury Milk Chocolate Coated Cranberry Biscuits, and fine Belgian Chocolate Truffles.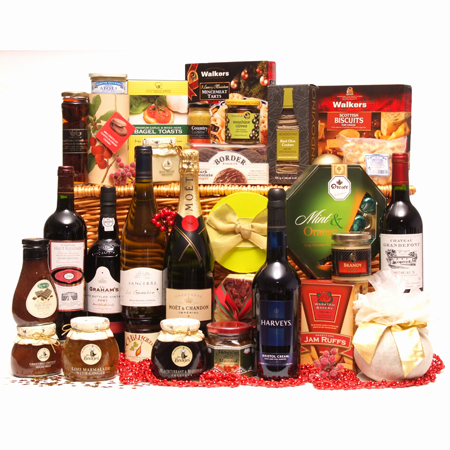 For the Holidays, and especially with Christmas right around the corner, Hampers.com has a wide range of different offerings for the Yuletide Season. Take for example the Three Kings Hamper, a truly majestic arrangement overflowing with a wide array of fine wines such as Grahams Late Bottled Vintage Port 2006, Baron Albert NV Brut Chamapgne, and Chateau Haut Pougnan Premieres Cotes de Bordeaux 2009, and delightful little treats such as Fruit Bonbons, smoked mackerel pate, and English Blue Stilton.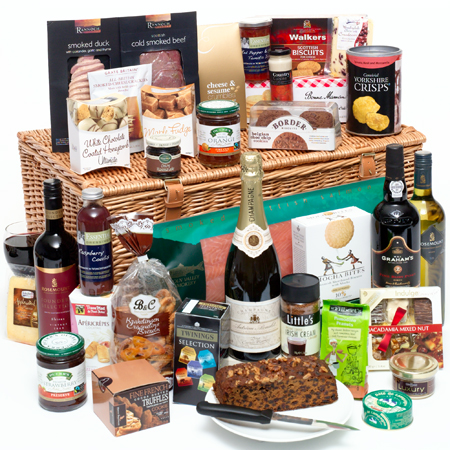 Finally, we come to a basket that I believe encompasses what Hampers.com is really all about, the Regency arrangement, a perfect gourmet offering which is immaculately balanced, including fine wine, tea, port, champagne, and an elegant collection of food and treats. Among the basket's contents is a bottle of Rosemount Founders Selection Shiraz 2011, a bottle of Autreau Roualet Brut NV Champagne, a bottle of Grahams Fine Ruby Port, Rannoch Smoked Duck, smoked Scottish Salmon, Stephan Pate de Campagne, and Cocoa Dusted Truffles.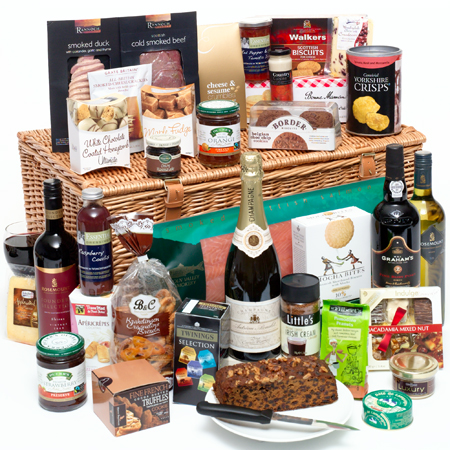 Living the Gourmet can more than give its seal of approval to the products and arrangements offered by Hampers.com. I was very pleased to put this Feature Post together, as I love nothing more than bringing quality products to our readers. I am quite certain that you will feel the same way if you choose Hampers.com for your gift giving needs this Holiday Season.
Enjoy with Love,
Catherine
0