These crepes are a unique and delicious combination of sweet & savory, making them perfect for brunch or dinner.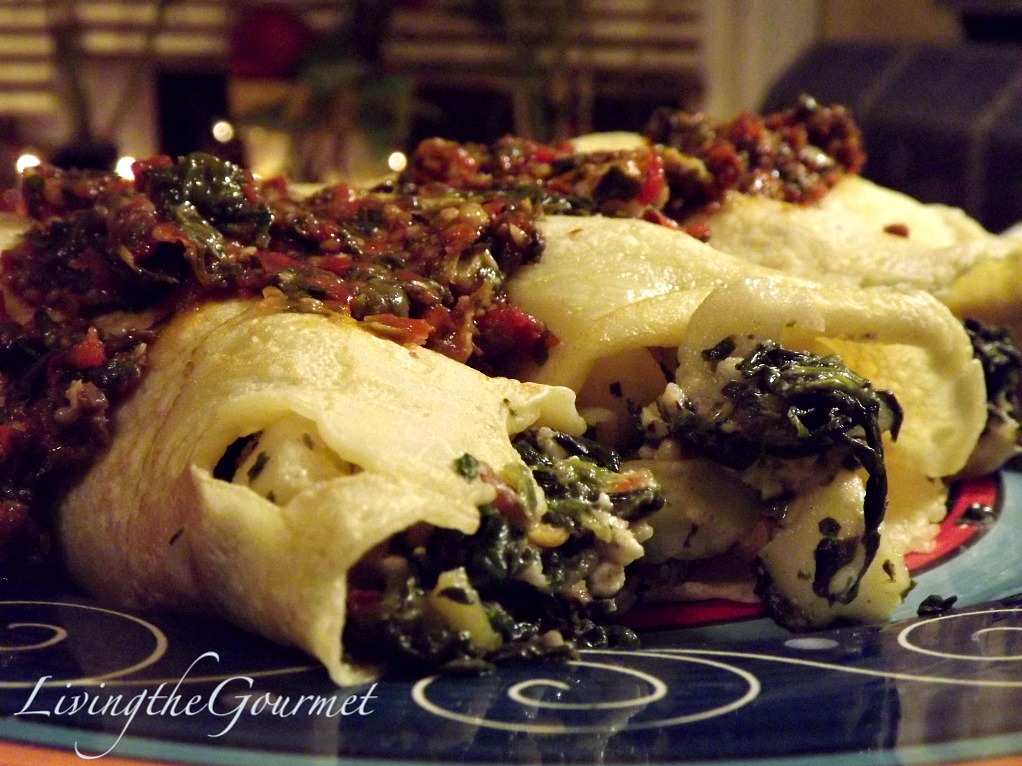 Living the Gourmet
Crepes Stuffed with Spinach, Feta and Apples
5 minPrep Time
10 minCook Time
15 minTotal Time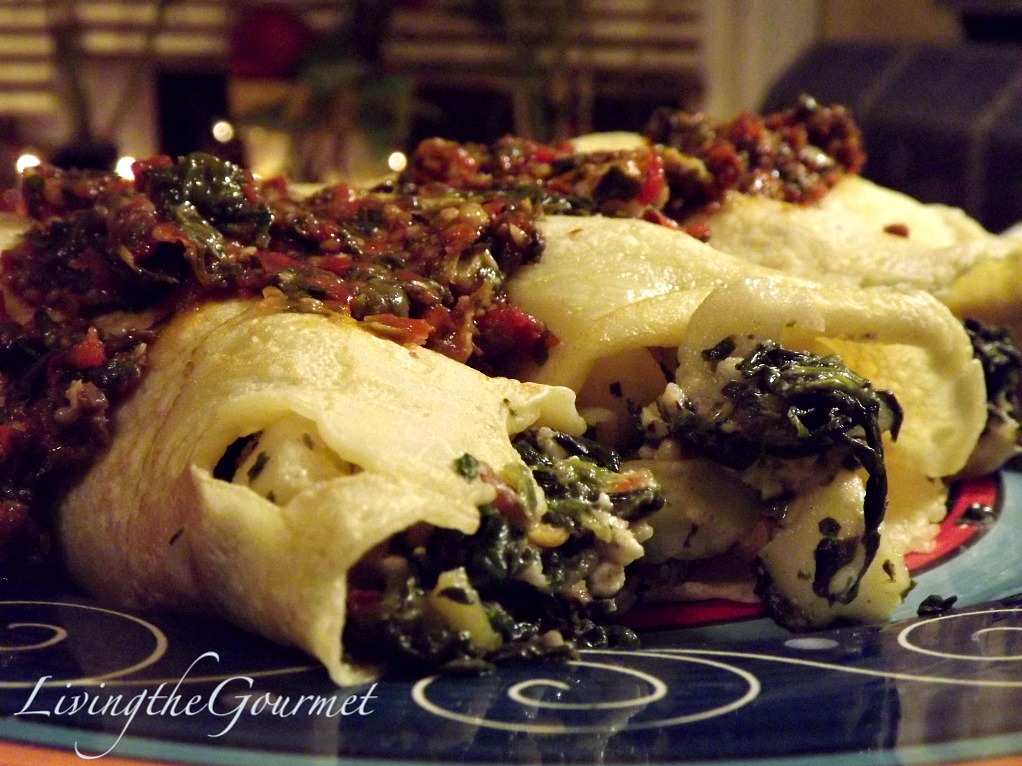 Ingredients
For the Crepes:

3/4 cup all purpose flour – sifted
1 tsp. baking powder
2 tablespoons powdered sugar
2/3 cups milk
1/3 cup water
1/2 tsp vanilla

For the Stuffing:

9 oz. box of frozen chopped spinach
2 large apples – peeled and sliced
5 cloves of garlic – chopped
1 tablespoon of brown sugar
Dashes of red pepper flakes
4 oz. feta cheese
1 cup of walnuts
Olive oil

For the Sauce:

1 cup of grape tomatoes
1 healthy handful of Italian parsley
4 cloves of garlic
1 tsp. of capers plus a tablespoon of caper juice
Instructions
For the Crepes:

Re-sift the flour with baking powder and powdered sugar into a large bowl. Make a well in the sifted ingredients.
In a small bowl, mix together milk, water and vanilla. Pour in the liquid ingredients into the well. Combine them with a few swift strokes. If the batter is too thick add a little more milk until it falls nicely from the ladle.

For the Stuffing:

Prepare the batter for the crepes and place in the refrigerator.
Heat a large frying pan with a drizzle of olive oil. Place the frozen chopped spinach in it to thaw and sauté. When thawed add the garlic to sauté with the spinach.
When the garlic is fragrant add the sliced apples, brown sugar and red pepper flakes and continue to sauté.
Place the ingredients for the sauce in the food processor and give a few good chops.
Drizzle a little olive oil in a small frying pan and sauté these ingredients, while preparing the rest of the meal.
Place in the food processor the walnuts and feta cheese and process until smooth.
Combine the feta cheese and walnuts with the apples and spinach.
Preparing the Crepes:
Add a small drizzle of olive oil. Add a small quantity of batter. Tip the pan and let the batter spread over the bottom. Cook the pancake over moderate heat. When it is brown underneath, reverse it and brown the other side. Use a few drops of oil for each pancake.
Beginning at the edge of the crepe, place a tablespoon of stuffing and roll.
Top with a little of the sauce and serve.
7.8.1.2
16
https://livingthegourmet.com/2012/02/crepes-stuffed-with-spinach-feta-and-apples.html
With Love,
Catherine
xo
2