Hello Living the Gourmet readers!!! I am so pleased to be back this week and sharing with you a recipe for New York-Style crumb cake.
There are many recipes I've been excited to try in the Best of the Best Cookbook Recipes by Food & Wine, and this cake was at the top of my list!
New York-Style crumb cake is not to be confused with coffee cake warns Matt Lewis & Renato Poliafito, the authors of this recipe. There are three 'New York Crumb Commandments' to making this cake. Their crumb cake has a buttery crumb topping that is in obscenely large proportion to the cake. Secondly, there are no nuts- crushed or whole. And lastly, no swirls.
The cake is moist, and I guarantee you'll be licking your plate clean as to make sure not a single crumb is left behind. Try it & Love it.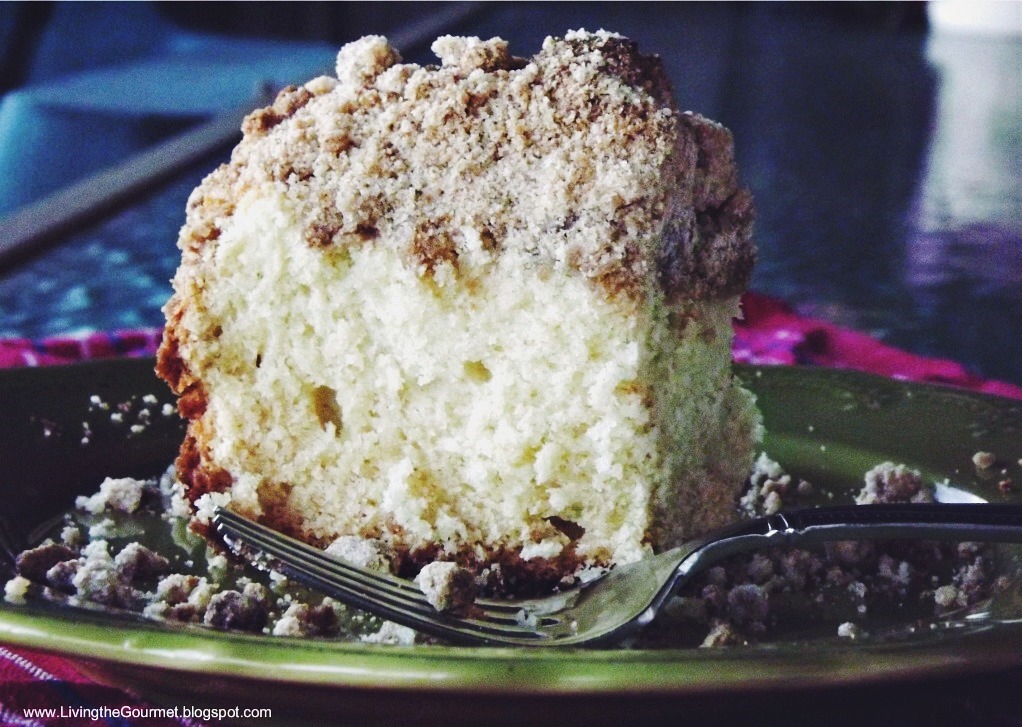 Living the Gourmet
New York-Style Crumb Cake
10 minPrep Time
45 minCook Time
55 minTotal Time
Ingredients
For the crumb topping you will need:

1 cup firmly packed dark brown sugar
1/2 cup granulated sugar
2 dashes of cinnamon
1 cup unsalted butter, melted and warm
21/2 cups AP flour

For the cake you will need:

21/2 cups AP flour
3/4 teaspoon baking powder
1 teaspoon baking soda
12 tablespoons unsalted butter, at room temperature
11/2 cups granulated sugar
2 large eggs
11/4 cup sour cream
1 teaspoon pure vanilla extract
Instructions
Preheat oven to 350 degrees F. Butter the sides and bottom of a glass 9-by-13-inch pan. You can use a metal pan, but the edges of the cake may turn crispy (although that is not traditional, it is not an altogether bad thing).

MAKE THE CRUMB TOPPING:

In a medium bowl, stir together both sugars and cinnamon. Add the melted butter and whisk until combined. Fold in the flour until it is absorbed and set the mixture aside.

MAKE THE CAKE:

Sift the flour, baking powder, and baking soda together in a medium bowl. Set aside.
In the bowl of a standing mixer fitted with the paddle attachment, cream the butter until it is completely smooth and ribbon-like. Scrape down the bowl and add the sugar. Beat the mixture until it starts to look fluffy.
Add the eggs, one at a time, and beat until incorporated. Scrape down the sides of the bowl and mix again for 30 seconds. Add the sour cream and vanilla and finally add the dry ingredients in three parts, beating until well incorporated.

ASSEMBLE THE CAKE:

Pour the batter into the prepared pan. Use your hands to scoop up a handful of the topping and make a fist. The topping should hold together. Break off in chunks and drop them over the cake. Repeat to use all the topping. Remember, the topping layer will look outrageously thick.
Bake the cake for 45 minutes, or until the cake tester comes out clean. Rotate the pan two times during the baking process. Cool the entire pan on a wire rack for about 30 minutes before serving.

*NOTE: The cake will last for 3 days, tightly covered, at room temperature
Notes
7.8.1.2
17
https://livingthegourmet.com/2012/01/new-york-style-crumb-cake.html
xo,
Tammt & Catherine
0