We're embracing the flavors of the season with each sip of this Cranberry Margarita, inspired by some of our favorite fall ingredients. It's refreshing, elegant, and so easy to make for the upcoming holiday season!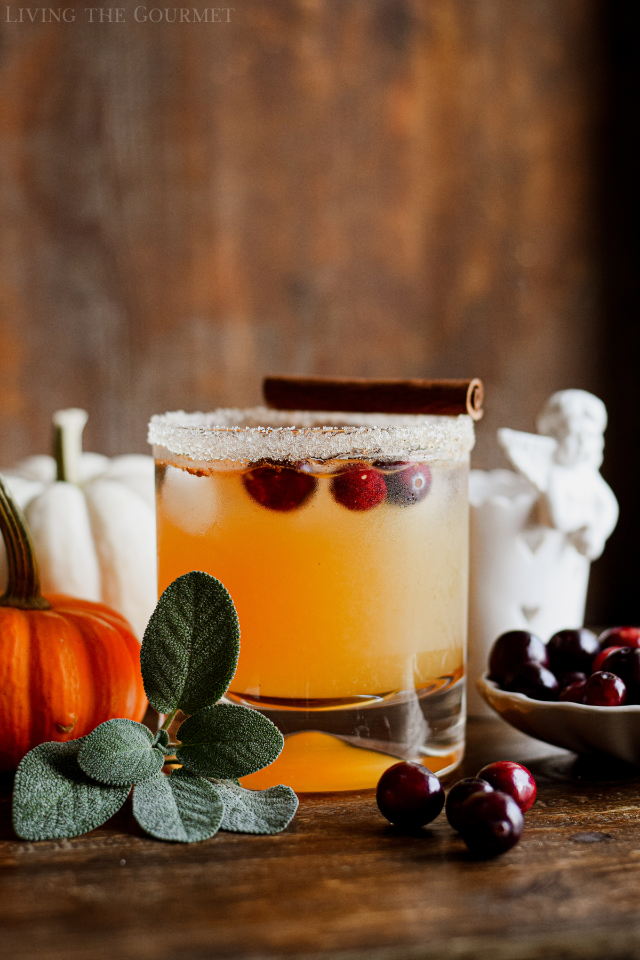 Autumnal Allure 🍂
What makes this Cranberry Margarita recipe the ideal fall libation? It all lies in the flavors. Warm cinnamon, tart fresh cranberries, orange juice, and just a splash of ginger ale for effervescence. Let's not forget the star of the show- tequila.
For today's recipe, I'm using 818 Blanco, a surprisingly delightful blend of vanilla and sweet agave that's ultra smooth and perfectly compliments the cocktail with its bright, crisp finish.
I wanted to capture the invigorating chill that has settled in slowly and this drink certainly does just that.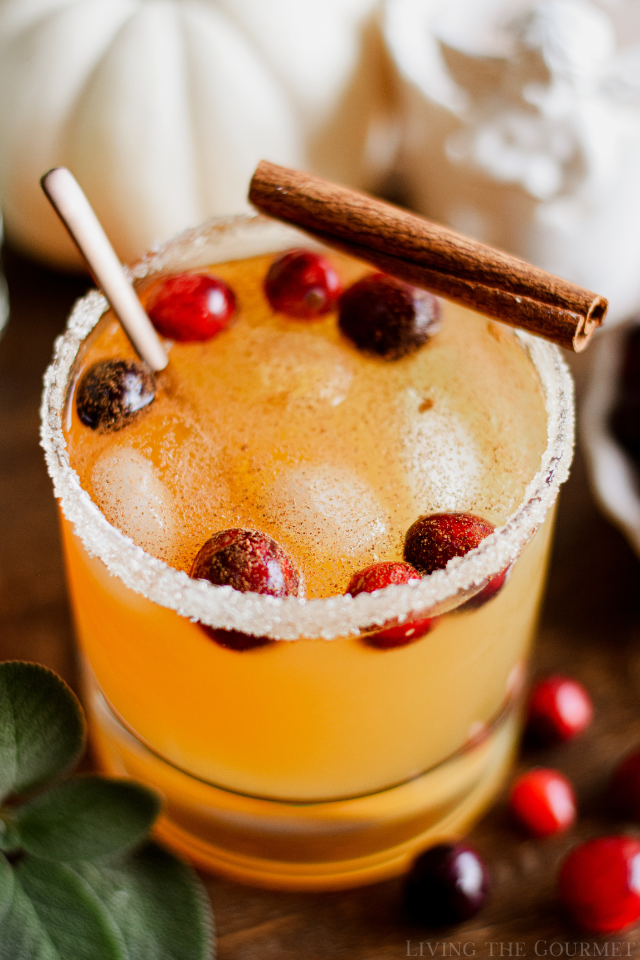 Types of Tequila
You can't have a margarita without tequila, but surprisingly there is a large market of select tequilas out there, despite how exclusive the process behind the distilled beverage might be. In fact, in total there are five varieties that comprise the category. And while tequila comes from the piñas of the blue agave plant, not all tequila tastes the same.
Tequila Blanco or Silver Tequila is the most popular variety for margaritas and this is because it's bottled after distillation. The purpose behind this is to leave a sharper finish that captures the fresh floral flavors of the agave. It balances the sweetness of today's drink and rounds the warmth of the cinnamon with it's punchy flavor.
Joven and Gold Tequila is not often recognized due to its somewhat controversial composition. That is, that Joven is a blend of aged tequila and unaged tequila. For a more lateral definition, Gold Tequila isn't even fully tequila. In fact, it's coloured and sweetened to achieve it's golden hue and typically, it isn't even aged. It's important if you're new to the Tequila market to check the label and see how much agave is actually in it. Even though it's labeled gold, that doesn't mean it's superior to other varieties. In short, Joven and Gold Tequila are smoother and much sweeter than any other. If you're not a fan of the pungence of Blanco, this one may be for you.
Reposado is one of the aged varieties, as its name suggests. Anywhere from a few months up to a year, the tequila is rested for a more dynamic flavor profile. What also comes into play are the barrels that it's aged in. American oak, French oak, and European oak each lend subtle nuances to the flavor of the tequila. American oak makes for a sweeter undernote; French oak on the other brings out vanilla and a slight spiciness; alternatively, European oak is spicier than both and has more of a wood finish, so it lends a deeper more compound finish. Reposado is a favorite among margarita drinks because its complex but equally enjoyable on its own.
Añejo is typically aged for a minimum of one year. Añejo translates to old, so the longer the tequila rests, the richer it becomes. Some distilleries introduce other barrels into the aging process for a more complex blend. As a result of this, Añejo has a deeper hue but also because of the barrels it's been aged in, it picks up other flavors adding to its profile.
Extra Añejo means it has been aged for at least three years. Because it's the richest in the family it is considered the most premium. This one is not suggested for margaritas but it does make for a sipper.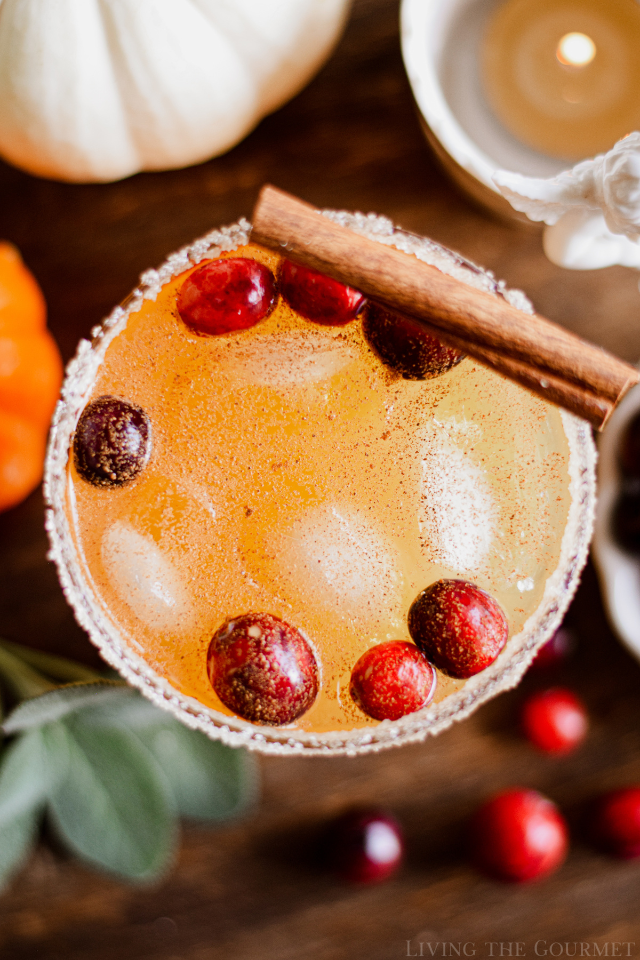 Recipe Notes & Variations
Triple Sec - This orange-flavoured liqueur is a favorite for holiday cocktails. Think orange-infused vodka made from bitters and oranges. While it's a popular ingredient in margaritas and you can certainly use it in today's recipe, I opted for fresh orange juice in its place. It comes down to preference but if you want a less concentrated cocktail, go with the fresh juice otherwise, its a 1:1 ratio if using Triple Sec.
Cranberry Juice & Fresh Cranberries - For seasonal flair I used cranberry juice cocktail. It's sweet yet tart and plays perfectly into both the orange juice and tequila. For an added festive touch I garnished the cocktail with fresh cranberries. There's something impeccably festive about these crimson jewels that instantly add holiday flair.
Sage - Rosemary and sage work nicely here for a finishing touch. Alternatively, you can smoke the sage or rosemary sprigs for a smokey, herbaceous finish to your cocktail. It's a trick I picked up a couple of years ago and one I love repeating with tonics and holiday drinks. Simply light the sage or rosemary on a heat proof surface, and turn the cocktail glass over it while it burns. This instantly adds flavor to the drink. Or you could just garnish with your desired herbs for added color and contrast.
Cinnamon - I really love Saigon Cinnamon for today's recipe. It's subtle enough that you can easily use true cinnamon in its place without a noticeable difference, but Saigon has a spicy undertone that I absolutely love. Don't forget to garnish with a cinnamon stick.
Sugar Rim - Traditionally salt rims are used for margaritas but we've kicked this one up and taken a sweeter approach. Simply dip the rim of the glass in simple syrup and then sugar. I prefer raw sugar or cane sugar for the coarse crystals.
Ginger Ale - I highly suggest ginger beer but if you don't have it on hand, ginger ale works perfectly. And because I'm not adding simple syrup to today's cocktail, I do recommend ginger ale for the main source of its sweetness rather than club soda or sparkling water. Ginger beer is non-alcoholic, but the difference between ale and beer is that ginger beer is spicier and stronger tasting which will stand out beautifully in today's drink.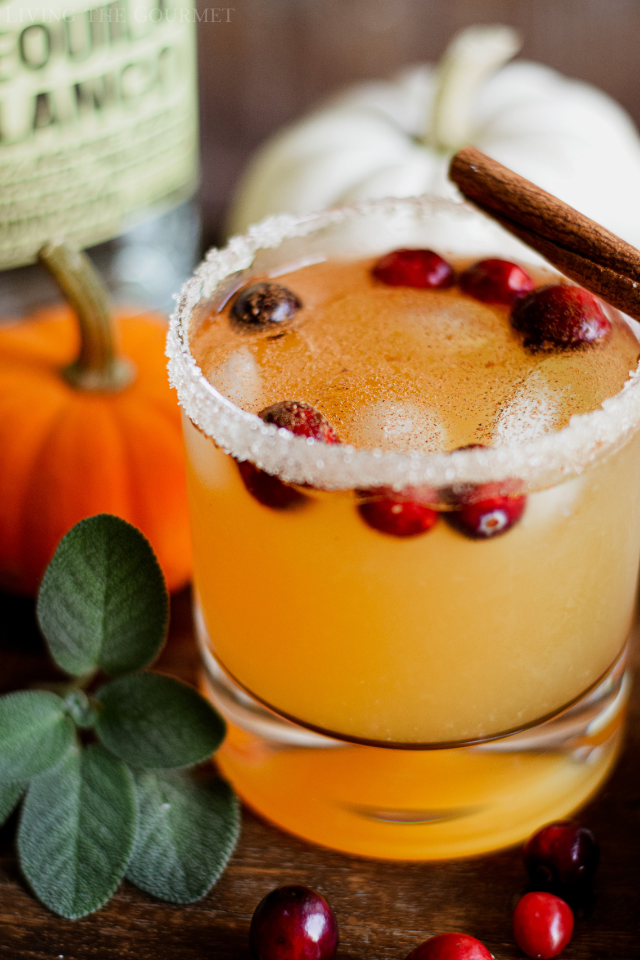 Print
Cranberry Margarita
---
Author:

Total Time:

5 minutes

Yield:

1

cocktail

1

x
2

oz

tequila blanco

1

oz

freshly squeezed orange juice (or triple sec)

1

oz

ginger beer or ginger ale

1

oz

cranberry juice

1/8 teaspoon

saigon cinnamon
Ice
Fresh cranberries and cinnamon stick for garnish
---
Instructions
In a cocktail shaker, combine tequila, orange juice, cranberry juice, and cinnamon. Shake vigorously until combined.
Strain the mixture into a sugar-rimmed glass filled with ice.  Top off with ginger beer.
Garnish with fresh cranberries and a cinnamon stick.
Alternatively, you can combine all these ingredients in your desired cocktail glass and stir to combine.
Toast to the season and enjoy!
Prep Time:

5 minutes

Category:

Drinks
Keywords: margarita, drinks, beverage, cranberry juice, cocktail, ginger beer
Recipe Card powered by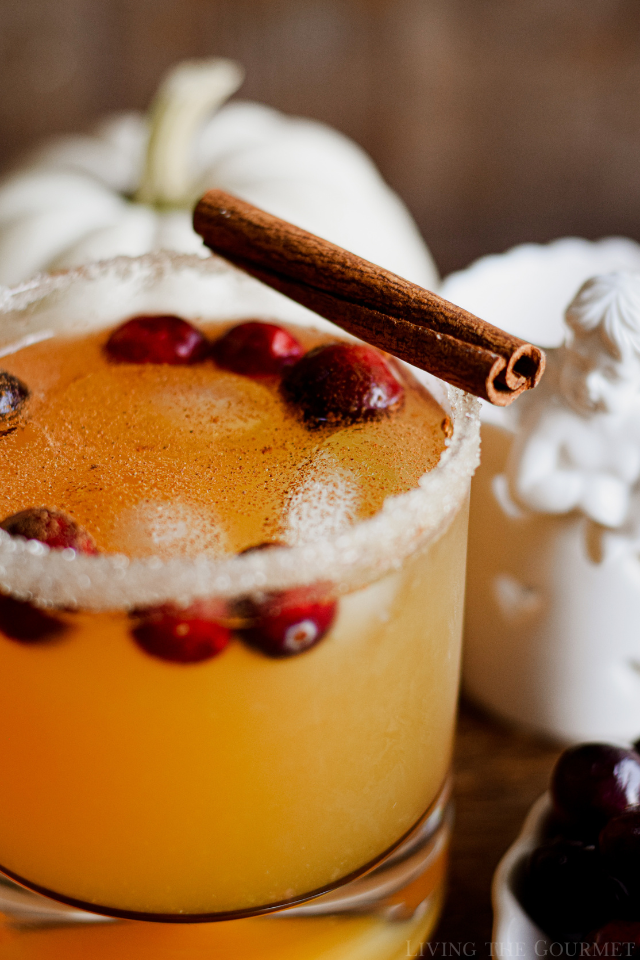 Whether you're cozying up by the fire or sharing stories with loved ones around the table, this Cranberry Margarita embodies the spirit of the holidays. So, raise your glass, take a sip, and let this autumnal elixir bring warmth and cheer to your heart and soul.
Cheers!
1