This post has been brought to you by Sparkling Pointe. All opinions expressed are my own. The following message is intended for those 21+. Please enjoy responsibly.
Today we're sampling Sparkling Pointe's 2018 Blanc de Blancs. One of Long Island's most prominent wineries, Sparkling Pointe provides a window into some of the best elements of New York wine-country.
Up first, I'll be providing you with a brief overview of Long Island as a wine region, while trying to pin down the keys behind the island's renowned wines. After that, I'll be reviewing the wine itself, and then provide you with some pairing suggestions to help you get the most out of this particular bubbly.
Now, without further delay, let's start tasting.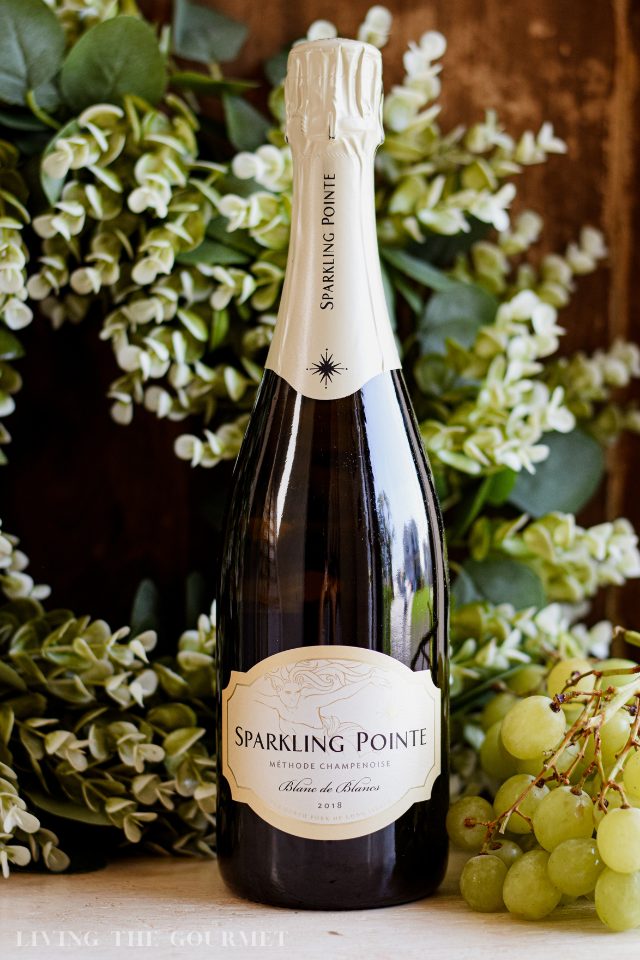 The Where – Long Island, NY
One of the wine-world's unlikeliest success stories, Long Island has carved a remarkable niche for itself. With an evolving narrative that marries history, terroir, and innovative winemaking, Long Island has emerged as a destination renowned for its exceptional quality.
With that in mind, the words "Long Island" conjure a mix of images, ranging from the urban hives of Brooklyn and Queens, to the suburban sprawl of Nassau County, to the pristine playgrounds of the wealthy that are the Hamptons. Are these generalizations? Sure. Are these generalizations justified? Yes.
However, the justification for these generalizations are a relatively recent phenomenon. As recently the late 1970s and early 80s, this simply wasn't the case. Instead, Long Island, at that point – with the sole exceptions of Kings and Queens Counties (Brooklyn and Queens) – was home largely to a mix of farmers and fisheries.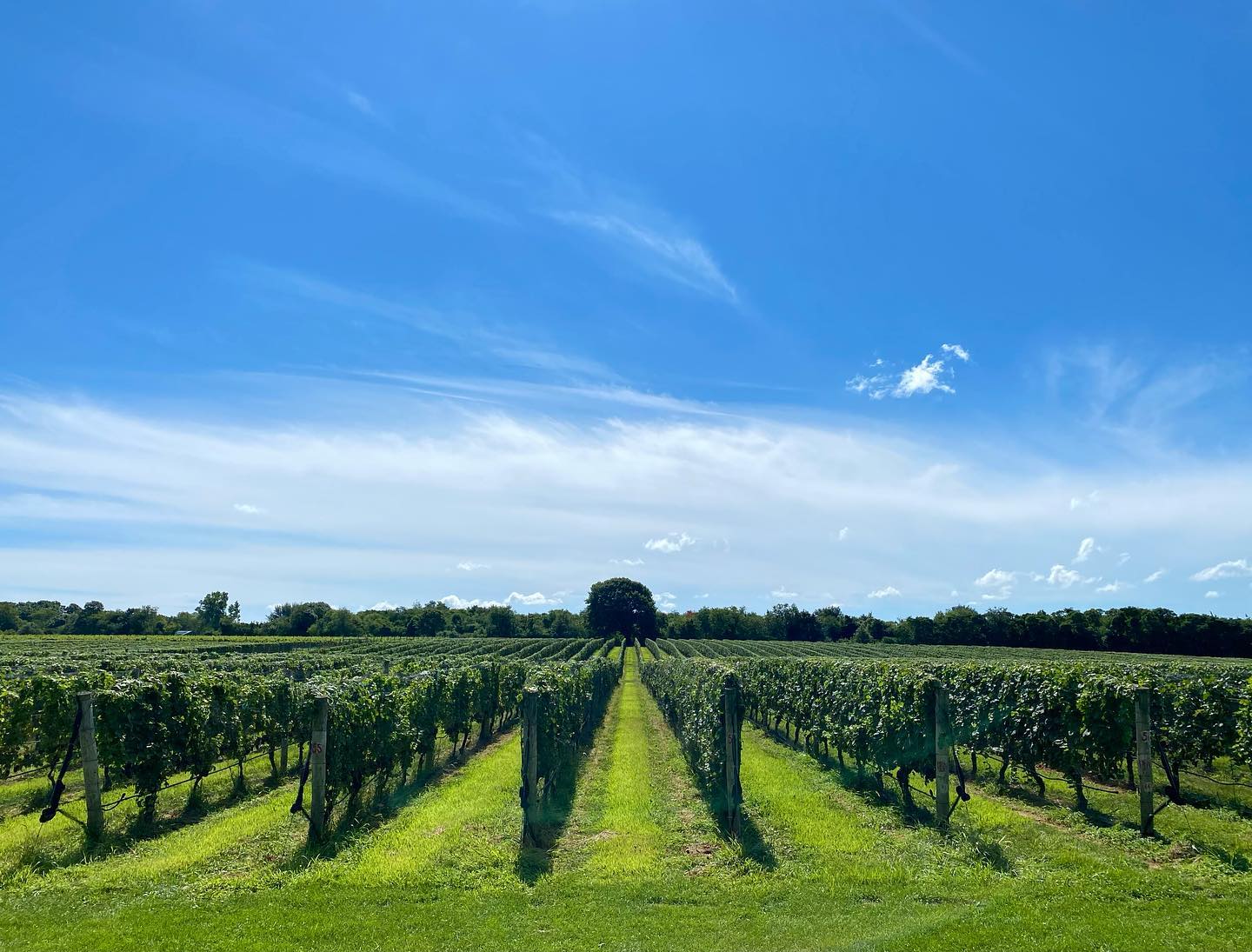 I myself can remember Long Island as a patchwork local farms crisscrossed by tiny two-lane roads – roads that were predictably and blissfully empty.
Shopping for 'locally grown produce' wasn't a declaration of 'natural living' or 'going gourmet,' it was simply a fact of life. I can remember shopping at local farm stands with my mother, regularly, for everything from tomatoes and corn to string beans and apples. Back then, Long Island was positively rural, so much so that when my parents moved out from the Bronx, my uncle jokingly quipped that they had moved to 'The Sticks.'
Then came a wave of rapid and intentional change. Spurred on by the end of agricultural subsidies, local land prices skyrocketed as farmers, left with no other choice, sold off their plots. As the farms were bought up and paved over, local development was both fanatically encouraged and heavily subsidized, firmly establishing Long Island as the suburban extension of New York City in all but name.
Curiously, however, just as the final generation of Long Island's farmers were selling off the last of their lots, the first seeds of a completely different kind agricultural undertaking were being sown – those of Long Island's very first vineyard, established in 1973. This singular act would in turn develop Long Island into a critically acclaimed wine region within the span of just four decades.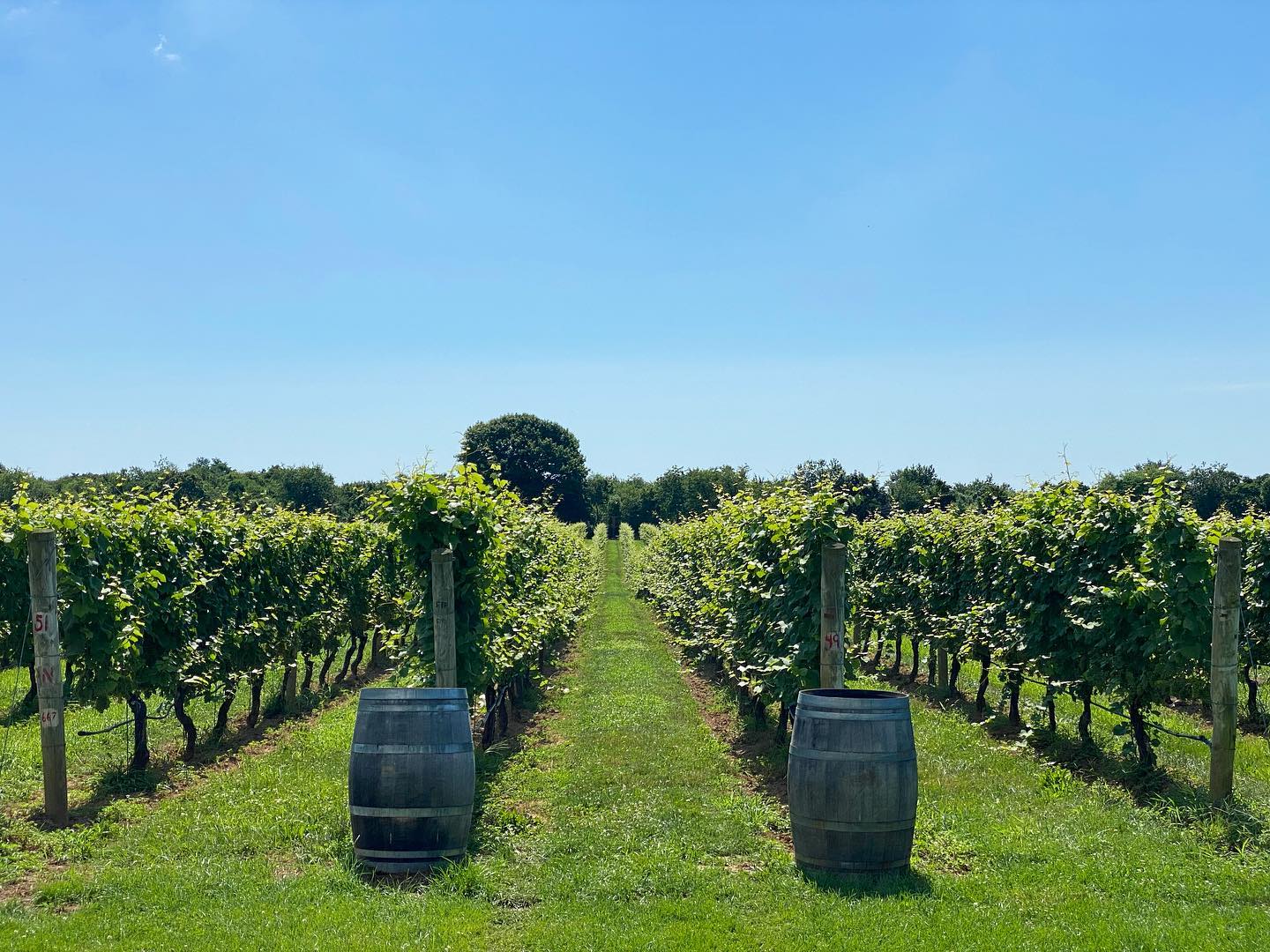 With that said, Long Island, as a wine region, makes about as much sense as…Long Island as a wine region. Let me explain.
In contrast to Greek or Italian winemaking, both of which draw from traditions older than recorded history itself, winemaking on Long Island is barely four-decades old. Long Island's forks, where most of the vineyards are located, by comparison to Mendoza or Napa, make for cramped geography, and there are obviously no foothills or volcanism to take advantage of. In contrast to Italy, Long Island's maritime climate features torrential rains that can, quite literally, rot away crops, and, on the other end of the spectrum, droughts that can starve away even the hardiest of vines.
Add on flooding, hurricanes, infamous Nor Easters, harsh winters, and exorbitant land prices, and Long Island seems like an area most winemakers would seek to avoid.
Yet, despite all of that, Long Island wine is considered by countless critics to be the home of the best wines on the Eastern seaboard, with the Wine Industry Advisor commenting in a January 30th article of 2018 that "Long Island wines have earned their place among the top tier of American wines."
To that point, the very best Long Island wines are said to be the best balanced. Restauranteur Mike Mraz is quoted in a 2012 Saveur article as saying of Long Island wine that "It's not earth-driven, rustic, Old World, and it's not the fruit bombs of the West Coast. We're in between…Balance is a hallmark."
On this, I wholeheartedly agree.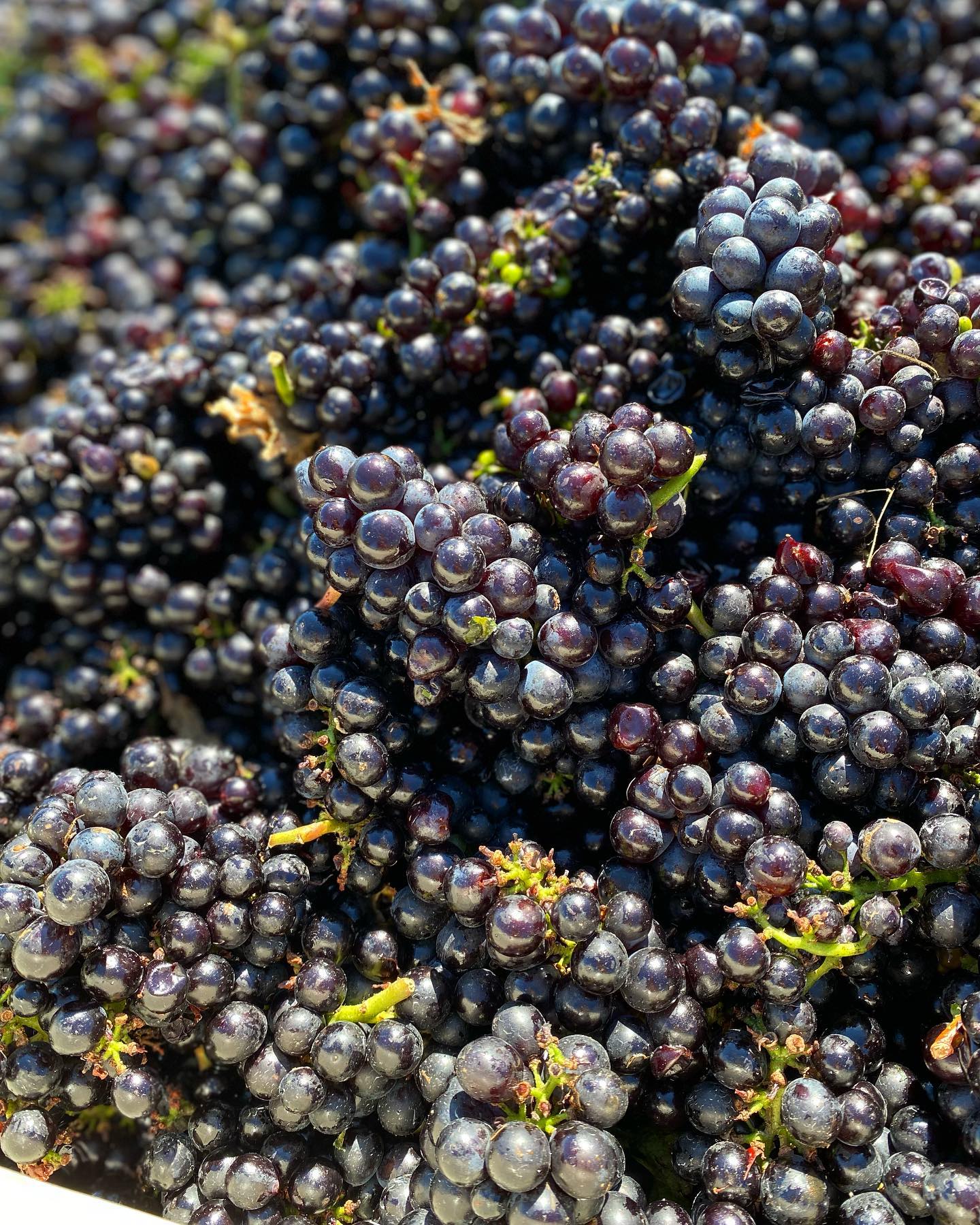 However, that same Saveur article attempts to attribute the success of Long Island wines in part to the local temperatures, saying that "Sea breezes keep temperatures moderate."
As a lifelong Long Islander, let me be the first to proclaim that they could not be more hopelessly wrong. So wrong, in fact, that I have to wonder if they bothered to check a Long Island forecast before writing those words.
Now, perhaps I'm just unlucky, but I've yet to have those 'moderating sea breezes' off the Great South Bay prevent the river outside my window from transforming into solid ice…from rushing water…in the span of an afternoon.
So much for 'moderating' temperatures courtesy of the salty sea air.
So, what accounts for the success of Long Island wines? Dedicated winemakers, planting carefully selected vines, on carefully selected plots, that are then meticulously cared for. In other words, Long Island wine is – at least in part – a testament to ingenuity and dedication.
Beyond that, I have yet to read or hear anything conclusive that would explain away the success of Long Island wine based purely, or even largely, on its location. This is one time where I'm going to have to defer solely to the dedication of the winemakers themselves who, obviously, have found ways to not only tailor their crops to the local maritime climate, but to in fact thrive in it.
But enough talk about the place itself, let's take a look at the wines, which deliver a compelling synergy of fruit-forward elegance and structural finesse. Long Island wines tend have a palate with a distinctive charm that reflects both the Atlantic influence and the island's unique character. Red wines often offer a harmonious blend of fruit-driven flavors and well-integrated tannins, while white wines exhibit refreshing acidity and layers of citrus and orchard fruit.
Key grape varieties that have thrived on Long Island include:
Merlot: Often hailed as the king of Long Island grapes, Merlot flourishes here, boasting lush fruitiness and velvety textures. Long growing seasons contribute depth and complexity, yielding wines with notes of plum, cherry, and delicate spice.
Cabernet Franc: Displaying a captivating balance between red fruit vibrancy and herbal nuances, Cabernet Franc grapes develop exceptional character in Long Island's terroir. Wines reveal notes of red currant, bell pepper, and hints of tobacco.
Chardonnay: Long Island's Chardonnay wines are notable for their vibrant acidity and fruit expression. From crisp and mineral-driven to creamy and complex, these Chardonnays showcase notes of green apple, citrus, and subtle oak influence.
Now, with all of that background and explanation out of the way, we finally come to today's wine.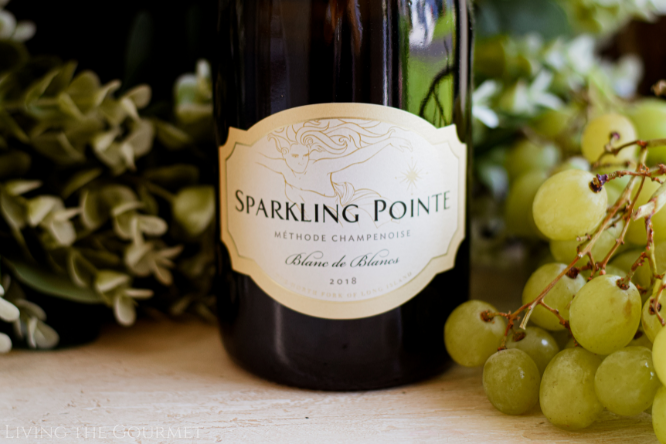 The Bottle – A Showcase
Today we're reviewing Sparkling Pointe's 2018 Methode Champenoise Blanc de Blancs.
The Review – Tasting and Aromatics
Sparkling Pointe's 2018 Blanc de Blancs presents itself with a pale golden hue, and a cascade of tiny, persistent bubbles, combining to create entrancing visual. On the nose, aromas of freshly baked bread and delicate white blossoms waft off the wine's effervescence. On second whiff, and deeper into the glass, notes of ripe pear and crisp green apple are embraced by the faintest whisper of toasted almond. On first sip, the wine introduces itself with vivacious acidity, and a creamy mousse. Layers of citrus and honeyed apricot are followed by the subtleties of brioche and a trace of minerality. From start to finish, the wine was a delight.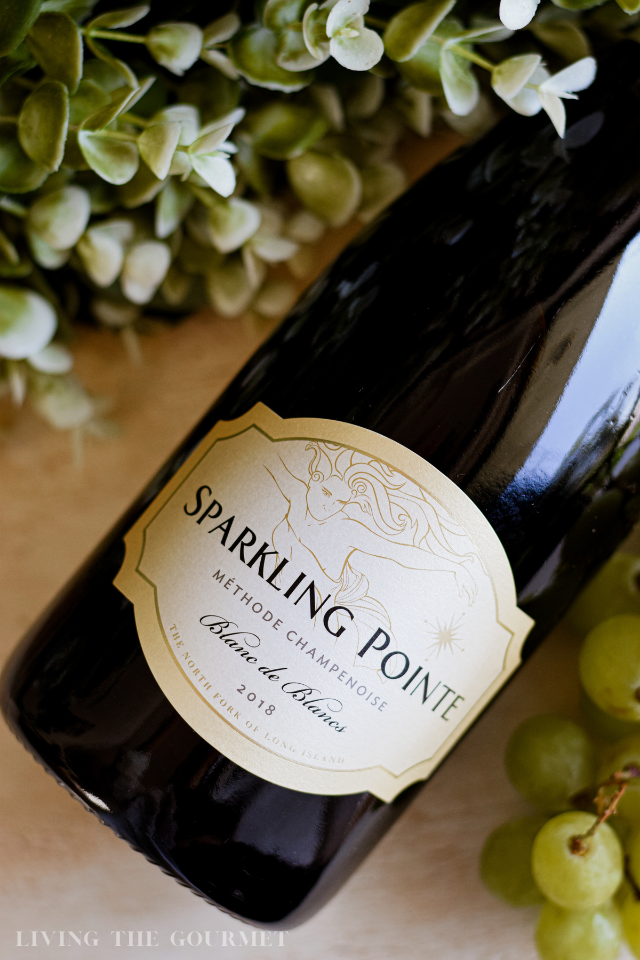 What to Eat – Pairing Suggestions
When pairing this bottle, think light, think seafood, and above all remember that this is a bottle best alongside pleasant company and conversation to heighten a festive atmosphere.
Oysters on the Half Shell: The wine's lively acidity and delicate effervescence make it a perfect companion for fresh oysters. The briny notes of the oysters would harmonize perfectly with the wine's crisp citrus flavors, creating a refreshing and invigorating pairing.
Seared Scallops: The wine's balanced acidity and complex flavors would beautifully complement the sweetness of seared scallops. Their delicate texture and subtle richness would find an elegant partner in the Blanc de Blancs.
Creamy Brie Cheese: The creamy texture and subtle nutty undertones of Brie cheese contrast deliciously with the wine's crisp acidity and toasty notes. This pairing brings together creamy indulgence and refreshing effervescence.
Citrus-Marinated Grilled Shrimp: The wine's vibrant citrus notes would undoubtedly pair beautifully with citrus-marinated grilled shrimp. The wine's effervescence acts as a palate cleanser between bites, while its depth would enhance the flavors of the seafood.
Lemon Sorbet: For a delightful dessert pairing, consider serving a zesty lemon sorbet alongside the Blanc de Blancs. The wine's citrusy profile would complement the sorbet's tangy flavors, creating a captivating and refreshing finale to your tasting experience.
And that's our review of Sparkling Pointe's 2018 Blanc de Blancs. If you enjoyed this review or tried any of the pairings, let us know in the comments below.
As always, be sure to follow us on Newsbreak and MSN for even more great recipes and articles. Cheers!
0