There are recipes that take you on a journey, and then there are those that simply transport you with the very first bite. It could be a flavor that sparks a memory, or an artful presentation that spurs your imagination to paint an image of an exotic location.
Growing up in a family full of first- and second-generation Italian immigrants, Mediterranean-style cooking wasn't something to be 'explored' or 'tried,' it was a simple fact of life – in much the same way as the musicality of the Italian language was something that punctuated the speech of our everyday English.
For us children of the Italian diaspora, sundried tomatoes, "Cervelli fritti" (I'll let you google that one) and "pasta fresca" were positively mundane. For us "American born Italians" of the 50s and 60s, it was Dugan's home-delivered bakery treats that excited our imaginations and sent us running after pastry trucks – in the most literal sense possible.
But, as everything old is destined to be new again, let's picture this: a plate of perfectly cooked pasta, adorned with an enchanting medley of anchovies, colorful bell peppers, and cannellini beans. For me, a dish like this is simultaneously a passport to the sun-soaked coasts of the Mediterranean, while conjuring of memories of my Long Island childhood. In either case, this recipe's familiar flavors harmonize in perfect culinary bliss.
In this blissfully simple pasta puttanesca recipe, the briny allure of anchovies meets the vibrant sweetness of bell peppers, all embraced by the creaminess of cannellini beans. It's a culinary adventure that beckons you to explore the richness of a region known for its exquisite food heritage. Once of my favorite things about puttanesca sauce is just how simple it is to bring to bring together, and how easy it is to alter the recipe, or swap ingredients in and out, as I'll touch on in the ingredients list.
However, let's be real, what makes this recipe truly shine is its ability to blend its complex flavors with a blissfully simple preparation process. With just a handful of thoughtfully selected ingredients, you can create a masterpiece that speaks volumes in flavor and elegance. Whether you're seeking a quick weeknight escape or aiming to impress guests on a special occasion, this dish can be seamlessly adapted with minimal effort.
So, whether you're embracing the joy of cooking or simply indulging in the art of savoring, our Pasta with Anchovies, Bell Peppers, and Cannellini Beans promises an experience that's as captivating as it is effortless. Read for an ingredient checklist, variation suggestions, and a medley of delightful pairings.
Now, without further introduction, let's make some pasta.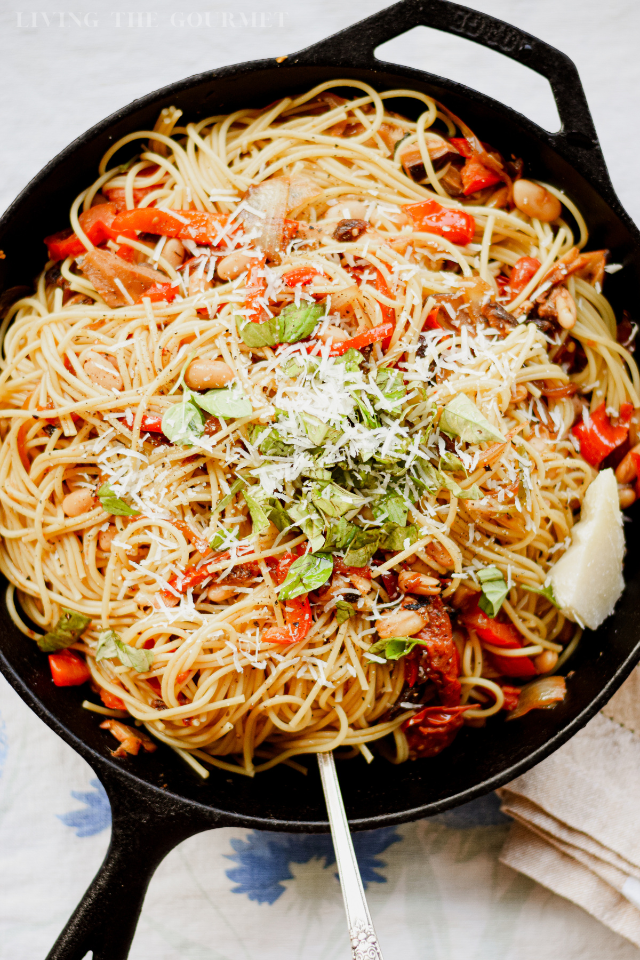 Ingredients Checklist – Everything You'll Need for Spaghetti Puttanesca
About 10 grape tomatoes or two small tomatoes, quartered

Note: Use fresh, ripe tomatoes for the best flavor.
Tip: If grape tomatoes are not available, substitute with diced Roma or cherry tomatoes.

2 bell peppers, sliced thin

Tip: Opt for a mix of colors to add visual appeal to the dish.
Note: For a spicier dish, considering add in sliced serrano or chili peppers.

2 oz. can of anchovies in olive oil

Note: Anchovies provide a rich umami flavor to the dish.
Substitution: If you prefer a vegetarian version, omit the anchovies or replace them with capers for a briny kick.

1 sweet onion, sliced thin

Tip: Choose a variety like Vidalia or Walla Walla for a milder sweetness.

5 - 6 cloves of garlic, chopped

Tip: Freshly chopped garlic enhances the dish's aromatic profile.
Note: The amount of garlic can be increased or decreased based on personal preference.

1/4 cup of dried shiitake mushrooms, hydrated in water

Note: Dried shiitake mushrooms provide depth of flavor.
Substitution: Dried porcini mushrooms for the shiitake mushrooms. Porcini mushrooms also offer a rich and earthy flavor that can complement the dish's Mediterranean profile.

2 tbs. raisins, chopped

Note: Raisins add a subtle sweetness that balances the flavors.
Substitution: Dried currants or chopped dried apricots can be used instead.

About 8 - 10 fresh basil leaves, and more for garnish

Note: Fresh basil adds a fragrant herbaceous note.
Tip: Tear the basil leaves just before adding to maintain their vibrant aroma.

15.5 oz. can of cannellini beans, rinsed and drained

Note: Cannellini beans provide creaminess and protein to the dish.
Substitution: Great Northern beans or butter beans can be used as alternatives.

1 tsp. dried oregano

Tip: Use high-quality dried oregano for the best flavor.

1 tsp. salt

Tip: Adjust salt to taste, keeping in mind the saltiness of anchovies.

1/2 - 1 tsp. fresh ground black pepper

Note: Use freshly ground for best results.

1 tsp. sugar

Tip: Sugar helps balance the acidity of tomatoes.

1/2 tsp. red pepper flakes

Tip: Adjust the amount to suit your preferred level of spiciness.

2 tbs. olive oil, and more for drizzling

Tip: Use extra-virgin olive oil for its robust flavor.

1 lb. of your favorite pasta (such as spaghetti), cooked as directed

Tip: Cook pasta al dente for the best texture.

1/4 - 1/2 cup of salted pasta water to add to the sauce
Fresh Romano or Parmesan cheese for grating

Note: Your choice of grating cheese.
Tip: Consider stirring in some ricotta for a creamy texture.
Now that you have the list of ingredients, you're ready to embark on creating this flavorful Spaghetti Puttanesca with Cannellini Beans. Enjoy the process of bringing these components together to create a memorable Mediterranean-inspired dish.
Completing the Meal – Sides and Pairings
Garden Salad: A crisp garden salad with mixed greens, cherry tomatoes, cucumbers, and a light vinaigrette is a refreshing side that balances the richness of the pasta. The salads' fresh flavors and crunch provide a lovely contrast to the warm pasta dish.
Garlic Bread: Freshly baked garlic bread is a classic companion to pasta dishes. The warm, buttery slices with a hint of garlic add a comforting element that complements the flavors of the pasta.
Roasted Vegetables: Roasted or grilled vegetables, such as zucchini, eggplant, and bell peppers, echo the flavors in the pasta. The caramelized notes and tender texture of the vegetables create a harmonious pairing.
Caprese Salad: A Caprese salad with ripe tomatoes, fresh mozzarella, basil, and a drizzle of balsamic glaze adds a burst of color and freshness to the meal. The combination of tomatoes, basil, and cheese resonates with the pasta's Mediterranean theme.
Antipasto Platter: An antipasto platter featuring an array of cured meats, cheeses, olives, marinated artichokes, and roasted red peppers complements the dish's Mediterranean flavors. It offers a variety of textures and tastes that enhance the dining experience.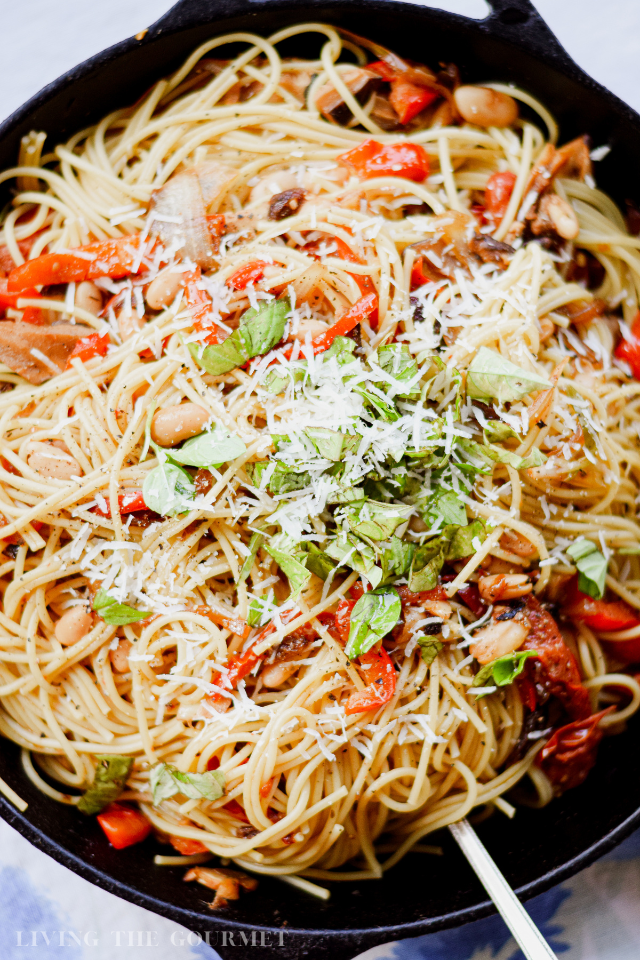 What to Drink – Pairing Perfection
Pinot Grigio: A crisp and light Pinot Grigio complements the dish's vibrant flavors. Its acidity cuts through the richness of the anchovies and enhances the freshness of the bell peppers. The notes of green apple and citrus harmonize with the Mediterranean elements.
Sauvignon Blanc: The herbaceous and citrusy notes of Sauvignon Blanc elevate the dish's herbal components. Its zesty acidity complements the brininess of the anchovies and balances the sweetness of the bell peppers.
Vermentino: A Vermentino wine offers a lovely floral aroma and bright acidity. Its saline character complements the anchovies and enhances the seafood undertones.
Chardonnay (Unoaked): Opt for an unoaked Chardonnay to avoid overpowering the dish's delicate flavors. Its crispness and subtle fruit notes provide a harmonious pairing with the anchovies and beans.
Sangiovese: A light and fruity Sangiovese complements the dish's complexity. Its cherry and berry notes work well with the sweet elements while maintaining balance.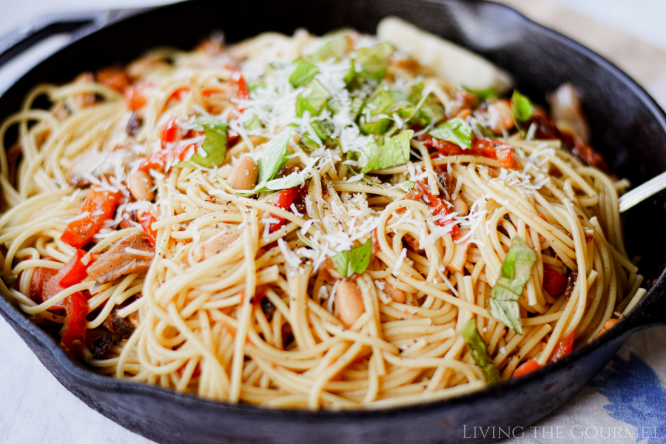 shop this post
Print
Spaghetti Puttanesca with Cannellini Beans
---
Author:

Total Time:

30 minutes

Yield:

4

servings

1

x
About

10

grape tomatoes or

two

small tomatoes quartered

2

bell peppers, sliced thin

2 oz

. can of anchovies in olive oil

1

sweet onion, sliced thin

5

-

6

cloves of garlic, chopped

1/4

cup

of dried shitake mushrooms, hydrated in water

2

tbs. raisins, chopped
about

8

-

10

fresh basil leaves and more for garnish

15.5 oz

. can of cannellini beans, rinsed and drained

1 tsp

. of dried oregano

1 tsp

. salt

1/2

-

1

tsp. fresh ground black pepper

1 tsp

. sugar

1/2 tsp

. red pepper flakes

2

tbs. olive oil and more for drizzling

1

lb

. spaghetti, cooked as directed

1/4

-

1/2

cup

of salted pasta water to add to the sauce
Fresh Romano or Parmesan cheese for grating
---
Instructions
Heat a large cast iron frying pan over medium heat.
Place the tomatoes and sliced onion in the preheated pan.  Make sure the pan is dry! Do not add any oil.
Sprinkle the tomatoes, bell peppers, and onion with sugar and salt. Cook until a slight char appears.
Add the garlic and seasonings. Cook until the garlic is fragrant.
Add the anchovies and let the pan simmer on a gentle heat for a minute or two.
Add the raisins, basil, olive oil and beans.  Toss together.
Add 3-4 tablespoons of the salted pasta water to the pan and cook on low heat.
Lift the cooked pasta from the water into the pan and toss.
Add extra basil and a drizzle of olive oil.
Serve with fresh grated Parmesan cheese or Romano cheese.
Prep Time:

10 minutes

Cook Time:

20 minutes

Cuisine:

Italian
Keywords: puttanesca, pasta, italian
Recipe Card powered by
And that's our Pasta with Anchovies, Bell Peppers, and Cannellini Beans. If you enjoyed today's recipe, or have any questions or suggestions, be sure to let us know in the comments below. We always love hearing from you.
As always, be sure to like, share, and subscribe, so that you never miss a post.
Happy Cooking!
0