Sip, savor, and soak in the flavors of summer with our sensational Watermelon Margaritas! As the temperature rises and the sun shines brighter, there's no better way to quench your thirst and embrace the spirit of the season than with this refreshing and vibrant cocktail. Let the luscious sweetness of watermelon, the tang of fresh lemon, and the zing of tequila transport you to a tropical paradise with every sip.
Imagine yourself lounging by the pool, feeling the cool breeze on your skin, and taking a moment to indulge in the simple pleasures of summertime. Watermelon Margaritas are the epitome of a perfect summer drink – they're vibrant, juicy, and effortlessly refreshing. With their captivating pink hue and invigorating flavors, they embody the essence of this cherished season.
When it comes to serving these delectable Watermelon Margaritas, the possibilities are endless. Picture yourself hosting a backyard barbecue with friends, where laughter fills the air and the aroma of grilled delicacies mingles with the sweet scent of summer. Pair your Watermelon Margaritas with an array of vibrant appetizers, such as spicy salsa, tangy guacamole, or zesty ceviche. The combination of these flavors will transport you to a culinary fiesta, a celebration of all things summer.
For those seeking a non-alcoholic version, feel free to omit the tequila and replace it with a splash of sparkling water or lemon-lime soda. This way, everyone can join in on the fun and savor the refreshing taste of this summer elixir.
So, whether you're lounging by the pool, hosting a backyard gathering, or simply unwinding after a long day, let our Watermelon Margaritas be your passport to the flavors of summer. Join us on this delightful journey of taste and relaxation, where each sip carries you to a sun-kissed paradise. Stay tuned for the full recipe and prepare to savor the joy and refreshment of this ultimate summer libation.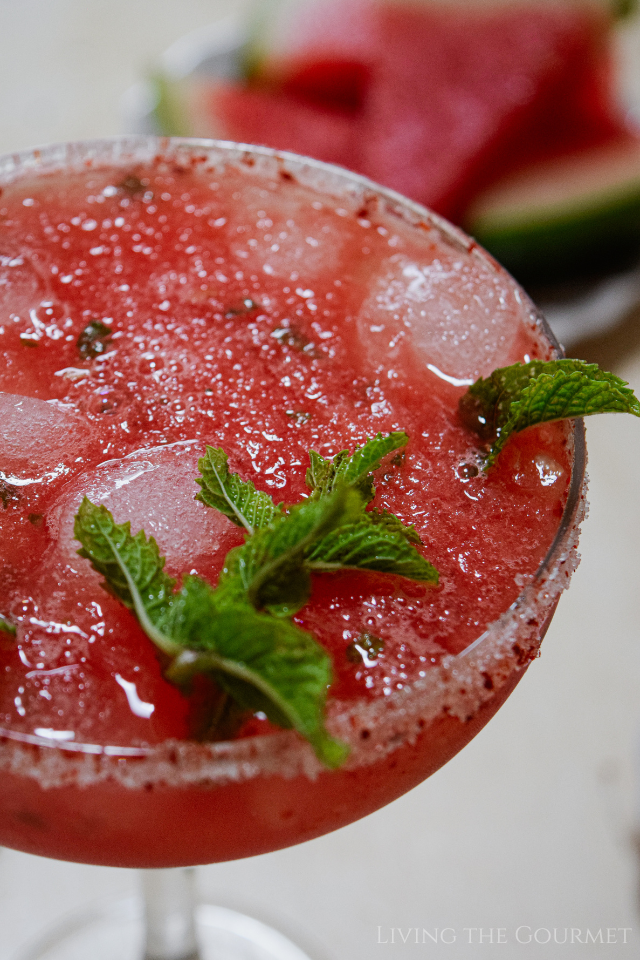 Ingredient Checklist – Everything You'll Need
3 cups chopped fresh watermelon

Note: Opt for ripe and juicy watermelon to ensure a vibrant and natural flavor in the margaritas.
Tip: Remove any seeds from the watermelon before blending to avoid bitterness.
Substitution: Frozen watermelon can be used as a substitute if fresh is not available.

¼ cup simple syrup

Note: Simple syrup is a sweetener that dissolves easily in cold beverages, providing balanced sweetness to the margaritas.
Tip: Prepare a batch of simple syrup in advance by combining equal parts sugar and water, heating until the sugar is fully dissolved, and allowing it to cool.
Substitution: Agave syrup or honey can be used as alternatives to simple syrup, but both will bring their own subtle flavors to the margaritas, slightly altering the flavor profile.

2 ounces tequila blanco

Note: Tequila blanco, a clear and unaged variety, brings a clean and crisp taste to the margaritas.
Tip: Choose a good-quality tequila to enhance the overall flavor.
Substitution: If desired, you can replace tequila with mezcal or vodka.

Juice of ½ lemon

Note: Freshly squeezed lemon juice adds a bright and tangy element to the margaritas, balancing the sweetness.
Tip: Roll the lemon on the countertop before juicing to maximize juice extraction.
Substitution: Lime juice can be used as a substitute for lemon juice to create a classic margarita flavor.

1 sprig fresh mint

Note: Fresh mint leaves contribute a refreshing and aromatic touch to the margaritas.
Tip: Gently muddle the mint leaves before adding them to the blender to release their essential oils and enhance the flavor.
Substitution: If desired, you can experiment with other fresh herbs such as basil or cilantro for a unique twist. See below for variation suggestions.

Crushed ice

Note: Crushed ice is essential for achieving a refreshing and slushy texture in the margaritas.
Remember to adjust the quantities of ingredients based on the number of servings you intend to make. Enjoy the refreshing and delightful Watermelon Margaritas!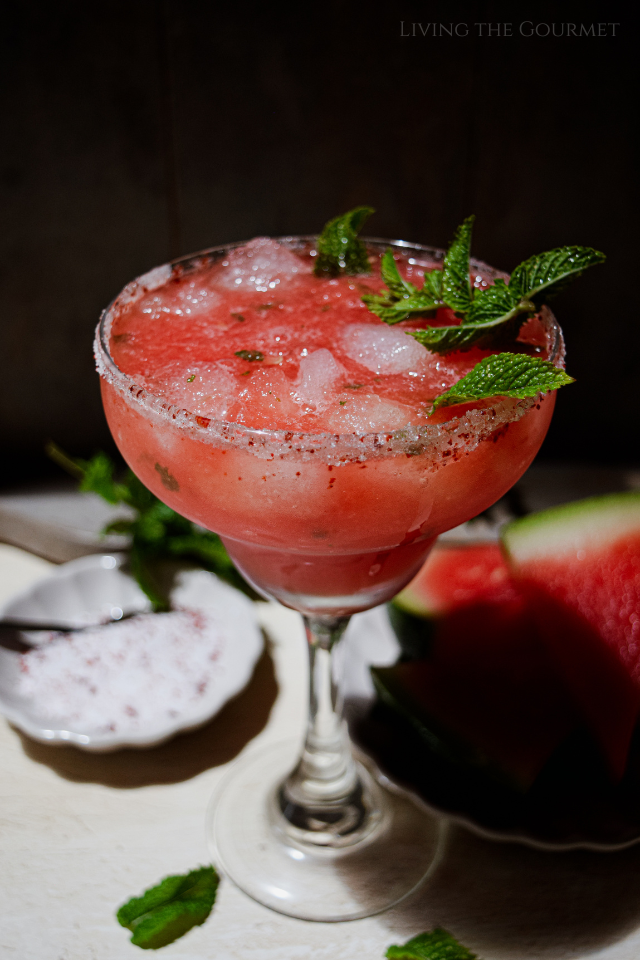 Rimmer Primer – How-To, and Tips for Getting Creative
Making a rimmer couldn't be easier. Just follow these for basic steps.
In a small dish or plate, combine 2 tablespoons of sugar, 1 teaspoon of salt, and 1 teaspoon of gochugaru. Mix well to evenly distribute the ingredients.
Dip the rim of your desired glass into a shallow dish containing simple syrup. Ensure that the rim is fully coated with the syrup, which will act as an adhesive for the rimmer mixture.
Immediately after dipping the rim in simple syrup, dip it into the rimmer mixture. Gently twist the glass to coat the rim evenly with the sugar, salt, and gochugaru mixture. The rimmer will adhere to the syrup on the rim.
Lift the glass and tap it lightly to remove any excess rimmer mixture.
Tips For Getting Creative With The Rimmer
Herbs and Spices. Experiment with different variations of the rimmer mixture by adding additional spices or herbs to customize the flavor profile. For example, you can include a pinch of chili powder, a dash of lime zest, or a sprinkle of dried herbs like thyme or basil.
Bring the Heat. Or don't! If gochugaru (Korean red pepper flakes) is not available, you can substitute it with other spices such as paprika, cayenne pepper, or chili powder to add a hint of heat and depth of flavor. Conversely, if you prefer a sweet or neutral rimmer, leave the spice out entirely.
Get Colorful! Consider using colored sugar or edible glitter to add a touch of sparkle and visual appeal to the rimmer. Simply mix the colored sugar or edible glitter with the salt and sugar in the rimmer mixture.
Sweeten it Up! To create a sweeter rimmer, you can add a small amount of flavored sugar or powdered drink mix to the sugar and salt mixture. This can enhance the overall taste and add a fun twist to the presentation.
Remember, the rimmer is not only decorative but also adds an extra layer of flavor to each sip of the Watermelon Margaritas. Get creative with your rimmer choices to make your margaritas even more visually stunning and enjoyable. Cheers!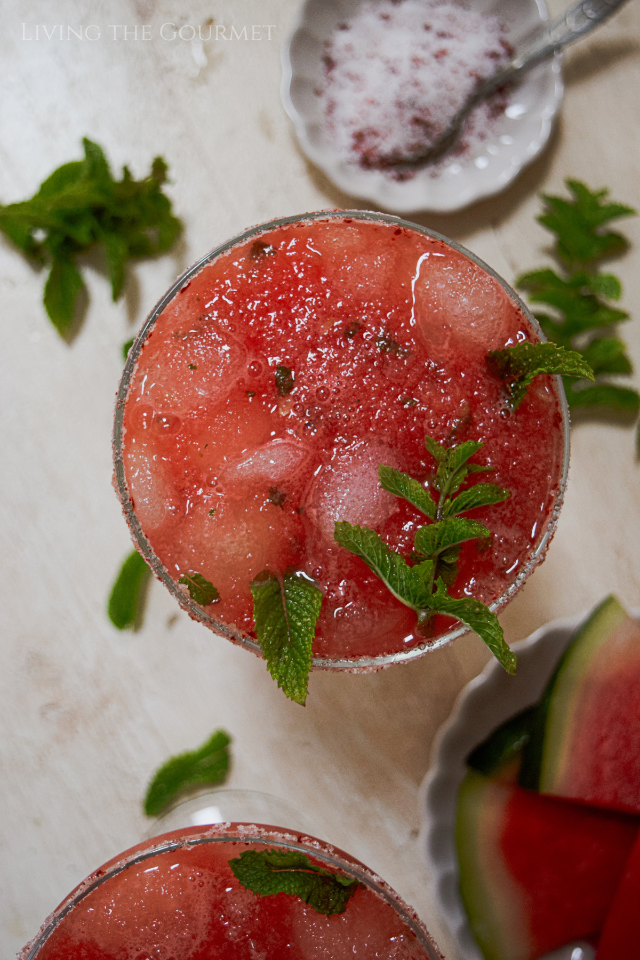 Serving Suggestions
When it comes to serving Watermelon Margaritas, there are a few suggestions to enhance your drinking experience and delight your guests. Consider the following serving suggestions:
Glassware: Serve the Watermelon Margaritas in classic margarita glasses to showcase the vibrant color of the cocktail and provide an elegant presentation. The wide rim of the glass allows for a generous rimming of the glass with the flavorful mixture.
Garnishes: Enhance the visual appeal of your Watermelon Margaritas by garnishing them with fresh mint leaves or watermelon wedges. These garnishes not only add a pop of color but also complement the refreshing flavors of the cocktail.
Pairings: Watermelon Margaritas pair well with a variety of dishes, especially those with bright and fresh flavors. Consider serving them alongside light appetizers like ceviche, grilled shrimp skewers, or fresh fruit platters. The sweet and tangy notes of the margaritas beautifully complement the flavors of summer salads, seafood dishes, or even spicy Mexican cuisine.
Chill and Refresh: Watermelon Margaritas are best enjoyed when chilled. Ensure that you serve them over plenty of crushed ice to keep the cocktail cool and refreshing. This icy touch adds to the overall experience and provides a delightful texture as you sip the cocktail.
Sip and Savor: Encourage your guests to take their time and savor each sip of the Watermelon Margaritas. The combination of fresh watermelon, tequila, and mint creates a harmonious balance of flavors that should be enjoyed slowly and appreciated.
Get Creative: Feel free to get creative and customize your Watermelon Margaritas to suit your taste preferences. You can experiment with additional garnishes like lime wheels, cucumber slices, or a sprinkle of Tajín seasoning for a touch of spice.
Remember, the key is to create a delightful and enjoyable experience for yourself and your guests. Watermelon Margaritas are perfect for summer gatherings, backyard parties, or simply as a refreshing treat to beat the heat. Cheers to the vibrant flavors of summer!
shop this post
Print
Watermelon Margarita
---
Author:

Total Time:

10 minutes

Yield:

4

cocktails

1

x
For the rimmer:
1 tablespoons

sugar

1/2 teaspoon

salt

1/2 teaspoons

gochugaru
For the Margarita:
4

cups

watermelon, sliced and chilled

1/4

cup

simple syrup

1/3

cup

tequila
Juice of

1/2

lemon
Sprig of fresh mint, plus more for garnish
Shaved ice
---
Instructions
In a small dish, combine ingredients for the rimmer.  Coat the rim of your desired cocktail glasses with simple syrup, then dip in the rimmer.  Set aside.
In a blender, combine watermelon, simple syrup, tequila, lemon juice and mint sprigs.
Scoop shaved ice in the cocktail glasses, then pour the margarita, garnish with fresh mint leaves and enjoy!
Prep Time:

10 minutes

Category:

Drinks
Keywords: margarita, cocktail, watermelon
Recipe Card powered by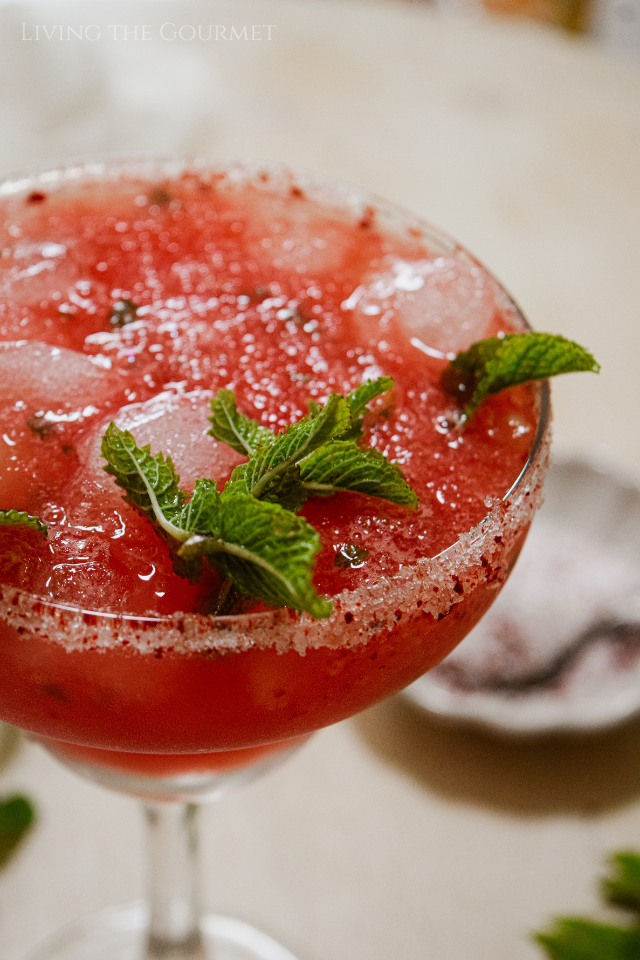 And those our Watermelon Margaritas. If you enjoyed today's post, be sure to like share and subscribe, it helps us more than you can know.
If you have questions or suggestions, be sure to let us know in the comments. We always love hearing from you. Cheers!
As an Amazon Associate I earn a small commission from any purchases made through the affiliate links within this post. For more information on this please see our disclosure policy. Thank you!
0